NFL Nation:

On the Radar 60310
June, 3, 2010
6/03/10
1:00
PM ET
By
Scouts Inc.'s Matt Williamson
| ESPN.com
»
NFC On the Radar
:
East
|
West
|
North
|
South
»
AFC
:
East
|
West
|
North
|
South
A player, coach or issue that should be on your radar as training camp approaches.
The Patriots' patience with
Brandon Tate
really might pay off as early as 2010, Tate's second in the league.
[+] Enlarge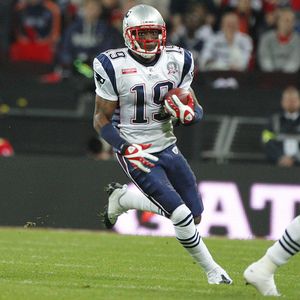 AP Photo/Stephan SavoiaAfter missing much of his rookie year due to injury, could Brandon Tate could be poised for a breakout?
After sustaining a significant knee injury at the University of North Carolina, Tate more or less redshirted during his rookie season. While in college, Tate was mostly a returner and didn't make a name for himself until later in his career, as the Tar Heels had a ton of talent at the position, and then he sustained the knee injury. But when Tate strutted his stuff as a wideout, he was extremely productive and impressive.
Now he might be ready to explode onto the scene, and it would not shock me one bit if he was the opening day starting wide receiver opposite
Randy Moss
. Tate is someone you need to know.
So what is to like so much about this young wideout? Quite a bit, assuming he is recovered from his injury and has studied up on the position.
Tate isn't the biggest guy, but he has good height and a frame that could hold more weight and muscle. He has a lot of potential to be a very crisp route runner with excellent stop/start ability and lateral agility. He really can come out of his breaks well and is quick to accelerate, but also shows very good body control and overall balance in his game. He also catches the ball cleanly away from his body and is a pretty reliable hand-catcher.
Tate can make the highlight-reel grab as well. He is an explosive player who also can be very dangerous as a returner. Tate is excellent with the ball in his hands and provides quite a bit after the catch.
If/when Tate does get the chance to start, he obviously will not be the focal point of opposing defenses. But considering his supporting cast -- especially
Tom Brady
, who I think is poised for a huge year -- it will not be long before defensive coordinators around the league know all about this young man's abilities.
June, 3, 2010
6/03/10
1:00
PM ET
»
NFC On the Radar
:
East
|
West
|
North
|
South
»
AFC
:
East
|
West
|
North
|
South
A player, coach or issue that should be on your radar as training camp approaches.
At this time a year ago, the
Tampa Bay Buccaneers
were getting rookie quarterback
Josh Freeman
ready for half a season in hiding. These days, the Bucs are getting ready to showcase Freeman.
[+] Enlarge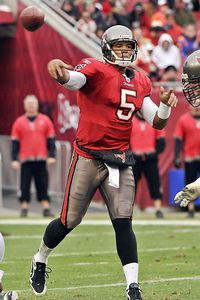 Fernando Medina/US PresswireJosh Freeman enters 2010 as a more confident quarterback.
After all, he is the franchise and that's becoming obvious. The Bucs have spent most of their offseason structuring things for Freeman. They got rid of receiver
Antonio Bryant
, who had criticized Freeman and the coaching staff, and drafted receivers
Arrelious Benn
and
Mike Williams
.
They are two players who can get downfield and help the Bucs take advantage of Freeman's arm strength. That also should help Freeman step forward as the leader of the team. Already a more confident, assertive demeanor is approaching.
Perhaps more important, Freeman seems to be showing a comfort level that wasn't anywhere close to present at this point a year ago. That's largely because he's had an entire offseason to digest things. Coaches have raved about Freeman spending so much time at the facility watching film long before the offseason program even started.
Maybe the best news of all is that Freeman has spent the past few months getting used to an offense he actually will use in the regular season. This offseason has given Freeman and the Bucs time to get the full dose of coordinator Greg Olson's system.
Last year, Jeff Jagodzinski was working as the coordinator with Olson as the quarterbacks coach. But the Bucs weren't happy with the way Jagodzinski's offense was shaping up. They wound up firing Jagodzinski on the eve of the season and threw Olson into the coordinator's role.
That led to a season of still using some of Jagodzinski's offense. Plus, Olson was doubling as the quarterbacks coach. The Bucs now have brought in Alex Van Pelt to serve as quarterbacks coach and that has allowed Olson more freedom.
It also should mean more freedom and bigger things for Freeman.
June, 3, 2010
6/03/10
1:00
PM ET
»
NFC On the Radar
:
East
|
West
|
North
|
South
»
AFC
:
East
|
West
|
North
|
South
A player, coach or issue that should be on your radar as training camp approaches.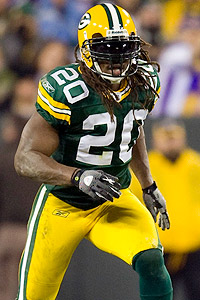 Jeff Hanisch/US PresswireAtari Bigby has not been participating in the Packers' OTAs.
Organized team activities can foster a skewed NFL reality based on non-contact practices, disproportionate attention on young players and contract squabbles that almost always are resolved by training camp. So we should mix some hesitation with an otherwise clear set of clues that the
Green Bay Packers
are giving rookie
Morgan Burnett
a solid foundation to one day unseat veteran safety
Atari Bigby
.
Bigby is a restricted free agent who hasn't signed his tender and thus isn't participating in OTAs. He's been a productive player when healthy but has missed 12 games with a variety of ailments over the past two seasons. The Packers recently rewarded Pro Bowl safety
Nick Collins
with
a contract extension
, but it's not clear if they have enough faith in Bigby to do the same.
That the Packers traded up to draft Burnett suggests his presence has some intent. He has been working with the first team for most OTAs and
coach Mike McCarthy said Wednesday
he has been "very impressed." McCarthy said Burnett has appeared particularly comfortable from a communication standpoint and added: "I think he's off to a good start. I think he's a very natural football player."
You would expect to hear those keywords from a coach who has a veteran starter sitting out practices; nothing like a little motivation to report. You would also expect a quote similar to the one McCarthy provided on Bigby:
"I think all of our players understand the importance of the OTAs, particularly the players that have been here in the past, the opportunities that they're given and the time that the coaching staff puts into these OTAs and the individual time that's available afterwards. Anytime a player misses these, it's an opportunity that is wasted as far as being with his teammates. But we can't deny there are business situations that surround our business, and that's no different for Atari or any others that have not been here."
Much of this dynamic depends on Burnett. If he proves ready to start as a rookie, the Packers could have an interesting training camp competition. But if he's like most third-round draft picks and needs extra time, Bigby will slide back to his role for at least one more season.
June, 3, 2010
6/03/10
1:00
PM ET
»
NFC On the Radar
:
East
|
West
|
North
|
South
»
AFC
:
East
|
West
|
North
|
South
A player, coach or issue that should be on your radar as training camp approaches.
Uncertainty at quarterback will invite overly intense scrutiny of camp battles that will play out over several weeks, not a single practice or exhibition game.
[+] Enlarge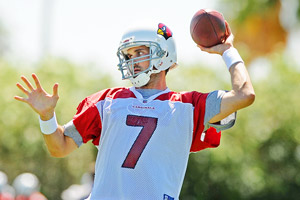 Mark J. Rebilas/US PresswireWith Kurt Warner gone, Matt Leinart should have a better chance at winning the starting job.
It's only a matter of time, it seems, before someone offers up a quarterback's passer rating during practice as an evaluation tool.
Every team in the division has a new No. 2 quarterback:
David Carr
for the
San Francisco 49ers
,
Derek Anderson
for the
Arizona Cardinals
,
Charlie Whitehurst
for the
Seattle Seahawks
and
A.J. Feeley
or
Sam Bradford
for the
St. Louis Rams
. The Cardinals and Rams will have new starters. The Seahawks and 49ers have starters entering the final years of their contracts.
A few reminders to help sort through the possibilities without losing sight of the big picture:
Alex Smith is almost certainly going to start for the 49ers unless he gets hurt. Smith would have to play horrendously to lose his job entering the season. The 49ers have made continuity a top priority this offseason. Even if Carr appears to outplay Smith during exhibition games, the 49ers have too much invested in Smith and continuity to make a change early.

Matt Hasselbeck should be an easy choice for Seattle entering the season because of the experience and leadership he offers. Early returns suggest we should focus less on his competition with Whitehurst than on his ability to stay healthy.

We should expect the Rams to make Bradford their starter at some point during the season, so there's no use in getting too worked up about when the transition takes place.

The quarterback situation in Arizona appears most intriguing. Coach Ken Whisenhunt publicly backed Matt Leinart two summers ago, only to go with Kurt Warner when the games counted. Warner isn't an option any longer, so Leinart should have an easier time winning the job. Keep an eye on how Whisenhunt divides practice reps between Leinart and Anderson.
June, 3, 2010
6/03/10
1:00
PM ET
By
Matt Mosley
| ESPN.com
»
NFC On the Radar
:
East
|
West
|
North
|
South
»
AFC
:
East
|
West
|
North
|
South
A player, coach or issue that should be on your radar as training camp approaches.
I don't know about you guys, but I'm anxious to see how Mike Shanahan divides carries among his stable of former star running backs. Shanahan surrounds himself with running backs the way Jon Gruden used to do with quarterbacks. He believes there's strength in numbers and he's left no stone unturned when it comes to backs whose careers peaked in 2006.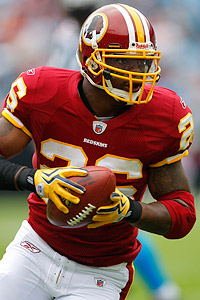 Bob Donnan/US PresswireThe Redskins have some veteran options backing up Clinton Portis.
As we
discussed on the blog this morning
, the Redskins have now made an offer to former Eagles star
Brian Westbrook
. Shanahan has even lobbied Westbrook's younger brother,
Byron
, who plays cornerback for the Skins. In my mind, Westbrook would have a highly specialized role in the Redskins' offense. Coming off a year in which he had two concussions in a short period of time, there's no way Westbrook can have more than seven or eight carries per game. He'd be used as a third-down back and the Redskins would try to get him matched up one-on-one with linebackers.
If Westbrook signs with the Redskins, either
Larry Johnson
or
Willie Parker
would be the odd man out. It would be silly to keep all four players active. It's not like any of them can help you on special teams. Are you going to ask Parker to run down on kickoffs? From the folks I've talked to at Redskins Park, Parker probably would be the first player to go. He has not looked all that explosive in practice sessions, but obviously we have a long way to go.
Given Shanahan's success in Denver, we've come to believe that any back can have success in his zone-blocking scheme. But that wasn't the case his last couple of seasons with the Broncos. Denver had a ton of injuries and the Mike Andersons and Olandis Garys of the world stopped showing up out of nowhere. Just because the Redskins' running backs have recognizable names doesn't mean they'll automatically put up big numbers in Kyle Shanahan's offense.
Johnson's at his best when running downhill. But Washington's offense will require him to be patient and wait for cutback lanes to develop. He's never seemed like a good fit in this offense to me -- even if he still had his '06 legs.
Quarterback
Donovan McNabb
is convinced that finally having a consistent running game will allow him to have more success. But I don't see anyone in this backfield who would scare an opponent. Is anyone worried that
Clinton Portis
or Johnson will take it to the house from midfield?
I'm curious to hear what Redskins fans think of this rotation. You guys think there's room for Westbrook?
June, 3, 2010
6/03/10
1:00
PM ET
By
Scouts Inc.'s Matt Williamson
| ESPN.com
»
NFC On the Radar
:
East
|
West
|
North
|
South
»
AFC
:
East
|
West
|
North
|
South
A player, coach or issue that should be on your radar as training camp approaches.
Jacksonville needs better play from the center position, and undrafted rookie
John Estes
from Hawaii has a shot to make an impact in the middle of the Jaguars' offensive line.
[+] Enlarge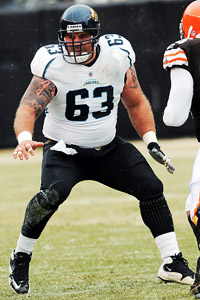 Tom Cammett/Getty ImagesBrad Meester, above, may need to fight off undrafted free-agent center John Estes at center.
Brad Meester
, 33, has battled a lot of injuries. But even when he was on the field last season, Meester's run blocking was a problem. Replacing him makes a lot of sense, but at the minimum, Jacksonville needs to put pressure on its current starting center's hold on the job.
If Meester is replaced, the most likely scenario would be for
Uche Nwaneri
to move from guard to the pivot. Considering the volatility of this offensive line last year, Nwaneri -- while far from spectacular -- should be considered rather dependable. Plus, Jacksonville did just trade for
Justin Smiley
, creating is a bit of a logjam at guard with
Vince Manuwai
and
Kynan Forney
. So moving Nwaneri seems like a logical move after the acquisition of Smiley.
But where does Estes fit in -- and, to a lesser extent,
Cecil Newton
, who is a year older than Estes? If Nwaneri can prove that he is the best option for the starting center spot, Meester could be shown the door, which would open up a possibility for one of these youngsters. Estes is the guy I would expect to take advantage of that opportunity.
Estes isn't a particularly big offensive lineman and Jacksonville certainly does value size up front, but he moves well and is tough and durable while playing the game with a bit of a mean streak. He isn't extremely powerful, but was a four-year starter, is very aware in protection and has a good feel for maximizing his leverage advantage. There are tons of examples of offensive linemen who enter the league and prove very difficult for their coaching staff to cut from the roster. Estes might just be next.
June, 3, 2010
6/03/10
1:00
PM ET
»
NFC On the Radar
:
East
|
West
|
North
|
South
»
AFC
:
East
|
West
|
North
|
South
A player, coach or issue that should be on your radar as training camp approaches.
[+] Enlarge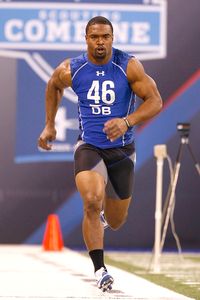 Scott Boehm/Getty ImagesRookie safety Darrell Stuckey has the chance to contribute right away for the Chargers.
Darrell Stuckey
is going to be an interesting player to keep an eye on this summer.
The safety was a fourth-round pick by San Diego. The early offseason camp returns on the Kansas product have been strong. He was sharing starting repetitions during last week's minicamp with veteran
Steve Gregory
.
Stuckey has a chance to become a significant contributor right away. He can take advantage of
Kevin Ellison
's legal issues. The Chargers had Ellison stay away from minicamp last week after he was arrested for allegedly having 100 Vicodin pills in his possession.
The Chargers are clearly upset with Ellison. He could be released.
Ellison was a sixth-round draft pick last year. He started the final nine games of last season. Still, the Chargers drafted Stuckey to give him an opportunity to take Ellison's spot. In the aftermath of Ellison's arrest, Stuckey clearly has to be considered a frontrunner to start.
Stuckey is a big, strong player who has good instincts. He has a chance to play early and Ellison's off-field issues will expedite his opportunity.
June, 3, 2010
6/03/10
1:00
PM ET
»
NFC On the Radar
:
East
|
West
|
North
|
South
»
AFC
:
East
|
West
|
North
|
South
A player, coach or issue that should be on your radar as training camp approaches.
Last offseason, a surprise rookie from Ole Miss flashed tremendous speed and reliable hands during
Pittsburgh Steelers
' practice.
[+] Enlarge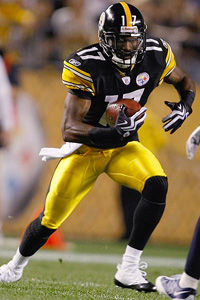 Scott Boehm/Getty ImagesMike Wallace had 39 catches for 756 yards and six touchdowns during his rookie season.
Several months later, third-round pick
Mike Wallace
introduced himself to the rest of the NFL with a standout season, recording 39 receptions for 756 yards and six touchdowns.
This year, Wallace has been arguably the best receiver for the Steelers during practices with
Hines Ward
coaching from the sidelines. Wallace routinely makes plays now that he's getting more opportunities with the first-team offense. With
Santonio Holmes
traded to the
New York Jets
, it will be important for Pittsburgh's second-year standout to make the jump from a backup receiver to a starter.
Wallace owes a lot of his quick development to Ward, who remains in his ear during practices. Like
Plaxico Burress
and Holmes in the past, Ward knows how important it is to have two productive receivers in Pittsburgh's offense.
"Anything I do, he's watching," Wallace said of Ward this week. "So it's kind of hard to be perfect with Hines out here."
Wallace continues to work on his routes; route-running was the knock on him coming out of college. Pittsburgh utilized Wallace's strengths last year by making him a deep threat as the third receiver. But this season Wallace must be more polished running short and intermediate routes as a starter.
Timing also is something to watch in training camp. Wallace and the receivers are working with
Ben Roethlisberger
, who has a conditional six-game suspension, as well as
Byron Leftwich
on the first team this spring.
Dennis Dixon
also is expected to get a chance to work with the starters at some point, as the team figures out how to divide snaps.
"They're all good quarterbacks, so it doesn't really matter to me," Wallace said. "Anyone of them lines up, I'll be ready to go."
Wallace is confident that he's ready to step into the starting role. Based on last season and his steady growth this offseason, there's no reason for the Steelers to think otherwise.
NFL SCOREBOARD
Thursday, 12/12
Sunday, 12/15
Monday, 12/16