NFL Nation:

On the Radar 61010
June, 10, 2010
6/10/10
1:17
PM ET
By
Matt Mosley
| ESPN.com
»
NFC On the Radar
:
East
|
West
|
North
|
South
»
AFC
:
East
|
West
|
North
|
South
A player, coach or issue that should be on your radar as training camp approaches.
In some precincts, the Redskins' stunning trade for
Donovan McNabb
automatically put them in the playoffs. My colleague John Clayton has said he sees the Cowboys and Redskins as the teams to beat in the rugged NFC East. But for some reason, I haven't been converted to the Skins-in-the-playoffs theory, and I'll tell you why.
[+] Enlarge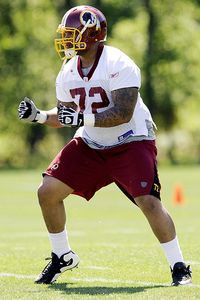 Rafael Suanes/US PresswireWashington's Trent Williams has to work on his blocking, one of the many issues on the Redskins' O-line.
I don't trust that offensive line one bit.
It's nothing personal. Watching
Mike Williams
return to football after eating himself out of the league has been heartening. And 32-year-old
Casey Rabach
does a decent job at center. But in the end, I don't think McNabb can hold up behind this offensive line as currently constructed. It's not like Mike Shanahan can take a beast like Williams and turn him into a cut blocker who opens up lanes for
Clinton Portis
. And Portis was a much younger man when he was darting through cutback lanes with the Broncos last decade.
The other Williams on the line, Trent, has the tools to be a special player. But he still has to learn the nuances of the NFL game while trying to block
DeMarcus Ware
,
Justin Tuck
and
Trent Cole
. As Bill Parcells liked to say, "this will not go smoothly." It's almost like everyone forgot about the beatings that
Jason Campbell
took on a weekly basis.
This isn't the McNabb who used to race around and extend plays by 10 seconds or so against the Cowboys on "Monday Night Football." He can slide around the pocket, but it's not like he speeds away from defenders on a regular basis. I'll point to his last two games against Dallas as Exhibits A and B. With center
Jamaal Jackson
out, the Eagles had to slide players around in the middle. The results against the Cowboys were disastrous.
For now, the Redskins have
Artis Hicks
lining up as the starting right tackle. To me, that means that Shanahan and his son, Kyle, aren't sold on
Stephon Heyer
. Most of us expected him to hold down that position. And the Mike Williams vs.
Chad Rinehart
battle at right guard isn't riveting stuff. Neither player would start for the three other teams in the division.
I certainly agree with the pundits who say the Redskins are better off with McNabb. He'll make
Devin Thomas
and
Malcolm Kelly
better receivers. And the combination of
Fred Davis
and
Chris Cooley
should be the best tandem in the Beast. But I don't like the thought of putting aging running backs behind a suspect offensive line.
At this point, the Redskins have the worst offensive line in the division and I don't see the Shanahan boys' zone-blocking scheme changing that right away. Could I be wrong about this?
There's always that slight chance.
June, 10, 2010
6/10/10
1:00
PM ET
»
NFC On the Radar
:
East
|
West
|
North
|
South
»
AFC
:
East
|
West
|
North
|
South
A player, coach or issue that should be on your radar as training camp approaches.
[+] Enlarge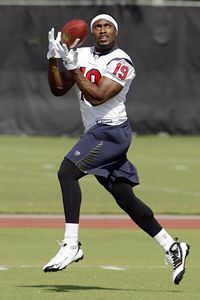 AP Photo/David J. PhillipThe Texans drafted tight end Dorin Dickerson to play him at receiver.
HOUSTON -- When the Texans drafted
Dorin Dickerson
in the seventh round with the 227th overall pick, many people immediately questioned why they would take yet another tight end after
James Casey
and
Anthony Hill
last year and
Garrett Graham
three rounds earlier.
But Houston quickly said Dickerson would be a receiver, not a tight end, in the NFL. He certainly looks well cast in the part at Texans OTAs.
At 6 foot 2, 230 pounds he's about
Andre Johnson
's size. Dickerson was productive at Pitt with 10 touchdown catches last season.
While he could have opportunities to produce on special teams, he also might be positioned to be a developmental guy. Johnson,
Kevin Walter
,
Jacoby Jones
and
David Anderson
are assured of spots ahead of him and those four accounted for 97.3 percent of receiver catches for the team last season. (
Andre Davis
had six, but worked as the primary kickoff return man.)
Davis could be in jeopardy now, as Jones or seventh-rounder
Trindon Holliday
should be better as kick returners. Dickerson could offer more long-term upside as a receiver.
The team carried six wide receivers last year.
If Holliday can be a reliable returner and he and Dickerson show potential, they could bump
Glenn Martinez
and Davis off the roster. The team would have to have enough confidence in one of them to step in and see some action on offense if one of the top four receivers gets hurt.
June, 10, 2010
6/10/10
1:00
PM ET
»
NFC On the Radar
:
East
|
West
|
North
|
South
»
AFC
:
East
|
West
|
North
|
South
A player, coach or issue that should be on your radar as training camp approaches.
The
San Francisco 49ers
finally gave
Dashon Goldson
a chance at free safety last season and it was the right call. Goldson's athleticism enhanced the defense. A breakout game against the
Arizona Cardinals
on "Monday Night Football" validated Goldson as an up-and-coming player in the division.
[+] Enlarge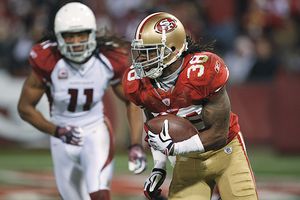 AP Photo/Paul SakumaDashon Goldson knows he needs to be patient when it comes to a new contract.
Where does he go from here?
Goldson's decision to fire his agent during contract negotiations early this offseason came amid reports Goldson was determined to leverage a contract far more valuable than the 49ers were prepared to pay for a player with only one good season on his résumé. It sounded as though Goldson might be getting ahead of himself. Goldson hired Drew Rosenhaus, then watched another Rosenhaus client,
Antrel Rolle
, jump from the Arizona Cardinals to the
New York Giants
for big bucks. Rolle was coming off a Pro Bowl appearance. He had been a top-10 overall draft choice and had shown playmaking ability over time. Goldson was just starting out by comparison.
I caught up with Goldson after a 49ers practice this week and tried to get a feel for his mindset and how it might affect his approach to the season. Goldson did say he was seeking a more aggressive approach to negotiations. He described Rosenhaus as a "shark" who "smells blood" and will show the aggressiveness Goldson sees in himself on the field. Goldson also seemed to realize he'll need another strong season to command the sort of deal he wants. He described his tackling as better than some critics have suggested while acknowledging he needs to become more consistent by taking better angles and showing more patience in coverage. A little patience on the contract front could be in order as well.
"Obviously, they are real patient about it and careful about who they give the money to," Goldson said of the 49ers, "but I don't see myself not getting a deal done here. I know they respect me and like what I'm doing here and I want to be here, so I'm sure something will work out. I don't think they have a problem playing athletes."
June, 10, 2010
6/10/10
1:00
PM ET
»
NFC On the Radar
:
East
|
West
|
North
|
South
»
AFC
:
East
|
West
|
North
|
South
A player, coach or issue that should be on your radar as training camp approaches.
The
Chicago Bears
' aggressive approach in signing their draft choices annually sparks a wave of panic among fans of other NFC North teams.
It's June 10 and my team hasn't signed anyone! What's going on?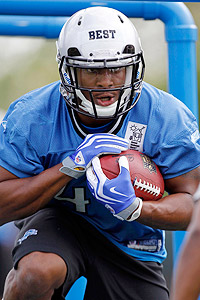 Leon Halip/US PresswireJahvid Best is one of two Detroit first-round draft picks still unsigned.
During our
SportsNation chat
earlier this week,
Josh of Nashville
asked when he should start getting worried about the
Detroit Lions
having two unsigned first-round picks. The truth is that the rookie signing season really doesn't start until the second week of July. That's typically when NFL executives return from summer vacation and when more agents start feeling comfortable within the market.
As we
discussed last weekend
, there are only a few advantages to signing draft picks well before the start of training camp. And some teams don't enter into negotiations as long as organized team activities are taking place because they want to maximize their roster space. (Unsigned rookies don't count against the 80-man roster.)
Other than the Bears' five-man class, only one other NFC North draft pick has signed a contract:
Minnesota Vikings
fullback
Ryan D'Imperio
-- the second of their seventh-round selections. It's possible that a few more low- to mid-round picks will sign in the next few weeks, but it's highly unlikely we'll get to a substantive point on the division's first-rounders -- the Lions'
Ndamukong Suh
and
Jahvid Best
, along with the
Green Bay Packers
'
Bryan Bulaga
-- for another month.
So sit tight, stay tuned and don't panic.
June, 10, 2010
6/10/10
1:00
PM ET
»
NFC On the Radar
:
East
|
West
|
North
|
South
»
AFC
:
East
|
West
|
North
|
South
A player, coach or issue that should be on your radar as training camp approaches.
DAVIE, Fla. -- One of the
Miami Dolphins
' biggest weaknesses heading into the offseason was free safety.
[+] Enlarge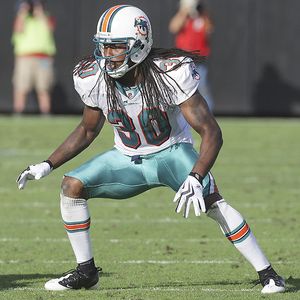 AP Photo/Phil CoaleThe Dolphins are hoping Chris Clemons is the answer at safety.
They released last year's starter,
Gibril Wilson
, despite signing him to a lucrative contract last year. They courted free agent
Ryan Clark
, but he opted to re-sign with the
Pittsburgh Steelers
.
That left the Dolphins with seemingly very little to work with. Last year's backup,
Tyrone Culver
, has two career starts in three NFL seasons.
Chris Clemons
started two games at free safety as a rookie last year. The Dolphins also drafted
Reshad Jones
out of Georgia in the fifth round.
Free safety is such a question mark that many observers believed the Dolphins would pursue
St. Louis Rams
free agent
O.J. Atogwe
, but we haven't seen any signs of serious interest yet.
Maybe that's because of Clemons, who has been making a strong impression throughout minicamp and voluntary workouts.
"Speed, range, and he knows. He understands," Dolphins coach Tony Sparano said of Clemons, last year's fifth-round pick from Clemson. "He's been pretty vocal, and those are all qualities that your free safety has to have."
Sparano expressed curiosity in Clemons' tackling ability. They don't have reels of tape on Clemons against NFL competition. He was scratched from the first five games and played in nine as a reserve in addition to his two starts.
He finished the season with seven tackles and zero passes defensed.
"That guy has to be a good tackler back there," Sparano said. "So that's the next step.
"The range, the speed, the mental awareness right now and where he is with our defense is what leads me to believe that the guy can be a good player for us."
June, 10, 2010
6/10/10
1:00
PM ET
»
NFC On the Radar
:
East
|
West
|
North
|
South
»
AFC
:
East
|
West
|
North
|
South
A player, coach or issue that should be on your radar as training camp approaches.
Simply mention Bruce Arians' name in Pittsburgh and it's sure to cause a polarizing debate among Steeler Nation.
Some criticize Pittsburgh's offensive coordinator for getting away from the power running game, which has been a Steelers staple for generations. And detractors often point out Arians' reluctance to use a fullback, which is un-Steeler-like.
[+] Enlarge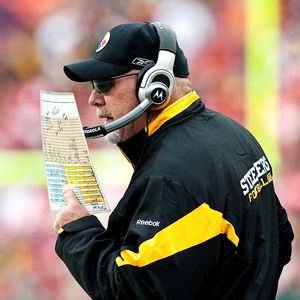 Jeff Moffett/Icon SMIThe spotlight will shine even brighter on Bruce Arians this season.
Supporters will argue that Pittsburgh won a Super Bowl under Arians following the 2008 season and had a 4,000-yard quarterback, two 1,000-yard receivers and a 1,000-yard rusher last year. Things aren't perfect (see red zone production), but the Steelers are moving the football under Arians, supporters say.
But no matter what side of the fence you're on with Arians, everyone agrees that this is a big year for the Steelers' offensive coordinator. After a chaotic offseason that included quarterback
Ben Roethlisberger
's conditional six-game suspension and a trade of receiver
Santonio Holmes
, Arians has a golden opportunity to prove himself. His game planning and play calling will be at a premium during Roethlisberger's suspension.
If Pittsburgh continues to rack up yards and score points without Roethlisberger and Holmes, Arians would silence many of his critics. The key will be a more consistent running game, led by tailback
Rashard Mendenhall
and perhaps first-round draft pick and interior offensive lineman
Maurkice Pouncey
.
Although quarterback is a question early this season, the weapons in the passing game are still there.
Veteran receiver
Hines Ward
is still productive. Second-year receiver
Mike Wallace
is an up-and-coming talent and tight end
Heath Miller
is coming off a Pro Bowl season. It will be up to Arians to figure out how reserve quarterbacks
Byron Leftwich
or
Dennis Dixon
will get the ball in the hands of these playmakers.
When things went well offensively for Pittsburgh, "Big Ben" got most of the credit. Yet when things went poorly, Arians received most of the blame.
This year, all of the credit or blame will rest squarely on Arians' shoulders -- at least through the first four or six games of the season without No. 7 around.
June, 10, 2010
6/10/10
1:00
PM ET
»
NFC On the Radar
:
East
|
West
|
North
|
South
»
AFC
:
East
|
West
|
North
|
South
A player, coach or issue that should be on your radar as training camp approaches.
As recently as a couple of days ago,
Jamar Williams
looked like a backup linebacker and special-teams player for the
Carolina Panthers
. Now, he could be a starter.
[+] Enlarge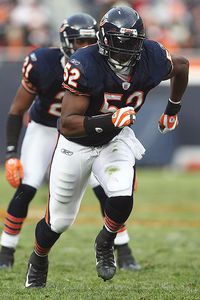 Jonathan Daniel/Getty ImagesJamar Williams has a chance to earn a starting role with the Panthers.
Williams seemed almost like a throw-in (a body to complete the deal) when the Panthers traded away safety
Chris Harris
to the
Chicago Bears
. But, as of today, Williams is looking like a possible starter at weakside linebacker.
With
Thomas Davis
suffering his second torn ACL in less than a year, the Panthers suddenly are looking for a starter and Williams may be their safest option. Although rookie
Eric Norwood
and some other young players could be factors, Williams is the most experienced of the candidates to replace Davis.
He's only 25, but Williams spent four seasons with the Bears. He has started only three games in his career, but he was the top backup to
Lance Briggs
and got a lot of playing time, making 43 tackles. At 6-foot and 237 pounds, Williams fits Carolina's profile of linebackers who aren't huge, but can run.
Williams has shown the ability to cover tight ends and running backs in the passing game. He may not be a playmaker like Davis, but Williams remains a bit of an unknown and there could be an upside. Briggs prevented Williams from really getting a chance in Chicago.
But Davis' injury is going to give Williams a chance to raise his profile in Carolina.
June, 10, 2010
6/10/10
1:00
PM ET
»
NFC On the Radar
:
East
|
West
|
North
|
South
»
AFC
:
East
|
West
|
North
|
South
A player, coach or issue that should be on your radar as training camp approaches.
The Chargers are looking at a potential issue at receiver if star
Vincent Jackson
holds out into the season.
[+] Enlarge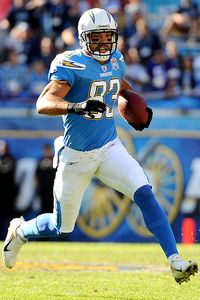 Harry How/Getty Images The contract situation between Vincent Jackson and the Chargers could get ugly.
Jackson is a restricted free agent who has not signed his tender. The Chargers are expected to reduce the tender offer to Jackson next Tuesday, which is the deadline to reduce a restricted free agent's salary to 110 percent of the previous season's salary if they don't sign their tender. Standout left tackle
Marcus McNeill
also could hold out as a restricted free agent.
Jackson probably will stay away from the team until he gets a long-term deal. That does not seem to be on the team's radar. San Diego general manager A.J. Smith is not intimidated by players or their actions. Thus, this situation has the potential to get ugly.
The Chargers would surely miss Jackson. He has developed into one of the better receivers in the NFL and is Philip Rivers' favorite target. Jackson had 68 catches last season, averaging 17.2 yards per grab. He is a matchup nightmare and has terrific size and speed.
The San Diego offense would survive without Jackson but it would certainly lose an important element. The team would have to rely heavily on young receivers
Malcom Floyd
,
Legedu Naanee
and
Craig Davis
. Floyd and Naanee are quality players while Davis has been dealing with injuries.
If Jackson misses time, expect the Chargers to use tight ends
Antonio Gates
and
Randy McMichael
and running backs
Ryan Mathews
and
Darren Sproles
even more in the passing game.
As we get closer to training camp, it looks more and more like the idea of playing without Jackson could become a reality.