NFL Nation:

On the Radar 61010 NFC
June, 10, 2010
6/10/10
1:17
PM ET
By
Matt Mosley
| ESPN.com
»
NFC On the Radar
:
East
|
West
|
North
|
South
»
AFC
:
East
|
West
|
North
|
South
A player, coach or issue that should be on your radar as training camp approaches.
In some precincts, the Redskins' stunning trade for
Donovan McNabb
automatically put them in the playoffs. My colleague John Clayton has said he sees the Cowboys and Redskins as the teams to beat in the rugged NFC East. But for some reason, I haven't been converted to the Skins-in-the-playoffs theory, and I'll tell you why.
[+] Enlarge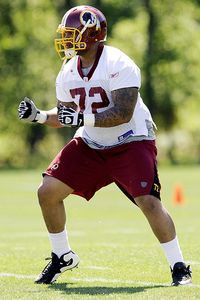 Rafael Suanes/US PresswireWashington's Trent Williams has to work on his blocking, one of the many issues on the Redskins' O-line.
I don't trust that offensive line one bit.
It's nothing personal. Watching
Mike Williams
return to football after eating himself out of the league has been heartening. And 32-year-old
Casey Rabach
does a decent job at center. But in the end, I don't think McNabb can hold up behind this offensive line as currently constructed. It's not like Mike Shanahan can take a beast like Williams and turn him into a cut blocker who opens up lanes for
Clinton Portis
. And Portis was a much younger man when he was darting through cutback lanes with the Broncos last decade.
The other Williams on the line, Trent, has the tools to be a special player. But he still has to learn the nuances of the NFL game while trying to block
DeMarcus Ware
,
Justin Tuck
and
Trent Cole
. As Bill Parcells liked to say, "this will not go smoothly." It's almost like everyone forgot about the beatings that
Jason Campbell
took on a weekly basis.
This isn't the McNabb who used to race around and extend plays by 10 seconds or so against the Cowboys on "Monday Night Football." He can slide around the pocket, but it's not like he speeds away from defenders on a regular basis. I'll point to his last two games against Dallas as Exhibits A and B. With center
Jamaal Jackson
out, the Eagles had to slide players around in the middle. The results against the Cowboys were disastrous.
For now, the Redskins have
Artis Hicks
lining up as the starting right tackle. To me, that means that Shanahan and his son, Kyle, aren't sold on
Stephon Heyer
. Most of us expected him to hold down that position. And the Mike Williams vs.
Chad Rinehart
battle at right guard isn't riveting stuff. Neither player would start for the three other teams in the division.
I certainly agree with the pundits who say the Redskins are better off with McNabb. He'll make
Devin Thomas
and
Malcolm Kelly
better receivers. And the combination of
Fred Davis
and
Chris Cooley
should be the best tandem in the Beast. But I don't like the thought of putting aging running backs behind a suspect offensive line.
At this point, the Redskins have the worst offensive line in the division and I don't see the Shanahan boys' zone-blocking scheme changing that right away. Could I be wrong about this?
There's always that slight chance.
June, 10, 2010
6/10/10
1:00
PM ET
»
NFC On the Radar
:
East
|
West
|
North
|
South
»
AFC
:
East
|
West
|
North
|
South
A player, coach or issue that should be on your radar as training camp approaches.
The
San Francisco 49ers
finally gave
Dashon Goldson
a chance at free safety last season and it was the right call. Goldson's athleticism enhanced the defense. A breakout game against the
Arizona Cardinals
on "Monday Night Football" validated Goldson as an up-and-coming player in the division.
[+] Enlarge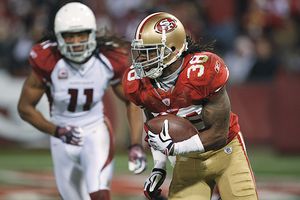 AP Photo/Paul SakumaDashon Goldson knows he needs to be patient when it comes to a new contract.
Where does he go from here?
Goldson's decision to fire his agent during contract negotiations early this offseason came amid reports Goldson was determined to leverage a contract far more valuable than the 49ers were prepared to pay for a player with only one good season on his résumé. It sounded as though Goldson might be getting ahead of himself. Goldson hired Drew Rosenhaus, then watched another Rosenhaus client,
Antrel Rolle
, jump from the Arizona Cardinals to the
New York Giants
for big bucks. Rolle was coming off a Pro Bowl appearance. He had been a top-10 overall draft choice and had shown playmaking ability over time. Goldson was just starting out by comparison.
I caught up with Goldson after a 49ers practice this week and tried to get a feel for his mindset and how it might affect his approach to the season. Goldson did say he was seeking a more aggressive approach to negotiations. He described Rosenhaus as a "shark" who "smells blood" and will show the aggressiveness Goldson sees in himself on the field. Goldson also seemed to realize he'll need another strong season to command the sort of deal he wants. He described his tackling as better than some critics have suggested while acknowledging he needs to become more consistent by taking better angles and showing more patience in coverage. A little patience on the contract front could be in order as well.
"Obviously, they are real patient about it and careful about who they give the money to," Goldson said of the 49ers, "but I don't see myself not getting a deal done here. I know they respect me and like what I'm doing here and I want to be here, so I'm sure something will work out. I don't think they have a problem playing athletes."
June, 10, 2010
6/10/10
1:00
PM ET
»
NFC On the Radar
:
East
|
West
|
North
|
South
»
AFC
:
East
|
West
|
North
|
South
A player, coach or issue that should be on your radar as training camp approaches.
The
Chicago Bears
' aggressive approach in signing their draft choices annually sparks a wave of panic among fans of other NFC North teams.
It's June 10 and my team hasn't signed anyone! What's going on?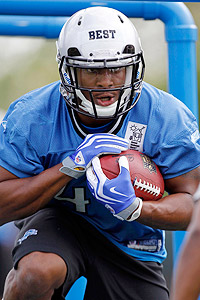 Leon Halip/US PresswireJahvid Best is one of two Detroit first-round draft picks still unsigned.
During our
SportsNation chat
earlier this week,
Josh of Nashville
asked when he should start getting worried about the
Detroit Lions
having two unsigned first-round picks. The truth is that the rookie signing season really doesn't start until the second week of July. That's typically when NFL executives return from summer vacation and when more agents start feeling comfortable within the market.
As we
discussed last weekend
, there are only a few advantages to signing draft picks well before the start of training camp. And some teams don't enter into negotiations as long as organized team activities are taking place because they want to maximize their roster space. (Unsigned rookies don't count against the 80-man roster.)
Other than the Bears' five-man class, only one other NFC North draft pick has signed a contract:
Minnesota Vikings
fullback
Ryan D'Imperio
-- the second of their seventh-round selections. It's possible that a few more low- to mid-round picks will sign in the next few weeks, but it's highly unlikely we'll get to a substantive point on the division's first-rounders -- the Lions'
Ndamukong Suh
and
Jahvid Best
, along with the
Green Bay Packers
'
Bryan Bulaga
-- for another month.
So sit tight, stay tuned and don't panic.
June, 10, 2010
6/10/10
1:00
PM ET
»
NFC On the Radar
:
East
|
West
|
North
|
South
»
AFC
:
East
|
West
|
North
|
South
A player, coach or issue that should be on your radar as training camp approaches.
As recently as a couple of days ago,
Jamar Williams
looked like a backup linebacker and special-teams player for the
Carolina Panthers
. Now, he could be a starter.
[+] Enlarge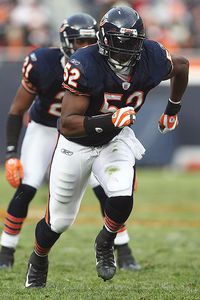 Jonathan Daniel/Getty ImagesJamar Williams has a chance to earn a starting role with the Panthers.
Williams seemed almost like a throw-in (a body to complete the deal) when the Panthers traded away safety
Chris Harris
to the
Chicago Bears
. But, as of today, Williams is looking like a possible starter at weakside linebacker.
With
Thomas Davis
suffering his second torn ACL in less than a year, the Panthers suddenly are looking for a starter and Williams may be their safest option. Although rookie
Eric Norwood
and some other young players could be factors, Williams is the most experienced of the candidates to replace Davis.
He's only 25, but Williams spent four seasons with the Bears. He has started only three games in his career, but he was the top backup to
Lance Briggs
and got a lot of playing time, making 43 tackles. At 6-foot and 237 pounds, Williams fits Carolina's profile of linebackers who aren't huge, but can run.
Williams has shown the ability to cover tight ends and running backs in the passing game. He may not be a playmaker like Davis, but Williams remains a bit of an unknown and there could be an upside. Briggs prevented Williams from really getting a chance in Chicago.
But Davis' injury is going to give Williams a chance to raise his profile in Carolina.