November, 30, 2014
Nov 30
11:50
AM ET
TAMPA, Fla. -- The
Tampa Bay Buccaneers
will be without four starters for Sunday's game with Cincinnati.
All-Pro linebacker
Lavonte David
, who said Friday he was confident he would play despite a hamstring injury, headlines a list of significant inactives. Center Evan Dietrich-Smith (illness), tight end Austin Seferian-Jenkins (back) and defensive tackle
Clinton McDonald
(hamstring) also are inactive. The other inactives for the Bucs are cornerback
Crezdon Butler
, tight end
Brandon Myers
and tight end
Luke Stocker
.
That means the Bucs are without any of the tight ends they've been going with all season. The team promoted Cameron Brate and signed D.J. Williams and those two will share the duties at tight end and fullback.
With David out, the Bucs are expected to shift
Danny Lansanah
to the weak side and start
Orie Lemon
on the strong side.
Garrett Gilkey
is expected to start in Dietrich-Smith's place and
Akeem Spence
is expected to take McDonald's place.
November, 23, 2014
Nov 23
11:10
AM ET
May, 14, 2014
May 14
4:35
PM ET
Dez Bryant
's physique that looks like it was carved out of a mountain, to borrow a phrase from
Dallas Cowboys
head coach Jason Garrett, is being pushed to its limits this offseason.
Bryant
"I am in the best shape that I've ever been," Bryant said.
Bryant made that proclamation as he drove from Oklahoma City, where he watched a classic Game 5 of the Clippers-Thunder playoff series, to Valley Ranch for a workout. The Cowboys' Pro Bowl receiver has done some traveling this offseason, making trips to New York and Los Angeles, but never cut corners on his workout program.
"Trust me, I've been working hard," Bryant said. "I've been working six days out of the week. Today is my off day, but I'm going to the facility right now. That's all I've been doing. This year is special."
Bryant, who set career highs with 93 catches and 13 touchdowns last season while gaining 1,233 yards, believes he's on the verge of a big season. That wouldn't surprise anyone.
But Bryant does make a bold prediction that linebacker
Orie Lemon
, his workout partner, will make an impact for the Cowboys this season. Lemon, who played with Bryant at Oklahoma State, has been fighting for a roster spot since the Cowboys signed him as an undrafted free agent in 2011. He has spent time on the practice squads of the Cowboys and
Arizona Cardinals
and played eight games for the Cowboys over the past two seasons, getting credited for two tackles.
"He's going to be a real sleeper," Bryant said. "He's been working so hard. He's going to come out of nowhere and surprise a lot of people."
December, 13, 2013
12/13/13
12:16
PM ET
IRVING, Texas –
Dallas Cowboys
middle linebacker
Sean Lee
was not on the field during the portion of Friday's practice that was open to the media.
Lee was limited in Wednesday and Thursday because of a neck injury that forced him out of Monday's loss to the
Chicago Bears
. He said on Thursday he anticipated playing against the
Green Bay Packers
on Sunday and was looking into different neck rolls that might offer more protection.
Coach Jason Garrett talked before the practice and did not say Lee would not take part in Friday's practice.
Justin Durant
took Lee's spot with the starters with
Ernie Sims
and
Kyle Wilber
at the outside linebacker spots.
"Whenever you're talking about a head and neck, you're particularly careful, no question about it, particularly a guy who has as much contact as he does," Garrett said. "But having said that you try to evaluate the injury the best you can with the scans you do and all of that, then what the player is saying, his willingness, his demeanor and mindset and you put it all together and try to make the best decision."
Linebacker
Bruce Carter
, cornerback
Morris Claiborne
and
Dwayne Harris
did not practice again and will likely miss Sunday's game with hamstring injuries. Linebacker
Orie Lemon
, who is not on the injury report, was also not spotted at practice.
December, 9, 2013
12/09/13
7:43
PM ET
CHICAGO --
Dallas Cowboys
wide receiver
Dwayne Harris
is active, which could be a big boost to the special teams, but linebacker
Justin Durant
is inactive.
Harris
Harris missed the Thanksgiving Day game against the
Oakland Raiders
because of a hamstring strain and was only a limited participant in Saturday's practice. Durant will miss his third straight game. He was probable entering the game. He has been working his way back from a hamstring injury.
With Durant out,
Kyle Wilber
will start for the third straight game at strong-side linebacker.
Cornerback
Morris Claiborne
, safety
Jakar Hamilton
, linebacker
DeVonte Holloman
, defensive end
Everette Brown
, tackle
Darrion Weems
and linebacker
Orie Lemon
are inactive.
Harris is averaging 14 yards per punt return and 31.3 yards per kickoff return.
Terrance Williams
fumbled the opening kickoff against the Raiders and saw it returned for a touchdown.
Cole Beasley
served as the punt returner.
November, 21, 2013
11/21/13
1:10
PM ET
IRVING, Texas -- A busy Thursday morning at Valley Ranch had Cowboys linebacker
DeVonte Holloman
, who was to start the first game of his career on Sunday against the
New York Giants
, miss practice with neck issues.
Holloman
Holloman has missed the past four games with a spinal contusion, but returned to participate in the lone practice last week during the bye. He was limited in practices Monday and Wednesday, but it appears he's not fully ready to return.
Cowboys owner/general manager Jerry Jones said Thursday that Holloman won't be moved to injured reserve, but instead the team will make a roster move. The team is scheduled to sign linebacker
Orie Lemon
off the
Arizona Cardinals'
practice squad and move him to the active roster at some point on Thursday.
Lemon arrived in Dallas on Thursday morning.
If Holloman isn't placed on season-ending injured reserve, the Cowboys will have to cut someone from the active roster. The team has depth issues at linebacker with starters
Sean Lee
and
Justin Durant
out at least three-to-four weeks with hamstring injuries. Defensive line and secondary have been shuffled around because of injuries.
Finding a player from the offensive side could be a wise decision. The Cowboys currently have four players each at tight end and running back.
As for the practice, the following injured players participated in some portions of the session open to the media: Wide receiver
Miles Austin
(hamstring), cornerback
Morris Claiborne
(hamstring), safety
J.J. Wilcox
(knee), wide receiver
Dez Bryant
(back), defensive end
DeMarcus Ware
(thigh), defensive end
George Selvie
(shoulder), defensive tackle
Nick Hayden
(ribs), and defensive tackle
Jason Hatcher
(neck).
November, 21, 2013
11/21/13
11:30
AM ET
IRVING, Texas -- Already thin at linebacker with
Sean Lee
and
Justin Durant
out with hamstring injuries, rookie linebacker
DeVonte Holloman
is getting his neck looked again after some soreness from Wednesday's practice.
Holloman has missed the last four games with a spinal contusion. He returned to practice last week but Wednesday was his first full-padded workout since getting hurt prior to the Oct. 20 game against the
Philadelphia Eagles
.
He was slated to start at strong-side linebacker in Durant's absence. The Cowboys moved
Kyle Wilber
to linebacker last week and also have
Kyle Bosworth
and Cam Lawrence available.
The Cowboys also signed
Orie Lemon
off the
Arizona Cardinals
practice squad. Lemon spent parts of the 2011-12 seasons with the Cowboys, mostly on the practice squad after signing with the team as an undrafted free agent.
To make room for Lemon on the 53-man roster, the Cowboys will have to make a roster move.
October, 23, 2012
10/23/12
8:43
PM ET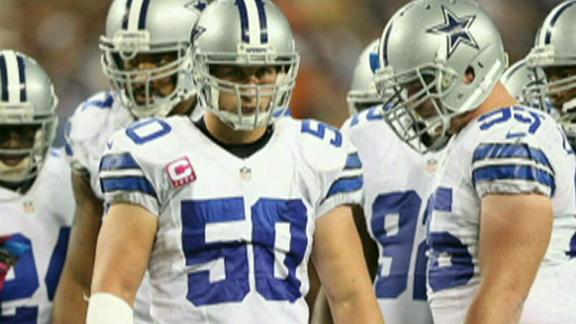 Lee
The
Dallas Cowboys
are bracing for rotten news on inside linebacker
Sean Lee
, who as
Todd Archer reports
could need season-ending surgery on his right big toe. Lee injured the toe in the third quarter of Sunday's victory over the Panthers in Carolina and said after the game that he expected to be fine. But he had an MRI on Monday, and it sounds as though the results were quite discouraging.
As Todd points out, there are plenty of people on the Cowboys' roster who can play linebacker:
Dan Connor would replace Lee in the starting lineup, and he earned praise from coach Jason Garrett for his work against the Panthers, which included a third-down stop of Cam Newton and a pass deflection, after taking over for Lee. Second-year linebacker Bruce Carter would become the defensive signal caller. The Cowboys have Orie Lemon and Alex Albright as backup inside linebackers on the 53-man roster but could look to add another inside linebacker.
However, in spite of the depth the Cowboys have at the position, Lee is not a replaceable player for them. Not only is he their defensive captain and one of their most important leaders, he has played consistently better this year than has any other player on their defense, including superstar outside linebacker
DeMarcus Ware
and either of their two new and very talented cornerbacks. Lee's instincts and playmaking ability cannot be replicated by players like Carter or Connor, no matter how capable they are.
When you've watched the Cowboys' defense this year, you've generally been impressed. And I believe they'll continue to cover receivers well with
Brandon Carr
and
Morris Claiborne
, continue to rush the passer well with Ware and
Jason Hatcher
and continue to defend the run capably with the help of
Anthony Spencer
. They have more good players on defense at this point than they do on offense, and I think they will still play fairly good defense the rest of the way.
But Lee has been playing at a transcendent, superstar-type level -- one of the absolute best defensive playmakers at any position on any team in the league this year. The closest comparison of which I keep thinking is the Steelers'
Troy Polamalu
in his prime -- the way he was always able to be around the ball, whether it was due to speed, instincts, pre-snap positioning or a combination of everything. That's what Lee was delivering this year -- a player who at times made it look as though the Cowboys were playing with an extra man on defense. They simply don't have anyone else on the roster who can play football the way Lee has been playing it. Few teams, if any, do.
August, 30, 2012
8/30/12
11:00
AM ET
Yeah, because I like to space these out. And no one reads them if I put them up in the middle of the night. And they put the ESPNDallas.com one up on the blog anyway. This is why you're just reading this now. Because I know some of you were asking.


I'm not sure how much there is to say about the
Dallas Cowboys
'
30-13 preseason victory
over the
Miami Dolphins
on Wednesday night anyway. Center
Phil Costa
was the only starter who played, and he only played because he'd been out for weeks with an injury and needed to see some game action, and he only played 11 snaps anyway. I didn't see anything egregious, and if you've been following my thoughts on the Cowboys' offensive line you know I was watching closely. He didn't have any problem getting the ball from the ground into the quarterback's hands, which sounds silly unless you've been paying attention to the Cowboys' backup center issues for the past few weeks. They tell me Costa's added bulk. We have yet to see whether or not he's added the strength he needs to make him a better player than he was last season. Could happen. We just haven't seen it.
Here's what else I saw in the Cowboys' final preseason game:
And that ought to just about do it. Next post is the one that's going nuclear anyway. See ya there!
August, 29, 2012
8/29/12
10:49
PM ET
ARLINGTON, Texas -- The
Dallas Cowboys
wrapped up the preseason with a 30-13 win over the
Miami Dolphins
at Cowboys Stadium on Wednesday night. Unlike last season, when wide receiver Raymond Radway was injured in the closing seconds of the preseason at Miami, there were no such major health issues coming from this game. This was the last chance for several players to make an impact on the coaches and scouts, and join the 53-man roster.


What it means:
The Cowboys finish the preseason 3-1 and have to make some hard decisions regarding the No. 3 quarterback spot, whether to keep a fourth running back or which running back to keep, whether
Orie Lemon
and
Mario Butler
make the team, and whether
Danny Coale
and
Matt Johnson
should earn paychecks in September.
McGee vs. Carpenter:
There is this battle for the No. 3 quarterback position.
Stephen McGee
played the first half, led one touchdown drive and converted 13 first downs. He completed nine of 18 passes for 124 yards. The Cowboys led 20-6 at the break.
Rudy Carpenter
also led the Cowboys on a touchdown drive -- capped by a 58-yard run by
Lance Dunbar
-- and finished 4-of-10 for 48 yards. In addition, Carpenter had a 21-yard scramble. But it would appear neither quarterback did enough to secure a spot on the roster.
Only one starter plays:
Between both units, only center
Phil Costa
played. Costa missed the first three preseason games with a strained lower back, and the Cowboys wanted to give him some snaps before putting him in a regular-season game. Costa didn't have any bad snaps, and it's unknown whether he had any blown assignments.
David Arkin
replaced Costa.
The running game is strong:
There are no questions regarding the status of
DeMarco Murray
as the starter.
Felix Jones
has been guaranteed a roster spot by owner/general manager Jerry Jones. We thought the No. 3 running back gig was going to
Phillip Tanner
, but Dunbar came on strong Wednesday night. Dunbar ran with a burst, scoring on a 58-yard run. Let's not forget about Tanner, who burst up the middle for a 1-yard score. Dunbar rushed 15 times for 105 yards, and Tanner rushed for 48 yards on nine carries.
Lemon made his case:
If linebacker Lemon was a bubble player, he should make the roster. He returned an interception 26 yards to give the Cowboys a 10-6 lead in the second quarter. Lemon was active on defense and, given what he does on special teams, should make the 53-man roster.
Adrian Hamilton
also was fighting for a roster spot, but he hasn't shown his pass-rush abilities on a consistent basis with the Cowboys.
Cowboys lose three players:
Guard
Derrick Dockery
left the game for personal reasons, and fellow guard
Daniel Loper
suffered a hamstring injury. Cornerback
Lionel Smith
departed the game with a concussion. None of the three returned.
Who played well:
Tyrone Crawford
, Orie Lemon, Phillip Tanner, Lance Dunbar and
Dan Bailey
.
Who didn't:
Teddy Williams
, David Arkin, Stephen McGee.
Bailey is perfect:
Kicker Dan Bailey finished the preseason 8-for-8 on field goal attempts. Bailey made kicks of 25, 30 and 26 yards Wednesday night. The Cowboys didn't have any concerns about him heading into the preseason, but unlike last season when the team had a kicking competition, nothing was going on here. It was all Bailey. The longest kick of the preseason by Bailey was 49 yards.
Ryan Tannehill makes the start:
The eighth pick of the NFL draft, quarterback Ryan Tannehill made the start for the Dolphins. He completed 5 of 7 passes for 35 yards. The former Aggie played with a presence and threw some strong passes, but he still has a ways to go to help the Dolphins.
What's next?
The Cowboys must cut their roster to 53 players by Friday night and then finalize their practice squad roster with as many as eight players. The team will practice over the weekend at Valley Ranch and prepare for the regular season opener at the
New York Giants
.

NFL SCOREBOARD
Thursday, 12/18
Saturday, 12/20
Sunday, 12/21
Monday, 12/22
WEEKLY LEADERS