June, 20, 2014
Jun 20
4:30
PM ET
CINCINNATI --
Margus Hunt
began the
Cincinnati Bengals
' offseason workout period hoping to
build upon the numerous lessons
that came at him at Lamborghini speed throughout his rookie year.
Hunt
At the very least, the defensive end wanted to make sure this offseason he got a better handle on the Bengals' system than he did last spring and summer.
It appears his mission was accomplished.
"I did a lot better than I did last year," Hunt said as the Bengals ended organized team activities and minicamp practices earlier this week. "I'm a lot more comfortable with the plays and the situations and that kind of stuff. It's a good feeling."
Hunt spent much of the spring practices working out at the left defensive end position, but like all of Cincinnati's ends he got moved around during the workouts to other spots. He spent time at the right end spot; other days he received action on the line's interior as a tackle in the team's nickel package.
"It makes us more versatile," Hunt said of the rotations. "We don't have guys to have to play that one position [they're normally at]. We have guys who know what they have to do everywhere. That makes it so much easier. So if someone goes down or if someone gets tired or whatnot -- you never know what happens in the games -- we're going to go in and be able to know what's going on."
Very little, in that regard, changes from what the Bengals did defensively last season. Hunt was among those who ended up playing both at end and tackle following nose tackle
Geno Atkins
' midseason ACL tear. The only difference, though, is that while he was still trying to get a grasp on what to do at that position, he feels a lot more confident in his abilities as an interior pass rusher now.
"It was so much more of a struggle," he said.
While Hunt was pleased with his personal growth this season, the second-year lineman from Estonia credited his improvements to work he put in last season.
"What helped was being on the look squad [scout team]," Hunt said. "It's one thing to go through and get the mental reps while the other players are on the field, but it's another thing when you're actually in there playing. It's a total difference."
Hunt this season is expected to be part of a defensive end rotation that will hinge primarily on the play of five-year veteran
Carlos Dunlap
and seven-year vet
Wallace Gilberry
. As Dunlap took the majority of repetitions at right end, filling the shoes of the recently departed
Michael Johnson
, Gilberry shared action with Hunt on the other side of the line.
The trio is poised to enter training camp atop the depth chart at the two end spots, with
Robert Geathers
-- the longest-serving Bengal who was drafted by the club in 2004 -- and rookie
Will Clarke
to serve as backups.
June, 10, 2014
Jun 10
9:00
PM ET
CINCINNATI -- Hue Jackson has little trouble keeping himself grounded these days. All he has to do is look at the calendar.
It's June 10.
Still, it's been hard for the offensive coordinator to avoid getting even just a little giddy at what he's seen so far from his quarterback through the first three weeks of offseason practices. Sharp throws, well-placed passes and a sound understanding of a stepped-up offensive tempo are just a few examples of the type of play that has Jackson trying to contain his excitement about
Andy Dalton
.
Yes, the words "excitement" and "Andy Dalton" were used in the same sentence. That Andy Dalton.
About seven months after he was last spotted, "Good Andy" has returned to Paul Brown Stadium. Jackson hopes he'll stay, too, and do whatever he can to keep "Bad Andy" out.
[+] Enlarge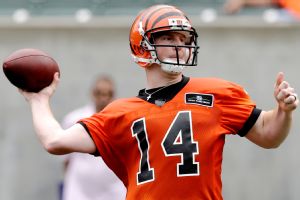 AP Photo/Al BehrmanAndy Dalton will be leading a Bengals offense that is looking to be more physical than in recent seasons.
"There's more urgency in his body," Jackson said of Dalton following the Bengals' first minicamp practice Tuesday. "All the way around, he's improving.
"But we've got to keep improving."
While he was wowed by the 40-yard in-air bomb Dalton delivered from the left hashmark to a well-covered
A.J. Green
along the right sideline, Jackson still wants to be patient with trumping up his quarterback too much.
Even the 60-yard "Go" route completion in the end zone to Green, followed by the quickly-delivered 20-yard post pass across the middle to
Marvin Jones
in one-on-one drills with defensive backs, kept Jackson reserved in his judgement on Dalton's day.
"Again, we have a lot more practices before we get ready to play a game," Jackson said. "So I'm excited about what the upside is, but I know we've got to go get there. We've got to keep chasing it every day to get there."
All of this comes as Dalton continues to deal with the
potential distraction of contract negotiations
. He said earlier Tuesday that he believes enough in himself that if forced into signing an extension that was structured similarly to
Colin Kaepernick
's unique and controversial new deal, he could do it.
It mostly has been Dalton's decision-making and arm strength that has caught Jackson's eye during the voluntary organized team activities and Tuesday's mandatory minicamp.
"He's throwing the ball fantastic," Jackson said. "He's more compact. The ball comes out quicker."
A large credit for those passing improvements will go to Southern California-based throwing instructor Tom House, a former major league pitcher who worked with Dalton on his mechanics earlier this offseason. House has trained the likes of
Drew Brees
and
Tom Brady
, trying to get them to focus on the fundamentals that will get the ball exactly where it needs to be at the speed it needs to be there.
Earlier this offseason Dalton explained that House's main point of emphasis was to get Dalton to keep his front arm tucked close to his body when he threw, much like a pitcher does when throwing a baseball. In doing so, House told him he would keep his body under better control. Before, Dalton had a tendency to open up his front shoulder too quickly, causing his throws to sail wildly and lack velocity. A number of his 20 interceptions last season were the result of overthrown passes that wobbled slowly beyond their targets.
Some credit for Dalton's improvements also should go to Jackson, whose quicker tempo offense has seemed to put him in better position to get passes off in a faster, more fluid rhythm. The pace the Bengals have been practicing at this spring will closely mirror the high-speed play they'll showcase when they take the stadium for live games in the fall.
"Hue tries to create that atmosphere in practice," Dalton said. "We want to do everything quick. We want our drops to be quick. We want to get back and be ready to go. And so the emphasis is on tempo this whole offseason. We've really been moving forward in that direction and it's been great."
At the start of Tuesday's practice, Bengals quarterbacks were going through a quick-throw drill that forced them to throw the ball to a receiver on a quick screen. There were no dropbacks to the exercise. It was all about getting the ball, turning, finding the target and throwing toward the target. Drills like that can help reinforce the urgency Jackson wants to see.
From those exercises to Dalton's passes in one-on-one, seven-on-seven and 11-on-11 scenarios, Jackson has seen enough to believe his quarterback is trending in the right direction.
Those exercises and Dalton's passes in one-on-one and 11-on-11 scenarios are just small pieces to the improved play Jackson has witnessed so far.
"There's not a lapse in play," Jackson said. "Again, I can only speak from what I can encounter, but I see a very confident player who goes in and calls the play and makes decisions, who redirected things and gets us in the right place. There's not a lot of negative football plays. That's what you want. He's taken charge and control."
June, 10, 2014
Jun 10
7:15
PM ET
CINCINNATI -- With one tight end nursing an unspecified injury the
Cincinnati Bengals
on Tuesday re-signed another.
Gresham

Smith
Alex Smith
, a 10-year veteran who had been an unrestricted free agent this offseason, was added just as tight end
Jermaine Gresham
goes through his own injury.
A league source told ESPN's Field Yates on Tuesday that hernia surgery has kept Gresham out of on-field practices since they began two weeks ago. Coach Marvin Lewis admitted to reporters last week that Gresham was hurt, but he declined to go into specifics of the injury. Not only has Gresham missed all of the voluntary organized team activities to this point, he also wasn't practicing in Tuesday's mandatory minicamp, although he was in attendance. Before that sighting, he hadn't been seen by media since early May, when he was around for voluntary offseason conditioning workouts.
According to Yates, there is no exact timetable on Gresham's return.
With Smith's return, the Bengals are officially at full capacity on their roster. They now have 90 players. While they can cut players and add others at any time between now and training camp, this figures to be the roster they will carry into the preseason.
"Alex played significant snaps for us last year, and it's good to get him back in the fold," coach Marvin Lewis said. "He's ready to go physically, and it's minicamp week, so he jumps right back in there for us."
Smith's only season with the Bengals was 2013. He signed last offseason as an unrestricted free agent from Cleveland. He played in every one of Cincinnati's regular-season games last year, starting two of them. His last start came during the regular-season finale, when he played in place of both Gresham and
Tyler Eifert
, the Bengals' top two tight ends who had suffered injuries the week before.
Eifert also has missed time this spring. He didn't practice last week after battling through a minor shoulder injury. He began Tuesday's minicamp, but didn't finish the workout.
Smith has played in 119 career games, making 57 starts. He also has 163 catches for 1,473 yards and 13 touchdowns.
June, 10, 2014
Jun 10
9:00
AM ET
CINCINNATI -- The Bengals begin the mandatory phase of their offseason practices Tuesday morning when they host the first of three consecutive minicamp practices at Paul Brown Stadium.
Each player on the team is required to be in attendance for the minicamp sessions that last until Thursday morning. The arrival of minicamp in Cincinnati signals the start of the second half of the practice portion of their offseason calendar. After this week, the Bengals revert back to the voluntary organized team activity (OTA) model of practice for three days. After that, they'll break for the summer.
Training camp starts July 24.
As the mandatory minicamp -- all of which will be open to media -- gets going this week, here are five things to watch for:
Gresham
1. Will Gresham be there?
Through the first two weeks of OTAs, tight end
Jermaine Gresham
has been a noticeable absence. He didn't participate in either of the two practices that were open to media, and he wasn't even seen around the stadium in any other capacity those two days, either. Coach Marvin Lewis said last week that Gresham was in Cincinnati, though, and that he was rehabbing from an injury the coach said wouldn't keep him out of training camp. At this point, Gresham's absence is a mystery. We'll perhaps get a few more definitive answers during the minicamp. If any do come, don't expect them to come from the often media shy Gresham. It bears noting that he has been around the locker room during other voluntary workouts this offseason. He just has yet to be seen by reporters since OTAs began. Will Tuesday by that day? We shall see.
2. Will Still be there?
Presumably, defensive tackle
Devon Still
will be in attendance for the minicamp after missing OTAs to deal with a personal issue last week. Along with Gresham, Still was a noticeable absence when media viewed an open OTA session last Tuesday. He revealed in a post to social media later in the week that he and his family learned his young daughter has cancer. Earlier this week, he tweeted a photo showing he's shaved his head to support his daughter who will go through chemotherapy. Although injured for much of the latter half of last season, Still was and continues to be a key piece to the Bengals' defensive line depth chart. Assuming
Geno Atkins
returns during training camp from his ACL injury, Still and
Brandon Thompson
are right now the first two defensive tackles off the bench behind Atkins and Domata Peko.
Bernard
3. RB rotation getting set?
We are still about three months from the start of the regular season, but it appears we may be getting a general idea of what the Bengals' backfield may look like this fall.
Giovani Bernard
has been moved into a more prominent role, although the Bengals are expected to continue with the committee approach to delegating carries and receptions. Alongside him often during the two open OTAs was rookie
Jeremy Hill
, the team's prized second-round pick who promises to be a key piece in the backfield as veteran BenJarvus Green-Ellis enters the final year on his current deal. Speaking of Green-Ellis, the Bengals have been adamant in their belief a roster spot remains for the 28-year-old, but Hill's arrival hasn't made it easy to justify Green-Ellis' future in Cincinnati. As the Bengals go through this week, it still will be interesting to see how the running back rotations shake out. Will Green-Ellis stay in the mix? Or is Hill starting to push past him?
4. Making tempo a priority.
Offensively, the Bengals' charge this offseason has been to adopt coordinator Hue Jackson's tweaked scheme that includes a quicker tempo and a faster pace. His goal has been to get his players to come out of the huddle quickly so they can get to the line of scrimmage much earlier in the play clock, effectively allowing them to run more plays in a drive and game. It's been an offensive priority, but we haven't been able to gauge how much of a priority it's been for the defense, too. Overall, practices seem to be conducted at a faster speed than they were last season, particularly during 11-on-11 drills when the defense is shifting fronts, moving around constantly, and the offense is making pre-play calls to counter. Jackson isn't the only coordinator trying to spice up his unit. It appears Paul Guenther has done the same with the defense. The minicamp should show a little more of that.
5. Grooming the rookies.
The Bengals have eight draft picks and 11 undrafted free agents they still are trying to both groom and assess before the season begins. Many of the evaluations will be done in training camp, but coaches are looking right now to see how well the first-year players can adapt to the coaching and new playbooks. A foundation for late July is being at this time, and these three practices can go a long way toward giving the Bengals a better idea of who the young players they just brought on are. Among the rookies who will be scrutinized the next few months, cornerback
Darqueze Dennard
may top the list. While Hill's place in the backfield is beginning to take shape, the first-round pick Dennard has a more difficult obstacle to overcome to play; he has several veterans ahead of him. Already, though, Dennard has gotten his share of early instruction and played with both the first- and second-team defenses in open OTAs.

NFL SCOREBOARD
Thursday, 9/18
Sunday, 9/21
Monday, 9/22
WEEKLY LEADERS