December, 2, 2012
12/02/12
4:49
PM ET
A look at an
emotional win
for the
Kansas City Chiefs
.
What it means:
Oh, it means so much. This has to be one of the most memorable, emotional days in franchise history. The Chiefs won their second game of the season, just a day after a horrific tragedy. Saturday, starting linebacker
Jovan Belcher
killed his girlfriend, Kasandra M. Perkins, and then he went to the team's facility (adjacent to Arrowhead Stadium) and killed himself in front of general manager Scott Pioli, head coach Romeo Crennel and defensive coordinator Gary Gibbs. There was a lot of talk that the game shouldn't be played. But the Chiefs decided they wanted to play. This is just a game and it doesn't change anything, but for three hours, it did help in some way. It was the Chiefs' first home win of the season after starting 0-6 there. They snapped an eight-game losing streak, which was the longest current losing streak in the league.


Charles has big game despite major sadness:
The tragedy had to hit Kansas City running back
Jamaal Charles
especially hard. ESPN's Ed Werder reported that Perkins was a cousin of Charles' wife and they introduced Perkins to Belcher, who Charles was close with. Despite the incredible grief, Charles had 127 yards on 27 carries.
Quinn is effective:
Kansas City quarterback
Brady Quinn
was 19-of-23 for 201 yards. It was perfect game management and what the team wants from him. It was Quinn's first win as a starting quarterback in three years.
Streak is over:
The Chiefs scored a touchdown on their first drive of the game Sunday. That hadn't happened since 2010.
Touchdown party:
Peyton Hillis
,
Tony Moeaki
and
Jon Baldwin
all scored their first touchdowns of the season for Kansas City.
Milestone for Bowe:
Kansas City receiver
Dwayne Bowe
passed the great Otis Taylor for third on the Chiefs' all-time receptions list. Bowe now has 412 career catches.
What's next:
Crennel goes back to Cleveland as the Chiefs meet the Browns.
May, 19, 2012
5/19/12
9:00
AM ET
There's little sense in taking the bait when
San Francisco 49ers
coach Jim Harbaugh tells a radio program
Michael Crabtree
"
has the best hands I've ever seen
on a wide receiver."
Anyone with a strong grasp of NFL history would place Cris Carter, Raymond Berry and Steve Largent on a short list for receivers with the surest hands.
Hall of Famer Ken Houston, speaking for
a 2008 piece
on all-time great wideouts, stood up for AFL stars Otis Taylor and Lionel Taylor.
"Lionel Taylor, I mean, he would catch a BB," Houston said.
Green Bay Packers
general manager Ted Thompson, speaking for the same piece, said
Randy Moss
, then with New England, had the best hands in the NFL at that time (2008).
"A lot of guys can catch," Thompson said then. "He can catch on any platform, as we say in scouting. He can adjust and catch it over the top of somebody's head, catch it falling down, and it doesn't matter if he is covered."
With Moss now on the 49ers, it is possible Crabtree does not posses the best hands among wide receivers on his own team.
Oops. I wasn't going to take the bait on this one, but now it's too late. Time to regroup.
Bottom line, I suspect Crabtree has impressed Harbaugh this offseason, and Harbaugh would like that to continue for as long as possible. By offering such strong public praise for Crabtree, Harbaugh is setting a standard for Crabtree to meet this season. He realizes Crabtree has the ability to meet that standard, or else he wouldn't make the statement.
We should all recall Harbaugh's calling quarterback
Alex Smith
"elite" and promoting him for the Pro Bowl last season. Then as now, Harbaugh was standing up for his guy. Smith enjoyed the finest season of his career and even outplayed the truly elite
Drew Brees
at times during the 49ers' playoff victory over New Orleans. The way Harbaugh backed Smith played a role in that performance, in my view.
Back to Crabtree. He has the ability to rank among the most sure-handed receivers in the game. He has not yet earned that status, but now he has little choice, right?
As the chart shows, Crabtree finished the 2011 season with 12.2 receptions per drop, which ranked 28th in the NFL among players targeted at least 100 times.
Larry Fitzgerald
led the NFL with 80 receptions and only one drop. Those numbers are according to ESPN Stats & Information, which
defines drops
as "incomplete passes where the receiver should have caught the pass with ordinary effort."
Crabtree suffered six drops last season by that standard, a few too many for the player with the best hands his head coach has ever seen on a wide receiver.
November, 21, 2010
11/21/10
3:57
PM ET
Move over Chris Burford and Otis Taylor.
On a day the Chiefs are getting right after two straight losses, Bowe caught an early touchdown pass from
Matt Cassel
. It's the sixth straight game Bowe has caught a touchdown pass. He entered the game, sharing the record with Burford (1962) and Otis Taylor (1966).
After a poor season last year, Bowe has reverted back to his productive days of his first two NFL seasons. He had 13 catches for 186 yards last week against Denver. He has five catches for 71 Sunday as the Chiefs lead Arizona ,
24-6
in the fourth quarter.
November, 14, 2010
11/14/10
6:40
PM ET
DENVER -- There is at least some sunshine for Kansas City on a day where it looks like the Chiefs will fall into a first-place tie with Oakland with a 5-4 record. The Chiefs have been in first place all season.
Kansas City just cut Denver's lead to 42-17 with 2:22 left in the third quarter on a 15-yard pass from
Matt Cassel
to
Dwayne Bowe
.
It marked the fifth straight game Bowe has scored a touchdown pass in. It tied a team record held by Chris Burford (1962) and Otis Taylor (1966).
June, 25, 2010
6/25/10
11:30
AM ET
Notable players:
QB Len Dawson, RB Mike Garrett, WR Otis Taylor, G Ed Budde, DT Buck Buchanan, DT Curley Culp, LB Bobby Bell, LB Willie Lanier, CB Emmitt Thomas, K Jan Stenerud.
[+] Enlarge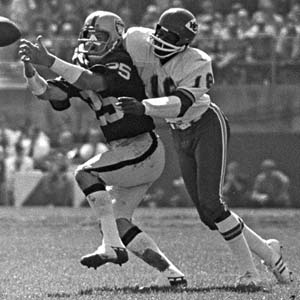 Rod Hanna/US PresswireCornerback Emmitt Thomas was a reason why Kansas City's defense was so dominant.
Analysis:
The 1969 Kansas City Chiefs were a veteran outfit that played together for quite while. Three years earlier, the same group lost to the Green Bay Packers in Super Bowl I.
But it all came together in 1969. The Chiefs were stacked with future Pro Football Hall of Fame players Dawson, Bell, Buchanan, Lanier, Thomas and Stenerud, and led by legendary coach Hank Stram. Stram was known for his innovative coaching, big personality, snappy clothes and an absolute love for his players.
The team's road to the Super Bowl was not easy. They ended the season with an 11-3 record and finished a game behind the Oakland Raiders in the AFL's Western Division. Kansas City had to beat the Jets and Raiders on the road in the playoffs before they had a chance to upset Minnesota in the Super Bowl.
But Kansas City's defense buried teams all season. Even though Dawson missed six games because of an injury, the defense kept the Chiefs on the Super Bowl highway. During the playoffs, they limited the Jets and Raiders to a combined 13 points. Minnesota's high-powered offense managed a meager seven points during Super Bowl IV.
"Our defense was special," Stenerud said. "I remember that playoff run and we just didn't give anything up. We held down some really good offenses. That defense was really the difference-maker for that team."
Most impressive win:
The 23-7 win over Minnesota in Super Bowl IV. The Chiefs dominated the Vikings, who were a 13-point favorite.
Send them home unpacking:
The Oakland Raiders' players were so sure they'd dispatch the Chiefs in the AFL Championship Game that they packed their bags to head to the Super Bowl after the game.
The Raiders had reason to be confident. They had won the West with a 12-2 record and beaten the Chiefs in two regular-season matchups. But Stram's team took the game that mattered. Kansas City went into Oakland and stunned the Raiders 17-7, sending the Chiefs (and not the bags-packed Raiders) to New Orleans.
"As the Chiefs were waiting for the team buses, they saw all the Oakland players leave the stadium with their bags in their hands, going home instead of the Super Bowl," Kansas City team historian Bob Moore said. "The Chiefs players were all laughing at Oakland's players."
Honorable mention:
1966:
The AFL's first Super Bowl team. This quality outfit finished 11-2-1 and beat the Bills for the AFC title.
1971:
Many of the old Chiefs believe this, and not the Super Bowl-winning team, is the best team in Chiefs history. But they just couldn't get it done like the 1969 team.
1995:
This was a solid team led by the NFL's top-ranked defense, but the Chiefs stumbled in the playoffs.
March, 5, 2009
3/05/09
12:32
PM ET
Posted by ESPN.com's Pat Yasinskas
As the Terrell Owens saga takes another turn with his release by Dallas, I'm reminded of a fascinating psychological profile of wide receivers I stumbled across a few years ago.
The profile actually goes back way earlier than that, but it holds remarkably true. In 1973, Arnold J. Mandell worked as a team psychiatrist for the San Diego Chargers. Coach Harland Savard asked Mandell to come up with personality profiles for the different position groups.
Mandell took a unique approach. He collected handwriting samples from all the Chargers and the entire class of rookies around the league in 1973. He worked with a handwriting analyst and also observed players closely. Mandell came up with personality profiles for every position group and I can see some truths in every one of them.
But Mandell especially nailed it in his personality profile on wide receivers.
"The wide receiver is a very special human being," Mandell wrote. "He shares many features with actors and movie stars. He is narcissistic and vain and basically a loner."
Yeah, you never want to stereotype. But think about that a little bit. Every great wide receiver fits to some degree.
Owens, Chad Johnson, Randy Moss, Steve Smith, Joe Horn, Keyshawn Johnson? They've all got it. Think even further back to guys like Michael Irvin, Otis Taylor, Mark Clayton and Mark Duper. They had it, too. You can argue about guys like Marvin Harrison and Jerry Rice. But talk to people who've been around them and they'll tell you they've got a touch of the wide receiver traits, but they're just better at hiding them. It's also part of what makes them great.
NFL SCOREBOARD
Sunday, 2/2
WEEKLY LEADERS