June, 23, 2012
6/23/12
9:00
AM ET
ESPN recently published a list of the
25 greatest playoff performances
in NFL history.
The ballot I submitted featured five performances for franchises currently aligned in the NFC West. It included three performances for the San Francisco 49ers and three for the Washington Redskins. There were two from Kurt Warner, including one each from his years with St. Louis and Arizona. All 15 were for offensive players, a disparity I couldn't reconcile.
Several worthy performances just missed the cut. You'll find most of them accounted for in the top 25.
Keith Lincoln's 329-yard game (206 rushing, 123 receiving) ranked seventh on my ballot, 13 spots higher than it ranked in the top 25. This performance wasn't on my ballot initially because Lincoln played for the then-AFL San Diego Chargers. I gave it a prominent spot when told this performance was eligible because it appeared in the NFL record book.
All for now. Here's hoping this Saturday ranks among your top five this month.
November, 16, 2011
11/16/11
1:25
PM ET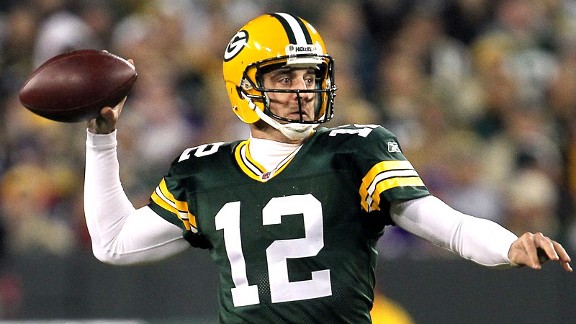 Jonathan Daniel/Getty ImagesAaron Rodgers continued his MVP-type season Monday with four TD passes against Minnesota.
LambeauOrWrigley
offered some perspective through the mailbag that I thought should be shared with the group. As you know, I'm always in favor of letting someone else do the heavy lifting around here.
As the
chart shows
,
Green Bay Packers
quarterback
Aaron Rodgers
has the second-highest career completion percentage in NFL history, based on a minimum of 1,000 attempts. If he continues at his current pace, Rodgers will leapfrog
Chad Pennington
and finish the 2011 season atop this list.
(That's provided
New Orleans Saints
quarterback
Drew Brees
, whose career completion percentage trails Rodgers' by .064 percent, doesn't exceed his current 2011 pace of 70.9 percent completions over his final six games.)
It's only fair to point out that accuracy has elevated substantially over the past decade in the NFL, a product both of West Coast offenses and rules changes that have favored the passing game. A
look at the extended list
reveals that 18 of the 20 most accurate quarterbacks in history have played within the past three seasons. Two Hall of Famers are the only exceptions:
Steve Young
and
Joe Montana
.
I know you're probably bored with it, but I keep going back to Rodgers' rare combination of high completion percentage and yards per attempt (YPA). According to the
always-fantastic database at pro-football-reference.com
, Rodgers has the third-highest average per attempt in NFL history (minimum 1,000 attempts). He is the only player among the top four on this list who played after 1960:
1. Otto Graham (8.98 YPA)
2. Sid Luckman (8.42)
4. Norm Van Brocklin (8.16)
YPA is one measure of downfield passing. It stands to reason that the more downfield (i.e. low percentage) passes a quarterback throws, the lower his completion percentage will be. Graham, Luckman and Van Brocklin all had career completion percentages less than 56 percent.
For those who don't appreciate the numbers, consider a more detailed way of saying that Rodgers is putting together one of the best and historically rare seasons -- and careers -- for a quarterback in the history of the NFL. Plus, who wouldn't want to find a way to get Aaron Rodgers, Steve Young, Joe Montana, Drew Brees, Otto Graham, Sid Luckman and Norm Van Brocklin into a single NFC North blog post? Thanks again to LambeauOrWrigley.
September, 12, 2011
9/12/11
8:20
AM ET
Let's turn to
ESPN Stats & Information
to put the debut of Carolina rookie quarterback
Cam Newton
in perspective.
Newton threw for 422 yards in a loss to Arizona. That's the most passing yards ever -- by far -- for a player in his first NFL game.
The previous record was set in 1950 when Hall of Famer Otto Graham threw for 346 yards. Before Newton only five players had even passed for 300 yards in their debut and one of those was
Peyton Manning
in 1998.
If you go back as far as 1960, only three players had more passing yards in a season opener and those were Manning,
Kurt Warner
and
Dan Marino
, who already were established starters. Those three quarterbacks have combined for seven Associated Press Most Valuable Player awards.
About the only record Newton didn't set was the Carolina record for passing yards in a game. He missed it by one yard.
Chris Weinke
threw for 423 yards in a game against the Giants in 2006. The Panthers also lost that game.
January, 16, 2011
1/16/11
7:58
PM ET
Three things to know about next Sunday's Green Bay Packers-Chicago Bears NFC Championship Game:


1. The numbers are in.
The Packers and Bears have made the playoffs in the same season in only four years of the rivalry's 89-year history. Next Sunday will mark the second postseason game between them; the Bears won a 33-14 Western Division playoff in 1941 at Wrigley Field. This season, the teams split the season series, with each team winning at its home stadium. Overall, the Bears own a 92-83-6 advantage in the series. One more number: According to ESPN Stats & Information, Packers quarterback
Aaron Rodgers
is 7-3 when the game-time temperature is 30 degrees or below. He has 25 touchdowns and five interceptions in those games.
2. The game will feature two quarterbacks coming off historic performances.
As we suggested Saturday night, Aaron Rodgers played one of the better playoff games of this generation, completing 31 of 36 passes for 366 yards while accounting for four touchdowns in a 48-21 victory against the
Atlanta Falcons
. Rodgers' 81.6 completion percentage was the fifth-best in NFL postseason history, and he became the first quarterback to throw 10 touchdown passes in his first three playoff games. Meanwhile, the Bears'
Jay Cutler
also accounted for four touchdowns in a 35-24 victory against the
Seattle Seahawks
. According to the Elias Sports Bureau, Cutler became only the second quarterback in NFL history to both pass and run for multiple touchdowns in a playoff game. The other was Otto Graham, who did it in 1954 and 1955 for the
Cleveland Browns
.
3. Familiar, shamiliar.
The Bears and Packers have been playing each other for nearly a century, but don't rule out a few schematic surprises. It will be especially interesting to watch the back-and-forth between a pair of notorious mad scientists, Bears offensive coordinator Mike Martz and Packers defensive coordinator Dom Capers. "With the coaches that are going against each other, coach Martz and coach Capers, there will be some new stuff out there," Bears center
Olin Kreutz
said. "So we'll be ready." Sunday, Martz provided a preview with three Wildcat plays -- including a pass from tailback
Matt Forte
-- and an early emphasis on targeting tight end
Greg Olsen
.
June, 23, 2010
6/23/10
12:30
PM ET
Notable players:
RB Jim Brown, WR Paul Warfield, K Lou Groza, G Gene Hickerson, RB Leroy Kelly, QB Frank Ryan, LB Jim Houston.
Analysis:
Jim Brown and Paul Warfield in the same offense.
Does any more need to be said?
[+] Enlarge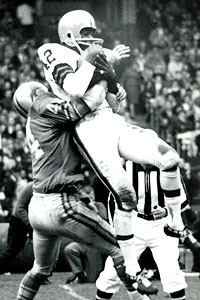 Malcolm Emmons/ US PresswirePaul Warfield averaged 17.7 yards per catch during his rookie season in 1964.
Often you hear Cleveland fans longing for the glory days, and this group led by Brown and Warfield -- perhaps the two best to play their respective positions -- tops the list.
This team was ahead of its time. Cleveland, which finished 10-3-1 in 1964, scored more than 400 points in an era when that was extremely difficult. For perspective, only eight teams scored more than 400 points in 2009 with two more regular-season games (16) and numerous advancements in the NFL game.
Brown, 28 and in his prime, rushed for 1,446 yards and averaged 5.2 yards per carry. He averaged more than 100 yards rushing per game. Warfield, then a 22-year-old rookie, had 920 receiving yards and nine touchdowns, as he was a key figure who helped revolutionize the vertical passing game. He averaged 17.7 yards per catch in '64, a stat that would still be impressive today.
To further prove Cleveland's dominance, they won the NFL Championship, 27-0, over the Baltimore Colts. The high-powered offense with Brown, Warfield and Ryan (25 touchdown passes) at quarterback was too advanced. Cleveland scored 30 points or more in half of its games that season.
Brown, Warfield, Groza, Hickerson and Kelly -- who was a rookie kick returner in '64 -- are all Hall of Famers from this group.
Most impressive win:
As mentioned earlier, Cleveland's 27-0 rout of the Baltimore Colts was the exclamation point of the '64 season.
Both teams had an amazing collection of talent. But Baltimore Hall of Famers such as quarterback Johnny Unitas, running back Lenny Moore and tight end John Mackey were stifled by Cleveland's defense, which forced four turnovers. Brown rushed for 114 yards for Cleveland and Ryan threw three touchdown passes in the blowout win.
Research room:
Groza had one of the most interesting careers in football history. He played 22 years in Cleveland and arrived as an offensive lineman. He made the Pro Bowl nine times as a left tackle and also played some right tackle, center, defensive tackle and kicker during his career. Groza was the kicker for the '64 team at age 40. He made 22 field goals and all 49 extra-point attempts.
Sudden retirement:
Following the championship in '64, Brown would play one more season before suddenly retiring to pursue a movie career.
Brown rushed for an astounding 1,544 yards and 17 touchdowns in his final season. Most of Brown's rushing records have been broken. But he's widely considered the best running back of all time.
Honorable mention:
1950:
Another elite, championship team stacked with talented players such as Otto Graham and Marion Motley. This Browns team would give the '64 group a run for its money. But not having Warfield or Brown on this squad makes the difference.
1953:
The Browns, again led by Graham at quarterback, ran off 11 consecutive wins before losing a meaningless final regular-season game. But Cleveland lost to the Detroit Lions, 17-16, in the NFL Championship for a disappointing end to an otherwise dominant season.
1986:
This team is best known for falling victim to "The Drive" led by quarterback John Elway of the Denver Broncos. Elway orchestrated a 15-play, 98-yard drive in Cleveland to force overtime and Denver eventually won the game, costing a talented Browns team a shot at the Super Bowl. One year later, a chance at revenge against Denver in the AFC title game was thwarted by "The Fumble."
February, 3, 2010
2/03/10
11:17
AM ET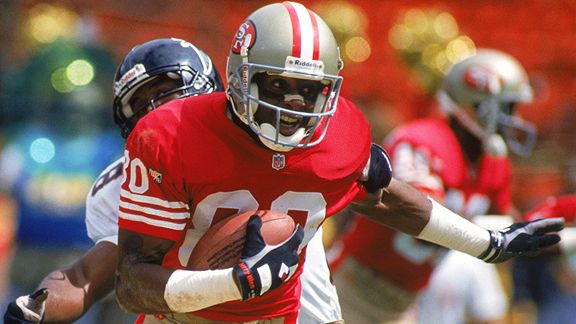 George Rose/Getty ImagesWide receiver Jerry Rice retired with his name all over the National Football League record book.
MIAMI -- Anyone advocating Jerry Rice as the greatest player in NFL history can bury the opposition in statistics.
Rice averaged 1,145 yards receiving and more than 10 total touchdowns per season -- for 20 NFL seasons.
Rice caught 69 touchdown passes -- more than the career totals for Art Monk, Michael Irvin, Charlie Joiner, John Stallworth and numerous other Hall of Fame receivers -- during a five-season span ending in 1993. Rice then caught 28 touchdown passes over the next two seasons, more than half the career total for Hall of Famer Lynn Swann.
He retired holding NFL records for:
Touchdowns (208), receiving TDs (197), receiving TDs in a season (22), consecutive games with a TD reception (13), TDs in Super Bowls (8), receiving TDs in a single Super Bowl (3) and postseason TDs (22).
Receptions (1,549), consecutive games with a reception (274), receptions in Super Bowls (33) and postseason receptions (151).
Receiving yards (22,895), receiving yards in a season (1,848), receiving yards in Super Bowls (589), receiving yards in a Super Bowl (215), postseason receiving yards (2,245) and seasons with at least 1,000 yards receiving (14).
Rice, whose selection to the Pro Football Hall of Fame is a formality Saturday, probably enjoyed the greatest NFL career. He was probably the greatest wide receiver despite some arguments for Don Hutson. But was he the greatest player, period?
"Oh, yeah," Hall of Fame defensive back Rod Woodson said almost reflexively during Super Bowl media day.
Woodson, perhaps mindful of history as a member of the NFL's 75th Anniversary team, then showed he could still backpedal a bit.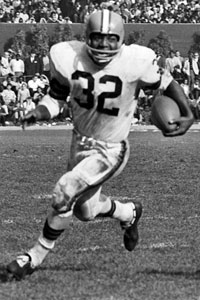 Getty ImagesWhen talking about the greatest players ever, Jim Brown needs to be in the conversation.
"I mean, he is definitely up there," he said. "I don't think one player is the greatest player ever, but he is in that water-cooler conversation. Now, if you say greatest receiver, absolutely. But the greatest player, to make him the most dominant player ever in NFL history or just say pro football history, that is a profound statement. But I can say that he will be in that argument time in and time out."
The conversation might include Otto Graham, Jim Brown, Sammy Baugh, Lawrence Taylor, Joe Montana, Johnny Unitas, Hutson, Walter Payton and Barry Sanders among players no longer active. And that list is probably shortchanging defensive greats such as Deacon Jones and Dick Butkus.
But
Ray Lewis
, arguably the greatest defensive player of the current era, didn't hesitate in singling out Rice.
"I don't know what argument you are going to make why he is not," Lewis said.
And that might be what separates Rice from the rest. There really isn't a great case against him. No one played at such a high level for as long with such grace.
"Jerry Rice doesn't
rank
in the all-time greats," said Saints safety
Darren Sharper
, a five-time Pro Bowl choice and member of the 2000s All-Decade team. "He
is
the greatest receiver and maybe the greatest football player of all time."
Maybe?
"I can't comment on eras that I didn't perform in," retired cornerback Deion Sanders said, "but the era I performed in, Jerry Rice is the best football player to play in that era."
On what grounds beyond the numbers?
"Work ethic, precision, routes, physical toughness, awareness, that hunger," Sanders said. "Jerry stayed hungry until the day he retired."
November, 19, 2009
11/19/09
8:53
PM ET
Since joining the Texans in 2007,
Matt Schaub
is second in the NFL in yard per attempt at 7.98.
His YPA with the Texans would tie him with Steve Young for fifth-highest in league history, and his 66.6 completion percentage would be the highest among the top 10 in the category.
I asked Schaub what a big number in the category says about a quarterback, and here's his reply:
"I think as an offense it means guys are making plays down the field and they're getting open. Obviously, the offensive line is doing a heck of a job and the backs in protection, and allowing us to get down field and make some plays. It ties 11 guys together that are executing their job at a high level and guys are making plays."
The numbers come from the Texans.
I thought it a little narrow to keep of his statistics from three years as a backup in Atlanta, but he was in a different system with the Falcons that serves to reduce the number. His yards per attempt in the 38 games he played for them was 6.42, and combining from there and Houston his career number is 7.75 -- still quite strong.
August, 11, 2009
8/11/09
3:30
PM ET
| | |
| --- | --- |
| | |
| | David Stluka/Getty Images |
| | Punter Scott Player represents the end of the single-bar facemask era. |
Posted by ESPN.com's Tim Graham
The NFL went as far as it could to replicate history.
The Buffalo Bills and Tennessee Titans were in their original duds in Sunday night's Pro Football Hall of Fame Game.
Clubs are wearing throwback uniforms this year in selected Legacy Games to celebrate the 50th anniversary of the American Football League, with Canton's preseason opener the first exhibition.
A lone red Buffalo stood proudly on the Bills' helmets. The Titans were dressed like their ancestors, the Houston Oilers, complete with derricks. Referees were on patrol in orange-striped jerseys.
No matter how hard the NFL tries to recapture the olden days, one glaring omission makes it impossible:
The single-bar facemask is gone and not coming back.