NFL Nation:

Packers-49ers II
July, 31, 2014
Jul 31
4:59
PM ET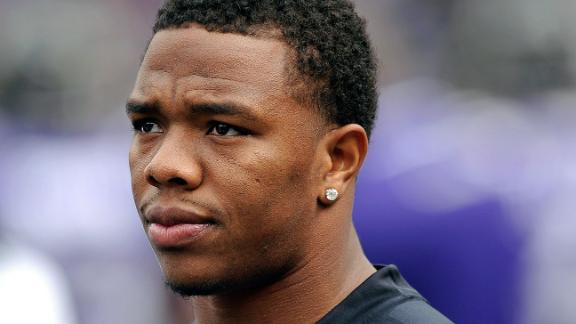 OWINGS MILLS, Md. -- In stark contrast to
Ray Rice
's awkward news conference in May, the
Baltimore Ravens
running back showed Thursday that he finally understood the weight of his actions from the alleged altercation with his then-fiancée in February.
He delivered the correct message, one the NFL failed to do last week with the two-game suspension, by not only apologizing to his wife, Janay Palmer, but also expressing a desire to become an advocate for domestic-violence causes.
Rice was compelling in his contrition, calling it the biggest mistake of his life. He stood in front of the microphone alone, without his wife standing by his side, and took full responsibility for the incident. Perhaps more importantly, Rice actually said the words "domestic violence," which weren't heard in his statement two months ago.
"My actions were inexcusable," Rice said. "That's something I have to live with the rest of my life."
Before anyone pats Rice on the back, this is what he should have said the first time when he broke his silence in May. Instead, Rice nervously fumbled through notes on his phone and apologized to team officials and his sponsors. That debacle of a news conference came across as damage control to his image.
His 17-minute news conference Thursday hit the right tones. He apologized to all women affected by domestic violence. He accepted the blame for losing the respect of fans. Rice came across as genuinely sorry.
"I let my wife down, I let my daughter down, I let my wife's parents down, I let the whole Baltimore community down," Rice said.
Rice's biggest misstep was not talking about what happened in the elevator. He was asked twice about it and declined to answer both times. His stance against domestic violence would have resonated stronger if he had explained his transgressions.
"I'll be honest: Like I said, I own my actions," Rice said. "I just don't want to keep reliving the incident. It doesn't bring any good to me. I'm just trying to move forward from it. I don't condone it. I take full responsibility for my actions. What happened that night is something that I'm going to pay for the rest of my life."
The only way Rice can move forward from this incident and show he's truly sincere is through his actions. It's not by his words. It's not by a hefty donation, which is merely a gesture. It's by proving this will remain a "one-time incident" and by supporting domestic-violence causes.
Thursday represented a small step forward for Rice. But it was an important one.
January, 12, 2013
1/12/13
2:00
PM ET
SAN FRANCISCO -- I'm a little late to this trash-talking party, but as we get closer to kickoff at Candlestick Park, I thought I would throw this your way.
Rodgers
About 20 minutes after the
Green Bay Packers
drafted him in 2005, quarterback
Aaron Rodgers
gave an interview to KPIX, the CBS affiliate in San Francisco. Rodgers was asked how disappointed he was not to have been drafted No. 1 overall by the
San Francisco 49ers
, who selected
Alex Smith
instead.
Rodgers, clearly still emotional after a long day, responded: "Not as disappointed as the 49ers will be that they didn't draft me."
(
Video here.
)
The 49ers are no doubt appropriately disappointed, but it's worth noting that Rodgers claimed this week that he no longer harbors intense resentment toward the franchise.
"I don't have the same feeling," Rodgers said on his
ESPN 540 radio show
. "That interview that I did was probably right after I did my interview at the podium back behind the green room. I got picked maybe 20 minutes earlier. It was an emotional day, a long day. At the time I wanted to play right away and prove … to the other teams that they made a mistake.
"I look at it differently now. [Green Bay] is where I would have wanted to be had I known what I know now, about the kind of working environment this is, the opportunities I would be given, the coaching staff that was going to be here.
"I don't like doing the whole 'what-if' game. I just know that I'm really glad that I fell into God's country here in Wisconsin and had the opportunities to spend my early years the way I did, and have gotten the opportunity to be a starter and play for this team."
January, 12, 2013
1/12/13
8:00
AM ET
We had a few discussions
late this season on the
Green Bay Packers
' defense before, during and after linebacker
Clay Matthews
' hamstring injury. It's not too hard to figure out; Matthews has 15 sacks in 13 regular-season and postseason games.
But what about the
Charles Woodson
factor? How did Woodson's fractured collarbone impact the Packers defense, and what will his presence mean for Saturday night's divisional playoff game against the
San Francisco 49ers
?
As the chart shows, the Packers' defense was predictably better this season when Woodson was on the field. But what's interesting is that defensive coordinator Dom Capers was significantly more aggressive in terms of sending extra rushers -- especially when one of them was a defensive back.
In his first game back since suffering the injury, Woodson was on the field for all 63 of the Packers' defensive snaps. In that game, the Packers sent at least one extra rusher against the
Minnesota Vikings
on 48 percent of their dropbacks. For context, consider that the Packers' blitz rate for the season was 40 percent -- and that was the fourth-highest in the NFL.
Game plans are always opponent-specific, but at the very least I think we can agree that Capers has a bigger playcard at his disposal with Woodson on the field. The 49ers will no doubt expect the same thing.
January, 11, 2013
1/11/13
1:41
PM ET
»
NFC Final Word
:
Packers-49ers
|
Seahawks-Falcons
»
AFC
:
Ravens-Broncos
|
Texans-Pats
Five nuggets of knowledge about Saturday's Green Bay Packers-San Francisco 49ers divisional playoff game:
Tight matchup:
In talking and writing about this game over the past week, it became clear that there truly is no favorite. The Packers and 49ers have the same number of advantages and disadvantages, which makes for what I think should be the most anticipated matchup of the divisional weekend. The 49ers are
2.5-point favorites
at home, which basically means Las Vegas would consider this a pick 'em game on a neutral field.
ESPN's panel of 14 experts
is split -- seven picked the Packers and seven chose the 49ers to win. My
NFC West colleague Mike Sando
, who is 36-17 in picking his division's games this season, predicts a 28-24 win for the 49ers. Me? I don't make picks. Lucky
meeeeeeeee!
[+] Enlarge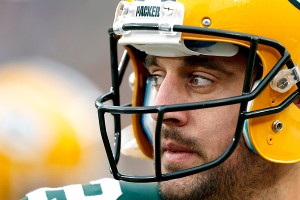 Wesley Hitt/Getty ImagesAaron Rodgers has three consecutive road playoff wins -- just one shy of tying an NFL record.
Rodgers on the road:
We've noted
that Packers quarterback
Aaron Rodgers
has three playoff victories on the road in his career, a relatively modest number that nevertheless is two away from the NFL record. And it's worth noting that Rodgers was exceptional on the road during the regular season, even by his standards. He threw 22 touchdown passes and three interceptions in those eight games -- the second-best touchdown-interception differential (+19) in road games during the Super Bowl era. Only
Tom Brady
(+25 in 2007) has been better. This week, we also noted that Rodgers'
low interception rate over his career
gives him a head start for consistent playoff success.
Smith factor:
Rodgers and the Packers should get an early gauge on how close 49ers defensive lineman
Justin Smith
is to full strength. Smith was a key part of a defense that
physically overwhelmed the Packers in Week 1
, but he missed the final two and a half games of the regular season because of a triceps injury -- and the 49ers defense took a notable dive in his absence. Over that stretch, the 49ers' sack rate dropped by about half and linebacker
Aldon Smith
didn't have a single sack. The 49ers forced a turnover about once every 57 plays without Justin Smith as opposed to once every 41 plays with him, and opponents averaged 5.1 yards per play after managing 4.5 yards per play with him on the field.
Defending Kaepernick:
The 49ers'
bold midseason move
to promote
Colin Kaepernick
to their starting quarterback meets a critical judgment point this weekend. Kaepernick brings a more explosive mixture of running the read-option and throwing downfield, but his ability to handle the pressure of the postseason has not been tested. Although it was an admittedly small sample size, the Packers gave up an average of 10 yards on the six read-option plays they faced last Saturday against the
Minnesota Vikings
. On the other hand, you have to assume the Packers -- now at full strength with linebacker
Clay Matthews
and defensive back
Charles Woodson
on the field -- will send heavy pressure at Kaepernick. The Packers' 40-percent blitz rate during the regular season was the fourth-highest in the NFL. Kaepernick completed 57 percent of his passes against the blitz this season, ranking No. 20 in the NFL. His Total Quarterback Rating (QBR) was 59.6 against the blitz and 86.5 against four or fewer rushers.
Kicking strategy:
The teams have taken different approaches with inconsistent veteran kickers this season. The Packers never considered replacing
Mason Crosby
, who has emerged from an extended slump to convert five consecutive attempts over his past three games. The 49ers'
David Akers
, meanwhile, struggled for much of the season and has missed four of his past 10 attempts. He will kick in this game only after fending off a challenge from veteran
Billy Cundiff
, whom the 49ers signed for an extended competition during their playoff bye week.
(Statistics courtesy ESPN Stats & Information unless otherwise noted.)
January, 10, 2013
1/10/13
2:30
PM ET
Time for a quick quiz. Can you guess the pass-happiest game in the five-year history of the
Aaron Rodgers
Era?
Tick, tock.
Tick, tock.
Brrring.
It came in Week 1 of this season, the
Green Bay Packers
' 30-22 loss to the
San Francisco 49ers
. As the chart shows, Rodgers dropped back on 85 percent of the Packers' plays in that game (52 of 61). More than half of those plays (31 of 61) came without a running back on the field. The approach has come to symbolize the worst of the Packers' occasionally imbalanced offense under Rodgers and coach Mike McCarthy, and it's an appropriate starting point for extending the conversation on how the team has changed over the ensuing 17 weeks.
To spur that discussion, I've circled back on two posts from the early part of the season. One documented the Packers' failure rate whenever they
push past a dropback rate of 70 percent
. The other illustrated the
decline of their downfield passing success.
With the help of John McTigue from ESPN Stats & Information, I can tell you a couple things:
The Packers dropped back at a significantly lower rate over the final two-thirds of their season.
Over roughly the same time period, their downfield success improved, even if it didn't approach the heights of their record-setting 2011 season.
On the first point, the Packers averaged 44.6 dropbacks over their first five games, which was the third-highest in the NFL at the time. It was part of the reason they were 2-3 at the time, and it left them 2-8 in games they've dropped back at least 70 percent of the time in the Rodgers Era.
Thereafter, the Packers had only one 70-percent dropback rate: Their Week 17 loss to the
Minnesota Vikings
. Even with that game, the Packers' dropback average dropped to 38 per game over their final 11.
With a less imbalanced offense since then, as the second chart shows, Rodgers has had more success as a downfield passer. His QBR on throws that traveled at least 15 yards in the air has been 98.5 (on a scale of 0 to 100).
The Packers' offense still fell short of its explosive 2011 season. Its 40-yard completions dropped by 44 percent (from 16 to 9) and its 20-yard completions dropped by 21 percent (70 to 55) over the course of 16 games. Rodgers averaged 7.83 air yards per throw, ranking No. 27 in the NFL, after averaging the league's 10th-highest mark (8.97) in 2011.
What's more important, however, is the Packers made a steady climb since hitting that early road block. Why has that happened? Conventional wisdom suggests their balance has helped. But in in a conference call this week, ESPN analyst Steve Young discounted that theory and suggested Rodgers simply raised his performance level amid an incompletely formed offense.
"Defenses are predatory," Young said. "They smell trouble and then they go after it. And throughout this year, I think defenses smelled that there was really no threat from the [Packers'] run. You can talk about it. You can even have some success. You know the truth. [But] it creates a lot of problems for quarterbacks.
"And that's why I think Aaron had one of the great years ever, because he pulled this team along without all the weapons, without his full arsenal. You give him a running game and the ability to put the ball in the belly of running back and pull it back out, and have reaction from safeties and linebackers … you won't stop him.
"I don't believe there's enough of a threat to change the predatory nature of how defenses look at the Packers. They haven't been straightened up to that fact. … I don't think they've done enough to change the perception from the kind of defense he's going to be facing."
We'll leave it to people with deeper football knowledge than me to understand why this shift has occurred. Was it more balanced play-calling? Simply a yeoman effort from Rodgers? That debate can continue. What we can conclude is that there has been a notable shift. The Packers are a more balanced and more explosive offense than they were in Week 1, and it sure won't hurt them in Saturday night's rematch.
January, 9, 2013
1/09/13
9:16
PM ET
As we get closer to Saturday night's divisional playoff game at Candlestick Park, the biggest injury question might be whether or not
Green Bay Packers
receiver
Jordy Nelson
will play.


Nelson missed his second consecutive practice Wednesday because of what coach Mike McCarthy
called an "ongoing" ankle injury.
McCarthy said he hopes Nelson will get on the field Thursday for the Packers' final practice of the week. Nelson played sparingly (19 snaps, according to
Pro Football Focus
) in last weekend's wild-card victory over the
Minnesota Vikings
, and the Packers have kept the exact nature of his injury quiet.
Let's take a look at the rest of the injury reports for both teams:
Packers:
Receivers
Randall Cobb
(flu) and
Jarrett Boykin
(ankle) joined Nelson on the sideline. Cobb is expected to be ready for Saturday night's game, however. Safety
Jerron McMillian
missed Wednesday's practice for personal reasons. All other players had at least limited participation, and tight end
Jermichael Finley
(hamstring) went full.
49ers:
All players had at least limited participation, including defensive lineman
Justin Smith
(elbow/triceps). Barring a setback, Smith is expected to play Saturday night.
January, 9, 2013
1/09/13
12:00
PM ET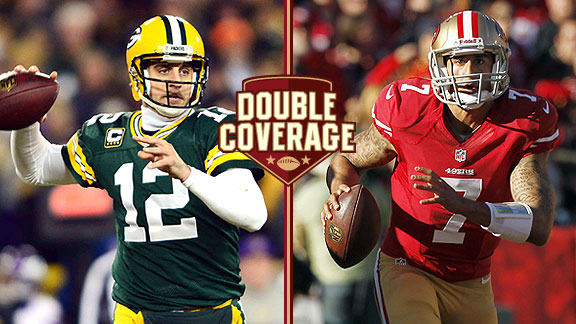 USA TODAY SportsThe play of Green Bay's Aaron Rodgers, left, and San Francisco's Colin Kaepernick will go a long way in deciding the outcome of Saturday's divisional playoff matchup.
The 2012 season began at Lambeau Field for ESPN.com's NFC West and NFC North bloggers. The
San Francisco 49ers
had a Week 1 date against the
Green Bay Packers
, which meant that Mike Sando and Kevin Seifert would be working side by side in a game that figured to be a (very early) playoff preview.
Except -- oh, that's right -- Sando got caught up in
Russell Wilson
-mania, bailed on the trip to Green Bay and left Seifert to chronicle the 49ers'
thorough wire-to-wire victory
. So it's only fair to let Seifert have the first word in this discussion of Saturday night's rematch in the divisional playoffs at Candlestick Park.
Seifert:
Yeah, Mike, I remember turning to you during the game to express surprise at how much better the 49ers seemed that day -- and there was only an empty seat next to me. I know you were busy tracking your guy Russell Wilson, but I can tell you firsthand that the 49ers just physically manhandled the Packers that day. They walked into Lambeau, took a 10-0 lead early in the second quarter and never looked back. Both teams have changed since then, but there was a clear physical advantage there. I remember seeing
Frank Gore
just bulldozing into the second level and popping outside, an issue the Packers would face later in the season against
Adrian Peterson
as well. (Gore gained 72 of his 112 yards outside the tackles.) So I'll ask you: Are the 49ers still as physical of a team as they were in Week 1?
[+] Enlarge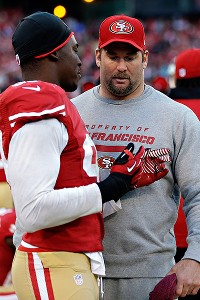 AP Photo/Marcio Jose SanchezAldon Smith, left, and the 49ers' defense weren't as productive with Justin Smith out of uniform.
Sando:
That's just how we roll in the NFC West, Kevin. It has become the new Black and Blue division. The 49ers are still a physical team. Their offense is pretty much unchanged from that standpoint. I expect a rested Gore to run the ball effectively. And if the 49ers are smart, they'll involve
Colin Kaepernick
in the running game, adding another dimension. The big question for San Francisco is whether the defense can be as physical with
Justin Smith
playing through a triceps injury. Smith will have had 27 days between games by the time he suits up for this one. If he's full strength, the 49ers will be just as physical now as then. If not, the entire defensive front is compromised. San Francisco doesn't have great depth along the line.
Seifert:
We'll dive deeper into that Justin Smith issue in a bit, but let's pick up with the 49ers' read-option capabilities with Kaepernick. I realize it's a small sample size, but the
Minnesota Vikings
had some success last Saturday night using Peterson and
Joe Webb
in a similar type of option arrangement. They ran the read-option six times and gained 65 yards on it. Gore isn't as dominant of a runner as Peterson, but I would say Kaepernick is a more reliable scrambler than Webb. Regardless, I think the 49ers could have some success with it Saturday night. It's a lot to keep track of. But even typing the name "Joe Webb" reminds me what can happen when a quarterback makes his first NFL playoff start. Kaepernick has to be a bit of a question mark in this game. Doesn't he?
Sando:
Kaepernick is a different kind of question mark. The conventional and advanced stats say he has been as good or better than
Alex Smith
. Kaepernick ranks third in Total QBR (76.8) behind
Peyton Manning
and
Tom Brady
.
Matt Ryan
is fourth and
Aaron Rodgers
fifth. That doesn't happen by accident. But the identity of the offense is changing and the process has been a little unsettling for a team that had a pretty strong identity for more than a year. The offense can be much more explosive with Kaepernick. He has had a couple of 50-yard runs in fourth quarters and his arm strength has opened up the field, but Gore hasn't been as comfortable running from the Pistol formation. It throws off his timing.
Vernon Davis
has disappeared from the passing game.
Kendall Hunter
,
Mario Manningham
and
Kyle Williams
have landed on injured reserve.
Randy Moss
' playing time is up. There has been a lot of change packed into a short window and there's a sense almost anything could happen, good or bad.
Seifert:
Well, that certainly settles things. Anyway, I was in the Packers' locker room Saturday night after they beat the Vikings, and the Packers seemed to have every expectation that the 49ers would try to run the ball down their throats, especially with an inexperienced quarterback making his first playoff start. They know Gore steamrolled them in Week 1, but they feel as though they've had a lot of practice against Peterson since then. Even though Peterson had 409 yards against them in two regular-season games, the Packers did a nice job bottling him up in the playoffs. (Most of Peterson's 99 yards in that game came after the Packers had a three-score lead.) But we've now spent, oh, about 800 words discussing Gore and Kaepernick in this matchup and still have barely mentioned the two most important words in this game: "Aaron" and "Rodgers." With all due respect to the Smiths, Justin and Aldon, Aaron Rodgers will be the best player on the field Saturday night. You can have your Colin Kaepernick.
[+] Enlarge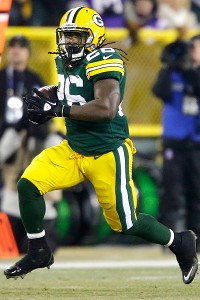 AP Photo/Jeffrey PhelpsDespite his size, DuJuan Harris was effective as a rusher for Green Bay.
Sando:
That's an interesting take on Kaepernick. I think he's better than that. He went into Gillette Stadium, threw four touchdown passes and had the 49ers up 31-3 on Tom Brady. Kaepernick and Rodgers both have 5-2 starting records since Kaepernick entered the lineup. Kaepernick is averaging more yards per drop back in part because he has taken half as many sacks (since Week 11, when both have been starting). Kaepernick has a higher Total QBR over that span. He has 10 touchdown passes and three picks. Rodgers has 14 TDs and three picks. Rodgers is completing 67.6 percent of his passes, while Kaepernick is at 62.5 percent. I'm giving the QB edge to the Packers in this game, but I'm not sure it's as lopsided as conventional wisdom would suggest. Is Rodgers playing lights out, or was Greg Cosell -- the NFL Films analyst -- right when he said Rodgers is "leaving an awful lot of plays on the field" through tentative play from the pocket?
Seifert:
There is no doubt Kaepernick has been productive and efficient. We in the NFC North were his first victims -- the Week 11 romp over the
Chicago Bears
. But as you're fond of saying, Mike, usually we can find a statistical split to tell whatever story we want to tell. So on Rodgers-Kaepernick, I'll just throw out a few things. First, Rodgers enters this matchup having thrown 11 touchdowns without an interception over his past four games. Kaepernick has seven touchdown passes and three interceptions in his past four. Rodgers is 5-2 as a postseason starter and has the highest passer rating (105.4) in NFL playoff history. If my math is right, Kaepernick is winless as a playoff starter. Finally, on Cosell's analysis, I will say that other media observers have made similar suggestions about Rodgers' tentativeness. Ron Jaworski is one. I'm not smart enough to know how many plays Rodgers has left on the field. But I do know I would rather him pass up a few, and take a few extra sacks, than follow a more reckless approach that might hit a few more big plays but also almost certainly lead to more mistakes. Rodgers makes enough big plays; he led the NFL in touchdown passes per attempt (7.1 percent) this season. But he also has the single-best quality for a quarterback in the playoffs: He rarely throws interceptions. Rodgers' career interception ratio is 1.73, the best in NFL history by a long measure. Of all the statistical indicators, interceptions might be the one most directly correlated to postseason success and failure.
Sando:
That brings us back to the beginning. Justin Smith and that 49ers defense must affect Rodgers. I'm not sure they'll be able to do that well enough.
Aldon Smith
had 19.5 sacks this season, but none after Justin Smith played his final regular-season snap against New England in Week 15. When it comes right down to it, I'm less sure what to expect from the 49ers on either side of the ball. Their special teams also have gone from major strength to consistent liability -- at kicker, in the return game and in coverage. The more I think about this game, the more I think Kaepernick has to be Rodgers' equal, or close to it. That's a lot to ask, but the 49ers made the quarterback change with this type of game in mind. And when I think about the Packers' allowing three touchdown passes to the Vikings'
Christian Ponder
in a meaningful Week 17 matchup, I'm inclined to take the 49ers at home. You won't see me at the betting window putting a wager on it, though.
Seifert
: The best thing the Packers have going for them in this game, I think, is that they have built a more balanced offense around Rodgers in the second half of the season. If you think back to Week 1, they were such a pass-happy offense that they ran more than half of their plays against the 49ers -- 31 of 61 -- without a single running back on the field. Now, they're in a position where they've run for at least 100 yards as a team in six of their past nine games. I think this is a great and fun matchup. Heading west to win a playoff game at Candlestick is tough -- just ask the
New Orleans Saints
last year -- but it's not impossible to envision a Packers victory. Hopefully Mike joins us this time.
January, 9, 2013
1/09/13
11:15
AM ET
As we get inch closer to Saturday night's divisional playoff game at Candlestick Park, it's become quite clear that NFC West blogger Mike Sando is on a mission to equate
San Francisco 49ers
quarterback
Colin Kaepernick
with the
Green Bay Packers
'
Aaron Rodgers
.
Mike
offered an overview to his position in this post
, comparing their performances over the final seven weeks of the regular season. I can tell you that Mike brought more nonsense in a Double Coverage post we will publish a bit later Wednesday, and I imagine I'll have to listen to it once again in our Inside Slant podcast this afternoon.
As the NFC North blogger, I'm basically taking a rope-a-dope position. Mike is more than welcome to come at me with his QBR, his QB PAA, QB PAR and ABCs. I'll just respond with a few key facts, established over Rodgers' far more productive career, to use for the inevitable knockout.
We noted Rodgers'
career-long avoidance of interceptions Tuesday.
On this fine morning, I'll point you to his success as a road quarterback in the playoffs -- one of the most difficult challenges in pro football. Despite limited opportunities, Rodgers has won three consecutive road playoff games. He is one away from tying the NFL record in that regard.
To understand how rare it is for quarterbacks to win more than they lose on the road in the postseason, check out the chart. As surprising as it might be, the NFL record for road playoff victories by a quarterback is five, meaning Rodgers is two away from tying that mark.
Before you suggest those figures are merely a function of good quarterbacks playing on lower-seeded teams, consider that four-time Super Bowl winner Joe Montana was 2-5 in his career on the road. Terry Bradshaw, another four-time winner, was 2-3 on the road. Steve Young was 0-3, Troy Aikman was 1-4 and Brett Favre was 3-7. Meanwhile,
Tom Brady
is 3-2 in road playoff games during his career and
Peyton Manning
is 2-5. (Hat tip to Packers public relations for those records.)
So bring it, Mike. It's on.