NFL Nation:

Packers-Bears I
September, 25, 2010
9/25/10
4:04
PM ET
The
Chicago Bears
definitely won't have their starting left tackle Monday night. The
Green Bay Packers
aren't sure yet.
That's the upshot of the final injury report of the practice week for both teams. The Bears
ruled out
left tackle
Chris Williams
because of a hamstring injury that forced him to miss the entire week of practice. Right tackle
Frank Omiyale
will make his first career start at left tackle Monday night against the Packers, and it's expected that
Kevin Shaffer
will start at right tackle.
Normally I'd express grave concern about this turn of events, given Omiyale's failed experiment as a left guard last season and his brief run as a right tackle this season. But for reasons that haven't been fully comprehended, Omiyale held his own at left tackle after Williams' injury last Sunday against the
Dallas Cowboys
. So we'll give him a full night's work before we make any judgments about this arrangement.
The Packers, meanwhile, declared left tackle
Chad Clifton
(knee) probable for the game, as they did for left guard
Daryn Colledge
(knee). The NFL defines "probable" as a "virtual certainty" that the player will be available for a game, but whether the Packers decide to start Clifton or rookie
Bryan Bulaga
remains to be seen.
"Chad Clifton is our starting left tackle,"
coach Mike McCarthy said Saturday
, "and if Chad is ready to go, he'll play there and our rotation will be the same as it's been. It's a medical decision. He's in the stage of his career that his particular knee situation is a little bit unpredictable, so we'll see how he is Monday."
There had been some concern that Colledge's injury would force the Packers' hand. He sat out practice Friday, forcing Bulaga to shift to left guard, but was back Saturday morning. McCarthy said: "I think he's going to be OK."
So, as we've been discussing all week, it will come down to whether the Packers prefer starting a veteran left tackle who is battling chronic knee soreness, or if they turn to a rookie first-round draft choice to make his first NFL start on Monday Night Football. Stay tuned.
September, 25, 2010
9/25/10
3:03
PM ET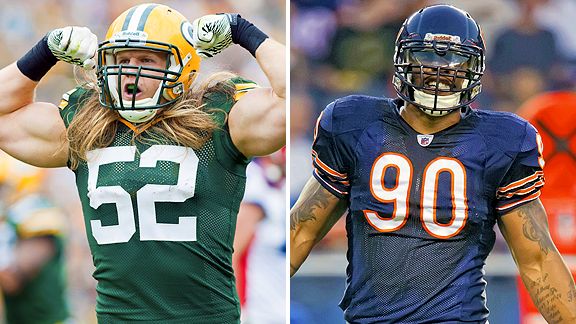 AP Photo, Icon SMIWhen Green Bay and Chicago meet on Monday night, the offenses will be focused on handling pass-rushers Clay Matthews (left, Packers) and Julius Peppers (Bears).
The rule is simple and time-tested. In the NFL, it's all about the quarterbacks. They generate most of the blame, attract the majority of the credit and get all of the girls. We paid our respects at the quarterback altar last week, noting
the new relevance of the "JayRod" rivalry
in anticipation of Monday night's matchup between the
Green Bay Packers
and
Chicago Bears
.
So enough already with the pleasantries. What if we suggested that the two best players at Soldier Field won't be the Bears'
Jay Cutler
or the Packers'
Aaron Rodgers
? What if we cast our gaze to the other side of the ball and recognize the two men charged with stopping said quarterbacks?
Packers linebacker
Clay Matthews
leads the NFL with six sacks entering Week 3. Bears defensive end
Julius Peppers
has been among the league's top pass-rushers since arriving in 2002, enough to have elicited a $91.5 million free-agent contract from the Bears in March.
Quarterback play might ultimately decide this showdown of 2-0 teams, but no players are in better position to impact their performances than Matthews and Peppers. With that dynamic in mind, I pulled together thoughts from a wide variety of sources on both players. Let's break them down from every angle as the clock ticks toward Monday night at 8:30 p.m. ET.
Clay Matthews
Age:
24
Height:
6-foot-3
Weight:
255
Interesting fact:
Legend has it that the Packers identified Matthews as an ideal fit for their new 3-4 scheme, leading them to trade up to draft him in April 2009. The reality, as coach Mike McCarthy
reiterated last week
, is that general manager Ted Thompson was locked in on Matthews after a scouting trip in the fall of 2008, long before the decision was made to change schemes.
Quotable:
A
reporter informed Matthews
he is on pace for a 48-sack season. Matthews laughed and said: "I think it's a little early to go there. What's the record? 22.5?" Indeed it is, set by the
New York Giants
'
Michael Strahan
in 2001.
Player viewpoint:
"He's got a high engine. His motor is always going. He gets off blocks really well. Once he does get the quarterback in his sights, he attacks really well and finishes. You don't see many guys get away from him." (
Cutler
)
Scouts viewpoint:
"He is making a very early case for the Defensive Player of the Year award. He is tremendous and just keeps coming.
James Harrison
and
Dwight Freeney
are the only two guys in the league who come to mind that can dip their shoulder as low as he does without losing speed coming around the edge. His first step is very quick. He has counter moves. He is an excellent hand-placement player. And the Packers use him all over the formation, rushing him from both sides and even in the middle from a two-point stance. Compared to Peppers, Matthews is clearly the better technician and effort player." (Matt Williamson, Scouts Inc.)
Statistical viewpoint:
As you see in the first chart, Matthews has the third-most sacks in the NFL since the start of the 2009 season. Bill Barnwell of
Football Outsiders
goes deeper: In 16 games last season, which included 13 starts, Matthews had 10 sacks. But he also knocked down the quarterback on 12 other plays, and hurried the quarterback on 21 more.
Reader viewpoint (We tossed the topic out to you last week):
"Too many here are missing the point about the difference in how the players are used (starting with K/S). Peppers can be double-teamed, probably will be. Teams have tried to double-team Matthews all year and due to the confusion [defensive coordinator Dom] Capers creates. He's had sacks where he beat less than two men several times already. Double-teamed Peppers vs. one-on-one Matthews will be advantage Matthews. It has been so far (6-1). Just because you know he's coming hasn't helped anyone stop him thus far. Given appropriate attention, Peppers has been shut down all year except for on the one play. Expect that to continue." (LamboLeak)
Julius Peppers
Age:
30
Height:
6-foot-7
Weight:
305 pounds (as of training camp)
Interesting fact:
Peppers is often said to have a prototypical pass-rusher's build. What does this mean? Obviously, being 6-foot-7 helps overwhelm linemen and disrupt quarterbacks. But if you're an arm length guy -- in other words, if you believe arm length can make a difference in pass blocking and pass rushing -- Peppers is an amazing specimen. His arms measured 34 1/8" during the 2002 scouting combine. The average left tackle in the NFL measures about 33 1/2". If used correctly, that's a substantial leverage advantage on every play.

Quotable:
Peppers is shy and soft-spoken in public settings, helping fuel his reputation for occasional disinterest. Speaking this summer in training camp, however, Peppers said he is simply unfazed by public attention. "That's just how I handle it," Peppers said. "I've been the center of attention for pretty much my whole life. It doesn't bother me, and it doesn't change me. It's just me."
Player viewpoint:
"I have high expectations for Julius. I expect a sack every play." (
Middle linebacker
Brian Urlacher
.)
Scout's viewpoint:
"He is off the charts from a physical standpoint but will disappear at times. He goes stretches where you don't notice him. That is a shame. But when he's on, he is as good as anyone and really is a player without a true weakness. He has the prototypical long athletic pass-rusher build, and plays big with his ability to keep blockers off his frame and disrupt passing lanes. He can beat an offensive tackle with power or speed, and the Bears are smart to be moving him back and forth from the right and left sides. In this environment, I think he will give everything he has." (Matt Williamson of Scouts Inc.)
Statistical viewpoint:
The second chart shows the Peppers has 82 sacks since he joined the
Carolina Panthers
eight years ago, the third-highest total over that span. But as with Matthews, sacks alone don't tell the full story. For example, notes Barnwell, Peppers had 12 knockdowns last season and 28 hurries in addition to his 10.5 sacks.
Reader viewpoint:
"Once again there is no 'I' in team. Julius Peppers has made the defense for the Bears better. While he may not be compiling the numbers Matthews is, he is drawing more coverage so the other guys can make plays. 'Mr. Rodgers' meet 'Dr. Peppers.' Chicago defense will rule." (4everbearfan)
September, 23, 2010
9/23/10
1:03
PM ET
If it wasn't before, the transition of the NFC North division from Black and Blue to Air and Space will be complete Monday night at Soldier Field. At about 8:30 p.m. ET, you'll see two teams that have started 2-0 with
elite quarterbacks behind center
and little help from their running games.
[+] Enlarge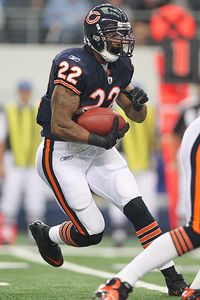 Matthew Emmons/US PresswireMatt Forte has racked up 188 yards through the air this season, but just 79 on the ground.
That's right. As the chart illustrates, the
Chicago Bears
have rushed for 123 yards this season. That total, along with their average of 2.8 yards per carry, ranks No. 28 in the NFL. The Packers, who lost tailback
Ryan Grant
to a season-ending ankle injury in Week 1, rank 14th with 223 yards but are managing only 3.7 yards per carry and, like the Bears, are one of 10 NFL teams without a run of 20 or more yards.
Those numbers could even out a bit when the weather turns in December, but there are no guarantees as long as Mike Martz is the Bears' offensive coordinator and the Packers continue to field a mishmash committee of tailbacks. Green Bay coach Mike McCarthy is well-known for his downfield throwing mentality, but he insisted this week that the Packers need to establish a running game Monday night. Knowing McCarthy, however, he mostly wants to set up play-action passes and protect his drop-back game.
"You have to have the ability to run the football," McCarthy said, "because [the Bears] do a very good job the way their defense is built against drop-back passing. I'm not looking to run the ball just to set up the pass. I'm sure some of you may disagree with me. When we run it, we want to run it very well."
The Bears, meanwhile, are riding the hot hand of quarterback
Jay Cutler
and -- as many expected from Martz -- have focused their tailbacks more in the passing game than on the ground.
Matt Forte
leads the team with 12 receptions, 188 yards and three touchdowns, while backup
Chester Taylor
is tied for third on the team with five receptions. But they have combined for 114 rushing yards on 40 carries.
Of the two teams, the Bears might be more in need of elevating their running game.
This essay from KC Joyner
suggests that Cutler might never lose the risk-taking mentality that has largely gone dormant this season. If Cutler hits a wild stretch, it would be nice to rely on Forte or Taylor until he settles down.
But that's not how we do it in the Air and Space division, is it?