NFL Nation:

Packers-Cardinals
January, 11, 2010
1/11/10
2:01
PM ET
GLENDALE, Ariz. -- Cardinals receiver
Larry Fitzgerald
joked Monday that coach Ken Whisenhunt threatened to cut him this offseason after the Pro Bowl receiver called timeout with 14 seconds remaining in regulation Sunday.
Players aren't supposed to call timeouts, but Fitzgerald got carried away after
Early Doucet
's 16-yard reception to the Green Bay 16. He apparently thought the Cardinals would attempt another play on offense.
The plan from the sideline was for Whisenhunt to call timeout with seven seconds left. But when Fitzgerald called timeout unexpectedly, some on the sideline thought the team really was planning to attempt another play.
That threw off the timing for the field goal attempt, which
Neil Rackers
missed from 34 yards.
"One of the things we have done a very good job of here is being very clear of the situations," Whisenhunt said. "Everything was moving along smoothly and then Larry hit the timeout button a little early and it threw a little kink into it. I think Neil anticipated we were going to run one more play, but I can tell you this: With 14 seconds left and no timeouts, the prospect for running one more play is not smart in my mind.
"We called for the field goal team and obviously there was delay for Neil getting there and he rushed it and that is why I think he missed the kick. I will take the blame for that because I should have communicated better to Neil at that point when we were in the timeout that we were going to kick the field goal and maybe that would have erased that doubt."
January, 10, 2010
1/10/10
11:12
PM ET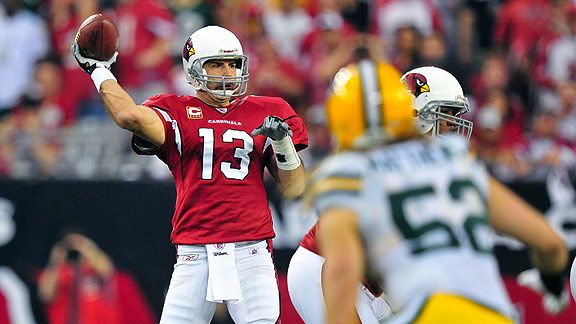 Chris Morrison/US PresswireKurt Warner completed 29 of 33 passes for 379 yards and five touchdowns against the Packers.
GLENDALE, Ariz. -- The
Green Bay Packers
didn't know whether to blitz
Kurt Warner
or sit back and cover his receivers.
Not that it mattered.
That's what made the latest round of Warner retirement talk seem so utterly ridiculous Sunday.
Warner, retire?
The NFL should retire Warner's lucky No. 13 jersey after the 38-year-old legend completed 29 of 33 passes for 379 yards and five touchdowns during the
Arizona Cardinals
'
51-45
victory in one of the league's greatest games.
"Kurt Warner was lights out," Packers coach Mike McCarthy said.
Warner took a victory lap around University of Phoenix Stadium after
Karlos Dansby
's overtime touchdown ended the game. Warner waved goodbye to fans, then noted that it was his final home game of the season -- not necessarily of his career. The Cardinals can't play another home game this season even if they beat New Orleans in the NFC divisional round.
"Everybody, relax," Warner said.
Relax for another week, anyway. A trip to New Orleans awaits, and if the Cardinals lose, that could be the end for the only quarterback besides
Peyton Manning
and
Joe Montana
with six 300-yard passing games in the playoffs.
"I never want to make an emotional decision," Warner said. "I think it's easy to do, whether it's after a game like this to say, 'Ah, gosh, I'm going to play forever,' or after a bad game just say, 'Ah, I'm done.' "
Forever looked like the favorite Sunday.
Warner, facing a Green Bay defense that ranked among the NFL's top five in multiple categories, finished with more touchdown strikes than incomplete passes. He made
Early Doucet
look like
Anquan Boldin
. Playing often with rookies in the backfield and the untested Doucet subbing for the injured Boldin, Warner proved he could win a playoff shootout without having multiple future Hall of Famers for a supporting cast.
The Cardinals led 14-0 before Fitzgerald caught a pass.
Steve Breaston
finished with seven receptions for 125 yards and a TD. Doucet caught six passes for 77 yards and two scores. Fitzgerald overcame the slow start to catch six for 82 and two TDs.
"What more is there to say about Kurt?" Cardinals coach Ken Whisenhunt said.
Let Fitzgerald answer that one.
"When Kurt is playing at that kind of level, seeing the field and being able to diagnose what the defense is doing to him, getting the ball out of his hands so quick, he's hard to deal with," the receiver said. "He's a special player, Hall of Fame-caliber."
The case against Warner for Canton always hinged on the fact that
Marshall Faulk
,
Torry Holt
and
Isaac Bruce
were on his side, or that Fitzgerald and Boldin were on the other end of his passes. Warner was the best player on the field Sunday, making zero mistakes. He finished with a 154.1 rating (158.3 is perfect).
Warner couldn't miss even when he tried. The pass Fitzgerald caught for an 11-yard touchdown came after Warner tried to throw away the ball while Packers defensive lineman
Cullen Jenkins
bore down on him. Jenkins roughed up Warner on the play, affecting the throw just enough to give Fitzgerald a chance.
Green Bay entered the game having limited opposing quarterbacks in the middle of the field, holding them to a 69.7 rating between the yard-line numbers, third-best in the league, according to ESPN Stats & Information. Warner completed 21 of 22 passes in this area -- that's 95.5 percent -- for 289 yards and five TDs.
Warner made the Packers pay on the outside as well. The fourth-quarter pass he arced over cornerback
Tramon Williams
for a 26-yard gain to Steve Breaston along the right sideline appeared indefensible. Warner's 17-yard touchdown strike to Breaston two plays later broke a 38-38 tie.
"He is one of the best playoff quarterbacks of all time," Whisenhunt said. "We thought going into today that would be an advantage for us."
The Packers'
Aaron Rodgers
was nearly as good, and better for stretches after overcoming a shaky start. But Warner was the only quarterback without a turnover.
Only Joe Montana,
Brett Favre
and Dan Marino have more postseason TD passes than Warner. No quarterback has averaged more yards per postseason game. Warner upped his career postseason passer rating to 104.6, second only to Bart Starr's 104.8. Montana ranks third at 95.6.
Warner, retire?
"We're not going there," Fitzgerald said. "Kurt's coming back. He's going to probably come back for another four or five years. That's the rumor around here. We're going to ride with that."
Expect Warner to come back unless the Cardinals win the Super Bowl. He's competitive and knows he could regret walking away too soon. He took some time to consider retirement last offseason, only to sign a two-year extension. At the time, he viewed the signing as a two-year commitment.
"I don't think you ever want to stay too long, but you never want to go out before it's time," Warner said. "The hard part is trying to figure that out, but right now it's about another playoff game. It's about New Orleans and then we'll go from there."
Warner's teams are 9-3 in playoff games.
Anyone care to bet against him next Saturday?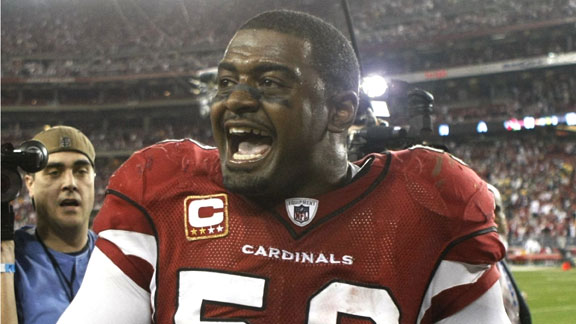 January, 10, 2010
1/10/10
12:41
PM ET
GLENDALE, Ariz. --
This
isn't the first time
Kurt Warner
's NFL future has come into question.

Warner
Warner wrestles with the decision every offseason.
The likelihood of retirement increases with each season. The injury teammate
Anquan Boldin
suffered last season raised retirement thoughts in Warner's mind. The concussion Warner suffered against the Rams this season forced him to contemplate the risks associated with continuing to play.
I suspect Warner would have retired after last season if the Cardinals had won the Super Bowl.
January, 8, 2010
1/08/10
4:04
PM ET
AFC
:
Ravens-Patriots
:
Graham
|
Walker
»
Jets-Bengals
:
Graham
|
Walker
NFC
:
Cowboys-Eagles
:
Mosley
»
Packers-Cardinals
:
Sando
|
Seifert
Three nuggets of knowledge about Saturday's Packers-Cardinals wild-card game:
[+] Enlarge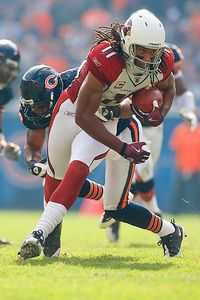 Dilip Vishwanat/Getty ImagesCan Larry Fitzgerald carry the Cardinals' offense with Anquan Boldin hobbled?
Making the Packers see red.
We've hit several times upon the Cardinals' diminishing returns in the deep passing game. For whatever reason, Arizona simply isn't making as many big plays through the air. That isn't good for the Cardinals, but it doesn't have to be the end of their playoff world. Arizona has become highly efficient at turning red zone opportunities into touchdowns. The Cardinals led the NFL in that category this season with a 70.4 touchdown percentage. Only three other teams -- Indianapolis, Minnesota and Miami -- converted even 60 percent of the time. Arizona scored nine touchdowns in its final 10 red zone possessions of the season. The Packers, despite fielding a strong overall defense this season, ranked 28th in stopping teams from scoring touchdowns in the red zone. Only the Rams, Texans, Bears and Giants posted worse percentages than the Packers' 60.9 this season. Arizona must maximize its opportunities Sunday.
Warner time.
Quarterback
Kurt Warner
gives the Cardinals a proven playoff performer. He posted a 112.2 rating in the playoffs last season, boosting his career postseason rating to 98.9 in 11 games. Only Packers legend Bart Starr has a higher postseason passer rating among quarterbacks with at least 150 playoff pass attempts. Last season, Warner broke his own NFL record for passing yards in a single postseason. He has passed for at least 365 yards in five postseason games, a record, and he owns the three highest totals for passing yards in Super Bowls. For years, NFL teams pointed to 100-yard rushing performances as potential indicators for team success. Here is what you need to know about Warner: His teams are 44-3 when he finishes a game with a passer rating in triple digits.
Injury situations appear key.
The Cardinals have somehow posted a 5-1 record since last season without receiver
Anquan Boldin
.
Larry Fitzgerald
has 37 catches for 651 yards and nine touchdowns in those games, topping 100 yards in the past four games without Boldin, including in Week 9 at Chicago. The Cardinals might have Boldin for this game, but it's unlikely he'll be near full strength after suffering ankle and knee injuries in Week 17. I'm skeptical about whether Fitzgerald can carry the offense against this Packers defense. Fitzgerald had only three 100-yard games this season, including one over the final eight games and zero in the past four. He caught 14 passes for 123 yards over the final four games. Beyond Boldin, the Cardinals could be vulnerable in the secondary and at defensive end while
Antrel Rolle
,
Dominique Rodgers-Cromartie
and
Calais Campbell
deal with injuries.
January, 4, 2010
1/04/10
2:12
PM ET
GLENDALE, Ariz. -- The Cardinals named a few starters inactive Sunday to guard against aggravating injuries.
They removed most of their defensive starters shortly after Pro Bowl cornerback
Dominique Rodgers-Cromartie
suffered a knee injury less than two minutes into the game against Green Bay.
But with third-string quarterback
Brian St. Pierre
under center deep into the fourth quarter, Pro Bowl receiver
Larry Fitzgerald
stayed in the game to pad his stats. Coach Ken Whisenhunt was OK with the associated risks even though an injury had already knocked out the team's other elite wideout,
Anquan Boldin
.
"Larry wanted the touchdown and he wanted 100 receptions," Whisenhunt said Monday. "That was something that was important to him and that is the competitive side of Larry. You weigh those risks. We talked to Larry during the game about that and Larry wanted to continue to play."
Fitzgerald caught his 13th touchdown pass of the season. He finished with 97 receptions.
"Those are important milestones to him as a player and we certainly respect that," Whisenhunt said. "It is a risk and it is something you would feel sick about had he gotten injured at the end. But I have no doubt in my mind that was what Green Bay was trying to do with
Aaron Rodgers
yesterday as far as the passing statistics. We are talking about something that is important to the player as far as his legacy in the league and I certainly do respect that."
Fitzgerald and Whisenhunt both put their legacies on the line Sunday. They got away with it, but that doesn't mean they made the smart decision. It would have been a defining moment for both had Fitzgerald suffered a serious injury trying to catch passes from the third-string quarterback in garbage time.
January, 3, 2010
1/03/10
9:00
PM ET
Three things to know about the Packers-Cardinals wild-card game:


1. The Cardinals have a few injury concerns.
The knee injury Pro Bowl cornerback
Dominique Rodgers-Cromartie
suffered Sunday appeared serious at first, but the team called it only a contusion, listing his return as questionable. That suggests Rodgers-Cromartie could be OK for the playoffs. The Cardinals will need him against the Packers' talented receivers.
Ankle and knee injuries forced receiver
Anquan Boldin
from the game. A thumb injury could affect defensive end
Calais Campbell
's status.
Arizona removed some starters early in the game Sunday. Others did not play.
Antrel Rolle
,
Dan Kreider
,
Ben Patrick
,
Sean Morey
and
Bertrand Berry
were not even active.
Adrian Wilson
,
Darnell Dockett
,
Karlos Dansby
,
Kurt Warner
and other key players did not stay in the game long.
Berry had 3.0 sacks in his previous four games. He is 34 years old, though, and has not played at a high level consistently this season. The time off Sunday should help the Cardinals' pass rush, which will be a critical element against the Packers. Green Bay significantly reduced sacks allowed in the second half of the season.
2. For Arizona, this matchup beats one alternative.
The Cardinals could have faced Dallas in the first round under one scenario. That matchup could have been tough for Arizona because the Cowboys'
Jay Ratliff
and
DeMarcus Ware
can be so disruptive.
The Packers are very good on defense as well and they can win one-on-one matchups against the Cardinals' offensive line. But Green Bay is less dynamic in its front seven after
Aaron Kampman
's season-ending injury.
Green Bay has a game-changing defensive back in
Charles Woodson
(a shoulder injury he suffered Sunday could affect his status). The Packers could be vulnerable against three- and four-receiver personnel, however, because nickel back
Jarrett Bush
has struggled in an expanded role since
Al Harris
' season-ending injury. Arizona can spread the field with three receivers even if Boldin is limited.
Warner and his deep fleet of receivers have a chance to exploit that matchup.
3. The Week 17 result means what?
Arizona is an all-or-nothing team. The Cardinals have often been at their best when the stakes were highest. They had little to nothing on the line Sunday and it showed. They'll hear about it all week. Expect a much better effort when it matters.
That doesn't necessarily mean the Cardinals will prevail. Their starters struggled against the Packers in the third week of the exhibition season, falling behind 38-10 at halftime. The Cardinals fell behind right away Sunday when both teams still had quite a few starters on the field.
Arizona has something to prove.
January, 3, 2010
1/03/10
8:05
PM ET
GLENDALE, Ariz. --
Dominique Rodgers-Cromartie
,
Anquan Boldin
and
Calais Campbell
suffered injuries during the Cardinals' Week 17 game against Green Bay.
Rodgers-Cromartie suffered a knee contusion after a cleat struck his kneecap.
Campbell suffered a thumb injury.
Boldin suffered injuries to his left knee and left ankle.
Cardinals coach Ken Whisenhunt was hopeful all three would be able to play against the Packers in the wild-card round. The team did not immediately know whether any would miss an extended period.
January, 3, 2010
1/03/10
7:04
PM ET
GLENDALE, Ariz. -- The Cardinals took their first-round playoff bye in Week 17. They'll hear about their futility all week before getting another chance against Green Bay in the wild-card round.


Cardinals coach Ken Whisenhunt named several key players inactive after the Vikings' victory over the Giants prevented Arizona from challenging for the No. 2 seed. Quarterback
Kurt Warner
played far less than Packers counterpart
Aaron Rodgers
. Whisenhunt, perhaps mindful of his team's postseason experience, felt OK coasting into the playoffs.
Arizona did have something to gain by winning. A victory would have left the Cardinals with the No. 3 seed in the NFC instead of the fourth seed. The wild-card matchup against Green Bay would have remained the same, but the outcome Sunday sends the Cardinals to New Orleans instead of Minnesota if both Dallas and Arizona win in the wild-card round.
The Packers haven't proven themselves in the playoffs yet. Perhaps their victory Sunday will help their confidence or give them momentum. They had the clear edge even when both teams had most of their starters in the game. Arizona apparently didn't care.
Arizona lost cornerback
Dominique Rodgers-Cromartie
and receiver
Anquan Boldin
to injuries. Rodgers-Cromartie's injury appeared serious, but the Cardinals said it was a knee contusion and his return was questionable. Boldin injured his left ankle.
Their injury status is important. I'll be heading down to the locker room to find out more, and to see what the Cardinals think this performance means.
January, 3, 2010
1/03/10
5:46
PM ET
GLENDALE, Ariz. -- Pro Bowl cornerback
Charles Woodson
suffered a shoulder injury in the second quarter against Arizona.
His return is questionable.
That leaves two Pro Bowl corners with injuries from a game that is mostly meaningless. The Cardinals'
Dominique Rodgers-Cromartie
has a knee contusion. His return is also questionable.
Both teams are resting some starters. The numbers at some position force teams to play starters longer that they might like.
Losing Woodson could be catastrophic for the Packers' defense. If his return is questionable, however, the injury might not be serious.
January, 3, 2010
1/03/10
4:25
PM ET
GLENDALE, Ariz. -- Cardinals Pro Bowl cornerback
Dominique Rodgers-Cromartie
is leaving the field on a cart after suffering an injury during the first 2 minutes of a largely meaningless game against Green Bay.
The play in question did not even count. A penalty against Green Bay negated it. But the damage has been done.
There's no way around some of these injuries. Someone has to play in the games. Only 45 players are active.
Rodgers-Cromartie is holding his left knee while the Cardinals cart him off.
January, 3, 2010
1/03/10
3:32
PM ET
GLENDALE, Ariz. -- The Cardinals will face the Packers in the wild-card playoff round unless the Giants overcome a 44-0 deficit to beat the Vikings.

The only question is seeding.

Arizona can become the third seed if the Cowboys beat the Eagles and the Cardinals beat the Packers. Green Bay would be the sixth seed in that case.

Every other scenario would make Arizona the fourth seed and Green Bay the fifth seed.


January, 3, 2010
1/03/10
2:09
PM ET
GLENDALE, Ariz. -- The Vikings' 17-0 lead over the Giants is likely affecting the Cardinals' mindset heading into their game against Green Bay.

A Minnesota victory prevents the Cardinals from challenging for the second seed in the NFC.

In that case, the Cardinals will likely rest some starters.
NFL SCOREBOARD
Sunday, 2/2
WEEKLY LEADERS