NFL Nation:

Packers-Steelers 122009
December, 20, 2009
12/20/09
11:15
PM ET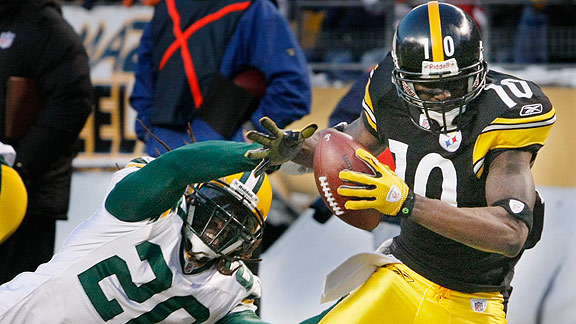 AP Photo/Keith SrakocicSantonio Holmes, right, helped Ben Roethlisberger to a historic passing day.
PITTSBURGH -- Let's dispense with the pleasantries. Green Bay is going to make the playoffs. I'm sure of it.
(
Even more sure than I was of a victory Sunday at Pittsburgh. Ha.
)
The question for us as a blog community is not whether the Packers will earn a wild-card berth. Given their remaining schedule and the squalid state of the NFC, it's a near-lock. No, the real issue for the Packers is whether they're equipped to win a playoff game. In my book, at least, missing the playoffs is only marginally less satisfying than a first-round defeat.
The events of Week 15 suggest the Packers will be a playoff team, but one that is not yet capable of winning a postseason game on the road -- as they will have to do when and if they clinch. Their opportunity to suggest otherwise came late in the fourth quarter Sunday, and quite frankly,
they fell short
.
Ahead by six points with 2:06 remaining, the Packers allowed Pittsburgh to drive 86 yards -- converting three third-down plays and one on fourth down -- and win on the final play of the game.
Mike Wallace's 19-yard touchdown reception capped a career day for Steelers quarterback
Ben Roethlisberger
, who threw for a team-record 503 yards against the NFL's second-ranked defense.
Put bluntly, none of what you read in the preceding paragraph should happen to a playoff team.
"You have these types of games in the playoffs and you go home," cornerback
Charles Woodson
said. "We had what we wanted out there, but we didn't make the plays that we needed."
I wasn't sure what I would encounter when I reached the Packers' postgame locker room. Would there be stunned silence? Anger? Uncontrolled sobbing? (I've never seen the latter in a pro locker room, but I had to establish the full spectrum.)
More than anything, I encountered realism. The Packers lost on an exceptional effort on the final plays of a wild game. But they are still 9-5 this season and, based on the NFC standings, one victory away from clinching a playoff berth. Seattle's pending arrival at Lambeau Field next weekend provides what should be an easy foil, a dynamic the Packers appear fully aware of.
"Right now our mindset is that we have to get ready for Seattle," receiver
Donald Driver
said. "We take care of business at home and we're 10-5 and that may get us in."
With the rest of the NFC field at least 1.5 games behind the Packers and Dallas in the wild-card race, that scenario appears highly likely. But I thought Sunday's game provided a good allegory for the Packers' postseason aptitude: They're on the brink, but not there yet.
To be clear, the Packers made an exceptional comeback to take the lead in the fourth quarter. I thought it would have been a seminal victory for quarterback
Aaron Rodgers
, who threw for 383 yards and led the Packers to three fourth-quarter touchdowns.
But a playoff-winning defense would have forced a turnover during the Steelers' final drive. Instead, the Packers mishandled two opportunities -- one apiece by
Tramon Williams
and Charles Woodson -- and had a third overturned by penalty. A playoff-winning defense shouldn't allow a 32-yard pass on fourth-and-7, but that's what happened when Roethlisberger found
Santonio Holmes
wide open with 1:14 remaining.
And frankly, a playoff-winning defense wouldn't have felt compelled to retreat into a dime defense -- which included two relative newcomers to the lineup whom the Steelers repeatedly targeted -- on the final drive. But that's where defensive coordinator Dom Capers landed on the final play. Roethlisberger found Wallace matched up with dime back
Josh Bell
, whom the Packers signed last month and were using only because
Brandon Underwood
was sidelined with a hip injury.
Capers has had the Packers on the attack for most of their recent five-game winning streak, but Sunday he chose to emphasize coverage over pass rush.
"They went to four wide receivers," Capers sad. "Down the stretch there, we felt we would have been better off matching up defensive backs on receivers."
Perhaps, but I would argue the Packers would have been better off flooding Roethlisberger's passing lanes rather than giving him time to slide in the pocket. Starting with the opening play of the game, Roethlisberger identified and targeted both Bell and nickel back
Jarrett Bush
. With Woodson playing mostly against the slot receiver, the Steelers had exceptional matchups with Holmes and Wallace on the outside.
"That's Roethlisberger," Bush said. "We gave him some time to slide in the pocket and let guys get open. And we didn't get it done on the back end. You can't take it away from them. They made some plays. … We all know that's not going to happen every week."
Oooooooh, I'm not entirely sure of that final assertion, Jarrett. What we saw Sunday was the first Packers opponent to really capitalize on cornerback
Al Harris
' season-ending knee injury. The domino effect of that injury, which moved Bush up to nickel back and Underwood/Bell up to dime, finally caught up to them.
Bush made an inexplicable adjustment on Roethlisberger's first pass of the game, allowing Wallace further separation on a 60-yard touchdown play. Bell didn't have terrible coverage on the final play, but my guess is a savvier player would have initiated more contact and perhaps given officials a tougher call to make.
But if I'm
Kurt Warner
,
Larry Fitzgerald
,
Anquan Boldin
and
Steve Breaston
-- the keys to an Arizona passing attack that could be the Packers' first-round playoff opponent -- I'm licking my chops. If the Packers want to play a nickel or dime defense in the playoffs, a team like the Cardinals will be a particularly tough matchup.
"We all expected to win this game," Woodson said. "I think we all thought we pretty much had it in the bag. But that's the way it works. We've got another opportunity next week to try to get on the right track. That's what we'll try to do."
To make the playoffs, yes. To win a game or two when they get there? I'm not so sure. Not yet.
December, 20, 2009
12/20/09
8:04
PM ET
PITTSBURGH -- Whoa.
I had a nice postgame wrap-up congratulating Green Bay on its 10th win of the season, of surviving a late charge by the defending Super Bowl champions and proving to be a young team with veteran mettle. I was ready to congratulate quarterback
Aaron Rodgers
on overcoming a fourth-quarter deficit in a playoff environment.


And then the Steelers drove 86 yards in the final 2 minutes, 6 seconds and won the game with Ben Roethlisberger's 19-yard touchdown pass to
Mike Wallace
with no time left on the clock. Wallace was in single coverage against Packers defensive back
Josh Bell
, who was filling in as the Packers' dime back.
The pass gave Roethlisberger a Steelers-record 503 passing yards, a total that will haunt what had been the NFL's second-ranked defense for some time. During the drive, the Packers lost an interception and a sack because of penalties.
Although the Packers dropped to 9-5, the dearth of competitive teams in the NFC leave them in good shape for clinching an NFC wild-card berth. The biggest obstacle will be putting the wild ending of this game behind them.
More in a few hours.
December, 20, 2009
12/20/09
6:11
PM ET
PITTSBURGH -- Some halftime thoughts from Heinz Field:


December, 20, 2009
12/20/09
5:23
PM ET
PITTSBURGH -- Who will have a new kicker first: Dallas or Green Bay?

Crosby
We all know
Nick Folk
is struggling for the Cowboys. But
Mason Crosby
was just wide right on a 34-yard attempt for the Packers, leaving his team trailing 14-7 here early in the second quarter. It was Crosby's fifth miss in his past 11 attempts, and if anything he's gotten shakier as the year has progressed.
We don't know yet if this most recent miss will cost the Packers, but eventually an inconsistent place-kicker always comes back to haunt you.
December, 20, 2009
12/20/09
4:35
PM ET
PITTSBURGH -- Green Bay fans are already wary of nickelback
Jarrett Bush
, who has given up a few big plays in his career. I imagine the chorus is pretty loud right about now.
Bush offered a bizarre and ultimately unsuccessful coverage on Pittsburgh receiver
Mike Wallace
on the Steelers' first offensive play of the game. Wallace beat Bush on the line of scrimmage, and Bush inexplicably stopped chasing him after
Ben Roethlisberger
released the ball. The result was a 60-yard touchdown play to give the Steelers an early lead.
I really can't tell you what Bush was thinking on the play. He ran with Wallace for too long to make me think he believed he had deep help. Looks like it was just a mental mistake. Not what you want on the road in a big game with playoff implications.
December, 20, 2009
12/20/09
4:35
PM ET
PITTSBURGH --
Aaron Rodgers
won't make it through this game at this pace.
Green Bay's quarterback has already absorbed two brutal hits from Pittsburgh's defense in the Packers' first two series. The second, a borderline helmet-to-helmet blow from linebacker
Lawrence Timmons
, left Rodgers writhing in pain.
He remained in the game, but the Packers pass protection is suddenly a mess. Green Bay coach Mike McCarthy might want to mix in a run here. The Packers threw on their first six plays.
December, 20, 2009
12/20/09
3:06
PM ET
PITTSBURGH -- Green Bay nose tackle
Ryan Pickett
(hamstring) will be active for Sunday's game at Pittsburgh, but rookie
B.J. Raji
is scheduled to start in his place.
That's the highlight of the Packers' pregame personnel shuffle. Their inactive list also includes fullback
John Kuhn
and dime back
Brandon Underwood
(hip).
Korey Hall
will open at fullback.

NFL SCOREBOARD
Thursday, 12/18
Saturday, 12/20
Sunday, 12/21
Monday, 12/22