NFL Nation:

Paraag Marathe
March, 13, 2013
3/13/13
3:40
PM ET
The
San Francisco 49ers
knew they
could not re-sign
every free agent after fielding the NFL's highest-paid defense last season.

That enabled Pro Bowl free safety
Dashon Goldson
to reach the market and
agree to terms
Wednesday with the
Tampa Bay Buccaneers
.
Goldson stood out for his big hits and strong tackles. Coach Jim Harbaugh suggested Goldson epitomized the type of player the 49ers would like to reward. But San Francisco appeared resigned to losing Goldson, its franchise player in 2012. The team could have kept Goldson by naming him its franchise player at a cost of $7.45 million for 2013,
"We have the most expensive defense in the league on an average per-year basis, and that is not sustainable over time," the team's chief operating officer, Parrag Marathe, said during the MIT Sloan Sports Analytics Conference two weeks ago. "Because of the cap, if every veteran on the team took a 15 percent discount on their market value, you couldn't field that team still under the cap because the difference between wholesale [draft] and retail [free agency] is so wide.
"You have to figure out which players to keep and which players to let move on and churn out. Because you have to continue to replenish the system."
Goldson, a fourth-round choice from the University of Washington in 2007, joins nose tackle
Isaac Sopoaga
among longtime 49ers defenders to change teams since free agency opened Tuesday. Two other longtime 49ers,
Alex Smith
and
Delanie Walker
, also departed the team this week.
The 49ers have an additional second-round choice in the 2013 draft. They have more choices overall than any team in the league. They need to use those choices to acquire lower-cost replacements for some of the veterans leaving this offseason. They addressed their defensive line Wednsesday by
agreeing to terms
with former
Kansas City Chiefs
defensive tackle
Glenn Dorsey
. More on that in a bit.
March, 3, 2013
3/03/13
12:00
PM ET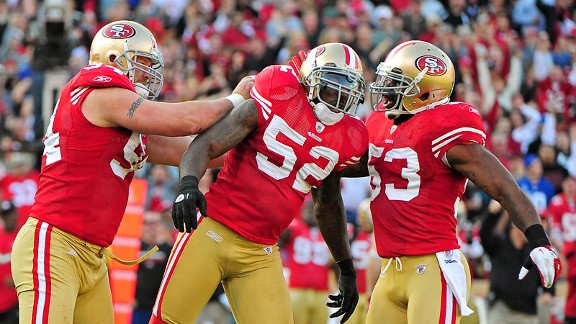 Kyle Terada/USA TODAY SportsThe 49ers have invested heavily in linebackers Patrick Willis (middle) and NaVorro Bowman (right). Is their defensive success financially sustainable?
BOSTON -- The
San Francisco 49ers
, having already spent big for
Patrick Willis
, engaged in a lengthy internal debate before deciding to invest heavily in a second inside linebacker,
NaVorro Bowman
, last season.
The
St. Louis Rams
also had big-picture NFL economics in mind when they sent the second pick of the 2012 NFL draft to Washington, a deal that stocked St. Louis with early picks while allowing Robert Griffin III to land in the nation's capital.
These were a couple NFC West points of interest when 49ers chief operating officer Paraag Marathe and his Rams counterpart, Kevin Demoff, joined a football analytics panel Friday at the recently completed MIT Sloan Sports Analytics Conference.
Marathe sat at one end of the four-man panel. Demoff sat at the other. For one hour, the two joined Football Outsiders' Aaron Schatz and former NFL executive Scott Pioli in discussing where the game is headed through increasingly sophisticated use of data.
There was some fun back-and-forth, including when Marathe, Demoff and Pioli dodged moderator Andrea Kremer's question about which players are most overrated. Demoff broke the tension by saying he hoped other teams would consider the Rams' impending free agents overrated, allowing St. Louis to re-sign them more easily.
On a more serious note, Marathe and Demoff expanded on how the 2011 collective bargaining agreement has changed the way teams build their rosters.
"There is a lot of discussion right now about the shrinking of the middle class in football," Demoff said. "Elite players continue to get paid at high levels and there are no more $3-4 million players. A lot of that is because teams are getting better at scouting college players and the draft has become efficient."
The rookie wage scale has made college players more affordable, particularly early in the draft. That could be allowing teams to concentrate their free-agent budgets on a smaller list of higher-priced veterans.
"If you have $8 million to spend in free agency, you might be better off spending $7 million on one guy and $1 million on the other than buying two players at $4 million," Demoff said.
That is because teams are increasingly focused on accumulating as many high-impact players as they can with less regard for the positions those players play, in Demoff's view. For the 49ers, that meant paying both Bowman and Willis instead of letting Bowman hit the market simply because the 49ers' budget for inside linebackers was tapped out.
Such thinking could come into play for Seattle if safeties
Earl Thomas
and
Kam Chancellor
still project as Pro Bowl players when their contracts wane. Thomas, as the 14th pick of the 2010 draft, was the more highly valued player. Re-signing him would be the higher priority, in my view, if Seattle had to choose between its safeties. But if the Seahawks can draft a lower-cost alternative in the meantime, the team will have additional options.
As noted last month
, the Seahawks got exceptional value from their defense last season largely because they've drafted so well recently, finding low-cost-starters in the back seven especially. Seattle ranked first in point allowed and seventh in
EPA
despite ranking 30th in cap dollars committed to defensive players.
The 49ers also fielded a top defense, but they're further along in their development, which is a nice way of saying they've got more money tied up in veteran players. San Francisco led the league in cap dollars allocated to defensive players last season. The decision to re-sign Bowman was made in that context.
"We have the most expensive defense in the league on an average per year basis and that is not sustainable over time," Marathe said. "Becuase of the cap, if every veteran on the team took a 15 percent discount on their market value, you couldn't field that team still under the cap because the difference between wholesale (draft) and retail (free agency) is so wide.
"You have to figure out which players to keep and which players to let move on and churn out. Because you have to continue to replenish the system."
[+] Enlarge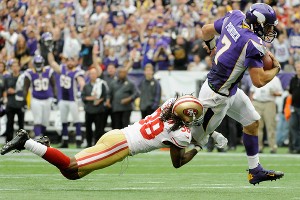 Hannah Foslien/Getty ImagesCan the 49ers afford to pay talented free safety Dashon Goldson what they think he deserves?
Dashon Goldson
's situation comes to mind. The Pro Bowl free safety is a player the 49ers value. Coach Jim Harbaugh recently called Goldson the type of player a team wants to reward. But will the economics make sense in the end?
"Paraag makes a great point in that his defense right now, and they are fantastic, but ultimately a scheme like that is going to be very expensive to keep and get veterans to do," Demoff said. "So, either they are going to wind up changing schemes and adapting, or they are going to decide which positions are most valuable. I have long thought teams would go to a 3-4 because it was easier to find nose tackles, but now [top] nose tackles are worth $12 million."
The prices for positions change over time in relation to supply and demand. There's been a trend toward more 3-4 schemes in recent years. Those schemes tend to be more complex. They often work best with veteran players running them. Veteran players tend to cost more money. It gets back to wholesale vs. retail.
The 49ers' decision at inside linebacker came down to whether Bowman and Willis could still have sufficient combined value if the defensive scheme changed.
"There was a lot of debate about that before we decided to make the move," Marathe said. "Ultimately, we decided that, yes, having two position trend-setting players was worth having on our team. But it was not without hesitation because of system."
Demoff sees strong focus on making efficient use of, say, the 35th through 53rd salary slots on an NFL roster. Teams drafting well can leverage additional margin for error under the current labor structure because early draft choices cost less.
The change is one the Rams in particular should welcome.
The Rams are still digging out financially from the old system after funneling wildly disproportionate resources into their 2008, 2009 and 2010 first-round choices.
Chris Long
,
Jason Smith
and
Sam Bradford
all were chosen among the top two overall picks at a time when those choices carried premium price tags.
Long signed a contract extension last season. Smith was traded to the
New York Jets
and subsequently released by them.
Bradford's rookie deal is scheduled to count $13.25 million against the cap in 2013, his third NFL season. The deal
Andrew Luck
signed with Indianapolis as the first pick under the new labor agreement could count less than half as much when Luck is in his third season. That's an advantage for the Colts.
The Rams have 10 contracts scheduled to count roughly $85 million against the $123.9 million cap for 2013, not counting the deal
Steven Jackson
is expected to void when free agency begins March 12. That is the highest projected figure in the NFC West. The Colts' 10 highest cap charges total less than $50 million. Factors beyond the rookie wage scale account for much of the difference. The Rams could reduce the figure through roster moves and renegotiation. But there's no getting around Bradford's rookie contract, either.
"When we did the RG III trade a year ago, we looked out and said, 'In 2014, we will have 12 players who were first- or second-round picks under the new rookie wage scale,' " Demoff said. "Twelve of our best players will make less than $25 million combined in 2014, which meant on the remainder of our team, we could overpay a few guys in free agency, we could make a few mistakes here or there and we would have a pretty good nucleus.
"We have all stopped looking at where you spend. It is, 'How do you accumulate the best players regardless of position?'"
April, 27, 2011
4/27/11
4:05
PM ET
Gideon Yu
's hiring by the
San Francisco 49ers
brightens the team's prospects for building a new stadium and enjoying it upon completion.
That seems like a reasonable read on the situation given Yu's background.
Yu, hired Tuesday as chief strategy officer, owns one of the more impressive résumés in the NFL or anywhere. He has been chief financial officer for Facebook and YouTube, senior vice president and treasurer of Yahoo! and a general partner at Khosla Ventures. He owns degrees from Stanford and Harvard, and has also worked for Disney and Hilton.
So, why would someone of
Yu's stature
become chief strategy officer for an NFL franchise?
Nothing against chief strategy officers, but when you've brokered deals worth more than NFL franchise are worth, as Yu has done, this sort of job seems a little ordinary.
Tim Kawakami raised questions
along these lines Tuesday and wondered whether the move signaled desperation mode for the 49ers on the stadium front.
Answering that question cannot explain the hiring from Yu's perspective. He appears to be
a football fan
, which helps. He has obvious ties to the Bay Area. He earned an MBA from Harvard and graduated from Stanford, where 49ers chief operating officer Paraag Marathe earned an MBA. Yu has also known team president Jed York for some time. They serve together on the board for
Tipping Point
, a charity that fights poverty in the Bay Area.
Note:
I updated information on Yu's educational background.
According to the 49ers, Yu will be "responsible for maximizing the team's strategic and business prospects, as well as developing new businesses and revenue streams." Yu will also oversee the 49ers' information technology and special-projects departments as well, an indication we should expect changes to the team website, approach to social networking, etc.
The 49ers said they expect Yu to play a leading role in the Santa Clara stadium project, and in making sure a new stadium has all the latest technological amenities.
April, 14, 2010
4/14/10
1:03
PM ET
»
NFC decision-makers
:
East
|
West
|
North
|
South
»
AFC
:
East
|
West
|
North
|
South
»
Draft Watch
:
Biggest needs
(2/17) |
Busts/gems
(2/24) |
Schemes, themes
(3/3) |
Recent history
(3/10) |
Needs revisited
(3/17) |
Under-the-radar needs
(3/26) |
History in that spot
(3/31) |
Draft approach
(4/7) |
Decision-makers
(4/14) |
Dream scenario/Plan B
(4/21)
Each Wednesday leading up to the NFL draft (April 22-24), the ESPN.com blog network will take a division-by-division look at key aspects of the draft. Today's topic: The decision-makers.

Arizona Cardinals
President Michael Bidwill and general manager Rod Graves are the highest-ranking personnel people, but the draft is clearly a collaborative effort in Arizona.
Coach Ken Whisenhunt has earned additional input after helping Arizona produce back-to-back division titles and a Super Bowl appearance. A stronger say in personnel was reportedly part of the understanding when Whisenhunt recently agreed to a contract extension through the 2013 season.
Director of player personnel Steve Keim plays a leading role in identifying talent at the college level. Keim and Graves have been together in Arizona since the late 1990s.
This appears to be a stable situation.

San Francisco 49ers
The situation in San Francisco appears far less stable than the one in Arizona.
Scot McCloughan's abrupt departure as general manager five weeks before the draft raised legitimate questions about how the power structure would shake out -- both in the long and short term.
Player personnel director Trent Baalke has taken over for McCloughan. It's clear the 49ers want Baalke to serve as a stabilizing force through the draft and probably longer.
It's still fair to wonder how draft day might go.
Coach Mike Singletary has stepped up his role in scouting. Team president Jed York and executive vice president Paraag Marathe remain influential. Their profiles are higher than they were a couple years ago.
What will it all mean when the 49ers are on the clock and various draft scenarios are playing out at full speed? That's a little tough to say at this point, though the 49ers appear determined to prove they'll proceed as usual.

Seattle Seahawks
Coach Pete Carroll is the highest-ranking football decision-maker in the organization and that's fine by GM John Schneider, whose role should be significant nonetheless.
Most head coaches with strong personnel power lean heavily on their GMs and scouting departments. Carroll's recent experience at the college level makes him more personally familiar with the talent in this draft, adding an important dynamic to the Seattle front office, particularly in this first draft under Carroll.
The Seahawks did maintain significant continuity in their personnel department. Will Lewis, Ruston Webster, Scott Fitterer and Mike Yowarsky remain in prominent roles. Each has been with the team for several years or longer.

St. Louis Rams
General manager Billy Devaney, executive vice president Kevin Demoff and coach Steve Spagnuolo are the primary decision-makers for a second consecutive draft.
One question in St. Louis is to what degree the pending ownership change might affect the team's thought process. There are no indications so far that the Rams will do anything other than proceed as they normally would.
Devaney, Demoff and Spagnuolo appear unified. They've been together for a couple of seasons and seem to have a good working relationship.
March, 24, 2010
3/24/10
12:15
PM ET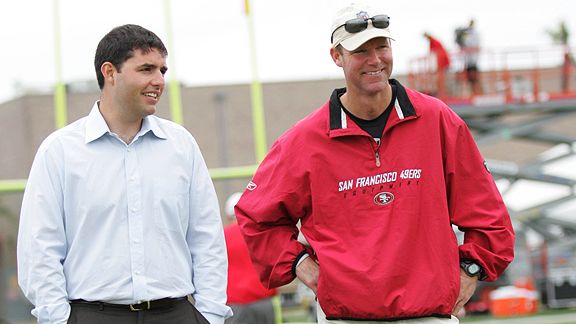 Michael Zagaris/Getty ImagesWith Scot McCloughan out as the San Francisco 49ers' general manager, team president Jed York, left, needs to determine if McCloughan will be replaced.
Late March is no time for an NFL team to hire a general manager.
The
San Francisco 49ers
have put off the decision until after the draft, but late April isn't a good time, either.
May, June or July might be worse. The more time passes, the harder it becomes to justify introducing a strong new voice into a team's meeting rooms.
Forget about hiring one during training camp or the regular season.
"I haven't decided on whether we're going to have a general manager," team president Jed York said during a recent conference call.
The comment raised suspicions that York and/or executive vice president Paraag Marathe might continue their ascents within the organization, turning their backs on a strong personnel presence. York guaranteed that neither he nor Marathe would become GM, but someone would have to fill the power void if the team proceeded without anyone formally named to the position.
Player personnel director Trent Baalke is taking over through the draft. After that, who knows?
The tumult surrounding Scot McCloughan's departure has shaken some fans' already tenuous trust in the team. The 49ers have earned our skepticism after seven consecutive seasons without a playoff appearance. But without knowing more -- specifically, to what degree McCloughan's demise was his own doing -- it's tough to make definitive judgments on the state of the franchise.
The team made progress last season in getting to 8-8, and the 49ers do have a promising young core of players. None of that has changed.
Questions linger. Let's find some answers.
March, 3, 2009
3/03/09
10:38
AM ET
Posted by ESPN.com's Mike Sando

John Crumpacker of the San Francisco Chronicle
says the 49ers might meet again with Kurt Warner, according to general manager Scot McCloughan. McCloughan: "It's still a work in progress. It's been good. It's still up in the air. We're excited he's willing to come visit the 49ers."
Daniel Brown of the San Jose Mercury News says the 49ers' team president, Jed York, is leaving any negotiating to McCloughan and coach Mike Singletary, with Paraag Marathe handling financial details, as usual.
Matt Maiocco of the Santa Rosa Press-Democrat says Warner spent nine hours with the 49ers before heading back to Arizona. Maiocco: "Warner, his family and his agent will get together and mull the offers. I'm sure they'll inform the Cardinals of what the 49ers have offered and see if the Cardinals are willing to increase their offer. They'll also see if there are any other teams that want to enter the picture. And, then, a decision will be made."
Also from Maiocco: a transcript of McCloughan's brief exchange with reporters as the GM left the 49ers' facility.
More from Maiocco: He expects the 49ers to make an offer to Warner exceeding the Cardinals' offer.
Lisa Goodwin of 49ers.com writes about the team's celebrity crab-cracking contest. No mention of Warner's visit on the site, as far as I can see.

Paola Boivin of the Arizona Republic speaks with another Kurt Warner -- this one a 48-year-old truck driver from North Carolina -- who doesn't have a problem with the Cardinals' Kurt Warner seeking to maximize his paycheck.
Kent Somers of the Arizona Republic says it's unknown whether the 49ers made a contract offer to Warner during the quarterback's visit.
Darren Urban of azcardinals.com explains why he thinks Arizona is a better fit for Warner. Urban: "The Cardinals have in their favor a better offensive system (tailored to Warner), better receivers, better playing conditions and coaches with whom Warner is familiar, in addition to being the place where his family now has roots (and a cheaper cost of living). How many more millions is that worth? What would the Niners have to do to tip the scale -- assuming that is possible?"

Clare Farnsworth of the Seattle Post-Intelligencer says T.J. Houshmandzadeh's signing in Seattle probably spells the end for Bobby Engram's Seahawks career.
Also from Farnsworth: The Seahawks signed Colin Cole to solidify "the spot next to Brandon Mebane" on the defensive line.
Danny O'Neil of the Seattle Times says the Seahawks' pursuit of Houshmandzadeh, complete with a ride by sea plane to team headquarters -- matched the vision CEO Tod Leiweke had when the team began planning its new headquarters.
John Morgan of Field Gulls takes a second look at Cole, concluding that the 330-pounder isn't the classic two-gap run plugger -- in a good way. Morgan: "Instead of moving Mebane, Seattle might want to entertain keeping Mebane where he's excelled, at the one, and starting Cole at the three. Green Bay eventually moved Cole over to the three tech. He's not a traditional three, but he has some hybrid qualities."
William Tomisser of Seahawk Addicts dives into KJR radio's interview with Seahawks defensive end Lawrence Jackson, noting that Jackson played hurt as a rookie.

Jim Thomas of the St. Louis Post-Dispatch says cornerback Ron Bartell felt better about re-signing with the Rams after seeing the team move aggressively in free agency. Bartell also said he developed a strong rapport with new coach Steve Spagnuolo during an initial meeting, and he also felt comfortable with GM Billy Devaney. Previously, Bartell hadn't even met acting GM Jay Zygmunt. Bartell: "Here I was a second-round draft pick, and I had not had one conversation with the previous general manager. Not one. How do you have a GM that doesn't even speak to the players? I've been one of the core players and I didn't even talk to the man. And when the top is not in order, it trickles from the top of the team down."
Also from Thomas: The Rams are looking at backup tight ends, but Billy Bajema has not yet lined up a visit to St. Louis. Bajema will meet with the Jets.
Bernie Miklasz of the St. Louis Post-Dispatch likes the Rams' first few moves in free agency.
NFL SCOREBOARD
Thursday, 11/20
Sunday, 11/23
Monday, 11/24
WEEKLY LEADERS