December, 6, 2012
12/06/12
3:42
PM ET
Check out this
post that ranks the NFL's offensive lines

from No. 1 to No. 32.
The fine folks at Pro Football Focus put a lot of effort into this and I don't dispute their rankings. But I am a bit surprised at where some of the NFC South offensive lines were ranked.
The
New Orleans Saints
came in at No. 3 in the league. If that ranking came in any of the last few seasons, I wouldn't be that surprised. But my impression is that New Orleans' offensive line play has slipped a bit this season, partly due to the departure of guard
Carl Nicks
and partly due to a series of injuries at right tackle.
The
Atlanta Falcons
are No. 16, which sounds about right. The Falcons brought in a new offensive line coach (Pat Hill) and also became more of a passing team. The run blocking hasn't been great, but left tackle
Sam Baker
finally has played up to expectations.
I'm mildly surprised the
Tampa Bay Buccaneers
are ranked as low (No. 22) as they are. The Bucs are without injured Pro Bowl guards Nicks and
Davin Joseph
and have had to adjust their line multiple times. That line has played well enough for
Doug Martin
to rush for more than 1,000 yards and has given
Josh Freeman
enough time to connect on some downfield throws. Tampa Bay's offensive line clearly has overachieved.
The
Carolina Panthers
came in at No. 29. Like the Bucs, the Panthers have had some significant injuries on their offensive line. Unlike the Bucs, the next guys up haven't been able to deliver positive results.
September, 27, 2012
9/27/12
1:00
PM ET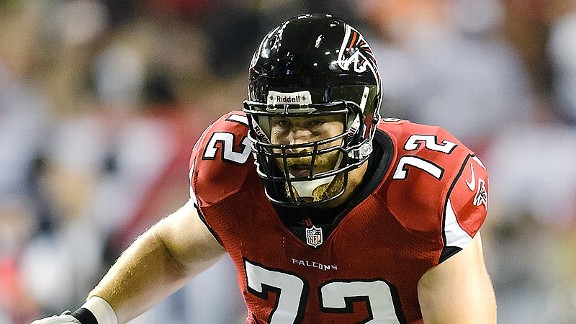 AP Photo/Paul Abell Sam Baker's improved play at left tackle is one reason the Atlanta Falcons are 3-0.
You need to go back to what seemed like the winter of
Sam Baker
's NFL career to fully understand why everything is in full bloom these days.
The left tackle is playing the best he ever has and it's no coincidence the
Atlanta Falcons
are off to a 3-0 start.
It wasn't always like this. In fact, it's never even been close to this for Baker, whose first four seasons were filled with injuries and criticism. It got so bad in a 2011 season in which Baker lost his starting job that he was pretty sure his days in Atlanta were over.
But two intertwined events happened last winter that changed Baker's perspective on life and maybe -- just maybe -- will go a long way toward changing the fortunes of a franchise.
The first came on Christmas. That's the day Baker and wife Antoinette had their first child. That's the day Gunnar Harvey Baker was born.
"All of the sudden, you realize it's not all about you,'' Baker said. "All of the sudden, I realized it doesn't matter if everybody in the world hates me and says I can't play because he was there to love me and he didn't care one bit about football. He needed me and was going to love me no matter what.''
It's ironic because within the next couple of weeks, Baker would get a similar message from someone else. Even with Gunnar around, nothing else was guaranteed for Baker.
Atlanta's season, one in which the Falcons seemingly had gone all-in for the Super Bowl with the draft-day trade to get
Julio Jones
, ended long before anyone expected. It ended with an ugly 24-2 loss to the
New York Giants
in the first round of the playoffs.
"I had struggled and hadn't played well at all,'' Baker said. "I really wasn't sure what was going to happen. I thought I might be gone.''
A lot of people just assumed Baker would be gone. Before the team buses even departed the Meadowlands that day, fans already were talking about how the Falcons needed to go find a new left tackle to protect quarterback
Matt Ryan
's blind side. The Falcons didn't have a first-round draft pick, but maybe they could trade for one. Or maybe they could go out and find one in free agency.
[+] Enlarge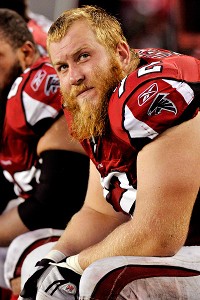 Fernando Medina/US PRESSWIRE"I really wasn't sure what was going to happen," Sam Baker said of his status following last season. "I thought I might be gone."
As the brain trust got settled back into the team's Flowery Branch facility and brought in new offensive coordinator Dirk Koetter and offensive line coach Pat Hill, there were some high-level meetings about Baker's future.
That's when public opinion and reality went in different directions. That's when coach Mike Smith, who often comes across as a father figure to his players, called in Baker and talked to him like a son.
"I told Sam we were sticking with him, but that he needed to get away from football for a bit,'' Smith said. "I told him to go get his body rested up and healthy. The guy has always been tough and resilient, but the fact of the matter is Sam rarely was truly healthy from the day he first got here.''
Baker walked out of the meeting as surprised as fans would be as time went on and they realized they weren't getting a new left tackle.
"To be totally honest, I went in there with a ton of uncertainty on my part,'' Baker said. "I felt honored that they still had faith in me. You don't get a lot of loyalty in the NFL. I decided right then that I needed to listen to him, put my head down and go all out.''
Baker went to his offseason home in California. He spent time with Gunnar and the rest of his family.
"I unplugged mentally,'' Baker said. "My wife had been telling me for years that I needed to unplug once in a while; that I wore it all on my sleeve and took it too hard when things weren't going well.''
There was time for Baker's soul to heal. Same for his body, especially the back and elbow problems that bothered him so much last season. Within a few weeks, Baker began working with some personal trainers.
It wasn't the heavy weightlifting he usually did in the offseason and there wasn't anything focused specifically on football.
"The emphasis was on movement and just getting my body loose,'' Baker said.
The funny thing here is that even though he's 6-foot-5 and 301 pounds, the ability to move fairly well was the one bright spot early in Baker's career. Scouts and coaches said he had remarkably quick feet for a guy his size.
But, as the injuries piled up, Baker couldn't even move well anymore. That's why the Falcons gave his starting job to journeyman
Will Svitek
and briefly -- and unsuccessfully -- tried Baker at guard.
When the Falcons started their offseason program in the spring and Baker returned to Atlanta, he continued working with director of athletic performance Jeff Fish on his movement. When training camp rolled around, Smith noticed a huge difference in Baker. It's carried over into the regular season and Smith said Baker is playing better than ever.
"Absolutely,'' Smith said. "Sam's healthy and that makes a big difference. "You can see that he's moving much more fluidly. He's playing very well and so is our entire offensive line. They're doing a great job protecting Matt and when Matt is able to stay on his feet, he's able to distribute the ball and make a lot of good things happen.''
The way the offensive line is playing brings us back to another story about Gunnar. The Bakers chose his middle name as a way to honor
Harvey Dahl
. He was a guard for the Falcons when Baker first came into the league and the two built a strong friendship. Dahl left Atlanta as a free agent last season and those that weren't blaming Baker for all the offensive line's problems last season were pointing to Dahl's departure as the reason for the downfall.
Dahl, Baker, center
Todd McClure
, guard
Justin Blalock
and tackle
Tyson Clabo
had been together since 2008.
Garrett Reynolds
, who ended up in Dahl's spot last year and remains there, joined the Falcons in 2009.
"When Harvey left and we had some injuries early last year, I think there were some issues with continuity on the line,'' Baker said. "But this is a great group and most of us have been together for five years. We all love each other and you can really see the continuity coming through now.''
Maybe that continuity is shining because the Falcons gave Baker some emotional nurturing and allowed him to grow as a person. And, perhaps most of all, they gave him time to heal and become the player they always thought he could be.
August, 30, 2012
8/30/12
3:45
PM ET
By now, you already know the
Atlanta Falcons
aren't predicted to come in fourth, third or second place in the NFC South. They will win the division, according to the consensus of ESPN.com's panel of experts.

Here's
the link
to the Falcons' preview page, and you'll see there the panel was split in its thoughts on the Falcons. I had them finishing second and Adam Schefter ranked Atlanta third, but that wasn't enough to pull the Falcons out of the top spot because every other panelist had them finishing first.
Here's what I wrote about the Falcons:
Five things you need to know about the Falcons:
1. An all-new look:
Although the Falcons have had four straight winning seasons, they are kind of starting over on offense and defense. They've got new coordinators in Dirk Koetter (offense) and Mike Nolan (defense), and it's clear there is a lot of pressure on the Falcons to win a playoff game for the first time since coach Mike Smith and quarterback
Matt Ryan
arrived in town. With players such as
Roddy White
,
Julio Jones
,
Tony Gonzalez
,
Michael Turner
and
Jacquizz Rodgers
, Ryan has plenty of weapons. It's Koetter's job to figure out how to get more explosive plays out of this offense than predecessor Mike Mularkey. It's a similar story on defense, where Nolan inherits quite a bit of individual talent, but he needs this unit to establish a more aggressive identity than it had under Brian VanGorder.
2. The under-300 club:
The Falcons repeatedly have said they want to limit Turner's carries and keep him fresh throughout the season. But that doesn't mean the Falcons suddenly will abandon the running game or Turner. You can bet Turner isn't going to get anywhere close to the 376 carries he had in 2008, but I still see him getting somewhere between 230 and 250 carries. The Falcons might throw the ball a little more often than in the past. But the difference will be made up by Rodgers. He didn't play a lot as a rookie, but the Falcons have big plans for him this season. He can do some things in the passing game that Turner can't, but Rodgers also is going to get some runs between the tackles.
3. It's all on the line:
A lot of people talk about the pressure on Ryan and Smith. But I think the real pressure is on the offensive line. That unit was perhaps the most disappointing group last season. Ryan didn't throw the deep ball as much as the Falcons wanted, almost entirely because the offensive line couldn't protect him long enough. Other than bringing in offensive line coach Pat Hill and drafting
Peter Konz
, who might or might not start right away, the Falcons didn't have much turnover on the offensive line. The key is left tackle
Sam Baker
. He lost his starting job last season, but the Falcons say Baker was limited by injuries and is healthy now.
4. Help wanted:
For far too long, Atlanta's pass rush has been defensive end
John Abraham
and not much else. That has to change, because Abraham is 34, and even if he has another good season, the Falcons need to get more pressure on opposing quarterbacks. Defensive players have indicated they expect to blitz a lot more in Nolan's scheme. Linebackers
Sean Weatherspoon
and
Stephen Nicholas
have enough quickness to be effective pass-rushers, and some members of the secondary will be asked to blitz at times. But the real key will be defensive end
Ray Edwards
. He didn't produce much after signing as a free agent last year. But as with Baker, the Falcons say Edwards wasn't healthy last season and is now.
5. What's left in the tank?
After the Falcons traded for
Asante Samuel
, there was a report that Philadelphia coach Andy Reid parted with the veteran cornerback because he sensed a steep decline. Samuel has taken exception to that, and the Falcons wouldn't have made the move if their personnel people sensed a serious problem. The Falcons aren't looking for Samuel to be the player he was five years ago. They just want him to be a role player as another strong cover corner to go with
Brent Grimes
and
Dunta Robinson
.
August, 2, 2012
8/02/12
12:00
PM ET
FLOWERY BRANCH, Ga. -- As you first watch and listen to the
Atlanta Falcons
in training camp, you quickly realize something is different.
They've got a bunch of marquee players (
Matt Ryan
,
Roddy White
,
Julio Jones
,
Tony Gonzalez
,
Michael Turner
,
John Abraham
and
Asante Samuel
), but the buzz isn't about them. Instead, most of the talk is about two new assistant coaches -- offensive coordinator Dirk Koetter and defensive coordinator Mike Nolan. That's understandable, because a lot of people thought the Falcons needed some major changes after they got thumped by the
New York Giants
in the first round of last season's playoffs.

With offensive coordinator Mike Mularkey (now head coach in Jacksonville) and defensive coordinator Brian VanGorder (now defensive coordinator at Auburn) leaving, Koetter and Nolan are big storylines. They might not have star power all by themselves, but watch and listen a little more and you'll see the two new coaches have plenty of star power behind them.
"Mike Nolan and Dirk Koetter have done a fine job of bringing their respective systems to the table and working with (coach)
Mike Smith
and the rest of the staff and developing a system that is melding well with all of our coaching opinions,'' general manager Thomas Dimitroff said. "It's a collaborative effort. It's not just one stamp from one coordinator or the other. It's been really interesting seeing everyone come together on the respective sides of the football to develop this new system.''
In conversations with Smith and Dimitroff, each repeatedly emphasized that key players (the guys listed above and a few others) have had extensive input into what the Falcons will do on each side of the ball. As soon as league rules allowed coaches and players to get together in the offseason, Ryan and Koetter began meeting regularly and discussing what the playbook should look like.
"There are a lot of things we've done well over the last few years, and the first thing Dirk asked me was what I liked and what I felt most comfortable with,'' Ryan said. "Then, we took the things I said and looked at our production in those situations and some of it was surprising because we didn't have as much success as I would have thought in some of the things I said I was most comfortable with, and we had some pretty good success with some of the things I didn't necessarily think I liked.
"We also watched a lot of film of Jacksonville (where Koetter was offensive coordinator last year), and we talked a lot about why they did certain things at certain times. There was a lot of very good give-and-take. He's extremely open to input, which is great for players, and I know he sat down and did the same thing with some other guys. But he also has his own opinions and is firm on his own opinions, and I like that about him.''
The Falcons have been very public about some of the ways their offense will change. They said they don't want Turner having to endure a 300-carry season. They said they want to use the screen pass more, after almost completely ignoring it in recent years. And they've made it very clear that they want to improve their downfield passing game.
What the actual playbook looks like is likely to be a combination of what both Koetter and the Falcons have done in the past.
The changes on defense are likely to be similar because Nolan also has consulted extensively with his key players. Nolan has spent 14 years as a defensive coordinator in the NFL, seven of them in the 4-3 defense and seven in the 3-4. The Falcons will continue to use the 4-3 as their base, but there could be some 3-4 looks and principles.
"We just have a lot of different things that we can do,'' outside linebacker
Sean Weatherspoon
said. "We're going to be aggressive. We're not being passive at all. Our mindset is that we want to go out there and dictate. We don't want to adjust to what an offense is doing. We want to put it on them to make changes.''
That would be a change from the VanGorder days, when the Falcons had some individual talent and a fair amount of overall success, but never really had an identity as a defense. The Falcons will be different on both sides of the ball.
"When you have new eyes, so to speak, you get a different view,'' Smith said. "We may have had a view that this guy's strengths are A, B and C and his weaknesses are D, E and F, and a new guy comes in and, because he's coming from a different perspective, he sees it differently. I think that's interesting in terms of evaluating your roster because you have two new sets of eyes.''
Maybe the eyes will have it. Maybe the new coordinators and new playbooks will be enough to help the Falcons win a playoff game for the first time since Smith, Dimitroff and Ryan arrived in 2008.
THREE HOT ISSUES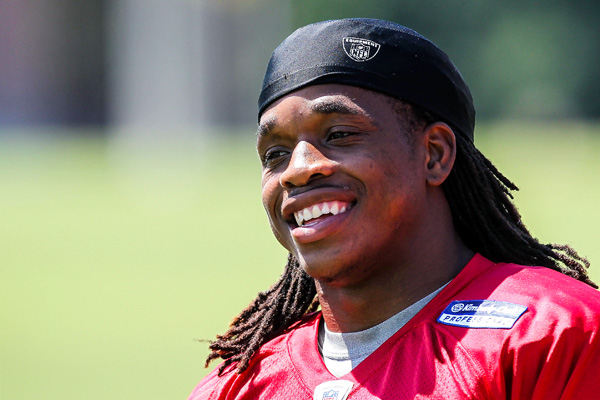 Daniel Shirey/US PresswireSecond-year running back Jacquizz Rodgers could play a larger role in the running game this season.
1. The running game with Turner's limit on carries.
Despite all the talk about the downfield passing game, I don't think the Falcons want to suddenly just abandon the running game. Turner still is powerful and can help open things up for the passing game. The Falcons just don't want to wear him out. They've used
Jason Snelling
at times to give Turner some rest, and Snelling will be involved again this season. But I don't think he's really the guy the Falcons are looking at to pick up a big chunk of Turner's carries.
I'm almost certain they have big plans for second-year pro
Jacquizz Rodgers
, and I think those plans might be a lot bigger than people realize. That's largely because Rodgers is bigger than the Falcons realized when they drafted him last year.
"Jacquizz is not little,'' Smith said. "He's short, but he's thick. People projected him to be a third-down back, a change-of-pace back. I think the guy has the skill set to play on all three downs. One of the things that stood out to me more than anything is his ability to pass protect. A lot of times, your change-of-pace back, you've got to get him the ball and not ask him to be a part of the protection. I don't think that's the case with Jacquizz. I think Jacquizz is an all-around back that can play on all three downs.''
Translation: The Falcons aren't looking for Rodgers to be what
Jerious Norwood
once was. They want him to be more like what
Warrick Dunn
once was.
2. Positive reinforcement.
I don't know if they were veiled shots at Mularkey, VanGorder and former middle linebacker and defensive leader
Curtis Lofton
, but I think it was significant that Smith and Dimitroff repeatedly used the word "positive'' when they talked about the coaching styles of Koetter and Nolan, and as they talked about the leadership qualities Samuel brings, and what kind of leader they expect Weatherspoon to become.
"Sean is such a positive guy,'' Smith said. "He is vocal, but he's never negative in the way he speaks. He's always very positive.''
Samuel was described in the same way. So were Nolan and Koetter.
I never sensed a lot of negativity from Mularkey, VanGorder or Lofton, but I also never sensed any of them were rah-rah guys. It sure seems like Smith and Dimitroff feel their team needed more positive reinforcement.
3. The pass rush.
For far too long, Atlanta's pass rush has consisted of Abraham and almost nothing else. Maybe fellow defensive end
Ray Edwards
steps up after an injury-filled season that limited him to 3.5 sacks. Or maybe reserves
Lawrence Sidbury
and
Kroy Biermann
produce more. But I get the sense Nolan isn't looking to have only defensive ends rush the passer.
"The way practice is going right now, we're really excited about getting the linebackers more involved in rushing the passer,'' Weatherspoon said. "Even in seven-on-seven, we're going. That will help those guys out there on the edge because now offenses are going to have to account for us all day. It'll be better because we'll be able to keep them on their heels.''
And it won't be just the linebackers. Look for the cornerbacks and safeties to also get plenty of opportunities to blitz.
REASON FOR OPTIMISM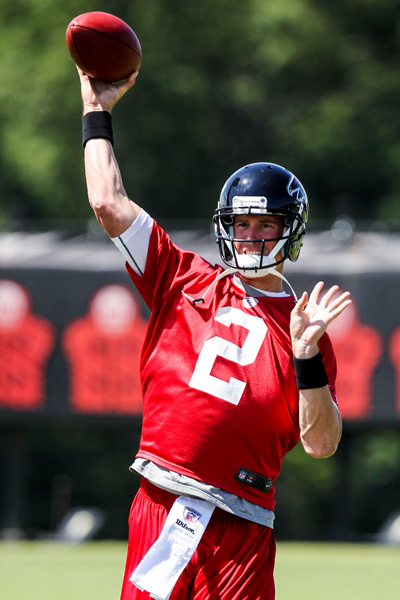 Daniel Shirey/US PresswireIs this the season Matt Ryan puts it all together and joins the echelon of elite quarterbacks?
Time to fly.
A lot of great young quarterbacks have seemed to hit a wall early in their careers. Even
Peyton Manning
had a reputation for not being able to win the big one early in his career, and look how that's worked out. I'm not saying Ryan is going to turn into the second coming of Manning, but I think this is the year in which Ryan finally can earn a firm spot in the category of elite quarterbacks.
The guy has done some very good things in his first four seasons and he's worked very hard to bulk up this offseason, so that he's not worn down when the playoffs roll around. Ryan has a good arm, excellent mental skills and a strong work ethic. But, for some reason, he just hasn't been able to take the next step. Last year, the Falcons brought in Jones to give him another weapon to go with White and Gonzalez. This year, they brought in Koetter, who has obvious instructions to get the most out of Ryan's skills.
When you keep doing things the right way, sooner or later it's all bound to click.
REASON FOR PESSIMISM
The offensive line.
This was a big problem spot last year. Ryan frequently didn't have enough time to throw the deep ball. The Falcons got rid of offensive line coach Paul Boudreau and replaced him with Pat Hill, who has a nice history with offensive lines. They also used their second-round pick on guard
Peter Konz
.
But were those two moves enough to bring dramatic improvement up front? Should the Falcons really be sticking with
Sam Baker
at left tackle? And even if they want to give Baker another shot, shouldn't they at least have brought in a viable alternative in case he struggles?
I know a lot of fans think the Falcons should have done more up front. But the Falcons think they've done enough. We'll find out who is right soon enough.
OBSERVATION DECK
January, 28, 2012
1/28/12
9:14
PM ET
The
Atlanta Falcons
, who are bound to have some offseason changes on their offensive line, started the process Saturday night.

Hill
The team just announced it has hired Pat Hill to be the offensive line coach. Paul Boudreau, who had been with the Falcons throughout the tenure of coach Mike Smith, was not retained after the 2011 season.
Hill spent 15 seasons as the Fresno State head coach and compiled a 112-80 record while leading the Bulldogs to 11 bowl games. But Hill also has a solid NFL background. He spent five seasons coaching tight ends and the offensive line in Cleveland, when Bill Belichick was the Browns' head coach. He also coached tight ends and offensive line for the
Baltimore Ravens
in 1996 before moving on to Fresno State.
Boudreau's line had a rough 2011 season, especially early on. The Falcons were breaking in a new starting guard,
Garrett Reynolds
. After Reynolds struggled, the Falcons replaced him with
Joe Hawley
. Left tackle
Sam Baker
got off to a bad start and missed time with a back injury. He was replaced by
Will Svitek
, who remained the starter even after Baker got healthy.
The team may part ways with Baker, a first-round pick in 2008, and almost certainly will be looking for help at left tackle. Veteran center
Todd McClure
also is scheduled to become a free agent and the Falcons could look to get younger at that position.

NFL SCOREBOARD
Thursday, 12/12
Sunday, 12/15
Monday, 12/16