February, 28, 2011
2/28/11
2:41
PM ET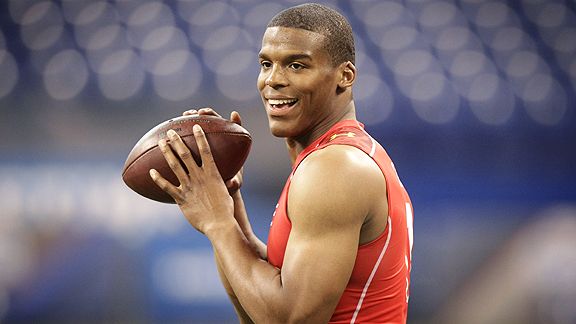 AP Photo/Michael ConroyAmong the hot topics at the NFL combine were the possible destinations for Auburn's Cam Newton.
INDIANAPOLIS -- Some have been suspicious about the
Buffalo Bills
' interest in using their third overall draft choice on Auburn quarterback
Cam Newton
.
Multiple outlets have reported general manager Buddy Nix is infatuated with the Heisman Trophy winner. Nobody within the organization has dismissed those reports. Instead, their comments reinforce the idea.
That's why thoughts of a smokescreen waft about when considering, gee, the Bills have been a little too forthcoming in their curiosity of Newton, even though head coach Chan Gailey already has stated his allegiance to quarterback
Ryan Fitzpatrick
and the roster has so many holes.
Could the Bills' interest in Newton be subterfuge? Have those stories been planted?
It's possible, but I don't think so.
In the hour I spent Thursday listening to Nix and Gailey talk about their team and their valuable No. 3 draft choice, Newton questions were the most prevalent.
Nix and Gailey delivered the impression there's legitimate interest in drafting Newton if -- over the course of the next two months -- they evaluate him as a franchise quarterback and he's still there after the
Carolina Panthers
and
Denver Broncos
select.
As someone who has covered boxing for two decades and sat in Don King's living room, I've developed what I would consider an acute ability to detect -- what's the polite phraseology? -- deceptiveness. My tolerance for it is slight.
And I've found Nix and Gailey to be two of the most genuine men I've dealt with in the NFL. They're not liars. They'll withhold information before they spread a falsehood.
In fact, the Bills have been more likely to telegraph their intentions than misdirect them.
At last year's owners meetings in Orlando, Gailey sat across the table from me and said he wanted to draft one of those "
quick-as-a-cat water bugs that are running backs-slash-receivers
that might give you a little bit of a punch on the field, maybe make a big play."
Shame on everybody -- me included -- for assuming Gailey meant they would draft a scatback somewhere in the second or third round. After all, they had 1,000-yard backs
Fred Jackson
and
Marshawn Lynch
.
They took Clemson running back
C.J. Spiller
ninth overall.
Twice in the past four months, Bills owner Ralph Wilson has declared a desire to upgrade at quarterback.
Wilson told Associated Press reporter John Wawrow in October that
finding a new quarterback was the team's top priority
. Fitzpatrick hadn't become a fan favorite at that point and went on to throw for 3,000 yards and 23 touchdowns in 13 games.
But this month
Wilson reiterated the importance of finding a quarterback
in an interview with Fanhouse columnist Thomas George.
"Buddy, the scouts, the coaches, they are working," Wilson told George. "I know it's not going to be an instant turnaround. I think it will take two or three years to have a playoff team -- and that's if we get a quarterback.''
It also should be noted Fitzpatrick is entering the final year of his contract. If the Bills don't draft a quarterback, then they almost will be forced to invest in Fitzpatrick. He will make a base salary of about $3.2 million next season, not exactly "you're our guy" money.
At the combine, Nix and Gailey gave even-tempered responses to multiple questions about Newton. Never once did they give any indication reporters were misguided in their line of questioning.
Would they directly tell a reporter he was sniffing in the wrong place? No, but after an hour you'd get a hint from two fellas who don't enjoy wasting their breath on repetitive questions.
All of that information gives me the strong impression they will draft a quarterback if they deem one worthy of the third pick. That would include Missouri's
Blaine Gabbert
, Washington's
Jake Locker
or Arkansas'
Ryan Mallett
, too.
The term "franchise quarterback" is an ambiguous one. The meaning could change depending on the person using it. So I asked Nix to tell me how he defines "franchise quarterback."
"A guy who can win for you for years," Nix said. "That, to me, is what that is. You get a lot of guys that will play good for you a year or two. But somebody that can be a 10-year guy to the point you don't have to worry about that position anymore" is a franchise quarterback.
[+] Enlarge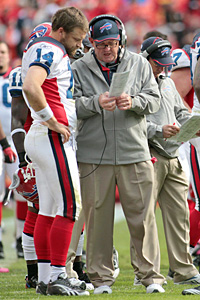 Crystal LoGiudice/US PresswireBuffalo and head coach Chan Gailey, right, received solid play from veteran QB Ryan Fitzpatrick, but seek a long-term starter.
Buffalo has myriad roster needs and affection for Fitzpatrick, but it can't win with him for the next decade. He falls more in the other category Nix mentioned, a guy who can hold down the position for a couple seasons.
Nix joked that any personnel executive who waits until he doesn't have a quarterback before he drafts his next one won't be the one making the pick. In other words, that GM would be fired before he got the opportunity, because his team wouldn't be winning.
The Bills don't intend to draft this early every spring and haven't had such a high pick in 26 years. If they want to snag a quarterback, then they have to view this as their best chance. Again, they need to identify someone worthy of the top pick first.
Why would Buffalo lie about its interest in drafting a quarterback?
I can think of two:
Tempt teams that really want Newton or Gabbert to trade up to get him.
Induce Carolina or Denver to draft a quarterback so another targeted player such as Clemson defensive end Da'Quan Bowers, Auburn defensive tackle Nick Fairley or Louisiana State cornerback Patrick Peterson falls to the Bills at No. 3.
On the first point, Nix seemed to shoot down that possibility when saying the
Bills wouldn't be interested in trading the third pick
unless the player they covet is gone once the Bills are on the clock. Nix noted he doesn't believe in moving down. That indicates the Bills will not shop the pick.
On the second point, it's a possibility. The overwhelming need for quarterbacks around the league could make another team twitchy. But any potential ruse would be rendered moot if Carolina chooses Newton. Denver has incumbent starter
Kyle Orton
and last year's 25th overall pick,
Tim Tebow
, on the roster.
"You want your spot to be worth something, or you want to get the guy you want," former
New York Jets
executive Pat Kirwan explained Sunday at the combine. Two years ago for NFL.com,
Kirwan wrote a fascinating feature on the art of the smokescreen
and a couple he helped pull off.
"Everyone does it to a certain extent. So what would be their motivation of doing it this year? Usually what drives the top part of the draft are quarterbacks. If Gabbert or Newton emerges as the clear-cut best quarterback, you could easily see a team saying 'We're going to take Gabbert' and see if you could get a team like the
Washington Redskins
to trade up there."
But not in February.
"No one ever does this stuff until a week before the draft," Kirwan said. "Now is too early to sustain it, and gives too much time for someone who's interested to come up with another plan. Later is better."
The information adds up to Buffalo being legitimately interested in Newton as its future quarterback.
January, 8, 2010
1/08/10
4:31
PM ET
The Seahawks'
interest in Pete Carroll
as head coach raises a big question.
Who would the team consider as general manager?
Carroll hasn't coached in the NFL since the 1999 season. He was with the Jets, Vikings and Bills before he was with the Patriots.
Pat Kirwan would be a logical person to consider. His name has come up in association with Carroll before, including when
talk emerged last year
that the 49ers might have interest in Carroll. Kirwan and Carroll have been described as "
best friends
" over the years. Kirwan helped the Jets hire Carroll nearly 20 years ago and he
consulted with the Patriots
before they hired Carroll in 1997. Kirwan has experience in personnel and salary-cap matters.
Kirwan has built a following in recent years with his insights on NFL.com and Sirius Satellite Radio. He was with the Jets from 1989 to 1997, according to
his NFL.com bio
. The Seahawks wouldn't need permission from another NFL team to speak with him.
March, 5, 2009
3/05/09
8:40
AM ET
Posted by ESPN.com's Kevin Seifert
Those of you who read Wednesday's post on Chicago's lack of activity on the free agent market, especially as it pertains to wide receivers, would be interested to note the comments of Bears general manger Jerry Angelo on the topic.

Angelo's Q&A with ChicagoBears.com was published Wednesday afternoon and included this response when asked if he will upgrade the Bears' receiving corps:
"Naturally, we're going to look at that real hard, in all likelihood in the draft. We're not looking for backup wide receivers. What we want are potentially starting wide receivers. We have a nucleus of receivers that we feel good about in terms of twos, threes, fours and fives, and if we carried six, a sixth receiver. Part of that ties into special teams. What we're looking at is the top of the wide receiver position. Where does that come from? It comes with a premium receiver in free agency if there's one out there and/or in the draft. Yes, it's a position that we are looking at."
As we discussed Wednesday, it's difficult to find immediate help from a receiver in the draft -- hence the need to scour the free agent market first. But Angelo said in another response that the price for a starting-caliber veteran receiver, notably T.J. Houshmandzadeh, was too high:
"Houshmandzadeh is a fine receiver. Would we have entertained him? Yes, but we wanted to see what his marketplace was. In this case, we felt like [what he received from Seattle] was an exorbitant amount of money. Remember, he was a No. 2 in Cincinnati. That's not to say that what Seattle did wasn't right for them; their situation is different in my mind than ours. They had an inordinate amount of injuries with receivers and they felt like they needed to get somebody that was established and healthy."
A lot of teams would have liked to have had Houshmandzadeh. But he's going to be 32 in '09 and the price that you're paying for that receiver we felt was very high. You have to look at economics when you look at players. Who doesn't want Houshmandzadeh? But you have to look at the economics: What are the implications to the cap going forward and what does that prevent us from doing in other areas within our team and/or in free agency?"
Some might suggest Angelo is overestimating the potential of his current group of receivers, but it's only fair to present his comments here to help flesh out Wednesday's post.
Continuing around the NFC North on a Thursday morning: