January, 17, 2013
1/17/13
9:34
PM ET
In whatever story
Andrew Luck
writes as an
Indianapolis Colts
quarterback, Bruce Arians will always occupy a vital place in the initial chapter.
Barring a reunion later in their careers, that's likely to be the extent of it.
Arians
has reportedly been hired
for the last of eight NFL head-coaching jobs that opened this offseason, and will take over the
Arizona Cardinals
.
For his work as the Colts interim coach for 12 games in 2012, Arians earned a special place in the hearts of the team's fans. The franchise bottomed out at 2-14 in 2011 as
Peyton Manning
missed the season with a neck problem.
[+] Enlarge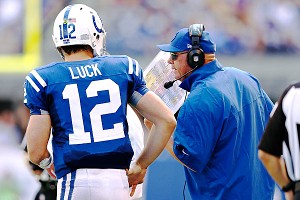 Joe Robbins/Getty ImagesAndrew Luck and the Colts went 9-3 with Bruce Arians, right, at the helm this season.
It jettisoned the guy who ran the team, Bill Polian, his head coach, Jim Caldwell, and Manning.
Owner Jim Irsay than hired Ryan Grigson and Chuck Pagano. Pagano hired his old friend, Arians, as his offensive coordinator and the organization drafted him an ultimate quarterback to groom in Luck.
When Pagano was diagnosed with leukemia and left the team for treatment, he tabbed Arians as his stand-in.
And Arians is expected to win coach-of-the-year honors, probably sharing them with Pagano.
The Colts went 11-5 this season, 9-3 under Arians, earning a playoff berth.
It was an incredible story, and one that got Arians in the pipeline for at least three of the open jobs despite the fact that most teams looked for a guy younger than him. He lost out in Chicago, where he was a finalist, and in San Diego. But now the 60-year-old Arians is an NFL head coach with a more challenging job because he's got to find a quarterback to develop.
The Colts will be thrilled for him, but sad to lose him.
And Pagano needs a new coordinator.
I'd hate to see the offense move far from the scheme it ran last year, as it was very effective, and as a vertical offense is a lot of fun to watch.
Can quarterbacks coach Clyde Christensen, who coordinated for Tony Dungy in Tampa Bay and for Caldwell in Indianapolis, take over and carry on? Or will Pagano be inclined to bring in someone new?
Among those available now who've done the job before are Cincinnati receivers coach Hue Jackson, former Browns coach Pat Shurmur, former Eagles offensive coordinator Marty Mornhinweg, former Baltimore coordinator Cam Cameron and former Jaguars coach Mike Mularkey.
Former Cardinals head coach Ken Whisenhunt might have been a great fit, but he was introduced as the new offensive coordinator in San Diego on Thursday.
Arians is a tough loss, for sure.
Pagano isn't going to wave a white flag over it. He'll always be grateful to Arians. But it doesn't mean he hasn't been formulating a contingency plan.
January, 17, 2013
1/17/13
12:26
PM ET
There were some big names connected to the open Denver offensive coordinator job.

In the end, Denver opted to stay in-house and promote 34-year-old quarterbacks coach Adam Gase, who continues to work with quarterback
Peyton Manning
, obviously the centerpiece of the Denver offense.
This hire stays in line with the philosophy of Denver coach John Fox. He kept with familiarity, he rewarded an existing staff member, and he acted quickly.
While Gase is not a household name, I doubt there is much chance for this hire to be a failure. Of course, it all revolves around Manning. If Manning -- who is two years and five days older than his new coordinator -- wasn't comfortable with Gase last season, or if Manning wanted a new top offensive voice, he very likely would have gotten one.
But instead of someone like Ken Whisenhunt, his mentor Tom Moore or Pat Shurmur, the choice was Gase. It makes sense.
Manning -- who clearly is a big part of the offensive plan --- worked well with Gase, and they will continue to grow. The big difference is Gase will call the plays.
"Adam was an integral part of the success we had offensively this season and was heavily involved in all aspects of our game plan, both during the week and on game day," Fox said in a statement. "Maintaining that continuity with our offense was very important in this decision. While we did speak with several qualified candidates, it became clear that Adam was the best fit to be our offensive coordinator.
"His coaching background along with his familiarity with our players is very strong. He did a great job working with Peyton and all of our quarterbacks the last two seasons."
The second season of the Manning experience in Denver should be smoother because of continuity, comfort and Manning's continued improved health. Fox wasn't going to jeopardize progress by hiring someone that would have potentially thwarted that progress. This is a safe hire that should make everyone involved happy.
Gase replaces Mike McCoy, who became the Chargers' head coach on Tuesday. Denver will begin the interview process to add a new quarterbacks coach.

NFL SCOREBOARD
Thursday, 9/18
Sunday, 9/21
Monday, 9/22