April, 22, 2014
Apr 22
4:18
PM ET
There was a sense that something was happening.
At Pat Tillman's wedding in May 2002, his agent, Frank Bauer, asked Tillman's former Arizona State teammate and close friend Jeremy Staat why Tillman still hadn't signed the $3.6 million offer from the
Arizona Cardinals
. Staat didn't know, but Bauer wanted him to find out.

Tillman
"I said, 'Hey man, what's going on with this contract? What's going to go on? Are you going to sign this thing? Frank's starting to get worried about you,'" Staat remembered. "And he just said, 'You know, let's not worry about that right now. It's my wedding. I don't want to talk business. I want to spend time with my family and [wife] Marie,' and I said, 'OK.'
"He just said, 'I have some things working right now.' And I just said, 'Whatever.' I got him a Guinness and I got my Bud Light and off we went."
What no one knew was that Tillman had already decided to enlist in the Army.
According to an excerpt from Marie Tillman's book "The Letter," Pat had decided to enlist before their nuptials but didn't tell his family until after their honeymoon, weeks before he was to leave for basic training. Tillman was able to keep his decision to quit football and join the Army under wraps by telling people his way.
Tillman informed the Arizona Cardinals and team president Michael Bidwill he was leaving on the same day, Bidwill said. Tillman asked that they announce it, because he didn't want to address the media.
When it was time to tell former ASU athletic trainer Perry Edinger, who is also a co-founder of Pat's Run, Tillman walked into Edinger's office and said he wanted to go to lunch.
Edinger was busy that day and tried to reschedule.
"Let's go to lunch," Tillman insisted.
"I said, 'OK, let's go to lunch,'" Edinger recalled.
"You embraced it because he embraced it," Edinger said.
Staat didn't hear from Tillman, but he called him soon after finding out.
"[I] said, 'Hey man, you stole my idea,' and he said, 'Naw, it's been something I've been thinking about and wanting to do,'" Staat said. "He had just received his retirement [pension eligibility] and he said it's either now or never. He had every intention of coming back to the NFL and playing. I think it would've been a great comeback had he come back."
Arizona State assistant athletic director Doug Tammaro was in his office when former Cardinals media relations director Paul Jensen called and asked for Tammaro and ASU's head of media relations, Mark Brand, to get on the call together.
"He said, 'Your boy Tilly ... not coming back,'" Tammaro remembered.
"Where's he going?" they responded.
"The Army," Jensen answered.
"I just remember going, 'It makes sense,'" Tammaro said.
April, 22, 2014
Apr 22
9:45
AM ET
Pat Tillman
didn't let others dictate his path. No matter how much longer it took or harder it was, he had to do it his way.
After undergoing shoulder surgery after his freshman season, Tillman had orders from former Arizona State athletic trainer Perry Edinger to wear a sling for six weeks as he went through rehab. Two days after surgery, Edinger saw Tillman in the hallway -- sans sling.
[+] Enlarge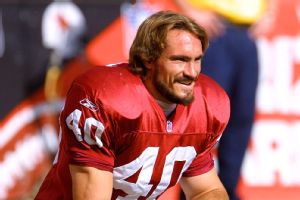 Gene Lower/Getty ImagesPat Tillman didn't always follow the instructions of his trainer.
"I was like, 'Knucklehead, what's the deal?' " Edinger recalled.
Tillman, in his 18-year-old wisdom, told Edinger he "felt good," and he never showed up for rehab. Midway through spring practice in 1995, Edinger noticed Tillman was tackling with only one shoulder. It didn't take long for Edinger to convince Tillman to start the proper rehabilitation. A Pac-10 player of the year honor and an All-American nod later, Tillman's career turned out all right.
But his stubbornness didn't end in college.
During offseasons in the NFL, Tillman would get bored with the Cardinals' training program. One year, he decided to run the Avenue of the Giants marathon, and solicited Edinger's help. At first, Edinger tried to talk Tillman out of it. Training to run for four hours wasn't compatible with training to be an NFL player, Edinger explained, to no avail. With or without Edinger's help, Tillman said, he was going to finish 26.2 miles.
Finally, Edinger gave in. But he laid down ground rules: Tillman had to follow his training plan to the letter leading up to the race and for two weeks after.
Sure, Tillman said. Sure.
Tillman beat his goal of a sub-4-hour marathon by eight minutes. A few days later, against Edinger's plan, he went to the Cardinals' practice facility for workouts and strained his calf. He went back to Edinger's office that week and admitted he made a mistake. Edinger helped him rehab, but made it four weeks instead of two, just to prove a point.
"Just to show his happy ass that I was right," Edinger said, laughing.
And while Tillman had to figure what worked and didn't on his own, he always respected authority. He may have challenged it, but he respected it. And that came from his parents -- Pat Sr. was a lawyer and Mary was a teacher.
Edinger couldn't help but laugh at some of Tillman's antics, but he was amazed at how well Tillman could switch gears from college kid to young adult.
"It ended up being so natural for him," Edinger said. "It was just who he was. There was nothing fake about it. When he was with his buddies there was no stopping him. When he was out, it was like his dad was in his ear.
"If you ever had a chance to meet his dad or be around his dad, when [Pat] was in a public situation, he was his dad."
April, 22, 2014
Apr 22
9:00
AM ET
During the final few months of 2003 and beginning of 2004, Arizona State assistant sports information director Doug Tammaro and
Pat Tillman
exchanged phone calls once or twice a month.
During one conversation, Tammaro told Tillman the Sun Devils' men's basketball team was playing at the University of Washington on Jan. 31, 2004, and asked if he wanted to meet for dinner. Tammaro even offered to drive to Tacoma, Wash., where Tillman was based before returning to the Middle East for his second tour as a member of the U.S. Army. But Tillman preferred heading to Seattle, just a 30-minute drive away.

Tillman
Tillman, his wife, Marie, and brother, Kevin, met Tammaro and Sean Moore, who used to work at ASU, for a dinner at Flying Fish in Seattle. The evening now ranks as a seminal moment in Tammaro's life.
Before the hours of conversation began, however, Tillman needed to get in the restaurant. He couldn't figure out which of the full-length windows was the door and made his way to nearly all of them before finding the entrance.
"I'm like, 'Glad to see national security is in good hands with a guy who can't open a door,'" Tammaro said with a laugh. "And he's like, 'F--- you!' You know, he's loud. We talked all night."
In typical Tillman fashion, he didn't want to talk about himself. Instead, he went through the entire ASU athletic staff and asked how everyone was doing. Tammaro asked about the war but all Tillman said was Baghdad was beautiful.
At one point, Tammaro asked Tillman to shoot a video for Arizona State's freshman orientation. Tammaro said he'd even get the Army to film it. Tillman declined.
After he got out of the Army, Tillman told Tammaro, he'd do whatever Arizona State wanted. The ideas flooded Tammaro. Graduation speaker. Freshman orientation speaker. You name it.
Steaks and fish turned into coffee and dessert. Four hours later they all hugged goodbye.
It was the last time Tammaro saw Tillman, who was killed on April 22, 2004. If that dinner was 10 years later, the world of social media would've taken away the sanctity of the moment, Tammaro said. For a few hours it was just the four of them enjoying each other's company.
Tammaro kept the receipt from that night. It's a memento he cherishes.
"People always say, who (would) you want to have dinner with?" Tammaro said. "Well, I kinda did it. I had dinner with Pat Tillman two months before he passed."
August, 4, 2012
8/04/12
4:06
PM ET
CANTON, Ohio -- We're a few hours away from the 7 p.m. ET start to enshrinement ceremonies at the Pro Football Hall of Fame.
I'll be heading over early to get a feel for what awaits.
Cortez Kennedy and his daughter, Courtney, were seen downstairs at the main hotel here a bit ago. Kennedy seemed relaxed for a man nearing the hour when he'll be giving a speech center stage.
The Hall itself opened early Saturday. A few thoughts after touring the Hall for the first time:
Cool Cardinals exhibit: One display case features a Pat Tillman jersey, the shiny black Nike shoes Patrick Peterson wore when returning a punt 99 yards for a touchdown to beat the St. Louis Rams in Week 9 last season and the gloves Larry Fitzgerald wore while collecting his 400th career reception against the New York Giants on Nov. 23, 2008. Fitzgerald became the youngest receiver to reach 400 catches.
Busts are accessible: The Hall features busts for the 267 Hall of Famers already enshrined, plus spaces for the busts honoring 2012 inductees. The busts are arranged by year of enshrinement. They rest on open-air perches, allowing visitors to touch them. The busts were low enough for our kids to pose with them, sometimes almost cheek to cheek. Seeing our boys' heads flanking Dick "Night Train" Lane's bust was a highlight of the visit.
Interactive video: Touch-screen menus allow visitors to cue up short highlight and documentary packages for various Hall of Famers. These were good, but a little short. We wanted more. Of course, with more than nine million visitors to this point and quite a few coming around the time of enshrinement each year, there isn't time for each person to watch a full-length movie.
"Madden 12" center: Kids packed this area and ours were initially eager to join in the gaming, but we drew the line on this one. Something seemed wrong about using time at the Hall to play games many kids have at home.
Homage to Lombardi: The Hall features a sideline player bench used at Lambeau Field for Vince Lomardi's final game as the Green Bay Packers' coach, in 1967. They've wisely got it stowed safely in a display, preventing people from sitting on it.
Harbaughs making history: Jim Harbaugh's autograph dresses up a game ball from the San Francisco 49ers' game against Harbaugh's brother, John, and the Baltimore Ravens last season. The game itself was forgettable from the 49ers' perspective.
All for now. Time to get ready for the festivities Saturday night.
April, 20, 2012
4/20/12
10:43
AM ET
The
San Francisco 49ers
traveled across the country on a short week to face the
Baltimore Ravens
in a Thanksgiving matchup last season.

Harbaugh
The situation was a tough one, the 49ers were not happy about it and the NFL's schedule maker, Howard Katz, heard about it. Did he ever.
"At the league meeting last month, Katz was approached by Baltimore coach John Harbaugh and told he had to meet his brother,"
Judy Battista writes
in the New York Times.
They met, alright. Jim Harbaugh used the occasion to complain about the holiday trip to Baltimore for a game the 49ers lost, 16-6.
"I talked to him, then I talked to him the next day, and then I talked to him the third day," Katz told Battista. "He said, 'Now that I've met you, I don't hate you quite as much.' His brother said to me, 'That's as good as you're going to do.' "
Battista's story details the scheduling process from Katz's perspective. We recently discussed one aspect --
short weeks
-- for NFC West teams.
The 49ers won't be spending Thanksgiving in Baltimore this season, at least.
Note:
Thanks to Kent Somers for
pointing out
Battista's story, as well as
this fantastic one
from Paola Boivin on the new life Pat Tillman's widow, Marie, is leading.
September, 18, 2011
9/18/11
2:02
PM ET
LANDOVER, Md. -- At least one fan in the stands at FedEx Field likes what he's seeing from the
Arizona Cardinals
to this point.
Darius Salimi, NFC West blog participant since 2008, wore his Cardinals'
Pat Tillman
jersey proudly in the parking lot before kickoff. We connected on Facebook before the game and
hung out in the Green Lot
outside the stadium.
The Cardinals have taken a 7-0 lead against the Redskins thanks to two
Rex Grossman
interceptions and
Jeff King
's second touchdown reception in as many games for the Cardinals. Washington is driving deep in Cardinals territory as I prepare to post this item, but they'll settle for a field goal after Arizona's defense held.
Update:
Lonely Cards fan has less to cheer about now that the Redskins have taken a
10-7
lead.
I shot a couple videos before the game, one showing the scene as Darius, the lone Cardinals fan in his group, tailgated with friends Matt and Arista Maher, Tim Holley and Mary Pat Abraham.
The second video features Howard Churchill, one of the famed "Hogettes" for the last couple decades.
Hope you enjoy while watching the NFL action in Week 2.
September, 18, 2011
9/18/11
12:25
PM ET
LANDOVER, Md. -- It's been a memorable last 90 minutes or so from the green lot at FedEx Field, where Facebook friend and
Arizona Cardinals
fan Darius Salimi does, indeed, serve the world's best tailgate hummus, as promised.
The white
Pat Tillman
jersey Darius is wearing made him stand out from the growing crowd of
Washington Redskins
fans gearing up for this Week 2 matchup between former NFC East rivals.
I've collected some video from Darius and his crew of Redskins fans: Mary Pat Abraham, Tim Holley and their friends, Matt and Arista Maher. The experience wouldn't have been complete without the Redskins' famous marching band nearly trampling me on my way back to the stadium. Once they passed, I ran across Howard Churchill, also know as "Howiette the Hogette" for the past 21 years. We talked about the game, about being a hog and about the charity the Hogettes support through liveunited.org.
FedExs lacks the history of RFK Stadium, but there's still a great feel of tradition in the parking lots outside the stadium.
First, though, some inside information on that hummus.
"The key to good tailgate hummus is to throw out all your recipes," Darius said. "You need a whole bunch of cumin and here is the secret ingredient: Zatarain's Creole Seasoning."
I'll vouch for that.
January, 29, 2009
1/29/09
7:48
AM ET
Posted by ESPN.com's Mike Sando

Dan Bickley of the Arizona Republic checks in with Pat Tillman's close friend and former Cardinals teammate, who still agonizes over losing the military dog tags Tillman gave him before dying in Afghanistan.
Bob McManaman of the Arizona Republic sizes up Larry Fitzgerald's hands. They're big.
Paola Boivin of the Arizona Republic shares Terrelle Smith's story. The Cardinals' fullback grew up around the group home his mother operated.
Kent Somers of the Arizona Republic examines the relationship between Cardinals quarterback Kurt Warner and offensive coordinator Todd Haley.
Also from Somers and McManaman: Warner's thoughts on the Hall of Fame.
Scott Bordow of the East Valley Tribune looks at the relationship between Cardinals coach Ken Whisenhunt and Steelers quarterback Ben Roethlisberger.
Bernie Miklasz of the St. Louis Post-Dispatch checks in with Cardinals owner Bill Bidwill, who moved the team from St. Louis two decades ago. Told that some longtime fans in St. Louis are breaking out their old Cardinals gear, Bidwill smiled and came through with a classic line: "Please tell them that we have up-to-date merchandise available."

Niners general manager Scot McCloughan answers questions in his latest mailbag entry. He says the 49ers would like Reggie Smith to develop as a corner before they consider him at safety. He describes as a priority adding a big-play receiver.
John Crumpacker of the San Francisco Chronicle recaps the 49ers' search for an offensive coordinator before quoting former Raiders executive Mike Lombardi as saying the team erred in firing Mike Martz.
Matt Maiocco of the Santa Rosa Press-Democrat shows where Jimmy Raye's offenses ranked over the years with Raye as coordinator. Those teams produced three winning records in 12 seasons, including one since 1984.
Matt Barrows of the Sacramento Bee says 49ers coach Mike Singletary has some explaining to do following a prolonged search for an offensive coordinator. Singletary has not spoken publicly since Dec. 31.
Dan Brown of the San Jose Mercury News provides an old quote from Norv Turner hailing Raye for his coaching and communication skills.

John Morgan of Field Gulls explains how David Hawthorne and Will Herring could replace Leroy Hill in the Seahawks' defense next season. He thinks Seattle would suffer some in run defense, improve slightly in pass defense and save lots of money.
Jason Jones of the Sacramento Bee says longtime Seahawks assistant Dwaine Board will coach the Raiders' defensive line.

Jim Thomas of the St. Louis Post-Dispatch explains how the Rams' personnel department will take shape with Mike Williams onboard from the 49ers. Rams general manager Billy Devaney thanks McCloughan, his 49ers counterpart, for allowing Williams to pursue this opportunity. Devaney: "To be honest, Scot McCloughan deserves a lot of credit because it's kind of unusual for a personnel guy to be moving this close to free agency. It's a classy move by Scot, because it's a great opportunity for Mike Williams to advance his career."
Also from Thomas: The Rams added two more assistants for head coach Steve Spagnuolo. Bruce Warrick fills an operations role. Andre Curtis will help with the defense.

NFL SCOREBOARD
Thursday, 8/21
Friday, 8/22
Saturday, 8/23
Sunday, 8/24