May, 4, 2010
5/04/10
1:00
PM ET
By
Matt Mosley
| ESPN.com
»
NFC Big Question
:
East
|
West
|
North
|
South
»
AFC
:
East
|
West
|
North
|
South
Have the Cowboys created a problem for themselves by trying to be thrifty?
[+] Enlarge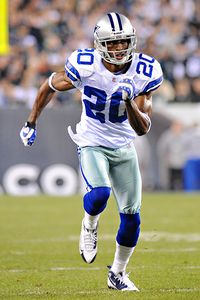 Jimn Luzzi/Getty ImagesAlan Ball is projected to start at safety in place of the recently released Ken Hamlin.
After the way starting safety
Ken Hamlin
performed in 2009, I don't think a lot of Cowboys fans were broken up about his release. But some of those fans are about to get a reality check when the inexperienced
Alan Ball
and his projected backup
Michael Hamlin
take the field in 2010.
Ken (no relation to Michael) wasn't living up to the lucrative contract that he earned after a Pro Bowl season in 2007. He took poor angles and he wasn't a sure tackler. Ball, who converted from cornerback, filled in nicely in '09 but no one knows if he's ready to start for a full season. Cowboys owner Jerry Jones has hinted the team might sign a free-agent safety, but the pickings are pretty slim at this point. Saints Pro Bowler
Darren Sharper
was on the open market for a long time,
and now we know why
.
The Cowboys should know more than anyone that rolling the dice at safety isn't a good approach. When Darren Woodson was injured before the '04 season, the Cowboys were held hostage by that position. Over the years, they've tried everyone from
Keith Davis
to
Pat Watkins
, but things didn't settle down until Ken Hamlin showed up in '07.
Gerald Sensabaugh
had a nice season for the Cowboys in '09, but they need another player who's strong in coverage and can call out adjustments. Sensabaugh's at his best when he can simply focus on playing. If the Cowboys are leaning on Ball to get them in the right coverages, there could be some issues. I think he's a talented player, but he's someone better suited for a backup role.
Everyone keeps talking about left tackle, but I think Cowboys fans should be more concerned about safety.
March, 4, 2010
3/04/10
9:49
AM ET
By
Scouts Inc.'s Matt Williamson
| ESPN.com

Dallas Cowboys
Potential unrestricted free agents
: G
Montrae Holland
Potential restricted free agents
: NT
Junior Siavii
, WR
Miles Austin
, DE
Stephen Bowen
, CB
Cletis Gordon
, DE
Jason Hatcher
, WR
Sam Hurd
, T
Pat McQuistan
, C
Duke Preston
, G
Cory Procter
, S
Gerald Sensabaugh
, DE
Marcus Spears
, S
Pat Watkins
, K
Shaun Suisham
.
What to expect
: Anything is possible with Jerry Jones in charge, and the Cowboys could make a big splash after an underwhelming offseason a year ago. But in terms of team needs and what is required to take the next step, Dallas really doesn't need much. A big-time impact safety makes some sense and could make a very good defense great, but that might be a project for the draft in a trade-up scenario for someone like Earl Thomas. But
Darren Sharper
might pique their interest. They also need to get younger along the offensive line, particularly at tackle, but that seems like a draft-day project, too. Maybe Jones gets real aggressive in the wide receiver market, as
Roy Williams
certainly is not living up to his billing, but the Cowboys are still rather stacked with pass-catchers. All in all, this is a team that is sitting pretty and doesn't have a prominent unrestricted free agent who is poised to leave.

New York Giants
Potential unrestricted free agents
: QB
David Carr
, LB
Danny Clark
, P
Jeff Feagles
, DT
Fred Robbins
Potential restricted free agents
: WR
Domenik Hixon
, TE
Darcy Johnson
, DE
Dave Tollefson
, G
Kevin Boothe
, S
C.C. Brown
, DT
Barry Cofield
, CB
Kevin Dockery
, WR
Derek Hagan
, WR
Sinorice Moss
, T
Guy Whimper
, LB
Gerris Wilkinson
.
What to expect
: Big things could be in the works here, as there are already rumors swirling that New York could be a prime suitor for linebacker
Karlos Dansby
. An impact linebacker is certainly near the top of their wish list and Dansby fits the bill. Plus, he is extremely versatile. Getting faster on defense is a huge priority with new coordinator Perry Fewell stressing the ability to cover a lot of ground. However, Dansby isn't really the thumper they need in the middle and is more of an outside linebacker for this system, although he would be great on passing downs. This is a group of decision-makers who might be starting to feel some heat, so do not rule out a big move or two.

Philadelphia Eagles
Potential unrestricted free agents
: DE
Jason Babin
, S
Sean Jones
, LB
Jeremiah Trotter
, LB
Tracy White
Potential restricted free agents
: LB
Akeem Jordan
, P
Saverio Rocca
, WR
Jason Avant
, C
Nick Cole
, LB
Omar Gaither
, LB
Chris Gocong
, CB
Ellis Hobbs
, G
Max Jean-Gilles
, TE
Alex Smith
, FB
Leonard Weaver
.
What to expect
: There are questions on the offensive line, but overall, the Eagles are in a prime situation to improve their defense, particularly up front and at safety. Remember, they have quarterbacks to dangle as trade bait and really do not have any unrestricted guys that they need to bring back. This is a possible landing spot for
Julius Peppers
and he would be terrific on the opposite side of
Trent Cole
, who is among the most underrated players in the game and could blow up with someone taking pass protection attention away from his side. Count on the Eagles being aggressive in the free-agent and/or trade market. It might just be enough to get them that ever elusive Lombardi trophy. Stranger things have happened.

Washington Redskins
Potential unrestricted free agents
: LS
Ethan Albright
, DE
Phillip Daniels
, T
Levi Jones
, C
Casey Rabach
,
P
Hunter Smith
, T
Mike Williams
, DE
Renaldo Wynn
, TE
Todd Yoder
.
Potential restricted free agents
: DE
Lorenzo Alexander
, T
Stephon Heyer
, LB
Chris Wilson
, QB
Jason Campbell
, S
Reed Doughty
, DT
Kedric Golston
, LB
Rocky McIntosh
, DT
Anthony Montgomery
, C
Will Montgomery
, CB
Carlos Rogers
.
What to expect
: This is a difficult team to get a grasp on in terms of what they might do in free agency, but I think it is safe to say that ownership will not hold Mike Shanahan and company back from opening up the check book and signing (and even overpaying) players whom they desire. It would be wise for Washington to have an excellent idea of what they are going to do with the fourth overall draft pick in terms of going quarterback or offensive tackle before really devising a free-agency plan. Rebuilding the offensive line is a must and Shanahan needs lighter, quicker (and younger) linemen than are on the roster. A running back they can trust wouldn't hurt either, although it looks as though
Clinton Portis
will return, which they may regret. But don't forget, this is a team that -- unwisely in my opinion -- is switching to a 3-4 scheme, so inside linebacker help is required, as are defensive linemen who fit the new scheme. The Redskins have a long wish list, but also have the ownership to endorse big spending when free agency opens.
February, 11, 2010
2/11/10
4:08
PM ET
By
Matt Mosley
| ESPN.com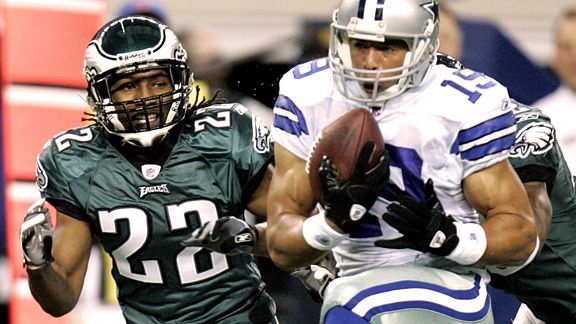 AP Photo/Mike FuentesThe Eagles Asante Samuel may be a Pro-Bowler, but he's not exactly a "shut-down corner."
It's been more than a month since the Eagles' season ended in Arlington, Texas, but we've been able to mention the
Donovan McNabb
situation on a daily basis. It's one of the most compelling storylines of the NFL offseason, but it's not the most important issue the organization is facing.
If the Eagles don't fix their defense, it really won't matter whether it's McNabb or
Kevin Kolb
behind center. I've already ruled out
Michael Vick
as the starter despite at least one report that the Eagles are just dying to pay the man his $5 million in 2010. (Since Vick is hosting at least seven NBA All-Star parties in Dallas this weekend, I'll try to catch up with him.)
The Eagles failed spectacularly in December and early January, in part, because they had no answers for
Tony Romo
,
Miles Austin
,
Jason Witten
and
Felix Jones
. You can blame it on the departure of
Brian Dawkins
, a season-ending injury to middle linebacker
Stewart Bradley
or the death of defensive coordinator Jim Johnson. But the Eagles weren't the only team in the league to face adversity in '09.
The club can't afford to obsess about the quarterback position this offseason at the expense of the rest of the roster. There's simply too much work to be done on defense. Eagles president Joe Banner told the club's Web site earlier this week that he didn't think
the gap between the Eagles and Cowboys
was as wide as those final two games indicated. And that sort of sentiment should scare the hell out of Eagles fans.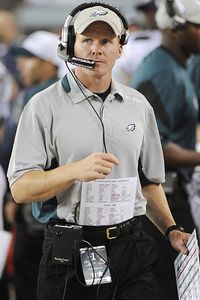 Howard Smith-US PRESSWIRECoordinator Sean McDermott's Eagles defense needs to find some answers in the offseason.
Sean McDermott's defense had no hope against the Cowboys because there was not a single player who could match up with Witten. Assigning linebackers such as
Will Witherspoon
and
Moise Fokou
to cover Witten is an absolute farce. Even if the Eagles accounted for Witten, it just opened things up for Austin and Crayton across the middle.
The return of Bradley will certainly help the Eagles' cause but this defense isn't one player away from making noise in the playoffs. Everyone wants to talk about letting Dawkins get away, but I'd argue that the lack of depth at cornerback is just as big of an issue. You have to admire
Sheldon Brown
for playing through pain on numerous occasions, but that doesn't cancel out the fact that he was a liability at times.
Asante Samuel
will always go to Pro Bowls based on his gaudy interception totals -- and those are important. But Samuel's reluctance to make contact with ball carriers will continue to be a sore spot with coaches and fans. Let's not act like Samuel's a so-called shut-down corner. I'm pretty sure
Deion Sanders
was the last man to fulfill that role. Samuel is one of the biggest gamblers in the game, which makes the Eagles susceptible to the big play (Austin on the sideline).
I know it's fashionable to talk about taking the "best player available" in the draft, but the Eagles better make sure that player can cover a wide receiver. Who do you guys trust in the Eagles' secondary? I still think
Quintin Mikell
's a quality player, but he was exposed when he had to line up next to inferior talent.
I think the Eagles would be wise to either trade for a veteran safety or find one in free agency, like the Cowboys did with
Gerald Sensabaugh
last March.
Sean Jones
certainly wasn't the answer last offseason and
Quintin Demps
is firmly entrenched in Andy Reid's doghouse. I think it's extremely difficult to ask a rookie to make an immediate impact at the safety position because of its complexities.
The Eagles were so desperate in the secondary at one point this season that they signed a former Mr. Irrelevant who couldn't stick with the
Detroit Lions
. I would identify the best two or three cornerbacks in this draft and try to get one of them at No. 24. I know you're not exactly set along the offensive line but teams such as the Colts (and even the Eagles) have shown that you can find starters in the later rounds.
Then there's this little thing about finding another pressure player to take some heat off defensive end
Trent Cole
. And for the record, I don't think it would be wise to dump a bunch of free-agent money into signing Panthers defensive end
Julius Peppers
, who might be asking for
Albert Haynesworth
money, which sounds ludicrous to me. Haynesworth, who is a couple years younger than Peppers, signed a contract that included $41 million in guaranteed money.
There's no chance I'd make that type of commitment to Peppers, who had 10.5 sacks for a bad Panthers team in '09. The Eagles spent roughly $30 million on defensive end
Jevon Kearse
before finally cutting their losses following the '07 season. Kearse was younger than Peppers when he arrived in Philly and he was an enormous disappointment even before a season-ending knee injury in 2006.
The ubiquitous scout turned broadcaster/writer Mike Lombardi has suggested the Eagles trading backup quarterback Kevin Kolb for Browns defensive tackle
Shaun Rogers
. And isn't a 31-year-old defensive tackle with a checkered past
exactly
what the Eagles need to finally win a Super Bowl?
No, I'm afraid there won't be a lot of shortcuts available in trying to catch up with Wade Phillips and the Cowboys. Andy Reid and his new boy wonder general manager Howie Roseman are going to have to close the gap via the draft. The Eagles have obviously hit big on offensive players such as
DeSean Jackson
,
Brent Celek
and
Jeremy Maclin
in recent drafts.
Now, they desperately need to rebuild a defense that seemed to become old and slow overnight. Or maybe you agree with Banner in that those two blowouts at the end of the season were an aberration.
January, 9, 2010
1/09/10
7:00
PM ET
By
Matt Mosley
| ESPN.com
ARLINGTON, Texas -- As we've already told you,
Michael Vick
is active for tonight's game and I would expect for him to play a fairly significant role in the game plan. The Cowboys spent more time in the film room preparing for Vick this week because they felt like the Eagles would be in more of a desperation mode in this game. Now let's take a look at the inactives for both teams:
Cowboys:
QB
Stephen McGee
, S
Pat Watkins
, CB
Cletis Gordon
, LB
Jason Williams
, G
Montrae Holland
, C/G
Duke Preston
, T
Pat McQuistan
, LB
Curtis Johnson
Eagles:
QB
Kevin Kolb
, CB
Geoffrey Pope
, FS
Quintin Demps
, T
King Dunlap
, C
Dallas Reynolds
, WR
Kevin Curtis
, TE
Martin Rucker
, DT
Trevor Laws
January, 3, 2010
1/03/10
3:18
PM ET
By
Matt Mosley
| ESPN.com
ARLINGTON, Texas -- Eagles coach Andy Reid spent the week indicating that
Michael Vick
would be his No. 2 quarterback despite a quadriceps contusion. I thought it seemed like an unnecessary risk but it's something that Reid has done quite a bit this season.
But now we know that Reid may have been trying to mislead Wade Phillips and his defense. Vick is listed as the Eagles' emergency quarterback, which makes it highly unlikely that we'll see him on the field today.
Kevin Kolb
will be the No. 2 quarterback behind
Donovan McNabb
. The only other mild surprise for the Eagles in terms of inactives is safety
Quintin Demps
. He told reporters all week that he planned to play and return kicks. But he's been listed as inactive. That means that rookie
Macho Harris
may be returning kicks again. Remember that he had two fumbles last week against the Broncos.
No surprises on the Cowboys' inactives list. We know that
Marc Colombo
and
Pat Watkins
could potentially return for next weekend's wild-card playoff game. With the Vikings beating up on the Giants, we know a Cowboys loss today would send them to Minneapolis. An Eagles loss would return them to Arlington, Texas, again next weekend to play the Cowboys.
An Eagles win would give them the No. 2 playoff seed and a bye in the opening round.
September, 5, 2009
9/05/09
10:40
AM ET

Posted by ESPN.com's Matt Mosley
The Cowboys closed out the preseason Friday with a heart-stopping 35-31 victory over the Vikings. OK, maybe no one's heart stopped, but there were some fairly interesting things to discuss following the game. Some players sealed roster spots. Others simply confirmed their tickets out of Dallas. Now let's take a look at my Cowboys-Vikings observations. And yes, I'm absolutely thrilled to be writing my final commentary on a preseason game.
Second-year tight end Martellus Bennett was the offensive star of this game. He led the team in receiving during the preseason and he added three more catches for 51 yards in the first quarter. At 6-6, he offers Tony Romo and Jon Kitna a big strike zone. And he's very graceful in making catches. On his 31-yard catch on the opening drive, he positioned his body perfectly to shield the ball from the safety. Witten and Bennett have to be considered the top tight end duo in the NFC (and maybe the entire league) heading into the season. I also liked how Bennett sold that he was blocking down on the Kitna waggle, and then he bolted out to the right to provide an easy target. Bennett's poised for a breakout season -- and one Dallas columnist flew all the way to Minneapolis to chart his progress.
Kevin Ogletree, welcome to the 53-man roster. Not that I had any doubt heading into this game, but the free-agent rookie out of Virginia validated all the praise he's received in the preseason with a nice catch on third down and a 5-yard touchdown on the Cowboys' first drive. He's a smooth route runner who has a knack for getting wide open in the end zone. When the Vikings busted coverage, Ogletree came racing across the back of the end zone for the touchdown.
Some people will say that Ogletree took Isaiah Stanback's spot on the roster. But even if Ogletree hadn't flashed, Stanback needed to go. He finished with one catch in the preseason -- and he fumbled that one. He started against the Vikings on Friday, but I don't think Jon Kitna ever looked his way. Stanback also muffed a couple of kickoff returns. He's obviously an excellent athlete, but it really doesn't translate to anything on the field. I'd be shocked if he's not one of the cuts Saturday.
Why can't Jon Kitna take a snap from center? We've been over this before. Kitna and Cory Procter had problems, so the Cowboys tried another center (Duke Preston) Friday. This time, Kitna left the snap on the ground and the Vikings recovered. Kitna still has a live arm, but he has to figure out what's going on with the snaps. It's almost like a mental thing at this point. By my count, Kitna has been involved in at least four botched snaps. You don't want to overreact to anything that happens in the preseason, but it certainly has to be something the Cowboys are concerned about.
Oops, someone forgot to tell Steve Octavien he wasn't supposed to make the team. The former Cornhusker looks small (6-0, 238) when he lines up at outside linebacker, but he has a knack for getting to the quarterback. He and fellow rookie Victor Butler could be called upon to give DeMarcus Ware and Anthony Spencer a rest at some point. If that happens, I really like Octavien's chances. He has really good instincts and his quickness was giving the Vikings' reserve left tackle fits.
Patrick Watkins isn't going anywhere. I thought the former Florida State player was on his way out early in camp. But on Friday, he was Cowboys' best defensive player on the field. Wasn't even close. He finished with seven tackles, a blocked field goal and an interception return for a touchdown. He had the best first half of his career, and then he backed it up in the third quarter. At 6-5, you always thought Watkins could cause problems for wide receivers. But he's only started showing that recently. With Friday's performance, there's no way you can keep him off the 53-man roster.
The reserve offensive linemen seem to be penalized at the worst-possible moments. A promising drive in the first quarter was interrupted by a Doug Free holding penalty. The play nullified a first-down run for Tashard Choice. On another play in the first half, Pat McQuistan tackled a defender right in front of the officials. Easiest call of the game. That wiped out a nifty run by Tashard Choice -- and it was so unnecessary. McQuistan was completely out of the play. It's maddening watching these two guys. The first time Kitna was stripped, it was because McQuistan hesitated for a moment to look inside and then let a Vikings defensive end beat him to the outside on a speed rush.
Wade Phillips had to enjoy watching backup nose tackle Junior Siavii blow a third-and-short play for the Vikings late in the first quarter. Siavii held his own for most of the game. Nothing flashy, but he clogs up the middle. Completely different style than starter Jay Ratliff, who uses his speed and quickness.
It's way too late, but we finally had a Manny Johnson sighting. The former Sooner was taken by the Cowboys in the seventh round, but Johnson never made much of an impression during training camp. He made a nice grab along the sideline for 11 yards. And he also showed his speed on special teams. He might be a good practice squad candidate.
Is it just me or was Bobby Carpenter really unimpressive in the first half? I try to watch Carpenter on running plays and he's always getting pushed at least five yards backwards. He's still not aggressive enough in taking on blockers and I wouldn't trust him to play an entire game -- if something happens to one of the starting inside linebackers. He simply gets caught inside way too much. The Vikings had a long touchdown drive in the first half and I thought Carpenter was exposed in a big way. It was like the Cowboys wanted no part of Vikings reserve running back Ian Johnson.
Still too early to panic about the special teams? Joe DeCamillis' unit allowed a 72-yard punt return for a touchdown. But in DeCamillis' defense, Jesse Holley and Scott Chandler were in great position to make a tackle. Obviously things didn't work out. This is happening way too much. Sort of similar to last season's unit, but I think the Cowboys will get it turned around early in the regular season. It's not like the special teams had any continuity in a game like that.
We saw good Mike Mickens and bad Mike Mickens on Friday. It's obvious the seventh-rounder out of Cincinnati is talented, but he's taking too many chances. What he has to learn is that going for an interception and missing can end up costing you about 50 yards. But on the next play after he allowed a big gain, he came back and broke up a pass. I think he'll be a good player eventually. Way too early to count on him at this point.
I almost forgot Watkins' play near the goal line. He recovered nicely to tackle Sage Rosenfels for a loss when the Vikings went for it on fourth down. Watkins bit on the original play, but he quickly made up the ground and dragged Rosenfels down. Outstanding play.
I think rookie tight end John Phillips has a little something. He did a great job of competing for the ball on the Hail Mary at the end of the first half. That play didn't lead to anything, but it was nice to see that he had a little explosiveness.
Who were you guys impressed with? Let me hear from you. And remember that we'll have full cut-down day coverage beginning at 6 p.m. ET. Thanks for joining us.
NFL SCOREBOARD
Thursday, 10/2
Sunday, 10/5
Monday, 10/6