NFL Nation:

Patrick Mannelly
November, 22, 2013
Nov 22
2:59
PM ET
LAKE FOREST, Ill. – The
Chicago Bears
have officially ruled out starting defensive tackle
Stephen Paea
for Sunday's game in St. Louis because of a toe injury that forced him to prematurely exit the Bears' Week 11 win against the
Baltimore Ravens
.
McClellin
Paea, who did not practice all week, suffered the same toe injury in Week 4 and subsequently missed the next two games before returning to the starting lineup on Oct. 20.
"It's like having a flat tire," Paea said about the bad toe. "Imagine having to drive on a flat tire."
Paea will continue to rest and receive treatment on the toe, but he's unsure how long he's going to be sidelined.
"It's just frustrating right now," Paea said. "It's the same exact thing injury. I just re-aggravated it. The field was kind of wet (Sunday), so that (probably helped cause) it."
With Paea down for at least a week, the Bears are expected to welcome back defensive end
Shea McClellin
(hamstring). McClellin participated fully in practice the entire week and is listed as probable.
Also probable for the Rams game: long-snapper
Patrick Mannelly
(calf) and right tackle
Jordan Mills
(quadriceps).
Safety
Craig Steltz
(concussion) is questionable, and had limited participation in practice on Friday.
Quarterback
Jay Cutler
(ankle), linebacker
Lance Briggs
(shoulder) and defensive tackle
Jay Ratliff
(groin) were all ruled out for Week 12. However, Ratliff practiced Friday (limited participation) and might be ready to make his Bears' debut in Week 13.
The Bears' roster stands at 52 players (53 is the max). The open roster spot could be used to elevate a defensive back off the practice squad if Steltz is inactive on Sunday.
November, 20, 2013
Nov 20
6:10
PM ET
LAKE FOREST, Ill. –
Chicago Bears
nickelback
Isaiah Frey
fractured his hand in the team's Week 11 win against Baltimore, but he is expected to play Sunday at the
St. Louis Rams
. Frey did not practice on Wednesday.
"Isaiah's got a fracture in his hand," Bears coach Marc Trestman said. "He's got it casted up. It looks good. It looks like they'll be able to cast it up [Sunday]. We'll know more tomorrow. We're really optimistic on his end.
McClellin
Frey
"I'm optimistic that he'll be playing. I don't think it's necessary to go through all the different logistics if that doesn't happen. But it's certainly been discussed. But I feel optimistic that he'll be playing."
Selected by the Bears in the sixth round of the 2012 draft, Frey emerged as the team's No. 1 nickelback when veteran
Kelvin Hayden
suffered a season-ending injury in the preseason. Frey is seventh on the team with 32 tackles, even though he comes off the field when the Bears play their base 4-3 defense.
In other injury hews, defensive end
Shea McClellin
participated fully on Wednesday and is on track to return to the field Sunday after sitting out the last two games with a pulled hamstring. McClellin hurt the hamstring at practice the week after being named NFC Defensive Player of the Week for his three-sack performance in Green Bay on Nov. 4.
"I feel good," McClellin said. "I feel 100 percent and ready to get back out there and help the guys out.
"It was pretty disappointing [to miss two games]. But it's part of the game. Things happen. And you've just got to adjust. Sitting out is terrible. It's the worst thing. You just want to be out there with the guys helping out, especially if they're not doing too good. It's hard to watch what they're doing."
Defensive tackle
Jeremiah Ratliff
(groin) practiced on a limited basis Wednesday for the first time since he signed with the Bears on Nov. 2. The four-time Pro Bowler has not played in a game since last November, when he suffered a groin injury that eventually required sports-hernia surgery.
However, despite Ratliff's apparent progress, the veteran defensive lineman will not be physically ready to make his Bears debut this Sunday against St. Louis, according to Trestman.
"Ratliff got some work; he'll be a week-to-week thing," Trestman said. "He got some reps in practice. It was good to see him out there moving around. I would not say [his debut] will be this Sunday, and we'll re-evaluate it next week. To be fair with the situation, I'd say we are still a little bit away [from Ratliff playing]."
Trestman calls defensive tackle
Stephen Paea
(toe) "very questionable" to face St. Louis. Paea re-injured the toe that forced him to miss two games in early November; he did not practice on Wednesday.
Long-snapper
Patrick Mannelly
(calf) practiced without restrictions, while right tackle
Jordan Mills
was limited with a sore quadriceps. Safety
Craig Steltz
(concussion) was held out of practice but was able to do some conditioning work on the side.
November, 17, 2013
Nov 17
12:55
PM ET

CHICAGO -- The
Chicago Bears
released their list of inactives in advance of Sunday's game against the
Baltimore Ravens
, and defensive end
Shea McClellin
will miss his second-consecutive game due to a pulled hamstring.
Other Bears inactives include quarterback
Jay Cutler
, linebacker
Lance Briggs
, long snapper
Patrick Mannelly
, offensive lineman
James Brown
, offensive tackle
Jonathan Scott
and defensive tackle
Jay Ratliff
.
Ravens inactives include defensive tackle
Haloti Ngata
, receiver
Marlon Brown
, safety
Omar Brown
, running back
Bernard Scott
, receiver
Brandon Stokley
, offensive lineman
Ryan Jensen
and linebacker
John Simon
.
November, 15, 2013
Nov 15
2:43
PM ET
LAKE FOREST, Ill. -- The
Chicago Bears
list tight end
Martellus Bennett
(ankle) as questionable to face the
Baltimore Ravens
on Sunday, while defensive end
Shea McClellin
(hamstring) is doubtful after sitting out the entire week of practice.
Bennett rested his sore ankle on Thursday, but returned to the field in limited fashion on Friday.
"He (Bennett) worked probably 50 percent of the practice," Bears coach Marc Trestman said. "We were trying to be smart with him, but he got work in today and did well. Hopefully with 48 hours (until kickoff on Sunday) he'll feel even better. But we got some execution done with him, so it was good."
Bennett has battled through nagging injuries much of the season, but has still managed to start all nine games and catch 40 passes for 421 yards and four touchdowns.
McClellin was named NFC Defensive Player of the Week for his three-sack performance against the
Green Bay Packers
on Nov. 4, but he tweaked his hamstring at practice last Thursday and was inactive for the Bears' Week 10 loss to the
Detroit Lions
on Sunday.
McClellin worked on the side with the training staff the past three days during practice but did not officially participate.
In other injury news, linebacker
Lance Briggs
(shoulder), quarterback
Jay Cutler
(ankle) and defensive tackle Jeremiah Ratliff (groin) were all ruled out for Sunday.
The Bears believe Ratliff will be in a position to contribute sometime in the next couple of weeks. The veteran defensive tackle participated in conditioning drills on Friday while his teammates practiced. Ratliff has not played in an NFL game since last November as a member of the
Dallas Cowboys
.
The Bears also list long-snapper
Patrick Mannelly
(calf) as doubtful and right guard
Jordan Mills
(quad) as probable.
November, 14, 2013
Nov 14
4:30
PM ET
LAKE FOREST, Ill. -- The
Chicago Bears
fitted quarterback
Jay Cutler
with a hard cast on his injured left ankle, which he was spotted wearing on Wednesday, but coach Marc Trestman insists the cast was simply applied to provide stabilization.
"The doctors and the trainers talked about just making sure that it's stabilized," Trestman said Thursday. "It wasn't swollen after the game [on Sunday]. It was swollen certainly on Monday, and they just wanted to make sure it was stabilized. That's really the only thing I know about it at this time. It is a hard cast."
Cutler
While a hard cast suggests Cutler's injury might be more significant than a mild high-ankle sprain, doctors and athletic trainers commonly use immobilization to ensure the injured joint doesn't move at all, which promotes faster healing. Players can put on and take off a walking boot, making it not so strict an immobilizer as a hard cast.
In other injury news, tight end
Martellus Bennett
(ankle) didn't participate in Thursday's practice inside the Walter Payton Center, but Trestman said the team is "hopeful that a day off the ankle will give him a little relief, and he'll be back at it." Long-snapper
Patrick Mannelly
(calf) also missed practice, and is considered week-to-week in his recovery.
Trestman said that defensive end
Shea McClellin
(hamstring) "worked with trainers today" and that defensive tackle
Jeremiah Ratliff
"worked on the side, but not in the practice." Rookie right tackle
Jordan Mills
took limited repetitions during Thursday's session due to "a little bit of a quad." Ratliff isn't expected to play this week, and it's unclear whether McClellin will recover enough to be able to contribute in Sunday's game. Mills isn't expected to miss time.
As for Cutler, the quarterback remains "week to week," according to Trestman. But Cutler has spent his days of inactivity working with
Josh McCown
and Trestman to ensure the backup quarterback plays at his best Sunday when the Bears host the
Baltimore Ravens
.
"He's in every meeting," offensive coordinator Aaron Kromer said. "He comes to the extra protection meetings to make sure he knows who we're picking up in blitzes. He's at every quarterback meeting. He's in practice. He's helping Josh. You saw him on the sideline in Green Bay. He's helping coach. He's not missing a rep, other than physical."
November, 6, 2013
Nov 6
4:44
PM ET
LAKE FOREST, Ill. –
Chicago Bears
quarterback
Jay Cutler
(groin) would have been limited on Wednesday if the club had conducted a full-practice, instead of an abbreviated workout due to the short week, according the league's official injury report.
Cutler is expected to test out his injured groin muscle on the practice field on Thursday to give the Bears an idea of where he is at physically in regards to potentially starting at quarterback Sunday versus the
Detroit Lions
.
In other injury news, linebacker
Lance Briggs
(shoulder), defensive tackle
Jay Ratliff
(groin) and long snapper
Patrick Mannelly
(calf) would not have participated on Wednesday.
Mannelly is considered week-to-week and is not expected to be active this weekend, while Ratliff told ESPN 1000's "Waddle and Silvy Show" on Monday that he is still "a couple of weeks" away from returning from his injury.
Linebacker
Blake Costanzo
(back), tight end
Dante Rosario
(ankle) and cornerback
Charles Tillman
(knee) were also listed as being limited.
October, 24, 2013
Oct 24
9:30
AM ET
ASHBURN, Va. --
Denver Broncos
quarterback
Peyton Manning
waves his arms, shouts signals and tries to confuse the defense -- either with an audible or with a false call. He's one of the best in the NFL, perhaps the best, at doing this and at knowing what the defense wants to do.
Meanwhile,
Washington Redskins
linebacker
London Fletcher
has been one of the best at his position dissecting offenses.
Fletcher
Manning
"It's definitely somewhat of a chess match," Fletcher said. "But he's definitely a master chess player."
Fletcher and Manning have been two of the most successful players from the class of 1998. You can't say draft class because Fletcher wasn't drafted. Manning, though, went No. 1 overall to the
Indianapolis Colts
. Yet here they both still are, Manning with the Broncos (his second team) and Fletcher with the Redskins (his third). Both have won a Super Bowl, albeit with other teams. Manning never missed a game until sitting out the 2011 season -- and he hasn't missed one since returning. Fletcher, of course, has played in 246 consecutive games.
Ironically, after Sunday the Redskins will have faced the remaining members of that 1998 class:
Oakland Raiders
defensive back
Charles Woodson
; Colts backup quarterback
Matt Hasselbeck
;
Chicago Bears
long snapper
Patrick Mannelly
. Manning and Woodson both went in the top 5; Hasselbeck and Mannelly were sixth-round picks.
"Us old graybeards out there," Fletcher said. "[Manning] don't wear a beard, but I do. If he did, he'd probably have some greys in his beard as well. It's not a lot of guys left from '98."
There's a kinship that develops knowing you came out in the same year. Fletcher might not want to see Manning fare well Sunday, but he's glad to see him still performing at a high level.
"I like to see that. I take pride in that to see him playing at the level he's playing at," Fletcher said. "He's off to the best start I think he's ever had so that says something about him, his preparation, his work ethic, the things he's done to get himself back to this level."
To which Manning says: right back at ya.
"For him to always answer the bell every Sunday, it tells you how tough he is. It tells you also what a professional he is," Manning said, "keeping himself in great shape and taking care of himself. But also, there's real want-to in that. There's no question. He's had tons and tons of injuries, but he always answers the bell. There's nothing he hasn't seen. A smart veteran and really kind of the leader of that defense -- gets them lined up. It's always a challenge playing against London."
September, 2, 2013
Sep 2
5:00
PM ET
LAKE FOREST, Ill. --
Chicago Bears
defensive tackle
Henry Melton
and receiver
Earl Bennett
both described their concussions as headaches that wouldn't go away. But now that they've dissipated and the protocol has been satisfied, the duo has been cleared for Sunday's Week 1 matchup against the
Cincinnati Bengals
.

"I know we have a huge season ahead of us, and not really knowing when I was going to start feeling better exactly, it was a little nerve-wracking," Melton said. "But finally, the clouds cleared."
Melton and Bennett took part in Monday's workout, as did all of the club's other previously injured players such as offensive tackle
Jonathan Scott
(knee), linebacker
D.J. Williams
(calf), and long snapper
Patrick Mannelly
(ribs).
Bennett suffered a concussion on Aug. 3 during a practice at Soldier Field, which forced him to sit out the entire preseason and every practice since. Bennett's inactivity has led to concerns about his conditioning. Although Bennett plans to play Sunday against the Bengals, Bears coach Marc Trestman said that "it might not be plausible for him to play" because of the conditioning concerns.
"We'll see how he looks during the course of the week. He ran well today. He was involved in reps. Obviously he hasn't had the practice time or the conditioning level right now. So it's plausible [that Bennett won't play]. I don't want to say unlikely because I don't know how the week's going to go," Trestman said. "But it's plausible he could be out on Sunday. It's possible that he could be up. We'll just see how the rest of the week goes. We've got another day off. He's got three days of work ahead. We'll see how all that fits together come Sunday."
If Bennett doesn't play, it's likely that rookie
Marquess Wilson
or
Joe Anderson
would line up as the third receiver.
"Actually, I'm pretty good conditioning-wise," Bennett said. "I've been up here running -- shoulder pads, helmets -- the past few days, just making sure that I'm in great shape. I'm very eager. I'm excited to be back. Excited to get back to work, and continue to work hard. Like I said, my plan is to play this week, so I look forward to this game."
Melton does, too. Melton suffered his concussion in the preseason opener at Carolina on Aug. 9.
"They've been working me pretty hard all through the weekend, trying to get me back," Melton said. "I'm feeling good. I went out there and ran a little bit."
Scott, meanwhile, has been recovering from a minor procedure on his right knee, but practiced Monday for the first time since training camp in what he called a "limited" workout. A reserve offensive tackle, Scott said his expectation is to play against the Bengals if needed.
"Physically and emotionally I've been dying to be out here with this team and get after it," Scott said. "I'm just happy to be in the position to play again."
August, 26, 2013
Aug 26
2:53
PM ET
LAKE FOREST, Ill. -- The
Chicago Bears
returned to the field to resume workouts Monday, but continued to hold out defensive tackle
Henry Melton
and receiver
Earl Bennett
as the duo works through the steps of the concussion protocol to return to the field.
Melton and Bennett attended the session inside the Walter Payton Center during the portion of practice open to the media, but it appears neither has been cleared to return to activity. Considering the starters aren't likely to play much, if any, during the preseason finale against Cleveland on Thursday, there's no rush for Melton and Bennett to return to the field.
"Henry is into (the) running (phase of the concussion protocol). Earl is day-to-day," coach Marc Trestman said. "I know he was with some of the medical people this morning, I haven't checked. Henry ran today. He's going to run tomorrow and Wednesday and pick up that running significantly. That's where he is at this point."
However, the Bears have already begun preparations for the regular-season opener against the
Cincinnati Bengals
on Sept. 8, and the week leading into that outing would seem to be the target date for Melton and Bennett to rejoin the team for workouts.
As the club's franchise player, Melton has already solidified his status as a starter. Bennett, meanwhile, is competing with
Joe Anderson
,
Eric Weems
,
Terrence Toliver
and rookie
Marquess Wilson
for one of the receiver spots behind
Brandon Marshall
and
Alshon Jeffery
. Bennett hasn't practiced with the team since suffering the concussion on Aug. 3 at Soldier Field after a hard hit from safety
Chris Conte
.
Melton suffered his concussion in the first game of the preseason at Carolina.
In other injury news, the team held out quarterback
Matt Blanchard
(hand), linebacker
D.J. Williams
(calf), offensive tackle
Jonathan Scott
(knee), defensive tackle (
Corvey Irvin
) (ankle) and cornerback
Zack Bowman
(hamstring).
Fullback
Harvey Unga
(ribs), defensive end
Cheta Ozougwu
(hamstring), and long snapper
Patrick Mannelly
returned to the practice field Monday after missing last week's game at Oakland.
August, 9, 2013
Aug 9
11:18
PM ET
CHARLOTTE, N.C. -- Here are a few quick thoughts from Chicago's 24-17 loss to the
Carolina Panthers
on Friday in the preseason opener:
What it means:
There's still work to do on both sides of the ball. What's most important is the team came out of the game relatively injury free while still managing to get in some much-needed work.


On offense, the protection was somewhat inconsistent, which led to a sack of
Jay Cutler
, who also tossed an interception on the group's first play of the game.
"It was an unfortunate start," Cutler said. "I have to put the ball on Alshon's [Jeffery] other shoulder. We had some good stuff after that; we had some bad stuff. Typical preseason game. We just have to take a look at it and get better next week."
The first team managed to gain just three first downs in three series, but there's no denying that outside of the interception, Cutler was pretty much on target with his throws.
Cutler completed 6 of 8 passes for 56 yards and finished with a passer rating of 54.2.
"Well, other than the pick we had, we moved the ball a little bit," Bears coach Marc Trestman said. "We got a few throws in. Jay made some great throws. We caught some slants in contested throwing areas. We got a few runs in. Matt [Forte], got a couple of catches, moved the ball around. Certainly didn't do what we wanted or up to our expectations. But other than the first play and the one sack -- we've got work to do."
Defensively, the bad news was the group gave up one touchdown trying to defend a short field created by Cutler's interception, combined with a pass-interference penalty on
James Anderson
on the next play as he tried to cover former Bears tight end
Greg Olsen
. The Anderson penalty put the Panthers at the Chicago 4. Three plays later,
Cam Newton
hit
Brandon LaFell
for a 3-yard touchdown at the 10:14 mark to give the home team an early lead.
The good news is the defense put points on the board with
Jon Bostic
's 51-yard interception return at the 6:09 mark of the first quarter. Bostic filled in for injured starting middle linebacker
D.J. Williams
(calf) and while it's too soon to definitively gauge his performance (that comes after film study), the showing appeared promising.
"There were a lot of things we could do better," linebacker
Lance Briggs
said. "There were some things we did well. When we put on the tape, we'll all evaluate the things to improve on. All in all, when you are getting turnovers in the game that is very big."
Injury update:
Long-snapper Pat Mannelly suffered injured ribs when he was blindsided on a punt in the first half. The severity of that injury wasn't immediately known. Team officials took defensive tackle
Henry Melton
back into the locker room in the first quarter, where he was diagnosed with a concussion. He'll have to follow the NFL's new concussion protocol before he's allowed to practice again. It is possible Melton could be back on the field for Chicago's next practice at training camp, but unlikely given his importance to the defense. There's no need to rush him back into action.
Webb of inconsistency:
J'Marcus Webb
performed inconsistently in 2012 at left tackle, and his move to the right side for 2013 wasn't promising in the first preseason game.
During Chicago's third series of the night, Carolina defensive end
Charles Johnson
blew past Webb on the outside. In his attempt to recover, Webb overstepped outside, and Johnson cut back inside to sack Cutler along with
Kawann Short
.
Don't count out Webb just yet though. It's only the first preseason game.

Second-team sloppiness:
Josh McCown
zipped a near perfectly thrown ball to tight end
Fendi Onobun
in the end zone for what should have been a touchdown in the second quarter, but he dropped the pass. On the next play, running back
Armando Allen
fumbled after catching a pass from McCown, with
Anderson Russell
recovering for Carolina at the Panthers' 12.
Onobun has struggled to catch the ball throughout the preseason, but seemed to come on in recent practices after the team had brought in
Leonard Pope
to compete for the job. The Bears rave about his consistency, but the truth is Onobun needs to be more consistent at catching the ball if he expects to make the 53-man roster at the end of camp.
Lopsided time of possession:
Both teams played the majority of the first quarter with starters on the field on both sides of the ball, and the Panthers dominated time of possession. Carolina was 2-of-5 on third-down conversions, while the Bears finished 0-for-2 in that category. The Panthers held the ball for 9 minutes, 31 seconds in the first quarter, and the Bears held possession for 5 minutes, 29 seconds.
Bostic time?
Not yet, but the rookie definitely showed why the Bears made him their second-round pick in the draft. In addition to the 51-yard interception return for a touchdown, Bostic was credited for two tackles and a pass breakup. He's probably not ready to take over D.J. Williams' starting job in the middle, but his play should definitely raise the comfort level of the coaching staff if the rookie is forced to play in a pinch.
Bostic wasn't the only rookie to show promise. Fourth-round pick
Khaseem Greene
came into the game during the team's third defensive series and contributed two tackles, including one for lost yardage.
Frey maintains:
Second-year veteran
Isaiah Frey
maintained the momentum he's been riding throughout training camp practices with a solid outing in his first preseason game. Frey took over at the starting nickel corner when
Kelvin Hayden
suffered a season-ending hamstring injury. The youngster hasn't disappointed.
Virtually every day of practice at training camp, Frey has made a head-turning play, whether it's an interception or a pass breakup. Against the Panthers, Frey nearly picked off a
Derek Anderson
pass in the second quarter.
Briggs makes calls:
With
Brian Urlacher
now out of the picture, Briggs has taken on the responsibility of making the club's defensive calls. Briggs said it went well.
"It went smooth. I got the call, called it out to teammates, they heard it, they received it, and they played the play," Briggs said.
What's next:
The Bears receive a day off on Saturday, before hitting the practice fields at Olivet Nazarene University on Sunday for the final week of training camp. Chicago hosts the
San Diego Chargers
on Thursday night at Soldier Field for the second game of the preseason.
January, 16, 2011
1/16/11
12:33
PM ET
CHICAGO -- The
Seattle Seahawks
are gathering on the field near their sideline for some pregame mosh-pit action before their stretching session.
I've done a quick sleeve count to see which players have given in to the cold.
Eight Seattle players --
Mike Williams
,
J.P. Losman
,
Jordan Babineaux
,
Clint Gresham
,
William Robinson
,
Stacy Andrews
,
Jon Ryan
and
Olindo Mare
-- are wearing long sleeves for Seattle. A couple defensive backs are wearing forearm pads.
Eight Bears players are also wearing sleeves:
Brad Maynard
,
Jay Cutler
,
Caleb Hanie
,
Todd Collins
,
Greg Olsen
,
Corey Graham
,
Devin Hester
and
Patrick Mannelly
.
We're up to 22 degrees from 16 degrees a few hours ago.
August, 30, 2010
8/30/10
9:47
AM ET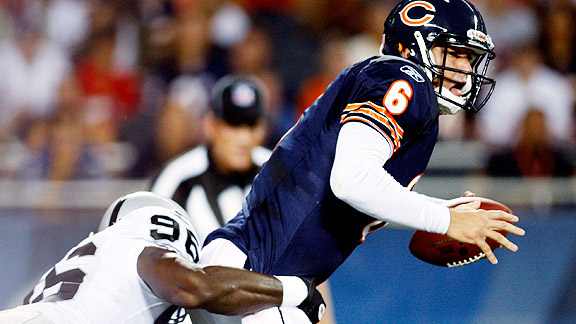 Jerry Lai/US PresswireBears quarterback Jay Cutler has been under pressure during much of the preseason.
As the
Chicago Bears
have stumbled through a 0-3 preseason, panic has remained trapped beneath the surface. We've only seen a few warning signs, most notably quarterback
Jay Cutler
's
admission Saturday night
that pass protection issues has made it difficult "just trusting guys" on the offensive line.
No one should have expected a sterling preseason. The Bears are installing a new offense, have new starters sprinkled throughout their defense and have endured more than their share of training camp injuries. But the near-total infestation raises a fair question: Can the Bears get it together before they open the regular season against the
Detroit Lions
in 13 days?
As another week of practice begins, let's consider three reasons to panic and three reasons to remain calm. How fun: We can be alarmists and flight attendants all at once.
This is bad -- really bad.
It's one thing if the offense needs some fine-tuning. But to this point, it's hardly functioned. The Bears' average of 12 points per game this preseason is tied for second-worst in the NFL. In a little more than four quarters of play, Cutler has taken 10 sacks, completed 51.4 percent of his passes and thrown two interceptions. If he doesn't trust his offensive linemen, there's nothing that can happen between now and Sept. 12 to fix that.

Attention on the offense might have softened concerns about the defense. Most notably, the Bears have allowed opponents to convert 45.6 percent of third-down opportunities. Usually, preseason statistics are mildly relevant at best. But if you consider it a carryover from last season, when the Bears ranked No. 27 among NFL teams in third-down defense (41 percent), then you could conclude the problems haven't been solved.

It's been psychologically jarring to see the Bears' usually pristine special teams in such disarray. Long-snapper Patrick Mannelly's neck injury rendered the Aug. 21 game against the Oakland Raiders moot. Opponents have blocked two punts and one field goal. Meanwhile, the Bears' longest special-teams play has been a 32-yard kickoff return from Danieal Manning. Taken individually, none of these issues would be alarming. But it's jarring when you consider the Bears normally have been explosive and impenetrable under coordinator Dave Toub.
[+] Enlarge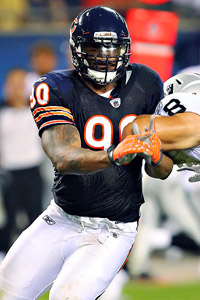 Dennis Wierzbicki/US PresswireJulius Peppers has recorded a pair of sacks in limited preseason action.
Take a deep breath
If the line can come together and Cutler can calm his nerves, the Bears have demonstrated they have some explosive parts to this offense. Receiver Johnny Knox is averaging 21 yards per reception. Tailback Matt Forte has an 89-yard touchdown run to his credit, and backup Chester Taylor produced a nifty 34-yard run the other night. And we're only being honest in noting that the first defense the Bears will face this season, the Lions, has struggled equally as much in the preseason.

The defense hasn't been close to full strength this summer, considering injuries to linebackers Nick Roach (knee), Brian Urlacher (calf) and Lance Briggs (ankle). Safety Major Wright broke a finger during a promising preseason debut, leaving us unable to evaluate the expected pairing of Wright at free safety and Chris Harris at strong. Finally, defensive end Julius Peppers has shown up with two sacks in limited playing time. Don't forget about him.

Toub and the rest of the Bears' special teams deserve some benefit of the doubt based on history. Mannelly's return has restored some order, and not all of the players who have made blocking and coverage mistakes will earn spots on the final roster. And don't forget the team has three returners with histories of explosiveness to choose from in Manning, Knox and Devin Hester.
Those are my first-blush thoughts on a Monday morning. Feel free to pass along yours.
August, 22, 2010
8/22/10
12:56
PM ET
Let's take a quick look back after three of our four teams played their second preseason game Saturday night:
(*The
Minnesota Vikings
are one day behind and will take on the
San Francisco 49ers
on Sunday night.)
Oakland Raiders 32, Chicago Bears 17
Preseason record:
0-2


Of interest:
Ugh. Yuck. Feel free to provide any other words you would like. About the only good news Saturday night was
Matt Forte
's legitimately electric 89-yard touchdown jaunt, during which I saw nice blocks from center
Olin Kreutz
, tight end
Kellen Davis
and right guard
Lance Louis
. Otherwise, the night bordered on fiasco for the Bears. Quarterback
Jay Cutler
was sacked five times in the first half, a total that will do nothing to lessen preseason concerns about the offensive line. The Bears entered the game without a long snapper because of
Patrick Mannelly
's neck injury, leading to a pair of botched kick attempts on a night when the Bears also had another punt blocked. And as the first-team defense gave up 170 passing yards in the first half to Raiders quarterback
Jason Campbell
, middle linebacker
Brian Urlacher
stood on the sideline with a calf injury that isn't deemed serious. If you're scoring at home, and in August there really isn't much reason to, the Bears have been outscored in the preseason 57-27.
Local coverage:
Cutler called the sack total "unacceptable," according to
Michael C. Wright of ESPNChicago.com
. No offfensive lineman looked worse than left tackle
Chris Williams
, writes
Jeff Dickerson of ESPNChicago.com
. It's hard not to be concerned with Urlacher's health, writes
Rick Telander of the Chicago Sun-Times
.
David Haugh of the Chicago Tribune
: "Of all the things that will make Lovie Smith and his staff uncomfortable reviewing the 32-17 loss to the Raiders, the play of the starting defense should make everyone question whether the cups really are half-full at Halas Hall."

Next:
Saturday vs.
Arizona Cardinals
Detroit Lions 25, Denver Broncos 20
Preseason record:
1-1

Of interest:
The first-team offense scored on all four possessions, although coach Jim Schwartz was disappointed that three drives stalled in the red-zone and left the Lions kicking sub-30 yard field goals. Quarterback
Matthew Stafford
avoided mistakes and connected with receiver
Calvin Johnson
for a touchdown in a second consecutive game. The Lions also got a taste of tailback
Jahvid Best
's everydown explosion; he rushed for 49 yards on eight carries. But there appeared to be minimal improvement at best for the defense. Although cornerback Dre Bly set up Johnson's touchdown with an interception off a tipped pass, the defense gave up 177 passing yards to Broncos quarterback
Kyle Orton
in the first half. Linebacker
Zack Follett
missed a tackle on
Lance Ball
's 15-yard scoring reception and was trailing on
Marquez Branson
's 11-yarder just before halftime. But the Lions went home with a smile after watching third-string quarterback
Drew Stanton
take a quarterback draw 25 yards for the eventual winning score.
Local coverage:
Dave Birkett of the Detroit Free Press
: "For the second time in as many exhibition season games, the Lions' first-team offense looked sharp. The secondary, not so much." In his first preseason outing, tailback
Kevin Smith
looked "OK," writes
Carlos Monarrez of the Free Press
. Stafford referred to Johnson's touchdown catch as "special," writes
Chris McCosky of the Detroit News
. In the first series, Best had runs of 15 and 11 yards, notes
Tom Kowalski of Mlive.com
.
Next:
Saturday vs.
Cleveland Browns
Green Bay Packers 27, Seattle Seahawks 24
Preseason record:
1-1

Of interest:
It's hard to start with anyone but quarterback
Aaron Rodgers
, who put together another sharp performance. In two preseason outings, Rodgers has a near-perfect 154.0 passer rating. He's completed 20 of 24 passes for 275 yards, with three touchdowns and no sacks. Saturday night, he hit receiver
Greg Jennings
for 56 yards on his first pass, and then connected four times with tight end Jermichael Finely, including a wide-open 12-yard touchdown pass. The defense was without cornerback
Charles Woodson
and both inside linebackers, so we have to grade on a curve after it allowed consecutive touchdown drives. But since I've been making such a big fuss about nose tackle
B.J. Raji
, I did focus on him for several series. My amateur eyes didn't see much push, and Seahawks lineman
Sean Locklear
cut Raji to the ground on
Leon Washington
's 11-yard touchdown run in the second quarter. For what it's worth ...
Local coverage:
Rodgers' preseason play has been "out of this world," writes
Jason Wilde of ESPNMilwaukee.com
. The Packers' first-team offense has logged 310 yards in 17 plays this preseason, according to
Tom Silverstein of the Milwaukee Journal Sentinel
.
Rob Demovsky of the Green Bay Press-Gazette
: "There's a good chance the Green Bay Packers will go through the entire preseason without their starting linebacking corps getting any work together."
Wilde on the Packers' defense
: "Vanilla or not, it looks like the Green Bay Packers' defense has plenty to work on between now and the Sept. 12 regular-season opener at Philadelphia."
Next:
Thursday vs.
Indianapolis Colts
(ESPN)
NFL SCOREBOARD
Thursday, 12/12
Sunday, 12/15
Monday, 12/16