NFL Nation:

Patriots release Hernandez
June, 27, 2013
6/27/13
5:00
PM ET
One day after the
New England Patriots
released star tight end
Aaron Hernandez
, 31 other NFL teams agreed that he's too risky of an investment.
Hernandez, as expected, cleared through waivers on Thursday, according
to ESPN's Adam Schefter
. Hernandez was free to join any team willing to pick up the remainder of his five year, $40 million contract that he signed with New England last summer.
Hernandez is facing a murder charge and
five additional gun charges
stemming from an investigation of a 27-year-old Boston man who was killed last week near Hernandez's home in Massachusetts. Hernandez was arrested on Wednesday and also
denied bail today.
June, 27, 2013
6/27/13
3:38
PM ET
By
ESPN.com staff
| ESPN.com
A judge denied
Aaron Hernandez
's request for bail Thursday, one day after the former
New England Patriots
tight end was charged with murder.
Hernandez was ordered held without bail after being charged Wednesday with first-degree murder of 27-year-old Odin Lloyd along with five weapons-related counts.
Hernandez appeared Thursday in Bristol County Superior Court in Fall River, Mass., with his attorneys, James Sultan and Michael Fee.
Although Sultan argued that Hernandez is not a flight risk, Judge Renee Dupuis called the prosecution's case "circumstantial but very, very strong."
"The facts, as I understand it, suggest that basically a cold-blooded person killed another person because that person disrespected him," Dupuis said.
For the full story, click
here
.
June, 26, 2013
6/26/13
5:52
PM ET
Former
New England Patriots
tight end
Aaron Hernandez
is one of the top 10 players at his position. He's young, athletic, versatile and has a world of talent.
And now, any NFL team can claim him for the 2013 season within the next 24 hours.
However, chances are slim that another team will take that risk.
New England released Hernandez
on Wednesday, the same day he was arrested on murder and gun charges. The other 31 teams have until 4 p.m. ET Thursday to claim Hernandez -- and the rest of his $40 million contract. The safe play for other teams is to let the legal process play itself out.
"I would say almost zero," ESPN's Chris Mortensen said Wednesday on "SportsCenter" of Hernandez's chances of being claimed.
Hernandez's guilt or innocence is yet to be determined. But the immense distraction and potential legal ramifications were enough for the Patriots to distance themselves immediately. We will find out by tomorrow evening if the NFL's other 31 teams will do the same.
June, 26, 2013
6/26/13
4:00
PM ET
By
ESPN.com staff
| ESPN.com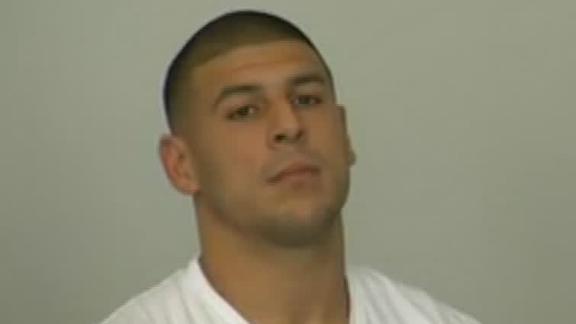 ATTLEBORO, Mass. -- Aaron Hernandez has been
charged with murdering his friend
after the two had a dispute during a trip to a nightclub.
Hernandez was arrested Wednesday and charged with the first-degree murder of 27-year-old Odin Lloyd, a semi-pro football player whose body was found in an industrial park about a mile from the former New England Patriots tight end's home.
Hernandez, who was released by the Patriots less than two hours after his arrest, pleaded not guilty and has been ordered to be held without bail. Hernandez also faces five gun-related charges, which were revealed Wednesday afternoon in Attleboro District Court.
June, 26, 2013
6/26/13
3:20
PM ET
Jake Ballard
is one of the hottest names in the Boston area Wednesday -- the veteran just moved up the
New England Patriots
' depth chart into the important No. 2 tight end role
after the team
released
Aaron Hernandez
, who is being investigated in a homicide case near his home in Massachusetts.
[+] Enlarge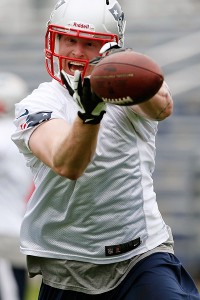 AP Photo/Michael DwyerJake Ballard doesn't have Aaron Hernandez's athleticism but should still help out in New England, Matt Williamson said.
The AFC East blog caught up with our resident scout, ESPN.com's Matt Williamson, to get his take on what to look for from Ballard and New England's offense this season.
Matt, can Ballard absorb the loss of Hernandez in New England's offense?
Matt Williamson:
I think Ballard is a solid player. It was a nice pickup that's going to pay off for them. But his role, his game doesn't mirror Hernandez's at all. To put it in a nutshell, Hernandez was as much a wide receiver as he was a tight end. He was equal parts of both. ... There was no way to label him from a defensive standpoint, because the Patriots moved him around so well and he is so versatile.
Hernandez and Rob Gronkowski were viewed as the best tight-end duo in the NFL. Where do Gronkowski and Ballard potentially rank?
MW:
They're still the best. If "Gronk" is "Gronk" and healthy, he is still the best player at his position in the league. [
New Orleans Saints
tight end]
Jimmy Graham
is the only one who's close. Gronkowski is more versatile than Graham because he's a better blocker. And Ballard is still a high-end, No. 2 tight end.
What kind of production can you expect from Ballard this season?
MW:
I think we'll see the Patriots play fewer double tight-end sets than they did in the past. The receivers need to step up now, whoever that is. I would say Ballard is in the 400- or 500-yards range with maybe four touchdowns. He can get 40 catches, maybe 45. Ballard is not going to stretch the field like Hernandez, nor is he close to being as good after the catch with the ball in his hands. Ballard is not as versatile with his route tree, but he's a good player.
June, 26, 2013
6/26/13
2:15
PM ET
The
Aaron Hernandez
arrest and his fast release from the
New England Patriots
is clearly a dominant story that shakes beyond the AFC East.
Yes, there is reason to write about it on this blog. While I think it is currently inappropriate to wonder if his future could include the AFC West, his release from the Patriots could affect this division.
The Patriots may be in need of help at tight end with Hernandez gone and
Rob Gronkowski
a major question mark because of injuries. The free-agent market is very weak at tight end, thus the Patriots may be forced to seek a trade.
I think both Denver and Kansas City should call the Patriots and see if they can take advantage of the team's hole at the position. I think Denver could potentially dangle
Joel Dreessen
and Kansas City could potentially offer
Tony Moeaki
. Both players are better than any option the Patriots currently have.
Dreessen had 41 catches last season. I think Denver would be more open to move Dreessen than
Jacob Tamme
, because Tamme is a bigger part of the offense and has long-time chemistry with
Peyton Manning
.
Julius Thomas
was getting rave reviews for his work in the offseason, so perhaps he is ready to take the next step and become a contributor. That could make Dreessen expendable.
I am a big believer in Moeaki, who has been hampered by injuries. I'm not sure the new Kansas City regime is courting on Moeaki.
Anthony Fasano
was signed in the offseason and
Travis Kelce
was drafted in third round. I wouldn't be shocked if the Chiefs could get something in return for Moeaki and they'd feel comfortable rolling forward with Fasano and Kelce.
One final thought on Hernandez: He is subject to a waiver claim on Thursday. I would be shocked, beyond shocked really, if any team puts a claim on him. I just couldn't fathom it.
June, 26, 2013
6/26/13
12:45
PM ET
So, in the minutes after the
New England Patriots
released tight end
Aaron Hernandez
,
@NateJackson25
asked a question
that I couldn't resist: Would you offer
Green Bay Packers
tight end
Jermichael Finley
to the Patriots for a second-round draft pick,
as suggested via Twitter
by former Packers safety LeRoy Butler?
The question was juicy enough that I've brought back our beloved "Have at It" post from the days of (blog) yore.
It would be unusual to trade such a prominent player at this point in the NFL calendar, but the Patriots are in a relatively unique situation. In recent years, their offense has run through Hernandez and fellow tight end
Rob Gronkowski
. Now, Hernandez is gone and Gronkowski is a question mark after multiple offseason surgeries.
The Patriots have excelled over the years in transforming their scheme to meet the strengths of their personnel, but it's fair to wonder what their offensive strength is at the moment. In essence, Butler suggests the Packers should try to capitalize on the Patriots' sudden depletion before they have a chance to regroup.
Would the Packers really consider such a trade? Unlikely, but it's worth noting the reasons Butler brought it up in the first place. Finley, as you know, will be the second-highest paid tight end in the NFL this season with a total of $8.25 million in compensation. He is eligible for free agency next winter, and his 2013 paycheck will serve as the baseline for negotiations if he has the kind of season the Packers hope he will.
If Finley has a disappointing season, the Packers might want to start over at the position. Regardless, it's far from a sure thing that Finley's future is secure in Green Bay. A trade, if attractive enough, would maximize return on Finley rather than allow him to depart via free agency. (Compensatory picks, which depend in part on other player movement, top out in the third round.)
It's worth considering that a second-round pick from the Patriots might pretty close to the top of the third, especially if Finley had the kind of impact he is capable of. It's also important to realize the Packers don't have a proven pass-catching tight end behind Finley, let alone someone with his ability to impact defenses before the snap.
Andrew Quarless
hasn't played since December 2011 because of a knee injury that required reconstructive surgery, and
D.J. Williams
has nine career catches.
So I'll turn it over to you, as
I already have on Twitter
. Would you do it? Would you insist on a first-round pick? Is Finley untouchable for 2013? Give me your thoughts in the comments section below or in the
mailbag
. I'll post a representative sample and provide my own take later this week. Have at It.
June, 26, 2013
6/26/13
12:20
PM ET
The signs were ominous when
Aaron Hernandez
showed up to the
New England Patriots
' team facility last week. Usually welcome at any time, the star tight end was treated like an outsider and told to quickly exit the premises.
Just footsteps away from the stadium where thousands cheered him for the past three seasons, Hernandez's presence suddenly was no longer wanted. It was a prelude to Wednesday's events, when
New England released Hernandez
, who is being investigated in the homicide of a 27-year-old man near his home in North Attleborough, Mass. Hernandez was eventually charged with murder and also faces five gun charges.
[+] Enlarge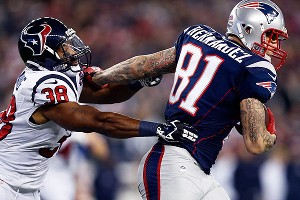 Greg M. Cooper/USA TODAY SportsThe Patriots don't have anything near the talent of Aaron Hernandez waiting in the wings.
This move should not come as a shock to those who know the Patriots. They are a football factory, very machine-like in their approach. As a result, they're never afraid to cut bait when they determine a player's negatives outweigh the positives.
New England waited more than a week to collect the facts and determined that Hernandez had forced the team's hand, even before the judicial process could determine guilt or innocence. At the very least, Hernandez is looking at a legal battle that could take months to resolve. That could mean a season-long distraction for a team that despises distractions. The worst-case scenario is that Hernandez's NFL career could be over if he gets significant jail time. The Patriots' title window is closing, and they don't have time to wait on a verdict.
This is a big blow to New England from a football perspective. The Patriots simply are not the same team without Hernandez, who was one of their most talented and versatile players.
Hernandez could play all over the field with equal effectiveness. He could make catches over the middle, as well as line up outside at receiver. Hernandez even played tailback when asked. His talent was immense, which is why New England tried to keep Hernandez long term with a $40 million contract last summer.
Jake Ballard
now steps into Hernandez's spot as the No. 2 tight end behind Pro Bowler
Rob Gronkowski
. Ballard is experienced but doesn't have nearly the same skill, versatility or athleticism as Hernandez. The drop-off in talent is significant, and the Patriots' passing attack will be easier to defend this season.
Backup tight ends
Mike Hoomanawanui
and
Daniel Fells
are limited. Perhaps the Patriots also can explore popular third-string quarterback
Tim Tebow
in a limited role at tight end. Tebow played a little H-back last season with the
New York Jets
, although the experiment was a disaster. Chances appear slim that Tebow can immediately be an effective tight end.
The Patriots thought Hernandez and Gronkowski would lead them into the future. That is why the team paid the duo a combined $93 million last summer in extensions. Wednesday's release confirmed that the Patriots' long-term investment in Hernandez was a mistake.
Without Hernandez, look for New England's top-rated offense from 2012 to take a step backward this season.
June, 26, 2013
6/26/13
10:53
AM ET
The
New England Patriots
released star tight end
Aaron Hernandez
after three seasons on Wednesday. Hernandez is being investigated in a homicide case that recently took place near his home in North Attleborough, Mass.
Hernandez was one of New England's top receiving threats. He caught 175 receptions for 1,956 yards and 18 touchdowns since being drafted in the fourth round in 2010.
We will have more reaction on this story coming up in the AFC East blog.

NFL SCOREBOARD
Sunday, 2/2
WEEKLY LEADERS