NFL Nation:

Patriots release Ochocinco
June, 9, 2012
6/09/12
6:10
PM ET

The first workout is booked for free-agent receiver
Chad Ochocinco
. According to
Jason LaCanfora of CBS Sports
, the former New England Patriot will work out with the
Miami Dolphins
next week.
The AFC East blog
brought up the topic
of Ochocinco being a possible target for Miami last week. Here are some additional thoughts on the reported workout:
I think the workout is a solid idea. I've been saying that talent and depth at wide receiver have been major issues for the Dolphins since they traded Brandon Marshall this offseason. The Dolphins haven't found anyone to replace Marshall's production (81 catches, 1,214 yards in 2011) and surprisingly skipped over receiver after receiver in the draft. There is no harm in a workout. Considering Miami's need, the Dolphins rightfully should be one of the first teams to see what Ochocinco has in the tank.
On the flip side, you wonder if this reported interest in Ochocinco sends mixed messages from the organization. All we've heard from new Dolphins head coach Joe Philbin and general manager Jeff Ireland is that you don't need big-name receivers in a West Coast offense and they are fine with the group they have. Going after Ochocinco seems to contradict both. Sure, Ochocinco is not the star receiver he was a few years ago, but he is a big name, and he carries star power in the locker room. The Dolphins seemed to be going against that when they traded Marshall. In fact, if they wanted to keep a high-maintenance receiver, at least Marshall is still a productive Pro Bowler. Looking to replace Marshall with Ochocinco would seem like a weird exchange in terms of both talent and message.
Finally, I have questions of whether Ochocinco could fit into a West Coast offense. The scheme requires timing, precision passing and crisp routes. Ochocinco has never been a disciplined receiver. That is what got him cut by the Patriots after one season. Ochocinco is at his best when he's allowed to freelance and use his athleticism, which was often the case with the Cincinnati Bengals. Freelancing in the West Coast offense doesn't work and often leads to turnovers, because quarterbacks are taught to throw to spots and receivers are expected to be there. Overall, I like the idea of Miami working out Ochocinco because there is certainly a need there. But I think other teams are a better fit.
June, 8, 2012
6/08/12
10:00
AM ET
ESPNBoston.com is
running a poll
on where former Bengals wide receiver
Chad Ochocinco
will land after getting cut by the
New England Patriots
on Thursday. I
don't see a reunion
with the Bengals in his future, and it appears others agree with that assessment (the Bengals rank last in the poll at 5 percent while the
Miami Dolphins
are first at 33 percent).
There's one choice that seems to be missing from this poll -- retirement. I'm not the one calling for it, although you have to wonder about Ochocinco after he managed a career-low 15 catches with New England last season. This suggestion comes from longtime Bengals teammate
T.J. Houshmandzadeh
.
"If I went with
Tom Brady
and didn't produce, I'd hang it up," Houshmandzadeh told the
Bengals' official website
in March. "Are you kidding me? Tom Brady? If you go with a
Peyton Manning
or a
Drew Brees
, or an
Eli Manning
, or
Aaron Rodgers
, and you don't produce?"
Some say Ochocinco struggled in New England because he had a tough time learning the playbook. But last year wasn't his only down season. From 2002-07, Ochocinco averaged 88.5 catches for 1,339 yards and eight touchdowns. Over the last three seasons (two of which were in Cincinnati), he averaged 64 catches for 806 yards and 5.7 touchdowns.
June, 7, 2012
6/07/12
10:25
PM ET
By
ESPN.com staff
| ESPN.com
Mort and Suzy discuss whether
Chad Ochocinco
or
Terrell Owens
is more likely to find an NFL team in the offseason, Jason Garrett talks about the Cowboys' sense of urgency, and Tedy Bruschi tells
Tim Tebow
to keep quiet.
June, 7, 2012
6/07/12
8:09
PM ET
The
New England Patriots
cut former six-time Pro Bowl receiver
Chad Ochocinco
Thursday. Along with
Anthony Gonzalez
, Ochocinco was
the second receiver cut
before training camp who had a shot to make the team.

This reshuffles a crowded field of receivers for the reigning AFC champs. Let's take a look at the updated roster at the position:
Locks:
Wes Welker
,
Brandon Lloyd
,
Jabar Gaffney
Skinny:
Welker and Lloyd are the two starters and guaranteed locks to make the team. Gaffney was an underrated free-agent signing who should help the Patriots. He is one of quarterback
Tom Brady
's favorite receivers, and that carries a lot of weight in New England.
Solid footing:
Deion Branch
,
Matthew Slater
Skinny:
Branch is a veteran who knows the system well and continues to produce. A starter in 2011, Branch is a good receiver to have around for depth and knowledge. Slater is New England's best special-teams player and a captain. Slater might not help much on offense, but he's one of the NFL's best in the third phase of the game. That's enough for him to stick.
Work to do:
Julian Edelman
,
Donte' Stallworth
,
Jeremy Ebert
Skinny:
The Patriots are probably going to keep six or seven receivers on their 53-man roster. The recent release of Ochocinco and Gonzalez helps relieve some of the pressure. But these are the three receivers fighting for the final one or two roster spots. The easy prediction is Edelman and Stallworth if New England keeps seven receivers; Ebert is a seventh-round pick and a long shot. If the Patriots choose only six, Edelman might have an advantage with his versatility.
June, 7, 2012
6/07/12
6:43
PM ET
The
New England Patriots
have so much depth at receiver that they could afford to release a former six-time Pro Bowler. On Thursday, the reigning
AFC champions cut
bait with receiver
Chad Ochocinco
.
But the Patriots are the exception in the AFC East. Receiver is a big position of need throughout the division, and every team still could use an upgrade.
Could Ochocinco still land in the AFC East? Let's take a look at how he would fit with the
Buffalo Bills
,
Miami Dolphins
and
New York Jets
.

Bills
Why Ocho would fit:
The Bills need a proven No. 2 receiver, and that's a role I think Ochocinco could handle. He is no longer a No. 1 receiver, and
Steve Johnson
has that job in Buffalo. But Ochocinco was never a part-time player who could come off the bench and produce. That was proved in New England. Buffalo has a wide-open offense that needs as many talented receivers as possible. Ochocinco isn't as bad as his stats showed last year. He just never fully grasped the precision system with the Patriots. Ochocinco could help the Bills' depth.
Why Ocho wouldn't fit:
The Bills are focused, have good chemistry and are on a mission to make the playoffs for the first time in 13 years. Bringing in the circus that comes with Ochocinco is risky. Buffalo took a chance with embattled receiver
Terrell Owens
a few years ago and it didn't pan out as expected. This would be a similar acquisition. Besides, Steve Johnson already has maturity issues with his touchdowns celebrations and Ochocinco is probably the worst influence you will find in that regard.
Interest scale (1 to 10, 10 being the highest):
5

Dolphins
Why Ocho would fit:
Ochocinco makes his offseason home in Miami, which makes it a natural fit. The Dolphins also are desperate for talent at receiver. A case can be made that Ochocinco, even at this stage of his career, is better than any receiver Miami has on its roster. Ochocinco also would be a cheap alternative, and that's important considering Miami is fairly tight against the cap. Miami is on HBO's "Hard Knocks" this summer and Ochocinco's personality would certainly add to the show.
Why Ocho wouldn't fit:
The Dolphins got rid of
Brandon Marshall
because the new coaching staff wanted to clean out the locker room of players with character issues. Ochocinco is more fun-loving than a trouble-maker, but rookie coach Joe Philbin has enough on his plate and doesn't need the extra things Ochocinco brings to the table. Besides, trading Marshall but adding Ochocinco would seem a little contradictory and certainly not equal in terms of a talent swap. Marshall caught 81 passes for 1,214 yards last year and was the Pro Bowl MVP. Going after Ochocinco to replace Marshall would open the Dolphins up for criticism and questions about where Miami's program is headed.
Interest scale:
5

Jets
Why Ocho would fit:
The Jets had some interest in Ochocinco in recent years but the Patriots got him first. Even Jets Pro Bowl cornerback
Darrelle Revis
publicly pushed for Ochocinco to New York. It's years later and the Jets could still use another productive receiver. Ochocinco isn't the player he used to be, but he could take the pressure off No. 1 receiver
Santonio Holmes
and buy time for rookie second-round pick
Stephen Hill
. The Jets are used to the extra media attention. They acquired
Tim Tebow
this offseason, and bringing in Ochocinco would seem mild in comparison.
Why Ocho wouldn't fit:
As I mentioned, the Jets would add more to the circus atmosphere. The Jets have enough pressure as it is to bounce back from a disappointing 8-8 season in 2011. Ochocinco also is not good at run blocking, which is an important part of New York's offense. The Jets will "ground and pound" teams a lot this year, and Ochocinco is not one to mix it up with defensive backs. Still, I see more good than bad for Ochocinco in New York. If I had to pick one AFC East team that's best for Ochocinco, it would be the Jets.
Interest scale:
7
June, 7, 2012
6/07/12
5:50
PM ET
The
Cincinnati Bengals
don't have a clear-cut No. 2 wide receiver, and their all-time leading receiver just became available when the
Patriots released Chad Ochocinco
Thursday.
So, is there any chance Ochocinco reunites with the Bengals? I seriously doubt it, and this goes beyond Ochocinco's lack of productivity last season. I'll give you two reasons why this isn't expected to happen: coach Marvin Lewis and the Bengals' locker room.
Lewis and Ochocinco had a rocky relationship during their time together and it got testy toward the end when both traded jabs through the media. Remember last year when Ochocinco said he
would "whup" Lewis
? That signaled to many that Ochocinco's time in Cincinnati was over.
Even if Lewis decided to give Ochocinco another chance, he would face a lot of resistance from Bengals, who believe their turnaround last season was helped by improved chemistry in the locker room. It's not hard to read between the lines when offensive tackle
Andrew Whitworth
compared the current locker room with the one in 2006.
"The character is different; the priorities are different," Whitworth told the
team's official website
last month. "We're just not blowing smoke saying we want to be a good football team. A lot of guys actually work that way, prepare that way, have priorities that way and have the character to live that way. It's just different. I think this locker room has proven time and time again it's a strong one. It's a different deal now."
All that the release of Ochocinco signifies for the Bengals is they're officially the winner of last year's trade with the Patriots. The Bengals used the fifth-round pick from New England on wide receiver
Marvin Jones
and still have a sixth-rounder from the Patriots in the 2013 draft. When it comes to projecting the Bengals' No. 2 wide receiver this year, the talk should be about Jones and not Ochocinco.
June, 7, 2012
6/07/12
5:49
PM ET
Chad Ochocinco
is being released by the
New England Patriots
,
ESPN's Adam Schefter reports
.
I can feel the questions flooding my mailbag now. Let's sandbag this baby.
Johnson
No, I don't see Ochocinco as a fit with any of the AFC West teams, particularly the team that would reunite him with his former quarterback. Ochocinco is cooked. He is 34 and his production has slipped dramatically.
I know what some people are going to say: Ochocinco has a history with
Carson Palmer
and the Raiders don't have a veteran receiver. Plus, the Raiders reportedly were interested in trading for Ochocinco last summer before the Bengals dealt him to the Patriots.
But Palmer and Ochocinco had their tense moments as well. As with another former Palmer teammate,
Terrell Owens
, I don't think it be worth the Raiders' time to pursue Ochocinco. Plus, one of the reasons the Raiders liked Ochocinco last year was his relationship with then-head coach Hue Jackson, who is close with Ochocinco. Jackson is now an assistant with the Bengals.
I just can't see the appeal for the Raiders when it comes to Ochocinco. Why take a declining vet (with a history of being a distraction) and take away repetitions from young players?
I think the no-go on Ochocinco has to apply in Denver, Kansas City and San Diego too. All three of those teams are fine at receiver and if they want to add someone, there are better options with less baggage.
June, 7, 2012
6/07/12
5:45
PM ET
Anyone who watched former Pro Bowl receiver
Chad Ochocinco
over the past year with the
New England Patriots
saw this coming. Ochocinco was released by the Patriots, the team announced Thursday afternoon.
While people may try to point the finger or make excuses why the Ochocinco experiment didn't work, the truth is both parties were at fault. This was simply a case of a square peg trying to squeeze into a round hole, and everybody knew it. It didn't fit last year, and New England realized during offseason workouts that nothing would change.
[+] Enlarge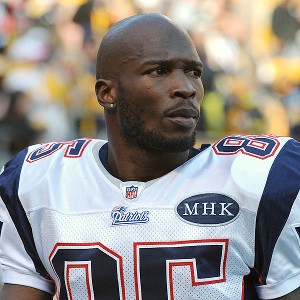 George Gojkovich/Getty ImagesChad Ochocinco never meshed with the Patriots, catching just 15 passes last season.
New England was aware of the player and personality it was getting. Off the field, Ochocinco is too colorful for the Patriots, although he worked hard to keep his mouth shut last year and did a good job. On the field, Ochocinco was a career freelancer and a receiver who wasn't disciplined enough for New England's precision passing game. The latter is what eventually sealed his fate.
The Patriots gave Ochocinco a year to see if he could be a more disciplined receiver. The coaches stayed on him during the regular season and playoff run but he never reached a certain comfort level. Realizing things may not work out, New England restructured Ochocinco's salary in the offseason and signed a bevy of new receivers, including deep threat
Brandon Lloyd
. After working with Ochocinco more this spring, things were not getting better and New England cut bait.
Two of New England's biggest and riskiest acquisitions last year were Ochocinco and defensive tackle
Albert Haynesworth
. Both were monumental busts and were off the team in less than a year.
Ochocinco is not elite at this stage of his career, but he can still help a team. Perhaps he will land with a club that will better allow "Ocho to be Ocho" on and off the field.
That place certainly was not New England.
June, 7, 2012
6/07/12
5:22
PM ET
FOXBOROUGH, Mass. -- After less than a year in New England, the Patriots decided to release wide receiver
Chad Ochocinco
on Thursday.
Arriving by trade shortly after the NFL lockout ended last summer, expectations were high for Ochocinco, who many thought needed a change of scenery after a decade with the
Cincinnati Bengals
. Ochocinco was known to have a good relationship with head coach Bill Belichick, and the outlandish pass-catcher took a slight pay cut to join the team.
Ochocinco, who referred to New England as "heaven" in the days after the trade, was slow to pick up the Patriots' offense. He started two of the first five games last season, but failed to surpass more than two catches in any contest, never re-establishing himself as the big-play receiver he was earlier in his career.
By late last season, Ochocinco had been mostly phased out of the Patriots' offense, limited to just one offensive snap in the divisional playoffs against the
Denver Broncos
. He was also a healthy scratch for the team's AFC Championship win over the
Baltimore Ravens
.
While it would not have been a surprise if the Patriots chose to cut ties with Ochocinco after their loss in Super Bowl XLVI, the team instead gave him a second chance to learn the playbook. In late March, he took a pay cut from a $3 million base salary to a $925,000 million salary for 2012, but was still due a $3 million base salary in 2013, the final year of his contract.
Now, more than two months later, Ochocinco's career in New England is over, although the details surrounding his departure are still vague. After missing the team's organized team activity on Thursday, initial reports stated that Ochocinco was in the facility on Thursday morning, only to leave shortly after. Adam Schefter reported that Ochocinco said he left to attend an eye doctor appointment.
Instead, Schefter reports that the Patriots spent most of Thursday attempting to trade Ochocinco, who they acquired for two late-round draft choices last July, the same day the team acquired defensive lineman
Albert Haynesworth
, whose career in New England also ended unceremoniously. The 34-year-old receiver with diminishing production and an outspoken and often unpredictable personality likely proved a tough player to move.
With the Patriots adding veteran receivers
Brandon Lloyd
,
Jabar Gaffney
, and
Donte' Stallworth
this offseason, Ochocinco was buried on the team's depth chart. Whatever the final straw with Ochocinco may have been, the Patriots decided to accelerate what was becoming inevitable, and to release Ochocinco on Thursday.
June, 7, 2012
6/07/12
4:28
PM ET
By
ESPN.com staff
| ESPN.com
After spending Thursday trying to trade wide receiver
Chad Ochocinco
, the
New England Patriots
decided
to release him
, league sources told ESPN's Adam Schefter.
The Patriots pushed trade conversations with other teams up to near the end of the day's transaction deadline at 4 p.m. But despite conversations with other teams, there was not enough interest to make a deal.
NFL SCOREBOARD
Thursday, 10/23
Sunday, 10/26
Monday, 10/27