November, 15, 2013
11/15/13
2:12
PM ET
The Cleveland Browns lost a member of their Hall of Fame family Friday when Mike McCormack died at the age of 83.
McCormack's most recent history was in the front office of the
Carolina Panthers
, but Browns followers remember him as a stalwart of the offensive line for Paul Brown's standout teams of the '50s and '60s.
Brown actually called McCormack the finest offensive lineman he ever coached. Brown also respected McCormack's professionalism and leadership; McCormack was captain of Brown's teams from 1956 through the end of his career in 1962.
[+] Enlarge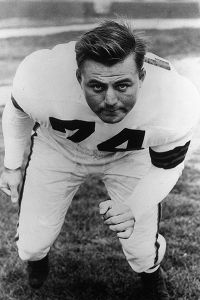 AP Photo/NFL PhotosMike McCormack was a six-time Pro Bowler and was enshrined in the Hall of Fame in 1984.
McCormack was the main piece in a 15-player trade Brown made with the Baltimore Colts in 1953. Among the players the Browns sent to Baltimore was Don Shula, a Cleveland-area native who would go on to coach the Colts and
Miami Dolphins
. McCormack spent his rookie season with the New York Yanks, then was in the Army for two years before the trade, which is tied for the second-largest in NFL history.
McCormack initially was tabbed to replace Hall of Famer Bill Willis at middle guard on defense, and he stepped right in. In the 1954 Championship Game he set the tone for an easy win over Detroit by stealing the ball from Bobby Layne.
"I'll never forget the play," quarterback Otto Graham told longtime Browns writer Chuck Heaton for the book "Browns Scrapbook: A Fond Look Back at Five Decades of Football." "Quarterback Bobby Layne was dropping back to throw a quick slant. Mike just reached across and took the ball right out of Layne's hands."
McCormack then moved to right tackle, where he made five more Pro Bowls and blocked for Otto Graham. Strong, tough as nails and durable, McCormack was the prototype Paul Brown tackle, and played on the side opposite Lou Groza.
"We could have played Mike at middle linebacker or on the offensive line," Paul Brown said, according to
the Hall of Fame
. "But his number one niche was offensive right tackle. He was an excellent pass protector but he could also blow people out of there. He was stabilizing factor throughout the period that he played for us."
McCormack also blocked for Jim Brown. Twice with McCormack at tackle, Brown ran for 237 yards in a game.
"His contributions to game as a player for the great Browns teams of the 1950s and early '60s are etched in history with his place in the Hall of Fame," Hall of Fame president and director Steve Perry said in a statement of the 1984 inductee.
Photos of him playing with a single bar on his facemask bring back a different era in pro football, an era that was probably the greatest in Browns history.
June, 10, 2013
6/10/13
12:00
PM ET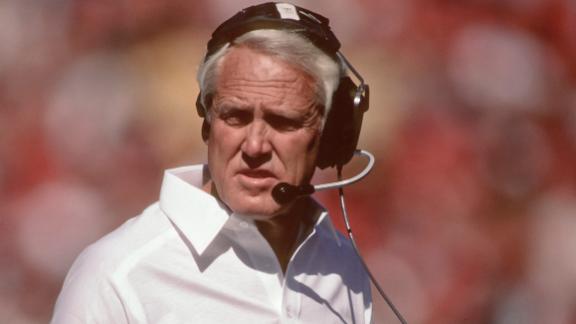 Bill Walsh checks in at No. 2
on ESPN's list of
Greatest Coaches in NFL History
, leaving the as-yet-unnamed Vince Lombardi as the obvious No. 1.
Walsh, of course, led the San Francisco 49ers to three of their five Super Bowl victories. He revived the franchise with a blueprint that became standard operating procedure across the league. He blazed trails in minority hiring and produced a coaching tree with branches still growing in the game today.
I highly recommend checking out
Seth Wickersham's piece on Walsh
from January. Wickersham focused on the coaching guide Walsh wrote.
"[Bill] Belichick once referred to it as football 'literature,' but it's more like a textbook -- 550 pages, 1.8 inches thick, 3.2 pounds, loaded with charts, graphs and bullet points," Wickersham explained. "For example, Walsh includes 57 keys to negotiating contracts ('The negotiator's need for food and sleep can affect his/her ability to function effectively'), 13 pages of sample practices and 108 in-game scenarios."
The video above features Walsh's own thoughts on characteristics great coaches possess. Unpredictability on and off the field is one of them.
The chart below shows won-lost-tied records and number of championships won for the top 20 coaches on ESPN's list, courtesy of Pro Football Reference. The winning percentages listed reflect victories plus one-half ties, divided by total games. For Walsh, that works out to 92.5 victories divided by 152 games, or .609.
June, 6, 2013
6/06/13
4:32
PM ET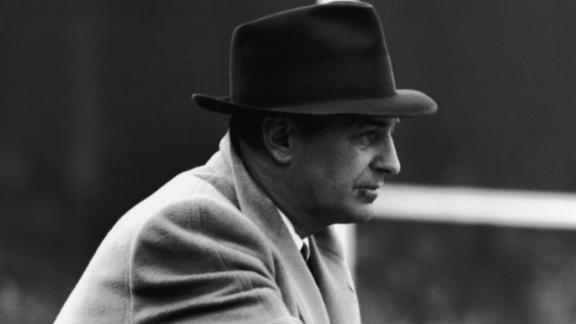 Paul Brown, who made lasting impacts on two teams now in the AFC North, comes in at No. 6 on
ESPN's countdown of the greatest coaches in NFL history
.
Brown's legacy not only defines the
Cleveland Browns
and
Cincinnati Bengals
but the coaching profession itself. He was the first to hire a full-time staff that worked year-round and instituted a system for scouting college players that never existed previously. Brown was also the first to use extensive film study and grade his players. The system for calling plays from the sidelines -- alternating guards after each play -- was developed by Brown.
He left indelible marks on both NFL franchises in Ohio. He was the first coach of the Cleveland Browns and built the team into a dynasty for nearly two decades. From 1946 to 1962, Brown guided Cleveland to a 158-48-8 record (.767) with four AAFC championships, three NFL titles and just one losing season.
After Brown was fired by Art Modell over a power conflict, he became the founder, coach and general manager of the Cincinnati Bengals in 1968. Brown led the Bengals to the playoffs by 1970 as they became the first NFL expansion team to qualify for the postseason within their first three years of existence. The Bengals' current home playing field is named Paul Brown Stadium.
Among the coaches who played or worked under Brown are four Hall of Fame coaches: Don Shula, Weeb Ewbank, Bill Walsh and Chuck Noll.
May, 30, 2013
5/30/13
7:19
PM ET
Any ranking for the 20 greatest coaches in NFL history would leave off at least two of the
22 enshrined
in the Pro Football Hall of Fame.
The ballot I submitted for our "
Greatest Coaches
" project left off eight of them: Guy Chamberlin, Jimmy Conzelman, Weeb Ewbank, Ray Flaherty, Sid Gillman, Bud Grant, Greasy Neale and Hank Stram.
That seems outrageous. However, there were only 20 spots available, and many coaches appeared interchangeable to me outside the top 10 or 12. Current or recently retired head coaches such as Bill Belichick, Tom Coughlin, Mike Holmgren, Mike Shanahan, Tony Dungy, Bill Cowher and Marty Schottenheimer deserved consideration, in my view, but including them meant leaving out others. I also thought Chuck Knox should be in the discussion even though he's long retired and not a Hall of Famer.
Putting together a ballot was difficult. There's really no way to fully analyze the jobs head coaches have done. We must consider won-lost records over time, of course, but little separates some of the coaches further down the list. I figured most panelists would go with Lombardi in the No. 1 spot, but I'm not sure whether that was the case.
Herm Edwards revealed
his ballot

previously. We agreed on George Halas at No. 1. He put Lombardi second. I went with
Paul Brown
and
Curly Lambeau
after Halas, followed by Lombardi, Tom Landry, Bill Walsh, Don Shula, Joe Gibbs, Belichick and Chuck Noll to round out the top 10. The choices got tougher from there.
Edwards had Bud Grant, Dick Vermeil and Marty Schottenheimer in his top 20. He did not have Steve Owen, Holmgren or Cowher. I easily could have justified swapping out some of the coaches toward the bottom of my ballot for others not listed. Edwards and I both had Coughlin at No. 15. Our rankings for Lombardi, Landry, Walsh, Shula, Gibbs, Belichick, Madden and George Allen were within three spots one way or the other. I had Brown and Lambeau quite a bit higher than Edwards had them.
I tried to balance factors such as winning percentage, longevity, championships, team-building and impact on the game. The coaches I listed near the top of my ballot were strong in all those areas. There was room lower on my ballot for coaches whose achievements in some areas offset deficiencies in others.
Halas was a straightforward choice at No. 1 for me. He coached the Chicago Bears for 40 seasons, won six championships and had only six losing seasons. The Hall of Fame credits him as the first coach to use game films for preparation.
"Along with Ralph Jones, his coach from 1930 through 1932, and consultant Clark Shaughnessy, Halas perfected the T-formation attack with the man in motion,"
Halas' Hall of Fame bio
reads. "It was this destructive force that propelled the Bears to their stunning 73-0 NFL title win over Washington in the 1940 NFL Championship Game and sent every other league team scurrying to copy the Halas system."
Brown was my choice at No. 2 because he won seven titles, four of them before the Cleveland Browns joined the NFL in 1950, and he revolutionized strategy while planting a massive coaching tree. Lambeau edged Lombardi in the No. 3 spot on my ballot. He founded the franchise and won with a prolific passing game before it was popular. His teams won six titles during his 31 seasons as coach.
ESPN has revealed the coaches ranking 13th through 20th based on ballots submitted by Chris Berman, Jeffri Chadiha, John Clayton, Colin Cowherd, Mike Ditka, Gregg Easterbrook, Edwards, David Fleming, Ashley Fox, Greg Garber, Mike Golic, Suzy Kolber, Eric Mangini, Chris Mortensen, Sal Paolantonio, Bill Polian, Rick Reilly, Adam Schefter, Ed Werder, Seth Wickersham, Trey Wingo and me.
The eight coaches, beginning at No. 13: Jimmy Johnson, Coughlin, Grant, Stram, Levy, Gillman, Shanahan and Dungy.
Gillman was an interesting one. He spent 10 of his 18 seasons in the AFL and had a 1-5 record in postseason, but there is no denying
his impact on the passing game
. Like other coaches rounding out the top 20, his case for inclusion was strong, but open for debate.
August, 25, 2011
8/25/11
11:10
AM ET
Short
echoed the concerns of some other
Minnesota Vikings
I've heard from during
Tuesday's SportsNation chat
:
The Vikings' offense looks eerily similar to the one [Brad] Childress ran his first couple of seasons here: run, run, 2-yard slant pass on third down, close your eyes and hopefully fall forward for the first down. How can they expect fans to endure that again? They simply have no one who can stretch the field. Your observations, please.
The question reminded me of the
guys who used to sit at the Metrodome
, in full Childress costume, carrying a mock playcard that showed two plays: "
Chester Taylor
right" and "Chester Taylor left." Anyway, while I'll admit the Vikings offense hasn't been too exciting or productive yet this summer, I would caution about drawing too many conclusions about preseason playcalling. And it's also worth noting that two of their most explosive pass-catchers, receiver
Percy Harvin
and tight end
Visanthe Shiancoe
, have been sidelined by injuries.
[+] Enlarge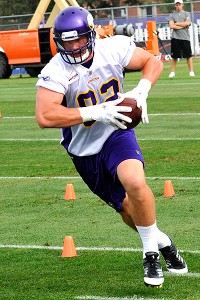 AP Photo/Jim MoneKyle Rudolph has caught four passes for 32 yards so far this preseason.
Here are the raw numbers, for the record: The Vikings first-team offense unofficially has run 31 plays over four possessions this summer. It has gained 135 yards, including 81 on its final drive last Saturday against the
Seattle Seahawks
, along with eight first downs and three points.
Based on everything we've heard from coach Leslie Frazier and offensive coordinator Bill Musgrave, the Vikings won't attempt to replicate the downfield passing success they achieved in 2009 and tried to carry over to 2010. This offense will revolve around tailback
Adrian Peterson
. It will look for occasional big plays from Harvin and wisely take advantage of two really skilled pass-catching tight ends in Shiancoe and rookie
Kyle Rudolph
.
(Worth noting from
Mark Craig of the Star Tribune
: "No player in camp has looked better" than Rudolph.)
But I would be careful about putting that general philosophy in the same category of what Childress ran in his early years with the Vikings. From a pure football perspective, Musgrave's scheme is inherently different than Childress'.
Musgrave has said often that he'll tailor his playbook to the skills of his players, and we'll delve into that plan soon here on the blog. But for now, it's worth noting that even the basic terminology and concepts have a different origin than Childress' west Coast scheme.
We all like to put titles on offensive and defensive schemes, so here is how Musgrave described his during a summer interview with
The Daily Norseman blog
:
"Well, our language is based more on the Ron Erhardt system. Of the three different systems that have withstood the test of time in the NFL, you could count Don Coryell's number system, of course Paul Brown and Bill Walsh's West Coast offense system, and Ron Erhardt's system, which has been run for years, with the Pittsburgh Steelers, now with coach [Ken] Whisenhunt in Arizona. Of course it's being run in Atlanta with Mike Mularkey, and portions of it are being implemented in New England, and with the Giants. So our offense will be rooted in that base language."
For perspective, consider that both the
Chicago Bears
and
Detroit Lions
run a version of Coryell's number system. The
Green Bay Packers
, of course, use West Coast terminology and concepts. The Vikings, then, will use the same terminology as the Cardinals, Falcons and Steelers, among others.
In the end, I think the 2011 Vikings will feature the run and won't have nearly as many downfield passing plays as they did in 2009 and parts of 2010. But will it be Adrian Peterson left, Adrian Peterson right and a 2-yard pass to a blocking tight end? It's too early to know that.
May, 19, 2011
5/19/11
11:57
AM ET
Examining the most crucial event in the history of every team in the division.
A longtime
Cincinnati Bengals
assistant named Bill Walsh was having a hard time convincing NFL teams to hire him as a head coach.
The Bengals had promoted another assistant, Bill "Tiger" Johnson, when Paul Brown retired after the 1975 season. Walsh spent 1976 as offensive coordinator with the
San Diego Chargers
before leaving the NFL entirely for the best head-coaching job he could get. Years later,
Walsh accused Brown
of conspiring to keep him from advancing.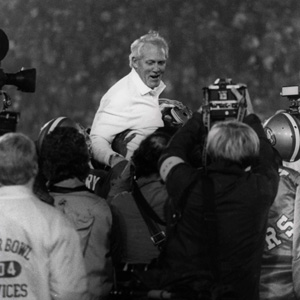 Malcolm Emmons/.US PresswireThe 49ers won three Super Bowls under coach Bill Walsh.
While Walsh was building a winner at Stanford, the sputtering
San Francisco 49ers
were running through four head coaches in less than two calendar years. Young owner Eddie DeBartolo Jr. made Walsh the fifth in 1979.
"Caution should be exercised in proclaiming Bill Walsh the savior of the 49er franchise," Bay Area columnist Ed Jacoubowsky wrote at the time. "But the selection of Walsh as director of the club's football operations probably is the best step the young owner could have taken."
Probably? Let's make that a "definitely" in hindsight.
The organization would never be the same. Offensive football would never be the same. The balance of power in the league itself would shift for a decade, and then some. This was the most crucial event in 49ers history and more significant than any the team's current division rivals have experienced.
That message came through clearly at the SportsNation ballot box, where Walsh's hiring received significantly more votes than any other NFC West Flash Point among the more than 129,000 ballots cast across the division. The 49ers' Flash Points drew more than 44,000 votes, most in the NFC West, and Walsh's hiring commanded better than half of them.
"If the 49ers never hired Bill Walsh, they would not have changed the organizational structure of the team, how players are graded and drafted, how to prepare those players for the season and utilize them on the field of play,"
razzberry80
wrote. "Bill changed EVERYTHING.
Joe Montana
was the best, but without Bill Walsh, Joe is probably not drafted by the 49ers."
Another 49ers fan,
servegmo
, credited Walsh for drawing him in as a fan living in Costa Rica.
"He is the reason people from all over the world started watching football,"
servegmo
wrote. "He put the 49ers in a position where they changed football as a whole -- the offseason preparation, the inclusion of black coaches, the practices, the West Coast offense, how he managed the draft (drafting the best players EVER at quarterback, wide receiver and safety). How many coaches can say that?"
The 49ers won three Super Bowls in 10 seasons under Walsh, who qualified as a football visionary in strategy, philosophy and personnel evaluation. Walsh became famous for scripting plays to separate in-game emotions from the decision-making process. His personnel moves and broader philosophy scripted more lasting success: five Super Bowls, including two won after Walsh retired from the sideline.
With full support from DeBartolo, who had learned from past mistakes, Walsh showed an exceptional eye for talent. Has any coach possessed a superior vision?
"When he drafted
Ronnie Lott
, he thought, 'He's a corner now, but he'll be a longtime All-Pro safety,'" former Walsh assistant and two-time NFL head coach Dennis Green said for this project. "When he drafted
Roger Craig
, he saw him as a fullback now, but a little small for the fullback we really needed, so we would draft a fullback and Craig would make the transition to running back.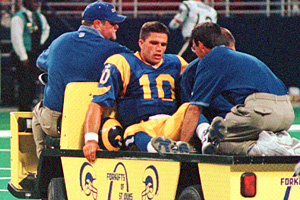 AP Photo/Harold JenkinsTrent Green's knee injury paved the way for Kurt Warner to step in at quarterback.
"Bill did that sort of thing constantly when he thought players could fit in a certain way and be very unique players."
Walsh's hiring commanded 53 percent of votes cast for the 49ers' Flash Points, with "The Catch" ranking second at 37 percent. Of course, there never would have been such a signature play if Walsh hadn't put together a 1979 draft class featuring Montana in the third round and Dwight Clark in the 10th.
RAMS: Trent Green's injury pivotal
The
Kurt Warner
story might never have been told if the San Diego Chargers'
Rodney Harrison
hadn't knocked out Green with a severe knee injury during the 1999 preseason.
Fans voted that moment supreme with 49 percent of more than 28,000 votes. Only
Mike Jones
' Super Bowl-saving tackle against
Kevin Dyson
(36 percent) came close to challenging.
The comments section of the Rams-related item drew barely more than a dozen contributions, however. So much for exit polling.
[+] Enlarge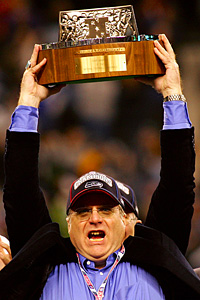 Robert Giroux/Getty ImagesPaul Allen helped bring an NFC title to Seattle.
"The ownership change [in 1972] precipitated everything that has happened to the Rams in 'modern' times,"
patdpenguin
wrote. "The true answer to the question would be the ownership change, but as a lifelong fan, speaking with my heart, I would choose the Trent Green injury. Prior to that, the team had not proven anything, and was spinning its wheels."
SEAHAWKS: Paul Allen trumps all
The Seahawks were planning
a move to Los Angeles
during their darkest days of the 1990s, at one point even conducting free agency from an elementary school parking lot in Southern California.
Allen wasn't much of an NFL fan at the time, but he rallied to the cause of keeping the team in Seattle. Allen led a push to secure a new stadium, contributing $130 million of his own money in exchange for $300 million in public funding, as part of a deal to purchase the team.
Within a couple years, the team had landed Mike Holmgren as coach and general manager. Multiple division titles and the first Super Bowl in franchise history followed.
"I went with Allen buying the team,"
DiLune2
wrote. "It is hard to point to any one of those [other] moments as the one point where it all changed. They were part of a long, ugly slide. Allen buying the team, though, was the one point in time where you can look and say, 'It all changed right there.'"
[+] Enlarge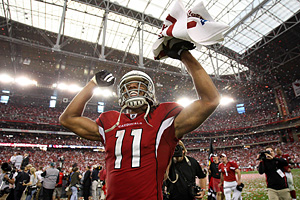 Jed Jacobsohn/Getty Images Larry Fitzgerald caught nine passes for 152 yards and three TDs in the NFC Championship Game.
CARDINALS: Beating Eagles to reach Super Bowl
Sixty-eight percent of more than 26,000 Cardinals voters pointed to the team's victory over Philadelphia in the NFC Championship Game. No option for any team drew a higher percentage.
The runner-up for the Cardinals -- securing a new stadium in 2006 -- lagged with only 16 percent. But some felt strongly it should have prevailed.
"Wow, this is a slam dunk," longtime blog contributor
Leesters
wrote. "The stadium changed this team overnight. It went from the least competitive financial situation in the league to one of the best, in one year. Free agents could be afforded, better coaches, better home-field advantage. If it wasn't for this stadium, there would be no NFC Championship win."
May, 18, 2011
5/18/11
1:00
PM ET
Examining the most crucial event in the history of every team in the division.
Fly into the city of Pittsburgh, and there is no doubt what is the most memorable moment in Steelers' history.
Inside Pittsburgh International Airport there is a life-sized statue of Hall of Fame running back Franco Harris' "Immaculate Reception." Harris caught a deflection off teammate Frenchy Fuqua late in a 1972 AFC divisional playoff game to score the winning touchdown in a 13-7 victory over the
Oakland Raiders
.
Msdmr writes:
"[Pittsburgh] had only been to playoffs twice at that point. It got them out of the doormat category, gave them tangible proof that they could win."
Krankor
watched the "Immaculate Reception" live on television nearly four decades ago: "I was a kid at the time, about 10 years old. What I remember most clearly was that, after the play, the delay while the officials decided what to call was unprecedented. I'd never seen anything like it, before or since."
Not everyone is impressed by the memorable play, especially those outside of Steeler Nation.
Washed_up_ball_player writes:
"Funny how the No. 1 selection, the 'Immaculate Reception,' is just a lucky play where the football gods smiled down on the Steelers. That sounds like the definition of the Steelers to me."
The "Immaculate Reception" led the way with 34 percent of the 40,000-plus votes as of 3 p.m. ET Tuesday, edging Pittsburgh's 1974 draft (31 percent) that included four Hall of Famers in linebacker Jack Lambert, center Mike Webster and receivers Lynn Swann and John Stallworth. The Steelers' 1974 draft is often considered the greatest in NFL history. We may never see four Hall of Famers drafted by one team in the same year again.
Former Steelers Hall of Fame coach Chuck Noll also had his share of supporters. Noll's hiring in 1969 received a solid 26 percent of the vote. Noll coached Pittsburgh to four Super Bowl wins in the 1970s before retiring in 1991. He started an impressive run of only three head coaches -- Noll, Bill Cowher and Mike Tomlin -- running the Steelers since 1969.
Jebei_espn also writes:
"The Steelers were always bad before they hired Chuck Noll and have been consistently good since then. Noll turned the franchise around and with great support from the Rooney family they started a great tradition that continues to this day."
RAVENS: First draft was huge
Speaking of impressive draft classes, the
Baltimore Ravens
had one of their own during their inaugural season in 1996.
The Ravens landed two future Hall of Famers in the first round. Baltimore selected left tackle
Jonathan Ogden
with the No. 4 overall pick and middle linebacker
Ray Lewis
at No. 26 overall, which received an impressive 54 percent of the vote as of Tuesday afternoon. Both players were longtime stalwarts on offense and defense, and Lewis, 36, still leads the Ravens entering his 16th season.
DaReel2008
summed it up best by writing: "Drafting Lewis and Ogden was our defining moment, and the others mentioned -- even the Super Bowl -- aren't even close. Ray Lewis and Jonathan Ogden are two of the best players to ever play their positions. They not only helped carry the Ravens to a Super Bowl, but made us a perennial contender for most of the last 12 years. Our team prides itself on its character and its toughness, both of which are embodied by these two players, who will be in the HOF upon their first year of eligibility."
The Ravens also got a nice sleeper in the fifth round of the 1996 draft by getting receiver and return specialist
Jermaine Lewis
. He was the first of many gems Baltimore's front office was able to discover in the middle and late rounds.
Baltimore's Super Bowl XXV victory over the
New York Giants
following the 2000 season came in second place with 40 percent of the vote. It remains the Ravens' only Super Bowl victory.
Clifford from Baltimore
makes a good case for Super Bowl XXV when he writes: "It solidified the identity of the franchise. The Ravens were a good defensive football team for two years or so before their Super Bowl run, but winning a championship with defense effectively defined the entire culture of the team as a whole."
BROWNS: Hard luck adds to Cleveland curse
Now we get to the downtrodden segment of our "Flash Points" series. After more than 50,000 votes -- the highest total in the AFC North -- "The Fumble" and "The Drive" led the way among Browns fans with 37 percent.
Cleveland's championship drought in pro sports is at 47 years and counting. The Browns' teams of the late 1980s were solid and had a chance to break that streak. But Hall of Fame quarterback
John Elway
and the
Denver Broncos
broke Cleveland's heart in back-to-back years with a pair of late-minute victories.
Denver and Cleveland met in the AFC title game one year later, and
Earnest Byner
's late fumble on the 3-yard line thwarted a chance for the Browns to tie the score in regulation. Following a late safety, Denver held on to win 38-33.
Daffy87 writes:
"I would lean towards 'The Fumble' and 'The Drive' since that's the first thing that comes to people's minds when they bring up the Browns. Anytime anything bad or strange happens in a game, announcers roll the film."
I interviewed Byner
a few years ago to discuss his fumble. The play serves as a cruel reality, because Byner had a solid career, rushing for 8,261 yards, but he will be most remembered for one bad play.
"To be honest, it helped me be a better man and a better person," said Byner, who now is an assistant coach with the
Jacksonville Jaguars
. "Going through something like that really gives you perspective that life is not over when you have something tragic happen or something that definitely challenges you."
Both Denver teams lost in the Super Bowl. Cleveland fans can always wonder if those Browns teams would have been a better representative for the AFC and perhaps won at least one championship following the 1986 or 1987 season.
BENGALS: Downhill since Montana
The
Cincinnati Bengals
have had some highs and lows in their history. But an overwhelming 49 percent of Bengals fans chose
Joe Montana
's late, game-winning drive to lead the
San Francisco 49ers
over the Bengals in Super Bowl XXIII as Cincinnati's biggest turning point.
GreatestBengalsFanOfAllTime writes:
"The last-minute loss to the 49ers defines the Bengals, forever and always. Many fans like to say it was the
Mike Brown
era, but the truth is, the Bengals weren't exactly legends under Paul Brown, either. The last-minute loss to the 49ers accurately sums up the entire history of Bengaldom in one simple phrase: 'So close, yet so far.'"
Trailing 16-13, the 49ers needed to drive 92 yards in the final three minutes to win the Super Bowl. Montana got in rhythm and connected with receiver
John Taylor
with 34 seconds left to win the game, 20-16. It was the last Super Bowl appearance for the Bengals, who in turn have struggled mightily for the past two decades.
Bengals owner Mike Brown taking over the franchise was a distant second with 27 percent. Brown's father, Hall of Famer Paul Brown, starting the franchise in 1968 was third with 13 percent, and drafting left tackle Anthony Munoz in 1980 was fourth with eight percent.
May, 11, 2011
5/11/11
1:02
PM ET
What key event significantly changed the fortunes of the Bengals -- for better or worse? Give us your take and we'll give you our definitive moment May 18.
Despite their struggles the past two decades, the
Cincinnati Bengals
also have a collection of good moments in their history. Using our SportsNation poll, we ask Bengals fans to sift through the good and bad to select the most defining moment in franchise history.
Was it in 1968, when Hall of Fame coach Paul Brown started the franchise? Brown was a great football mind who brought his knowledge and successful track record to Cincinnati.
Twelve years later, the Bengals made their best draft pick by selecting left tackle Anthony Munoz, another Hall of Famer. Munoz protected quarterbacks Ken Anderson and
Boomer Esiason
and helped lead Cincinnati to two Super Bowl appearances.
Speaking of Super Bowls, was the last-minute loss to the
San Francisco 49ers
in Super Bowl XXIII Cincinnati's defining moment? The Bengals nearly won it all for the first time before 49ers quarterback
Joe Montana
worked his magic. Cincinnati hasn't come close to winning a Super Bowl since.
Or was Mike Brown taking over as owner the team's biggest defining moment? Brown has been criticized heavily in Cincinnati, which hasn't won a playoff game in 20 years under his leadership.
Let us know the Bengals' most defining moment. If you vote Other, give us your suggestion in the comments area below.
May, 25, 2010
5/25/10
1:00
PM ET
»
NFC Big Question
:
East
|
West
|
North
|
South
»
AFC
:
East
|
West
|
North
|
South
Does participating in five preseason games impact regular-season success?
Brad from Atlanta sent an interesting thought to our
AFC North inbox
. He wondered if the Hall of Fame game had a positive or negative impact on teams in the regular season.
Because of the risk of injuries, there is some debate whether it is fair to ask only two NFL teams to play five exhibition games during the summer, while the other 30 teams play four preseason games. But the Hall of Fame game has a rich history, and it is an honor to represent the league in the first preseason game of the year.
On Aug. 8, the
Cincinnati Bengals
will play the
Dallas Cowboys
in Canton, Ohio. Cincinnati wanted to participate in this game for years because of the deep connection between Bengals founder Paul Brown and northern Ohio. Also, Dallas has Cowboys great
Emmitt Smith
being inducted in what should be a tremendous, weeklong celebration for its franchise.
On the field, there hasn't been any significant impact one way or the other with teams playing a fifth preseason game. The overall record of the last 10 Hall of Fame game participants is 83-77, which is slightly above .500. Five of those teams had winning records, three had losing records and two finished 8-8.
That means Bengals and Cowboys fans shouldn't worry. If they have a good team, like the 2008
Indianapolis Colts
and 2007
Pittsburgh Steelers
, the latest Hall of Fame game participants will make the playoffs this year. If they don't have a good team, like the 2009
Buffalo Bills
, the postseason won't be in their future.
But there's no statistical proof that playing an additional preseason game will cause Dallas or Cincinnati to have a poor season.
August, 11, 2009
8/11/09
3:30
PM ET
| | |
| --- | --- |
| | |
| | David Stluka/Getty Images |
| | Punter Scott Player represents the end of the single-bar facemask era. |
Posted by ESPN.com's Tim Graham
The NFL went as far as it could to replicate history.
The Buffalo Bills and Tennessee Titans were in their original duds in Sunday night's Pro Football Hall of Fame Game.
Clubs are wearing throwback uniforms this year in selected Legacy Games to celebrate the 50th anniversary of the American Football League, with Canton's preseason opener the first exhibition.
A lone red Buffalo stood proudly on the Bills' helmets. The Titans were dressed like their ancestors, the Houston Oilers, complete with derricks. Referees were on patrol in orange-striped jerseys.
No matter how hard the NFL tries to recapture the olden days, one glaring omission makes it impossible:
The single-bar facemask is gone and not coming back.
January, 15, 2009
1/15/09
5:18
PM ET
Posted by ESPN.com's Paul Kuharsky
The Colts had Jim Caldwell in place ahead of time and expect a seamless transition into the post-Tony Dungy era.
It looks like a sound plan.
| | |
| --- | --- |
| | |
| | AP Photo/Michael Conroy |
| | Jim Caldwell has big shoes to fill in Indianapolis, but many in his position have been successful before. |
But popular wisdom says you don't want to be the guy to replace the guy. It's the replacement's replacement, the theory follows, who gains the distance necessary from a legendary name to be able to succeed.
For many, the thought of replacing a popular and successful coach brings back memories of some infamous NFL names.
Former Minnesota coach Les Steckel is still remembered for a 3-13 year in 1984 that wound up being a sabbatical season for Bud Grant. Ray Handley replaced Bill Parcells for the Giants in 1991 and went 14-18 in two seasons. Richie Petitbon replaced Joe Gibbs in 1993 and flamed out with a 4-12 season.
Are you familiar with Phil Bengtson or Paul Wiggin? Me neither.
Bengtson followed up Vince Lombardi in Green Bay and managed three third-place finishes. Wiggin was 11-24 in two-and-a-half seasons following Hank Stram in Kansas City.
But none of that is reason for Colts devotees to fear the dawn of the Caldwell era as he replaces a potential Hall of Famer who takes a .668 winning percentage with him into retirement.
Thanks to some help from Keith Hawkins of ESPN Stats & Information, we can take a detailed look at how the successors to the winningest coaches have fared.
While there were some strikeouts, the history is hardly a horror story. Two successors won multiple Super Bowls, two more were playoff regulars and another is leading his team into the AFC Championship Game on Sunday.
So here's a run through how things have panned out after big-time winning coaches stepped away or were removed. These are the top 10 coaches with the best winning percentages in the Super Bowl era (minimum 100 games coached since the 1966 season):
| | |
| --- | --- |
| | |
| | Andy Hayt/Getty Images |
| | Tom Flores did very well as John Madden's successor, winning two Super Bowls for the Silver-and-Black. |
1) John Madden, .759 (Raiders)
Tom Flores replaced Madden in 1979 and Flores went 91-56 in nine seasons, leading the Raiders to wins in Super Bowl XV and XVII.
2) George Allen, .712 (Rams and Redskins)
Jack Pardee replaced Allen in Washington, and Pardee was 24-24 in three seasons (1978-80). Joe Gibbs replaced Pardee and won 140 games from 1981-92 and three Super Bowls.
3) Tom Landry, .674 (Cowboys)
Jimmy Johnson replaced Landry in 1989 and Johnson won back to back Super Bowls in the 1992 and 1993 seasons. Johnson was 51-37 from 1989-93.
4) Don Shula, .672 (Colts and Dolphins)
Like Landry, Shula was replaced by Johnson. In four seasons (1996-99), Johnson was 38-31 and 2-3 in the postseason. Since Shula, Miami has had six different head coaches.
5) Tony Dungy, .668 (Buccaneers and Colts)
Replaced by Caldwell this week.
6) George Seifert, .648 (49ers and Panthers)
Seifert did some replacing himself, following Bil Walsh. Steve Mariucci replaced Seifert in San Francisco in 1997, and Mariucci got the Niners to the NFC Championship in his first season. In six seasons, Mariucci made the playoffs four times. Since Mariucci left, the 49ers have had three different head coaches.
7) Bill Cowher, .623 (Steelers)
Mike Tomlin replaced Cowher in 2007. In his second season, Tomlin is preparing the Steelers to host Baltimore in the AFC Championship Game.
8-T) Joe Gibbs, .621 (Redskins)
Petitbon was a dud.
8-T) Bud Grant, .621 (Vikings)
Returned for another season after Steckel bombed, then saw Jerry Burns go 55-46 from 1986-91.
10) Bill Belichick .616 (Browns and Patriots)
When he finishes his term in New England, he'll leave a tough headset to fill.
And here's one from outside the top 10: a succession scenario the Colts would be thrilled to mimic.
Bill Walsh, .609 (49ers) -- Replaced by Seifert in 1989, Seifert went on to win two Super Bowls in his first six seasons. He won at least 10 games in all eight of his seasons and only missed the playoffs once. Like Caldwell, Seifert inherited a pretty good quarterback situation, getting two years of Joe Montana and six with Steve Young.
| | |
| --- | --- |
| | |
| | David Boss/US Presswire |
| | Blanton Collier replaced the legendary Paul Brown, and never had a losing season. |
As I couldn't stop asking, here are the succession stories of some other Hall of Fame coaches:
Paul Brown -- Blanton Collier was in Cleveland from 1963-70, and didn't have a losing season, going 76-34-2.
Weeb Eubank -- Charley Winner took over the Jets in 1974 and went 9-14 and didn't last two seasons. He was let go after nine games in 1975.
George Halas -- Following the 1967 season in Chicago when Halas left the Bears' post for the final time, he was replaced by Jim Dooley, who was 16 games under .500 (20-36) from 1968-71.
Marv Levy -- Was replaced by Wade Phillips in 1998, and Phillips went 29-19 in three seasons, losing two playoff games.
Chuck Noll -- Bill Cowher took over in 1992 and went 149-90-1 in 15 seasons, reaching two Super Bowls and winning one.

NFL SCOREBOARD
Thursday, 12/18
Saturday, 12/20
Sunday, 12/21
Monday, 12/22
WEEKLY LEADERS