October, 24, 2010
10/24/10
7:40
PM ET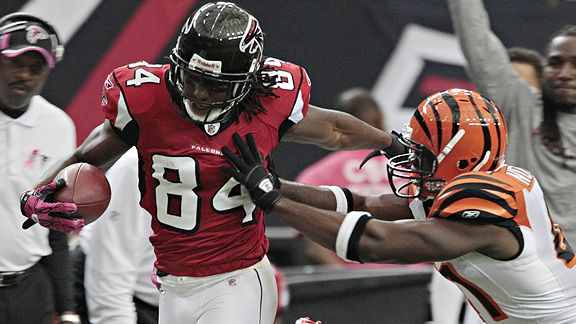 AP Photo/Dave MartinRoddy White caught 11 passes for 201 yards and two touchdowns to lead the Falcons.
ATLANTA -- Mike Smith, like a lot of NFL head coaches, is prone to starting statements with qualifiers. He leaves doors open, except in the rare cases when he's absolutely sure what he's saying can't backfire.
Take the case of how Smith started to talk about wide receiver
Roddy White
after the
Atlanta Falcons
defeated the
Cincinnati Bengals
,
39-32
, at the Georgia Dome on Sunday.
"Roddy, probably, to this point has been the best player on our football team through the first seven games,'' Smith said.
By the very next sentence, Smith was definitively eliminating the "probably."
"I don't think there's any doubt about that,'' Smith said. "He came into the season in the best shape he's ever been in. He's working hard and you're seeing the results of that hard work during the offseason out there on the field.''
Yes, White's performance has been so strong that even his coach will come out and say the wide receiver is the team's best player. I'll take it a couple of steps further. I'll go ahead and say (again) that White has been the best player in the NFC South this season. I'll even say White's been the league's most valuable player -- so far.
Consider this: If you take White's current numbers through the first seven games and project them over the rest of the season, he would have 112 catches for 1,707 yards and 11 or 12 touchdowns.
If you want to stay on the theme of numbers, let's do this. The Falcons are 5-2. No team in the NFC has a better record and they are in sole possession of first in the NFC South. Take White out of the equation and it's doubtful the Falcons even have a winning record.
At least on Sunday, there's no way the Falcons could have won without White. His story was the story of the Falcons in this game. The final numbers show White had 11 catches for 201 yards and two touchdowns. That included an amazing one-handed catch that you'll probably see several times on the highlight shows. And there was that 46-yard touchdown bomb from a team that hasn't thrown many bombs this season.
"We hadn't thrown a pass out of that personnel [grouping] yet,'' White said. "When we came up to the line, everybody was in the box and it was a prime opportunity to throw over their heads.''
White and the Falcons were way over the Bengals' heads for most of Sunday, and with a 24-3 halftime lead, it seemed logical to assume Atlanta would cruise. But it's never logical to assume anything when the Bengals are involved.
In one of the most bizarre quarters of the season, the Bengals outscored the Falcons 22-0 in the third quarter and took a 25-24 lead.
"The third quarter was a little bit Halloweenish,'' Smith said. "It wasn't a treat. It was a trick. But I thought that our guys played extremely hard the entire ballgame. They didn't put their head down. They showed a lot of resiliency in terms of the adversity that took place during that third quarter.''
White, of course, was the central point in all of that. At the end of the third quarter, White made perhaps his first bad play of the season. He caught a pass, but was stripped of the ball by Cincinnati cornerback
Adam Jones
, who picked the ball up and ran for a 59-yard touchdown to give the Bengals the lead.
"How do you shake it off?'' White asked. "You just have your quarterback go out there and keep throwing you the ball.''
I'm guessing the orders actually came from Smith and offensive coordinator Mike Mularkey. But you can't question White these days, because it sure looks like he's the one calling the shots in Atlanta. But it really doesn't matter because what White said was the prescription is exactly what was used.
[+] Enlarge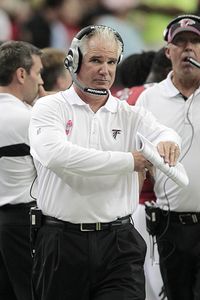 AP Photo/Dave MartinFalcons coach Mike Smith says receiver Roddy White has been the team's best player this season.
When Atlanta's offense came back on the field, the first pass
Matt Ryan
threw was to White. It went for 13 yards. Six plays later, White caught an 11-yard touchdown and, then, a pass from Ryan for the two-point conversion. The Falcons never trailed again.
"I was upset,'' White said after he was asked to temper his initial comment on the fumble to something that could actually be used in family newspapers and websites.
So what do White and the Falcons do when they get upset? We'll let White take you inside the huddle for the drive following his fumble.
"It was calm …calm, cool and collected,'' White said. "It was like, 'We've got to go down there and score, make sure we get a touchdown.' "
Once upon a time, early in his career, there were plenty of people within the Falcons' organization who thought White was going to end up being a huge bust. He really didn't do much in his first couple seasons and there were questions about his work ethic and focus.
A subtle change started in the otherwise disastrous 2007 season in which coach Bobby Petrino ended up quitting. Petrino's brother, Paul, was the receivers coach that year and he got White to trim his weight. That resulted in a 1,000-yard receiving season and the progress has accelerated since Smith and Ryan arrived in 2008.
Nobody talks about White being a bust anymore, and his work ethic and focus have become unquestionable. When Halloween seemed to be coming early for the Falcons on Sunday, White was the one who stepped in and restored world order. With a little help from the
Cleveland Browns
, who upset the
New Orleans Saints
, White put the Falcons in sole possession of first place in the NFC South.
"I think it talks about his resiliency and his ability to overcome an adverse situation,'' Smith said. "It was a very good play by their defensive back to strip the ball. But he was able to put that one behind him. That's one thing, when you're a receiver or a quarterback or a player that's out front all the time, you have to put those good plays and bad plays behind you and move onto the next one. Roddy has been able to do that.''
That's why White clearly is Atlanta's best player, the best player in the NFC South and maybe, just maybe, the best player in the NFL.
October, 1, 2010
10/01/10
12:49
PM ET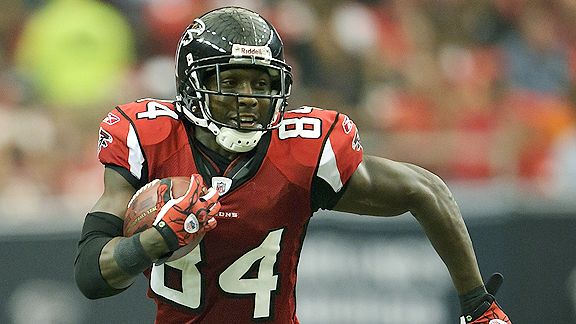 AP Photo/Paul Abell Roddy White struggled early in his career, but can smile now as the NFC South's top receiver.
Before we start pondering how it happened or the precise moment it took place, let's go ahead and throw out the obvious. Atlanta's
Roddy White
is the best wide receiver in the NFC South and one of the best in the NFL.
There, I've said it, and the more I thought about it, the more I realized this has been the case for quite some time. You're welcome to try to pinpoint the exact date that a guy who once seemed headed to being a bust became the best receiver in the NFC South. I couldn't do it and, when I asked White, neither could he.
Fact is, White has just kind of grown into the role as some other guys have been backed off their claims. Narrow the time frame down from 2007 until today and White has been steadily surging while Carolina's
Steve Smith
has been weighed down by a series of quarterback problems.
Joey Galloway
and
Antonio Bryant
came and went in Tampa Bay. New Orleans'
Marques Colston
has had to share Drew Brees' passes with all those other targets the Saints have.
[+] Enlarge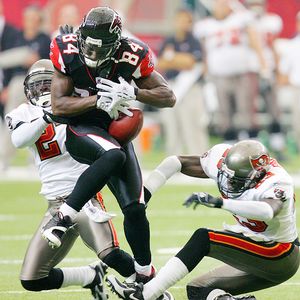 AP Photo/Ric FeldRoddy White struggled during his first two years in the league until he "just finally grew up,'' White said.
There is only one NFC South wide receiver who has caught passes for 1,000 yards in each season starting with 2007. That's White, and he's at it again. Through three games, he's second in the league with 25 catches, which has resulted in 258 yards, two touchdowns and a 2-1 start by the Falcons.
"Roddy White is the complete wide receiver,'' Atlanta quarterback
Matt Ryan
said moments after the Falcons recorded one of the bigger regular-season wins in franchise history Sunday with a 27-24 overtime victory against the Saints in the Superdome. "He's big, he's strong and he's fast. He runs great routes. He works hard. You couldn't ask for more in a wide receiver.''
Funny, because once upon a time, there were people around the league who thought White was going to go down in history as one of the biggest receiver busts ever. Taken out of the University of Alabama-Birmingham in the first round (27th overall) in 2005, White was seen as a raw talent.
One person who worked for the Falcons at the time White first arrived admitted the brass in Flowery Branch had a huge case of buyer's remorse after they saw White in his first training camp and through most of his first two seasons. That person said there was a moment during White's rookie season when an assistant coach stood up in a meeting and said White simply wasn't good enough to play in the NFL and there was no argument in response.
But a strange thing happened after White bumbled his way through a rookie season that featured 29 catches and a second season in which he improved to 30 catches, but zero touchdowns. As the
Michael Vick
saga was casting a sad shadow over the Falcons and Bobby Petrino was about to do the same, White suddenly became a legitimate NFL wide receiver.
That may be the single bright spot to emerge from a very dark time in franchise history. The more you look at where White is now, the brighter that spot gets. As the world around the Falcons seemed to be crumbling, a convergence of events were taking place that would shock everyone and put White's career on a good path.
"I guess the easiest way to put it was that I just finally grew up,'' White said.
That's the simple way to put it, but White is quick to point out that it was much more complex than that. He's even quicker to point out that he had some help.
"I'd gone through life just getting by on being a good natural athlete,'' White said. "That's the way I approached it my first two years and, in the NFL, it's not good enough to just be an athlete.''
As Vick was going and Petrino was coming, two other subtle moves took place that would forever change White's career for the better. Perhaps the only good move Petrino made in his short stint as the head coach of the Falcons was hiring his younger brother, Paul, to coach wide receivers.
"When coach [Jim] Mora and his guys were here, I was eating a lot of cheeseburgers and going at about 215 [pounds],'' White said. "When Paul Petrino came in, he sat me down and said, 'You need to get back to where you were in college.' I got back to around 205 to 208 and I suddenly realized I was moving faster and jumping higher. But it wasn't just that. Paul Petrino worked me so hard and pushed me to string together good practices, go out there and do it every day.''
Paul Petrino got some help from another source. In 2007, the Falcons brought in veteran wide receiver
Joe Horn
, in large part because they weren't sure if White could play. But Horn ended up being part of the reason White has been playing so well in recent years.
[+] Enlarge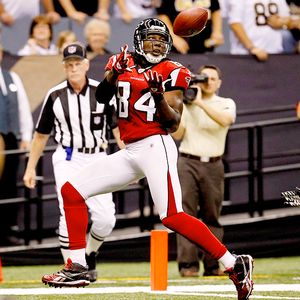 Derick E. Hingle/US PresswireRoddy White has 25 catches for 258 yards and two touchdowns this season.
"Playing with Joe was the best thing to ever happen to me,'' White said. "He was a guy who had been to Pro Bowls and he took me under his wing and really taught me what this league is all about. He's the one who made me realize what's expected of you if you're going to be a good pro. He's the one who taught me that you have to prepare mentally every day and you have to go out and practice hard every day. He's the one who showed me that this game takes so much more effort than I was putting into it.''
The results were pretty much instant. In a 2007 season in which the Falcons went through several quarterbacks with little success, White somehow emerged with 83 catches for 1,202 yards and six touchdowns.
The next year, coach
Mike Smith
arrived and promptly drafted Ryan, who clicked with White right from the start. White had 88 catches for 1,382 yards and seven touchdowns in 2008 and 85 catches for 1,153 yards and 11 touchdowns in 2009.
"It was somewhat of a gradual process, but there was a good chemistry between Roddy and me right from the start,'' Ryan said. "It just keeps getting stronger because Roddy's a guy that works very hard and he's always where he's supposed to be.''
White's been to the Pro Bowl the last two seasons and there's no reason to think he won't be there again.
"The thing with Matt is, he came in from the beginning and was asking what kind of routes I liked running and where I liked getting the ball and things like that,'' White said. "When you do that, you're both sort of volunteering ways to get better.''
In their third season together, Ryan and White have the Falcons off to a fast start. In the past two games (victories against Arizona and New Orleans), the running game has clicked, the passing game has clicked and the rebuilt defense has a faster, more aggressive look.
"The sky really is the limit for this team,'' White said.
It's kind of funny that the guy the Falcons once thought couldn't play is leading the way. He's soaring on the field and he has become a leader in the locker room. Before every game, there's a little reminder of the past and how White got to where he is now.
"Before every game, Joe Horn sends a text,'' White said. "It's pretty simple. He just says, go out, play hard, play physical and play smart.''
That's what White has been doing, and that's the other strange twist to all this. The guy who once couldn't go past fast-food restaurants on the way home or stay out of the nightclubs is taking on the role Horn once did.
"You know, it's hard to find a guy that will share information with you when we're all competing for jobs,'' White said. "But Joe did that with me and now I try to do it with
Harry Douglas
. I look at Harry like my little brother, but I also look at him as what I used to be before Joe came along. I'm always on Harry about working hard every day. The most important thing Joe taught me was that you have to put the game first.''
White's been doing that since 2007 and that's what has put him among the best receivers in the NFL.