NFL Nation:

Paul Worrilow
December, 23, 2013
12/23/13
11:49
PM ET
A few thoughts on the
Atlanta Falcons
'
34-24 loss
to the
San Francisco 49ers
on Monday night:

What it means:
Although the Falcons showed a lot of fight and might have spoiled the night -- had
NaVorro Bowman
not picked off a ball deflected from Falcons receiver
Harry Douglas
' hands and returned 89 yards for the game-clinching touchdown -- the loss might have helped Atlanta in the end. Now, at 4-11, the Falcons are sixth in the draft order with a chance to move up, depending on the outcome of the final weekend of games. Some fans continue to lobby for South Carolina defensive end
Jadeveon Clowney
, but the Falcons would likely need a top-five pick to even have a chance at Clowney. Whatever the case, the draft will be intriguing for a team trying to recover from an unexpected fall down the NFL standings.
Stock watch:
Drew Davis
' stock grew on one play. The unheralded receiver not only helped with a block at the line of scrimmage, he then found an opening down the field, caught a pass from
Matt Ryan
, did a spin and picked up 45 yards after the catch en route to a career-long 59-yard reception. It helped set up
Steven Jackson
's 2-yard touchdown run. Davis has made some plays this season and probably deserved more opportunities.
Matt Bosher
's stock also rose after the punter/kicker executed a perfect onside kick that was recovered by
Jason Snelling
, although it all went for naught after Bowman's pick-six.
Crucial calls:
Two defensive penalties on the Falcons will be talked about the next few days, and only one of them should have been called. Veteran defensive end
Osi Umenyiora
made a rookie mistake when he lined up in the neutral zone with the 49ers facing third-and-10 from their own 17. It gave the 49ers a more manageable third down, which they converted, and the drive ended with
Colin Kaepernick
's touchdown pass to
Anquan Boldin
. Then, on the very next 49ers drive, Falcons rookie linebacker
Paul Worrilow
was whistled for a phantom pass-interference penalty on third down. The questionable call helped set up a San Francisco field goal.
Wounded warriors:
The Falcons were already down one defensive starter when linebacker
Sean Weatherspoon
was declared inactive with a knee injury. Then, early in the game, starting defensive tackle
Corey Peters
went down with an Achilles injury. That's bad news for Peters, who is set to become a free agent. Running back
Jacquizz Rodgers
and receiver Douglas also got banged up during the game, but Douglas returned in time to surpass 1,000 receiving yards for the season.
What's next:
Sunday's season finale against the
Carolina Panthers
should be all about
Tony Gonzalez
. The Hall of Fame-bound tight end will play his final NFL game in front of the home crowd at the Georgia Dome. The organization is likely to honor Gonzalez with a video tribute. He won't go out with a Super Bowl ring, but Gonzalez will still walk off a true champion.
December, 9, 2013
12/09/13
1:00
AM ET
GREEN BAY, Wis. -- It wasn't the ideal way for
Sean Weatherspoon
to score his first career touchdown, but he'll take it.
Weatherspoon
The
Atlanta Falcons
linebacker's 71-yard interception return for a score Sunday was the result of Weatherspoon grabbing a ball that bounced off the foot of teammate
Paul Worrilow
. Green Bay quarterback
Matt Flynn
delivered the pass, which was initially tipped by Falcons defensive lineman
Peria Jerry
before it bounced off Worrilow's right foot.
Most of the Packers seemed confused by the play and stopped. Weatherspoon didn't.
"We're just coached to finish," Weatherspoon said. "You want to sell it, even if it ain't ... so what if it hit the ground, you still have got to take that chance.
"That's a great play by Worrilow. I'm not sure what happened to the ball before he hit it -- before he kicked it, actually. It's awesome, though."
Weatherspoon, who missed seven games with a Lisfranc foot sprain, made the play much more dramatic with his long run and a smooth sidestep to avoid 318-pound Packers offensive guard
T.J. Lang
.
"I had to cut back," Weatherspoon said. "That's why we kind of have to time it up where I didn't want to exert too much. And I cut back on him, and the guys just led me."
Robert Alford
threw the key block on Packers receiver
Jarrett Boykin
while Worrilow raced down the field also looking to clear a path for Weatherspoon. Worrilow explained how the play got kick-started.
"It was just a reaction," Worrilow said of the kicked ball. "It's not like I was trying to kick it to myself. I really had no control over it. It was just a natural reaction. I was just trying to keep the ball in play. Fortunately, it went to Spoon and not somebody else.
"As soon as I saw he had it, I took off trying to make a block for him. It was a big play. It was a big momentum swing."
Yet the Falcons couldn't sustain the momentum. They scored two touchdowns as a result of turnovers: the Weatherspoon return and
Matt Ryan
's 2-yard touchdown pass to
Tony Gonzalez
after
Malliciah Goodman
recovered a Flynn fumble, caused by
William Moore
.
Although the result was a victory for the Packers, the kicked interception is sure to be the most memorable moment of the game.
"That was a unique play in terms of the ball was tipped and then it was kicked up in the air," Falcons coach Mike Smith said. "Sean made a great run after the catch. And we had some guys doing a nice job blocking downfield."
December, 5, 2013
12/05/13
10:00
AM ET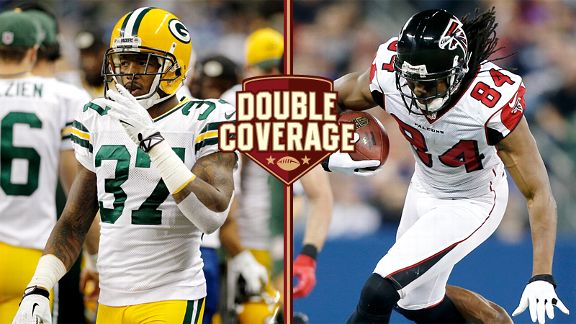 AP PhotoCan Sam Shields and the Packers snap their slump against Roddy White and Atlanta on Sunday?
Last season, the
Atlanta Falcons
were one quarter away from reaching the Super Bowl, and the
Green Bay Packers
reached the divisional round of the playoffs.
Eleven months later, the teams have a combined record of 8-15-1.
That's why the NFL moved the game, which was originally scheduled for prime time on Sunday, to a 1 p.m. ET start.
ESPN Packers reporter Rob Demovsky and ESPN Falcons reporter Vaughn McClure break down the matchup:
Rob Demovsky
: Vaughn, it's hard to believe the Falcons are in playing-out-the-string mode with all of the talent they have on offense. Obviously, injuries have been an issue, especially losing a talented receiver like
Julio Jones
. But unlike the Packers, they didn't lose their quarterback. How come
Matt Ryan
hasn't been able to be a difference-maker?
Vaughn McClure
: Well, it's been hard for Matt Ryan to be himself, playing under duress most of the season. The Falcons have ranked in the top 10 in sacks allowed per pass attempt, but that's only because Ryan has taken shorter drops and delivered the ball quicker. He has still been sacked a career-high 30 times and has been hit countless other times. In the past two games alone -- against the Saints and Bills -- Ryan was sacked 11 times. True, being without Jones hasn't helped Ryan's cause. But also,
Roddy White
hasn't been at full strength all season. Without
Harry Douglas
or
Tony Gonzalez
, Ryan would really be in trouble.
Speaking of quarterbacks, can you explain the different scenarios for the Packers at the position come Sunday, based on
Aaron Rodgers
' injury status?
Demovsky
: Well, it sure looks like Rodgers will be out for at least another week. This was the game he was really targeting to come back for, thinking he could lead them to the playoffs if he got back for the last four games. But his collarbone did not check out well enough Tuesday to be cleared. Even though he plans to practice this week, it doesn't look good for him to play. I was a little surprised that coach Mike McCarthy appears to be going with
Matt Flynn
again. Flynn was completely ineffective in the Thanksgiving debacle at Detroit, and quite frankly, his arm strength does not look good. He didn't have a lot of zip on the ball indoors against the Lions, and it sure won't get any easier to throw in the cold, wintry conditions at Lambeau Field. I wondered if he might go back to
Scott Tolzien
, who looked good in a couple of his appearances but threw too many interceptions.
You mentioned pass protection -- the Packers had issues of their own against the Lions. Flynn was sacked seven times, but on at least a couple of those, he held onto the ball too long. What has been the Falcons' biggest problem in pass protection?
McClure
: The biggest problem has been the offensive line, simply. The guys up front haven't held up their end of the bargain. They've been physically dominated at times, particularly in the loss to the Seahawks. The Falcons lost left tackle
Sam Baker
to season-ending knee surgery, and Baker wasn't the same player he was last season before being placed on injured reserve. Left tackle
Lamar Holmes
, the guy trusted to protect Ryan's blind side, admitted being out of shape at the beginning of the season and is still experiencing growing pains. Center
Peter Konz
, right guard
Garrett Reynolds
, right tackle
Jeremy Trueblood
and Holmes have all been benched at point during the season. Such turnover hasn't helped the group develop any cohesion. And now, it has to face a capable Packers defense.
I know
Clay Matthews
was injured this season, but is he back to the dominant player he was when I covered the NFC North?
Demovsky
: He's starting to look like the player you remember, Vaughn. In his first game back from his broken thumb, he wasn't a factor,because he had to wear that giant club cast. But the next week against the Giants, he was able to play with a much smaller cast. Ever since then, he's been a playmaker again. In the past three games, he has three sacks and a forced fumble. The problem is he's not getting a ton of help. And even when they make big plays like they did against the Lions last week, when they forced four turnovers, the offense can't take advantage of them. Even with Matthews back on the field, the defense has been in a free fall over the past month.
About the only thing the Packers have been able to count on has been their running game, and even that has been a little up and down. But rookie
Eddie Lacy
looks like a force with 806 yards rushing in basically 10 games. I'm sure the Falcons will load up the box to stop him like most teams have tried to do since Rodgers got hurt. Do you think they can stop him?
McClure
: No. Not at all. They struggled to contain speedy backs like Buffalo's
C.J. Spiller
(149 rushing yards) just like they've struggled against powerful backs like Seattle's
Marshawn Lynch
(145 yards). Defensive coordinator Mike Nolan counted 28 missed tackles for his defense over the past two games, which is unacceptable, particularly when they occur in the second level and lead to explosive plays. Although rookie linebacker
Paul Worrilow
has been a tackling machine, he can't do it alone. Like the offensive line, the defense has been dominated physically at times. Lacy's bruising style is the last thing the Falcons want to see. The Falcons are tied for 29th in the NFL in rushing yards allowed per game.
November, 13, 2013
11/13/13
8:00
AM ET
FLOWERY BRANCH, Ga. -- The return of veteran outside linebacker
Sean Weatherspoon
this week from a Lisfranc foot sprain should inject some life into the
Atlanta Falcons
' defense. It also will shake up the linebacking corps a little bit with Weatherspoon expected to regain his starting spot, barring any setbacks.
But based on what defensive coordinator Mike Nolan had to say on Tuesday, undrafted rookie
Paul Worrilow
will be one of the linebackers on the field alongside Weatherspoon.
[+] Enlarge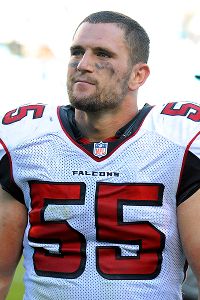 Sam Sharpe/USA TODAY SportsUndrafted linebacker Paul Worrilow has been a force since the calendar flipped to November.
Worrilow made a name for himself with consecutive 19-tackle performances the past two games. He joined Ring of Honor member
Jessie Tuggle
as the only Falcons to record 15 or more tackles twice in one season. Worrilow, with 59 total tackles (according to team stats), is second on the Falcons behind safety
William Moore
(81).
Nolan noted how Worrilow has played all three linebacker positions, meaning he could easily play either outside spot or the middle. Fellow undrafted rookie
Joplo Bartu
actually replaced Weatherspoon and has been productive, too, while middle linebacker
Akeem Dent
has been slowed by an ankle injury.
In Sunday's loss to Seattle, Worrilow and Bartu typically remained on the field in the sub package when the Falcons brought in an extra defensive back.
"When he came here, early on we saw that he was sharp enough to mentally, at least, pick them up," Nolan said of Worrilow playing all three positions. "And so he did it in training camp, and he's had to do already in the season.
"He's a good football player. He's very instinctive. He's a good tackler. If you noticed in the middle of the field against Carolina, he tackled the back in space a couple times. He tackled that big back [
Marshawn Lynch
] last week a couple times in space by himself, when there were a couple times I saw [Lynch] carry about three or four of our guys down the sideline. ... The biggest thing that stands out is he's instinctive. And for a young guy, last week he was one of the team captains. In timeout in things when I'd call him over, he's got a good way about him, very poised."
Nolan went on to say Worrilow doesn't act like a player who's "in his first rodeo" out on the field. Such high praise would indicate Worrilow has roped in a starting spot. Besides, head coach Mike Smith said the best players will play down the stretch based on competitions in practice, and it's hard to imagine any other linebacker outplaying Worrilow at this point.
For those questioning Worrilow's production and wondering if his tackles are coming too far down the field, Nolan cleared up any doubt.
"He's not getting JOPs -- jump on piles, as we call them," Nolan said. "He's tackling people. Yes he is. It's not like he's some long-armed, big, gangly [player]. But he tackles well. He has. Knock on wood he keeps it up, because he's done a good job."
November, 4, 2013
11/04/13
1:55
PM ET
No one expected
Atlanta Falcons
undrafted rookie linebacker
Paul Worrilow
to start an NFL game this season, let alone lead the team with double-digit tackles in a game.
So when Worrilow posted a career-high 19 tackles in Sunday's 34-10 loss to the
Carolina Panthers
, it was hard not to notice his effort, even in defeat. He tied
Curtis Lofton
(2009 vs. New England) for the most tackles in a game by a Falcons player since 1994.
But rather than relishing over his individual showing, the humble Worrilow pointed out the flaws in his performance. Like when he was one of three defenders to miss bringing down Panthers quarterback
Cam Newton
on a third-and-12 play, resulting in Newton's 23-yard pass to
Steve Smith
.
"I had a chance to get a sack on one of the ones where Cam got away from me," Worrilow said. "And then I missed the open-field tackle on the checkdown. But after those two, I felt like I had to buckle down, really stick to my technique, get to the ball as much as I could, and get there faster and see the ball better. I think I was able to do that after those two plays."
Worrilow, from Delaware, was a primarily a special-teamer who surpassed
Stephen Nicholas
as a starting outside linebacker in Week 4. A knee injury set him back a game, but Worrilow returned to the starting lineup for the past three contests.
He has shown a nose for the ball and relentless effort, although would be the first to admit he has much maturing to do. He continues to learn how to become a more effective blitzer.
His tackling, however, shouldn't be an issue, considering the game he had against the Panthers.
"It doesn't make me feel good," Worrilow said. "You play to put yourself in a chance to win the game. We didn't do that. To come out with a loss, we're disappointed. We only think about that."
The Falcons, at 2-6, have to start thinking more about the future, and Worrilow could be a significant part of it. He is one of four defensive rookies to start multiple games at the halfway point of the season. The others are rookie cornerbacks
Desmond Trufant
and
Robert Alford
and fellow linebacker
Joplo Bartu
. The coaching staff also has given more reps to rookie defensive ends
Malliciah Goodman
and
Stansly Maponga
.
"I just keep looking at each game as a chance for me to grow," Worrilow said. "And I feel like I am. I'm confident going into every game.
"I'm seeing new things that I'm learning from. That's a big thing for me, as an undrafted guy. Since I'm getting time right now, I'm going to take full advantage and have my game grow."
October, 28, 2013
10/28/13
2:00
PM ET
GLENDALE, Ariz. -- A review of five hot issues from the
Atlanta Falcons
'
27-13 loss
to the
Arizona Cardinals
:
[+] Enlarge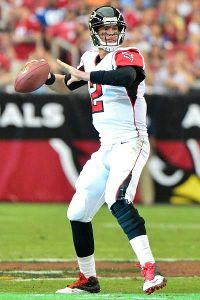 Matt Kartozian/USA TODAY SportsFalcons QB Matt Ryan spent much of Sunday's game trying to avoid being hit by Cardinals defenders.
Big problem:
The Falcons' defense continues to give up big plays, surrendering a backbreaking, 80-yard touchdown run to speedy Cardinals rookie running back
Andre Ellington
. Defensive tackle
Corey Peters
and linebacker
Paul Worrilow
missed the initial opportunity to bring Ellington down up the middle. Then Ellington bounced outside and sprinted by linebacker
Joplo Bartu
and safety
Thomas DeCoud
. Safety
William Moore
, who was on the other side of the play, tried to explain what happened. "Leverage is the name of the game," Moore said. "One person misses their leverage and some more people have to come put their hats on the ball. He got outside the defense, and that's going to happen nine times out of 10 when he gets outside. ... That's one of those plays where everybody could have gotten to the ball a little better." The Falcons have surrendered 11 plays of 40-plus yards this season.
No pointing fingers:
Although quarterback
Matt Ryan
could have used much better protection -- he was sacked four times and hit 11 times -- no one in the locker room said the offensive line needed to do a better job protecting. Wide receiver
Harry Douglas
even seemed to take offense when it was implied that the offensive line didn't do its job. "I'm not singling anybody out," Douglas said. "We win as a team. We lose as a team. We glorify each other as a team. And we're going to fix it as a team. I think everybody across the board -- offense, defense and special teams -- we all could have did something better to win this football game and step up."
Top target:
Speaking of Douglas, he finished with another stellar effort in the loss, catching 12 passes for 121 yards. He was targeted a team-high 18 times. The effort came a week after Douglas posted a career-high 149 receiving yards against Tampa Bay. With
Julio Jones
out for the season following foot surgery and
Roddy White
missing his second straight game due to hamstring and ankle injuries, Ryan looked to Douglas often. The Falcons need Douglas to continue that production when White returns to the lineup.
Drew Davis
, who had a career day versus the Cardinals with five catches for 77 yards and a touchdown, also could be a key part of the equation when White returns.
Tight spot:
Tony Gonzalez
caught three passes for 26 yards to extend his streak of consecutive games with a catch to 202. But all the talk over the next two days will likely relate to whether the Falcons might consider trading Gonzalez to a contender so he can have the chance to retire with a Super Bowl ring. Gonzalez maintains he wants to finish things out in Atlanta, but he's obviously frustrated by the team's 2-5 mark. Ryan was asked if he talked to Gonzalez following Sunday's game. "Talked to him briefly and same as after we lost in the past," Ryan said. "I think everybody takes it personal. He certainly does, and I do. I think the message across the board is that we just have to get back to work."
Rotating line:
When defensive coordinator Mike Nolan addresses the media on Tuesday, he's sure to be asked about his defensive line rotation. Against the Cardinals, veteran starters
Osi Umenyiora
and
Jonathan Babineaux
were pulled from the lineup on a few series, including when Ellington broke loose on that 80-yard touchdown run.
Cliff Matthews
and
Peria Jerry
were on the field with Peters and
Jonathan Massaquoi
. Babineaux said it was just the rotation that was decided upon. We'll see how that rotation pans out for the remainder of the season.
October, 20, 2013
10/20/13
11:57
AM ET
ATLANTA -- Linebacker
Akeem Dent
, who was questionable for Sunday coming off an ankle injury, is active for the
Atlanta Falcons
against the
Tampa Bay Buccaneers
.
Dent
Dent is expected to play middle linebacker in the base defense and will likely be pulled off in the sub package.
Also at linebacker, the Falcons are expected to start
Paul Worrilow
over
Stephen Nicholas
. Worrilow was a reserve in the last game coming off a knee injury.
Also inactive for the Falcons are wide receiver
Roddy White
, running back
Steven Jackson
, left tackle
Sam Baker
, tight end
Chase Coffman
, safety
Kemal Ishmael
, guard
Harland Gunn
and defensive tackle
Travian Robertson
.
Rookie receiver
Darius Johnson
, promoted from the practice squad Saturday, is active for the Falcons.
Inactive for the Bucs are the following players: guard
Carl Nicks
, defensive end
Da'Quan Bowers
, wide receiver
Skye Dawson
, running back
Jeff Demps
, cornerback
Deveron Carr
, guard
Patrick Omameh
and defensive end
Steven Means
.
September, 20, 2013
9/20/13
12:00
PM ET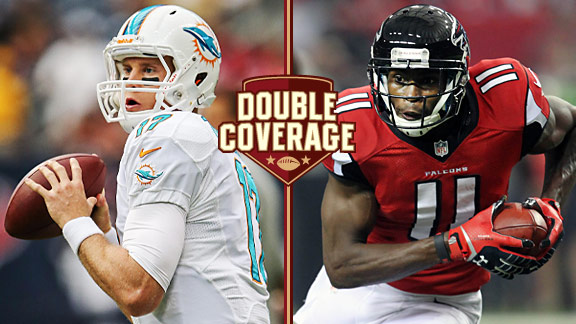 USA TODAY SportsRyan Tannehill and the undefeated Dolphins will try to upset Julio Jones and the Atlanta Falcons.
The
Miami Dolphins
are basking in the light of a 2-0 start while the
Atlanta Falcons
are just trying to find some healthy bodies.
The two teams play each other Sunday in a game that has big implications in the AFC East and NFC South races.
ESPN Dolphins reporter James Walker and ESPN Buccaneers reporter Pat Yasinskas examine this matchup:
Yasinskas:
James, like many, I thought the Dolphins would be an improved team. But it's looking like they might be even better than I thought. They've gone out and started their season with two big wins on the road. What's going right for the Dolphins and, more importantly, how good are they?
Walker:
It's early, Pat, but Miami is already exceeding my expectations. I pegged the Dolphins to be an 8-8 team this year. That still could happen if the team loses focus, but Miami is on pace to do better. I credit two things: improved playmaking ability and the growth of second-year quarterback
Ryan Tannehill
. Miami committed more than $200 million in free-agent contracts to players like receiver
Mike Wallace
, cornerback
Brent Grimes
and linebackers
Dannell Ellerbe
and
Philip Wheeler
. All of those players came up big in last Sunday's win over the
Indianapolis Colts
. When you add in the fact Tannehill has improved in his second year, it's easy to see why the Dolphins are also taking the next step. Atlanta is a team many believe is a Super Bowl contender, but the group is banged up. Pat, how much will injuries impact the Falcons in this game?
Yasinskas:
Atlanta has some major injury problems. The Falcons had to put defensive end/linebacker
Kroy Biermann
and fullback
Bradie Ewing
on injured reserve this week and there are reports that running back
Steven Jackson
will miss a few weeks. The loss of Biermann means the Falcons will have to play rookies
Joplo Bartu
and
Paul Worrilow
at linebacker and second-year pro
Jonathan Massaquoi
at defensive end. If Jackson is out, the Falcons will have to go with
Jacquizz Rodgers
and
Jason Snelling
as their running backs, and that's a sharp drop-off. That probably means the Falcons will pass even more than usual and rely on
Roddy White
and
Julio Jones
. Is Miami's secondary ready for that tandem?
Walker:
I had a good conversation with Miami's top cornerback, Grimes, on Tuesday. He was complimentary of both White and Jones -- and Grimes would know. The former Falcon watched both receivers grow in Atlanta and practiced against them. It will be fun to see who has the advantage between Grimes and White/Jones, depending on the play. Grimes told me they all know each other so well that it's probably a push. The bigger concern for Miami's secondary is the other cornerback spot. Veteran starter
Dimitri Patterson
didn't play in Week 2 due to a groin injury. He's working his way back and could play Sunday. Rookie corners
Will Davis
and
Jamar Taylor
also returned to practice this week, which could provide depth. Similar to the game against Indianapolis, Miami must do a lot of things schematically to cover up its issues opposite Grimes. That includes using the safeties over the top and getting a good pass rush. Speaking of pass rush, the Dolphins have nine sacks in the first two games. Can they exploit the Falcons in this area?
Yasinskas:
Miami's pass rush has to be a major concern for the Falcons. Atlanta revamped its offensive line in the offseason and it's taking some time to come together. The right side of the line is of particular concern with guard
Garrett Reynolds
and
Lamar Holmes
as the starters. Reynolds is average at best and Holmes, a second-year pro, was thrown into the starting lineup when
Mike Johnson
went down with an injury in the preseason. Holmes is very much a work in progress, so the Falcons will have to try to give him some help by getting their tight ends and running backs involved as pass-blockers. Still, Atlanta should be able to move the ball through the air because it has
Matt Ryan
, Jones, White and tight end
Tony Gonzalez
. Has Tannehill developed enough to win a shootout?
Walker:
That's an interesting question, Pat. I'm not sure anyone -- even Miami's coaching staff -- has the answer. I did notice the Dolphins' game plan in Week 1 against Cleveland was fairly conservative compared to Week 2 against Indianapolis. Those are two different teams, and perhaps the Dolphins realized they needed to be more aggressive throwing and take more vertical shots deep to match Colts quarterback
Andrew Luck
. This is a similar type of challenge, because Atlanta's offense is built around scoring points in the passing game. Tannehill is getting better at taking over parts of a game in Year 2. His play in the second half the past two weeks has been terrific. The Dolphins are outscoring opponents 24-6 in the third and fourth quarters, in part because Tannehill is moving the chains, putting points on the board and keeping Miami's defense fresh. I don't expect this game to be all on Tannehill's shoulders. The defense remains the strength of the Dolphins. Keeping Atlanta's scoring around 23 points or fewer, as opposed to having Tannehill throw for 400 yards, is probably Miami's best shot to win.
September, 5, 2013
9/05/13
1:00
PM ET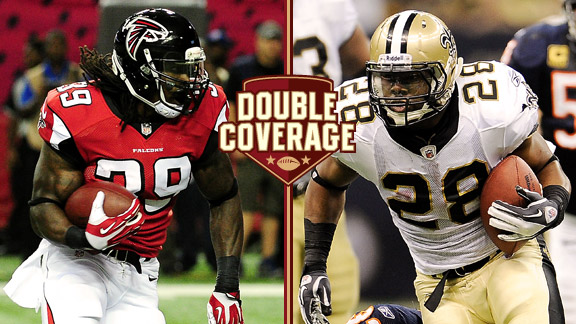 Getty ImagesSteven Jackson and Mark Ingram will try to bring more balance to two pass-heavy offenses.
Sean Payton is back to right the wrongs of last season, when his
New Orleans Saints
went off the rails in his absence. The first test of the season is a fitting one: The Saints open against their hated NFC South rivals, the
Atlanta Falcons
, who ran away with the division last season even though they split with New Orleans.
Have Payton and new defensive coordinator Rob Ryan fixed that horrid defense of a year ago? Will the Saints have much of a running game? Can the Falcons protect their franchise quarterback and give him time to find his myriad weapons?
ESPN.com NFL columnist Ashley Fox and NFC South blogger Pat Yasinskas discuss what Saints and Falcons fans can expect from the latest installment of this heated rivalry.
Fox:
He's back. It is redemption time for Payton after missing a year because of the bounty scandal. I'm sure, given how beloved Payton is in New Orleans, that the Mercedes-Benz Superdome will be so loud it might lift off. I've seen different estimates for Payton's worth. How many wins do you think he's worth to the Saints?
Yasinskas:
I think Payton's presence instantly takes the Saints from a nonplayoff team to a playoff team. His skills as an offensive guru are well known, and that certainly will help. But I think the more subtle benefit to having Payton back is his skill as a motivator. He's a master in that area, and he'll have his team ready for big games. Speaking of changes that came in the offseason, what do you think was the biggest move for the Falcons?
Fox:
To me, the biggest change was the addition of
Steven Jackson
. As you well know, the Falcons struggled to run the ball late last season, when
Michael Turner
clearly had nothing left in the tank. I know Jackson has hit the age when running backs typically decline, but the Falcons don't need him to carry the load. They're going to pass to get a lead and run to win the game. As long as he can stay healthy, Jackson should be able to do that. How effective do you think the Saints' running game will be?
Yasinskas:
That's a very timely question. Several times this offseason, Payton has said he wants more out of his running game. The Saints always are going to be a pass-first team. But if you look back at their Super Bowl year, their running game ranked in the top 10. Payton wants to get back to that, and I believe he has the tools to do that with
Pierre Thomas
,
Darren Sproles
and
Mark Ingram
. I think you'll see more of Ingram this year. He's a guy who needs 10 to 15 carries to get going, and he can bring more balance to the offense. Speaking of balance, the Falcons seem to have plenty of that. How potent is their offense going to be?
Fox:
I think they have a chance to be as potent, if not more so, than last season. The newly signed
Matt Ryan
has all of his toys back --
Roddy White
,
Julio Jones
,
Harry Douglas
and
Tony Gonzalez
. He threw for more than 4,700 yards last season and set career highs for completion percentage, attempts and completions. He could break those again this season. It will be interesting to see if the preseason, when the Falcons were flagged for countless penalties, was an aberration. They were the least penalized team in NFL history last season. As far as setting NFL records, the Saints' defense did last season and not in a good way. Do you think it is going to be any better this season under Ryan?
Yasinskas:
It's hard to imagine the New Orleans defense being any worse than it was a year ago. Things just never worked for former coordinator Steve Spagnuolo. I think there will be improvement with Ryan, but I'm not sure how significant it will be. The Saints are switching from a 4-3 to a 3-4 scheme, and I'm not sure they have all the personnel they need to be successful. Time will tell, but it's more than fair to say the defense is the biggest question mark for the Saints. Speaking of question marks, do the Falcons have any glaring weaknesses?
Fox:
It is the offensive line. If Ryan is worth his salt as a defensive coordinator, he will strike the right side of the Falcons' line. That's where the potential problems are. After 13 seasons and 194 starts, center
Todd McClure
retired after last season.
Peter Konz
, who started nine games as a rookie at right guard, slides back to his natural position at center. Left guard Justin Blaylock and left tackle
Sam Baker
are veteran rocks. That's not the problem. The Falcons let right tackle
Tyson Clabo
walk in free agency. His replacement,
Mike Johnson
, broke his leg during training camp. Johnson's replacement,
Lamar Holmes
, was bad enough in the preseason that the Falcons signed
Jeremy Trueblood
earlier this week. Right guard
Garrett Reynolds
missed the second half of last season with an injury. How do you think Ryan will try to exploit the weakness?
Yasinskas:
I agree with what you said about Atlanta's offensive line. It potentially could be a huge problem, and I'm sure Ryan is well aware of that. I'd look for him to try to exploit the right side of the line as much as possible. But the Saints have had their share of injuries on defense, and it still isn't clear how they'll apply pressure. Defensive end
Cameron Jordan
really is the only proven commodity as a pass-rusher. The Saints have big hopes for outside linebackers
Junior Galette
and
Martez Wilson
, and those guys need to become forces in a hurry. Atlanta has so many offensive weapons that the Saints need to get some pressure on the quarterback. Speaking of Atlanta's offensive weapons, is White completely healthy?
Fox:
The Falcons better hope so. And they say he is, more or less. White sprained an ankle in the second preseason game but finally returned to practice this week. He is Mr. Reliable, having started 128 straight games, and had only two drops last season, according to ESPN Stats & Information. Only Arizona's
Larry Fitzgerald
had fewer among receivers who were targeted at least 100 times. So the Falcons need White to be healthy and productive. What's up with the Saints' third receiver situation?
Yasinskas:
The Saints just brought back
Robert Meachem
, who didn't work out as a free agent in San Diego. I think Meachem can get back to being an impact player as a third or fourth receiver in time. But I think the Saints will open the season with rookie
Kenny Stills
as their third receiver. He has big-time speed, and the Saints need a downfield weapon to go along with
Marques Colston
and
Lance Moore
. Stills is an under-the-radar player who could have a big impact on this game. Do you see any Falcons who fall into that same category?
Fox:
There are two undrafted rookie free agents on defense who won't start but should see plenty of action. One is
Joplo Bartu
, a 6-foot-2, 230-pound linebacker out of Texas State. The other is
Paul Worrilow
, a 6-foot, 230-pound linebacker out of Delaware. Both are unheralded guys who are big and strong and really caught the coaches a little by surprise. Remember those two. OK, so give me a prediction. Who wins?
August, 31, 2013
8/31/13
6:27
PM ET

Most significant move:
The Falcons were 13-3 last year and kept most of their team together. That's why it's more than a little surprising that four undrafted free agents made the roster. That's a tribute to the scouting staff. OT
Terren Jones
, LB
Paul Worrilow
, LB
Joplo Bartu
and OT
Ryan Schraeder
made the team. Worrilow and Bartu should contribute immediately on special teams. Schraeder has shown the ability to play both right and left tackle.
Fan favorite:
He was a long shot all the way, but Banks was being followed closely by fans. That's because he had a unique history. Banks spent five years in prison and later was exonerated. Banks' attempt to make the team was a great story while it lasted. But it may not be completely over. The Falcons reportedly may offer Banks a position working with the team.
What's next:
The Falcons could be combing the waiver wire for offensive line help. Second-year pro
Lamar Holmes
is unproven at right tackle and the Falcons, who lost projected starter
Mike Johnson
to injury, might want to bring in an alternative. Even if Holmes plays well, the line still could use more depth. It also is possible the Falcons could bring in a veteran quarterback because backup
Dominique Davis
never has taken a snap in the regular season.
Players cut:
Waived LB
Brian Banks
, G
Theo Goins
, DT
Neal Huynh
, CB
Terrence Johnson
, S
Charles Mitchell
, DT
Micanor Regis
, T
Alec Savoie
, LB
Pat Schiller
, K
Jeremy Shelley
, CB
Peyton Thompson
, RB
Ronnie Wingo
, FB
Patrick DiMarco
, LB
Robert James
, WR
Darius Johnson
, CB
Jordan Mabin
, G
Phillipkeith Manley
, G
Jacques McClendon
, WR
Martel Moore
, DT
Adam Replogle
and WR
James Rodgers
. The Falcons also placed QB
Sean Renfree
and TE
Andrew Szczerba
on injured reserve.

NFL SCOREBOARD
Sunday, 2/2
WEEKLY LEADERS