NFL Nation:

Payton Manning
January, 20, 2010
1/20/10
1:01
PM ET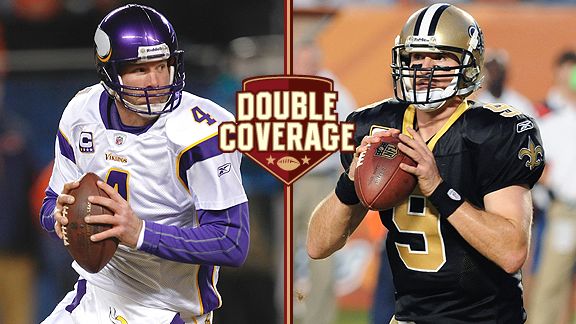 Getty ImagesBrett Favre, left, and Drew Brees will meet Sunday in the NFC Championship Game.
There was Ali-Frazier. Hulk Hogan-Andre the Giant. The Coke-Pepsi taste test. The status of the most highly anticipated competitive matchups in American history will be threatened this weekend in the NFC Championship Game, which will feature the two teams that spent most of this season jockeying for conference supremacy. Minnesota-New Orleans should be so good, why, it'll be better than "Cats."
ESPN.com bloggers Pat Yasinskas (NFC South) and Kevin Seifert (NFC North) broke down the matchup during an orderly phone call this week. We kept it professional, although we occasionally screamed at each other to practice communicating in what we expect will be ear-splitting noise Sunday at the Superdome.
Kevin Seifert:
PAT, IT WAS SOMEWHERE AROUND THE ... oh, sorry, I'll stop yelling. It was somewhere around the third week of September when we realized Minnesota had the potential to be a special team this season. And yet at every point along the way, it seemed the Saints were one step ahead. The Saints were 13-0 at one point and absorbed the conference limelight.
The Vikings had plenty of big games on their schedule, but after they essentially clinched the NFC North in November by completing a season sweep of Green Bay, their eyes privately turned south. I think they knew their path to the Super Bowl would have to go through the Saints, and they've been thinking about them ever since. Coach Brad Childress even admitted to watching a few games out of "admiration" for the way Saints coach Sean Payton runs his offense.
Be it admiration or early game planning, this matchup has been on the horizon here for a long time. How about in New Orleans?
Pat Yasinskas:
Absolutely. The Saints have kept an eye on the Vikings all season. They were very conscious of everything Minnesota did, because they wanted the home-field advantage in the playoffs and recognized the advantage of playing the NFC Championship Game at the Superdome.
I think they also realize how important hosting this game is to the city of New Orleans. They've waited a long time for this game to come.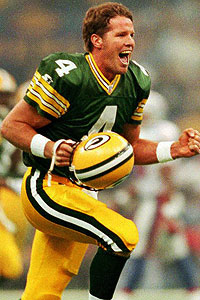 Don Emmert/AFP/Getty ImagesOne of Brett Favre's career highlights came at the Superdome in Super Bowl XXXI.
KS:
Indeed, they've waited forever. This is the first time the Saints have ever hosted an NFC Championship Game. Their history is long, sordid and not worth recounting here. We could always ask
Brett Favre
to do it, though.
The Vikings quarterback grew up a Saints fan in nearby Mississippi. He claims he never wore a bag on his head, but more than any player currently in the NFL, Favre knows how far the Saints have come. He also had one of his greatest NFL moments in New Orleans, winning the Super Bowl in January of 1997.
He'll arrive at the Superdome playing arguably the best football of his career. Counting the playoffs, Favre has thrown 37 touchdowns and seven interceptions this season. Over his last nine quarters, dating back to halftime of the Vikings' Dec. 28 game at Chicago, Favre has a 140.4 passer rating.
So what do you think, Pat: How do people in New Orleans regard Favre?
PY:
Favre is a local hero for the entire Gulf Region. He's on par with
Peyton Manning
, a New Orleans native,
Deuce McAllister
and
Drew Brees
. But Favre obviously will not be the local favorite for this game. He won't even be the most-popular quarterback, not by a long shot.
That title belongs to Brees, who could be mayor of New Orleans and governor of Louisiana if he wanted to be.
July, 24, 2009
7/24/09
11:30
AM ET
| | |
| --- | --- |
| | |
| | Al Messerschmidt/Getty Images |
| | Former Falcons quarterback Michael Vick may get conditionally reinstated, but even if he does, will any team want him? |
Posted by ESPN.com's Pat Yasinskas
Anybody want Michael Vick?
That's not a question. It's a plea. Seriously, I'd be thrilled to trade you the former Atlanta quarterback for anything. Heck, for nothing. Take him and the mountain of baggage he carries, please.
Still no takers?
Don't feel isolated. It appears nobody is lining up to take Vick. Selfishly, I'm not real happy about that because I've had more than my share of the ugly Vick saga, which has dragged on seemingly forever.
As the NFC South blogger, my territory includes Vick until he signs with a team in another division. My readers write me every day to ask me to stop writing about Vick because they're so tired of hearing about him. That's probably not going to change any time soon.
Yes, Vick is out of prison and done with home confinement. Yes, ESPN's Sal Paolantonio is reporting Commissioner Roger Goodell has decided to grant Vick a conditional reinstatement for training camp, although there remains a chance the quarterback could face a four-game suspension.
Even with the conditional reinstatement, there's no guarantee an NFL team will step forward to take an immensely talented athlete, who may or may not be suited to play quarterback or some other position and is certain to bring a swarm of media and protesters if he shows up anywhere near a stadium. And the cloud of a possible four-game suspension doesn't make Vick any more appealing.
Still, I thought there was a chance some owner (Jerry Jones? Al Davis?) might take a shot. Now, I'm thinking there's a very real chance 32 owners will pass on Vick.

NFL SCOREBOARD
Thursday, 9/4
Sunday, 9/7
Monday, 9/8