November, 3, 2011
11/03/11
1:10
PM ET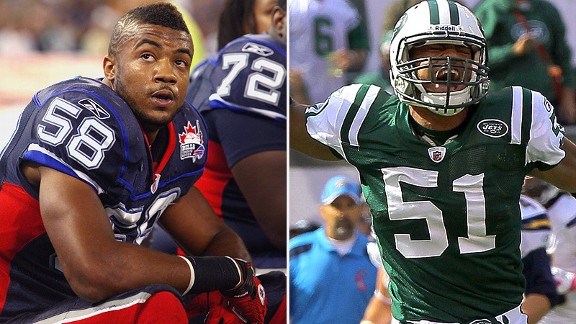 US Presswire/Getty ImagesAfter struggling with Buffalo, Aaron Maybin has found a home with the New York Jets.
The last time
Buffalo Bills
fans saw
Aaron Maybin
at Ralph Wilson Stadium, he was a struggling first-round pick failing to find his niche in the NFL. Maybin, the No. 11 overall pick in 2009, never produced anything close to what his draft status suggested. He was cut by the Bills this summer, ending the two-year experiment.
But the
New York Jets
' version of Maybin is a different player this season. He is getting to the quarterback and is tied for the team lead with three sacks. Maybin also leads the Jets with three forced fumbles. He is finally living up to the "Mayhem" nickname he earned at Penn State.
A rejuvenated Maybin 2.0 returns to Buffalo on Sunday in a Jets uniform. He credits a change of scenery and New York's coaching staff for his newfound success.
"To me, it's not much of a difference other than the fact it's a different team," Maybin said in a telephone interview with the AFC East blog. "There's nothing different about me physically, from a preparation standpoint, or anything else from how I've been my entire career.
"The difference is I'm here. I'm with an organization and with a coaching staff that is putting me in the position to help the team win. Those opportunities put in my lap and faith being put in me have allowed me to go out there and be able to have a little bit of success this year."
Maybin' transformation was instantaneous in New York. He had a great preseason in Rex Ryan's scheme and recorded 2.5 sacks this summer in limited playing time.
Maybin began training camp as a long shot but initially made
New York's 53-man
roster.
He was cut soon after
to make room for several roster moves. But the Jets re-signed Maybin for
good in Week 4.
Since then, Maybin has made his mark as a situational rusher in New York. He's recorded a sack in three of his four games. He had his best performance against the
Miami Dolphins
in Week 6 on "Monday Night Football," when he recorded a sack and forced two fumbles.
Playing in the New York City market rarely provides less pressure. But that has been the case for Maybin. He no longer has the "draft bust" label that he carried every day in Buffalo. He's simply a role player with the Jets.
"Whatever he gives the Jets is gravy -- it's total opposite expectations," said Matt Williamson of Scouts Inc. "Oh, by the way, Ryan,
Bart Scott
,
Darrelle Revis
, they're not going to let you sit around and be a slacker. They're going to grab you behind the scenes and say 'Hey, this is how we do it around here.' There's a lot more leadership on that side of the ball."
Maybin acknowledges he's "pumped" for his return to Buffalo. It's his first chance to show the Bills the level of play he couldn't deliver in his first two NFL seasons.
In Buffalo, Maybin played for three head coaches in two years -- Chan Gailey, Dick Jauron and interim coach Perry Fewell. Maybin speaks very highly of Ryan, his fourth NFL head coach.
"Coach Ryan is a player's coach. He's the kind of coach that every player wants to play for and every coach wants to coach for," Maybin said. "He keeps the locker room excited every day. Sometimes it's even surprising to me how he's able to do that. He will come into a room that has no energy and the whole room will be energized within five minutes of him talking.
"He is passionate and coaches with his heart on his sleeve, just like most guys in this locker room play with their hearts on their sleeve. He's an awesome leader and a guy this whole locker room stands behind."
Not only is this a big game for Maybin, it's also a big game for the Jets.
Buffalo leads the AFC East with a 5-2 record. New York (4-3) is just one game behind Buffalo and the
New England Patriots
(5-2). That is surprising, considering New York's three-game losing streak last month nearly crippled its season. The Jets responded by winning two straight games to keep their playoff hopes alive.
"That was the first thing coach Ryan emphasized -- that us as a team and a locker room stay together," Maybin said. "We didn't let anybody come in and start to divide us and start to convince us that we weren't the team we thought that we were. That's what we did. We never lost sight of our focus and we never lost faith in each other. Now, we're starting to come out of it."
The same can be said about Maybin. The Jets saw something in him that Buffalo did not. Now, Maybin is repaying the Jets' confidence in him with his productive play on the field.
February, 2, 2011
2/02/11
6:19
PM ET
FORT WORTH, Texas -- Punter
Jeremy Kapinos
is the only Pittsburgh Steeler who played for the
Green Bay Packers
last season.

Kapinos
But you would hardly know it this week, because Kapinos has little interest in discussing his former team.
"I think with the Packers, the past is obviously the past," Kapinos said Wednesday. "I'm just more excited to be with the Steelers now."
Kapinos was with Green Bay in 2008 and 2009 and punted a total of 20 games for the Packers. He subbed in during four games in 2008 and won the job full-time in 2009. Kapinos was then let go and served a one-week stint with the
Indianapolis Colts
this season.
But Kapinos says his heart is with the Steelers. He took advantage of an opportunity when
Daniel Sepulveda
suffered a season-ending knee injury and punted for Pittsburgh the past six games, including playoffs.
As luck would have it, Kapinos is now happy to punt in the Super Bowl for the Steelers, a team he's watched closely since college.
"I think the emotion falls more with the fact that this is the Steelers," Kapinos said. "I went to school at Penn State, and the proximity is what it is. A lot of my friends are Steelers fans so we always watched more Steelers games. That means more than anything."
January, 22, 2010
1/22/10
1:00
PM ET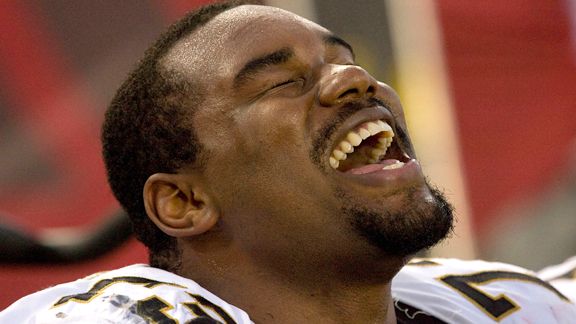 Ronald C. Modra/Sports Imagery/Getty ImagesScouts and coaches think Jahri Evans of the New Orleans Saints may be the best guard in the NFL.
NEW ORLEANS -- Out in the middle of nowhere, which officially starts just a few miles from downtown Bloomsburg, Pa., a cell phone was ringing in the woods.
The caller ID said "Jahri." The caller's first word was "congratulations."
"For what?'' was the response by Brian McBryan, the long-time assistant football coach at Bloomsburg University.
"I made it,''
Jahri Evans
said. "I made All-Pro.''
This was a January day a couple of weeks ago and cell phones were ringing all over the middle of nowhere, including inner-city Philadelphia, as just about every coach who ever worked with Evans got the same call.
Evans, who hadn't even played football as a high school senior and somehow had caught the attention of the NFL playing in a rural mountaintop stadium in central Pennsylvania, wasn't running up and down Bourbon Street telling the world he had just made All-Pro as a guard for the
New Orleans Saints
. Although scouts and coaches have been whispering for months now that Evans might be the best guard in the NFL, he was calling around to congratulate -- and to thank -- everyone who had put him at the top of the mountain.
"That just personifies Jahri,'' McBryan said. "He remembers where he came from.''
Evans remembers all that very well because he's only 26 and four years ago he was fighting the dreaded "Division II" label. Four years before that, he showed up for the first day of high school summer practice on crutches with his leg in a cast that would stay on for all of what would have been his senior season.
To fully understand Evans' rise, you first have to hear about his fall. It happened on a summer day on a Philadelphia playground.
"I was playing pick-up basketball and I came down wrong,'' Evans said. "I fractured my knee, fractured it about as bad as you can.''
Imagine the look on coach Tom Mullineaux's face when the best offensive lineman on a team destined for a city championship showed up on crutches on that August day.
"I just looked at him and said, 'What's a big idiot like you doing playing basketball?'" said Mullineaux, who retired from coaching a couple years later. "It was a real shame."
To fully understand Evans' rise, you need to realize that he wasn't exactly falling off the top shelf to start with. There's a legend out there that Pennsylvania is a high school football hotbed. It's true, but it's not a categorical statement. It's that way in much of Western Pennsylvania, and certain other parts of the state -- places such as Harrisburg, Berwick, Allentown, Scranton and Wilkes-Barre -- turn out some occasional jewels.
But Philadelphia, the state's largest city, forever has been known as a basketball town. For his half century or so at Penn State, Joe Paterno has generally avoided recruiting from inner-city Philadelphia. He'll dip into the suburbs and, once in a great while, a Philadelphia kid has come along who was too good to resist. But Evans never came close to fitting that category.
To fully understand Evans' rise, you need to watch "Rocky" (the original) one more time, if it already isn't ingrained in your memory.
"The end of the EL [elevated train] stop in Rocky . . . that's where Frankford is,'' Mike Capriotti said.
[+] Enlarge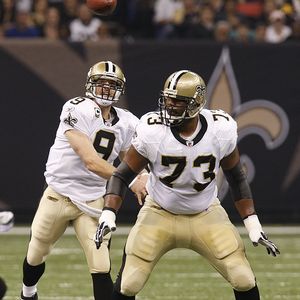 AP Photo/Bill Haber Evans has started every game since he's been with the New Orleans Saints.
Frankford High School is one of the oldest high schools in a blue-collar city full of old high schools. Capriotti is Frankford's head football coach now. He was an assistant to Mullineaux when Evans was there.
"Even before the injury, Jahri wasn't being recruited like crazy," Capriotti said. "When he broke his leg, that could have been the end of it. You've got to understand where Frankford is. A lot of kids with promise just disappear, even if they don't get hurt. I've got a note from at least one teacher in my mailbox every day of the year about one of my players having some sort of problem. I guarantee you that when Tom was here, he never got a single note about Jahri and that's rare around here."
Blame it on Katrina Evans. She's the single mom who raised Evans and three older sisters while working as a receptionist.
"With my mom, I just always knew I couldn't step out of line,'' Evans said. "She was working so hard to raise us, there was no way I was going to disappoint her.''
Evans was already a good student before the injury and that didn't change. He finished in the top 10 of his graduating class. He kept showing up for football practice everyday -- on crutches.
"I'd just help carry footballs or equipment out to the field or whatever," Evans said.
"I used to call him the biggest manager ever," Mullineaux said with a laugh.
But Mullineaux and Evans weren't laughing as the recruiters started to stop into Frankford. They'd ask about certain healthy players and Mullineaux would talk them up. At the end, he'd throw in a pitch "about a huge kid, who could move, was in the top 10 of his class, had an SAT score well over 1,000, but was hurt."
They wouldn't listen, except for Bloomsburg.
"We were recruiting another kid from Frankford and he kept telling us we needed to take a look at his buddy," Bloomsburg head coach Danny Hale said. "At the time, it was within the rules, now it's not, to bring him along on the visit. And [Mullineaux] was talking him up too. Sometimes, you have to take a chance. We brought him up on the visit and he passed the eyeball test as soon as he showed up at my door. He interviewed very well and the academics were there."
The academics actually were what got Evans a scholarship. He qualified for enough academic scholarship money that Hale only had to kick in $2,000 from the football budget, which works with only the equivalent of nine full scholarships.
It would turn out to be one of the biggest bargains in the history of recruiting, but Hale and the Bloomsburg staff really didn't know what they had right away. They redshirted Evans for a year to let his leg heal fully and put him on a weightlifting program. They then used him as a utility lineman in his first active season and the kid from inner-city Philadelphia fit right into a town of 12,000, where the mall features a JC Penney anchor that is about the size of a typical Old Navy store. The town is about a 90-minute drive and three worlds away from Philadelphia. Evans got so comfortable that he spent all his college summers in Bloomsburg.
"We have kids that size, but they're not that athletic," said McBryan, who coaches the offensive line and serves as assistant offensive coordinator. "Jahri's athleticism was obvious right away. I guess the first time I thought we might have something special was on a hot summer day that first year that he played. I remember running a drill and Jahri was running behind me. As he came up, you couldn't hear him. You could just feel and, then, see him go by."
Kind of appropriate because Evans snuck up on the NFL world in an age when every team spends millions on scouting college players. The next season, McBryan and Hale moved Evans to left tackle. For two straight years, Evans was a finalist for the Division II Gene Upshaw Offensive Player of the Year award and, all of the sudden, he was on the NFL's radar.
"The scouts were coming in and they all were giving me that stuff about us being 'just Division II,'" Hale said. "I just looked at them and said, 'He's throwing 300-pound guys around. I don't care if it's Division I or Division II, 300 pounds is 300 pounds.'"
The New Orleans Saints listened. They took Evans in the fourth round of the 2006 draft and moved him to guard. Partly because of injuries, he ended up being an instant starter.
You know the story from there because it's no longer hanging out in the middle of nowhere. Evans has started every game since he's been with the Saints. He has become a dominant force and scouts and coaches around the league will tell you he's on the verge of claiming the title as the league's best guard from
Minnesota Vikings
veteran
Steve Hutchinson
. The two teams will play in Sunday's NFC Championship Game.
Evans has been selected to the Pro Bowl and, as McBryan and the rest of his former coaches found out from their private phone calls, he made the All-Pro first team along with Hutchinson. While Evans is out of the woods and out of a tough inner city, he often returns to his home and alma mater.
He still goes back to Bloomsburg and runs a camp for high school offensive linemen every summer and, during his bye week, attended a Bloomsburg game and led the Huskies' chapel service. Evans also goes back to Philadelphia to visit his mother, who he insisted retire as soon as he signed his first NFL contract, and to stop by Frankford.
"He's talked to our students and he's an inspiration for all of them," said Frankford athletic director Jack Creighton, who was an assistant football coach when Evans played. "When the Frankford Chargers were going to the Pop Warner national championship, they were short on money. Jahri found out about it and he kicked in the money so they could go. He's just a neighborhood kid."
But Evans' neighborhood and playground have grown beyond anything he or anyone else ever could have imagined.
"Yeah, it's kind of funny the way it all has worked out," Evans said. "They say things happen for a reason and I guess this is one of those stories. Breaking my leg, having to go to a smaller school . . . it all makes sense now. It hurt and it wasn't always fun, but it was all perfect for me."