NFL Nation:

Pep Levingston
August, 26, 2012
8/26/12
5:17
PM ET
December, 12, 2011
12/12/11
7:13
PM ET
SEATTLE -- The
St. Louis Rams
' inactive list could favor the
Seattle Seahawks
' run defense.
The Rams will be without veteran defensive tackle
Fred Robbins
, who was questionable on the injury report and did not practice during the week. Robbins' absence means more playing time for
Darell Scott
and
Gary Gibson
.
Also inactive for the Rams: quarterback
A.J. Feeley
, quarterback
Tom Brandstater
, running back
Quinn Porter
, fullback
Brit Miller
, linebacker
Justin Cole
and guard
Kevin Hughes
.
Kellen Clemens
will serve as the backup quarterback to
Sam Bradford
.
For Seattle, linebacker
David Hawthorne
is active. The Seahawks' inactive list features quarterback
Josh Portis
, safety
Jeron Johnson
, cornerback
Kennard Cox
, linebacker
Adrian Moten
, guard
Mike Gibson
, guard
Paul Fanaika
and defensive tackle Pep Levingston.
December, 1, 2011
12/01/11
7:21
PM ET
SEATTLE -- The
Seattle Seahawks
will have middle linebacker
David Hawthorne
and cornerback
Richard Sherman
for their game against Philadelphia on Thursday night. Both players are active after missing practice time with injuries.
Inactive for Seattle: quarterback
Josh Portis
, safety
Jeron Johnson
, cornerback
Byron Maxwell
, linebacker
Adrian Moten
, tackle
Jarriel King
, tackle
Allen Barbre
and defensive lineman Pep Levingston.
Inactive for Philadelphia: quarterback
Michael Vick
, receiver
Jeremy Maclin
, cornerback
Dominique Rodgers-Cromartie
, tackle
King Dunlap
, guard
Julian Vandervelde
, defensive end
Phillip Hunt
and the recently signed
Greg Lloyd
.
Seattle has five wide receivers active despite placing
Sidney Rice
on injured reserve.
Deon Butler
, who suffered a career-threatening leg injury at San Francisco last season, is active for the first time this season.
Hawthorne's mobility will be a subject of interest in this game. Knee problems have bothered him at times during the season, including last week. The shortened week of recovery time could work against him.
September, 4, 2011
9/04/11
6:51
PM ET
Catching up with various moves around the edges of NFC West rosters Sunday:
Teams are also assembling practice squads. The 49ers
announced
adding seven players to theirs, all released by the team on the reduction to 53 players. I'll round up those additions once they become official.
August, 11, 2011
8/11/11
11:11
PM ET
Observations from the Seattle Seahawks 24-17 victory over the San Diego Chargers in a preseason game Thursday night:
Okung's status is the note that matters most stemming from this game. If Okung misses an extended period, the line will have a harder time against teams with strong right defensive ends (Seattle faces
Justin Smith
and the
San Francisco 49ers
on the road in Week 1). The team might also have to keep a tight end near the formation for blocking help.
August, 3, 2011
8/03/11
12:51
PM ET
RENTON, Wash. -- NFL training camps aren't what they used to be now that players have secured day-spa treatment from coaches under the new labor agreement.

Still, teams aren't practicing in slippers and robes ... yet.
Earl Thomas
, the
Seattle Seahawks
' second-year safety, did go through a recent practice -- make that a walk-through, just to be safe -- wearing a visor that also would have served him well standing over a Titleist. Several teammates wore ball caps.
None of this shocks the system for Seattle.
Coach Pete Carroll ran a player-friendly camp last year as well, giving the team full days off from practice. But the veterans who lauded Carroll's approach in 2010 aren't around to celebrate it this year. And therein lies the biggest difference for the Seahawks this summer.
For the first time since 2000, quarterback
Matt Hasselbeck
isn't around to offer the insights and asides that made him mandatory viewing at Seahawks camp. Middle linebacker
Lofa Tatupu
, leader of the defense since 2005, also is gone. Other veterans I polled during the inaugural Camp Carroll are also elsewhere --
Lawyer Milloy
,
T.J. Houshmandzadeh
and
Olindo Mare
among them.
This day has been coming for a while. The Seahawks are getting on with their lives, untethered from what came before.
THREE HOT ISSUES
[+] Enlarge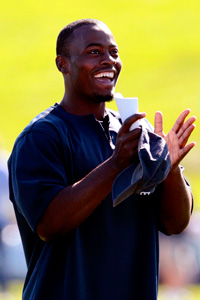 AP Photo/Elaine ThompsonTarvaris Jackson should be familiar with the Seahawks' offense since he spent five seasons with new coordinator Darrell Bevell.
1. Why Tarvaris Jackson?
The Seahawks decided it was time to move on from Hasselbeck before they had a long-term replacement lined up. Once that decision was made, the team targeted Jackson because he and the Seahawks' new offensive coordinator, Darrell Bevell, had spent five years together. Once Jackson was signed, Carroll wasted little time endorsing him as the starter. Three possible explanations come to mind. One, Jackson knew the offense. Two,
Charlie Whitehurst
hadn't asserted himself as a leader during offseason workouts when Hasselbeck was without a contract for 2011. Three, a quick endorsement gave Jackson a confidence boost following a rough run in Minnesota. There's a feeling that maybe, just maybe, Brad Childress did not give Jackson the best chance to succeed with the Vikings.
2. Who will lead the defense?
Tatupu's release following six seasons with the team leaves the defense in transition. Tatupu was instinctive and adept at getting teammates lined up properly. His play had deteriorated through injuries, but Tatupu had three Pro Bowls and a Super Bowl on his résumé. He was the defensive leader. Carroll pointed to linebacker
David Hawthorne
, pass-rusher
Chris Clemons
and defensive end
Red Bryant
as heirs. He named Thomas and strong safety
Kam Chancellor
as well. "I'm not worried about it," Carroll said. "There's a lot of very strong character kids on that side of the ball, particularly."
3. Does Whitehurst have a future?
It's tough to see him emerging in Seattle. The decision to go with Jackson even though rules prevented him from practicing right away said plenty about Whitehurst's status on the team. Whitehurst has been running the first-team offense while Jackson waits to become eligible under rules for players with new contracts. Everyone knows he's the backup even though there was never any competition. It's a tough situation for Whitehurst. Still, getting to work with the starters provided an opportunity to impress. It has not happened. Whitehurst's contract runs through the 2011 season. If Whitehurst doesn't show more as camp progresses, it's fair to wonder whether the team would consider bringing in a cheaper veteran.
BIGGEST SURPRISE
Signing Zach Miller in free agency.
Miller was on the Seahawks' radar when free agency opened. Assistant head coach/offensive line Tom Cable had high praise for Miller from their days together in Oakland. But the Seahawks never expected Miller to remain available so deep into the signing period. After a while, the Seahawks began to view Miller the way they would view a talented prospect falling to them in the draft. They felt compelled to pursue Miller with a strong offer. The Raiders made a push to keep Miller, but Seattle came through with a five-year, $34 million contract featuring $17 million in guarantees. Having Cable and former Raiders guard
Robert Gallery
in Seattle helped the Seahawks get this deal done. The team emerged from free agency with a 25-year-old Pro Bowl player.
BIGGEST DISAPPOINTMENT
Extending the lockout (sort of).
Carroll has bristled every day over the rules preventing newly signed players from practicing before Aug. 4, only one week before Seattle's exhibition opener at San Diego. Jackson,
Sidney Rice
and Gallery are among the key additions who were forbidden from participating in practices or even workouts with the team. The situation was tough for teams throughout the league, but Seattle felt challenged more than most because the team has undergone so much roster turnover. Seattle also has quite a few new coaches on the offensive side of the ball, including Bevell, Cable and quarterbacks coach Carl Smith. Going a week without getting key starters onto the field didn't make any sense from a football standpoint.
OBSERVATION DECK
[+] Enlarge

AP Photo/Elaine ThompsonRussell Okung has shown no signs of the injuries that nagged him last season.

The ankle injuries that slowed left tackle Russell Okung as a rookie last season haven't been a problem so far. Okung appears exceedingly smooth. He rides out defenders effectively during pass-rush drills, sometimes even driving them to the ground. He's a threat to flatten defenders in the running game. Another recent first-round pick on the line, James Carpenter, has made a positive first impression at right tackle early in camp. He's thick and massive. He plays with an edge. He's going to start in Week 1.

Rookie right guard John Moffitt projects as a starter, but he could need time to develop. That was my impression watching Moffitt in drills. Of course, it's not fair comparing Moffitt to Okung or Carpenter. Those guys were first-round picks. Moffitt was a third-rounder. Having youth on the line is a good thing overall. Getting the 31-year-old Gallery into the lineup is critical, however. Gallery has been serving as a coach on the field during practices. He knows Cable's blocking schemes and is already proving valuable as a resource. Durability is a concern for him.

Seattle is finished with the big-ticket purchases in free agency. The team could still add veterans at linebacker and kicker. The team lacks experience in the secondary as well. Marcus Trufant and Kelly Jennings are the only cornerbacks on the team with more than one start. Going young sounds great during the offseason, but throwing untested corners onto the field against veteran quarterbacks isn't very appealing when the games start counting. The Seahawks face Ben Roethlisberger, Matt Ryan and Eli Manning in the first five weeks of the regular season.

Strong safety Jeron Johnson and three linebackers -- Mike Morgan, K.J. Wright and Malcolm Smith -- are among the rookies impressing Seattle early in camp. Another rookie, safety Mark LeGree, is getting a chance to play safety when Thomas, the starter at free, shifts to cornerback against slot receivers. Carroll alluded to such an arrangement during the draft. One more rookie, Pep Levingston, has impressed in early one-on-one pass-rush drills. A defensive tackle at LSU, Levingston projects as an end with Seattle. He's leaner than I had anticipated, an advantage in pass-rush drills.

Seven of the 11 cornerbacks on the roster are at least 6 feet tall. Three are 5-foot-11 and one is 5-10. The biggest, Brandon Browner, goes 6-4 and 221 pounds. Impressive? Perhaps, but only three of the 11 have started an NFL game, and none of the three with starting experience stands taller than 5-11.

Size is a theme throughout the roster. Mike Williams, Rice and fellow receiver Kris Durham are at least 6-4.

The Seahawks might need to find more touches for Leon Washington if they hope to get sufficient return on their investment in him. New rules governing kickoffs figure to diminish the value of Washington and other top returners.

Seattle's front office trusted its coaches during free agency. Just about every free-agent addition has ties to a Seahawks staff member. Miller and Gallery played for Cable in Oakland. Jackson and Rice played for Bevell in Minnesota. Defensive tackle Alan Branch was an exception. Seattle added him after failing to land a defensive tackle in the draft. Ideally, Branch would be a backup. He could start for Seattle at three-technique, with Brandon Mebane moving to nose tackle. Branch will also back up Bryant at five-technique.

For the second year in a row under Carroll, the Seahawks are piping hip-hop beats and mixes into practices. A disc jockey stands behind two turntables near the front corner of the practices fields. "Halfway home and my pager still blowin' up, today I didn't even have to use my A.K. I got to say it was a good day ..." Hearing those lyrics from Ice Cube during a recent practice, I couldn't help but wonder what Chuck Knox would think of the arrangement. Did I mention times have changed in the NFL? Just a little.
May, 11, 2011
5/11/11
12:30
PM ET
The
Seattle Seahawks
were on the clock with the 99th overall choice in the 2011 NFL draft when the
Minnesota Vikings
called to inquire about a trade.
Coach Pete Carroll and general manager John Schneider had a decision to make. The team wanted to add more picks, so sliding back into the Vikings' spot at No. 106 carried some appeal. But the Seahawks had not addressed defense to that point in the draft, and Mississippi State outside linebacker
K.J. Wright
was a player they had been targeting.
Seattle decided to
stand pat at No. 99
.
"It is rare that you would find a linebacker with that much length (6-foot-4) and 4.6 speed,"
Carroll said after the draft
. "We need that flexibility."
[+] Enlarge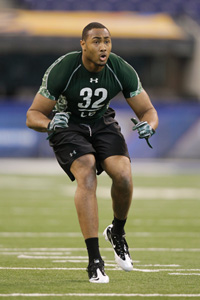 AP Photo/Michael ConroyK.J. Wright, who was drafted by the Seahawks with the No. 99 pick, was the last 4-3 strongside linebacker drafted.
This seemed a bit improbable. After all, teams selected 24 more linebackers over the remaining 155 selections. Surely one of them could have provided what the Seahawks wanted from Wright, right? Not necessarily. The more I studied those selections, the more I understood what Carroll was talking about. Wright was the fourth and final 4-3 strongside linebacker selected in the draft. All were gone among the top 100 selections.
The NFL has become so specialized, particularly on defense, that players are increasingly difficult to categorize. Seeking fresh perspective on the 2011 draft, I reclassified the 254 players chosen into 20 positional categories, based largely on how teams plan to use them. The process was imperfect because teams view players differently, and some players transcend easy categorization. But patterns that emerged were helpful in bringing the big picture into clearer focus.
Breaking down linebackers into five categories across 3-4 and 4-3 schemes was particularly helpful.
Teams selected one 4-3 strongside linebacker in each of the first four rounds, but none thereafter. They selected 12 4-3 weakside linebackers -- none in the first two rounds, five in the sixth and three in the seventh. That position carried less value relative to others based on when the players came off the board.
Nine of 11 4-3 defensive tackles went in the first three rounds, affirming how much teams value that position. Teams selected five 4-3 defensive ends in the first two rounds, then none until taking one in the fifth and four more in the seventh. Teams selected four five-technique defensive ends in the first round and one in the second, but none over the next four rounds.
I ultimately divided players into percentiles based on where they were selected in relation to other players from the same positional categories. Three NFC West players were the first players chosen at their specific positions. They were in the top percentile for their positions. Three, including Wright, were the last players chosen at their specific positions. They were in the bottom percentile.
The percentiles say nothing about whether individual players will succeed in the NFL. In some cases, players with lower percentiles probably carried more value at that moment in the draft based on how few prospects remained available at their positions.
Without categorizing players more specifically, we might not have any idea.
Overall, this draft featured 37 cornerbacks; 28 wide receivers; 24 running backs; 21 interior offensive linemen; 20 offensive tackles; 16 safeties; 13 tight ends; 12 quarterbacks; 12 4-3 weakside linebackers; 11 4-3 defensive tackles; 10 4-3 defensive ends; 10 3-4 outside linebackers; eight five-technique defensive ends; seven 3-4 inside linebackers; seven fullbacks; six 4-3 middle linebackers; four 4-3 strongside linebackers; four nose tackles; and two specialists. Two defensive linemen -- Kansas City's
Allen Bailey
and Baltimore's
Pernell McPhee
-- qualified as nickel pass-rushers.
And now, a look at all 35 NFC West draft choices, listed by how early they were drafted in relation to other players at their specific positions:
First quarter: 75th percentile and higher
Patrick Peterson
, CB,
Arizona Cardinals
: First of 37 cornerbacks selected
Aldon Smith
, OLB,
San Francisco 49ers
: First of 10 3-4 outside linebackers
Robert Quinn
, DE,
St. Louis Rams
: First of 10 4-3 defensive ends
Ryan Williams
, RB, Cardinals: Second of 24 running backs, putting him in the 91.7 percentile for the position (FBs excluded)
Lance Kendricks
, TE, Rams: Second of 13 tight ends (84.6)
James Carpenter
, T, Seattle Seahawks: Fourth of 20 offensive tackles (80.0)
Chris Culliver
, CB, 49ers: Eighth of 37 cornerbacks (78.4)
Rob Housler
, TE, Cardinals: Third of 13 tight ends (76.9)
John Moffitt
, G, Seahawks: Fifth of 21 interior offensive linemen (76.2)
Second quarter: 50th to 74th percentile
Anthony Sherman
, FB, Cardinals: Second of seven fullbacks (71.4)
Austin Pettis
, WR, Rams: Eighth of 28 wide receivers (71.4)
Kendall Hunter
, RB, 49ers: Tenth of 24 running backs (58.3)
Bruce Miller
, FB, 49ers: Third of seven fullbacks (57.1)
Kris Durham
, WR, Seahawks: 12th of 28 wide receivers (57.1)
Daniel Kilgore
, C, 49ers: 10th of 21 interior offensive linemen (52.4)
Sam Acho
, OLB, Cardinals: Fifth of 10 3-4 outside linebackers (50.0)
Colin Kaepernick
, QB, 49ers: Sixth of 12 quarterbacks (50.0)
Greg Salas
, WR, Rams: 14th of 28 wide receivers (50.0)
Third quarter: 25th to 49th percentile
Richard Sherman
, CB, Seahawks: 24th of 37 cornerbacks (35.1)
Mark LeGree
, S, Seahawks: 11th of 16 safeties (31.3)
Quan Sturdivant
, ILB, Cardinals: Fifth of seven 3-4 inside linebackers (28.6)
Byron Maxwell
, CB, Seahawks: 27th of 37 cornerbacks (27.0)
David Carter
, DE, Cardinals: Sixth of eight five-technique defensive ends (25.0)
Jermale Hines
, S, Rams: 12th of 16 safeties (25.0)
Fourth quarter: Zero to 24th percentile
Colin Jones
, S, 49ers: 13th of 16 safeties (18.8)
Jabara Williams
, LB, Rams: 10th of 12 4-3 weakside linebackers (16.7 )
Ronald Johnson
, WR, 49ers: 24th of 28 wide receivers (14.3)
Mikail Baker
, CB, Rams: 32nd of 37 cornerbacks (13.5)
Pep Levingston, DE, Seahawks: Seventh of eight five-technique defensive ends (12.5)
Mike Person
, C, 49ers: 19th of 21 interior offensive linemen (9.5)
Malcolm Smith
, LB, Seahawks. Eleventh of 12 4-3 weakside linebackers (8.3)
Jonathan Nelson
, S, Rams: 15th of 16 safeties (6.3)
K.J. Wright, LB, Seahawks: Fourth of four 4-3 strongside linebackers (0.0)
DeMarco Sampson
, WR, Cardinals: 28th of 28 wide receivers(0.0)
Curtis Holcomb
, CB, 49ers: 37th of 37 cornerbacks (0.0)