NFL Nation:

Pete Metzelaars
August, 12, 2010
8/12/10
12:09
PM ET
ESPN.com NFL Power Ranking
(pre-camp): 1
ANDERSON, Ind. -- They could have made a bid at an undefeated regular season and their hopes for a Super Bowl win were snuffed out by an onside kick and an untimely pick.
So it should concern the rest of the AFC South that the 2010
Indianapolis Colts
appear to be better than last year's version.
They get two high-quality players, who were injured for most of last year, back in safety
Bob Sanders
and receiver
Anthony Gonzalez
. The Colts added a third edge rusher and a blocking tight end in the draft.
"Coach [Jim] Caldwell wants us to be a consistent team and not one that plays really well one week and not one that goes into a slump the next couple of games and then comes back,"
Peyton Manning
said. "I think we have been pretty consistent. Our offseason work, our execution and our attention to detail in training camp make a difference.
"But what has happened in the past doesn't guarantee you anything for this 2010 season. We have some new players, new coaches and it is up to us to go out and form the identity of his team and to go out and try to win games this season."
THREE HOT ISSUES
[+] Enlarge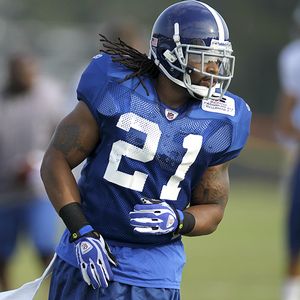 AP Photo/Darron CummingsBob Sanders doesn't plan on changing his style to avoid injuries. "It's a physical game," he said. "I make tackles."
1. Can Sanders stay on the field?
The thing that makes him so good is the same thing that makes him so injury prone. He throws himself around like a torpedo, and suffers the consequences. He's upbeat and happy right now to be spending his time on the field and with coaches and teammates instead of in the training room with medical staff.
"I don't think you can put yourself in less danger on the field," Sanders said when I asked if there was any way he could be less reckless to try to preserve himself. "We're football players so we're going to be physical. It's a physical game. I make tackles. You just never know what's going to happen. You just have to play your best, hope for the best, I pray and put it in God's hands and just try to do my job."
When he's out there, he'll be more creative than when we last saw him playing consistently. Second-year defensive coordinator Larry Coyer is much more willing to blitz than Ron Meeks was.
As good as
Melvin Bullitt
's been as Sanders' replacement, Sanders is a game-altering presence when he's out there. Sanders is making plays in camp. If he's out there, the Colts' defense could be fantastic.
2. Will offensive line changes amount to an upgrade?
Left guard
Ryan Lilja
was let go, so at least one spot will be filled by someone new.
Tony Ugoh
looked like the early choice, but he's been pulled back to tackle to work for the injured
Charlie Johnson
, so
Jamey Richard
is in play. Richard might shift to center while
Jeff Saturday
recovers from a knee scope, which could open the door for rookie
Jacques McClendon
, if he's healthy, or someone like
Jaimie Thomas
.
The talent pool now includes McClendon and tackle
Adam Terry
, but there was no overhaul. Pass protection combined with Manning's ability to get the ball out quick meant few sacks, but the team needs to run better for balance. Short-yardage bugaboos have been a factor in season-ending losses the past two years.
New offensive line coach Pete Metzelaars has a chance to make minor alterations that could have a bearing, and a quality-blocking tight end like
Brody Eldridge
could even help revive the once bread-and-butter stretch play.
[+] Enlarge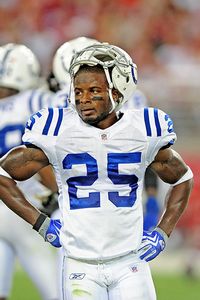 Mark J. Rebilas/US PresswireSecond-year cornerback Jerraud Powers had 66 tackles, a forced fumble and an interception during his rookie season.
3. Will secondary depth hold up?
Bill Polian purged the roster of some injury-prone corners, then saw third-round pick
Kevin Thomas
go down shortly after the draft with a serious knee injury.
Kelvin Hayden
,
Jerraud Powers
and
Jacob Lacey
should be a fine top three, but if one gets hurt,
Deshea Townsend
or
Marcus McCauley
, who were available recently, could be the next option.
If the Colts have to go that deep down the depth chart, their pass rush will be even more vital. But how many teams would love for the fourth cornerback to be a primary issue heading into a season?
BIGGEST SURPRISE
It's hard to find them with a very low-key team that drafts and grooms the bulk of its players. Polian's harped on short-yardage failures, but then the team didn't add a sure fire starter to the line with
Andy Alleman
(already gone), Terry and McClendon.
BIGGEST DISAPPOINTMENT
Before the Colts could start to sort things out, injuries dictated they move offensive linemen around. Saturday is out 2-6 weeks after a knee scope, and Johnson and McClendon are sidelined. It would have been nice to see Metzelaars have a full deck for a long stretch in order to best hold competitions and compare and contrast players. The sooner they resolve the lineup and start to build cohesion, the better. Now it's probably going to be later than would be ideal.
OBSERVATION DECK
[+] Enlarge

AP Photo/Darron CummingsExpect more surprises out of Larry Coyer's defense this season.

In Year 2 of Coyer's tenure as defensive coordinator, I expect the Colts will be more exotic with an occasional surprise look or package -- perhaps most often utilizing their depth at safety where Sanders, Antoine Bethea and Bullitt make for three starting-caliber players.

While the defensive line shows fantastic speed and strength, Mitch King looked the least smooth during the drill in which linemen weave through blocking dummies, turn a corner and try to strip a quarterback. For those excited about him, an adjusted timetable might be advisable.

As the punter and kickoff man, Pat McAfee is electric. But teams in the market for a kickoff specialist might want to keep an eye on Garrett Lindholm, who looks like he can regularly put the ball in the end zone.

Powers carries himself exceptionally well. During a break in one practice, as most guys went to the cool-down tent or took themselves out of football mentality for a minute, he picked the brain of Reggie Wayne. Powers already has become a media favorite, too.

Manning could make good money if his only job was to put on clinics about how to best loft red-zone passes to the pylons in the back corners of the end zones.

Joseph Addai knows what he's doing on every play, and Donald Brown is smart enough to follow his lead, though Brown doesn't shine in pass protection one-on-ones versus linebackers. The Colts will be just fine if the line can block for the runners, and maybe even if it can't. Brown's had more than a year to get pass protections down. If that keeps him off the field any this year, it's no one's fault but his.

Better didn't mean great for the interior defensive line in 2009. Daniel Muir and Antonio Johnson continue to improve, and Fili Moala will make for a third 300-pounder in there. He appears to be comfortable and ready to contribute.

The Colts haven't emphasized the return game and, at times, it's felt almost like they de-emphasized it. But undrafted rookie Brandon James is a miniature speedster who is in position to win at least the punt-return job. He could give Manning and the offense a short field once in a while.

John Chick, who joined the Colts from the Canadian Football League, could win the fourth defensive end spot if he shows a good learning curve and durability.
July, 29, 2010
7/29/10
11:08
AM ET
We see teams go first-to-worst or worst-to-first all the time in the NFL -- except in the AFC South, where the Colts have won the division crown in six of eight chances since realignment and have won 12 games or more seven years running.
Indianapolis' successes, and its four-time MVP quarterback, make it hard to predict a dramatic, upside-down season in the division.
The question is more about who can close the gap on Manning and the Colts; how the Texans, Titans and Jaguars stack up; and if one of them can find a door into the playoffs as a wild card.
The Texans and Jaguars begin their push with camp practices Friday. The Titans open Saturday, and the Colts are on the field Monday.
FOUR BIG QUESTIONS
[+] Enlarge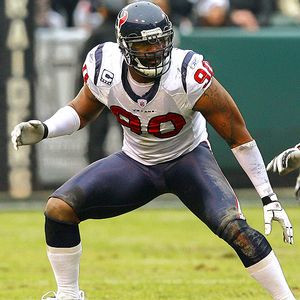 Kevin Terrell/Getty ImagesMario Williams has 35 sacks the past three seasons.
Houston Texans: How does the defense better defend the pass?
Veteran corner
Dunta Robinson
is gone, first-round pick
Kareem Jackson
is in as the team's top corner. Is a secondary of Jackson and
Glover Quin
at corner,
Eugene Wilson
at free safety and
Bernard Pollard
at strong safety enough to slow down opposing offenses? Not without two other major developments.
The defensive front must apply more consistent and effective pass pressure. A monster season from
Mario Williams
, a big second year from
Connor Barwin
and more toughness from
Amobi Okoye
could do the trick. Okoye in particular needs a big camp or he could lose reps to rookie
Earl Mitchell
.
Matt Schaub
and
Andre Johnson
and a better run game could help a great deal, too -- if Houston is able to put up big points, some opponents won't be able to take advantage of that secondary enough to keep up.
Indianapolis Colts: How do the receivers shake out?
If
Anthony Gonzalez
is healthy and back to form, the Colts could be stacked at receiver. Provided
Pierre Garcon
and
Austin Collie
can build on what they did with Gonzalez out for all but the first game last season, the Colts should be four-deep at receiver with those three behind
Reggie Wayne
. With Wayne leading the way and tight end
Dallas Clark
also coming off a 100-reception season,
Peyton Manning
could have his best group of pass-catchers ever.
I think if everyone is healthy, everyone will get chances. Perhaps certain games and certain matchups will call for certain guys to be used more. But I can't see Gonzalez, Garcon or Collie with a significantly minimized role unless one of them plays his way to the bench or is injured.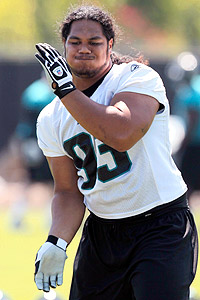 AP Photo/John RaouxTyson Alualu was the first of four defensive linemen the Jaguars drafted in 2010.
Jacksonville Jaguars: How will the defensive line rotation develop?
New line coach
Joe Cullen will want his best guys on the field the most, but he's also going to have to get them some rest so they can play fresh. Presuming
Aaron Kampman
and
Derrick Harvey
start at end and
Terrance Knighton
and
Tyson Alualu
start at tackle, who will be the guys behind them that ensure minimal drop-off?
Rookie ends
Larry Hart
and
Austen Lane
and rookie tackle
D'Anthony Smith
will all have opportunities as the Jaguars try to get to the quarterback a lot more often a year after collecting just 14 sacks. If the rush is better, watch the linebackers and secondary become better, too.
Tennessee Titans: Have the Titans cured their return game woes?
Things were so bad a year ago that when the Titans found guys who could fair catch punts while backing inside the 10-yard line it was considered a moral victory. Coach Jeff Fisher considers himself a return expert because of his own experience as a player. To his credit, he confessed he botched it last year by being overly reliant on unproven rookies. The solution? The Titans hope it's unproven rookie
Damian Williams
, a third-round receiver out of USC.
If he's muffing punts and kicks in camp, we should also see rookie
Marc Mariani
fielding punts, and we could see
Kenny Britt
back to fetching kickoffs. Merely being able to avoid mistakes shouldn't be good enough. The Titans should expect to make plays in the return games.
HOTTEST SEATS
Colts: Offensive line coach Pete Metzelaars:
He's got the confidence and full backing of president Bill Polian and coach Jim Caldwell. But replacing legendary coach Howard Mudd is a large charge. And it's widely held that the group he's working with isn't composed of great run-blockers and benefits a great deal in the passing game from Manning's propensity for getting the ball out quickly. During summer workouts, players said that Metzelaars had already tinkered with
some technique
and re-energized the group.
[+] Enlarge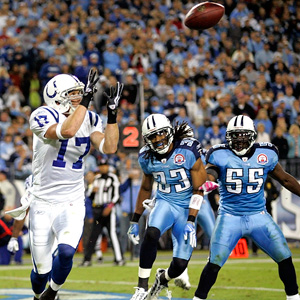 AP Photo/Wade PayneA Pro Bowler in 2008, Michael Griffin had a subpar season in 2009.
Jaguars: David Garrard.
Jacksonville's quarterback is 32 years old, and while his term as a starter began relatively late, he's at a point where a lot of people give him the underwhelming description of "he is what he is." If things unfold according to how a play is drawn up, he can be good. But things rarely unfold like that. He can be too inaccurate and doesn't execute in the clutch often enough. Good season or not, the Jaguars are expected to look to draft a first-round quarterback in 2011.
Texans: Kareem Jackson.
You hate to be overly reliant on a rookie, but the Texans have put themselves in that spot. First-rounder Jackson has to be able to cover tightly and find the ball if Houston stands a chance to so much as split with the Colts while Manning is dropping back and looking into the Texans' secondary. They could have eased the pressure on their new No. 1 corner with an option beyond Eugene Wilson at free safety, but failed to address the position at all.
Titans: Michael Griffin.
Tennessee is counting on a lot of young guys who are taking on bigger roles to be productive. But even if they are all good, it may not matter if Griffin, a Pro Bowl safety in his second season, plays as poorly as he did in his third. Distracted by off-the-field personal issues, he bit on play-action, took terrible angles and missed tackles he has to make while the Titans' pass defense fell apart. That won't work with two games against Manning, two against Matt Schaub and matchups against
Eli Manning
,
Tony Romo
,
Philip Rivers
and
Donovan McNabb
.
[+] Enlarge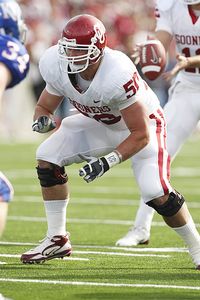 WD/Icon SMIThe Colts are hoping fifth-round pick Brody Eldridge can make a difference in the running game.
SECRET WEAPON
Colts TE Brody Eldridge.
The Colts did not make a major addition to their offensive line mix after Bill Polian called the group out for its Super Bowl performance. The stretch play, once a staple of their run game, has largely disappeared without edge blockers who can lead it effectively. But fifth-round pick Eldridge can be a big influence in this department. Expect him to displace
Gijon Robinson
. And watch him work effectively as a pass-catcher as well.
INTERIOR DESIGNS
All four AFC South teams could
look different
on the interior offensive line on opening day. The Colts are looking at busted left tackle
Tony Ugoh
as a guard. The Jaguars brought in
Justin Smiley
, could be finished with aging
Brad Meester
and haven't been wild about
Vince Manuwai
's play since he returned from a 2008 knee injury. The Texans added veteran
Wade Smith
and would like second-year man
Antoine Caldwell
to seize a spot. Those three lines need sorting out.
The Titans, who had a 2,000-yard rusher and gave up only 15 sacks, have also made changes, shifting left guard
Eugene Amano
to center to replace
Kevin Mawae
, an unsigned free agent, while inserting
Leroy Harris
in Amano's old spot.
It's possible all four teams run better up the middle and shield their signal-callers from the inside rush better than they did a year ago.
June, 7, 2010
6/07/10
1:21
PM ET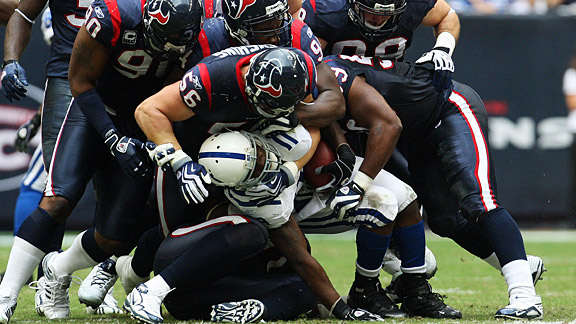 Matthew Emmons/US PresswireConverting more consistently on third-and-short is one area the Colts hope to improve upon in 2010.
INDIANAPOLIS -- We dig and scrap to find issues with a team that was a league best 14-2 and went to the Super Bowl a season ago.
And we often end up hitting on third-and-short offense.
It's not that the
Indianapolis Colts
were bad in such situations. They converted overall third downs at a league-best clip of 49.2 percent.
Still, in a couple of big situations in the past two postseasons -- the end of
a loss in San Diego
two seasons ago and the end of the first half of Super Bowl XLIV -- failures on third-and-short had a big bearing.
"You get that first down, it's probably never spoken about," center
Jeff Saturday
said. "… A lot of [third-and-one] is you've got nine and 10 guys in the box, you have a single safety back behind it, your corners are up either in press or man-to-man. You have a lot of players up in there filling gaps.
"We're a one-back offense so we don't have somebody really leading through. So if you don't get a clean block or they are blitzing and somebody steps in the gap, it's tough to always get it. It's a definite mindset. We actually did improve last year compared to the year before. But those are the things, when 10 guys are in the box, there are 2 minutes left on the clock and you can run it and eat up their last timeout, that's what you've got to get done.
"… Anytime you're extending drives with runs, you're solving a lot of people's problems."
Three factors are at play as the Colts look to improve at clutch conversions:
May, 27, 2010
5/27/10
4:06
PM ET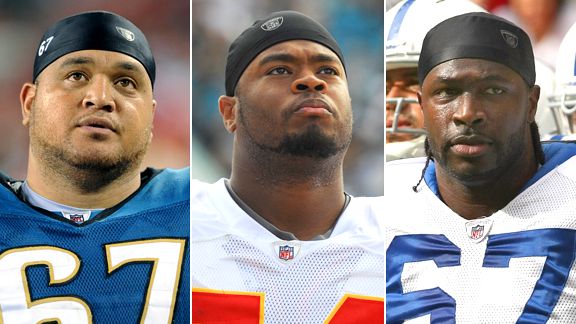 Getty ImagesVeteran offensive linemen Vince Manuwai, Wade Smith and Tony Ugoh are expected to take on different roles or positions this season.
Be it running up the middle or stifling pass-rushers coming that way, the AFC South's looking for change on interior offensive lines heading toward the 2010 season.
The
Tennessee Titans
, who blocked for just the sixth 2,000-yard rusher in league history, have made an alteration. The
Indianapolis Colts
, the defending AFC champs who allowed a league-low 13 sacks, are auditioning interior candidates. The
Houston Texans
and
Jacksonville Jaguars
both identified the interior line as an area in need of improvement, too.
Yet of 32 draft picks by the four teams, just two were used on offensive linemen -- a fourth-rounder by the Colts for guard
Jacques McClendon
and a sixth-rounder by the Texans for guard
Shelley Smith
. And only three veteran additions seem like they can influence the mixes --
Justin Smiley
in Jacksonville,
Wade Smith
in Houston and
Andy Alleman
in Indianapolis.
Said Matt Williamson of Scouts Inc.: "Didn't
anyone
in this division address the interior offensive line during the draft with any pick of substance? That seems odd."
So here's a team-by-team look at what's going on inside, with some thoughts from Williamson:
Jacksonville
The Jaguars appear willing to have true competitions to hash things out.
Last year's interior trio of left guard
Vince Manuwai
, center
Brad Meester
and right guard
Uche Nwaneri
is back. But the team is willing to shuffle, and at least two others are in play now as well -- Smiley, a guard acquired recently from Miami in a trade for an undisclosed draft pick believed to be a conditional seventh, and
Kynan Forney
, a backup guard last year.
At minicamp the weekend following the draft, Jags head coach Jack Del Rio and offensive line coach Andy Heck had flipped Manuwai to the right side, figuring he and right tackle
Eben Britton
are the team's best run-blockers. With the aid of tight end
Marcedes Lewis
and fullback
Greg Jones
, the Jaguars could send
Maurice Jones-Drew
that direction and dare people to stop it.
But at organized team activities (OTAs) this week, Manuwai wasn't working with the starters and Del Rio was talking about how the torn ACL the guard suffered back in the season opener of 2008 was still a factor for him.
"I think he's still a little bothered by that but at some point you've got to get beyond that and go and he knows that," Del Rio said. "I think Vinny still has a ways to go. I think Vinny's working at it. He's got his weight down. He's trying but he needs to play better. I think he knows that. He's working hard it and trying …
"We clearly [come] out of last year saying, 'Look, we've got to have better play with our line, period,' and our two young tackles [
Eugene Monroe
and Britton] we know are going to grow and get better but our interior line needs to pick it up as well. And they are working at it and they are challenging and competing and we expect them to play at a much higher level for us."
I honestly think it's wide open, but I'd be very surprised if Manuwai, who can be a very effective run-blocker, isn't in the starting lineup for the opener against Denver.
Williamson says
: "Adding Smiley could pay dividends, as this offensive line (especially on the interior) really was a problem area last year. Their protection up the gut was really poor. While I have some real doubts any more about Meester, I do like Manuwai quite a bit and expect more from him this year."
Houston
The Texans' run troubles were in large part because of their backs. But they lost guards
Chester Pitts
and
Mike Brisiel
early and it's a tough order for any team to replace 40 percent of its line and keep plugging.
Steve Slaton
had a miserable year as he tried to deal with a neck injury, couldn't hold onto the ball and wound up on injured reserve.
Pitts is a free agent who won't be back and Brisiel has been working as a backup so far in OTAs. The team's lined up with
Kasey Studdard
at left guard,
Chris Myers
and at center and
Antoine Caldwell
at right guard. But Smith's been rotated in some early at center.
With offensive line guru Alex Gibbs gone, the team will still be using his principles. But the three remaining coaches who oversee the position -- John Benton, Frank Pollack and Bruce Matthews -- may have fresher eyes and a willingness to shuffle. And odds are it's second-round pick
Ben Tate
getting many of the carries behind that line.
We should see some real competition for all three slots. I've repeatedly hear good things about Myers. And because Caldwell was a third-rounder, I expect the team would probably like to see him stake a claim.
Gary Kubiak said Studdard and Caldwell have earned the right to say they are starters "right now."
"We are as competitive in there as we've ever been as a team," Kubiak said. "It's going to be hard to hold a job, and it's going to be very competitive to get one. So that makes the team better."
Williamson says:
"I thought Myers played real well and he is an excellent fit in this system. Their interior offensive line is loaded with no-name guys, but overall they are well coached and effective enough. Still, an upgrade at one of the starting guard spots would have been a real nice addition. … Smith is an ideal sixth guy, but not a liability as a starter."
Indianapolis
The Colts paid him a bonus, but still cut
Ryan Lilja
who seemed pretty effective to me at left guard last season. Team officials have worked hard to deflect the idea the Colts made the move because they want to be bigger on the line. But it's a sensible time for a change with Pete Metzelaars taking over for Howard Mudd as line coach and the team looking to be more effective in clutch third-and-short situations and the like.
Tony Ugoh
, who lost out at left tackle, has worked at left guard in recent offseason practice sessions.
Jeff Saturday
is entrenched as
Peyton Manning
's guy at center.
Kyle DeVan
is the incumbent right guard, who came out of nowhere last season.
Presuming no other tackles are shifted inside and that left tackle remains
Charlie Johnson
's job, Ugoh and DeVan face their competition from Alleman, McClendon and 2008 second-rounder
Mike Pollak
.
Bill Polian has talked about throwing everybody out there and seeing what happens. With a new position coach, the fight for roles may not start with any true favorites. While they have to continue to favor pass blocking above all else, I do think it's in their best interest to be a bit more determined to be able to call for and execute runs in key situations with more success.
Williamson says:
"Saturday is obviously the leader and his symbiotic relationship with Peyton carries a ton of weight. He is smart and very technically sound. I do think his game is falling off ever so slightly though. I was shocked that they let Lilja go and thought he was far and away their best guard. Now, they really need to count on youngsters and those youngsters still have a lot to prove."
Tennessee
[+] Enlarge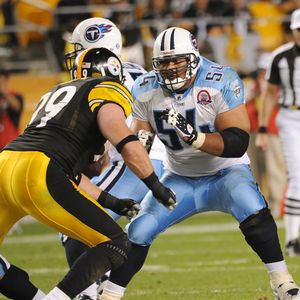 George Gojkovich/Getty ImagesEugene Amano will be taking over at center for Kevin Mawae.
The Titans had the least concern here as they considered their roster, but with
Kevin Mawae
getting older and
Leroy Harris
on the bench and ready to play, they decided to go with youth and size. So last year's left guard,
Eugene Amano,
is replacing Mawae at center, with Harris taking over at left guard.
Tennessee loses leadership and experience in the equation, but gains significant strength. Harris is very much an interior guy, but he's athletic and smart enough that he played effectively at right tackle in a win at San Francisco last season.
A Hall of Famer as a player, line coach Mike Munchak knows when a guy is ready, and he's fully endorsed this plan or the Titans wouldn't be going with it. Whether
Chris Johnson
or someone like
LeGarrette Blount
is running up the middle, I think they'll find a bit more daylight. And
Vince Young
should feel less inside rush closing in on him.
Williamson says:
"You have to wonder how much Mawae will be missed. It isn't that he played great -- and clearly he isn't what he once was -- but just from the standpoint of making the calls and especially from a leadership perspective. So, this interior line is in transition. Right guard
Jake Scott
probably hasn't quite lived up to what Tennessee was expecting to get from him when they signed him in free agency, but he is a quality starting guard. I think Harris has a good amount of ability and could surprise with more playing time."
May, 11, 2010
5/11/10
1:00
PM ET
»
NFC Big Question
:
East
|
West
|
North
|
South
»
AFC
:
East
|
West
|
North
|
South
What will the Colts' offensive line look like in 2010?
Straight answer: We don't know and only can speculate. There will be a new left guard, as
Ryan Lilja
was let go. Beyond that…
[+] Enlarge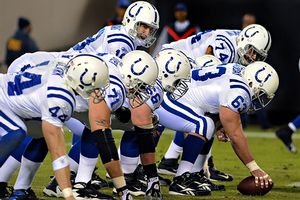 Al Messerschmidt/Getty ImagesThe Colts will be missing at least one member of their 2009 offensive line.
The team has added three players: sixth-year tackle
Adam Terry
, fourth-year guard
Andy Alleman
and fourth-round draft pick
Jacques McClendon
. They also added three undrafted tackles (one who was on the practice squads in Cincinnati, San Diego and Philadelphia last season) and an undrafted guard.
Team president Bill Polian recently said the intent is to toss all 15 offensive linemen on the roster into the OTA, minicamp and training camp mix and see what shakes out. That leaves a lot of room for a lot of scenarios including a tackle like
Charlie Johnson
kicking inside.
It's my feeling that of the four remaining incumbents, only center
Jeff Saturday
is a lock to return in the spot he was in last season. But I also wouldn't be at all surprised if all four -- Johnson at left tackle, Saturday at center,
Kyle DeVan
at right guard,
Ryan Diem
at right tackle -- were in place on opening day in Houston, with only Lilja's replacement a newcomer. The group, after all, was good enough to get the Colts to a second Super Bowl in four years.
Pass protection is going to remain priority one with
Peyton Manning
taking the snaps, but more effective run blocking in some crucial scenarios is a factor that can help the Colts.
They need to lock in a left tackle and go from there. Charlie Johnson could remain in the spot, though some think he's best as the sixth man who can fill in for a few games here and there at tackle or guard.
Tony Ugoh
needs to make his claim to the job now, and could get a clean slate with Pete Metzelaars taking over for longtime offensive line coach Howard Mudd.
A scout from another team told me recently that he thought Polian wanted to see Ugoh developed at the spot while the decisive Mudd had determined Ugoh couldn't be effective enough for the Colts last year. We'll likely never know if that's the case, thought the results of the competitions could give us some degree of information.
Whoever the tackles are, they and the run game should get a boost from
Brody Eldridge
. He's the big blocking tight end the Colts drafted in the fifth round out of Oklahoma. He's not going to hurt the Colts while getting in the way of an extra pass rusher either.
May, 5, 2010
5/05/10
1:58
PM ET
In honor of
Tim Graham's idea
to honor Cinco de Mayo with five random thoughts, here are five random thoughts on the AFC South:
1) I wonder how much Pete Metzelaars will carry over Howard Mudd's thinking about offensive linemen, and how much he will stray from it. Mudd was way down on
Tony Ugoh
, who may get a whole new second chance after Mudd's retirement. Metzelaars replaces a legendary assistant, but is going to have leeway to put his stamp on things. Four of five incumbent starters are back, but I feel like only one is absolutely assured of being in the same spot: center
Jeff Saturday
.
2) There are a lot of great Twitter guys in the AFC South rookie classes, but I think the Texans'
Ben Tate
(
@BenTateRB
) is the early leader for his combination of quality and quantity. He's shown confidence and a lot of respect at the same time in what I've read, reaching out to several NFL guys to introduce himself or connect. If he's the productive running back the team expects, adding his personality to that is going to make him very popular in Houston very quickly.
[+] Enlarge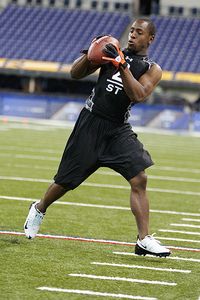 AP Photo/Michael ConroyThe Texans are hoping that pint-sized speedster Trindon Holliday can spark their return game.
3) The ability of the Texans, Titans and Jaguars to close the gap on the Colts could come from new special-teams sparks. I'm anxious to see
Trindon Holliday
,
Damian Williams
and
Scotty McGee
at work. The Colts downplayed their own attempts to address the return spots, by
Ray Fisher
may be an answer. How those four stack up comparatively could have a correlation to the standings.
4) Titans sixth-round quarterback
Rusty Smith
could create a lot of buzz in training camp. He's the fourth guy now, but will wind up third unless he implodes. I saw him in a very limited window at a small, all-rookie practice. But between that and what the Titans have said about him, I expect people who love a drop back, pocket passer with a big arm (I admit I do) are going to fall in love with him. And if or when
Vince Young
struggles, a faction will emerge that prematurely asks about Smith's potential to get on the field.
5) Pot Roast's backside is a concern. Jaguars defensive tackle
Terrance Knighton
had an impressive rookie year and can really stop the run. He's hard to move, but also has to be able to move. And his backside was huge at Jaguars' minicamp last weekend. He's listed at 325. I think they'd like him to be 325. I feel certain he's well above 325.
March, 15, 2010
3/15/10
9:25
AM ET
At 6-foot-8 and 335 pounds,
Adam Terry
is a giant.
The Colts'
new tackle
is two inches taller and 15 pounds heavier than any Colts offensive lineman from 2009.
At 6-4 and, 310,
Andy Alleman
qualifies as a big guard.
Clearly Indy's push to get bigger on the offensive line is underway. And adding two low-cost players when they cannot bring in any true unrestricted free agents because of the
final eight rule
is a good start.
But while they may be altering their philosophy on size, we don't yet know if they are changing their philosophy on value. These two acquisitions are underachieving players who were set to be restricted free agents and weren't rated as tender worthy by Baltimore or Kansas City, respectively.
Pete Metzelaars is expected to be promoted to take the place of the retired Howard Mudd, with Ron Prince added to the staff to also work with the offensive line.
Terry and Alleman have to rate as projects for them -- and this is a team with a good history of plugging in players like this and getting a lot more out of them than other teams could or would.
The Colts need a return man, though there is no assurance based on his history that Bill Polian will draft one. They need to replenish their depth at cornerback. But offensive line is their biggest need, as they look to replace the released left guard
Ryan Lilja
and upgrade from left tackle
Charlie Johnson
and right guard
Kyle DeVan
.
Terry and Alleman give the Colts some bigger options in the mix.
If they are going in that direction, I'd expect they'll be joined by a bigger draft pick or two.
February, 17, 2010
2/17/10
12:00
PM ET
»
NFC Draft Watch
:
East
|
West
|
North
|
South
»
AFC
:
East
|
West
|
North
|
South
Each Wednesday leading up to the NFL draft (April 22-24), the ESPN.com blog network will take a division-by-division look at key aspects of the draft. Today's topic: biggest team needs.

Houston Texans
A potent offense might be one player away from diversifying in a huge way. The Texans need a bigger running back who has third-down/short-yardage/goal-line vision and skill. By pairing that player with
Steve Slaton
, the Texans could build a run game that sufficiently supplements the pass attack.
Interior offensive line depth is an issue too, but the other big issues are on defense. Free safety and defensive tackle have been issues for too long and corner depth is a concern that turns into an outright need if
Dunta Robinson
isn't retained.

Indianapolis Colts
The Colts need options on the offensive line, where they are loaded with smart guys but need to have more of a physical presence to ensure they can move people in the run game for a crucial third-and-short. With Howard Mudd retiring as position coach and Pete Metzelaars expected to take over, the Colts will do well to increase the quality options.
It runs counter to how they've operated, but because they should be deep at receiver and corner if they are healthy, a return specialist could provide a great boost. Depth at defensive end also rates worth a mention.

Jacksonville Jaguars
The Jaguars could add people anywhere but offensive tackle, and that's only because they addressed that position with their top two picks last year in GM Gene Smith's first draft. Pass-rushers are a giant priority -- if they can hurry the quarterback more often, the backers and secondary will improve.
Interior offensive line and safety are issues too, but everything is trumped by quarterback. The Jaguars have acknowledged that David Garrard's not elite, and you'll find an elite quarterback or a young guy with a chance to be one on every team from the 2009 playoffs.

Tennessee Titans
Because the Titans have more free agents than anyone else in the division, their needs could change based on who they retain. But no matter who they might re-sign, they've got to get younger on defense and need help at cornerback, defensive end and linebacker.
The return games are major concerns, and they'd be well served to spend a value pick to address it rather than presuming someone will emerge from a field of midrange picks. (How did that work out last season?) They'll also probably need an interior offensive lineman and could look to add a quarterback to develop.
February, 9, 2010
2/09/10
9:58
AM ET
When the Colts were ousted from the 2008 playoffs, their inability to convert
a third-and-short
was the root cause. Had they converted it in San Diego, they could have iced the game and advanced.
[+] Enlarge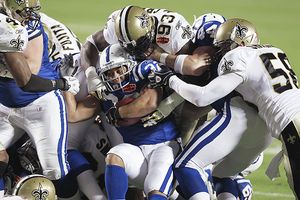 AP Photo/Lynne SladkyFormer Michigan RB Mike Hart, here playing in the Super Bowl for the Colts, reached a point where he felt he was playing just for a check.
Super Bowl XLIV included a similar play, though not at such a crucial or obvious time.
Superb in the last two minutes of the first half all season, the Colts went a little conservative -- uncharacteristically -- on Sunday night.
On a third-and-1 from their own 10-yard line, they ran
Mike Hart
up the middle for no gain and punted. The Saints managed a field goal before the half, cutting Indy's lead at intermission to 10-6.
Bill Polian ranked the failed run conversion with the onside kick as the moments that turned the game.
"The onside kick was the turning point, and along with that, not being able to get a yard on third-and-1 is what really cost us. Polian
told Peter King
. "Those were two plays in our control, and we didn't make them. Today, they were the better team. They deserved to win.''
Two years, two third-and-shorts, two failed conversions.
This leads to a somewhat obvious conclusion:
As the Howard Mudd era ends, the Colts need to rethink their offensive line approach as Pete Metzelaars takes over as the line coach. Smart pass protectors will still be at a premium, but there needs to be more physical play, particularly on the edges.
Charlie Johnson
did admirable work as the left tackle once the team gave up on
Tony Ugoh
, and
Ryan Diem
is a solid guy and quality player at right tackle, but could the Colts upgrade?
The need to draft offensive linemen, allow for training camp competition and be better at the run efficiency they like to talk about.
Joseph Addai
showed in the Super Bowl he can still run quite well.
Donald Brown
is promising.
In 2010, when the Colts face the crucial third-and-short, they've got to convert it.
February, 2, 2010
2/02/10
7:13
PM ET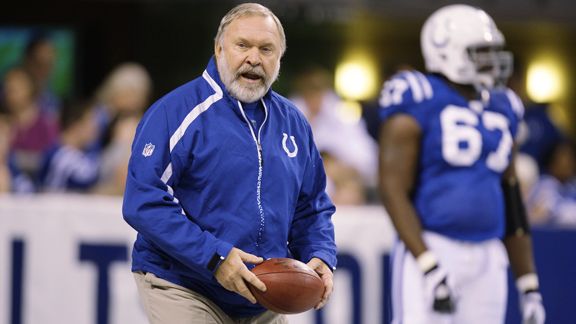 AP Photo/Michael ConroyOffensive line coach Howard Mudd's last game in a 40-year career will be Sunday's Super Bowl XLIV.
MIAMI -- Here's Howard Mudd's plan: After the Super Bowl, he'll go back to Indianapolis, then spend some time in Arizona.
And the next time he reviews film, it won't be from the coaches' tape of Super Bowl XLIV on Feb. 7 against the
New Orleans Saints
. Instead, it will be from the long-lensed Nikon camera that's hung around his neck for the last week of his NFL career.
Mudd snapped a picture as he walked off the
Indianapolis Colts
' plane Monday and more at Tuesday morning's annual media circus.
"In case it turns out to be a nice picture to remember the event itself," he said. "It is the last one, but it's also a big deal. At the media day [of Super Bowl XLI] I had my wife's camera and I had it on video and it was supposed to be on still, I screwed it up some."
The Colts' storied offensive line coach will call it a 40-year career as a player and coach after Super Bowl XLIV. Unlike many grizzled veterans before him, he'll be free from temptation to return.
Pete Metzelaars
, the heir who will replace him for the Colts, knows things will never be the same.
"I think they'll be a little softer," linebacker
Gary Brackett
said. "I don't think anyone is as hard as nails as Howard, that's really old-school coaching at its finest. I guess he played a while in this league and was a very tough, aggressive lineman. And that's exactly what he does for his linemen."
[+] Enlarge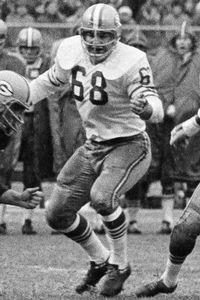 AP PhotoAs a player from 1964 to 1970, Mudd found innovative ways to slow down pass rushers.
Mudd played as a lineman for the
San Francisco 49ers
and
Chicago Bears
from 1964-71. He has coached in the league since 1977 for San Francisco, Seattle, Cleveland, Kansas City and, since 1998, Indianapolis.
That happened to be the year the Colts spent the No. 1 pick in the draft on
Peyton Manning
. Mudd said he's pleased to have played any small part in the career of the quarterback, a player his unit has made sure is rarely on the ground. (Ryan McCrystal of ESPN Stats & Information tells me that since sacks became an official stat in 1982, no one has endured more sacks than former
Denver Broncos
quarterback
John Elway
with 516. At his current pace, Manning -- who has suffered 215 sacks in 196 games -- would break that record at some point during his 29th season in the league, just before his 50th birthday.)
While he might appear gruff, Mudd can be a sweetheart. He's a motorcycle aficionado. Mudd wants nothing more in retirement than to dote on his grandchildren in the Seattle area, get more fit and ride, wet roads be damned. Maybe he'll get better with that camera, too.
Over the years, his lines have worked to fend off some pretty good pass rushes from division rival Tennessee. As a result of those matchups, he forged a friendship with Titans defensive line coach Jim Washburn.
The friends rode their motorcycles together
through Africa
last summer.
Washburn raved about Mudd's inventiveness as a player, when he figured out ways to slow down the likes of Hall Of Famer Merlin Olsen despite being overmatched. Basically, Mudd said, his ploys were spin moves or unconventional routes to regain position and sometimes pushes that carried Olsen or another rusher right past the play.
"I've seen a few clips, they were black and white," Colts guard
Ryan Lilja
said. "He ran around and it's funny to see him do the same thing that he teaches us that not a lot of people do. He was a gritty player, man."
January, 6, 2010
1/06/10
2:30
PM ET
»
NFC Wrap-ups
:
East
|
West
|
North
|
South
»
AFC
:
East
|
West
|
North
|
South
»
Clayton
:
Video
|
AFC grades
...
NFC
»
More
:
Fantasy MVPs
|
FB Outsiders

|
Awards

A team-by-team analysis of the division. The arrow indicates which direction each team is trending.

Houston Texans
Final Power Ranking:
14
Biggest surprise:
Despite losing tight end
Owen Daniels
to injury along the way, quarterback
Matt Schaub
and
Andre Johnson
connected consistently, even as defenses keyed on minimizing the receiver. Johnson led the league in receiving with 1,569 yards -- 221 yards more than No. 2
Wes Welker
. Schaub answered questions about his durability by starting all 16 games, earning a $10 million option bonus to trigger the remainder of his contract in the process.

Biggest disappointment:
The inability of
Kris Brown
to hit clutch kicks and running back
Chris Brown
to convert clutch chances. In back-to-back November losses to Indianapolis and Tennessee, the kicker had chances to force overtime and missed on each occasion. The running back was miscast as a short-yardage answer, and his ineffectiveness hurt the Texans at the end of losses to Jacksonville and Arizona.
Biggest need:
The Texans have issues in the secondary, where free safety and cornerback need to be upgraded. But this is an offensive team and, even when running back
Steve Slaton
was healthy and running behind a healthy starting line, it didn't run well enough to complement the pass attack. The Texans need a big back who can gain a tough yard.
Team MVP:
Johnson. He consistently produced despite extra defensive attention, putting his combination of size and speed to the best use yet.
Contract issues pending:
Three key members of the Texans -- Daniels, middle linebacker
DeMeco Ryans
and strong safety
Bernard Pollard
-- will lose chances at unrestricted free agency if there is no new CBA. In that case, they would be restricted free agents. They won't be happy playing for one-year tenders and the Texans need to find a way to smooth things out with them.
---

Indianapolis Colts
Final Power Ranking:
1
Biggest surprise:
Rookie cornerbacks
Jerraud Powers
and
Jacob Lacey
were supposed to be role players. But injuries in the secondary meant they were each starters for the majority of the season. Both did very well doing what the Colts asked of them. Overall, the secondary got little from three of four projected starters, with only free safety
Antoine Bethea
a consistent presence. But the Colts defense played very well anyway, giving up few big plays when
Randy Moss
wasn't involved.

Biggest disappointment:
Passing on a chance to try to carry a perfect regular season into the playoffs was a biggie. Team brass was clearly put off, and surprised, by the volume and depth of the media and fan backlash after the Colts pulled starters and handed the Jets a game that dropped the Colts to 14-1. To suggest records for wins in a decade and consecutive regular season wins were more historic than a perfect 19-0 season sure seemed silly during the spin control period.
Biggest need:
Offensive linemen.
Charlie Johnson
did admirable work after he was promoted to replace the disappointing
Tony Ugoh
at left tackle and
Kyle DeVan
was a more physical right guard after replacing another underachiever,
Mike Pollak
. With legendary line coach Howard Mudd set to retire, the Colts need to restock and provide more options for his successor, Pete Metzlaars.
Team MVP:
Peyton Manning
is expected to win NFL MVP, so it would be hard to look anywhere else. He was exceptionally accurate and was a big reason young receivers developed and old targets produced. And it seemed like he led his team to a fourth-quarter comeback weekly.
Next men up:
Anthony Gonzalez
was expected to be the team's No. 2 receiver behind
Reggie Wayne
. But he went down with a serious knee injury in the season opener and never made it back. Rookie
Austin Collie
and
Pierre Garcon
were effective targets for Manning when opponents worked hard to blanket Wayne and forced the Colts to go elsewhere.
---

Jacksonville Jaguars
Final Power Ranking:
23
Biggest surprise:
They called it a retooling instead of a rebuilding, but after major roster turnover the Jaguars were 6-4 and 7-5 and very much in the thick of a hunt for an AFC playoff berth. They got quality experience for four high draft picks who started a lot of games -- offensive tackles
Eugene Monroe
and
Eben Britton
, cornerback
Derek Cox
and defensive tackle
Terrance Knighton
.

Biggest disappointment:
David Garrard
was sacked 42 times and hit way too much. The Jaguars failed badly in two West Coast trips, losing in Seattle and San Francisco, and closed with a four-game losing streak. Losses to Indianapolis and at New England were understandable, but defeats at home to Miami and at Cleveland in the season finale with an 8-8 record on the line were a lot harder to accept.
Biggest need:
Though the team traded up for
Derrick Harvey
and took a second defensive end,
Quentin Groves
, with their first two picks just two years ago, it's in desperate need of pass rush help. The team had just 14 sacks. Quarterbacks often had all day to throw and managed a 96.0 passer rating, 28 touchdowns and just 15 interceptions against Jacksonville.
Team MVP:
Running back
Maurice Jones-Drew
fared very well in his first season as the team's feature back and is the franchise's lone Pro Bowler. He ran for 1,391 yards and 15 touchdowns behind an inconsistent line.
Mighty have fallen:
Free safety
Reggie Nelson
, the team's top pick in 2007, could be on his way out. He was consistently burned in coverage and failed to finish tackles. The team tried him at cornerback when injuries thinned out that position and he fared no better. By season's end, he earned himself a spot on the bench.
---

Tennessee Titans
Final Power Ranking:
16
Biggest surprise:
Chris Johnson
showed himself to be an electrifying playmaker in his first season. But when he said in training camp before his rookie campaign he would run for 2,000 yards, people scoffed. Improbably, on a non-winning team, Johnson ran for a league-leading 2,006 yards, becoming just the sixth member of the 2,000-yard club. He topped 100 yards rushing in each of his final 11 games and scored on seven rushing plays of 20 yards or more.

Biggest disappointment:
After a 13-3 regular season that was the NFL's best in 2008, the 2009 team played terribly early and dug itself an 0-6 hole. While it did well climbing out and finishing 8-8, that miserable start cost the Titans a chance at a return to the playoffs. The slow start featured a slew of drops by the receivers, horrific pass coverage, and return game nightmares. The turnaround began after team owner Bud Adams called for Jeff Fisher to replace
Kerry Collins
with
Vince Young
at quarterback.
Biggest need:
Defensive playmakers. The Titans got old and less effective at several spots. Defensive end
Jevon Kearse
and cornerback
Nick Harper
won't be back. The team is likely ready to move on from veteran linebackers
Keith Bulluck
and
David Thornton
as well. Free safety
Michael Griffin
took a huge step backwards and defensive tackle
Jason Jones
couldn't fight through a shoulder injury. The Titans will look to add veterans and draft picks to rebuild.
Team MVP:
Johnson should be the NFL's offensive player of the year. Without him, who knows what the Titans would have done down the stretch. Getting him to 2,000 yards was a unifying team goal. Johnson even impressed his teammates by backing up the bold 2,000-yard prediction.
Back from the dead:
While he didn't finish especially strong, Young did a lot of good work in 10 games after he was reinserted as the starter. He deserves credit for maturing. His decision making has improved. He's set himself up to be the Titans starter in 2010 after changing the opinion of many of his critics, some of whom reside inside team headquarters.
November, 8, 2009
11/08/09
8:09
PM ET
| | |
| --- | --- |
| | |
| | AP Photo/Tom Strattman |
| | Indianapolis coach Jim Caldwell's challenge on Texans' running back Ryan Moats' fumble out of the end zone was a crucial decision in the Colts win. |
Posted by ESPN.com's Paul Kuharsky
INDIANAPOLIS -- The timing was exquisite. The execution flawless. The thinking airtight.
Yet another
Peyton Manning
pass play? Nope. Jim Caldwell's toss of his red challenge flag late in the first half.
Waiting until just before the first play after the two-minute warning to challenge, Caldwell understood the beneficial timing and outfoxed his Houston counterparts with a slow play.
His challenge and referee Jeff Triplette's determination that
Ryan Moats
fumbled out of the end zone from the Indianapolis 1-yard line resulted in a touchback. They were pivotal moments in the
Colts' 20-17 win
that kept their record spotless and kept Houston (5-4) from doing any dreaming about a scenario where it can challenge for the division title.
"That play turned out to be a perfect play for those guys, not so good for us," said downtrodden cornerback
Dunta Robinson
, whose team is now 0-8 in Indy. "A lot of guys on the sideline were saying, 'Run another play, run another play.' Obviously our staff didn't think it was a fumble. Those are things you're not too sure about. I think it could have gone either way. We're at their house, and that play went their way."
For so much of the Manning and Bill Polian era, things have gone the Colts' way. Good teams make their own good fortune, we hear time and time again on NFL Sundays. And here was a prime example that actually had nothing to do with the team's stud quarterback or supremely gifted architect.
The Texans turned to Moats to minimize Steve Slaton's opportunities to fumble and got the same result at a crucial moment.
Colts assistant offensive line coach Pete Metzelaars got a close look at the play which commenced with 2:30 on the clock and believed it could be judged differently upon review. Caldwell casually chatted with officials but ultimately waited until the two-minute break was over and the Texans were starting to line up for second-and-goal at the 1 before dropping the flag and officially getting the crew's attention.
The Colts' coach didn't get it all right. He thought
Jerraud Powers
had re-established himself in bounds and recovered the ball. But the piece of his interpretation that was wrong didn't hurt him, while it was a different story on the other sideline.
Gary Kubiak and his people saw no cause for alarm. They could have called for
Matt Schaub
to run another play before the warning, either washing away the Colts' chance to challenge or forcing Caldwell into a quicker decision than he would have liked, when he might have hesitated risking a timeout.
"We didn't even know until the play had been stopped and it got to the two-minute warning that there was even an issue," Kubiak said. "Then somebody in the press box said, 'I think they're looking at the ball right here.' We thought that Ryan was out of bounds. But the way it was explained to me was that the ball did come out, nobody argued that.
"We felt that players were out of bounds that were touching the ball. And what they said was that Ryan was on top of whoever that player was, so technically he's not out of bounds, he's still in the field of play."
Now as we consider how the challenge unfolded we should note Caldwell and his staff had the luxury of time; Kubiak and his assistants did not.
After the play was over, there might have been 10 seconds until the tw0-minute warning stopped the clock. Is it reasonable to expect communication and decisiveness on such a hard-to-read situation in those 10 seconds, to expect Kubiak to know that the urgings of Robinson and others were not typical player hopefulness but an accurate read and to tell Schaub to run a play? Probably not.
But against the Colts, oftentimes things pan out that way: you get 10 seconds when they get 155. And if you don't have the insight to make the quick interpretation in a less-than-advantageous situation, well tough luck, it all sorts out the way it so often does: in Indianapolis' favor.
Antoine Bethea
, the safety who jarred the ball free, said he knew it was a fumble and told the officials, but not Caldwell.
Players are always going to think things in a debatable situation went their way. But Bethea had a much clearer read on the situation than did Moats, and that ability to understand what did happen and what didn't in the flash of an NFL-speed play is the sort of thing that helps make the Colts consistently good and leaves others striving to match them.
"I didn't know it was an issue," Moats said. "I thought I was out of bounds."
Not exactly Bill Bradley's famous "
A Sense of Where You Are
."
And developments that may well have changed the outcome of the game.
"Momentum was going their way, they were moving the ball on us and we had kind of stuttered a little bit on offense," Indianapolis guard
Ryan Lilja
said. "Our defense got some big turnovers, that one included. I don't know if that was the defining moment of the game, but that was huge. That's seven points for them. That makes it a whole different ball game. We lucked out on that one. That's the bottom line, we lucked out."
Nice of him to say. But it was a whole lot more than that.
May, 7, 2009
5/07/09
7:44
AM ET
Posted by ESPN.com's Paul Kuharsky
Houston Texans
Indianapolis Colts
Jacksonville Jaguars
Tennessee Titans

NFL SCOREBOARD
Thursday, 9/4
Sunday, 9/7
Monday, 9/8