January, 11, 2014
Jan 11
4:00
PM ET
FOXBOROUGH, Mass. -- Welcome to Gillette Stadium, where the
New England Patriots
host the
Indianapolis Colts
in the AFC divisional round of the playoffs (8:15 p.m. ET):
Weather conditions:
Temperatures are mild for this time of year, currently in the low 50s and high humidity, but it is raining and windy. The gusts coming into the stadium were powerful to the point that the two goalposts on the team's lower practice field were blown sideways. It seems fair to say this will be an "elements" game (
weather.com forecast
).
Six more inactives for Patriots:
With rookie receiver
Aaron Dobson
(foot) already having been ruled out, the Patriots have six more players to declare inactive. Those decisions are finalized and announced about 90 minutes before kickoff. Cornerback
Alfonzo Dennard
(knee/shoulder) and receiver
Kenbrell Thompkins
(hip) were the two players listed as questionable on the team's final injury report.
Morelli gets the call:
Pete Morelli has been assigned to referee tonight's game. The NFL uses all-star crews in the playoffs, and two of the other six officials tonight had worked with Morelli during the regular season. Morelli's crew was known for throwing among the fewest penalties in the NFL, but the all-star crew aspect alters any type of referee "scouting."
Belichick and Brady on GameDay cover:
Quarterback
Tom Brady
and head coach Bill Belichick are pictured on the cover of tonight's GameDay magazine.
Final game for CBS analyst Dierdorf:
Tonight's game will be broadcast on CBS, with Greg Gumbel (play-by-play) and Dan Dierdorf (analysis) on the call. This is Dierdorf's final game as he previously announced he was retiring after the season.
National Anthem:
Performed by Michelle Brooks-Thompson, a TMG Gospel recording artist from Springfield, Mass.
Color Guard:
MBTA Transit Police Honor Guard.
January, 3, 2014
Jan 3
11:22
AM ET
Our attempt this year to shine light on the world of NFL officiating has revealed at least one conclusion: Jeff Triplette is the most active referee in the business.
For the second consecutive year, based on ESPN Stats & Information's database, Triplette and his crew led the league in penalties called (accepted and declined). A late charge put his crew at 244 penalties in 15 games,
a bit more than the 212 it called in 2012
. The chart provides the full breakdown, and to me the most fascinating part is the range. Peter Morelli's crew called 93 fewer penalties over the same time period, demonstrating how different a game can flow based on the assigned crew.
Triplette is one of four referees assigned to this weekend's wild-card playoff games, according to
the website FootballZebras.com
. Triplette will work Sunday's game between the
San Diego Chargers
and
Cincinnati Bengals
, Walt Anderson has Saturday's game between the
Kansas City Chiefs
and
Indianapolis Colts
, Bill Vinovich will work the
New Orleans Saints
-
Philadelphia Eagles
contest, and Ed Hochuli will be in Green Bay for 49ers-Packers, according to the website.
You can check the chart for how frequently each crew blew a whistle during the regular season. It's important to note that playoff crews are an All-Star group culled from the highest-graded officials from across the board, so a referee's playoff tendencies are less predictable.
Still, referees set the tone for any crew they head up. So below, I've provided some notes on how each of this weekend's referees called games during the regular season:
Coverage penalties
2013 range:
High was Walt Coleman (52), low was Morelli (19)
Anderson: 33
Triplette: 33
Vinovich: 33
Hochuli: 26
Offensive holding
2013 range:
High was Carlton Cheffers (55), low was Morelli (23)
Hochuli: 44
Triplette: 43
Anderson: 37
Vinovich: 26
Offensive pass interference
Range:
High was Clete Blakeman (12), low by many (2)
Triplette: 5
Vinovich: 4
Hochuli: 2
Anderson: 2
Sportsmanlike conduct
Range:
Triplette was high (48), Mike Carey was low (19)
Triplette: 48
Hochuli: 34 (including NFL-high 10 for roughing passer)
Anderson: 30
Vinovich: 27
For clarity's sake, a "coverage penalty" includes defensive holding, illegal contact and defensive pass interference. A "sportsmanlike conduct" penalty included unsportsmanlike conduct, roughing the passer, personal fouls and unnecessary roughness.
I'll provide my usual disclaimer: Penalty totals don't equate with quality of officiating. They do, however, provide a guidebook over a sizable time period for how a future game might be officiated. NFL teams routinely study similar data. They know that they're likely to be watched more closely on late hits by Triplette than Vinovich. They also know that Vinovich is less likely to call holding and, if they ever get Blakeman's crew, to be aware of his frequent calls for offensive pass interference.
I'll attempt to provide similar reports for each round of the playoffs.
December, 10, 2012
12/10/12
10:56
AM ET
INDIANAPOLIS -- These cornerbacks are playing mostly man to man. The corners on the 2010 Colts played almost exclusively zone.
As I talked to
Cassius Vaughn
and
Vontae Davis
Sunday evening in the Indianapolis locker room, I found myself thinking about guys who saw a lot of action at corner for the franchise's last playoff team --
Justin Tryon
and
Jacob Lacey
.
Vaughn and
Darius Butler
are like those guys. The team didn't know what it could expect from them. Their roles have expanded because of injuries. They seem to be getting better.
[+] Enlarge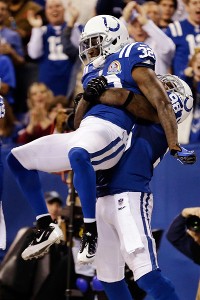 AP Photo/Jeff RobersonCassius Vaughn returned a Jake Locker interception three yards for a Colts score.
The coaches have changed, the GMs have changed, many of the players have changed -- yet again the Colts have this plug-and-play feel at cornerback.
Titans quarterback
Jake Locker
played a role in it for sure, but Vaughn had a giant interception for a touchdown and Butler got
Andrew Luck
the ball back with another. Davis might have had an end-zone pick but interim coach Bruce Arians said he lost the ball in the lights.
As the starters Sunday, Vaughn and Davis did a lot of good work near the line of scrimmage and in run support, too.
In the second quarter on back-to-back plays, Vaughn tackled
Chris Johnson
on a short pass to the right for no gain and Davis cut down tight end
Jared Cook
on the other side for a 1-yard loss on a screen.
"In this league, you have to be a complete corner," Davis said. "You have big running backs. When the ball gets out to the edges, the only players there to make the tackles there are the corners."
The Colts may have gotten away with some pass interference, but Pete Morelli and his crew were letting them play in the secondary on both sides. Indy gave up a couple of 46-yard passes to
Kenny Britt
that Arians said were more about great throws and catches than poor coverages.
In the big picture, the defensive backs did more than enough to contribute to a win.
Vaughn would likely be the nickel at best if
Jerraud Powers
wasn't on injured reserve.
Davis looks as healthy as he's been since Colts GM Ryan Grigson dealt a second-rounder to Miami for the veteran corner to solidify the secondary.
We'll need time to see if that was a good deal or not. This week, it looked good.
"I think Vontae is coming on like gangbusters," Arians said.
December, 9, 2012
12/09/12
4:19
PM ET
INDIANAPOLIS -- Thoughts on the Colts'
27-23 win
over the Titans at Lucas Oil Stadium:
What it means:
The Colts ensured a winning season, moving to 9-4 and staying in ideal position for an AFC wild-card berth. They are still in play for the division title and would benefit if the Texans lose Monday night in New England. The Titans assured themselves of a losing season, falling to 4-9. They have yet to win a game in the AFC South and have only one more chance -- on the last day of the regular season against Jacksonville.


What I liked:
The Colts' ability to come from behind, as has so often been the case. They were down 20-7 at the half and rallied to take leads of 21-20 and 24-23.
Andrew Luck
was under all kinds of pressure and made some mistakes, including a big pick-six to
Will Witherspoon
(that looked to have been aided by a missed call). But once again, he engineered the drives the Colts needed. And the defense produced as well, with a crucial interception and 3-yard return for a score by
Cassius Vaughn
and another pick from
Darius Butler
, which just about sealed the result.
What I didn't like:
Referee Pete Morelli and his crew didn't have a great day. I felt like they let defensive backs get away with being handsy on receivers often -- particularly on early third-quarter Colts throws to
Reggie Wayne
and
Donnie Avery
and a Titans pass for
Nate Washington
a bit later. Bigger than that was Witherspoon's second-quarter 40-yard interception return. Luck should have swallowed it, but as he was being taken down by
Derrick Morgan
he tried to throw it and put it right in Witherspoon's gut. When a very good freeze frame finally was shown -- and showed Luck with a knee down and the ball still in his hand -- Morelli had already ruled that the play stood.
What I didn't like, Titans:
Following a disastrous outing against Houston last week,
Jake Locker
played a really nice first half for Tennessee, hitting on 15 of 20 passes for 213 yards and a touchdown. But he threw a terrible pass for Washington coming out of his own end zone that Vaughn jumped for a score, then threw behind Washington to Butler for a pick that set up
Adam Vinatieri
's 40-yard field goal that made it 27-23 with 3:48 to play.
Injury issues:
The Colts lost center
Samson Satele
(ankle) and right tackle
Winston Justice
(biceps) during the game, and neither returned. That put reserves
A.Q. Shipley
and
Jeff Linkenbach
on the field. Running backs
Delone Carter
and
Robert Hughes
couldn't finish, which left
Vick Ballard
as the lone healthy back for much of the second half. Inside linebacker
Kavell Conner
suffered a hamstring injury on a late special-teams play. For the Titans, tight end
Jared Cook
didn't finish.
What's next:
The Colts finally face the Texans with a trip to Reliant Stadium to face the division leaders for the first of two meetings in three weeks. Tennessee hosts the
New York Jets
on "Monday Night Football."
January, 7, 2011
1/07/11
3:15
PM ET
An end-of-season look at where NFL officiating crews rank in a few categories where discretion and controversy tend to apply, listed by referee (with Walt Coleman scheduled to work Seattle's wild-card game Sunday):
The second chart breaks down defensive pass-interference numbers by crew for the last three seasons.
The next chart breaks down offensive pass interference by crew for the 2010 season only.
Note that Coleman's crew has called only one such penalty this season, second-fewest in the league behind Seattle favorite Bill Leavy.
The next chart breaks down the offensive pass-interference calls by crew for the last three seasons.
The final chart shows three-year totals for roughing the passer, by crew.
Seattle fans might remember the controversial roughing penalty against Seahawks defensive end
Raheem Brock
during the team's defeat at New Orleans in Week 11.
The pivotal play did not draw a fine, tacit admission that referee Mike Carey's crew erred on the call.
Coleman's crews have only four roughing calls over the last three seasons, fewest in the league among referees working continuously since 2008.
Note:
All info from ESPN Stats & Information and includes declined penalties.
September, 29, 2008
9/29/08
11:18
AM ET
Posted by ESPN.com's Kevin Seifert
CHICAGO -- We'll be departing the second city later today. We're guessing Ashton and Demi won't be on our flight -- but sometimes, that's just how it goes.
Which is an appropriate metaphor Monday morning for the Minnesota Vikings, who are lamenting a second-quarter decision by referee Pete Morelli that paved the way for a Tennessee touchdown in a 30-17 Titans win.
Coach Brad Childress burned two timeouts and one challenge while trying to persuade Morelli to reverse a spot call on a fourth-down pass to Titans receiver Justin Gage. Replays suggested Gage was tackled short of the first down, but Morelli allowed a first-down ruling to stand. One play later, Tennessee tailback LenDale White scored from a yard out.
Childress plans to speak Monday with Mike Perreira, the NFL's vice president of officiating. Childress called the ruling "damn disappointing" and added:
"His progress was stopped. From what I was seeing, the progress didn't make the line. I got something about 'We don't have that many cameras at the game.' Clearly that wasn't a first down, and you are not going to convince me that was a first down."
There were plenty of reasons why the Vikings lost Sunday. That call was one of them, but this wasn't an Ed Hochuli moment. The Vikings could have overcome it.
Taking a jaunt around the NFC North at the season's quarter pole:

NFL SCOREBOARD
Thursday, 8/21
Friday, 8/22
Saturday, 8/23
Sunday, 8/24
WEEKLY LEADERS