May, 3, 2013
5/03/13
1:45
PM ET
Peter King's report for Sports Illustrated from inside the
St. Louis Rams
' draft room gives us a much better feel for how the team operates.
King had a back-stage pass to the draft, giving him a clear view of the Rams' thinking, their maneuverings and attempted maneuverings. He shared a few details in a
recent online piece
, but the full piece appears in the May 6 edition of the magazine.
We learned, among many other things, that the Rams' trade to acquire the eighth overall choice from the
Buffalo Bills
was worked out days in advance, but never a sure thing until the last minute, and only then when St. Louis upped its offer.
Tavon Austin
was the player the Rams felt they had to have, so when the division-rival
Arizona Cardinals
selected guard
Jonathan Cooper
at No. 7, the Rams' draft room erupted in celebration (the down side: having to face Cooper twice a year in the NFC West).
[+] Enlarge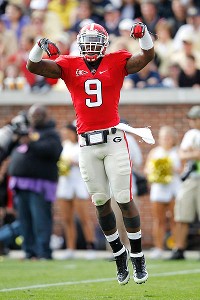 Joe Robbins/Getty ImagesThe Rams were excited that Alec Ogletree was still available late in the first round.
We learned from King that the Rams really did have
Alec Ogletree
as their No. 1 priority with the second of their two first-round selections. They had serious concerns about Ogletree's off-field issues, and those concerns presumably influenced their decision to trade back to No. 30 instead of selecting Ogletree at No. 22. But the wait to No. 30 sounded excruciating based on the conversations and observations King relayed in his report.
When the Rams traded back, UCLA defensive lineman
Datone Jones
, chosen 26th by Green Bay, and Kentucky guard
Larry Warford
, chosen 65th by Detroit, were the players St. Louis was considering as fallbacks at No. 30 if Ogletree were not available. That information can be helpful in the future if Jones or Warford becomes available in free agency. We now know those players could have special appeal to the Rams' current leadership.
We also learned from King that the Rams could have traded the 30th pick to Minnesota for the Vikings' second-, third- and fourth-round picks, but general manager Les Snead thought such a move would have sacrificed one of his core principles: going and getting players his team really, really wanted. This philosophy came into play later in the draft when the Rams traded both sixth-round picks to Houston for the fifth-round choice St. Louis used for running back
Zac Stacy
.
"I think [Stacy] was one of probably the last guys on our board that we were really, really jacked about," Snead would explain to reporters after the draft. "The rest was just going to be people we liked, but not jacked about, so at that point in time we said, 'Hey, let's go get him.' "
Snead would rather have one player he really likes than two players he doesn't feel as strongly about. That thinking makes tremendous sense at the top of the draft, I think. I'm not sure if that's true nearly to the same degree later in the draft, when it's tougher to tell differences between players and the "crapshoot" element comes into play more prevalently.
Ogletree might become an all-world player, and if the Rams think he's going to be special, it's tough to fault them for holding onto the pick. But there are obvious risks associated with drafting Ogletree, whose off-field issues have included failed drug tests in college and a DUI arrest.
The Rams entered the draft with only 52 players on their roster. They are wisely valuing impact players over lesser ones. But they still needed numbers.
There's a decent chance, in theory, that one of the players the Rams would have selected with the 52nd, 83rd or 102nd picks from Minnesota would have outperformed the player chosen 30th. Kevin Meers' Harvard draft value chart says the Rams would have received 85 percent more value than they traded away had they made the trade. Steve Drake's Sports + Numbers chart would have given the Rams a 46 percent value edge. Chase Stuart's Football Perspective chart had the Rams ahead by 69 percent.
Of course,
those fancy charts
aren't in love with Ogletree. Those charts cannot know whether Ogletree is really a top-10 or top-15 talent from a physical standpoint, as the Rams project. By all appearances, NFL teams aren't yet in love with these types of charts, which value picks based on how players selected in the same slots have performed historically.
The traditional value chart from two decades ago says the 30th overall pick is worth almost exactly what those three picks from the Vikings would be worth.
The Rams might not care all that much. They got their guy and that is what matters to them.
August, 16, 2011
8/16/11
12:45
PM ET
EARTH CITY, Mo. -- A few thoughts between the morning walk-through and full afternoon practice at
St. Louis Rams
training camp:
This will be a productive week. Coach Steve Spagnuolo, offensive coordinator Josh McDaniels, defensive coordinator Ken Flajole, quarterback Sam Bradford and running back Steven Jackson are among those scheduled for availability in the coming days. I had a chance to speak with middle linebacker James Laurinaitis and receiver Mike Sims-Walker. Thoughts from them to come.
Receivers in focus. The situation at wide receiver stands out as one deserving our attention as camp progresses. Sims-Walker is about as motivated as a player could be after the Jacksonville Jaguars showed no real interest in retaining him. He heads a list featuring Brandon Gibson, Austin Pettis, Greg Salas and Danny Amendola among receivers most likely to stick around on the reduction to 53 players. The team still needs to figure out what it has in Donnie Avery, Mardy Gilyard, Danario Alexander, Dominique Curry and the unsigned Mark Clayton -- all players with injury concerns.
Changing roster dynamics. The Rams hit free agency hard for role players this offseason. What are the effects, immediate and projected?
Uniform code in effect. Walk-through practices don't offer viewers much of substance. The highlight from the Rams' walk-through? It was tough to top Sports Illustrated's Peter King and Rams general manager Billy Devaney showing up wearing the exact -- and I do mean exact -- shade of lavender golf shirts, tucked in and accompanied by matching cargo shorts. It was as though they'd been dressed by the same mother, to the point that players were razzing them. I'll be curious to see if one of them changes before the afternoon session.
The afternoon practice begins at 1:30 p.m. CT (2:30 ET). Please hit the comments section with any ideas or requests you might have. And if you're going to be out at practice, let me know. I'll be the guy not wearing lavender.
November, 1, 2010
11/01/10
10:04
AM ET
By
Matt Mosley
| ESPN.com
Unless I've missed something over the years,
Jacksonville Jaguars
quarterback
David Garrard
isn't known for calling out opposing teams for their lack of desire. But following the Jags' 35-17 beat-down of the Cowboys in Arlington on Sunday, the quarterback seemed to agree with
what I wrote last night
.
Speaking to SI.com's Peter King on Sunday, Garrard
made an interesting observation about the Cowboys' effort
in Sunday's loss. Here's a portion of King's column, which has likely been delivered to owner Jerry Jones since he's not much for surfing the Internet:
"But everyone can see your Cowboys are not playing hard," writes King. "We saw it in the NBC viewing room Sunday, and Garrard saw it, too. He told me: "It just looked like they weren't into the game like an NFL team should be.'' Said he noticed a "woe-is-me'' attitude among some of [the Cowboys] players. You don't see that with a Baltimore or Pittsburgh. Andy Reid's teams don't do that. Your team's embarrassing. You said it yourself after the game. And at 1-6, there's no hope for the season. You've got to put Wade Phillips out of his misery, and you've got to do it now."
How can anyone disagree with Garrard's assessment? I think he's on the money, much like he was throwing the ball Sunday.
March, 8, 2010
3/08/10
2:16
PM ET
By
Matt Mosley
| ESPN.com
One of the most compelling stories of free agency is how non-compelling the
Washington Redskins
have been. There were strong rumors (out of Houston for some reason) that the Skins would do whatever it took to land unrestricted free-agent defensive end
Julius Peppers
.
But we quickly learned the
Chicago Bears
were the ones willing to go the distance for Peppers -- and other aging stars. It almost felt like the Bears had turned to Dan Snyder as a consultant. Meanwhile in Washington, general manager Bruce Allen and coach Mike Shanahan are trying to sell versatile offensive lineman
Artis Hicks
to season-ticket holders. And against all odds, it seems to be working.
The Redskins' methodical approach to free agency is a refreshing change to many fans after years of wild spending in during the free-agency period. When SI.com's Peter King
tracked down Allen on Sunday
, he asked him whether Snyder was getting impatient.
"No,'' said Allen. "He didn't throw anything at me. And he didn't throw a tantrum. He's fine with it."
I know it's early, but it truly seems like Snyder has placed his trust in Allen and Shanahan. Every report you read indicates that Snyder's spending more time on his non-football enterprises. He's certainly still passionate about the organization, but he's actually giving this hands-off approach a chance. So what happens if the Redskins go 4-12 again? It's a fair question, but let's wait until we're there.
Here's what Allen told King about the Redskins' strategy this past Thursday at midnight:
"What we did is when we got the list of free agents with their phone numbers and agent phone numbers from the league, and I highlighted the 40 or 50 we were interested in, and we started calling them. We left messages for some of them, talked to some of them, and told them we were interested. And we'll see where it takes us."
With the
Albert Haynesworth
signing last March, the Redskins struck quickly and blew everyone away with their offer. But last week, the Redskins didn't show anywhere near the same sense of urgency in pursuing players. It remains to be seen whether this new approach works.
But I think we'd all agree that the former approach had run its course.
February, 18, 2010
2/18/10
4:04
PM ET
By
Matt Mosley
| ESPN.com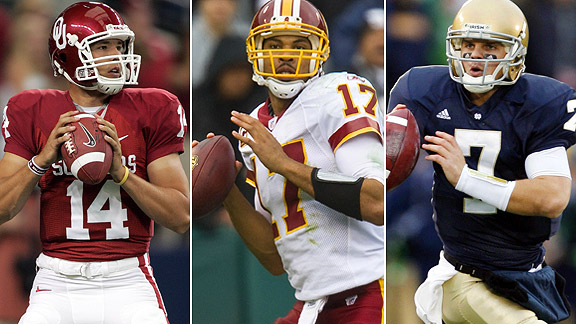 US PRESSWIREWill Jason Campbell (middle) be the Redskins starting quarterback in 2010? Or might the Redskins look to draft Oklahoma's Sam Bradford (left) or Notre Dame's Jimmy Clausen?
Try as he might, there's no way Redskins quarterback
Jason Campbell
can tune out the talk radio or even the random folks who recognize him at the movies. He's once again involved in a familiar storyline in which his team's fanbase (and perhaps the front office) yearn for the next franchise quarterback.
Never mind the fact that Campbell somehow put up respectable numbers during a season in which he lined up behind arguably the worst offensive line in the league. Campbell was set up to fail by an administration that neglected the offensive line for the better part of a decade.
No quarterback in the league took more of a beating than Campbell, but even when given the opportunity to tap out, he kept showing up in the huddle. And given the way owner Dan Snyder and his former henchman Vinny Cerrato treated him, I'm sure Campbell thought taking a play or two off might lead to a full-time demotion. For the record, Campbell actually enjoyed his time with interim play-caller Sherman Lewis, who was plucked from a bingo-calling assignment by Cerrato.
The Redskins played themselves into the No. 4 overall pick in this April's draft, so all the speculation is that new head coach Mike Shanahan will select either Oklahoma quarterback
Sam Bradford
or Notre Dame quarterback
Jimmy Clausen
. But until further notice, Campbell remains the starting quarterback of this team. He'll be an unrestricted free agent, which means he'll likely receive the highest contract tender of roughly $3.1 million. And if the Redskins are shopping Campbell, they're doing a pretty nice job of keeping it a secret this offseason.
I caught up with Campbell via phone Thursday and asked him about his initial impressions of Shanahan. The two sat down in Shanahan's office and talked about the organization's future. But what about Campbell's future?
"The plan is that I'm going to be here," said Campbell. "[Shanahan] told me that he liked how I'd handled everything over the past couple of years and the whole conversation was real positive. But we really didn't talk much about the past. When a team goes 4-12, most of the bad publicity goes to the quarterback. But I was still able to put up one of my best seasons despite all the turmoil."
Campbell showed a lot of loyalty to former coach Jim Zorn, but he knew early on that the organization was asking Zorn to wear too many hats. Campbell, who has lost count of how many offensive coordinators he's played for dating back to his Auburn days, said that Shanahan has brought instant credibility to the Redskins.
"With Coach Shanahan and Bruce Allen, there's already a new feeling to the team," said Campbell. "Guys are going to follow [Shanahan] because he has a proven résumé. The main thing we need is discipline, and you can already see that guys are carrying themselves in a different manner."
Campbell spent part of Super Bowl week in South Florida doing some research on the Redskins' new regime. Skins wide receiver
Santana Moss
is close friends with Texans receiver
Andre Johnson
, who had great things to say about new offensive coordinator Kyle Shanahan. And Campbell had a long conversation with Texans running back
Ryan Moats
about what it was like playing for Shanahan in Houston.
"The main thing Ryan told me is that I'll have a lot of fun playing for Kyle," said Campbell. "And he told me that Kyle was incredibly knowledgeable for such a young guy."
Campbell has handled the situation in Washington with a lot of grace, but he bristles when he hears critics talk about how he didn't throw the ball downfield enough in '09. In fact, I happened to catch him on the phone last month after he'd heard SI.com's Peter King criticizing him on a local radio station in Washington.
"I don't know how anyone can say something like that," said Campbell on Thursday. "Don't you think I wanted to throw the ball downfield? By the time I looked up, I was getting hit. I'm certainly hoping we have an opportunity to make some big plays next season."
For now, Campbell is attempting to avoid the mock draft industry. I helpfully informed him that ESPN's Mel Kiper now has the Skins selecting Clausen at No. 4 overall. In fact, here's how Kiper explained that pick on
a conference call Wednesday
:
"In the case of a player like Clausen or Bradford, I would take the quarterback first. I have Clausen and Bradford rated higher than [Anthony] Davis and [Russell] Okung. So I would go the quarterback first, then try to get the offensive tackle in the second round and hope that a
Bruce Campbell
or a [Bryan] Bulaga or somebody like that fell down to me."
Campbell didn't feel like it was his place to inquire about Shanahan's approach to the draft. He said he trusts the coach's experience in that department and will be prepared for whatever happens.
"I have to do whatever it takes to help us win," said Campbell. "All that other stuff will take care of itself. I'm certainly not going to be out campaigning for them to take other positions. They know how to do this stuff."
December, 26, 2009
12/26/09
4:53
PM ET
By
Matt Mosley
| ESPN.com
The worst-kept secret in the NFL right now is that the
Washington Redskins
intend to make Mike Shanahan their next head coach. Players not named
Albert Haynesworth
have tried to remain respectful to the current Redskins coaching staff in public, but they've made no secret of their admiration for Shanahan and what he could bring to the organization.
[+] Enlarge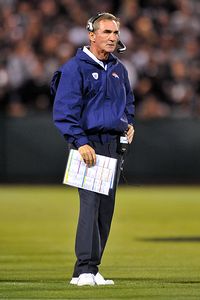 Kirby Lee/Image of Sport/US PresswireIt looks as if the Redskins could have competition for Mike Shanahan's services.
When I asked
Jason Campbell
about Shanahan on Wednesday, he said that friends from around the league had called and texted him about Shanahan's reputation for taking quarterbacks to the next level. He knows that Shanahan has worked with Hall of Famers Steve Young and John Elway -- and both of those players give Shanahan a lot of credit for their success.
But now
there's a report on ESPNChicago.com
indicating that Shanahan might also have an interest in the Bears' head-coaching position -- if Lovie Smith is fired. Here's what a "close friend" of Shanahan's told Melissa Isaacson:
"The job is really attractive to Mike," the friend said. "It's home [with relatives of his, including his dad, in the Chicago area, and wife Peggy's family still in the Bloomington area]. It's a great challenge because that roster needs to be made over, and the one guy there to build the team around is the one guy he has already built a team around and with whom he has a tremendous comfort level, Jay Cutler."
It's not like Cutler has given coaches much reason to covet his services with his awful performance this season, but obviously he and Shanahan had a solid rapport in Denver. Most head coaches will tell you that inheriting a good quarterback makes all the difference. Just ask Norv Turner about that in San Diego. Cutler put up impressive numbers while working with Shanahan in Denver.
And I hadn't really given the whole Shanahan family angle a lot of thought before reading Isaacson's story. SI.com's Peter King also mentioned that Shanahan
might have an interest in the Bears job
in his most recent "Monday Morning Quarterback."
I think Shanahan is probably using the Bears' situation as a way to drive up his price tag in Washington. A little leverage never hurt anyone. But in the end, I think Redskins owner Dan Snyder will still get his man. Sorry, Cowboys and Bears fans.
March, 2, 2009
3/02/09
11:45
AM ET
Posted by ESPN.com's Matt Mosley
Peter King was embedded with Chris Canty's agent, Brad Blank, throughout the weekend. Peter provides a fascinating blow-by-blow account of how Canty ended up with the ninth team on his list.
"You play with fire sometimes," Blank said Sunday night, "and sometimes you get burned. I needed the Redskins. They pay people, and they pay people quick. It didn't work out with them, and I know I'll be second-guessed, but I did what I thought I had to do to get the biggest contract I could. You can't ignore the team you think is going to pay you the most money. But isn't it amazing? The last team on my list the other night is the team he ends up with. That's what happens in this business."
Vinny Cerrato was on the phone with Blank six seconds after midnight Friday morning. What do you think Canty would've earned from the Redskins? Something tells me he would've ended up in the $20 million guaranteed range, which is about $3 million more than the Giants gave him. In the end, though, Canty has a better chance at winning a Super Bowl with the Giants.
When things looked bleak for Canty on Friday, I'm a little surprised the Cowboys didn't try to pounce. Blank admitted that he thought about having to go back to Dallas on a two-year contract. Maybe the Cowboys really are scared about this DeMarcus Ware contract. Jerry Jones is trying to pay for a new stadium -- and he may have to cough up a $40 million guarantee.
February, 26, 2009
2/26/09
2:21
PM ET
Posted by ESPN.com's Matt Mosley
The Washington Redskins have spent the past week releasing players and restructuring contracts in an effort to make a splash in free agency Friday. The Washington Post is reporting that the Redskins have "laid the groundwork" to go after Titans unrestricted free agent defensive tackle Albert Haynesworth.
Of course, it would be tampering if the Redskins are already visiting with Haynesworth's agent. But that never happens in free agency. The fact that Dan Snyder was having dinner with Haynesworth's agent in Indianapolis -- as reported by Peter King -- must've been purely coincidental.
We should credit a Houston sports radio host (Lance Zeirlein) for being the first to report that the Redskins were making a strong push to sign Haynesworth. As the Post points out, it's still hard to imagine Washington finding enough cap room to land Haynesworth, but Snyder's been known to get pretty creative. (His Shockwave roller coaster at Six Flags Over Texas is still a crowd-pleaser.)
And this is the type of splashy move that will bring back memories of Deion Sanders (sorry!) and Bruce Smith. But to be fair, Haynesworth's in the prime of his career. I know he's had some injury (and stomping) issues, but he's the most dominating defensive tackle in the game. There's a chance he could command more than $30 million in guaranteed money.
My biggest worry would be Haynesworth becoming satisfied with all that cash and becoming lazy. He's basically been in a "contract year" for the past two seasons. I don't think there's any guarantee that this guy continues to get better. Part of the reason he was so effective was the Titans' defensive scheme and the fact that he was surrounded by talented defensive ends. And you have to give former defensive coordinator Jim Schwartz a ton of credit for what he accomplished.
It appears that Plan B for the Redskins will be Cowboys defensive end Chris Canty. The former Virginia standout would be a nice addition, but he's not a game-changing force like Haynesworth. Of course, you could certainly save a lot of money with Canty. It would also give you a lot better chance of keeping DeAngelo Hall, who will be looking for a $15 million in guaranteed money.
Much, much more to come. Stay tuned for more breaking free agency news.

NFL SCOREBOARD
Sunday, 2/2
WEEKLY LEADERS