NFL Nation:

Philadlephia Eagles
May, 14, 2013
5/14/13
1:40
PM ET
Earlier Tuesday,
we examined whether
Charles Woodson
would fit in the AFC West. We might be talking about the subject more.
ESPN's Josina Anderson is reporting that the
Denver Broncos
will visit with the safety this week.
The interest makes sense. The Broncos could use help at safety, and Woodson would provide strong leadership. The future hall of famer is 36. Denver coach John Fox has long valued veterans. I wouldn't be shocked if an accord is reached between Denver and Woodson.
Meanwhile, a Denver source said the Broncos are not interested in former Chicago middle linebacker
Brian Urlacher
at this time. There was a report out of Chicago on Tuesday that said the Broncos were talking to Urlacher.
In other AFC West notes:
The Cardinals are visiting with left tackle
Max Starks
. He visited with the Chargers last week and is considered the best left tackle on the market. The Chargers badly need a left tackle.
The Chiefs are visiting with defensive lineman
Ryan McBean
. He is a rotational player.
As expected, left tackle
Branden Albert
is working with the Chiefs for the first time this offseason. Th sides are trying to get a long-term deal done.
The Eagles will honor former quarterback
Donovan McNabb
on Sept. 19 when they host the Chiefs and former Eagles' coach Andy Reid. Reid drafted McNabb in his first year in Philadelphia.
September, 9, 2011
9/09/11
6:10
PM ET
Denver safety
Brian Dawkins
has entered uncommon territory as he is about to enter his 16th season as an NFL safety.
Dawkins
In the history of the NFL, only Paul Krause and Eugene Robinson have played that long at the position. Dawkins, entering his third season in Denver, has taken time to reflect on the accomplishment.
"It's crazy. I came into the league, and I was just trying to make the team. I knew I was a second-round draft pick or whatever, but nobody explained to me the rules of that, so I was just trying to make the team," Dawkins said in quotes distributed by the team. "As it goes along I was like 'Let me get vested and vested comes, and if I could get double digits [years] it would be awesome. Double digits came and went and I was still playing.' Now it's just as many as the good Lord's blessed me with I'll go out and do it. When [I heard] that stat, it just dialed in how long I've played in this game."
A major reason why so few safeties last as long as Dawkins (who entered the league with Philadelphia in 1996) is because of the toll the position takes on the body. Dawkins is proud he entered the league as a safety and he will leave the league as a safety.
"Pure safety, not corner that turns safety, but pure safety," Dawkins said. "If you look at the majority of the huge collisions, they come in that second level back there because we're not like linebackers are, close to the line of scrimmage. D-linemen are right on the line of scrimmage. Safeties are 15-20 yards deep sometimes and we're coming down on somebody that's running full speed at us, so those collisions are very violent. So to be blessed to play the game as long as I've played it is an absolute blessing."
Dawkins, 37, could be entering his final season. Injuries have worn on him and he might be slowing down. But new Denver coach John Fox wanted Dawkins, the biggest leader on the team, to stick around because he can still help on the field and because of his vocal presence. Dawkins will be remembered as an Eagle, but the timeless veteran has had an impact in Denver.
August, 1, 2011
8/01/11
6:40
PM ET
Interesting news out of Denver as I settle in at the Raiders' camp.
The Denver Post is reporting
that
Kyle Orton
is getting all the first team repetitions in training camp.
Orton
Tebow
If that's the case, Denver should simply decide to keep Orton as the starter. They tried to trade him to Miami last week, but a deal couldn't be agreed upon.
Orton said last week his intention was to be the starter in Denver as a long as he is a Bronco. He is a free agent at the end of the season.
The Broncos clearly wanted to trade him and they wanted to see what
Tim Tebow
could do as a starter. If the Broncos don't think Tebow is worthy of getting any first-team snaps, then they should make Orton the starter. The season starts in exactly six weeks for Denver.
Tebow will need all the time he can get with the first team if he is going to start. If Denver thinks he's not ready, then they have to make that decision and stick with it.
Trading Orton in a few weeks and then trying to push Tebow (or
Brady Quinn
) into the starting lineup wouldn't be fair for anyone.
Meanwhile, the Broncos are planning to look at many defensive tackles.
They acquired
Brodrick Bunkley
from the Eagles for a conditional 2013 pick. He is a former first-round pick. There is no guarantee he will make the team. The Broncos signed former Jacksonville first rounder
Derrick Harvey
and are trying to sign fellow defensive linemen
Jamaal Anderson
and
Ty Warren
as they look for the right mix on the unit.
July, 29, 2011
7/29/11
8:10
PM ET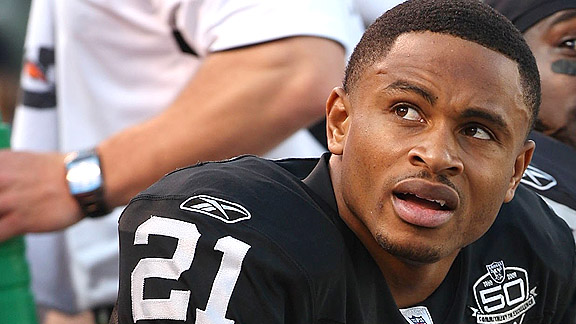 Jed Jacobsohn/Getty ImagesOakland was never really serious about re-signing Nnamdi Asomugha.
This has to be a difficult day in the Raider Nation.
It lost its best player in an agonizingly long departure.
In the end,
Nnamdi Asomugha
-- arguably the best cornerback in the NFL and, by far, the top free-agent prize of 2011 -- departs the
Oakland Raiders
and becomes a member of the
Philadelphia Eagles
. He agreed to a five-year, $60 million deal with $25 million in guaranteed money.
But there is much more to the story. Asomugha's saga took three days to unfold and several teams, including the
New York Jets
,
Houston Texans
,
Dallas Cowboys
and (gulp) even the
San Francisco 49ers
all made a push for Asomugha. They were all waiting for him. He kept holding off on his decision.
It cruelly gave Raider Nation hope that perhaps, somehow, Asomugha could come back to Oakland. In the end it appears Asomugha and the Raiders were never close to re-joining forces.
In a way, it's stunning. Al Davis rarely loses his top players. He is known for overpaying his players to stay. He paid Asomugha $30 million in the past two seasons before Asomugha's contract voided in January.
Asomugha was a great Raider and a true shut-down corner. Even playing in Oakland's man-to-man defense, Asomugha excelled. He only saw 50-plus passes thrown his way in the past three seasons combined.
Even though it's surprising to see Davis allow a top talent to walk, there were plenty of tell-tale signs that Asomugha was likely on his way out.
At the news conference to announce the hiring of Hue Jackson in January, Davis said that he'd try to keep Asomugha but the money spent on him could be used for two or three players. Prior to the lockout, Oakland was, by far, the most aggressive team in the NFL when it came to securing its own free agents. The Raiders locked up several players including
Richard Seymour
,
Stanford Routt
,
John Henderson
and they gave
Kamerion Wimbley
the franchise tag,
The deal to Routt was telling. He was given $30 million for three years. That's No.1 cornerback money. Then, the Raiders took cornerbacks in the third and fourth rounds of the draft.
Now Asomugha is gone and all the Raiders have are memories of a great defender and a probable third-round comp pick next year.
There has been reasons for hope in Oakland. The team is stocked with young, exciting talent and the Raiders went 8-8 last season -- breaking a seven-season spell of 11 or more losses, which was an NFL record.
The Raiders still have high hopes, but it will be difficult to improve without their best player. Their young cornerbacks must improve and the promising front seven has to flourish to make up for the lack of the shut-down presence of Asomugha. They could pursue a veteran cornerback such as
Antonio Cromartie
or
Nate Clements
. While neither player is in Asomguha's class, they are both proven veterans.
While money is clearly an issue, the Raiders have to find a way to make some moves. They are trying to work out a long-term deal with Wimbley (the pass rusher wants big money) to open up cap room. They must lock up Pro Bowl tight end
Zach Miller
and there have been reports of a potential deal for tackle
Jared Gaither
to shore up the offensive line, which is Oakland's weakest spot.
I know enough about Davis to know, he clearly will not stop trying to win. But there's no doubt, it did get tougher with Asomugha's departure.
May, 2, 2011
5/02/11
2:00
PM ET
Now that the draft is completed, we have a better idea of what teams still need a quarterback and who could potentially be interested in Denver quarterback
Kyle Orton
. The pool has shrunk considerably as six quarterbacks were taken in the first 36 picks.
Orton -- along with Philadelphia's
Kevin Kolb
and Cincinnati's
Carson Palmer
-- could all be trade possibilities when the lockout ends.
However, the longer the lockout extends, the higher the odds are that Orton stays in Denver. If second-year quarterback
Tim Tebow
doesn't get ample offseason work, the Broncos could be tempted to begin the season with Orton as the starter. Still, because Orton's contract ends after this season, the Broncos might be swayed to trade him while they can get a decent return for him. Here are a few teams that may be interested in Orton because they didn't address quarterback in the draft.
Arizona
: This could be a good fit.
Buffalo
: The Bills will likely stick with
Ryan Fitzpatrick
Miami
: Orton could paired with
Brandon Marshall
again.
Seattle
: The Seahawks will likely pursue a veteran.
Tenneesse
: Despite drafting
Jake Locker
, the Titans could look for a vet.
Washington
: The Redskins may go with
John Beck
.
April, 19, 2011
4/19/11
1:00
PM ET
I am not surprised the player I voted No. 1 in our cornerback Power Rankings did not finish on top. Actually, I'm surprised I had company in voting
Oakland Raiders
free-agent
Nnamdi Asomugha
No. 1 on the list and that he was actually within man-to-man coverage distance of winner
Darrelle Revis
of the
New York Jets
.
[+] Enlarge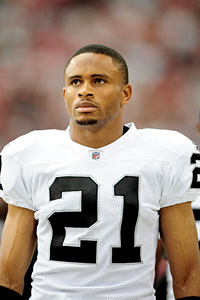 Mark J. Rebilas/US PresswireNnamdi Asomugha is one the league's best cornerbacks.
John Clayton and Paul Kuharsky also voted Asomugha ahead of Revis. It was not enough to elevate Asomugha to the top of the cornerback food chain. Revis finished with 77 voting points and Asomugha finished with 75 points. Former Raider and current
Green Bay Packers
star
Charles Woodson
finished a distant third with 58 points.
Revis and Asomugha had a monopoly on all the first and second-place votes. That's the way it should be. They are the two best corners in the game and they'd be our two starting cornerbacks in any dream game.
However, I gave Asomugha the edge because I think he has a longer résumé and he has had a bigger impact on the game. Asomugha has been in the league since 2003 and Revis has been in the league since 2007. Both men are in their prime.
I've seen passes completed against Revis in a limited view of his work. I've watched Asomugha play live for years. I can count on one hand the balls that have been completed against him. I'm sure plenty of teams will agree on Asomugha's worth when he will be showered with lucrative free-agents offers once the lockout ends.
The AFC West influence didn't end with Asomugha.
Denver Broncos
cornerback
Champ Bailey
finished fifth with 53 points. He was one vote behind the
Philadelphia Eagles
cornerback
Asante Samuel
. I had Bailey ranked fourth. He may be 32, but he is still playing at a high level. That's why Denver just gave him a lucrative new deal to keep him off of the free-agent market.
In a bit of a surprise, Oakland's
Stanford Routt
finished two points out of the top 10. I did not vote for Routt. I actually voted San Diego's
Quentin Jammer
10th. I think Jammer is an underrated player, so I'm not surprised I was alone in recognizing him. Routt received two votes, including a sixth-place spot by Clayton.
I like Routt and I'm interested to see what he does, in 2011 after signing a fat, new contract. Especially if Asomugha leaves and Routt is the No. 1 cornerback in Oakland. I think Routt was awarded in this ranking for his
strong "burn rate" numbers.
I'll be prepared to put Routt in the top 10 next year if he performs well in 2011.
Kansas City Chiefs
cornerback
Brandon Flowers
received three voting points. Like Routt, I could see myself considering Flowers next year. Former Oakland player
DeAngelo Hall
finished ninth and former Charger
Antonio Cromartie
received five points. I didn't consider either because I think they are both overrated. Neither Oakland nor San Diego misses those two players.
Overall, this exercise shows that is a strong time for cornerback play in the AFC West.
August, 28, 2010
8/28/10
2:29
PM ET
Some thoughts from Kansas City's
20-17 loss
to Philadelphia on Friday night:
First, we must address the injuries. Rookie linebacker
Cameron Sheffield
was
taken off the field on a stretcher
after a helmet-to-helmet hit. There has been no official comment made on Sheffield's condition, but there were indications Saturday that the prognosis was good.
Running back
Jamaal Charles
left the game in the second quarter with an arm injury. Saturday, ESPN's Adam Schefter
reported that Charles is fine.
Despite the injury scares, it was a productive night for the Chiefs. The most exciting aspect was the strong play from the defense. Kansas City has been searching for this type of effort all summer. The Chiefs had five sacks. That's a tremendous boost for this unit. Linebackers
Andy Studebaker
and
Demorrio Williams
each had two sacks. Both Studebaker and Williams have earned major playing time once the regular season starts.
The offense was sloppy at times, but it was steady. The Chiefs turned a turnover into a touchdown on a 16-play, 63-yard drive. If the two units can play like this once the regular season starts, the Chiefs will have a chance to compete in every game.
Other strong points for the Chiefs included another impressive performance by the rookie class and the fact that the still-growing offensive line allowed just one sack.
With most of the key players expected to play small roles -- if they play at all -- in the preseason finale, the Chiefs should march toward their Sept. 13 opener against San Diego feeling pretty good.
May, 6, 2010
5/06/10
8:16
PM ET
There is little chance
JaMarcus Russell
will be claimed off waivers because of his large salary. However, I bet some team gives him another chance at some point.
He is only 24 and he has a great arm. NFL coaches are very arrogant. They think they can make players stars. So, some team will likely give Russell the league minimum salary and another chance.
With the help of my fellow bloggers, here is a list of some teams that could take a look at Russell.
Arizona
: The Cardinals aren't exactly set at quarterback.
Buffalo
: The Bills have a need for someone who can help now. That's not Russell.
Chicago:
Bears' offensive coordinator Mike Martz loves big arms. But the Bears would likely want a more experienced backup.
Cincinnati:
The Bengals could use a backup and they aren't afraid of adding anyone.
Minnesota
: If
Brett Favre
doesn't come back, there could be a need there.
New Orleans:
Maybe Sean Payton and a return to Louisiana could spark his career.
Philadelphia
: The Eagles aren't scared of bringing in quarterbacks.
San Francisco
: The 49ers could use another arm, but not sure how this would fly in the Bay Area. Raiders' fans would love it.
Washington
: Mike Shanahan would probably love to stick it to Al Davis and make something out of Russell.
April, 19, 2010
4/19/10
12:35
PM ET
The 2006
Denver Broncos
draft class is widely considered one of the best classes in recent years. Clearly, Josh McDaniels wasn't overly impressed.
For the third time in a year and the second time in less than a week, McDaniels has jettisoned a player from the class.
ESPN's Adam Schefter is reporting
that Denver sent tight end
Tony Scheffler
to Detroit in a three-way deal that also included Philadelphia. The Broncos will get an undisclosed draft choice from the Eagles.
ESPN's Chris Mortensen reported
that Denver will get a fifth-round pick from the Eagles (No. 137) and that the Broncos sent a seventh-round pick to the Lions in the deal. The Broncos wanted a third-round pick for Scheffler.
Clearly, the Broncos just wanted to rid themselves of Scheffler. Scheffler was a second-round pick in 2006. He joins quarterback
Jay Cutler
(first round) and receiver
Brandon Marshall
(fourth round) as players who have been traded from the class since McDaniels took over.
Scheffler was often in McDaniels' doghouse, and it climaxed when Scheffler was benched for the final game of the 2009 season for accountability reasons. Scheffler is a talented player who can stretch the field. Tight ends in McDaniels' system often concentrate on blocking, which isn't Scheffler's forte.
Still, his departure further weakens Denver's receiving options. The team has a glaring hole at the receiver position after trading Marshall to Miami last week. However, it is clear McDaniels wants his build his program his way, even though this deal doesn't really help the Broncos' drafting power. However, they do have three of the first 45 picks.
Posted by ESPN.com's Bill Williamson
Denver
The Eagles called about tight end Tony Scheffler, but a trade is not likely.
My take: Scheffler should be kept. The trade talk came up earlier this offseason because new coach Josh McDaniels' system revolves around three receivers and one tight end. Denver's starting tight end is Daniel Graham, who is a blocking specialist. Scheffler is a field-stretching tight end. Denver has to find a way to work him into the offense. He is a weapon. Keeping him will make this offense more potent.
Kansas City
Larry Johnson's future could be determined this weekend.
My take: It wouldn't be the worst idea for Kansas City to take a running back even if Johnson is in the team's plans. He is 29 and won't be playing forever. The team also has Jamaal Charles and Kolby Smith. Another back could be added to the mix regardless of Johnson's future with the team.
Oakland
ESPN's Chris Mortensen is reporting the Raiders are shopping defensive end Derrick Burgess.
My take: Burgess still has some value but I don't think Oakland will get anything more than a mid-round pick for him. Burgess is getting older and was injured often last season. The Raiders, who only have five draft picks, like second-year pass-rusher Trevor Scott.
San Diego
The San Diego Union-Tribune believes the Chargers will draft Tyson Jackson.
My take: San Diego may have to move up from No. 16 to get that done. Kansas City could take Jackson at No. 3. Green Bay (No. 9) and Denver (No. 12) also like the LSU defensive end. He may fit what San Diego does but he may not be available.
April, 1, 2009
4/01/09
12:12
AM ET
Posted by ESPN.com's Bill Williamson

The Broncos are serious about their statement that they will trade quarterback Jay Cutler. He is not on the team's depth chart at quarterback on its Web site.
It is over.
| | |
| --- | --- |
| | |
| | Doug Pensinger/Getty Images |
| | Plenty of teams could use the services of Jay Cutler. |
So here's the next question. Where will Cutler land? Let's handicap the field of possible landing spots for Cutler (with odds in parentheses):
New York Jets (3-1): The Jets have made it known they want to replace Brett Favre with Cutler, another Bus Cook client. The Jets have the No. 17 pick and they would have to give Denver much more to get him. But the Jets showed with the Favre pursuit that they know how to pull off a big deal.
Tampa Bay (3-1): The Buccaneers were one of the first teams to talk to Denver about Cutler in February. They desperately need a quarterback. They have the No. 19 pick, so they might be hard pressed to make a deal.
Detroit (4-1): The Lions have had interest in Cutler since early in this process. They have the No. 1 and No. 20 picks in the draft. However, Detroit could decide to draft Georgia quarterback Matthew Stafford instead.
Chicago (5-1): Making such a deal may be out of character for general manager Jerry Angelo, but the Bears need a quarterback and two of their NFC North foes will be going after Cutler. They need to make a push. Chicago has the No. 18 pick.
Cleveland (5-1): The Browns have a good chance of landing Cutler if they want him. They can package Brady Quinn and perhaps defensive tackle Shaun Rogers for Cutler. This could work -- if the Browns want to do it.
| | |
| --- | --- |
| | |
| | NFL.com Video |
| | The best moments from Jay Cutler in 2008. |
Jacksonville (8-1): The Jaguars could use an upgrade over David Garrard. They have the No. 8 pick and could compete with several other packages.
San Francisco (8-1): The 49ers wanted Kurt Warner, so why not Cutler? Expect San Francisco to get in on this race. The 49ers have the No. 10 pick, so it is possible they can give Denver a nice package.
Washington (10-1): I have quietly heard Washington could be involved in a deal for Cutler since the day the trade story broke. The Redskins have said Jason Campbell is their quarterback, but Cutler is a better player and a trade package could involve Campbell. How about Cutler and Mike Shanahan reuniting in the nation's capital in 2010?
Minnesota (12-1): The Vikings were one of the first teams in on Cutler. They have since added Sage Rosenfels, but the idea of Cutler could be tempting.
Tennessee (18-1): This could be a dark horse. Cutler would love to end up in Nashville, where he played in college. But would the Titans do it?
St. Louis (20-1): What better way to start a new era than with a new quarterback. The Rams have other needs, but why not?
Seattle (25-1): Could the Seahawks be intrigued by sending Matt Hasselbeck and the No. 4 pick for Cutler?
Philadelphia (30-1): The Eagles have an aging quarterback and two first-round picks. If they wanted to do it, they could make a nice package.
Kansas City (50-1): This whole saga began when Josh McDaniels wanted Matt Cassel. Perhaps the Chiefs should give McDaniels another chance to take Cassel in a deal for Cutler.
February, 28, 2009
2/28/09
2:35
PM ET
Posted by ESPN.com's Bill Williamson
With Denver agreeing to terms with former Indianapolis defensive tackle Darrell Reid, the team has now signed seven free agents in the first 36-plus hours of free agency.
To put the Broncos' wild spree in perspective, the other three AFC West teams haven't signed any players.
Sure, Oakland is sniffing around tackles Khalif Barnes and Marvel Smith; San Diego is thinking about bringing back cornerback Drayton Florence after a year's detour to Jacksonville and Kansas City traded for New England linebacker Mike Vrabel. But the only inking going on thus far in this division is coming out of the Rocky Mountains.
None of the names Denver has signed so far will overwhelm you but the new regime, led by coach Josh McDaniels, is trying to create competition and depth.
Here is a recap of the players Denver has agreed to deals with so far:
Houston Texans receiver David Anderson (restricted offer sheet); Arizona Cardinals running back J.J. Arrington; Philadelphia Eagles running back Correll Buckhalter: New England Patriots receiver Jabar Gaffney; Miami Dolphins safety Renaldo Hill; New England Patriots long snapper Lonie Paxton and Indianapolis' Reid.
The team is also trying to finalize deals with Philadelphia safety Brian Dawkins and Cleveland linebacker Andra Davis. Dawkins would certainly be the big catch of the group and if Denver is going to finalize the deal, it could come at any time.
February, 27, 2009
2/27/09
9:42
PM ET
Posted by ESPN.com's Bill Williamson
The Broncos inked their sixth player of the day, Miami safety Renaldo Hill. He will fill one of the safety spots while Denver hopes to finalize the Brian Dawkins' deal, which could happen tonight. He is in Denver now and a two-year deal could be near completion. But until he is signed, don't discount the idea of the Eagles' star returning to Philadelphia.
A look at other teams in the AFC West:
It is being reported that Oakland is shopping running back Michael Bush around the league. That is somewhat surprising because Bush is a talented player who is versatile. He may be easier to trade than the more expensive Justin Fargas.
The Houston Texans are talking to Denver backup quarterback Patrick Ramsey. It doesn't appear new Denver coach Josh McDaniels is overly interested in keeping him. As Matt Cassel showed McDaniels last season in New England, a good backup is needed.
Speaking of Cassel, many believe the Chiefs are the only team he could be traded to if the Patriots deal him. With the Mike Vrabel trade going down Friday, it is obvious new Kansas City general manager Scott Pioli is comfortable talking with his former team about a deal.
I wonder if new Kansas City coach Todd Haley will use Vrabel as a tight end near the end zone like the Patriots did. Haley is not scared of using unconventional plays, so it could be intriguing.
If San Diego brings back Drayton Florence, the team could think more about moving 2008 first-round pick Antoine Cason to free safety. The Chargers are talking to Florence. He is also talking to Buffalo. Jacksonville cut Florence after signing him from San Diego last year.
NFL SCOREBOARD
Thursday, 10/23
Sunday, 10/26
Monday, 10/27
WEEKLY LEADERS