August, 31, 2013
8/31/13
6:40
PM ET
Most significant move:
It was a tough couple days for some of the Broncos' younger players. After retaining the bulk of their draft classes in the first two years on the job for John Elway and John Fox, the Broncos waived four former draft picks Saturday. Three were from the two Elway/Fox classes, when they trimmed the roster to 53 players.

Center/guard
Philip Blake
(fourth round in 2012),
Jeremy Beal
(seventh round in '11), wide receiver
Tavarres King
(fifth round in '13) and tackle
Vinston Painter
(sixth round in '13) were all let go. King, who spent much of training camp and the preseason working with the second-team offense, likely lost his spot when the Broncos kept 11 defensive backs and three quarterbacks, including rookie
Zac Dysert
.
King and Painter are practice squad possibilities if they clear waivers.
"As you get better -- you never want to release anybody -- but as you get better, you have fewer slots,'' Elway said. "That's the situation that we're running into.''
Eleven's a crowd:
In 2011, the first year of Elway's tenure as the Broncos' top football decision-maker, the Broncos kept nine defensive backs when they cut the roster to 53. Last year they kept 10 -- five cornerbacks, five safeties.
This year, with needs on special teams carrying the day, they kept 11 defensive backs, six cornerbacks and five safeties. The Broncos, like many teams in the league, have gone to more defensive backs on special teams, taking several jobs in coverage units that used to go to linebackers.
"You have to look at special teams too, what guys do on special teams," Elway said. "… So, those are the type things that a lot of people don't think comes into the equation but what you do on fourth down is part of it."
As a result the Broncos are little light at wide receiver, with just five including returner
Trindon Holliday
. Holliday played just seven snaps on offense last season after joining the Broncos in October. They team will likely to expand his role slightly this season.
What's next:
They are reasonably healthy after an offseason filled with drama, but it remains to be seen if they can consistently generate a pass rush without Miller and if they can consistently protect quarterback
Peyton Manning
when they play their preferred three-wide receiver look on offense.
But Elway likes the choices they made.
"The bottom line is we kept the best 53,'' Elway said. "Everyone says you want to win now, and I say we want to win now on.''
Broncos cuts/moves:
RB
Lance Ball
, C/G
C.J. Davis
, RB
Jeremiah Johnson
, C/G
Ryan Lilja
, TE Jake O'Connell, DE Jeremy Beal, C/G Philip Blake, T
Paul Cornick
, DT
Romney Fuga
, DT
Ben Garland
, CB
Aaron Hester
, LB
Damien Holmes
, WR
Tavarres King
, T Vinston Painter, S
Ross Rasner
, WR
Gerell Robinson
, WR
Lamaar Thomas
, DE
John Youboty
. DE
Quanterus Smith
, LB
Stewart Bradley
, LB
Lerentee McCray
were placed on injured reserve. LB
Von Miller
was placed on reserve/suspended.
August, 29, 2013
8/29/13
6:30
AM ET
The
Denver Broncos
, like the rest of the league, will tie a bow on the preseason Thursday night. Most of the team's regulars will get the night off against the visiting
Arizona Cardinals
, but decisions still need to be made at a few spots at the back end of the roster.
With that in mind, some things to keep an eye on:


One of the most difficult spots for the Broncos to make cuts ahead of Saturday's deadline to pare the roster to 53 players -- the bulk of which will come Friday -- will be in the secondary.
The Broncos kept nine defensive backs on the opening-weekend roster in 2011 and 10 last season -- five cornerbacks and five safeties. The issue this year is that Denver has two young, homegrown cornerback prospects in
Omar Bolden
and rookie
Kayvon Webster
, who have shown themselves to be worthy of the roster and would raise the overall athleticism at the position.
With
Champ Bailey
,
Dominique Rodgers-Cromartie
,
Rahim Moore
,
Duke Ihenacho
,
Chris Harris
,
David Bruton
and
Tony Carter
having worked in the top seven slots all through the preseason, that doesn't leave room for Webster, Bolden,
Mike Adams
and
Quentin Jammer
to all make it.
If the Broncos stick with nine players in the secondary, they are essentially choosing between youth and experience for those final two spots. If they keep an extra cornerback, however, it may be an indication they feel they need to open the season with some insurance for Bailey's foot injury.
Unless Denver takes the uncharacteristic step and keeps 11 defensive backs, Bolden and Webster both figure to play plenty against the Cardinals to state their cases.
Brock Osweiler is slated to get the start at quarterback behind what is largely a backup line. That has been a tough combination thus far in the preseason for Osweiler, who has been sacked eight times in the three previous games behind the reserves. It makes it difficult for the Broncos to work out of the three-wide look as much as they'd like given that they haven't consistently protected the quarterback in it -- even when the starters have been in the game -- this preseason. If things get dicey they might have to go big again, as they did last weekend against the Rams. After opening the game with three wide receivers and allowing too many rushers to get too close to Peyton Manning, the Broncos went to a two-tight-end look. They lined up in a two-tight-end look on 29 of the next 35 plays after the opening three-and-out, including all 12 in a drive that ended with a blocked field goal. The Broncos might feel like they need to give Osweiler a little more beef up front.

The last few rosters spots will be decided on special teams, and the Broncos could use a good showing there. In the past two games they have surrendered a 107-yard kickoff return for a score, a 33-yard punt return, an 81-yard punt return and seen a field goal blocked. Many of the Broncos' youngest players will have a chance to help their causes against Arizona, with Denver special-teams coach Jeff Rodgers looking for those who display speed and smarts.

[+] Enlarge

AP Photo/Eric BakkeCornerback Kayvon Webster, a third-round pick, gets a last chance tonight to show he deserves a roster spot.

The Broncos have lost five fumbles in three preseason games -- two by Osweiler, two by Ronnie Hillman and one by Julius Thomas. Hillman is not expected to play Thursday, but things need to be cleaned up. Lance Ball and Jacob Hester figure to get some work as the Broncos face some tough decisions at running back as well. Hester has not had a carry in the preseason and is the only back that has lined up at fullback thus far.

The Broncos have to sort things out in the offensive line, where they kept nine players in both 2011 and last season. After the starting five -- Ryan Clady, Zane Beadles, Manny Ramirez, Louis Vasquez and Orlando Franklin -- the Broncos need a swing tackle, likely Chris Clark, and a swing guard/center or two, with Ryan Lilja, Steve Vallos and Philip Blake in the mix. Blake, a fourth-round pick in 2012, has been headed the wrong way on the depth chart -- the Broncos didn't even work him much at center in the preseason, a position he played in college and one they originally drafted him for. Blake is decidedly on the bubble -- a long way down for a player some believed was pushing to start before a thumb injury ended his rookie season. He has regressed since that point, so he's either not getting the message about the changes in the offense or is not reacting well to the coaching he's getting. Rookie tackle Vinston Painter has shown the kind of athleticism that deserves a roster spot, but the Broncos may be in a position where they have to hope he makes it through waivers so they can sign him to their practice squad. Lilja is a tough call, too. Denver certainly likes him in the offense, but he had microfracture surgery on his knee just a few months ago and has missed significant amount of practice time of late because of the knee.

Rookie quarterback Zac Dysert will likely get his most significant work of the preseason. Dysert has shown some quality scrambling skills in practice, so he could have an entertaining down or two if he gets loose. He projects to the practice squad, but the Broncos would like to see some better accuracy from the pocket, especially in the shorter and intermediate routes.

Linebacker Lerentee McCray and wide receiver Lamaar Thomas are the undrafted rookies with the best chance to make the final 53 -- especially McCray. If the Broncos don't keep McCray, there are at least two other teams that would consider signing him. He's a big-bodied linebacker who, while not always showing good instincts, has the ability to disrupt an offense and closes to the ball with speed and intent.
April, 28, 2012
4/28/12
1:16
PM ET
The Broncos' compensation in the
Tim Tebow
trade is a gift for Tebow's replacement,
Peyton Manning
.
Denver took Baylor center
Philip Blake
with the No. 108 pick, in the fourth round. That was the primary pick the Jets gave up in the Tebow trade.
Interestingly, Blake will backup/compete with
J.D. Walton
, a former Baylor teammate. Denver took Walton two years ago and he has been the team's starter. Manning has been working closely with Walton since Manning signed in Denver last month. Blake likely won't compete with Walton right away.
The Broncos made an interesting pick early in the fourth round in the in the form of Arizona State cornerback
Omar Bolden
. He missed all of last season with an ACL injury. He has excellent cover skills and, if healthy, he likely would have been a second-round pick last year.
Bolden is now healthy. It's a worthwhile pick for Denver since they are looking for young cornerbacks who don't have to start right away. This pick has a chance to be a steal.
The Chiefs love small, return types. They drafted
Devon Wylie
of Fresno State in the fourth round. Wylie is dynamic player. He is fast and NFL-ready, yet he is just 5-foot-9, 188 pounds. He can also kelp in the return game, where the Chiefs have several options. Wylie is similar to 2010 second-round pick
Dexter McCluster
.
He and McCluster can be on the field together with McCluster being in the backfield. With big receiver
Dwayne Bowe
and
Jon Baldwin
, the Chiefs continue to give themselves matchup options.
The Chargers began to start thinking about a post-
Antonio Gates
world by taking Louisiana-Lafayette tight end Ladarius Green in the fourth round. Like the Chargers' first three picks, Green was expected to go earlier in the draft. He is an interesting prospect for down the road.
April, 26, 2012
4/26/12
11:02
PM ET
NEW YORK -- For the players who get taken in the first round of NFL draft, it's hard to to top this week. They are honored and celebrated all over the world's greatest city, treated like heroes in a town that knows as well as any what that word really means. They are congratulated at every turn, applauded on stage at Radio City Music Hall, then flown off to the hometowns of their new employers to sign multimillion-dollar contracts and enjoy red-carpet welcomes all over again.
For
Robert Griffin III
, the new quarterback of the
Washington Redskins
, this week represents the end of quite a roll. He went through something very much like this in December, when he was here winning the Heisman Trophy. Since then, he has been hailed as a can't-miss prospect, a savior for whom the Redskins were willing to trade three first-round picks and a second-rounder. It's the kind of thing that could go to a young man's head -- if this were a different young man.
"It's about how humble you stay," Griffin said a couple of hours after the Redskins made official what everyone had known for a month. "It's how smart you can be amid everything that's going on. I'm not going to go into that locker room and say, 'Hey, guys, look at me. I'm on the cover of ESPN the Magazine.' That's not going to work, and I understand that."
As wonderful as his tape looks, as fun as his smile is, as perfect a fit as he appears to be for what Mike Shanahan and the Redskins like to do, this stuff Griffin was saying late Thursday night is the best thing Redskins fans could be hearing about him right now. Because there are two different ways things can go for a guy after he wraps up draft week in New York and heads off to work as an NFL rookie. And if you're not willing to accept the need to reset your sense of humility and remember how much work lies ahead of you ... well, then things could really go the wrong way.
"People say that being drafted can change who you are," Griffin said. "And I think it's the lifestyle change that can be a bit of a shock. So you have to make sure and remember who you are and why they picked you."
The Redskins are asking Griffin to be something they haven't had for a couple of decades now -- a franchise quarterback, capable of leading them to championships. He will get almost no honeymoon, because no one does in today's NFL. Three years ago in this same room, the Jets traded up to take
Mark Sanchez
, who would find out that not even winning four playoff games in your first two years buys you extra benefit of the doubt from your fans or organization. There is no patience now, and Griffin's every throw, every word and every decision will be picked apart as it never has before.
"I'm having to carry the weight of a city and the fact that they haven't had a franchise quarterback in a long time," he said. "The quote-unquote 'savior' comment is something I ran into at Baylor, and it taught me how to manage that. I know I'll have to do that in D.C. on an even grander scale."
[+] Enlarge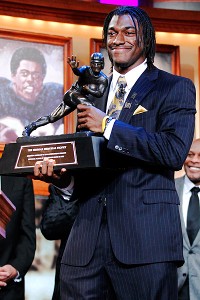 Kelly Kline/Heisman Trophy Trust/Handout Photo via US Presswire"If we're successful in Washington, it's not just me," Robert Griffin III said. "But if we're not successful in Washington, it is just me."
Among the many things he has going for him, Griffin understands his assignment. What the Redskins and their fans will expect of him is what he must expect of himself -- to make sure that Draft Week 2012 does not, going forward, remain the highlight of his football career. Redskins fans will be pleased to know that he has plans to make sure it does not.
"The goal isn't just to restore the Redskins to what they were, it's to do even better than that," Griffin said. "And it starts with a mindset. If you're drafted into the NFL, you have some degree of talent. From there, it's about how you inspire the people around you. You try to come in and show your teammates why they can trust in you and believe in you, rather than telling them, 'Hey guys, you can trust in me. You can believe in me.' And you do that by the way you carry yourself and how hard you're willing to work."
Griffin likes to talk about his teammates. He was back on stage when Baylor wide receiver
Kendall Wright
was taken No. 20 by Tennessee, and he celebrated as if he himself had been picked again. He's following closely to make sure his Baylor center,
Philip Blake
, gets picked as high as possible in this draft. He backs up that support for his teammates. He declined all offers of private workouts for teams because he wanted teams to show up at Baylor's pro day and watch the rest of his draft-eligible buddies. That's the kind of behavior, if he keeps it up in the pros, that can keep inspiring his new teammates, too.
In the end, though, the key thing for Griffin to remember is how important it is that he forget all of the hype that has led to this moment and focus on the hard work, the study time, the nitty-gritty, non-glamorous stuff he needs to do to hone his game, develop as a pro and transform the downtrodden Redskins into a winner.
"If we're successful in Washington, it's not just me," Griffin said. "But if we're not successful in Washington, it is just me."
Yes, a lot of work and a difficult challenge confronts this young man. And it remains to be seen how it will work out for him. The good news, from this vantage point, for his new fan base is that he really, really, really appears to get it.

NFL SCOREBOARD
Sunday, 2/2
WEEKLY LEADERS