NFL Nation:

Phillip Dillard
September, 4, 2011
9/04/11
8:19
AM ET
Click
here
for a complete list of the
New York Giants
' roster moves.

Biggest surprise:
Four rookie linebackers made the team. And yes, I know some of you were telling me that would happen Friday, but I expected
Adrian Tracy
to make the team and I was wrong. He was one of three 2010 draft picks -- including fellow linebacker
Phillip Dillard
and punter
Matt Dodge
-- among Saturday's cuts. But in part because of the way they played on special teams, rookies
Mark Herzlich
,
Greg Jones
,
Jacquian Williams
and
Spencer Paysinger
all made the team. That's the corps of backup linebackers behind starters
Jonathan Goff
,
Mathias Kiwanuka
and
Michael Boley
.
Running backs
D.J. Ware
and
Da'Rel Scott
made the team while 2009 draft pick
Andre Brown
was cut.
Devin Thomas
made the team as a wide receiver over
Michael Clayton
based on a strong preseason showing. And the Giants basically keep three tight ends --
Travis Beckum
,
Jake Ballard
and
Bear Pascoe
with rookie
Henry Hynoski
slated to be the starting fullback.
No-brainers:
Dodge had a very good preseason, has a lot of talent and probably will find work somewhere. But once the Giants brought in
Steve Weatherford
, who's been one of the best punters in the league the past two years, Dodge's days were numbered. Weatherford will be the punter, and the bad memories of Dodge and
DeSean Jackson
can begin to fade. Health issues cost
Sage Rosenfels
the backup quarterback job, which goes back to
David Carr
.
What's next:
I think they need to sort through the Eagles' castoffs. In particular, tight end
Donald Lee
and nickel cornerback
Joselio Hanson
make a lot of sense for the Giants, as the former would fill a huge hole and the latter would allow them to keep
Antrel Rolle
at safety. And personally I always think they need linebacker help, but they disagree and they like their rookies, so I guess we'll see.
August, 22, 2010
8/22/10
12:37
PM ET
By
Matt Mosley
| ESPN.com
You don't want to read too much into a preseason game, but Perry Fewell's unit looked pretty solid in the
New York Giants
' 24-17 loss against the
Pittsburgh Steelers
. Perhaps inspired by his starting role, defensive end
Osi Umenyiora
was dominant against the run. Umenyiora,
Justin Tuck
and
Mathias Kiwanuka
teamed up to cause some big-time minus plays against the Steelers' first-team offense.
Here are my quick-hit observations from Saturday's rumble in New Meadowlands Stadium:
I don't think the final numbers for quarterback Rhett Bomar -- 13-of-26 for 167 yards -- tell the whole story of his evening. Though he had one awful interception on a tipped ball, I liked the way he used his legs to extend plays. Bomar's capable of making something happen when a play breaks down, and that's the main reason the Giants should keep him around at least one more season. He obviously has a lot more upside than Jim Sorgi, but you'd have a hard time trusting Bomar if Eli Manning was out for more than two weeks in the regular season.
Nice interception by cornerback Corey Webster against Ben Roethlisberger. Webster has his confidence back, and he's playing with a swagger. Those are the types of plays that galvanize a defense. I think Fewell's done an excellent job of restoring confidence in all of these cornerbacks.
Hakeem Nicks can't get drawn into a fight four plays into a game. Football fights with helmets on seem so redundant. And when you get tossed from a game that early, it can put your teammates in a bind. I'm sure Tom Coughlin will have a long visit with Nicks about that play.
The Giants gave their old pal Flozell Adams fits at his right tackle spot. Tuck gained a small measure of revenge for that shoulder injury that Adams gave him last season by blowing past the aging player at least twice, once with a nice spin move. I liked how Fewell kept moving players around before the play. I think it confused the Steelers' offensive line.
Steve Smith made a Victor Cruz-like catch along the sideline for 45 yards from Bomar. He turned what could've been an interception into a big gain. Cruz entered the game in the second quarter to a loud "Cruuuuuuz!" chant. But he struggled against the Steelers. The muffed punt inside the 10-yard line was tough to watch. Looked like he let the ball bounce off his knee. Just a really clumsy effort. But this will give him a chance to bounce back from a little adversity.
Linebacker Keith Bulluck was only in there for a handful of plays, but I liked when he came racing through to drop Rashard Mendenhall near the line of scrimmage. Bulluck had two tackles and looked good calling out the signals during his short time on the field.
It's fun watching Ahmad Bradshaw run the football now that he's healthy. He has a nice blend of power and speed. As I said last week, Bradshaw's the feature back on this team. He and Brandon Jacobs seem to have a great rapport, so hopefully things won't be too awkward. But I think it will be tough for Jacobs to watch Bradshaw get 18-20 carries in a game while he receives 8-9. That's going to happen.
Excellent job by defensive tackle Rocky Bernard on the goal-line stand at the end of the first quarter. He showed a lot of power on that play, and I think it's something Fewell can build on.
Aaron Ross' 44-yard punt return was a thing of beauty. And don't be too worried about Steelers punter Daniel Sepulveda fighting off blockers to make the tackle. As a Ray Guy Award-winner at Baylor, Sepulveda was known for his punishing hits.
I'm hoping Bruce Johnson was supposed to have help from safety Michael Greco on that 68-yard touchdown. That was way too easy, and it brought back memories of matchups against New Orleans and Philly last season.
Adrien Tracy was pretty active down the stretch and ended up with nine tackles. Regarding safety John Busing, I'm not overly impressed. He's always arriving a split-second late, and I'm being generous with that estimate.
Phillip Dillard's a little eager at times against the run, and you'll see him overpursue. But I do like the energy he brings to the field.
The thing I like about Bomar the most is that he gets the ball out of there quickly. He'll change arm angles and fire a ball into a tight window like he did to Sinorice Moss in the second half. The numbers weren't that great, but I sort of admired how he stood in there and took some hits. And he was fearless when it came to running for first downs. Maybe a bit too fearless for Coughlin's taste.
I saw rookie defensive tackle Linval Joseph run a nice little twist with Kiwanuka on one play in the first half. Joseph's going to be starting by the end of the season.
August, 2, 2010
8/02/10
3:15
PM ET
By
Matt Mosley
| ESPN.com
ALBANY, N.Y. -- The Beast just wrapped up one-on-one sessions with Tom Coughlin,
Eli Manning
,
Justin Tuck
and
Antrel Rolle
, so we'll be rolling out some items throughout the afternoon. And remember to check out our Giants Camp Confidential feature Tuesday afternoon.
On Monday morning, Coughlin turned up the tempo in practice and wanted to see his players hustling between drills. He was not thrilled when a certain rookie defensive tackle (
Linval Joseph
) didn't know he was supposed to rotate into team drills. It was clear from the beginning of Monday's session that this coaching staff isn't going to wait for the young guys to catch up to the veterans. Either you keep up or you'll end up at the house. Here's what stood out to me during this morning's session:
[+] Enlarge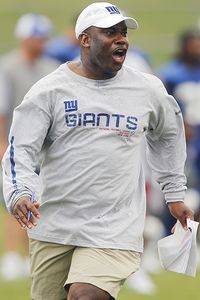 AP Photo/Mike GrollPerry Fewell's intensity hasn't gone unnoticed in the early stages of training camp.
It's remarkable how much of a presence new defensive coordinator Perry Fewell has in practice. You can hear him from anywhere on the University at Albany campus. When Mario Manningham caught a pass across the middle, Fewell shouted, "That's [expletive!]" to no one in particular. And when cornerback Corey Webster snagged a one-handed interception, Fewell raced up the left sideline and threatened to throw a block on an unsuspecting tight end. From talking to Tuck and other players, you can tell the Giants truly missed Steve Spagnuolo's dynamic presence in practice last season. Fewell brings that same type of energy. Of course, none of that will matter if the Giants give up a ton of huge plays. But at this point, Fewell has been the story of camp. Coughlin hired Fewell years ago and then admired him from afar as he blossomed into a highly regarded coordinator. I think the fact that Fewell held the Bills together during difficult circumstances was also a big factor in him being hired by the Giants.

For those of you who have been asking, Ahmad Bradshaw looks completely healthy to me. He had to bounce a run outside Monday because linebacker Clint Sintim came knifing through the line of scrimmage and he showed that same quickness that I remember from a couple years ago. The Giants will be very cautious with Bradshaw in camp, but he doesn't have any limitations at this point.

Staying with running back, I can see why general manager Jerry Reese and Coughlin still have a lot of hope for Andre Brown. He ran a nice little wheel route in Monday's practice and then just exploded down the sideline. The Giants beat writers tried to identify a running back who's made it all the way back from a ruptured Achilles' tendon. They came up empty. Perhaps Brown can make some history.

One of the few encouraging things from last season was Manning's ability to connect on some deep balls. On Monday, he put the ball in a perfect spot for Steve Smith, but the receiver had it glance off his hands. Safety Deon Grant was responsible for helping Webster on the play and he made the mistake of letting Smith get behind him.

Rolle just has a swagger that you didn't see in the Giants secondary last season. I think he's excited about playing on a bigger stage and he acts like he's been around forever. It really has been a seamless transition and I think he'll make a ton of plays for Fewell.

The Ramses Barden Show continued Monday morning with the wide receiver making nice catches in traffic. Manning has a lot more confidence in Barden at this point, but the second-year player still has to take it to the field. Coughlin and Reese seem convinced that Barden's on the verge of being something special. He was a big story in last year's camp, but in the two practices I've watched, I like how he's catching the ball on the run. There's none of that hesitation that some young receivers have.

Rough day at the office for Madison Hedgecock. He dropped both of the passes that Manning sent his way. And it's not just a case of having hands of stone. For whatever reason, he doesn't look the ball into his hands.

Duke Calhoun is a free-agent rookie out of Memphis who is displaying excellent hands early in camp. He's made a couple of catches in traffic and I could tell that Coughlin was watching him closely today.

Catch of the day goes to second-year tight end Bear Pascoe out of Fresno State. He was racing down the seam and then he went into a full dive to haul in a Rhett Bomar pass. And speaking of Bomar, he was on the money in team drills. He's gained a lot more confidence and he gets the ball out quickly. At this rate, he may push Jim Sorgi for the backup spot. We pretty much know what Sorgi's going to be at this point. Bomar has a live arm and he's not afraid to zing it into traffic. Safeties coach Dave Merritt was frustrated a couple of times because his players couldn't get their hands on Bomar's passes. But it's not like he's floating anything out there.

No one ever talks about defensive end Dave Tollefson, but he's a steady player. He looked solid against the run Monday morning and it looks like he's quicker off the ball than I've seen him in the past. Defensive end Mathias Kiwanuka made an outstanding play in team drills to force Bradshaw to reverse field.

Travis Beckum will receive a ton of playing time in the preseason. He's a big, speedy target for Manning. But when Bomar fired a nice pass across the middle, Beckum couldn't bring it in. With Kevin Boss only practicing once a day, Beckum's going to get treated like a starter. He has to make that play. A tight end out of Ohio State named Jake Ballard also had a bad drop on a pass from Bomar.

I took a long look at rookie defensive end Jason Pierre-Paul today. He's extremely gifted, but he's having a tough time getting off blocks at this point. Second-year offensive tackle Jacob Bender didn't have any problems with Pierre-Paul when I was watching today. The good news is that Pierre-Paul seems to have an excellent attitude. He and Joseph are hanging out with the veteran players asking questions all the time.

Center Shaun O'Hara (ankle) will sit out both practices today, but Osi Umenyiora (hip), Hakeem Nicks (toe) and Boss (knee) will all return. It also looks like the Giants are going to be cautious with Keith Bulluck's knee. He stayed on the sideline today while Jonathan Goff continued to run with the first team. I'm going to focus on Phillip Dillard for a little bit in practice this afternoon and see how he's coming along.
July, 25, 2010
7/25/10
5:46
PM ET
By
Matt Mosley
| ESPN.com
ESPN.com's Tom Friend
had a lengthy conversation
with former Titans linebacker
Keith Bulluck
once he signed with the
New York Giants
on Saturday. For the record, I think it's an excellent signing despite the fact Bulluck is only seven months removed from undergoing major surgery on his left knee.

Bulluck
It's reportedly an incentive-laden contract that could be worth as much as $2.5 million. And that's sounds pretty reasonable for a 33-year-old guy who has been the heart and soul of the Titans defense for several years. But there's one line from Friend's story that caught me off guard:
"When he woke up [June 20] without swelling, GM Jerry Reese offered him a contract and the starting middle linebacker job," writes Friend, describing the day after Bulluck's workout for the Giants.
Reese certainly has plenty of power in the Giants organization, but I've never known him to promise starting roles to anyone. I think Tom Coughlin will expect Bulluck to compete for the job with young players such as
Jonathan Goff
and rookie
Phillip Dillard
. I'm anxious to see how Bulluck's knee responds to daily practices in Albany. Something tells me that Coughlin will make sure he gets plenty of rest.
I'll consult with former Titans beat writer Paul Kuharsky of ESPN.com AFC South fame to see what he thinks of Bulluck's future.
July, 1, 2010
7/01/10
6:45
PM ET
By
Matt Mosley
| ESPN.com
Believe it or not, we're a little more than three weeks away from the
Dallas Cowboys
opening training camp. The rest of the NFC teams will open camp soon after. With vacation looming for at least one blogger, let's take a close look at the most compelling storylines for all four teams:
[+] Enlarge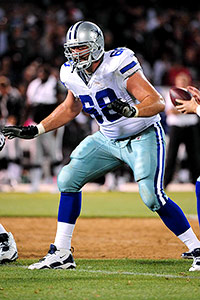 Kyle Terada/US PresswireWill Doug Free be able to replace former Pro Bowl left tackle Flozell Adams?
Dallas Cowboys:
The defending NFC East champs are legitimate Super Bowl contenders, although they've asked me not to write those words. There are a number of intriguing story lines, including the development of wide receiver
Dez Bryant
. How long will it take the former Oklahoma State star to overtake Roy Williams in the starting lineup? I'd give it at least six games.
But there's also this little thing about getting Bryant under contract. You might recall that he's represented by the same folks who advised San Francisco receiver
Michael Crabtree
to skip camp last year. The good thing for the Cowboys is that Jerry and Stephen Jones have a good working relationship with Bryant's agent, Eugene Parker. But it's something that bears watching. It would not surprise me one bit if Bryant missed the first week of camp while waiting for some other players to sign.
But the most compelling story line to me is whether
Doug Free
can adequately replace
Flozell Adams
at left tackle. I think Free has all the tools, but there will be bumps along the way. The Giants, Eagles and Redskins will structure their game plans around putting pressure on Free. Offensive coordinator Jason Garrett needs to be ready to counter. I keep reading that the left tackle spot is not as important as it used to be. I think that's a dangerous line of thought.
I've seen one position hold whole teams hostage, and that's why I'll have a close eye on how Free does in training camp. Can
Alex Barron
challenge Free for the starting spot in camp? I know that the other NFC East teams believe that to be the case.
[+] Enlarge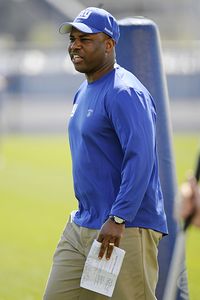 AP Photo/Bill KostrounDefensive coordinator Perry Fewell will need to get New York's pass rush going.
New York Giants:
I think the Giants are the X factor in the NFC East. There's a chance they show that the past season was an aberration caused by a rash of injuries. But I could also see them struggling again. The Giants will either have
Jonathan Goff
or rookie
Phillip Dillard
starting at middle linebacker. I suppose
Chase Blackburn
's in the mix, but we pretty much know what he is at this point. The Giants should be infinitely better in the secondary. Last season was a nightmare for the unit.
Safety
Antrel Rolle
will immediately solidify this situation and
Kenny Phillips
' return would be an enormous boost. But the Giants have protected themselves against Phillips not being ready to go.
Deon Grant
's a decent option who is very durable. And
Aaron Ross
is capable of playing either cornerback or safety.
But the No. 1 story line for this team revolves around new defensive coordinator Perry Fewell's ability to rev up the once-great pass rush. Truth be known, we haven't seen the Giants' vaunted pass rush since Nov. 2008. There was a significant falloff late in that season and the defensive line has never regained its swagger.
Fewell has to put the best pass-rushers on the field while being able to manage
Osi Umenyiora
's enormous ego. That's no easy task. Just ask former defensive coordinator Bill Sheridan about that situation. But if Fewell can get
Justin Tuck
,
Mathias Kiwanuka
going again, the Giants could be in the mix for a playoff spot. Seriously, who has the best chance of winning the division outside of the Cowboys? I can't remember it being this much of a crapshoot. And that's why the Giants have a major opportunity next season.
They're stacked at wide receiver -- especially with
Hakeem Nicks
' development. If
Brandon Jacobs
can rediscover the player that he was in 2007 and 2008, this can once again be a dangerous offense. But again, the most important piece to this puzzle is the pass rush. Can
Linval Joseph
and
Jason Pierre-Paul
help that situation immediately? Your guess is as good as mine.
[+] Enlarge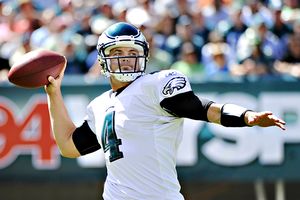 Howard Smith/US PresswireCan Kevin Kolb lead the Eagles now that he finally has the reins?
Philadelphia Eagles:
The Eagles attempted to retool their defense via free agency and the draft. I'm still concerned about the depth at the back end of the defense, but the linebackers are in a lot better shape. The Eagles need defensive end
Brandon Graham
out of Michigan to make an immediate impact. I took a long look at him during an organized team activities session and was impressed with his motor. But he's raw in terms of pass-rushing moves at this point. He's going through a crash course right now of watching smaller pass-rushers such as
Elvis Dumervil
on tape. And he's doing a nice job of bringing it to the field.
But this season will be all about whether
Kevin Kolb
's up to the task of replacing
Donovan McNabb
. I think he is and that's why I believe the Eagles are the second best team in the division right now. The former Houston Cougar will be smart enough to let all his weapons makes plays for him.
Jeremy Maclin
has made a huge leap this offseason, according to the folks I've talked to in the organization. The most important thing for Kolb is to protect the football.
He'll go through some growing pains, but I think the Eagles have enough talent to help Kolb survive the process. To me, this will be just as fascinating a story line as how McNabb performs for the Redskins. But that's just me.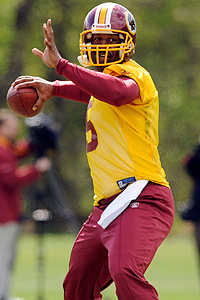 Rafael Suanes/US PresswireWashington is looking to Donovan McNabb to help turn the franchise around.
Washington Redskins:
Since I don't think
Albert Haynesworth
will be playing for the Redskins this season, I'm going to stay away from him in this column. The most compelling aspect of this season for Washington is obviously the performance of Donovan McNabb.
And that first matchup with the Eagles is going to be one of the most intriguing moment of the season. He's trying to play it down, but I think McNabb realizes that he has an opportunity to change his legacy if he can get the Redskins to the playoffs.
But is one man worth six additional wins? I have my doubts. Even with the addition of
Jammal Brown
, you still have questions along the offensive line. And
Santana Moss
has more on his mind than just football. Can
Malcolm Kelly
or
Devin Thomas
emerge as a consistent threat? That remains to be seen.
McNabb makes this a better team, but he's not a miracle worker. He had
Brian Westbrook
in his prime when he was going to all those NFC title games. How will he do with three aging running backs? We're about to find out.
May, 11, 2010
5/11/10
1:00
PM ET
By
Matt Mosley
| ESPN.com
»
NFC Big Question
:
East
|
West
|
North
|
South
»
AFC
:
East
|
West
|
North
|
South
Is Phillip Dillard a viable candidate to start at middle linebacker?
[+] Enlarge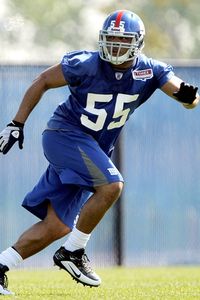 John Munson/US Presswire Phillip Dillard, a fourth-rounder in this year's draft, looks like a front-runner to start at middle linebacker for the Giants.
Something strange has taken place since the
New York Giants
' first rookie minicamp a couple weeks ago. It's almost like we're assuming that Phillip Dillard, a fourth-round pick out of Nebraska, should be the starter at middle linebacker. So does that say more about the team's shaky status at that position or Dillard's upside?
Antonio Pierce
is gone because of injuries and declining play. But the Giants certainly will miss his leadership at middle linebacker. It's the job of new defensive coordinator Perry Fewell to identify someone who's not afraid to be vocal while getting the front seven in the right spots. The good news for Fewell is that rookie linebackers have flourished as starters over the last few years in the league. I think of the impact
DeMeco Ryans
had as a rookie with the Texans. And you immediately knew that
Patrick Willis
would be Pro Bowler when he stepped on the field for the 49ers.
Dillard has a long way to go, but there are signs that he has the type of ability to take over the position. And honestly, I don't think
Jonathan Goff
,
Bryan Kehl
and
Gerris Wilkinson
are viable alternatives. I'm not sure there's a fourth-round pick in the league who faces more pressure than Dillard. Ohm Youngmisuk of ESPNNewYork.com caught up with Redskins middle linebacker
London Fletcher
to
ask him about rookies in the starting lineup
. Fletcher played for Fewell with the Bills, so he knows what the defensive coordinator's trying to accomplish.
"If the rookie comes in and is a great talent and they can live with the growing pains that come with the rookie, and that rookie learns from his mistakes and doesn't repeat the same mistakes, he can excel in that defense," said Fletcher.
April, 24, 2010
4/24/10
11:13
AM ET
By
Matt Mosley
| ESPN.com
The
New York Giants
continued their obsession with improving the defense.
Phillip Dillard
only started one full season at Nebraska, but he was superb in '09. He's a little small (6-foot, 245), but he has incredible lower-body strength and apparently plays a lot faster and smoother than his body type would suggest.
He didn't make a ton of impact plays for the Cornhuskers, but he's the type of sideline-to-sideline player that Jerry Reese covets. If the Giants can get more penetration up front, players such as Dillard will find a much clearer path to the ball. He's not the type of player who creates his own path, though. I see him playing on the weak side early in his career. Let's remember that he had
Ndamukong Suh
in front of him last season. That certainly helps.

NFL SCOREBOARD
Thursday, 9/18
Sunday, 9/21
Monday, 9/22