NFL Nation:

Phillip Rivers
December, 11, 2013
12/11/13
5:30
PM ET
SAN DIEGO -- He's the ultimate game wrecker.
At different points this season,
San Diego Chargers
defensive coordinator John Pagano has referred to playmakers like Cincinnati receiver
A.J. Green
and Dallas receiver
Dez Bryant
as game wreckers because of their ability to create game-changing plays regardless of what is schemed defensively.
[+] Enlarge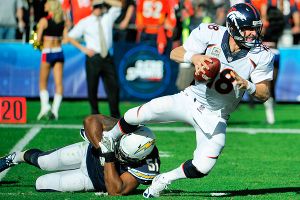 AP Photo/Denis PoroyThe Chargers held Peyton Manning in check -- relatively speaking -- in the teams' first meeting of the season, but the defense seeks to improve when facing no-huddle situations.
Well, on Thursday the Chargers will face perhaps the ultimate game wrecker for the second time this season: Denver quarterback
Peyton Manning
.
"We are playing the No. 1 offense in the National Football League on the road in a short week," Pagano said. "That is as big a challenge as it gets. Their receivers are the best. They have a great quarterback. They have great runners. Their offensive line plays at a high level.
"When you look at the categories, they are No. 1 in everything. I think that is a challenge in itself of going into Colorado and playing this game. We will make sure we show up."
Pagano is right. The Broncos are No. 1 in points scored (39.6), total yards per contest (465.6), passing yards (341.2), third-down conversions (48.2 percent) and red zone efficiency (78.9 percent.).
Manning has been deftly handling the controls, and he is on track to finish with the most productive season in his 16-year NFL career.
In San Diego earlier this season, the Chargers lost to the Broncos 28-20 but held them to their second-lowest scoring output this year. Manning threw for 330 yards and four touchdowns, taking advantage of a confused San Diego defense that at times failed to get lined up quickly enough, leading to five passing plays of 18 or more yards for the Broncos.
So how will Pagano's defense attempt to stop the high-octane, Manning-led offense this time?
"We have to be able to handle the no-huddle situations and not give them opportunities to where we don't get the call," Pagano said. "The more we keep working it, the better the communication has been at times over the last few weeks. You still have to deal with those mental errors during plays and you have to overcome them."
Manning has received criticism for his inability to produce in cold temperatures. He entered Sunday's home contest against the Tennessee Titans with a 3-8 record in games in which the kickoff temperature was below 32 degrees. But with the temperature at a frigid 16 degrees at game time, Manning completed a franchise-record 39 passes for 397 yards and four touchdowns in Denver's 51-28 victory over the Titans.
Afterward, Manning told his critics to stick it where the sun doesn't shine. Manning's performance did not surprise his former offensive coordinator in Denver, San Diego coach
Mike McCoy
.
Game-time temperature in Denver for Thursday's contest is expected to be in the 20s.
"His name in the NFL speaks for itself," McCoy said. "He's one of the greatest players of all time. He's a great competitor. He's a winner and his record speaks for itself. It has nothing to do with weather."
Along with playing mistake-free football on defense, the Chargers will rely on quarterback
Philip Rivers
to dictate tempo with his unit's ball-controlled, short passing game.
In the last meeting between the two teams, the Chargers held the ball for over 38 minutes, but scored only 20 points. That can't happen this time.
"Having it for 38 minutes would be great if we could do that on Thursday night," Rivers said. "But we've got to score touchdowns. To me, if you maintain possession of the ball, you've got to still end it with points, and preferably touchdowns against this team.
"I've never gotten too caught up in that stat. But if you score a bunch of points and have the ball a lot, then yes, I think they can go hand-in-hand."
Most of all, San Diego outside linebacker
Jarret Johnson
said defensively the Chargers have to make Manning earn everything his offense gets Thursday. That means no blown assignments for 74-yard touchdowns like the last game.
"Absolutely, you've got to," Johnson said. "I mean, if you sit back in one coverage and give him time, it's going to be a long day. You've got to be aggressive with him because he's as good as they come.
"If you sit back and play one coverage or play conservative or play scared, it's going to be a long day."
November, 6, 2013
11/06/13
7:15
PM ET
SAN DIEGO – Quarterback
Philip Rivers
still appeared a bit annoyed to have to answer questions about the
San Diego Chargers
' struggles scoring from the goal line this season.
"You just got to score," he said. "There's not going to be any magic that we dream up here in the next, few days. We've just got to score, find a way to score. It's really nothing more than that."
[+] Enlarge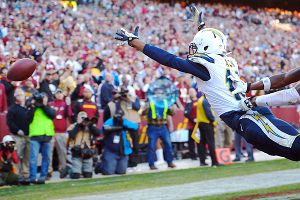 John McDonnell/The Washington PostPhillip Rivers missed Keenan Allen on third down -- forcing the Chargers to settle for a field goal.
The Chargers failed to get into the end zone from a yard out on three straight downs for the winning score against the
Washington Redskins
last week, a contest the team lost in overtime, 30-24.
For the season, according to ESPN Stats & Information, the Chargers are a league-worst 2-of-11 from a yard out.
San Diego's goal-line struggles remained a hot-button topic on local sports radio shows, the internet and even nationally, with Michael Wilbon of ESPN's "Pardon The Interruption" saying San Diego's coaching staff was guilty of the worst play calling in the history of the NFL in the team's final three plays at the 1-yard line.
Rivers is ready to put the issue to rest.
"Those are all things for talk shows, to be honest with you," Rivers said. "If I had the answer, we'd score. So we're going to keep playing each week. That's why you play the game, is to try and score the next time. It's not just, 'Oh, we just figured out the play. We'll get it there next week.' Scoring, and getting first downs and throwing completions, there isn't really an answer to it. If there were, we could just do interviews, and we could decide the outcome of the game without going out there."
The team's leading rusher,
Ryan Mathews
has just one rushing touchdown this season. Asked if he'd like to see the ball more near the goal line, Mathews was diplomatic.
"Any of us can get in -- me,
Danny [Woodhead]
,
Ronnie [Brown]
or
Le'Ron [McClain]
-- we have a lot of weapons on offense," he said. "So it's probably hard for the coaches to see which one they want to go to.
"We've just got to execute. It doesn't matter what play is called. We've just got to execute and score."
Reminded that he scored 39 touchdowns in college at Fresno State, Mathews had this to say:
"This ain't college," he said. "This is the pros, man."
Injury update:
Linebacker
Donald Butler
said he felt good being out on the field for practice on Wednesday after missing the last three games with a groin injury.
Butler also missed a game against Tennessee earlier this season because of the groin issue. He said part of the reason the training staff has taken a cautious approach is to make sure he doesn't have a problem with the injury for the remainder of the season.
"That was the whole point in me taking as long as I have, to make sure when I came back [I was fully healthy]," Butler said. "And nothing has been decided yet. But just the fact that I was able to go out there and run full speed, kind of cut [is good], and I'll see how I feel tomorrow."
Butler was listed as a limited participant on San Diego's injury report.
Along with Butler, defensive end
Lawrence Guy
(toe) and offensive lineman
Chad Rinehart
(toe) were limited participants. Linebacker
Tourek Williams
(thumb) was a full participant.
Offensive lineman
Mike Remmers
(ankle) and receiver
Eddie Royal
(toe) did not practice.
September, 22, 2013
9/22/13
4:26
PM ET
A few thoughts on the
San Diego Chargers
'
20-17
loss to the
Tennessee Titans
.

What it means:
The Chargers had not lost to the Titans since the franchise was in Houston and known as the Oilers in 1992 (nine straight games). San Diego lets another game slip away in the final moments and falls to 1-2.
Defense can't stop Locker:
Tennessee quarterback
Jake Locker
went 7-of-10 for 94 yards on the game-winning drive, including a 34-yard touchdown strike to rookie receiver
Justin Hunter
with 15 seconds left. San Diego could have effectively ended the game four plays earlier, but defensive back
Marcus Gilchrist
couldn't hold onto an interception on a tipped ball off the hands of Titans tight end
Delanie Walker
. Locker finished 23-of-37 for 299 passing yards.
Stock watch:
Rising --
Philip Rivers
continues to show a rebirth under new Chargers coach Mike McCoy. Rivers completed 20 of 24 passes for 184 yards with a 7-yard touchdown pass to tight end
Antonio Gates
. Rivers now has eight touchdown passes and just one interception on the year. Rivers did cost his team field position with a personal foul penalty for arguing an offensive pass interference call in the first half that negated an
Eddie Royal
touchdown pass in the first half. The Chargers had to settle for a
Nick Novak
44-yard field goal on the drive.
Reserves step up:
Michael Harris
started in place of rookie
D.J. Fluker
(concussion) at right tackle and looked solid in pass protection, not giving up a sack. Harris also made a key block on
Ronnie Brown
's 1-yard touchdown run that put San Diego ahead in the second half, 17-10.
Reggie Walker
was a late replacement at inside linebacker in place of
Donald Butler
(groin), and notched a sack in the first half.
Titans run wild:
Tennessee owned the line of scrimmage offensively, finishing with 170 rushing yards.
Chris Johnson
rushed 19 times for 90 yards. And Locker finished with 68 rushing yards.
What's next:
The Chargers return home to face the
Dallas Cowboys
next Sunday at 4:25 p.m. ET.
July, 12, 2013
7/12/13
12:00
PM ET
»
NFC Eight in the Box:
East
|
West
|
North
|
South
»
AFC:
East
|
West
|
North
|
South
One move each AFC West team needed to make but might regret:

Denver: Letting Elvis Dumervil leave.
The Dumervil fiasco was the only real bummer for Denver in the offseason. The Broncos had a tremendous free agency and appear to have added some nice pieces in the draft, but the Dumervil departure looms as a potential issue. We all know the backstory. Denver and Dumervil agreed to a restructured contract, but there was a missed deadline. He ended up in Baltimore. Dumervil was a key complement to star pass-rusher
Von Miller
. Denver thinks it can give Miller the necessary pass-rush help by committee, led by former Charger
Shaun Phillips
. But if Phillips and crew can't replicate Dumervil's impact, it will hurt the Broncos.

Kansas City: Not signing Desmond Bishop.
The Chiefs are another team that did well in the offseason. They added a strong coach in Andy Reid and a strong general manager in John Dorsey and upgraded at quarterback with the addition of
Alex Smith
. But there is potential for the team to regret the Bishop miss. He chose Minnesota over Kansas City last month after being cut by the Packers. Bishop had a relationship with Dorsey from their Green Bay days, and the Chiefs could have used Bishop's veteran presence as a 3-4 inside linebacker. The Chiefs are preparing to use fourth-round pick
Nico Johnson
as a starter. He looked good in the offseason, but he simply can't match Bishop's experience. I don't foresee Johnson being a problem for the Chiefs, but if he is not ready, Kansas City may wish it made a bigger push for Bishop.

Oakland: Not adding a reliable pass-rusher.
Oakland was challenged this offseason. It was strapped by salary-cap issues again. It had to cut several players and saw a lot of talented free agents leave. General manager Reggie McKenzie did his best to replenish the roster. Still, there are holes, starting at pass-rusher. The Raiders were badly lacking in that area last year, and no reliable help was added. Oakland hopes an improved secondary and creative schemes will generate a pass-rush burst. Again, Oakland had restrictions in free agency, but it might regret not taking a pass-rusher in the first round of the draft.

San Diego: Not adding a top left tackle.
Like Oakland at pass-rusher, San Diego didn't have a lot of options. It didn't have a lot of cap room to play with, and the rookie pool at left tackle dried up quickly in the draft. The top three left tackle prospects went in the first four picks of the draft. So San Diego didn't really have a lot of chances to grab a left tackle. However, it is a premium position, and sometimes you have to do what it takes to fill a problem at a premium position. San Diego finally settled on
Max Starks
at left tackle. He is decent but not great. He is a short-term answer. The Chargers still have no idea whom their left tackle of the future will be. If Starks fails or gets hurt, it will have a major effect on quarterback
Philip Rivers
. If that happens, we will all be pointing to San Diego's inability to get a clear-cut answer at left tackle.
October, 3, 2010
10/03/10
5:50
PM ET
SAN DIEGO --
Antonio Gates
and
Shaun Phillips
are having big days as the
San Diego Chargers
are routing Arizona 28-7 at halftime.
Gates had two touchdown receptions from quarterback
Philip Rivers
. He scored on plays of 33 yards and 26 yards. Gates was wide open on both plays.
Gates has a game-high 106 receiving yards on five catches. His fourth catch of the day was his 500tth career NFL catch. Rivers is a tidy 8 for 10 passing or 138 yards.
Meanwhile, San Diego is playing much better on kick coverage units. It allowed three return scores in its two losses this season.
Phillips is also having a good day. He scored on a 31-yard interceptions return late in the second quarter to give San Diego a 21-point lead. Phillips' interception return came one play after he registered his second sack of the game. San Diego had five sacks in the first half.
Arizona coach Ken Whisenhunt took starter
Derek Anderson
out after Phillips' interceptions and replaced him with rookie
Max Hall
.
January, 17, 2010
1/17/10
8:15
PM ET
Stunning.
Just stunning
.


The
San Diego Chargers
' run to the Super Bowl has been stopped and they have themselves to blame.
San Diego entered this game as the hottest team in the NFL. The Chargers had won 11 straight games to end the season.
They came out Sunday and were sloppy on offense and unreliable in the kicking game. That never happens.
But it happened Sunday and the Chargers' Super Bowl dreams have suddenly been dashed.
The loss will be remembered for three missed field goals by All-Pro kicker
Nate Kaeding
. Two misses were from within 40 yards. Kaeding had made 29 straight field goals from within 40 yards. Two interceptions by stellar quarterback
Philip Rivers
in the second half also contributed to the loss.
The Chargers just gave away a solid chance to go to the Super Bowl.
September, 14, 2009
9/14/09
10:57
PM ET

Posted by ESPN.com's Bill Williamson
OAKLAND –- New Raider
Richard Seymour
kept his promise.
Seymour said Saturday he would play in Oakland on Monday night and would be on San Diego quarterback
Philip Rivers
.
Well, he just sacked Rivers.
Seymour has played on both of San Diego's possessions.
Seymour reported to Oakland on Saturday after being traded from New England Sept. 6 after sitting out from Oakland for five days. He hasn't had a full practice day with Oakland.
But expect him to play a lot in this game.
June, 1, 2009
6/01/09
6:48
PM ET
Posted by ESPN.com's Pat Yasinskas
As we get into the slowest time of the NFL year, I've decided to start doing some positional rankings for the NFC South.
I'm going to rank the top players at each position and you're welcome to agree or disagree -- that's what the comments section and the mailbag are for.
We might as well start at the top and go with quarterbacks.
1. Drew Brees, New Orleans.
There's no other choice. The guy threw for more than 5,000 yards last year.
2. Matt Ryan, Atlanta.
He could turn out to be better than Brees eventually. Ryan is already very good, but he's not there yet.
3. Jake Delhomme, Carolina.
Yeah, it's hard to forget that playoff loss to Arizona. But John Fox and Marty Hurney are sticking with Delhomme because he generally doesn't lose games, which fits their philosophy.
4. Josh McCown, Carolina.
That's right, I said "Josh'' McCown. I know his brother Luke looks to be the starter in Tampa Bay right now. A lot of people might not realize it, but McCown is part of the reason the Panthers didn't go out and bring in another quarterback. By the way, he has 31 NFL starts. His brother has seven. Plus, if McCown has to play for the Panthers, his job will be to hand off to DeAngelo Williams and Jonathan Stewart.
5. Joey Harrington, New Orleans.
Yes, I know Mark Brunell is technically the backup in New Orleans and he's a fine one if you're looking for a veteran guy to come in and start one game. But let's just say that Brees suffers some sort of long-term injury. Harrington, who was never as bad as the reputation he got in Detroit, wouldn't be a bad alternative over the long haul. With New Orleans' offensive talent around him, Harrington could even crack the top three in this division.
6. Luke McCown, Tampa Bay.
The Bucs have made some comments about how McCown could be like Brees was when he was in San Diego and the Chargers drafted Philip Rivers. That allowed the Chargers to bring Rivers along slowly and get some nice compensation for Brees when Rivers was ready. Sounds like a great template for the Bucs to follow as they clear the way for Josh Freeman. Nice idea, if it works, but like we said, nobody knows what McCown has after seven career starts.
7. Brunell, New Orleans.
Yeah, we already alluded to the fact that Brunell is coming up on his 80th birthday. But just having a guy with his experience on the sidelines makes you feel better about your quarterback situation.
8. Chris Redman, Atlanta.
I was going to put Tampa Bay's Byron Leftwich here, but that was before I looked back to see what Redman and Leftwich did together when they were teammates in Atlanta in 2007. Redman started four games for a dismal team, but didn't play badly. Leftwich just started two dismal games.
9. Freeman, Tampa Bay.
I was going to put Leftwich here, too. But that was before I went back and took a hard look at his career stats. I'll make the case Leftwich has had precisely one good season - 2004 in Jacksonville. Since then, he hasn't completed 60 percent of his passes and his career has been in free fall. Can't see any reason that should change now. By the way, Freeman has the talent to someday top this list.
10. Leftwich, Tampa Bay.
I thought long and hard about going with Carolina's Matt Moore or Atlanta's D.J. Shockley here, but I'm going to give Leftwitch one edge. The guy is a veteran, who has played through some injuries and has a little bit of leadership skills. If McCown's injured or incapable, and Freeman's not ready, Leftwich might be able to hold the starting job on a temporary basis.
October, 22, 2008
10/22/08
3:51
PM ET
| | |
| --- | --- |
| | |
| | Julian Finney/Getty Images |
| | Surrounded by reporters on Wednesday, Drew Brees discusses the Saints' upcoming game against the Chargers. |
Posted by ESPN.com's Pat Yasinskas
WATFORD, England -- On the edge of a soccer pitch, masquerading as a football field, Drew Brees sold New Orleans.
"Just like London is one of those spots where people feel like they need to visit when they come to Europe," Brees said, "well, New Orleans is one of those spots that if you're European and you're coming to the States and you want to know where to go, hey, come to New Orleans. I think the culture is unlike any other in our country and, certainly, you want to share that with the world."
The quarterback of the Saints suddenly has become the unofficial tourism director for New Orleans. Brees' latest spiel came with about 50 members of the British media in attendance Wednesday after the Saints had finished practice for Sunday's game against the San Diego Chargers.
"I think that post-Katrina, maybe a lot of people have kind of forgotten about New Orleans or think that there's still so much damage there that it's not worth going," Brees said. "There are a lot of things that still need to be done. But, in a lot of ways, I think New Orleans has come back better than ever."
DREW BREES
Quarterback
New Orleans Saints



2008 Season Stats

Cmp
Att
Yds
Cmp%
TD
Int
190
263
2,224
68.4
12
7
For Brees, New Orleans has turned out to be paradise found.
Nearly three years after being cast aside by the Chargers, Brees has established himself as the face of the Saints and an ambassador for New Orleans. He did it in the aftermath of one of the most vicious hurricanes ever to strike the United States.
Weathering difficulty is nothing new for Brees. He dealt with plenty of that in San Diego. He'd been the starting quarterback for three seasons when the Chargers brought in Philip Rivers, a first-round pick, in the Eli Manning trade with the Giants. At that moment, Brees knew that meant his time in San Diego would come to an end at some point.
Brees actually wound up holding onto the starting job as Rivers stood on the sidelines and general manager A.J. Smith and coach Marty Schottenheimer feuded over what to do at quarterback and a lot of other things. With Smith favoring Rivers, Brees had two very productive seasons. But a shoulder injury at the end of 2005 made it easy for the Chargers to let him go and clear the way for Rivers.
Brees doesn't dwell on his San Diego days much anymore, but that period is coming up a lot as he prepares to play his former team.
"I guess ever since I signed with New Orleans, I knew the day would come," Brees said. "I feel like I'm still preparing the same way I would for any opponent. I know a lot of those guys, and there might be that extra added motivation to win or put more pressure on myself, but I'm really trying to approach this as just another game that we need to win."
Posted by ESPN.com's Bill Williamson

Rivers
SAN DIEGO -- Philip Rivers went to bed Sunday night thinking that if his surgically repaired right knee was ever going give him trouble it could be in the morning.
Even though the San Diego quarterback has had virtually no complications in his recovery from a torn ACL he suffered in the playoffs in January, he thought this could be the time. After all, he had just participated in three days of grueling training camp practices and he did some heavy weight work Sunday with his legs. Squats will test even the sturdiest of knees.
Rivers woke up Monday, opened his eyes and moved around. No pain.
"Nothing," Rivers said. "Everything was normal."
Rivers does not think about his injured knee much. He said this weekend's pain-free exertion made him realize he is doing the best thing by not thinking of it.
"If I didn't go put on the brace every day, I'd totally forget about it," Rivers said. "I'm out there running around and I feel fine. It's no issue. The only reason why I know it is there is because it happened. And that's it."
Rivers turned the corner in his rehabilitation when he participated in the team's early May minicamp less than four months after being injured. From that point on, it was clear Rivers would be full steam ahead for the season.
"It feels great, it really does," Rivers said. "It won't be a problem."
Meanwhile, Rivers said he will reserve comment on the Brett Favre situation until it is resolved. Rivers said that Favre remains one of his favorite players of all-time and he is following the situation.


NFL SCOREBOARD
Sunday, 2/2
WEEKLY LEADERS