NFL Nation:

Philp Wheeler
November, 3, 2010
11/03/10
2:25
PM ET
»
NFC Stock Watch
:
East
|
West
|
North
|
South
»
AFC
:
East
|
West
|
North
|
South
FALLING
The Titans in the fourth quarter of close games:
They did well to pull away from Philadelphia with a 27-point fourth in what had been a close game. But against Pittsburgh, Denver and San Diego when they were in range, the Titans have not had the execution, ability or killer instinct to win.
Gary Kubiak's play calling:
I hear the explanations. Convert some third downs and stay on the field and they would have been balanced. But Kubiak outsmarted himself. The Texans ran all over the Colts the first time; the obligation is to make them show they can stop it before you turn to what you prepared for them stopping it. Also, you get into a lot more third-and-shorts if
Arian Foster
is running for 4 or 5 yards on first and second down.
Vincent Fuller, Titans defensive back:
The team's feisty full-time nickelback since 2007 was reduced to a role in the much less frequently used dime package. The Titans love
Alterraun Verner
, who'd been playing outside with
Jason McCourty
injured. With McCourty back, Verner started outside, and moved inside in the nickel, with McCourty taking his place.
RISING
[+] Enlarge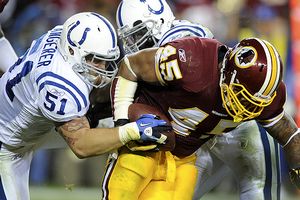 AP Photo/Nick WassPat Angerer has played his way into the Colts' starting lineup.
Pat Angerer, Colts outside linebacker:
He's a middle linebacker in their eyes, but he played so well filling in a couple of weeks ago for
Gary Brackett
that the Colts decided they needed to keep him on the field. Out went strongside starter
Philip Wheeler
, in went Angerer on Monday night. He didn't light up the stat sheet but Jim Caldwell sang his praises.
David Garrard, Jaguars quarterback:
The good is outweighing the bad to the tune of a 98.8 passer rating, the fourth best in the NFL. He put the Cowboys to shame on Sunday with a sterling performance. But here's a helpful hint: Don't say how the team you just beat up gave up -- it takes a little shine off of what you just did.
The Colts' backups:
We've covered it extensively (
here
and
here
), but the performances of tight end
Jacob Tamme
, running back
Mike Hart
and cornerback
Justin Tryon
were key in the Colts' win over Houston. They keep calling on the depth and it keeps giving the team what it needs.
November, 2, 2010
11/02/10
2:03
AM ET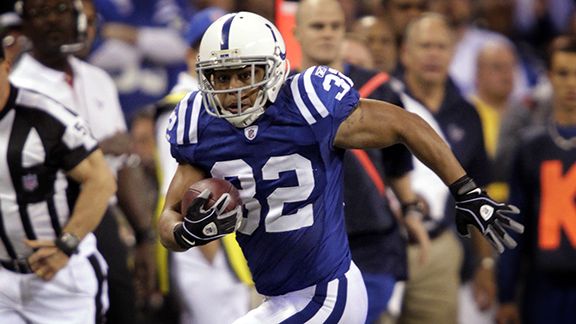 AP Photo/AJ MastMike Hart filled in for injured starter Joseph Addai, rushing for 84 yards on 12 carries.
INDIANAPOLIS -- Five things I learned from the Colts'
30-17 win
over the Texans at Lucas Oil Stadium Monday night:
Next man up just goes and goes and goes:
You're as tired of reading that line as I am of writing it. But on this night the Colts went collectively deeper into their depth than usual. And guess what? The subs produced.
Jacob Tamme
is not
Dallas Clark
, but six catches for 64 yards and a touchdown is a pretty good tight end contribution. (He's the 27th player to catch his first-career touchdown from
Peyton Manning
.) Subbing for the injured
Joseph Addai
as the lead back,
Mike Hart
looked very good as he took 12 carries 84 yards before suffering an ankle injury late that prevented him from finishing the game.
Justin Tryon
filled in for
Jerraud Powers
at right cornerback, often across from
Andre Johnson
, and the Texans got Johnson the ball just seven times, for nothing longer than 28 yards.
The expectation is you produce when called upon, and if you're the guy who doesn't do it after so many have, then how much grief would you be in line for?
"You never want to be that guy, that guy who doesn't perform, that guy who doesn't step up when called upon," Hart said. "I think management does a great job of bringing in players that can come in and do well when guys go down and that's what I tried to do."
Said Manning of Tamme: "It was nice to see a guy that had a calm, cool look to him the entire night. That is encouraging to see."
Houston's play calling will be second-guessed -- a lot:
In some ways this was similar to the Week 3 loss to Dallas.
In the first half of that game
Arian Foster
got only eight carries and Johnson got only two catches, while the Texans had 21 snaps of offense and 11:51 of possession.
In the first half of this game, Foster got only eight carries and Johnson got only two catches while the Texans had 24 snaps of offense and 11:12 of possession.
"Our plan was to be a balanced football team," coach Gary Kubiak said. "We wanted to do some things early. A couple of runs were called early that ended up being passes... I don't think we'd have had any problem being a balanced football team had we made a third down."
The Texans were 0-for-6 on third downs in the first half: a third-and-10 sack, a third-and-6 incompletion, a third-and-2 incompletion (followed by a fourth-and-2 incompletion), a third-and-5 sack, a third-and-10 pass to Johnson for 9 yards and a third-and-4 incompletion.
Sure, the Texans would have been able to be balanced had they converted some of those. It's what Kubiak looked to for conversions that was questionable.
Foster finished the game with 15 carries for 102 yards and a score. That was good for a 6.8 average. On four of those third downs, giving it to him would have seemed to have been more prudent than throwing it. At least give him one of two chances when you needed only 2 yards.
"When we dialed up the run, we were good," left tackle
Duane Brown
said. "When we dial up the pass, we've got to be good enough to hold up."
Maybe Kelvin Hayden is re-emerging:
A healthy Hayden was supposed to provide a big boost to the Colts' pass coverage this season, but through six games he'd not been nearly as good as I expected he'd be.
Against the Texans, with both Jerraud Powers and
Jacob Lacey
out, Hayden was working with the inexperienced Tryon on the other side and
Deshea Townsend
as the nickelback.
Hayden stepped in front of an ill-advised Schaub pass intended for
Kevin Walter
and waltzed to a 25-yard touchdown that gave the Colts what felt like an insurmountable 14-0 lead early in the second quarter.
[+] Enlarge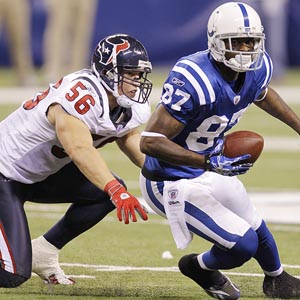 AP Photo/Darron CummingsBrian Cushing replaced the injured DeMeco Ryans at middle linebacker and had just five tackles.
"I think that's what you want to do as a player, continue to make progress week in, week out," he said. "I want to work on just doing my job, and when you do your job, things happen. As you can see, I didn't do anything special, I just did my job…
"I think I started slower than I expected, I don't have an answer for it. But it's not how you start, it's how you finish. They say at corner you have to have a bad memory, so I don't remember it."
Hayden also had five tackles, including one for a loss.
Houston's Brian Cushing not making the impact we expected:
He didn't really explode until midway through his rookie year, but then he set a standard. It's one he has not met in the three games he's played since returning from his season-starting four-game suspension for a violation of the league's policy against performance enhancers.
This was his first game in the middle, where he's been shifted to replace
DeMeco Ryans
, who's out for the season with an Achilles injury. Press box statisticians credited Cushing with just five tackles and he also had a pass defensed. But a team with a struggling secondary and a less-than stellar pass rush needs more from Cushing.
"I think he did a pretty darn good job," Kubiak said. "And I think we played hard. We've got to improve each week and he's the best guy [in the middle] that gives us a chance to do that."
The move to the middle took Cushing away from tight end coverage.
"He's a great player, though, I think he's just fine inside," Tamme said.
Strongside linebacker Philip Wheeler will work to get it back:
Wheeler was supposed to be the next emerging linebacker for the Colts, but he was replaced in the starting lineup against the Texans by rookie
Pat Angerer
, who started and played well for an injured
Gary Brackett
in the Week 6 win at Washington.
Evidently, coaches found that production too good to leave on the sideline.
"They didn't really explain too much about it, they just made a decision, I guess," Wheeler said. "I'm not happy with the decision, but I can't do anything right now about it. I've just got to keep my head up and play ball when I get in the game. I'm not sure what's the case with it. No hard feelings to Pat, when he's out there I think he's going to play well."
May, 14, 2009
5/14/09
12:03
PM ET
Posted by ESPN.com's Paul Kuharsky
We have, can and will argue about whether a highly drafted 300-plus pound defensive tackle is going to change things for the Colts defense and whether he marks the start of any philosophical change for a unit operating under a new coach and coordinator.
But no matter where we come out on it, there is no doubt that Indianapolis thinks it's upgraded at defensive tackle and that second-round tackle
Fili Moala
may just be the AFC South's rookie on the hot seat.
If he can garner the attention of multiple blockers and make running up the middle against the Colts tougher, his trickle-down effect could be as big as any first-year player in the division even if it's not as apparent as Donald Brown's rushing yards or the catches for Kenny Britt in Tennessee.
The Colts haven't revamped at linebacker, but if Moala and fourth-round interior lineman Terrance Taylor upgrade the Colts' interior defense, life could get a lot easier for players like Philip Wheeler, Gary Brackett and Clint Session, smaller linebackers whose paths to success will be built around being freed up and using their quickness.
Indy did fine last season with what it had. But Moala can help make things easier for a lot of people. And he warranted the 56th pick in the draft by Bill Polian, who's hardly made a habit of drafting interior linemen, better yet with his most valuable picks.
I acknowledge this is an easy category to plug virtually any draft pick into, especially a first-rounder. They all come into the league with expectations they will alter a position group. We could make the case for 14 or 15 different guys.
In my thinking, Houston linebacker Brian Cushing qualifies as the first runner-up. He should start from the outset and is expected to help fortify a front seven that's been an issue as the Texans have been unable to get over the 8-8 hump. If he doesn't upgrade the linebacking corps from opening day, we'll be asking a lot of questions about why not.
For the Jaguars, I expect good things quickly from Eugene Monroe and Eben Britton, but if the veteran offensive linemen are healthy and free-gent addition Tra Thomas' transition is smooth, the top two picks don't have to be big factors right from the start. The hot seat guys are third-rounder Terrance Knighton, a defensive tackle the team needs to make a strong showing to help re-establish its defensive personality, and Derek Cox, the third-round defensive back the team traded next year's second-rounder to acquire when many other teams had him rated much lower.
For the Titans, who had no overwhelming draft class need, it's first-round receiver Britt. The Titans are deep and lost only two starters, and have veterans who should be able to help fill the Albert Haynesworth void. In tandem with free-agent addition Nate Washington, Britt is expected to help make the Titans a more explosive team that can find a big pass plays to go with a solid run game. But he doesn't have to be effective immediately for the Titans to be successful.

NFL SCOREBOARD
Thursday, 12/18
Saturday, 12/20
Sunday, 12/21
Monday, 12/22
WEEKLY LEADERS