NFL Nation:

Priest Holmes
March, 1, 2014
Mar 1
4:05
PM ET
Priest Holmes is still the Kansas City Chiefs' all-time leading rusher and leader in touchdowns. By that measure alone, Holmes is worthy of inclusion in the Chiefs' Hall of Fame.

But Holmes, announced by the Chiefs on Saturday as this year's entrant to their Hall of Fame, is deserving for many other reasons. The Chiefs had some great offensive teams for many of Holmes' seasons (2001-07) in Kansas City. They had the pass-catching tight end in Tony Gonzalez, an efficient quarterback in Trent Green, an underrated wide receiver in Eddie Kennison and a great set of blockers, but the package wasn't complete without Holmes. That showed in the final game of the 2002 season when the Chiefs and their high-scoring offense, playing for a postseason berth but without the injured Holmes, were shut out by the Oakland Raiders.

Holmes also caught the ball well. He led the Chiefs in receiving in two of his seasons when the Chiefs went his way more than that of Gonzalez. Holmes wasn't merely an outlet receiver, one the opponent felt comfortable leaving uncovered in the flat. He could and would line up wide, run a good route and beat coverage to make a play.

His signature plays, though, were ones that featured Holmes in the open field. He had great vision and patience for letting the blocks develop in front of him, so Holmes was a natural on sweeps and screens. Even if that's exclusively how he was used by the Chiefs, Holmes would still have been a useful player.

But Holmes' game was complete. Now the Chiefs' Hall of Fame is complete with Holmes as a member.


October, 14, 2012
10/14/12
5:51
PM ET
What it means:
The Chiefs are 1-5 and are one of the worst teams in the NFL. This season has been undone by injuries and poor play on both sides of the ball. The season looks to be unsalvageable.


Quinn not the answer:
Many Chiefs fans got their wish and saw
Brady Quinn
start at quarterback. His results were no better than what
Matt Cassel
's. Quinn three two bad interceptions (one was returned for a score). I think Cassel will get the chance to start again when he is healthy.
Offensive woes continue
: The Chiefs haven't scored a touchdown on their first drive of the game dating back to the start of last season. Kansas City's offense hasn't scored a touchdown in the past two games. The Chiefs have not had a lead during any game. Their one win came in overtime at New Orleans.
Charles misses mark:
Kansas City running back
Jamaal Charles
had 40 yards on 12 carries. He now had 591 yards in six games. He was vying to join
Priest Holmes
(2004) to be the second player in team history to have 600 yards on the ground through six games.
What's next:
The Chiefs stumble into the bye. They host Oakland in two weeks in the first game at Arrowhead Stadium since right tackle
Eric Winston
berated some fans for cheering when Cassel went down. It caused a national firestorm and prompted coach Romeo Crennel and owner Clark Hunt to praise the team's fan base. It could be an interesting day at Arrowhead.
October, 14, 2011
10/14/11
1:30
PM ET
»
NFC Final Word
:
East
|
West
|
North
|
South
»
AFC
:
East
|
West
|
North
|
South
Five nuggets of knowledge about Week 6:
Blitzing Joe Flacco:
The Texans generally get good pass pressure without extra rushers. A lot of that has been because of end-turned-linebacker
Mario Williams
. According to ESPN Stats & Info, the Texans have 21 sacks when rushing four or fewer players since the start of 2010. Williams recorded 10 of them, and no other player has more than 4.5. Williams is out for the season with a torn pectoral muscle. Can Houston get to Flacco with a standard rush? If it can't, will defensive coordinator Wade Phillips call for more blitzing? How the Texans try to disrupt Baltimore's quarterback will be a big story line in Texans-Ravens.
[+] Enlarge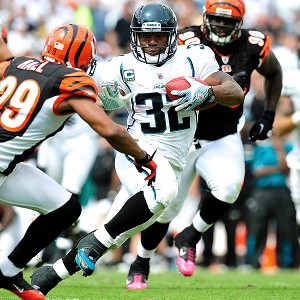 Grant Halverson/Getty ImagesThrough five weeks, Jaguars RB Maurice Jones-Drew has 476 rush yards and two touchdowns.
Get MJD cranking:
The Steelers have given up some big run yards this season, including 150 yards to Houston's
Arian Foster
. To win at Pittsburgh, the Jaguars will need
Maurice Jones-Drew
to carry a big share of the load. He's gained more than 80 yards in every game so far. That's a rare feat; only
Edgerrin James
(2005),
Priest Holmes
(2003) and
Robert Smith
(1996) have done it over the last 15 years, according to ESPN Stats & Info. Jacksonville's offensive line has been inconsistent and injuries have caused them to change things up. Tackles
Eugene Monroe
and
Guy Whimper
have been limited at practice this week.
Defensive backfield in doubt:
Cincinnati rookie quarterback
Andy Dalton
and rookie receiver
A.J. Green
have developed a pretty good connection so far. The Colts will have to rely on their pass rush to throw Dalton out of rhythm, because their struggling secondary is a mess. Their best cornerback,
Jerraud Powers
, is probably out with a hamstring injury. That means Green will be working against the likes of
Jacob Lacey
,
Terrence Johnson
and
Chris Rucker
. It's a group that did not have much success at all against
Dwayne Bowe
and the
Kansas City Chiefs
receivers a week ago.
Tight end- and running back-reliant:
Matt Schaub
threw for 416 yards in Sunday's loss to the Raiders, but only 99 of those yards went to wide receivers. Schaub is the only quarterback since 2001 to throw for 300 yards in a single game to just tight ends and running backs. Although the team added
Derrick Mason
, Gary Kubiak and Schaub probably will continue to lean on Arian Foster,
Owen Daniels
and
Joel Dreessen
. They can win featuring those guys in the passing game, provided they get plays after intermission as well as before. Houston has outscored the competition 90-25 in the first half and been outscored 70-37 in the second half. They have scored 6 points in the third quarter. It doesn't say much about their ability to make any adjustments.
Mindset:
While the Titans enjoy a weekend off, everyone involved in the run game should be preparing to return to action absolutely determined to get things cranking. They simply cannot be the worst run team in the league and remain an AFC playoff contender.
Chris Johnson
has to show far more determination and get back to running downhill. All his blockers and play-caller Chris Palmer have to get to the root of the issue and solve it. Five games is plenty for them to understand what is happening, what is not happening, and why.
October, 2, 2011
10/02/11
7:06
PM ET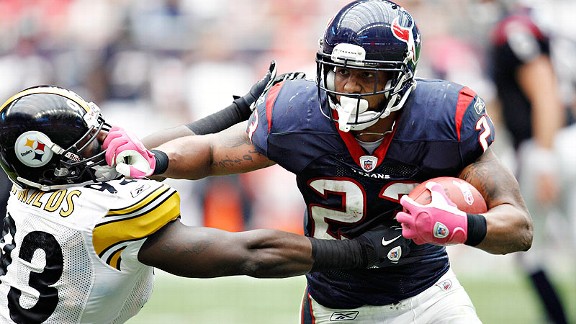 AP Photo/Eric GayArian Foster had 30 carries for 155 yards in his first full game of the season.
HOUSTON -- The questions about toughness are getting tiring, but they are not as tiring as the effort it takes to answer them.
When the
Houston Texans
had held off the
Pittsburgh Steelers
for a
17-10 win
at Reliant Stadium Sunday, outside linebacker
Mario Williams
limped slowly onto the field for postgame handshakes. He looked more like a beaten man than a winner.
"I'm tired man, I was tired," he said. "I had nothing left. I was so tired. I'm a big dude."
One game doesn't do away with a reputation, but after this one it's hard to question the Texans' toughness. The big dude had two sacks as he and his defense swarmed a patchwork offensive line to drag quarterback
Ben Roethlisberger
down five times. The offense did its part too, making room for
Arian Foster
to churn out 30 carries for 155 yards and a score.
"[Pittsburgh] is one of the most physical teams in the NFL," Foster said. "They're known for their defense, they pride themselves on their defense and they played well today. They're a tough group of guys. I'm sore. But we believe we're a good team, we really believe that. We don't need anybody else on our side, just the 53 guys and coaches in that locker room. And it's going to be a fun year."
Said
Antonio Smith
, the defensive end who's playing as well as anyone in Wade Phillips' 3-4 front: "Their O-line, I love playing against them. They're dirty. They fight. They want to finish you after every play. They want to talk to you. They want to act mean. And that's why we give it right back to them."
Behind the swarming defensive front, the Texans put their top cornerback,
Johnathan Joseph
, on the Steelers' most dangerous receiver,
Mike Wallace
. Wallace had four catches for 77 yards, numbers the Texans could survive while limiting Big Ben to 16-for-30 passing for 206 yards with no touchdowns and a game-sealing pick.
"Our front seven were eating," safety
Danieal Manning
said.
Roethlisberger rolled out of collapsing pockets like usual, but on the snaps where he bought time he didn't find any back-breaking plays. On the ground, meanwhile, the Steelers managed 5.4 yards per carry using three different backs, but never really found a run rhythm.
Houston had its chances to come apart. Nine penalties for 64 yards hurt, handing the Steelers two first downs, eliminating 33 yards of Houston offense on undone plays, making moot a field goal block returned for a touchdown, and washing away an interception.
Foster was only the third back since 2001 to top 150 yards against the Steelers, joining
Curtis Martin
(174 in 2003) and
Priest Holmes
(150 in 2001).
"He was a challenge for us and he won," Steelers linebacker
LaMarr Woodley
said.
Foster played his first full game of the season after dealing with hamstring issues and took more than a full load. Kubiak said he was surprised the back was able to take 30 carries. His backup,
Ben Tate
, left the game with a groin injury, which meant
Chris Ogbonnaya
got some snaps and his first two NFL carries.
Being able to run as Foster did meant the Texans could stay on schedule and keyed a game in which
Matt Schaub
wasn't sacked, was hit only once and survived the loss of
Andre Johnson
to a hamstring injury.
As good as Tate had been in Foster's place, Foster is simply a better combination of power, speed and an understanding of the team's scheme.
"Arian's a special player," right tackle
Eric Winston
said. "Arian's a special player now."
Big wins have prompted big belief before, and people who've jumped on the bandwagon have then been bruised when dumped off it. Owner Bob McNair said after the win he doesn't know if the team's had a bigger victory, but players hardly echoed the sentiment. They know they should beat these Steelers right now.
They talked about the fun they're having, which made you want to believe they can keep having it.
"We've been talking about it the three years since I've been here, but the belief is finally happening," said Smith. "The swagger is finally starting to come around. We believe when we come into games we're not the underdog. We come in here to beat each and every team we play, no matter who it is.
"There is no wishing. … I think we have every component that we need to be a championship team and the only thing we need to keep working on is ourselves and believing in ourselves."
March, 12, 2010
3/12/10
9:22
PM ET
By
Matt Mosley
| ESPN.com
Redskins coach Mike Shanahan is gambling that former Chiefs running back
Larry Johnson
will be so thankful to have a job that he won't be a distraction in the locker room. I'm not so sure that Johnson's ability warrants taking that type of risk.
In 2005 and 2006, Johnson was one of the two or three best backs in the league. He had back-to-back 1,700-yard seasons, but in '06, he had a staggering 416 carries. He's basically never recovered from taking all that punishment. So I wouldn't look at him like a typical 30-year-old running back. In fact, I think players in his age bracket such as
LaDainian Tomlinson
,
Willie Parker
,
Brian Westbrook
and
Thomas Jones
all have more tread left than Johnson.
He's a power back who's not a great change-of-pace back for the Redskins, unless they actually want someone slower than
Clinton Portis
. Here's what
Johnson told ESPN 980 Thursday evening
:
"There hasn't been a real good running back tandem in the league [for a while]," said Johnson. "There's always been one guy or three guys. It'd be just like how me and
Priest Holmes
was way back in the day. It'd be nice to be able to play aside somebody like that."
Hmm...I don't quite see Portis-Johnson rivaling Holmes-Johnson. And it's funny to hear Johnson recall that pairing with such fondness. Johnson and Holmes did not have a good relationship in Kansas City. In fact, Johnson once told a few of us on a conference call before a Cowboys-Chiefs game that Holmes had not been a mentor to him at all.
Johnson was brilliant for two seasons in the league. But the last time he truly helped a team was 2006. I don't see Johnson being happy about playing second-fiddle to Portis, but that's what he'll be asked to do. This will go down as the first highly questionable signing by the Redskins.
Just because they apparently got Johnson on the cheap doesn't make it a good decision.
February, 23, 2010
2/23/10
2:01
PM ET
It is a historic time in the AFC West. The release of San Diego running back
LaDainian Tomlinson
is a big deal.
Yes, we knew it was coming, and yes, Tomlinson is no longer a top back, but his departure from San Diego has to be a time of reflection. To mark Tomlinson's release, I'm listing my top five running backs who spent the bulk of their career in the AFC West:
1. LaDainian Tomlinson, San Diego:
This is not a courtesy pick. Tomlinson was a dominant player. He compiled 12,490 rushing yards in nine seasons. He is eighth on the NFL's all-time rushing list. He is among the league leaders on several other record lists. In his prime, he was among the best players in the league. He's the best running back ever to play in this division.
2. Marcus Allen, Los Angeles Raiders and Kansas City:
Allen was a special player, especially for the Raiders. He was a key to a Raiders Super Bowl team and he was a game changer. His 12,243 career rushing yards are 12th on the league's all-time list.
3. Terrell Davis, Denver:
Davis only played from 1995-2001 in a career that was cut short by injuries, but he made the most of it. He had 7,607 career rushing yards. He was a catalyst to Denver's two Super Bowl championships. When he was in his prime, Davis was unstoppable.
4. Floyd Little, Denver:
Little was just elected into the Pro Football Hall of Fame. He played in Denver from 1967-75. He played on several bad teams, but Little was a workhorse who was deserving of his enshrinement in Canton.
5. Priest Holmes, Kansas City:
Holmes played in Kansas City from 2001-07. He was dominant in his first three seasons in Kansas City before injuries plagued him. He is the team leader in career rushing yards with 5,933.
December, 2, 2009
12/02/09
4:33
PM ET
NASHVILLE, Tenn. --
Chris Johnson
isn't concerned with
Brett Favre
,
Peyton Manning
or
Drew Brees
.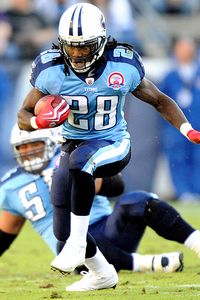 Don McPeak/US PresswireChris Johnson doesn't think team records should play into the MVP voting.
The Titans' second-year running back joked Wednesday after practice that he intends to launch an MVP campaign soon.
"Of course I should be in the conversation," he said. "And I'm about to start a campaign, an MVP campaign. Everything. When is the voting?"
And while he expects the Titans to fulfill the prophecy he offered after the Titans' first win that they would win 10 in a row and make the playoffs, he said it shouldn't have to come true for him to win the honor.
"I don't understand that," he said "MVP, that's an individual goal, that's not a team goal. Last year, my team, we had a first-round bye, went to the playoffs and all that and they still gave
Matt Ryan
[offensive] rookie of the year. So it shouldn't have to go on how good your team is doing."
He also said he's not sure a 2,000-yard season is a necessity, though he's currently on pace for 2,030 rushing yards. That number is too far away for him to think about much now, he said.
Johnson will be pleased to know he's moved up in Mike Sando's weekly "
MVP Watch
."
Voters who prefer one of the quarterbacks of a playoff team for MVP might look to Johnson for a different award -- offensive player of the year.
The MVP and offensive player of the year have been the same player for the four of the last five seasons. Last year Manning was MVP while Brees was offensive player of the year.
In the five seasons before that, a quarterback was MVP while a running back was offensive player of the year four times.
Marshall Faulk
was OPOY twice when
Kurt Warner
was MVP.
Priest Holmes
won the second award when
Rich Gannon
was MVP in 2002. The same scenario played out for
Jamal Lewis
when Peyton Manning and
Steve McNair
were co-MVPs a year later.
"That'd be good too," Johnson said of possibly being offensive player of the year. "But I want MVP."
November, 18, 2009
11/18/09
2:02
PM ET
Chris Johnson
's pace is a big topic, and if he keeps it up he'll finish with 1,940 yards. Eric Dickerson set the league record with 2,105 yards in 1984 with the L.A. Rams.

Johnson
Here are the current standings of the rushing defenses CJ will face the rest of the way:
Houston: 14 (tied)
Arizona: 8
Indianapolis: 14 (tied)
St. Louis: 28
Miami: 7
San Diego: 23
Seattle: 11
According to ESPN Stats & Information, he's also on pace for the highest yards per carry for a primary running back with at least 100 carries in NFL history.
And his 631 yards in his last three games rate as the fifth-best three-game rushing binge in league history: Deuce McAllister had 665 in 2003, Marshall Faulk and Priest Holmes each had 643 in 2001 and Tiki Barber has 641 in 2005.
A sleepy Johnson told Dan Patrick he doesn't get caught from behind, after a game he hurts all over, he thought Bud Adams' salute reflected the Titans' attitude and Vince Young's brought the Titans some swagger.
Here's
a link
to the interview courtesy of Sports Radio Interviews.
November, 9, 2009
11/09/09
12:55
PM ET
Posted by ESPN.com's Bill Williamson
The
Kansas City Chiefs
just
cut a player
who was one decent game away from becoming the team's all-time leading rusher, and it seems like it's the right move for everybody.
It is time for
Larry Johnson
to leave Kansas City.
| | |
| --- | --- |
| | |
| | G. Newman Lowrance/Getty Images |
| | Larry Johnson was just 75 yards away from breaking Priest Holmes' team rushing record. |
Both sides tried to make it work, but the new Kansas City regime did Monday what it probably should have done in the spring. At least everyone knows the Chiefs gave Johnson a chance to finish his career with them.
Now both the Chiefs and Johnson will move on. And they probably won't miss each other.
Off the field, Johnson remained a distraction, and on it, Johnson, who turns 30 this month, wasn't giving the young team much. The 1-7 Chiefs clearly weren't giving Johnson any motivation.
The Chiefs probably have been planning Monday's move since Oct. 28, when they suspended Johnson for Sunday's game at Jacksonville after he made gay slurs and questioned the credentials of Kansas City coach Todd Haley. Last year, Johnson was suspended four games by the Chiefs and the NFL after two separate incidents involving women in Kansas City nightclubs.
General manager Scott Pioli and Haley were impressed by Johnson's work ethic in the spring when he was committed to the team's offseason program. In July, Johnson, who in the past asked to be traded from Kansas City, said he was re-energized because of Pioli and Haley.
But the losses started piling up for Kansas City in the first half of the season and Johnson was ineffective because of a combination of him wearing down and a porous Kansas City offensive line. He has 358 yards on this season and was averaging 2.71 yards per carry. According to ESPN Stats & Information, Johnson's per-carry average this season is the fourth worst in NFL history for players with 100 or more carries.
Johnson is clearly no longer the same back he was in 2006, when he set an NFL record with 416 carries. According to ESPN Stats & Information, Johnson's per-carry average in that special season was 4.7; since it has been 3.7.
Still, despite his decline, Johnson, a No. 1 pick in 2003, was close to becoming the franchise's all-time leading rusher. He was 75 yards from breaking Priest Holmes' team record.
Holmes is still revered in Kansas City, while Johnson has been vilified because of his long history of off-field issues. Many Kansas City fans
voiced their displeasure
about Johnson last week and wanted him to be released. Some fans began a petition to urge the Chiefs not to allow Johnson to break Holmes' record.
The team listened and it will move on with youngsters
Jamaal Charles
and
Kolby Smith
. The two didn't do much Sunday at Jacksonville when they were just temporary Johnson replacements. Now Johnson is in Kansas City's rearview mirror and Charles and Smith need to step up their game.
If they don't, Kansas City will be able to live with it. Johnson is no longer a Chief and that appears to be the best scenario for everyone involved.
August, 15, 2009
8/15/09
1:00
PM ET
| | |
| --- | --- |
| | |
| | Kevin C. Cox/Getty Images |
| | Tony Gonzalez needed to be on a contending team and the Falcons needed another weapon for Matt Ryan. Atlanta is counting on the partnership to lead to a title. |
Posted by ESPN.com's Pat Yasinskas
FLOWERY BRANCH, Ga. -- Tony Gonzalez was sitting on some bleachers after practice on a recent morning and talking about his new quarterback, Matt Ryan.
"I don't know why people always talk about 'it,'" Gonzalez said. "I think you can break it down and actually put your finger on it. First of all, he's got great talent and he's willing to work hard. Harder than anybody else. On our first day off of camp last week, he was in here working out at 3:30 on a Sunday. He's always watching film.
"I feel like I'm the same way. That's what makes great players. There's no substitute for it. That is the 'it' factor, you're willing to not just do what everybody else is doing. You're willing to go above and beyond.''
Ten minutes earlier and 30 yards away, Ryan sat in a chair and said basically the same thing about Gonzalez.
"There's no mystery why that kind of stuff happens,'' Ryan said. "It's not just a fluke or anything like that. He works so hard. He puts in the time, works hard in the weight room and on the practice field and takes care of his body. It's been impressive for me to see what it takes to be at that level at your position in this league and being one of the best players in the league.''
Yes, greatness realized and greatness on the verge are colliding in Atlanta this summer. It's no accident. Matchmakers Mike Smith and Thomas Dimitroff have put Ryan and Gonzalez together in an attempt to give each of them perhaps the only thing they were lacking. Quite simply, Ryan and Gonzalez needed one another.
Ryan needed a tight end to go with running back Michael Turner and receivers Roddy White and Michael Jenkins as he attempts to follow up on an astounding rookie season. In the post-Michael Vick reconstruction of Atlanta, the Falcons give Ryan whatever he wants and needs.
That's why they went out and got the most productive tight end ever. Not thrilled with the prospect of another rebuilding year in Kansas City, Gonzalez said he was contemplating retirement. That all changed when Dimitroff and Smith started talking to the Chiefs about a trade. Atlanta sent its second-round pick in 2010 to Kansas City in exchange for Gonzalez because the future is now for the Falcons, who stunned the world by going 11-5 and making the playoffs last season.
Gonzalez needed a reason to keep playing and, most importantly, he needed a quarterback. You can see the chemistry coming together on the field. You can see it off the field, as the quarterback and tight end have been training-camp roommates and fast friends.
"We have the potential to be the best football team I've ever played on,'' Gonzalez said. "Offensively, we can be better than any team I've played on and that's saying a lot with the teams I played on with Dick Vermeil, Priest Holmes and Eddie Kennison. I loved (quarterback) Trent Green, but Matt's one of those Peyton Manning, Troy Aikman kind of guys. He's got the potential to be one of the best players ever.''
Now, Ryan is throwing to one of the best players ever.
Key questions
1. Can Atlanta's defense, with five new starters, be as good as the offense?
Yes. Smith got his defense to overachieve in his first season as a head coach and that came without him truly having time to stock his roster with his type of personnel. The Falcons made the playoffs with linebacker Keith Brooking, safety Lawyer Milloy and defensive tackle Grady Jackson serving as stopgaps near the end of their careers.
Those three are gone and so are linebacker Michael Boley and cornerback Domonique Foxworth, who was the only one of the five the Falcons had any interest in keeping. The Falcons drafted defensive tackle Peria Jerry and believe they had some replacements that fit their scheme in linebacker Stephen Nicholas, safety Thomas DeCoud and cornerback Brent Grimes.
They also signed free-agent linebacker Mike Peterson to take Brooking's place. Peterson, 33, doesn't make the defense any younger, but he spent the best years of his career in Jacksonville, where Smith was his defensive coordinator. Smith likes to talk about the "process'' and the defensive overhaul is the next step. The Falcons put last year's emphasis on building the offense. This year, they're trying to assemble a defense to match it.
| | |
| --- | --- |
| | |
| | AP Photo/John Bazemore |
| | The Falcons need Matt Ryan to continue to improve in his second year. |
2. Are the cornerbacks good enough to stop the top passing games?
A lot of fans seem concerned about a cornerback group that has Chris Houston and Grimes as the starters with rookie Chris Owens and second year pro Chevis Jackson as the top backups.
None of them fit the profile of a true shut-down corner, but Smith and Dimitroff seem to have a lot more faith in this group than their fans do. Houston's not the most physical cornerback around and Grimes' size (5-foot-9, which might be generous) could cause some matchup problems. But the Falcons didn't seem worried enough about either of those things to go out and splurge for a free agent.
That's because Smith and his staff believe they can coach Houston to be more aggressive and they believe Grimes is so athletic that he would have been a first-round pick instead of an undrafted free agent if he were a couple inches taller. The belief is that Grimes can make up for his lack of height with his rare leaping ability (he has a 42-inch vertical jump). Of course, it would only help the corners if John Abraham can produce another year of double-digit sacks and Jamaal Anderson can start showing why he was a top 10 pick in 2007.
3. Will there be a sophomore slump for Ryan?
That's usually a legitimate question when a guy has a remarkable rookie season. But this guy is different than any quarterback to come along in recent years.
Ryan's got an offensive line that showed it could protect him last year. He's got a top-notch runner in Turner, a Pro Bowl receiver in White and a solid possession guy in Jenkins. Add Gonzalez to that and Ryan's only going to get better.
Market watch
Quietly, the coaching staff is raving about what Nicholas has shown in camp so far. They say he's a completely different player and person than he was last year when he was flying back and forth to Boston to be with his infant son, who was awaiting a heart transplant. Stephen Nicholas Jr. got a new heart in mid-October and is completely healthy now. His father is able to focus completely on football now and the coaches firmly believe he's ready for a breakout season.
It's obvious this is a make-or-break year for Anderson at defensive end. He's got to show something and show it quickly because the Falcons aren't going to be patient much longer. They've got Chauncey Davis, who's ready to play immediately, and rookie Lawrence Sidbury, who has lots of potential, waiting to take over.
The Falcons must be very confident that left tackle Sam Baker is fully recovered from the back surgery that interrupted his rookie season. Atlanta didn't go out and get any other strong alternative and that's significant because Baker is the guy responsible for protecting Ryan's blind side.
Newcomer watch
It's early yet, but the Falcons believe they might have hit on something when they signed veteran Robert Ferguson after Harry Douglas went down with a season-ending injury early in camp. Ferguson looks like a guy intent on redeeming a career that seemed to be stalled. There's no doubt the Falcons will miss Douglas because they wanted him to stretch the field. But Ferguson and veteran Brian Finneran might give them some quality depth.
The Falcons had planned to let Owens focus solely on playing cornerback as a rookie. But the injury to Douglas leaves the team with a big question mark at punt returner. Owens has return abilities and the Falcons are going to use the preseason to take a look at him in that role.
Observation deck
The Falcons went with Chris Redman as Ryan's backup last season and had D.J. Shockley as their third quarterback. But there's a chance Shockley and Redman could flip roles. Shockley's had a strong camp and has lots of upside. ... The annual speculation that running back Jerious Norwood should get more carries is rolling again. There might be some truth to that because the Falcons don't want Turner handling 376 carries again. But Norwood's still going to be a situational player and his carries aren't going to increase dramatically. ... White's contract holdout didn't seem to set him back. He looks like he's in the best shape of his career. ... Middle linebacker Curtis Lofton was a force as a rookie last year, but the Falcons are going to ask even more from him this year. They want him to be an every-down linebacker. ... A lot of people like to bash the right side of Atlanta's offensive line. It's true that guard Harvey Dahl and tackle Tyson Clabo might not be the most talented guys. But offensive coordinator Mike Mularkey and line coach Paul Boudreau do a good job of playing to their strengths. Dahl and Claybo are aggressive as run blockers and Mularkey and Boudreau do a good job of covering up their deficiencies as pass blockers by giving them help and not having Ryan take many deep drops.
April, 23, 2009
4/23/09
2:44
PM ET
Posted by ESPN.com's Matt Mosley
| | |
| --- | --- |
| | |
| | Mark Cunningham/Getty Images |
| | The Eagles might be better off waiting until the middle rounds to pick a running back. Shonn Greene is one possibility. |
As we prepare to finalize the Beast draft board, which oddly enough looks almost exactly like Todd McShay's, something keeps bothering me. Yes, I know that Eagles fans and their local reporters have all but assured us the club will take a running back in the first round, but I'm still not buying it.
Maybe it has something to do with the Eagles not taking a running back in the first round since Keith Byars in 1986. Or perhaps it's the fact they recently gave All-Pro running back Brian Westbrook, a third-round pick in 2002, a long-term extension. I know he turns 30 this September, but it seems a bit premature to start planning his retirement party.
Even the Philadelphia Daily News' esteemed NFL columnist, Paul Domowitch, has issued a running back guarantee in the first round, although the Eagles had two picks at the time. The thought is the Eagles will select either Georgia running back Knowshon Moreno or Ohio State's Chris "Beanie" Wells with that No. 21 overall pick. My response to that is, "Why?"
If you don't think talented running backs grow on trees, you haven't looked around the NFC East lately. Over the last couple seasons, the Giants have had one of the best stable of running backs in the league. Starter Brandon Jacobs was taken in the fourth round out of Southern Illinois. His backup the past two seasons, Derrick Ward, was taken by the Jets in the seventh round in 2004, and he signed a four-year, $17 million contract with Tampa Bay thos offseason. And the man dubbed "Fire" in the Giants' version of "Earth, Wind and Fire," Ahmad Bradshaw, was the 250th pick in the 2007 draft.
The Cowboys are led by feature back Marion Barber (fourth-rounder), and former Georgia Tech star Tashard Choice (fourth round) appears to be an excellent complementary piece to Barber and first-rounder Felix Jones. When you throw in Westbrook, the top three running backs in the division were taken in the third round or later.
| | |
| --- | --- |
| | |
| | NFL.com Video |
| | An inside look at tight end Brandon Pettigrew from Oklahoma State. |
And if we're being too provincial, let's take a look at a team like the San Diego Chargers that has hit on backs like Michael Turner (fifth round) and Darren Sproles (fourth round). I could bring up the ultimate second-day guy in Terrell Davis, but this is starting to feel like overkill. (Priest Holmes anyone?)
So, explain to me again why the Eagles have to take a running back in the first round Saturday? In my mind, it would be a luxury pick, which is OK if you don't have a specific need at any position. But I happen to think the Eagles would be foolish to call Brent Celek their No. 1 tight end and just move on down the road -- especially with a potentially elite player such as Oklahoma State's Brandon Pettigrew sitting there. There, I've said it. I would take Pettigrew before either of the top running backs (Moreno and Wells). You might even be able to trade down a spot or two and still end up with Pettigrew.
In his latest seven-round mock draft, Todd McShay has Wells going to the Chargers at No. 16 overall and Moreno going to the Eagles at No. 21. I think most Eagles fans would be pleased with that result, but I think the Eagles would be better off taking someone like Iowa's Shonn Greene in the third round. Both Moreno and Greene have excellent instincts and would be good fits in the Eagles' zone running game. I've talked to scouts who've said that Wells would be much better suited in a power running game that features more angle blocking. And if you don't like my man Greene, take a look at LeSean McCoy in the second round. I just don't see a huge separation between the first-, second- or third-round running backs. Now if you want to refute some of the things I'm saying, check out this Bob Brookover story in the Philly Inquirer.
Though management hasn't admitted as much, perhaps the Eagles are a little gun shy about waiting on a running back this year because of their recent past. Spending third-round picks on Ryan Moats in 2005 and Tony Hunt in 2007 didn't exactly work out -- and so far the Lorenzo Booker experiment (acquired in a trade) isn't faring much better. Maybe they think it's time to end the 23-year streak of not taking a back in the first round.
In my mind, the Eagles are better off waiting at running back. This time of year, I talk to a lot of scouts. But sometimes it's important to talk to the men who are actually going to coach these players. I wanted to know why running backs seem to have an easier time making the transition to the NFL than other position players -- and why you can find so many of them throughout the draft.
"I think it's because that's where you put your best athletes," said the Jets' new running backs coach, Anthony Lynn. "The running back position is more instinctive than any of the other spots. That's something you can't coach. You either have it or you don't. And for whatever reason, the guys who have it aren't confined to the top of the draft."
If the Eagles stay at No. 21 Saturday, they'll have a decision to make at running back. My suggestion is that they stick to tradition -- and wait.
December, 1, 2008
12/01/08
8:00
AM ET
Posted by ESPN.com's Tim Graham
New York Jets running back Thomas Jones resumed his torrid season Sunday, but for the first time in a long while, his efforts weren't nearly enough.

Jones
The Jets, dating to last season, were 9-0 when Jones had a touchdown, and his teams had won 16 straight games when he crossed the goal line.
The AFC's leading runner scored twice Sunday against the Denver Broncos, but the Jets still lost, 34-17, at the Meadowlands.
Jones rushed for 136 yards on just 16 carries. He also had two catches for 21 yards.
Here are some Jones nuggets that illustrate the season he's having:
With four games to play, he has a career-high 11 rushing touchdowns.
He needs one more to tie Curtis Martin's single-season franchise record from 2004. Brad Baxter (1991), Johnny Hector (1987) and Emerson Boozer (1972) also scored 11 for the Jets.
Jones' previous best season was nine rushing touchdowns. He has 10 rushing touchdowns and 12 total touchdowns in his past eight games.
He eclipsed the 1,000-yard barrier for the fourth consecutive season.
His 8.6-yard average per carry on Sunday raised his season average to 4.7, the best of his nine-year career.
Jones ripped off a 59-yard touchdown run in the first quarter, the longest scoring run of his career. He had a 61-yard run with the Tampa Bay Buccaneers in 2003, but he didn't score.
He has scored a touchdown in six consecutive games, one off Santana Moss' franchise record from 2003. Tony Paige (1985), Boozer (1967) and Bake Turner (1964) also scored in six straight.
Jets fullback Tony Richardson has blocked for five running backs in seven 1,000-yard campaigns. The others are Priest Holmes, Larry Johnson, Chester Taylor and Adrian Peterson.

NFL SCOREBOARD
Thursday, 9/4
Sunday, 9/7
Monday, 9/8