NFL Nation:

Pro Bowl Watch
January, 29, 2010
1/29/10
1:10
PM ET
Pro Bowl Watch
:
AFC
»
East
|
West
|
North
|
South
NFC
»
East
|
West
|
North
|
South
Regardless of
what fans or players or Bill Polian think
about this year's bastardized Pro Bowl, it's no less meaningful to
Miami Dolphins
safety
Yeremiah Bell
.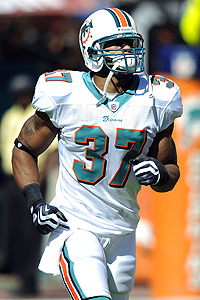 Steve Mitchell/US PresswireYeremiah Getting to the Pro Bowl was easier for Yeremiah Bell than getting to the NFL.
Bell was added to the AFC roster because of two injuries and a Super Bowl participant not being able to play. Still, Bell acknowledges that the words "Pro Bowler" will appear in the first sentence of his obituary.
"For me to be where I'm at today and playing in the Pro Bowl," Bell said, "it's something I'm very proud of."
If you think Bell shouldn't be in the Pro Bowl, you're right. The fact he's in the NFL at all is astonishing.
"I often reflect on my past just for motivation," Bell said. "It could've gone wrong for me so many times."
Bell didn't receive a single scholarship offer out of high school and didn't have enough money to enroll in college and walk on a team. He went to work at a Kentucky steel mill for $6.50 an hour. He heaved slabs of steel that weighed nearly 100 pounds.
Football was a dream he lived out through some friends who played at Eastern Kentucky. He would tune in to "The Roy Kidd Show" every Sunday to see if his buddies made the highlights or the coach would talk about them.
Bell said the same thoughts ran through his head every time he watched: "I could do this. I could go back out there. I can play football. What am I going to do with the rest of my life but work?"
Two years removed from high school, Bell enrolled at Eastern Kentucky and became a star. But his career nearly was derailed twice.
On the second day of two-a-day practices his sophomore season, he experienced full body cramps that landed him in the hospital for three days. Scared and confused, he called Kidd and informed him he was quitting. Kidd tried to talk him out of it but couldn't. Kidd told Bell he would give him a week to reconsider.
"Luckily, I did change my mind and he left that door open for me," Bell said. "He could've let me go, and that would have been the end of it."
Bell seemed like he was jockeying for draft position heading into his senior season. Scouts had noticed a gem. He was a first-team All-American and led the Ohio Valley Conference in interceptions as a junior. In a game against Eastern Illinois and future
Dallas Cowboys
quarterback
Tony Romo
, Bell recorded 10 tackles, two interceptions, a sack, a forced fumble and a recovery.
Before Bell's senior season, he hurt his knee while playing a pickup basketball game. The injury dashed his final year and rendered him a draft-day question mark.
"It could've went so many ways, so many different times," Bell said.
The Dolphins drafted him in the sixth round in 2003. Four months later, they waived him. Nobody picked him up. The Dolphins signed him to their practice squad and four games into the season was placed on injured reserve.
By 2006, Bell had fought his way into the lineup. He started 11 games and recorded 65 tackles with a pair of sacks. Then another setback: He blew out his Achilles in the 2007 opener.
Bell has been the Dolphins' leading tackler the past two seasons. He owns the franchise record with 7.5 career sacks by a defensive back.
And whether somebody wants to list the provisions of his honor and name the players who backed out (
Buffalo Bills
safety
Jairus Byrd
and
Pittsburgh Steelers
safety
Troy Polamalu
are hurt and
Antoine Bethea
is in the Super Bowl), Bell will forever be known as a Pro Bowl safety.
"I think guys like the old format, where you play it a week after the Super Bowl," Bell said. "I think that's the way it should be. But I don't look at it as 'Oh, I got in because somebody else.' I just look at it as a great opportunity to enjoy the whole experience.
"I'm a Pro Bowler."
January, 27, 2010
1/27/10
1:01
PM ET
Pro Bowl Watch
:
AFC
»
East
|
West
|
North
|
South
NFC
»
East
|
West
|
North
|
South
Two tight ends drafted since 2006 have earned Pro Bowl honors.
[+] Enlarge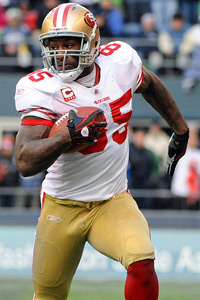 Kirby Lee/US PresswireTight end Vernon Davis caught 78 passes for 965 yards and 13 touchdowns in 2009.
One of them, Houston's
Owen Daniels
, is recovering from reconstructive knee surgery. The other, San Francisco's
Vernon Davis
, has already overcome reconstructive attitude surgery.
In 15 months, Davis has gone from budding draft bust and loose cannon to arguably the most dynamic all-around tight end in the NFL. Coach Mike Singletary's decision to banish Davis to the locker room during a 2008 home loss to Seattle will go down as one of the most unusual and effective motivational tactics in NFL history. Singletary later named Davis a team captain, an appointment that became self-fulfilling.
Only wide receivers
Larry Fitzgerald
and
Randy Moss
matched Davis' 13 touchdown receptions in 2009. And of the 19 players with more than seven scoring grabs, Davis was the only one whose team made a performance-based change at quarterback. He wasn't catching passes from
Kurt Warner
or
Tom Brady
, in other words.
Davis will get a chance to play with elite quarterbacks during his Pro Bowl debut Sunday. He might also get a chance to show his dominant skills as a blocker. As tough as it might have once been to envision Davis earning Pro Bowl honors, it's now tougher to envision him failing to make return trips.
January, 26, 2010
1/26/10
1:00
PM ET
Pro Bowl Watch
:
AFC
»
East
|
West
|
North
|
South
NFC
»
East
|
West
|
North
|
South
It was the year of the small, speedy tailbacks in the AFC. But perhaps the lowest-profile of the miniature rushers was
Ray Rice
of the
Baltimore Ravens
.

Rice
The second-year tailback led the Ravens in rushing with 1,339 yards in the regular season in addition to 78 catches for 702 receiving yards. He was Baltimore's most reliable weapon and nearly tripled his rushing total from a year ago (454 yards).
But perhaps the scariest part is Rice, 23, is just scratching the surface.
"He was awfully good this year, but I do think he can get better," Scouts Inc.'s Matt Williamson said. "He was a tremendous workhorse at Rutgers, a do-it-all guy. I think the Ravens drafted Rice with intentions of him being their third-down guy, and he immediately exceeded those expectations to the point where they almost had to restructure the offense around his abilities."
Rice is the third tailback for the AFC in the Pro Bowl behind league-leading rusher
Chris Johnson
of the
Tennessee Titans
and
Maurice Jones-Drew
of the
Jacksonville Jaguars
.
Rice's production took off when he packed on additional muscle last offseason to help with durability and running between the tackles. As a rookie, Rice missed three games due to injury. This season he played in all 16 regular season games, and two more contests in the playoffs.
With fellow second-year player
Joe Flacco
at quarterback and Rice at tailback, Baltimore has two young players to build its offense around.
Sunday will mark Rice's first Pro Bowl appearance, but odds are it won't be his last.