NFL Nation:

Pro Bowl Watch 2010
January, 29, 2010
1/29/10
1:10
PM ET
Pro Bowl Watch
:
AFC
»
East
|
West
|
North
|
South
NFC
»
East
|
West
|
North
|
South
Regardless of
what fans or players or Bill Polian think
about this year's bastardized Pro Bowl, it's no less meaningful to
Miami Dolphins
safety
Yeremiah Bell
.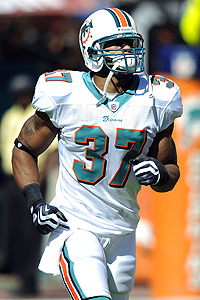 Steve Mitchell/US PresswireYeremiah Getting to the Pro Bowl was easier for Yeremiah Bell than getting to the NFL.
Bell was added to the AFC roster because of two injuries and a Super Bowl participant not being able to play. Still, Bell acknowledges that the words "Pro Bowler" will appear in the first sentence of his obituary.
"For me to be where I'm at today and playing in the Pro Bowl," Bell said, "it's something I'm very proud of."
If you think Bell shouldn't be in the Pro Bowl, you're right. The fact he's in the NFL at all is astonishing.
"I often reflect on my past just for motivation," Bell said. "It could've gone wrong for me so many times."
Bell didn't receive a single scholarship offer out of high school and didn't have enough money to enroll in college and walk on a team. He went to work at a Kentucky steel mill for $6.50 an hour. He heaved slabs of steel that weighed nearly 100 pounds.
Football was a dream he lived out through some friends who played at Eastern Kentucky. He would tune in to "The Roy Kidd Show" every Sunday to see if his buddies made the highlights or the coach would talk about them.
Bell said the same thoughts ran through his head every time he watched: "I could do this. I could go back out there. I can play football. What am I going to do with the rest of my life but work?"
Two years removed from high school, Bell enrolled at Eastern Kentucky and became a star. But his career nearly was derailed twice.
On the second day of two-a-day practices his sophomore season, he experienced full body cramps that landed him in the hospital for three days. Scared and confused, he called Kidd and informed him he was quitting. Kidd tried to talk him out of it but couldn't. Kidd told Bell he would give him a week to reconsider.
"Luckily, I did change my mind and he left that door open for me," Bell said. "He could've let me go, and that would have been the end of it."
Bell seemed like he was jockeying for draft position heading into his senior season. Scouts had noticed a gem. He was a first-team All-American and led the Ohio Valley Conference in interceptions as a junior. In a game against Eastern Illinois and future
Dallas Cowboys
quarterback
Tony Romo
, Bell recorded 10 tackles, two interceptions, a sack, a forced fumble and a recovery.
Before Bell's senior season, he hurt his knee while playing a pickup basketball game. The injury dashed his final year and rendered him a draft-day question mark.
"It could've went so many ways, so many different times," Bell said.
The Dolphins drafted him in the sixth round in 2003. Four months later, they waived him. Nobody picked him up. The Dolphins signed him to their practice squad and four games into the season was placed on injured reserve.
By 2006, Bell had fought his way into the lineup. He started 11 games and recorded 65 tackles with a pair of sacks. Then another setback: He blew out his Achilles in the 2007 opener.
Bell has been the Dolphins' leading tackler the past two seasons. He owns the franchise record with 7.5 career sacks by a defensive back.
And whether somebody wants to list the provisions of his honor and name the players who backed out (
Buffalo Bills
safety
Jairus Byrd
and
Pittsburgh Steelers
safety
Troy Polamalu
are hurt and
Antoine Bethea
is in the Super Bowl), Bell will forever be known as a Pro Bowl safety.
"I think guys like the old format, where you play it a week after the Super Bowl," Bell said. "I think that's the way it should be. But I don't look at it as 'Oh, I got in because somebody else.' I just look at it as a great opportunity to enjoy the whole experience.
"I'm a Pro Bowler."
January, 29, 2010
1/29/10
1:00
PM ET
By
Matt Mosley
| ESPN.com
Pro Bowl Watch
:
AFC
»
East
|
West
|
North
|
South
NFC
»
East
|
West
|
North
|
South
In case you missed it, the NFC East (namely the Cowboys and Eagles) has taken over the NFC Pro Bowl roster. We've mentioned several times the fact that more players than ever seem to be dropping out of Sunday's game in South Florida, but let's take a moment to focus on a player who truly appreciates his spot on the roster.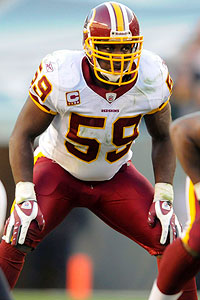 Howard Smith/US PresswireAfter being overlooked for years, London Fletcher is finally going to the Pro Bowl.
The fact that Redskins middle linebacker
London Fletcher
needed the Saints'
Jonathan Vilma
to miss the Pro Bowl isn't significant in the whole scheme of things. At age 34, Fletcher probably should have played in five or six Pro Bowls by now but for whatever reason he's come up short in the voting process.
In '09, Fletcher was credited for 142 tackles (the Redskins say he had 172), which ranked second in the league behind the 49ers'
Patrick Willis
. It didn't help Fletcher's cause that he played on one of the worst teams in the league, but you never saw him back down. His streak of playing in 192 consecutive games is second only to
Brett Favre
. The 5-foot-10, 245-pound linebacker from Division III John Carroll has always been an underdog, but that hasn't kept him from being one of the most productive players in the league.
He admitted to being incredibly nervous in the final moments of the NFC Championship Game because his Pro Bowl ticket was hanging in the balance. Now, he's in the process of trying to secure tickets for family and friends who never gave up on him making it to the NFL's all-star game.
"I'm thinking, 'Man, here I am in my 12th year. Is it ever going to happen for me?' When it finally became a reality, yeah, it was a big relief. I didn't sleep much at all last night," Fletcher told reporters via conference call this week. "The Pro Bowl is something they have all been waiting for. They've gone to two Super Bowls with me. But now, finally getting the Pro Bowl is something that they've also been looking forward to."
Eagles quarterback
Donovan McNabb
told reporters in South Florida that he was thrilled for Fletcher, but he's not cutting him any slack when it comes to "rookie" hazing. He indicated that Fletcher would soon have some large tabs at the team hotel's pool bar.
And something tells me that Fletcher won't hesitate in picking up the check. He's long overdue.
January, 28, 2010
1/28/10
1:01
PM ET
Pro Bowl Watch
:
AFC
»
East
|
West
|
North
|
South
NFC
»
East
|
West
|
North
|
South
It is a meaningless all-star game that has been watered down more than usual this year. So why is there some NFC South intrigue to Sunday's Pro Bowl?
[+] Enlarge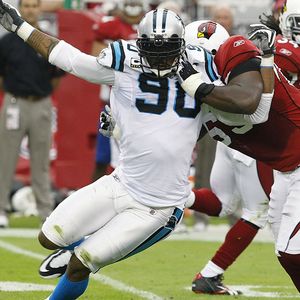 Rick Scuteri/US PresswireSunday's Pro Bowl may be the last time we see Julius Peppers play as a member of the Panthers.
Well, it just might be the last time we see
Julius Peppers
in a
Carolina Panthers
uniform. Well, not quite a full uniform because he'll be wearing an NFC Pro Bowl jersey that will include a patch with the Panthers logo and he'll be wearing a Carolina helmet.
That's easily the biggest NFC South storyline in this game because the Saints are sitting out, the Bucs don't have a representative and Atlanta's
Roddy White
and Carolina's
DeAngelo Williams
and
Ryan Kalil
are the only other NFC South players in the game. There's mystery with Peppers because we have no idea what his future holds.
He's already been named to the NFL's All-Decade team, which will be fully revealed Sunday, but Peppers is scheduled to become an unrestricted free agent and that brings all sorts of questions about his future with the Panthers. Peppers was in a similar situation last year and asked out of Carolina. The Panthers didn't grant his wish, instead placing the franchise tag on him and paying him about $18 million.
Peppers has stayed quiet about his desires this time around and the Panthers also have been silent on this issue. But a decision must be made about Peppers in February. The Panthers simply can let him walk into free agency, but that's unlikely because they would get nothing in return.
It's more likely they'll use the franchise tag on him again. That doesn't necessarily mean he'll play for the Panthers at a salary of more than $20 million next season. The Panthers could use the franchise tag to protect their investment and then and trade Peppers for draft picks.
Stay tuned as this plays out in February, but you might want to watch the game because it may be the last time you'll see Peppers as a Panther.
January, 28, 2010
1/28/10
1:00
PM ET
Pro Bowl Watch
:
AFC
»
East
|
West
|
North
|
South
NFC
»
East
|
West
|
North
|
South
In previous seasons,
Matt Schaub
's misfortunes have been related to cheap hits and injuries no one would have played through.
This season he encountered a different kind. First, the Texans' inability to get the last AFC playoff slot, when it was in range.
[+] Enlarge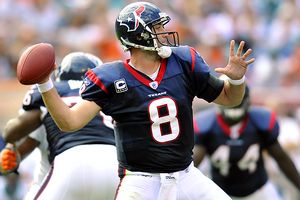 Steve Mitchell/US PresswireMatt Schaub threw for 4,770 yards and 29 touchdowns in 2009.
Second, to produce a career season that coincided with
Peyton Manning
's fourth MVP year and
Chris Johnson
's 2,000-yard season.
When you throw for a league-high 4,770 yards and don't get considered for offensive player of the year because of what players in your own division have done, that's a little tough.
It was the
sixth-best
passing yardage season in league history. Remember when
Daunte Culpepper
went crazy in 2004? He was a giant story. Schaub's year was better than that, and also topped Dan Marino's second-best year.
I believe Schaub has now established himself as a player who deserves mention at the back end of the top tier of NFL quarterbacks. He's not far off from
Aaron Rodgers
, who ranks as the top up-and-comer in many people's eyes.
With Manning in the Super Bowl,
Philip Rivers
,
Tom Brady
and
Ben Roethlisberger
bowing out because of injury, Schaub's in line to start for the AFC in Sunday's Pro Bowl.
It's not the biggest spotlight he's going to earn before he's finishes in Houston.
Here a review of Schaub's season from Matt Williamson of Scouts Inc.:
"Extremely successful. I was very torn as to who should have gotten the third quarterback spot in the Pro Bowl for the AFC between Roethlisberger, Brady and Schaub. He stayed healthy, which is gigantic for him. He was consistently productive, even after Owen Daniels went down, which should have crippled that passing game much more than it really did. After that injury, remember, they had no running game and really only one true receiving weapon in Andre Johnson. While QBs get too much credit and too much blame for such things, I also think it was very impressive that the Texans made a late-season run and did finally get over .500. Would grade his season as an A-minus."
January, 27, 2010
1/27/10
1:01
PM ET
Pro Bowl Watch
:
AFC
»
East
|
West
|
North
|
South
NFC
»
East
|
West
|
North
|
South
Two tight ends drafted since 2006 have earned Pro Bowl honors.
[+] Enlarge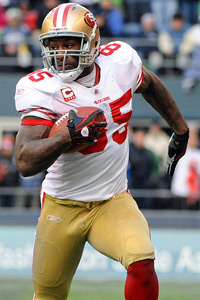 Kirby Lee/US PresswireTight end Vernon Davis caught 78 passes for 965 yards and 13 touchdowns in 2009.
One of them, Houston's
Owen Daniels
, is recovering from reconstructive knee surgery. The other, San Francisco's
Vernon Davis
, has already overcome reconstructive attitude surgery.
In 15 months, Davis has gone from budding draft bust and loose cannon to arguably the most dynamic all-around tight end in the NFL. Coach Mike Singletary's decision to banish Davis to the locker room during a 2008 home loss to Seattle will go down as one of the most unusual and effective motivational tactics in NFL history. Singletary later named Davis a team captain, an appointment that became self-fulfilling.
Only wide receivers
Larry Fitzgerald
and
Randy Moss
matched Davis' 13 touchdown receptions in 2009. And of the 19 players with more than seven scoring grabs, Davis was the only one whose team made a performance-based change at quarterback. He wasn't catching passes from
Kurt Warner
or
Tom Brady
, in other words.
Davis will get a chance to play with elite quarterbacks during his Pro Bowl debut Sunday. He might also get a chance to show his dominant skills as a blocker. As tough as it might have once been to envision Davis earning Pro Bowl honors, it's now tougher to envision him failing to make return trips.
January, 27, 2010
1/27/10
12:59
PM ET
Pro Bowl Watch
:
AFC
»
East
|
West
|
North
|
South
NFC
»
East
|
West
|
North
|
South
(UPDATE: After injuring himself in Wednesday's practice, Kaeding has withdrawn from the Pro Bowl. Kaeding suffered a small tear in his groin and will be replaced by Miami kicker Dan Carpenter.)
Perhaps other than Minnesota running back
Adrian Peterson
, there will be no other player at the Pro Bowl on Sunday in Miami with a more bitter taste in his mouth than San Diego kicker
Nate Kaeding
.

Kaeding
The fact that the Pro Bowl will be played in the very same place Kaeding wanted to be the next Sunday -- at the Super Bowl -- will only make the experience more depressing for Kaeding.
Like Peterson's fumble issues in the Vikings' NFC Championship Game loss at New Orleans, Kaeding hurt his team in the playoffs. Kaeding missed three field goals -- two inside 40 yards -- in a 17-14 home loss to the
New York Jets
in the AFC divisional playoff round Jan. 17. San Diego was the No. 2 seed in the AFC and entered the playoffs with 11 straight victories.
Kaeding missed a total of three field goals during the regular season. That is why he was not only named to to the Pro Bowl, but was also named but a first-team All-Pro player. He was fantastic all season, and then failed in the playoffs. He is now 3-of-9 in the postseason at home. He cost the Chargers a playoff game against the Jets in 2004 during his rookie season.
Of course, he wasn't the only reason why San Diego lost to the Jets, but if he was his usual self, San Diego would have won the game.
Kaeding will definitely be thinking about his playoff woes when he lines up for a field goal in the Pro Bowl. That's just human nature. He's sure to be jittery.
Ultimately it may be good for Kaeding to kick in a game situation so soon after his playoff misery. It will give him a chance to make a field goal and get in a good mental frame of mind, instead of waiting more than seven months for another opportunity.
January, 26, 2010
1/26/10
1:00
PM ET
Pro Bowl Watch
:
AFC
»
East
|
West
|
North
|
South
NFC
»
East
|
West
|
North
|
South
It was the year of the small, speedy tailbacks in the AFC. But perhaps the lowest-profile of the miniature rushers was
Ray Rice
of the
Baltimore Ravens
.

Rice
The second-year tailback led the Ravens in rushing with 1,339 yards in the regular season in addition to 78 catches for 702 receiving yards. He was Baltimore's most reliable weapon and nearly tripled his rushing total from a year ago (454 yards).
But perhaps the scariest part is Rice, 23, is just scratching the surface.
"He was awfully good this year, but I do think he can get better," Scouts Inc.'s Matt Williamson said. "He was a tremendous workhorse at Rutgers, a do-it-all guy. I think the Ravens drafted Rice with intentions of him being their third-down guy, and he immediately exceeded those expectations to the point where they almost had to restructure the offense around his abilities."
Rice is the third tailback for the AFC in the Pro Bowl behind league-leading rusher
Chris Johnson
of the
Tennessee Titans
and
Maurice Jones-Drew
of the
Jacksonville Jaguars
.
Rice's production took off when he packed on additional muscle last offseason to help with durability and running between the tackles. As a rookie, Rice missed three games due to injury. This season he played in all 16 regular season games, and two more contests in the playoffs.
With fellow second-year player
Joe Flacco
at quarterback and Rice at tailback, Baltimore has two young players to build its offense around.
Sunday will mark Rice's first Pro Bowl appearance, but odds are it won't be his last.
January, 26, 2010
1/26/10
1:00
PM ET
Pro Bowl Watch
:
AFC
»
East
|
West
|
North
|
South
NFC
»
East
|
West
|
North
|
South
We all know Green Bay linebacker
Clay Matthews
III comes from a deep lineage of football success. His father, Clay Jr., was a 19-year linebacker in the NFL. His uncle,
Bruce Matthews
, also played 19 seasons as an offensive lineman and is a member of the Pro Football Hall of Fame.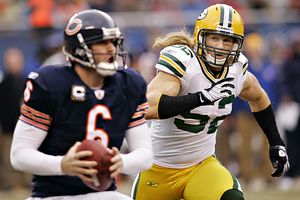 Rob Grabowski/US PresswireGreen Bay linebacker Clay Matthews added to his family's NFL history by making the Pro Bowl as a rookie.
But only one member of that trio managed a Pro Bowl berth as a rookie. Clay III was originally a first alternate and received an invitation to play after Chicago linebacker
Lance Briggs
bowed out.
"It means a great deal," Matthews said in a national conference call this week. "I'm very happy, fortunate and blessed to have made it in my rookie season. My dad and uncle were telling me, 'Man, it took me four and six years to make it, and you're already making it in your first year.' I definitely have big shoes to fill, but I'm looking forward to the opportunity and I think I'm off to a good start."
Indeed, Matthews set a Packers rookie record with 10 sacks this season after cracking the starting lineup in Week 4. His father played in a different era, including five seasons before sacks became an official NFL statistic, but it's worth noting that Clay Jr. only hit double digits in sacks for one season (12 in 1984). (For more, see
Mike Spofford's piece
over on Packers.com.)
"It's really about staying on top," Clay III said, "and that's what I look forward to doing -- just keeping it up and just trying to make plays from here on out."
Matthews will play a reserve role for the NFC in Sunday's game at Sun Life Stadium. I'll be there to chronicle his afternoon, along with that of the other 11 NFC North players expected to participate. Because of the recent rash of changes to the Pro Bowl roster, below is a list of NFC North players. As always, we're here to serve.
Chicago Bears
Kick returner
Johnny Knox
Green Bay Packers
Quarterback
Aaron Rodgers
Safety
Nick Collins
Linebacker Clay Matthews
Minnesota Vikings
Running back
Adrian Peterson
Wide receiver
Sidney Rice
Left guard
Steve Hutchinson
Left tackle
Bryant McKinnie
Defensive end
Jared Allen
Defensive tackle
Kevin Williams
Special teams cover man
Heath Farwell

NFL SCOREBOARD
Thursday, 12/18
Saturday, 12/20
Sunday, 12/21
Monday, 12/22