NFL Nation:

Pro Football Writers of America Good Guy Award
July, 31, 2014
Jul 31
4:59
PM ET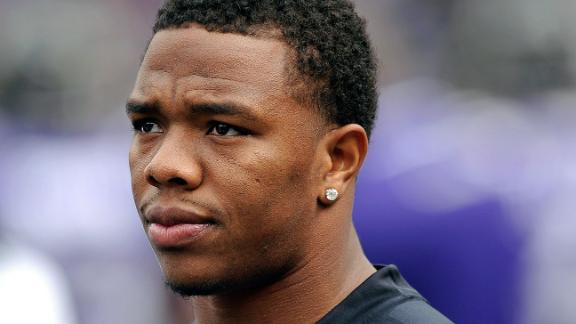 OWINGS MILLS, Md. -- In stark contrast to
Ray Rice
's awkward news conference in May, the
Baltimore Ravens
running back showed Thursday that he finally understood the weight of his actions from the alleged altercation with his then-fiancée in February.
He delivered the correct message, one the NFL failed to do last week with the two-game suspension, by not only apologizing to his wife, Janay Palmer, but also expressing a desire to become an advocate for domestic-violence causes.
Rice was compelling in his contrition, calling it the biggest mistake of his life. He stood in front of the microphone alone, without his wife standing by his side, and took full responsibility for the incident. Perhaps more importantly, Rice actually said the words "domestic violence," which weren't heard in his statement two months ago.
"My actions were inexcusable," Rice said. "That's something I have to live with the rest of my life."
Before anyone pats Rice on the back, this is what he should have said the first time when he broke his silence in May. Instead, Rice nervously fumbled through notes on his phone and apologized to team officials and his sponsors. That debacle of a news conference came across as damage control to his image.
His 17-minute news conference Thursday hit the right tones. He apologized to all women affected by domestic violence. He accepted the blame for losing the respect of fans. Rice came across as genuinely sorry.
"I let my wife down, I let my daughter down, I let my wife's parents down, I let the whole Baltimore community down," Rice said.
Rice's biggest misstep was not talking about what happened in the elevator. He was asked twice about it and declined to answer both times. His stance against domestic violence would have resonated stronger if he had explained his transgressions.
"I'll be honest: Like I said, I own my actions," Rice said. "I just don't want to keep reliving the incident. It doesn't bring any good to me. I'm just trying to move forward from it. I don't condone it. I take full responsibility for my actions. What happened that night is something that I'm going to pay for the rest of my life."
The only way Rice can move forward from this incident and show he's truly sincere is through his actions. It's not by his words. It's not by a hefty donation, which is merely a gesture. It's by proving this will remain a "one-time incident" and by supporting domestic-violence causes.
Thursday represented a small step forward for Rice. But it was an important one.
March, 8, 2010
3/08/10
2:29
PM ET
Wow, here's an interesting one. Looks like you can add
Brad Hoover
's name to the Purge in Pantherland.

Hoover
At least according to safety
Chris Harris
, Hoover
has been added
to the list of cuts that started with
Jake Delhomme
and a bunch of other older guys last week. This one's a bit surprising because Hoover still was playing at a high level and there's no real heir apparent, unless you think
Tony Fiammetta
is a sure thing.
Personally, this one's kind of sad. I was covering the Panthers on a daily basis back when Hoover first made the team as an undrafted free agent. The guy carved out a very nice career for himself and did it with class.
As we
reported
at the end of the season, Hoover won the inaugural Tom Berry Good Guy Award, for being the Panther who was most helpful to the media doing its job. I recently nominated Hoover for the Pro Football Writers of America Good Guy Award, which will go to one player from all around the league.