NFL Nation:

Quan Sturdivant
August, 15, 2013
8/15/13
7:36
PM ET
RICHMOND, Va. --
Highlights from Robert Griffin III's practice, his second working against the Redskins' scout team:
1. Had to miss most of Robert Griffin III's practice to hop on an important work phone call. However, I do know he completed 14 of 15 passes during work against the scout team, again running a variety of plays. Griffin took 21 snaps, five more than he did the previous day -- his first time in any sort of 11-on-11 drills. "I thought he was really sharp today," Redskins quarterbacks coach Matt LaFleur said. "I didn't see a lot of hesitation in his decision making. His footwork was clean. He had a good day."
Griffin
2. LaFleur's best quote was about Griffin's health in general and if he noticed any issues with his back (and plant) leg. Early in camp Griffin didn't always plant and drive with authority. He pushed off gingerly other times. But that hasn't been the case for a while. "I noticed a little bit early when he first started back. Now, I do not notice it," LaFleuer said. Neither do I.
3. Redskins offensive coordinator Kyle Shanahan also said Griffin looked sharper than he had Wednesday, though he felt that way about the entire offense. There's a natural progression for Griffin. "He's getting his health back, and now it's just about getting the rust [off] and trying to get those reps," Shanahan said.
4. The Redskins drilled Griffin on the side every day during practice until he returned to full-team work against the scout team Wednesday, trying to simulate movements in the pocket. Thus far against the scout team, Griffin has not made any off-scheduled plays on dropback passes. That's a good sign for him as a passer. "He has been able to get the ball out and get rid of it," Shanahan said. "He hasn't broken the pocket. I think we had two keepers with him today -- or bootleg, whatever you guys want to call it -- where he is faking the outside zone and running the other way. So he has had some design scrambles but he has been able to get rid of the ball before leaving the pocket in dropback plays."
5. Shanahan said that even though Griffin isn't being tackled -- no quarterbacks in any camp ever would be -- or even hit, they can get him used to dealing with the rush. "You definitely have to move, you definitely have to react just to move in the pocket and make the reads."
6. Yes, Shanahan was asked if he plays the middleman in the Griffin-coach Mike Shanahan relationship. The short answer? No. Here's his long answer: "Middlemen mess things up. I would rather those two communicate to each other. I understood his frustrations. I am just as frustrated. The whole team, everybody wants him out there. Me being young and everything, I want him out there the very first day. I don't have much experience in this. The main thing is we can't risk him getting hurt. As hard as it is, as frustrating as it is for him, myself, the head coach, every player out here, it is what we have got to do. We have to keep him healthy that is the most important thing and make sure he is definitely ready to get out there and I think we have been smart about that."
Notes:
Linebacker
Brian Orakpo
left practice early with a bruised right quad. ... The Redskins signed linebacker
Quan Sturdivant
, who spent part of last season on Kansas City's practice squad. Sturdivant, a sixth-round draft pick in 2011, can play inside. ... There is no practice report today. Will have one after Friday's practice.
August, 31, 2012
8/31/12
8:44
PM ET

Most significant move:
Clark Haggans
failed to make the cut after five-plus seasons with the Cardinals. He could always re-sign at some point if the Cardinals need depth at outside linebacker. He'll be cheaper at that time, given that veteran contracts become guaranteed once a player is on the roster for Week 1.
For now, though, the Cardinals are moving forward with
Quentin Groves
as a primary backup behind starters
Sam Acho
and
O'Brien Schofield
at outside linebacker.
Brandon Williams
was thought to be part of that mix as well, but the Cardinals waived him with an injury designation, citing a shoulder problem. Williams will revert to injured reserve unless the Cardinals reach an injury settlement with him. A settlement would allow Williams to sign with Arizona or another team once he's healthy.
It's a good sign, ultimately, that Arizona feels good enough about its outside linebackers to proceed without the 35-year-old Haggans. After a certain point, every team should develop enough young depth to threaten older, declining players. In this case, however, I'm not sure Arizona has a viable replacement for him. Groves showed promise, but he has zero sacks over the past three seasons.
Onward and upward:
None of the players released by Arizona jumps out to me as someone sure to catch on elsewhere. That is because the Cardinals found a way to keep 11 defensive backs, including all their best corners. Had
A.J. Jefferson
or
Michael Adams
hit the market, both would have attracted interest. The same would have been true for
Greg Toler
, most likely.
Crezdon Butler
,
Antonio Coleman
,
Blake Gideon
,
Russ Hochstein
,
Ricky Lumpkin
,
Colin Parker
,
Larry Parker
,
DeMarco Sampson
,
Alfonso Smith
,
Quan Sturdivant
,
Ronald Talley
,
Everrette Thompson
,
Martell Webb
,
Scott Wedige
,
Isaiah Williams
and
D.J. Young
were released. No big surprises there. Haggans could catch on somewhere.
Quarterback
Rich Bartel
landed on injured reserve, as did running back
Javarris James
.
Stephen Williams
was waived/injured with an Achilles' injury.
What's next:
The Cardinals could use help at offensive tackle and outside linebacker. They decided against designating
Levi Brown
as a player eligible to return from injured reserve later in the season. That means Brown will not return from his torn triceps until next season.
D'Anthony Batiste
heads toward the season as the projected starter at left tackle. Another candidate, Young, struggled during preseason and received his release Friday.
The Cardinals are paying for missing on 2009 second-round choice Cody Brown, an outside linebacker. They're counting on Acho and Schofield to carry the full load, but there's little depth behind them. Schofield must prove he's durable in a full-time role after recovering from a career-threatening knee injury.
September, 4, 2011
9/04/11
6:51
PM ET
Catching up with various moves around the edges of NFC West rosters Sunday:
Teams are also assembling practice squads. The 49ers
announced
adding seven players to theirs, all released by the team on the reduction to 53 players. I'll round up those additions once they become official.
September, 2, 2011
9/02/11
5:43
PM ET
The
Arizona Cardinals
have
made their initial cuts
to comply with the 53-man deadline Saturday.

Surprise move:
Nothing too weighty here. The team kept four safeties initially instead of five, an indication that
Adrian Wilson
might be ready for the regular-season opener despite a torn biceps tendon. Veteran backup safety
Matt Ware
, signed as insurance when Wilson was hurt, was among those let go. Sixth-round pick
Quan Sturdivant
appeared to be on the bubble, but he made the initial 53-man roster. A couple veterans, namely punter
Ben Graham
and fullback
Reagan Maui'a
, lost roster spots to less-established players.
No-brainers:
Deuce Lutui
's status became topical throughout camp as he battled weight issues and played deep into the final preseason game. Keeping him around was a no-brainer, I thought, because Lutui can be an above-average starter. The Cardinals have him under contract on their terms after Lutui failed a physical with Cincinnati in free agency. Arizona is better on its line with Lutui as one of its options.
What's next:
The Cardinals will be in the market for help at running back after losing rookie
Ryan Williams
to season-ending injury.
Alfonso Smith
made the cut initially, joining a group featuring
Beanie Wells
,
LaRod Stephens-Howling
and rookie fullback
Anthony Sherman
.
The team has eight offensive linemen after placing
Floyd Womack
on injured reserve. That number is one lower than typical for NFL teams, but the Cardinals had only eight on their Week 1 roster last season. They opened their previous three seasons under Ken Whisenhunt with nine.
The secondary is another area to watch after
Greg Toler
landed on injured reserve earlier in the week. The team has eight defensive backs on its roster, including four corners (
Patrick Peterson
,
A.J. Jefferson
,
Richard Marshall
and
Michael Adams
). Arizona has had 11, nine, eight and 10 defensive backs on its Week 1 rosters under Whisenhunt.
August, 20, 2011
8/20/11
7:19
PM ET
Ryan Williams
' confirmed
season-ending injury
will prevent the
Arizona Cardinals
' 2011 draft class from reaching its expected potential this season.
Williams, injured while carrying the ball against Green Bay in the Cardinals' preseason game Friday night, was pushing
Beanie Wells
for playing time. He projected as a potential starter, perhaps as early as this season.
The Cardinals should still expect significant contributions from their 2011 draft class.
It's an upset if
Patrick Peterson
doesn't take over as the starting left cornerback early in the season.
Third-rounder
Rob Housler
needs seasoning as a blocker, but his receiving skills have stood out during preseason. He caught a touchdown pass in the opener and led Arizona in receptions with five against Green Bay.
Anthony Sherman
made an immediate positive impression at fullback early in camp. He caught a pass for a 6-yard gain on third-and-2 against the Packers.
David Carter
went from projected defensive end to No. 2 nose tackle early in camp.
Receiver
DeMarco Sampson
, the Cardinals' seventh-round pick, has continued to produce during preseason games after impressing during camp practices. He had three receptions for 68 yards against the Packers, including one for a 45-yard gain.
The chart shows the Cardinals' 2011 draft class, sorted by order chosen.
May, 11, 2011
5/11/11
12:30
PM ET
The
Seattle Seahawks
were on the clock with the 99th overall choice in the 2011 NFL draft when the
Minnesota Vikings
called to inquire about a trade.
Coach Pete Carroll and general manager John Schneider had a decision to make. The team wanted to add more picks, so sliding back into the Vikings' spot at No. 106 carried some appeal. But the Seahawks had not addressed defense to that point in the draft, and Mississippi State outside linebacker
K.J. Wright
was a player they had been targeting.
Seattle decided to
stand pat at No. 99
.
"It is rare that you would find a linebacker with that much length (6-foot-4) and 4.6 speed,"
Carroll said after the draft
. "We need that flexibility."
[+] Enlarge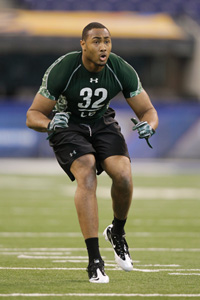 AP Photo/Michael ConroyK.J. Wright, who was drafted by the Seahawks with the No. 99 pick, was the last 4-3 strongside linebacker drafted.
This seemed a bit improbable. After all, teams selected 24 more linebackers over the remaining 155 selections. Surely one of them could have provided what the Seahawks wanted from Wright, right? Not necessarily. The more I studied those selections, the more I understood what Carroll was talking about. Wright was the fourth and final 4-3 strongside linebacker selected in the draft. All were gone among the top 100 selections.
The NFL has become so specialized, particularly on defense, that players are increasingly difficult to categorize. Seeking fresh perspective on the 2011 draft, I reclassified the 254 players chosen into 20 positional categories, based largely on how teams plan to use them. The process was imperfect because teams view players differently, and some players transcend easy categorization. But patterns that emerged were helpful in bringing the big picture into clearer focus.
Breaking down linebackers into five categories across 3-4 and 4-3 schemes was particularly helpful.
Teams selected one 4-3 strongside linebacker in each of the first four rounds, but none thereafter. They selected 12 4-3 weakside linebackers -- none in the first two rounds, five in the sixth and three in the seventh. That position carried less value relative to others based on when the players came off the board.
Nine of 11 4-3 defensive tackles went in the first three rounds, affirming how much teams value that position. Teams selected five 4-3 defensive ends in the first two rounds, then none until taking one in the fifth and four more in the seventh. Teams selected four five-technique defensive ends in the first round and one in the second, but none over the next four rounds.
I ultimately divided players into percentiles based on where they were selected in relation to other players from the same positional categories. Three NFC West players were the first players chosen at their specific positions. They were in the top percentile for their positions. Three, including Wright, were the last players chosen at their specific positions. They were in the bottom percentile.
The percentiles say nothing about whether individual players will succeed in the NFL. In some cases, players with lower percentiles probably carried more value at that moment in the draft based on how few prospects remained available at their positions.
Without categorizing players more specifically, we might not have any idea.
Overall, this draft featured 37 cornerbacks; 28 wide receivers; 24 running backs; 21 interior offensive linemen; 20 offensive tackles; 16 safeties; 13 tight ends; 12 quarterbacks; 12 4-3 weakside linebackers; 11 4-3 defensive tackles; 10 4-3 defensive ends; 10 3-4 outside linebackers; eight five-technique defensive ends; seven 3-4 inside linebackers; seven fullbacks; six 4-3 middle linebackers; four 4-3 strongside linebackers; four nose tackles; and two specialists. Two defensive linemen -- Kansas City's
Allen Bailey
and Baltimore's
Pernell McPhee
-- qualified as nickel pass-rushers.
And now, a look at all 35 NFC West draft choices, listed by how early they were drafted in relation to other players at their specific positions:
First quarter: 75th percentile and higher
Patrick Peterson
, CB,
Arizona Cardinals
: First of 37 cornerbacks selected
Aldon Smith
, OLB,
San Francisco 49ers
: First of 10 3-4 outside linebackers
Robert Quinn
, DE,
St. Louis Rams
: First of 10 4-3 defensive ends
Ryan Williams
, RB, Cardinals: Second of 24 running backs, putting him in the 91.7 percentile for the position (FBs excluded)
Lance Kendricks
, TE, Rams: Second of 13 tight ends (84.6)
James Carpenter
, T, Seattle Seahawks: Fourth of 20 offensive tackles (80.0)
Chris Culliver
, CB, 49ers: Eighth of 37 cornerbacks (78.4)
Rob Housler
, TE, Cardinals: Third of 13 tight ends (76.9)
John Moffitt
, G, Seahawks: Fifth of 21 interior offensive linemen (76.2)
Second quarter: 50th to 74th percentile
Anthony Sherman
, FB, Cardinals: Second of seven fullbacks (71.4)
Austin Pettis
, WR, Rams: Eighth of 28 wide receivers (71.4)
Kendall Hunter
, RB, 49ers: Tenth of 24 running backs (58.3)
Bruce Miller
, FB, 49ers: Third of seven fullbacks (57.1)
Kris Durham
, WR, Seahawks: 12th of 28 wide receivers (57.1)
Daniel Kilgore
, C, 49ers: 10th of 21 interior offensive linemen (52.4)
Sam Acho
, OLB, Cardinals: Fifth of 10 3-4 outside linebackers (50.0)
Colin Kaepernick
, QB, 49ers: Sixth of 12 quarterbacks (50.0)
Greg Salas
, WR, Rams: 14th of 28 wide receivers (50.0)
Third quarter: 25th to 49th percentile
Richard Sherman
, CB, Seahawks: 24th of 37 cornerbacks (35.1)
Mark LeGree
, S, Seahawks: 11th of 16 safeties (31.3)
Quan Sturdivant
, ILB, Cardinals: Fifth of seven 3-4 inside linebackers (28.6)
Byron Maxwell
, CB, Seahawks: 27th of 37 cornerbacks (27.0)
David Carter
, DE, Cardinals: Sixth of eight five-technique defensive ends (25.0)
Jermale Hines
, S, Rams: 12th of 16 safeties (25.0)
Fourth quarter: Zero to 24th percentile
Colin Jones
, S, 49ers: 13th of 16 safeties (18.8)
Jabara Williams
, LB, Rams: 10th of 12 4-3 weakside linebackers (16.7 )
Ronald Johnson
, WR, 49ers: 24th of 28 wide receivers (14.3)
Mikail Baker
, CB, Rams: 32nd of 37 cornerbacks (13.5)
Pep Levingston, DE, Seahawks: Seventh of eight five-technique defensive ends (12.5)
Mike Person
, C, 49ers: 19th of 21 interior offensive linemen (9.5)
Malcolm Smith
, LB, Seahawks. Eleventh of 12 4-3 weakside linebackers (8.3)
Jonathan Nelson
, S, Rams: 15th of 16 safeties (6.3)
K.J. Wright, LB, Seahawks: Fourth of four 4-3 strongside linebackers (0.0)
DeMarco Sampson
, WR, Cardinals: 28th of 28 wide receivers(0.0)
Curtis Holcomb
, CB, 49ers: 37th of 37 cornerbacks (0.0)
May, 1, 2011
5/01/11
2:44
PM ET
Mel Kiper Jr. gave the
Arizona Cardinals
a
B-minus grade
for their efforts in the 2011 NFL draft.

He graded them down for not adequately addressing perceived needs at outside linebacker and offensive tackle. He was less concerned about not drafting a quarterback because the options were fewer once the team decided to draft LSU cornerback
Patrick Peterson
fifth overall.
In my view, the lower grades on the need front reflect a positive development in the Cardinals' drafting strategy. The team seemed driven more by needs in past drafts. Picking earlier this year made it easier to focus on value. The team went after value and seemed to get it multiple times. That strategy will pay off over the long haul.
Perhaps
Larry Fitzgerald
was right when he said
the Cardinals learned a lesson
following their experience in the 2007 draft.
The Cardinals held up three of their choices -- Peterson, second-round running back
Ryan Williams
and fifth-round fullback
Anthony Sherman
-- as the highest-rated players at their positions. Coach Ken Whisenhunt called it "unusual" to land three such players in one draft. The Cardinals made that happen by selecting Williams despite greater needs at other positions.
Put it this way: Would you rather have the highest-rated running back or, say, the sixth-rated outside linebacker? Two words: Cody Brown.
The Cardinals hit on a couple themes in this draft. Emphasizing value was one. Targeting players with
strong intangible qualities
another. Singling out playmakers was also a priority.
Peterson projects as a playmaker in the secondary and in the return game. Williams adds a dimension to the running game. Third-round tight end Rob Housler must work on his blocking, but Whisenhunt thinks the team has finally found a receiving threat at the position. Whisenhunt is a former NFL tight end. He should know the position well.
Arizona already has a long list of players with playmaking ability.
LaRod Stephens-Howling
,
Larry Fitzgerald
,
Dominique Rodgers-Cromartie
,
Kerry Rhodes
,
Adrian Wilson
,
Darnell Dockett
,
Daryl Washington
,
Steve Breaston
and
Andre Roberts
have all made huge plays, many times in critical moments of games.
The Cardinals emerged from this draft with more than just potential playmakers. They also should have a clear vision for what must happen next. They need a veteran quarterback. They need to solidify their offensive line, a position they have not emphasized in the draft for several years. Extending Fitzgerald's contract has to remain a priority.
"This is our first opportunity (of the offseason) to do something," Whisenhunt told reporters. "I think we knocked it out of the park with this opportunity. We said we are going to be aggressive in improving our football team. We are going to have an opportunity to address other areas. Right now, as we sit here, we are ready to go. That is exciting. We have a very clear plan of action for what we want to do."
April, 30, 2011
4/30/11
9:45
PM ET
Once the
Arizona Cardinals
selected LSU cornerback
Patrick Peterson
fifth overall in the 2011 NFL draft, there was less chance, in my view, of the team selecting a quarterback this year.
My thinking: If the team could not get a franchise quarterback, why invest a choice in a player unlikely to alter the depth chart in a meaningful way?
The Cardinals apparently agreed. They did not draft a quarterback, instead coming away with a cornerback, running back, fullback, tight end, defensive end, receiver and two linebackers.
"It's a little unrealistic to think that you could address every need in the draft," coach Ken Whisenhunt told reporters Saturday. "The thing that kind of really stood out to me was we had three, that I know of, what we considered the best players at their positions in the draft, and we got them. That's kind of unusual."
Those players: Peterson, second-round running back
Ryan Williams
and fifth-round fullback
Anthony Sherman
. Kansas City traded into the 135th spot to draft quarterback
Ricky Stanzi
right before the Cardinals chose Sherman at No. 136.
Teams selected five quarterbacks between the Cardinals first and second selections, including two --
Andy Dalton
and
Colin Kaepernick
-- within three spots of where Arizona landed Williams.
"If you look at our roster now, we have a lot of young, talented football players," Whisenhunt said. "And when we put this together, when our guys get it, we're going to be a pretty good football team and that's really exciting. We're definitely going to have a chance to make some plays."
The chart shows the players Arizona drafted in relation to where other teams drafted quarterbacks.
April, 30, 2011
4/30/11
4:33
PM ET
The
Arizona Cardinals
need young depth at inside linebacker after relying heavily on veteran Gerald Hayes and Paris Lenon in recent years.
Sixth-round choice
Quan Sturdivant
could fill the void.
"Instinctive, tough, productive," draft analyst Rob Rang said. "He'll make that roster and I could see him being a starter for that team some day. He is a more reliable player than (North Carolina teammate)
Bruce Carter
, who was taken in the second round."
Pro Football Weekly's draft guide projected Sturdivant as a third- or fourth-round pick. Rang, who analyzes prospects for NFL Draft Scout and CBSSports.com, suspected Sturdivant went later in part because there's nothing flashy about him.
The Cardinals used a second-round choice last season for Daryl Washington, another inside linebacker. Washington, like Sturdivant, projected more as a 4-3 linebacker in some of the reports I've read. Matt Williamson of Scouts Inc. has said he thought Washington fit a 4-3 better, but had the ability to succeed in the Cardinals' 3-4 system as well.
April, 30, 2011
4/30/11
12:03
AM ET
ENGLEWOOD, Colo. -- The
Denver Broncos
will likely not get an impact player at their biggest area of need.
The Broncos have made four picks in the first three rounds of the draft and they have yet to take a defensive tackle. Denver bypassed
Marcell Dareus
at No. 2 and
Marvin Austin
and
Stephen Paea
in the second round. Several other defensive tackles went in the first three rounds.
Denver coach John Fox acknowledged that Denver still needs to find help at the position. He indicated it would be a target area once free agency starts. With the two best running games in the NFL in the AFC West -- Kansas City was No. 1 and Oakland was No. 2 in 2010 -- this is an area the Broncos have to address at some point.
Denver didn't get a chance to take Notre Dame tight end
Kyle Rudolph
in the second round, so keep an eye out for Portland State's
Julius Thomas
. He is a former college basketball player.
Denver took Miami right tackle
Orlando Franklin
at No. 46. That's the last pick the Broncos got in the
Brandon Marshall
trade with Miami. Miami also sent Denver a second-round pick last year that Denver used in the trade to take
Tim Tebow
at No. 25. Franklin is expected to start as a rookie.
I'm surprised that San Diego GM A.J. Smith, a noted draft trader, used all five of his picks in the first three rounds. I thought he'd make at least one deal.
Being taken in the second round didn't even "cross the mind"
of new San Diego linebacker
Jonas Mouton
.
Some of the better prospects available heading into the fourth round include Oklahoma State running back
Kendall Hunter
, Texas linebacker
Sam Acho
, Fresno State linebacker Chris Carter and North Carolina linebacker
Quan Sturdivant
.