NFL Nation:

Quanterus Smith
September, 2, 2013
Sep 2
12:58
PM ET
As much as everyone in the locker room hopes the roster is "set'' when the cuts are made to get to 53, it is always a fluid situation when it comes to how things shake out over the course of a season.

But the Broncos' first-year class fared OK as it exited the preseason and is poised for Thursday's opener. With that in mind, here's the rookie report, a weekly check-in with how Denver's first-year class on defense is doing:
Defensive tackle
Sylvester Williams
: To show him what it's like to slug it out on the defensive interior, in terms of conditioning and effort, the Broncos kept Williams in the preseason finale against Arizona for 56 plays -- that was 85 percent of the defensive snaps. No defensive lineman played more in the game, but they've pushed him hard because they want him to be ready to contribute in their rotation up front. Williams will certainly be in the pass-rush looks early in the season, but they'd like to use him in as many situations as possible and want him to understand they've put the bar pretty high for him.
Cornerback
Kayvon Webster
: Because of special-teams duties, Webster was one of 11 defensive backs the team kept in the final cutdown and he's the only rookie in the group. He showed himself to be a physical player in coverage, a willing tackler and has the proper leave a bad play behind mindset it takes to play the position. He'll see plenty of time on special teams and will appear in some of the Broncos' specialty packages on defense.
Quanterus Smith
: Smith didn't make the roster at 53, but was subject to one of the team's more curious moves when he was placed on injured reserve for the season. After having surgery last November to repair a torn ACL, Smith worked his way back to be ready for training camp. He was pulled from just one practice because of the knee and played in all four preseason games, including 52 plays against the Cardinals last Thursday. The team wants to give him more time to strengthen the knee and learn the game, but there is no question he wanted to be on the roster.
Practice squad: Defensive end John Youboty was with the Broncos all through training camp and signed back to the practice squad after he cleared waivers. The Broncos like the 258-pounder as a rush end prospect.
August, 19, 2013
Aug 19
1:20
PM ET
Even with the threat of a suspension hanging over them when training camp opened, the
Denver Broncos
and
Von Miller
had put on the bravest of faces as July turned to August.
Miller
Some wondered whether the bravado, the public confidence meant they knew something everyone else didn't, that they had a trump card no one else could see. Miller said he knew he had "done nothing wrong," and the Broncos said they would proceed through practices as though there was no suspension until they heard otherwise.
But with Monday morning's revelation from ESPN NFL Insiders Chris Mortensen and Adam Schefter that
Miller faces a six-game suspension
for violating the league's substance-abuse policy, the Broncos will now have to grapple with the idea of opening the season without their ultratalented linebacker. In fact, the Broncos' thoughts on the likelihood and severity of the suspension may be previewed by how they use Miller in practice this week.
On the field it means
Nate Irving
,
Stewart Bradley
and
Shaun Phillips
will have to find a way to be all the Broncos hope they can be. And the Broncos might have to finally adjust how they conduct practice on the defensive side of the ball given Miller has taken virtually all of his usual snaps with the starting defense to this point in the preseason, including starting both preseason games -- in San Francisco and Seattle -- thus far.
Unlike last year, when the Broncos held
D.J. Williams
out of any work with the starting defense because Williams was facing nine games' worth of suspension, coach John Fox has kept Miller in with the starters throughout training camp and the team's first two preseason games.
As Fox put it when camp opened, "As of right now, he's not suspended." And with 30 sacks over the past two seasons, including 18.5 in 2012, Miller's absence would leave a significant hole in Jack Del Rio's defensive plan. And it will take a variety of players used in a variety of ways to cover for that loss.
In the base defense, when Miller lines up as the strongside linebacker, Bradley would remain in the middle, where he has moved in as the starter over the past three weeks. Irving, who spent the offseason workouts as the starter in the middle, would play on the strong side. Irving was Miller's backup on the strong side last season.
In passing situations, situations when Miller would move into a defensive end spot in the nickel or dime packages, it's Phillips who would then be called upon. Phillips scored the Broncos' only touchdown in the preseason opener in San Francisco with a 9-yard return of a fumble caused by Irving on a blitz from an outside linebacker position.
The Broncos would like to use rookie
Quanterus Smith
as well in the pass-rush groupings. Smith, however, is still trying work his way back from a torn ACL he suffered last November in his final season at Western Kentucky. Smith has participated in every training camp practice thus far but was pulled out of practice Aug. 1 because of knee pain.
He has practiced since.
"I'm better every day," Smith said. "I'm working through it, I had a couple bad days, but that's natural. I'll be there."
August, 15, 2013
Aug 15
6:00
AM ET
ENGLEWOOD, Colo. --
Denver Broncos
defensive coordinator Jack Del Rio was asked Saturday if he had given much thought to what losing
Von Miller
for four games would do to his defensive game plan. Del Rio paused only slightly, and replied that he hadn't, that "right now we're just preparing the team we have.''
It could soon be time.
Miller's appeal of his suspension for violating the NFL's substance-abuse policy will be heard today by league officials. And while throughout the process Miller has expressed confidence he would not miss the first four games of the regular season, the Broncos have considered the possibility that some or all of the suspension will stand.
[+] Enlarge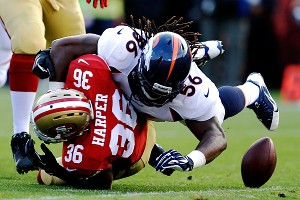 AP Photo/Ben MargotIf Von Miller's suspension is upheld, the Broncos would look to Nate Irving (above) to help shoulder some of the defensive load.
But they have taken a different tact with the potential loss of Miller than they did with the potential loss of starting linebacker
D.J. Williams
last season.
Broncos coach John Fox, when faced with the prospect of Williams' suspension to open the 2012 season -- nine games in all for violating the league's policy on performance-enhancing drugs and the personal-conduct policy as well -- did not let Williams practice with the starting defense or even the No. 2 defense in last year's training camp.
However, this time around Fox has left Miller in with the starting defense for most of the work in team drills.
"He's our starter, and as of right now he's not suspended,'' Fox said last week. "We're just going to let the process play out.''
With 30 sacks over the last two seasons, including 18.5 in 2012, Miller would leave a significant hole in Del Rio's defensive plan. But a look at how the Broncos have done things thus far in camp shows what the contingency plan would most likely be.
In the base defense, when Miller lines up as the strong-side linebacker,
Stewart Bradley
would remain in the middle, where he has moved in as the starter over the last two weeks.
Nate Irving
, who spent the offseason workouts as the starter in the middle, would play on the strong side. Irving was Miller's backup on the strong side last season.
"He's got strong hands at the point of attack and has that ability get rid of the blocker and get to the ball,'' Del Rio said of Irving. "And he's played there quite a bit, he knows what the job is.''
In passing situations, situations when Miller would move into a defensive end spot in the nickel or dime packages,
Shaun Phillips
would move into that role. Phillips scored the Broncos' only touchdown in the preseason opener in San Francisco with a 9-yard return of a fumble caused by Irving on a blitz from an outside linebacker position.
"[Phillips has] some natural rush ability, was around the quarterback, hitting the quarterback the other night,'' Del Rio said.
The Broncos would like rookie
Quanterus Smith
in the pass-rush mix as well, with or without Miller in the lineup, but he's still trying work his way back from a torn ACL he suffered last November in his final season at Western Kentucky. Smith has participated in every training-camp practice thus far, but was pulled out of practice Aug. 1 because of knee pain.
He has practiced each day since, although at times he has not looked to be at full speed.
"I'll be ready for whatever they want me to do,'' Smith said. "I want to be out there for whatever they give me to do."
"We're trying to get all the guys ready to go,'' Fox said. "You're always going to have things come up, that's the way this league is. You prepare and make adjustments. So we'll always make the adjustments we need to and go play.''
August, 7, 2013
Aug 7
4:34
PM ET
ENGLEWOOD, Colo. -- Despite the Broncos' recent run of 30-something signings -- offensive linemen
Dan Koppen
and
Ryan Lilja
to go with defensive back
Quentin Jammer
in late May -- the key to remaining a Super Bowl contender and managing some coming salary-cap dilemmas will be how well they draft and develop those draft picks.
Or as Tony Dungy often said during his coaching career; "you can't be afraid of young players."
After all this is a team with 33.4 percent of its cap space in 2013 devoted to three players (
Peyton Manning
with a $17.5 million cap figure,
Ryan Clady
at $12.6 million and
Champ Bailey
at $11 million).
In light of that, we will be doing a weekly check-in with how the team's first-year players are doing. Let's get to it:
THE DRAFT CLASS
Defensive tackle Sylvester Williams.
The Broncos' first-rounder was slowed early in camp with a knee injury that cost him a few days worth of practices, but it's clear the Broncos have plans for him in their pass-rush looks early on. Williams has most often lined up as
Terrance Knighton
's backup on the nose in the team's base 4-3 look. But when defensive coordinator Jack Del Rio goes to the specialty looks that feature a variety of fronts, Williams has been in the mix with the regulars. At least early on, he figures to play on longer-yardage situations most often.
[+] Enlarge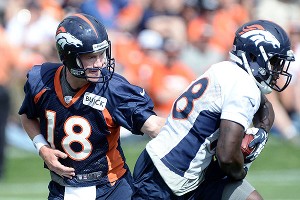 Ron Chenoy/USA TODAY SportsSecond-rounder Montee Ball, right, could be a red zone threat for the Broncos.
Running back Montee Ball.
Ball has consistently said he "attacked'' the playbook before training camp as well as in his limited free time since the team began its preseason work. He is already at the top tier of the rotation in the run game -- a No. 1B to
Ronnie Hillman
's No. 1A status. Ball cannot match Hillman's speed or big-play ability. But Ball has good vision, quick feet and
has shown the team better hands in the passing game than some scouts believed he had. Ball is also bigger than Hillman -- Ball weighs about 214 pounds compared to Hillman's 195 -- so could appear in some scoring situations deep in the red zone. But Ball will have to continue to progress in pass protection to see work in longer-yardage situations.
Cornerback Kayvon Webster.
Webster has shown good speed in practices thus far and a willingness to match up in both press coverage and play with awareness off the ball in zone. But he also finds himself at one of the more crowded spots on the depth chart. Champ Bailey,
Dominique Rodgers-Cromartie
,
Chris Harris
,
Tony Carter
and
Omar Bolden
are ahead of him at the moment. Rodgers-Cromartie will miss some time with an ankle injury so Webster will get the benefit of some additional practice snaps in the coming weeks.
Defensive end Quanterus Smith.
Smith is coming back from surgery to repair a torn ACL he suffered in the 10th game of the 2012 season at Western Kentucky. The Broncos worked him back slowly through the offseason program. Other than one practice he left early because of the knee, he has practiced fully throughout training camp. The Broncos believe -- and he has shown it in practice thus far -- that he can contribute immediately as an edge player in some of their nickel and dime packages. He has worked as the No. 3 right defensive end in most team drills behind
Robert Ayers
and
Shaun Phillips
but has moved up the ladder when the team goes to its long-yardage groupings.
Wide receiver Tavarres King
. On another team or in another situation, King would have the potential to be a rookie of notice league-wide. But he arrived to a team with plenty of veteran production at wideout in
Demaryius Thomas
,
Eric Decker
and Wes Welker. King, who played a school-record 56 games at Georgia, has shown a savvy about how to conduct himself in practice to go with upper-level ball skills, an understanding of a complicated offense and the ability to make plays in traffic. He was slowed during offseason workouts with a thigh injury, but has been healthy so far in camp and is making a legitimate push to be the No. 4 player at the position, especially if he can show some value on special teams in the preseason.
Tackle Vinston Painter
. When the Broncos selected Painter in the sixth round this past April, they saw an athletic project with a pile of potential. What they got was a player who has steadily worked his way up the depth chart, some by necessity because of injuries and some because he has advanced slightly more quickly than expected. Painter has worked much of the time as the backup right tackle, just behind
Orlando Franklin
. But the coaching staff showed this past week it doesn't think he's quite ready for work with the starters yet. Rather than simply elevating Painter after Franklin was injured, the coaches jumbled things up front, moving
Louis Vasquez
to right tackle in one practice and
Chris Clark
there in another.
Quarterback Zac Dysert
. There is no rush for Dysert, whose task right now is to show enough to force the Broncos to keep three quarterbacks among the final 53. He's shown mobility and the ability to improvise as things break down in front of him. But he'll need to be more accurate, especially throwing to his right as well as in the short and intermediate areas.
UNDRAFTED ROOKIES
The Broncos have had at least one undrafted rookie make the roster for nine consecutive seasons. A number of undrafted rookies have stood out as candidates to keep the streak going.
Running back
C.J. Anderson
, at 224 pounds, has flashed some quality work with the ball in his hands, especially on runs between the guards. But his attention to detail wavers at times and he has made just the kind of assignment errors that get players ushered out. He needs a quality, no-nonsense showing in the first two preseason games, especially if he can make a play or two on special teams.
Linebacker
Lerentee McCray
is one of the biggest players, at 6-foot-3 and 249 pounds, the Broncos have at the position. He had just 25 tackles in 11 starts for the Florida Gators last season, but has shown the Broncos enough to have worked as the No. 3 strongside linebacker behind
Von Miller
and Phillips. If he can do some quality special-teams work in the coming weeks that could be the difference for him, especially if Miller loses his appeal of a four-game suspension to open the regular season for violating the league's substance-abuse policy.
Wide receiver/Kick returner
Quincy McDuffie
has missed some time of late with a hamstring injury and will have a difficult time getting many quality snaps at wideout. But he has done good work in the return game and while he would not supplant
Trindon Holliday
as the team's top returner, he has certainly gotten the Broncos' attention.
July, 19, 2013
Jul 19
12:00
PM ET
NFC Eight in the Box:
East
|
West
|
North
|
South
»
AFC:
East
|
West
|
North
|
South
What are the three key camp issues facing each AFC West team?

DENVER BRONCOS
Offense: The Wes Welker Factor
Peyton Manning
has a new toy. But with the wealth of options in this offense, it seems unlikely Welker will match his production from his days with
Tom Brady
. Manning will love exploiting the mismatches Welker creates from the slot. Welker's experience in New England's up-tempo offense should pay off as Denver transitions to a similar pace. It is difficult to find weaknesses in the Broncos' offense right now.
Defense: Pass-rush issue
Elvis Dumervil
is now playing for Baltimore.
Von Miller
is one of the league's premier defensive players and pass-rushers, but more is needed. Where will it come from?
Derek Wolfe
showed some flashes as an inside pass-rusher during his rookie season and on passing downs.
Robert Ayers
should also be effective when moved inside. Will the edge player opposite Miller -- Ayers on early downs and
Shaun Phillips
, most likely, on passing downs -- be able to produce? The wild card here is rookie
Quanterus Smith
.
Wild card: Pass coverage in the middle
Denver had a lot of problems last season covering opposing tight ends in the middle of the field. On paper, it doesn't look as though the problem has been addressed. Denver's safety play is average at best, but the middle linebacker spot manned by
Joe Mays
is the real issue. Look for opposing offenses to keep Denver in base defensive personnel and attack the middle of the field.

KANSAS CITY CHIEFS
Offense: The Alex Smith Factor
Smith needs plenty of resources to be successful. But if he just makes fewer mistakes at the position than
Matt Cassel
did a year ago -- something that seems highly likely -- then Kansas City will be much more competitive. Smith also has underrated running skills, and the Chiefs should orchestrate plenty of designed quarterback movement and runs.
Defense: Interior pass rush
The Chiefs were among the worst defenses in the NFL last season at creating pressure on the quarterback between the tackles. Although the team made drastic changes across the roster, this area was not addressed. Unless
Dontari Poe
steps up in his second season -- and pass rush isn't really his game -- little should change for Kansas City.
Wild card: Secondary receivers
The Chiefs are very light at wide receiver outside of
Dwayne Bowe
. They have three strong tight ends and could employ plenty of multiple tight end sets.
Jamaal Charles
should see plenty of passes thrown his way, but another outside threat needs to step up.
Donnie Avery
has the speed to open up room for others, but his hands are highly inconsistent.
Jon Baldwin
and
Dexter McCluster
have yet to find their place in this league. Keep an eye on
Devon Wylie
.

OAKLAND RAIDERS
Offense: Man-blocking scheme
For some unknown reason, the Raiders switched in 2012 from a predominantly man-blocking scheme, in which
Darren McFadden
thrived, to a zone-blocking scheme. That was a failed experiment, especially for McFadden, who is entering the final year of his contract. Switching back could allow him to be the foundation of Oakland's offense.
Defense: No pass rush
I fear the Raiders will be among the worst defenses in the NFL next season at rushing the passer.
Lamarr Houston
is a very talented player, capable of greatness, but he isn't a typical edge pass-rushing defensive end.
Andre Carter
has had success in this area, but his best days are behind him. I like the additions of
Pat Sims
and
Vance Walker
at defensive tackle, but both are run-stuffers. Opposing quarterbacks are going to have a lot of unobstructed time in the pocket this season. Calling
Jadeveon Clowney
...
Wild card: Building blocks
The Raiders are not going to win the Super Bowl. Instead, they must determine which players are their building blocks. I was impressed by the way the front office, despite many limitations, addressed the team's needs during the offseason. But many of their signings were only one-year deals. Which players do they want to bring back? Many players on Oakland's roster are auditioning this season.

SAN DIEGO CHARGERS
Offense:
Pass protection
Philip Rivers
needs to be protected, which San Diego hasn't been able to do lately. Although the Chargers used a first-round pick on
D.J. Fluker
, who is a much better run blocker than pass blocker, I don't see noticeable upgrades on the offensive line. I also don't see much upside or potential star power in the group. Changing scheme could help by getting the ball out of Rivers' hands quicker, but he could be headed for another punishing season.
Defense:
Time to step up
The Chargers have several promising young defensive players who could be ready to break out.
Eric Weddle
is among the league's best safeties, and
Corey Liuget
has already established himself as a real force on San Diego's defensive line.
Kendall Reyes
might not be far behind Liuget and should become more of a household name this season.
Manti Te'o
could have an instant impact in his rookie season and pair with
Donald Butler
to be one of the better inside-linebacker tandems in the league.
Wild card:
Receiver situation
Antonio Gates
isn't what he once was, but he still makes plays, and Rivers trusts him. The Chargers have many other receiving options now:
Danario Alexander
,
Malcom Floyd
,
Keenan Allen
,
Vincent Brown
,
Robert Meachem
,
Eddie Royal
,
John Phillips
,
Ladarius Green
,
Danny Woodhead
and
Ronnie Brown
. How will that sort out? My favorites are Allen, Vincent Brown and Green. Getting these young weapons plenty of reps could pay off in the long term for San Diego.
July, 5, 2013
Jul 5
10:30
AM ET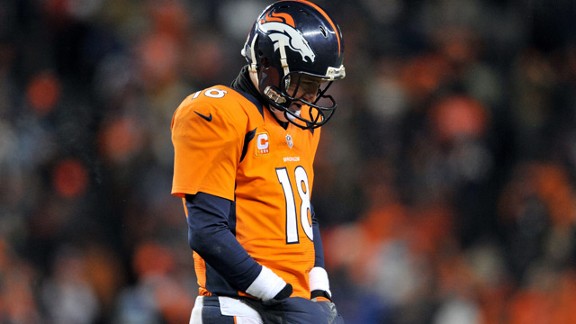 Dustin Bradford/Getty ImagesPeyton Manning and the Broncos have a lot to prove following last season's disappointing playoff exit.
Last time we saw the
Denver Broncos
, they were stunned at home in double overtime in the playoffs by the eventual Super Bowl champion
Baltimore Ravens
.
Denver headed into the postseason riding quarterback
Peyton Manning
and the No. 2-ranked defense in the NFL. It won 11 games in a row to close the season. After the disappointing defeat to Baltimore, Denver felt like it blew a golden opportunity to win its third Super Bowl.
Undeterred, Denver went out and made several key additions to an already strong roster. Some think this is a Super Bowl-or-bust team.
Let's look at the top 10 reasons why this is a team we can't wait to see in 2013:
1. An uncomfortable setting:
Denver executive vice president of football operations John Elway said early in the offseason that he wanted it to be an "uncomfortable" atmosphere in the Broncos' building in 2013. Basically, Elway wants to see his team have a sense of urgency after the Baltimore fiasco.
Elway lived it as a player. Like the 2012 Broncos, the 1996 Broncos were the No. 1-seeded team in the playoffs and lost at home in their first playoff game. Elway said that loss led to the next year's team being uncomfortable and angry. It worked. Denver won the next two Super Bowls. Elway knows it can happen again, so it will be interesting to see if a similar theme develops this season as the Broncos react to the playoff loss.
"Expectations are high," defensive tackle
Kevin Vickerson
said. "We know what we've got to do. We had a bad taste to our season ending last year. We're trying to get that out and go forward and go further than we did last year."
2. What is the Super Bowl window?
The Broncos have been asked this often already, and training camp is still a few weeks away. How long is the window to winning a championship going to be open? Some folks think it's this year. I do not agree. I think it will be open as long as Manning is healthy. He is 37. Manning can play at a high level for at least another two years. The way this roster is built, there is no doubt the team is thinking Super Bowl in the immediate future. This is a team poised to win now, not in 2016.
The Broncos get it.
"In the end, we want to be holding up that trophy," 35-year-old cornerback
Champ Bailey
recently said.
3. Manning's health:
Manning was brilliant last year, recording one of the best seasons in his decorated career. But he was not at full strength. He had four surgeries to repair a neck injury that kept him out of the entire 2011 season in Indianapolis. Manning was healthy last year, but there was some rust. By all accounts, he has made major strides this offseason. Manning should be even more entertaining to watch in his second season in Denver than he was in his first season.
4. Manning's tempo:
A healthier Manning might mean a more active Manning. Manning said very early in the offseason that he wanted the offense to move at a faster pace. New offensive coordinator Adam Gase has been working the unit to move at a quick pace all offseason, and it seems to be taking. This doesn't mean the Broncos are going to use a pistol offense or Manning is going to look more like
Robert Griffin III
than himself. It just means Denver is going to utilize its talents and work to be more crisp and keep opposing defenses on their heels.
5. Welker in the slot:
In an offseason in which Denver reloaded, no addition made bigger headlines than the free-agency signing of slot receiver
Wes Welker
. He was a huge part of New England's success and seems like a perfect fit in Denver. Manning loves to get the ball to his slot receiver, and Welker has led the NFL in catches over the past six seasons. Combine Welker with young receivers
Demaryius Thomas
and
Eric Decker
, and it's difficult to imagine Denver's passing game will be stopped much.
[+] Enlarge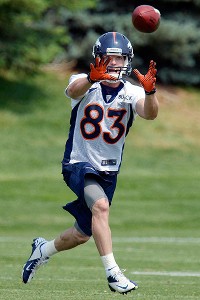 John Leyba/The Denver Post/Getty ImagesThe addition of Wes Welker as well as incoming rookie Montee Ball gives the Broncos a lot to like on offense.
6. Miller and company:
Third-year linebacker
Von Miller
is developing into one of the best defensive players in the NFL. He is dominant and was a big reason why the unit was ranked second in the NFL last year. The unit has gotten better, as whole, around Miller. Yes,
Elvis Dumervil
is gone, but Denver is confident
Shaun Phillips
,
Quanterus Smith
and
Robert Ayers
will give Miller enough help. And if they don't, there's no reason to believe Miller will not continue to raise the level of his game.
7. The rookie running back:
Denver took Wisconsin workhorse
Montee Ball
in the second round. Denver has immediate plans for Ball. Unless he completely falls on his face in camp and in the preseason, Ball will have a major role in the offense from the start of the season. Denver thinks Ball can have a major impact. If he is successful, there will be little not to like about this offense.
8. The damaged offensive line:
One of Denver's major concerns is the offensive line. It is banged up. Center
J.D. Walton
, who was lost for the season last September, will be out for at least half the season. The team has brought back
Dan Koppen
to take over for Walton again. Star left tackle
Ryan Clady
is coming back from a rotator cuff injury, and
Orlando Franklin
was out with a toe injury. The long-term prognosis is fine for this line, but it is banged up right now. If injuries continue into the season, it will be an issue.
9. The defensive front:
Two years ago, this unit was a mess. Now it's strength of the team. Denver added
Terrance Knighton
in free agency and grabbed a falling
Sylvester Williams
with the No. 28 overall pick in the draft. This unit is versatile and talented. It has a chance to be dominant.
10. The Del Rio factor:
The Denver defense has rare continuity. Coordinator Jack Del Rio is back for his second season. Last year, Del Rio was Denver's seventh defensive coordinator in seven seasons. He had great success with the unit and the players loved him. Defensive players have been raving all offseason about the importance of having Del Rio back.
June, 17, 2013
Jun 17
8:00
PM ET
Shortly after the
Elvis Dumervil
fax fiasco, the
Denver Broncos
reached out to veteran pass-rushers
Dwight Freeney
and
John Abraham
.
It seemed like Denver would replace Dumervil, the Broncos' second pass-rushing option behind star
Von Miller
, with one of the two veterans.
However, because of financial reasons, Denver pulled away from both players. Instead it added former San Diego pass-rusher
Shaun Phillips
and drafted rookie
Quanterus Smith
in the fifth round to help Miller.
However, the USA Today thinks
a Denver-Abraham pairing could still be achieved.
It looks at its top 10 remaining free agents. Abraham is No. 1 on the list. It think his best fit is Denver.
Could it still happen? I think if the price is right, sure. Denver is in win-now mode and if it thinks the veteran Abraham is a missing piece, it will pursue him.
I wouldn't count on Abraham signing in Denver, but I can certainly see it as well.
May, 11, 2013
May 11
11:50
AM ET

Give credit to
Branden Albert
for deciding to join the
Kansas City Chiefs
on Monday.
Albert previously said he would stay away from the team until the mandatory session begin, Yet, Albert will join voluntary session. New Kansas City coach Andy Reid called Albert, and the two have come to an accord.
Expect both sides to continue to talk about coming to terms on a long-term deal. No deal is close, but both sides are interested in getting a deal done. If not, Albert will play for the $9.8 million franchise tag and be a free agent next year.
In the meantime, Albert is joining his team and putting a spring holdout behind him.
In other AFC West notes:
The draft-pick signings continue to roll in for the AFC West. Denver has signed three picks, defensive end
Quanterus Smith
, receiver
Tavarres King
and offensive lineman
Vinston Painter
. Kansas City signed center
Eric Kush
and linebacker
Mike Catapano
. San Diego has signed four of its six picks.
The Chiefs named Marvin Allen director of college scouting. He was formerly with the Falcons.
May, 4, 2013
May 4
1:00
PM ET
Now that the NFL draft has wrapped, the rosters are essentially set for each AFC West team heading into the 2013 season. Sure, each team will make some tweaks, but the heavy lifting has been done.
Let's take a look at the offseason and where each AFC West team stands:
Denver Broncos

What was good about the offseason?
Denver went 13-3 in 2012 and followed up by adding several terrific pieces in free agency and the draft. There aren't a ton of glaring holes on this team. The Broncos are strong in all phases of the game. And they upgraded in some big ways. Of course, the big prize was slot-receiving star
Wes Welker
in free agency. He makes Denver's passing offense even more dangerous. But Denver also upgraded the roster by adding cornerback
Dominique Rodgers-Cromartie
, defensive tackle
Terrance Knighton
, guard
Louis Vasquez
and pass-rusher
Shaun Phillips
in free agency and defensive tackle
Sylvester Williams
and running back
Montee Ball
via the draft.
What was bad about the offseason?
The lone blemish on Denver's offseason was the bizarre departure of pass-rusher
Elvis Dumervil
. Dumervil was set to return before the infamous fax-machine gaffe paved the way for him to go to Baltimore. Denver signed Phillips and drafted
Quanterus Smith
in the fifth round. Phillips will probably be a situational player and
Robert Ayers
will probably start in Dumervil's old spot. Smith was leading the nation in sacks last season for Western Kentucky when he tore an anterior cruciate ligament. He is expected to be ready for training camp. The Broncos will miss Dumervil, but they think they got enough help for
Von Miller
.
How should they feel moving forward?
The Broncos should believe they are ready to make a Super Bowl run. Is Denver flawless? Certainly not, but no NFL team is these days. Denver did enough in the offseason to be considered one of the better teams in the league.
Kansas City Chiefs

What was good about the offseason?
A horrible 2-14 mark in 2012 seems like a long time ago. The Chiefs upgraded with the hiring of Andy Reid as coach and John Dorsey as general manager. Then they added quarterback
Alex Smith
-- the best quarterback available in the offseason, including the draft -- and several other pieces on both sides of the ball. The Chiefs' roster was already solid and it got better; what the Chiefs lacked was coaching and quarterback play. Meanwhile, the signing of cornerbacks
Dunta Robinson
and
Sean Smith
could, in combination with holdover
Brandon Flowers
, give Kansas City the best cornerback group in the NFL.
What was bad about the offseason?
The situation with left tackle
Branden Albert
should be resolved by now. He will probably stay with the team and No. 1 overall pick
Eric Fisher
will play right tackle. The Chiefs tried to trade Albert, who was given and has signed the franchise tag, but a deal fell through with the Dolphins. A swap could still happen but more likely, Albert comes back for a year and then leaves as a free agent. In a clean offseason, this has been the one sticky situation.
How should they feel moving forward?
The Chiefs should feel great. There are few holes on this team. How many squads coming off a 2-14 season can say that? I'm not sure the Chiefs are playoff contenders. It depends on how Smith fits with the offense and how quickly the defense comes together. But this team should be much improved. Reid's program is on the right track.
Oakland Raiders

What was good about the offseason?
The Raiders had a good draft. General manager Reggie McKenzie worked the process well, turning seven picks into 10. Because this outfit is being totally rebuilt, I would not be shocked if all 10 draft picks made the 53-man roster. Oakland's first-round pick, cornerback
D.J. Hayden
, and its third-round pick, linebacker
Sio Moore
, have a chance to start right away and make an impact. Adding Hayden to free-agent signees
Tracy Porter
and
Mike Jenkins
is a big upgrade at the cornerback spot. The linebacking crew has a chance to be better too.
What was bad about the offseason?
Salary-cap problems made it very difficult for Oakland. It had to cut several players, including defensive back
Michael Huff
and receiver
Darrius Heyward-Bey
; it traded quarterback
Carson Palmer
; and it saw solid free agents like
Philip Wheeler
,
Brandon Myers
,
Shane Lechler
and
Desmond Bryant
go elsewhere. The Raiders did the best they could under the circumstances, but a lot of talent left the team.
How should they feel moving forward?
The Raiders should feel like a work in progress. The NFL has become a quick-turnaround league. That is not, however, likely to happen in Oakland this year -- the Raiders are probably a three-year project. McKenzie tore it down and is starting to build it up. The Raiders have made their salary-cap situation right for the future and have some promising players. But if the Raiders made a playoff push this year, it would be a major surprise.
San Diego Chargers

What was good about the offseason?
The Chargers had a great draft -- arguably the best in the league. They drafted right tackle
D.J. Fluker
in the first round, inside linebacker
Manti Te'o
in the second round and receiver
Keenan Allen
in the third. All three were considered first-round talents and should start this fall. The franchise is headed in a new direction, and these players will have paved the way. The Chargers also added some nice pieces in free agency in the form of cornerback
Derek Cox
, running back
Danny Woodhead
and guard
Chad Rinehart
.
What was bad about the offseason?
Yes, the Chargers did have some success in free agency, but because of salary-cap worries, they didn't do too much. The Chargers need an infusion of talent, and free agency didn't solve all the problems. The offensive line in particular is still a work in progress.
How should they feel moving forward?
The solid draft gives the Chargers some good vibes heading into the summer. But this is not a complete roster. The offensive line is not great, and there are some concerns in the secondary. Yes, the Chargers are improving. But as with Oakland, the promise may be more long term than immediate.

NFL SCOREBOARD
Sunday, 12/22
Monday, 12/23