NFL Nation:

Quincy Carter
May, 12, 2014
5/12/14
10:15
AM ET
IRVING, Texas -- For all of the talk about the
Dallas Cowboys
drafting a quarterback, they never really considered selecting one.
[+] Enlarge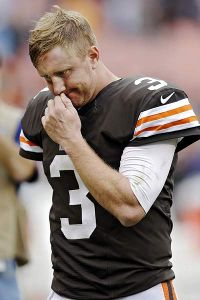 Tony Dejak/AP PhotoThe Dallas Cowboys are viewing 30-year-old backup Brandon Weeden as their "developmental quarterback."
After the first round, owner and general manager Jerry Jones said picking
Johnny Manziel
, "wasn't even a thought," despite loving the former Texas A&M quarterback who ended up with the
Cleveland Browns
.
The Cowboys liked several lower-round quarterbacks, such as
Tom Savage
, but passed on all of them. The Cowboys have not drafted a quarterback since taking
Stephen McGee
in the fourth round of the 2009 draft. Since 1989, the Cowboys have drafted only four quarterbacks:
Troy Aikman
,
Bill Musgrave
,
Quincy Carter
and McGee.
Steve Walsh
was taken in the first round of the 1989 supplemental draft.
With
Tony Romo
coming off his second back surgery and
Kyle Orton
's future in question, many thought the Cowboys would take a shot at a quarterback.
"We feel in signing
Brandon Weeden
, he can be viewed as that developmental guy," coach Jason Garrett said. "A first-round pick a couple of years ago, coming from a baseball background, has all the physical tools you want. We view him as in that role right now, so we wanted to be selective about anybody else we wanted to bring in here."
So no Savage, no
Aaron Murray
, no
AJ McCarron
. The Cowboys did sign
Dustin Vaughan
as an undrafted free agent and he was on their draft board.
At quarterback, "the best players who play typically come from the top rounds," Garrett said. "I do think with how the league has changed, there is a demand to play those guys earlier and that changes the dynamic of taking your time to develop guys year after year and they play in years four and five. The thing you're concerned about is developing them for somebody else. You develop them for two, three, four years and he goes and plays for another football team. We don't think that's a worthwhile thing. There's been a theory around the league, teams like Green Bay for years always took a guy late and if that player develops into something that was a good thing for their team or to trade to somebody else. There were some examples of them doing that. It's a philosophy a lot of teams, they agree with that. But when you have other issues on your team I think it becomes a little bit of a luxury to do that. When you feel good about your starter and you feel good about your backups, we feel it's better to take a position player, a guy we know can contribute on special teams, instead of trying to develop that guy [quarterback]."
May, 9, 2014
5/09/14
2:45
PM ET
IRVING, Texas -- The
Dallas Cowboys
reaffirmed their love of QB
Tony Romo
on Thursday night when they passed on selecting
Johnny Manziel
in the 2014 NFL draft.
In 2007, they made a very similar move.
Romo
Back then, there were questions about Romo even after he took the NFL by storm and lifted the Cowboys to the playoffs in 2006.
Was he truly a franchise quarterback? Would a new coaching staff see him the same way the previous coaching staff saw him? Would there be any aftereffects from the bobbled snap in the playoff loss to the
Seattle Seahawks
?
The Cowboys had searched forever, it seemed, for Troy Aikman's successor. They tried Quincy Carter. They tried baseball players, such as Chad Hutchinson and Drew Henson. They tried veterans, such as Vinny Testaverde and Drew Bledsoe.
In 10 games, Romo threw for 2,903 yards with 19 touchdowns and 13 interceptions. He went to the Pro Bowl.
He was also in the final year of his contract. Would the Cowboys make him a mega-offer with such a short track record?
Staring at the Cowboys as they were about make the 22nd pick in the '07 draft was Notre Dame quarterback
Brady Quinn
. Nobody expected him to be there. He was the Cowboys' highest-rated quarterback. Forgetting what we know now, he had the stamp of approval from Charlie Weis, a coach who worked with
Tom Brady
. Quinn put up some strong numbers.
On the clock, the Cowboys traded out of the first round when they secured the Browns' second-round choice in 2007 and their first-rounder in 2008. Eventually they moved back into the first round in a trade with the
Philadelphia Eagles
to take
Anthony Spencer
with the 26th pick.
The Cowboys affirmed their love for Romo. Seven games into the 2007 season, they signed him to a six-year, $67.5 million deal that included $30 million guaranteed.
About 14 months ago, the Cowboys reaffirmed their love for Romo with a six-year, $108 million extension that included $55 million.
Like in 2007, he faces some questions in 2014. Some are football-related. He has not led the Cowboys to the playoffs since 2009. He has a 25-28 record since the beginning of the 2010 season. There are a lot of questions about his health because he is coming off his second back surgery in less than a year. He turned 34 last month.
But just like seven years ago, Jerry Jones backed Romo once again.
"I think that Tony has everything to do with this decision," Jones said of Dallas' selecting OT
Zack Martin
over Manziel. "We have a big commitment to Tony. We feel that anything we look at at quarterback would be down the road and in the future in the development of that quarterback. If you look at the difficult dynamic, giving up this player [Martin] that really enhances what we can do on offense and what Tony can do for the future, just on a pretty quick consideration [taking Manziel] didn't make sense. That was the driving force behind it."
January, 8, 2014
1/08/14
3:00
PM ET
IRVING, Texas --
Dallas Cowboys
owner and general manager Jerry Jones has already said he will not use an early draft pick on a quarterback to possibly begin the process of finding
Tony Romo
's successor.
Could Johnny Manziel sway Jones' mind?
Manziel will be the story of this year's draft. He drives attention with his style of play, with his brashness, with how he has handled the fame since winning the Heisman Trophy at Texas A&M. Wherever he goes in May, Manziel will be a draw.
I've already mentioned
Jones can't so easily dismiss the possibility of taking a quarterback
. History suggests otherwise.
Since taking
Troy Aikman
with the No. 1 pick in 1989, Jones has selected just three --
Bill Musgrave
(1991),
Quincy Carter
(2001) and
Stephen McGee
(2009) -- in the regular draft and used a first-round pick in the supplemental draft on
Steve Walsh
in 1989.
Before the change in the collective bargaining agreement, he did not want to make the huge financial investment in an unproven commodity early in the draft. Now that the rookie prices have come way down, Jones remains reluctant.
But we all know Jerry Jones loves a draw.
He didn't need to draft
Dez Bryant
in 2010 with the first round. He committed megabucks to
Roy Williams
in 2009. He had
Miles Austin
coming off a Pro Bowl season and would soon pay him megabucks. But Bryant kept slipping and the Cowboys moved up slightly to take Bryant with the 24th pick in the first round. Somehow he could not envision passing on
Randy Moss
and Bryant.
This year the Cowboys will pick either No. 16 or 17 in the draft, depending on a coin flip with the
Baltimore Ravens
.
Manziel figures to be gone by then, but what if teams are scared off by Manziel and he slips in the same way Bryant slipped? Does Jones make the move? Does he bring in the star of the draft?
There will be tons of work done on Manziel between now and the draft. The Cowboys will do their due diligence and know the player inside and out.
The general manager will have all of the reports and know if it would be a smart football move or not.
Would the owner be able to stay out of the way?
It sure it would set up an interesting dynamic on draft day.
December, 27, 2013
12/27/13
1:05
PM ET
IRVING, Texas -- A replacement plan for
Tony Romo
won't be near the top of
Dallas Cowboys
owner/general manager Jerry Jones' priority list this offseason.
The Cowboys are committed to Romo as the franchise quarterback of the foreseeable future after signing him to a six-year, $108 million extension with $55 million in guaranteed money last offseason. Jones said he is not concerned about the 33-year-old Romo having chronic back issues despite two surgeries in the last eight months that the Cowboys consider unrelated.
Jones said the Cowboys want to add a developmental quarterback prospect this offseason, but they will not use a high draft pick on the position.
"You'd like to every spring pick up a quarterback," Jones said on 105.3 The Fan. "I think the real issue and maybe your question would be, would you seriously consider using a significant draft pick for a quarterback? That's early. That's way too early to do that with the way things are today with my expectation of Tony's career, which I think will be for several years to come.
"It's too early to be drafting a highly ranked or, if you will, costly quarterback."
The Cowboys have drafted only one quarterback during the 11-year career of Romo, who was undrafted. They selected
Stephen McGee
out of Texas A&M in the fourth round of the 2009 draft.
The Cowboys have not used an early pick on a quarterback since selecting
Quincy Carter
with the 53rd overall pick in 2001.
November, 14, 2011
11/14/11
8:03
PM ET
The
Arizona Cardinals
' 2-0 record this season and 4-2 overall mark with
John Skelton
starting at quarterback has stirred debate over how the team should proceed once
Kevin Kolb
is healthy.
Coach Ken Whisenhunt announced no decision Monday. There would have been no advantage in doing so.
Kolb's toe and foot may or may not be healthy enough for him to play against San Francisco in Week 11. Either way, the team isn't likely to give up on Kolb after only seven games. Two inconsistent, but ultimately victorious, starts from Skelton do not compel a change. Skelton has shown enough to remain a factor in Arizona.
The Cardinals will be facing a 49ers defense more formidable than the ones Arizona faced in beating St. Louis and Philadelphia over the last two weeks.
Whisenhunt could always use Kolb's injury to give Skelton another start, letting the organization gather additional information on Skelton while Kolb's condition improves. Kolb could serve as the backup, coming off the bench only if needed. And if the Cardinals were to upset the 49ers with Skelton behind center, Whisenhunt would have a good "problem" to solve next week.
I've thought Skelton has appeared more comfortable than Kolb has appeared. He's been slightly better than Kolb, in my view, and his fourth-quarter touchdown passes have given him traction in the debate. But just as it's too soon to write off Kolb, it's too soon to suggest Skelton is the answer. But if you're really serious about arguing for Skelton, here's a gift from ESPN Stats & Information: Skelton has four touchdowns in seven attempts with no sacks in the red zone, while Kolb has three touchdowns in 19 attempts with four sacks.
For perspective, I've used
Pro Football Reference
to create a chart showing where Skelton fits among quarterbacks with similar experience since 1995. Each quarterback was in his first or second season of playing. Each was 22-24 years old at season's end. Each has started at least four games and attempted between 150-250 passes. Each has played 10 or fewer total games.
February, 22, 2010
2/22/10
10:54
AM ET
The earlier item
showing where teams target positions among the first 32 draft choices raised questions about quarterbacks in particular.
Fourteen of the 37 quarterbacks drafted in that range since 1995 went first or third overall. None went in 15 of the 32 highest spots, including 13th through 16th or 27th through 31st.
"The interesting point on second-round QB picks will be who they were, how long until they were a starter (if ever) and if they stuck with their drafting team," Bcook122 wrote in response. "I'm hoping this year's crop may yield a good prospect without having to exact one of those two first-round picks the Niners have."
The first thing I did was break out all second-round quarterbacks selected in the last 30 drafts, figuring this would provide big-picture perspective. One of the quarterbacks in question,
Drew Brees
, appeared on the previous list because the Chargers selected him 32nd overall before the NFL expanded to 32 teams. Some of the best ones --
Boomer Esiason
,
Randall Cunningham
and Neil Lomax -- were drafted between 1981 and 1984. Another,
Brett Favre
, went in 1991.
The next step involved narrowing the search range to all drafts since 1995.
NFL teams have drafted 17 second-round quarterbacks during that period, including Brees. The Dolphins (three) and Lions (two) drafted five of the 17, including four since 2007. Eight of the 17 were drafted since 2006. Three of the 17 have gone to Pro Bowls, but Brees is the only one with a career passer rating higher than 77.9.
The chart ranks these 17 quarterbacks by regular-season games played. Of course, the earlier a quarterback is drafted, the more chances an organization will generally give him.
February, 5, 2010
2/05/10
12:56
PM ET
By
Matt Mosley
| ESPN.com
FORT LAUDERDALE, Fla. -- It's hard to believe that Saints head coach Sean Payton once had his play-calling duties stripped when he was offensive coordinator with the New York Giants in 2002, but that's exactly what happened. When Bill Parcells became head coach of the Cowboys in 2003, one of his first hires was Payton. In effect, he gave him an opportunity to reset his career.
Payton was instrumental in helping Quincy Carter lead the Cowboys to 10 wins and a playoff appearance in 2003 and it wasn't long before Al Davis tried to hire him to become head coach in Oakland. Payton came close to accepting the job, but he decided to give Jerry Jones one more chance at the negotiating table. Jones never enjoyed paying big money to assistants, but he increased Payton's salary from $500,000 to $1 million.
Payton called and told Davis he wasn't coming. In 2006, the Saints made him their head coach. Randy Galloway of the Fort Worth Star-Telegram has a good column today about
how grateful Payton is for the time he spent with Parcells.
"[Parcells] knows how to win, and I learned an awful lot in a short period of time, three years," Payton said. "When you think about that opportunity for a young guy to work with a Hall of Fame coach, it's invaluable."
Payton attempted to take then-Cowboys offensive line coach Tony Sparano with him to New Orleans as his offensive coordinator, but Parcells blocked the move. Sparano might not admit it now, but at the time he thought Parcells' decision may have ended any hopes he had of being a head coach in the league. He was furious with Parcells for not allowing him to pursue an obvious promotion in both title and money.
Of course, now we know the rest of the story. Parcells and Sparano are running a little team here in South Florida.
Posted by ESPN.com's Matt Mosley

Carter
Just in from our Stories We Never Imagined In A Million Years department, former Cowboys and Jets quarterback Quincy Carter worked out for the Miami Dolphins on Thursday. The story was broken by Michael Irvin on the ESPN Radio affiliate in Dallas and it was confirmed by Dolphins head coach Tony Sparano on Thursday.
"This isn't going to change," Sparano said. "We're just going to keep flipping over stones and bringing in a lot of people. It's probably not going to change for two or three years."
So are we to believe that Carter was brought in for a ceremonial workout? Sort of a slap on the butt for conquering (at least for the time being) the demons that sent his career spiraling into oblivion. Honestly, I've never met this Bill the Redeemer character. He's definitely sentimental at times, but once you let him down -- especially in such spectacular fashion -- he's done with you.
I would bet all the money left in my Bank of America savings account ($27) that the Dolphins aren't going to sign Carter. Offensive coordinator Dan Henning and quarterbacks coach David Lee are desperately trying to figure out what they have in second-year quarterback John Beck and rookie Chad Henne. To bring in a man whose only recent experience was with the Kansas City Brigade is a reach. And if they are considering signing him, it speaks volumes about their current quarterbacks.
I was sitting in the front row of Bill Parcells' news conference four years ago when he and owner Jerry Jones announced that Carter had been released. It was a stunning turn of events after Carter had helped lead the team to a playoff appearance following three consecutive 5-11 seasons. When a reporter asked whether Parcells would consider bringing Carter back someday, he said yes. I just thought he was being gracious at the time.
Earlier Thursday, a high-ranking member of the organization told me the Cowboys actually considered bringing Carter back a few weeks after he'd been cut in 2004. Vinny Testaverde became the starter that season and was backed up by Drew Henson and a kid named Tony Romo -- in that exact order.
If Carter had remained with the team, the legend of Romo may have never been born. My South Florida crew has gone underground on this topic, but I'll gather a few more details while I'm driving to Los Angeles tonight.
General manager Jeff Ireland, Sparano, Lee and of course Parcells were all around on Aug. 6, 2004, the day Carter answered his hotel-room door at 6:30 a.m. and was summoned to meet with Parcells and Jones.
He woke up reserve running back Aveion Cason to say goodbye and then he left training camp for good. I recall the Dallas Morning News' Pulitzer Prize-winning photographer Irwin Thompson driving 80 miles to track down a photograph that a random fan took of Carter as he left the Oxnard campus.
The last I heard from Carter, he was being bailed out of jail by an afternoon radio show in Dallas following another marijuana arrest. In the past year, he spent time in a drug rehab program run by former Cowboys linebacker Hollywood Henderson.
I was pretty surprised -- and pleased -- to hear about Carter signing with an Arena League team, but I was absolutely stunned to hear about his workout Thursday.
I just spent a few minutes talking to Tony Romo about the topic and he was genuinely happy to hear that Carter had the opportunity. He also said it didn't surprise him that much that Parcells would take a look at Carter.