NFL Nation:

R.W. McQuarters
January, 31, 2011
1/31/11
1:37
PM ET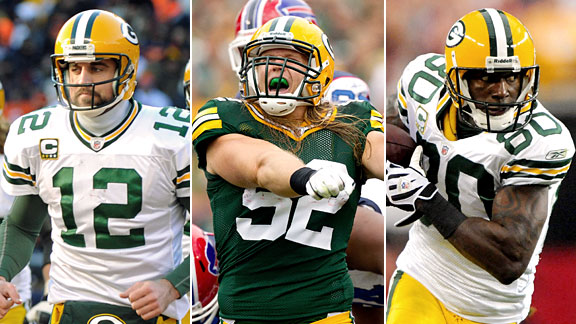 US PresswireGreen Bay's Aaron Rodgers, Clay Matthews and Donald Driver are all playing in Super Bowl XLV, but how might they have fit into the NFC West's draft plans?
DALLAS -- Every
Aaron Rodgers
touchdown pass and playoff victory makes the
San Francisco 49ers
look worse for drafting
Alex Smith
over Rodgers back in 2005.
A victory for Rodgers and the
Green Bay Packers
in Super Bowl 45 would only sanction additional mutilation of this rotting equine carcass.
Some criticism is justified, obviously, but with Rodgers and key Packers scheduled to make their Super Bowl media debuts Monday afternoon, another line of thinking occurred to me. The 49ers weren't the only ones to bypass Rodgers and other key players in this Super Bowl. Why should they absorb such a disproportionate amount of the blame?
The Green Bay players making Super Bowl media appearances Monday -- Rodgers,
Donald Driver
,
A.J. Hawk
,
Greg Jennings
,
Clay Matthews
and
Charles Woodson
-- all qualify for analysis and reflection.
Let's take a look at them through NFC West lenses, beginning in chronological order:
1998 Draft: Charles Woodson, CB, Michigan
Round:
First (fourth overall, by Oakland)
NFC West spin:
The Cardinals passed over Woodson to select defensive end
Andre Wadsworth
third overall. The decision seemed defensible at the time. Wadsworth was a freakish talent at a premium position, but chronic knee injuries prevented him from approaching his potential. Wadsworth underwent microfracture knee surgery after only his third NFL season. He never played again, despite a 2007 comeback attempt.
First-round selections in the division:
Cardinals (third overall): Wadsworth, DE, Florida State

Rams (sixth overall): Grant Wistrom, DE, Nebraska

Seahawks (15th overall): Anthony Simmons, LB, Clemson

49ers (28th overall): R.W. McQuarters, CB, Oklahoma State
1999 Draft: Donald Driver, WR, Alcorn State
Round:
Seventh (213th overall, by Green Bay)
NFC West spin:
Good for the Packers. They found a steal in the seventh round. Driver developed into a full-time starter in 2002, his fourth season. He has 698 career receptions. Driver reflects well on the Packers, but not negatively on anyone in the NFC West.
Seventh-round selections in the division (Seahawks did not have a pick):
2005 Draft: Aaron Rodgers, QB, California
Round:
First (24th overall, by Green Bay)
NFC West spin:
Only the Seahawks, who held the 26th choice that year, escape second-guessing for this one. To be fair, however, the Rams'
Marc Bulger
was coming off a breakout 2004 season in which he had thrown 21 touchdown passes while leading St. Louis to the playoffs. There was no reason for the Rams to target a quarterback in the 2005 first round. Rodgers might have wilted in St. Louis while the organization crumbled around him (a fate that might have awaited him in San Francisco as well). The Cardinals could have used a young quarterback to build around, but they signed
Kurt Warner
to a free-agent contract that offseason. Warner went 2-8 as a starter in 2005, but the Cardinals eventually went to the Super Bowl with him under center. Warner even edged Rodgers in the playoffs following the 2009 season.
First-round selections in the division:
49ers (first overall): Alex Smith, QB, Utah

Cardinals (eighth overall): Antrel Rolle, DB, Miami

Rams (19th overall): Alex Barron, T, Florida State

Seahawks (26th overall): Chris Spencer, C, Mississippi
2006 Draft: A.J. Hawk, LB, Ohio State
Round:
First (fifth overall, by Green Bay)
NFC West spin:
The 49ers in particular were monitoring this choice closely. They were picking sixth overall that year and trying to find weapons for their second-year quarterback. Tight end
Vernon Davis
, chosen sixth overall, is becoming a perennial Pro Bowl choice. Hawk was an all-rookie selection, but he has not played well enough overall to cause much second-guessing in NFC West circles. The Cardinals ultimately whiffed on a quarterback that year, but no one is telling them they should have drafted Hawk instead.
First-round selections in the division:
49ers (sixth overall): Davis, TE, Maryland

Cardinals (10th overall): Matt Leinart, QB, USC

Rams (15th overall): Tye Hill, CB, Clemson

49ers (22nd overall): Manny Lawson, OLB, North Carolina State

Seahawks (31st overall): Kelly Jennings, CB, Miami
2006 Draft: Greg Jennings, WR, Western Michigan
Round:
Second (52nd overall, by Green Bay)
NFC West spin:
The Cardinals and Rams passed on Jennings in the second round, but that was understandable. Both teams were already strong at receiver. Looking back, however, the Rams certainly would have gone in another direction. They whiffed on tight end
Joe Klopfenstein
six spots before the Packers took Jennings.
Second-round selections in the division (49ers traded their pick):
Cardinals (41st overall): Deuce Lutui, G, USC

Rams (46th overall): Klopfenstein, TE, Colorado

Seahawks (63rd overall): Darryl Tapp, DE, Virginia Tech
2009 Draft: Clay Matthews, OLB, USC
Round:
First (26th overall, to Green Bay)
NFC West spin:
This draft hurts. Surely the Seahawks and Rams could have put Matthews' pass-rush ability to use even if he didn't fit their schemes precisely at the time. Both teams passed on him. Worse, the Packers used an additional 2009 first-round choice, this one ninth overall, for another key contributor,
B.J. Raji
.
First-round selections in the division:
Hope you enjoyed the exercise. I'll be heading to the
Pittsburgh Steelers
' media session in the not-too-distant future, with plans to check back at the next opportunity.
August, 17, 2009
8/17/09
1:15
PM ET
| | |
| --- | --- |
| | |
| | Rich Kane/Icon SMI |
| | Osi Umenyiora is back from an injury and the Giants have high expectations for him. |
Posted by ESPN.com's Matt Mosley
ALBANY, N.Y. -- The Giants are in desperate need of a preseason game, which will happen Monday night against the Panthers. In recent weeks, practices on the lower fields at the University at Albany have featured brawls on a daily basis.
On Wednesday evening, I watched Tom Coughlin leave his post during a goal-line drill to wade into a fight that had broken out away from the action. Earlier that day, it was Coughlin who provided the fireworks when he launched into a tirade when an offensive lineman didn't finish a block during a brutal 9-on-7 drill. Is this the same cuddly grandfather character who we read so much about leading up to Super Bowl XLII?
Everyone seems angry around here, and for the most part, I think Coughlin's pretty comfortable with that atmosphere. At this time last year, players and coaches were being asked how difficult it would be to defend a Super Bowl title.
Now, the focus is on making amends for a season that went belly-up in December and January because of the infamous Plaxico Burress incident and a host of injuries along the defensive line. The Giants won't be able to replace a unique talent such as Burress right away, but third-round draft pick Ramses Barden is doing his part. Barden, who played at Cal Poly, was supposed to have a tough adjustment to this level. Instead, he has become the toughest player to cover in camp, providing daily highlight-reel catches that included a one-hander in the end zone Aug. 8 that folks in Albany are still talking about. General manager Jerry Reese tried to temper all of the enthusiasm for Barden, but the huge grin on his face suggested those were just words.
"He's big and he catches everything," Reese said of Barden. "He's a quick learner and he's gigantic. He's got a huge strike zone. He had the stigma of the small school, but so did [Kevin] Boss. If a guy doesn't jump off the screen at a small school, he can't play at this level. Barden jumped off the screen. And he didn't look out of place at the combine. And if you talk to him, he's very bright. We expect him to play right from the start."
| | |
| --- | --- |
| | |
| | Jeff Zelevansky/Getty Images |
| | Rookie Ramses Barden is turning heads in his first training camp. |
Reese's first priority this offseason was to re-stock a defensive line that wore down last December. The Giants' rotation along the defensive line in '07 was the biggest factor in taking down the Patriots -- at least in my opinion. And by adding Chris Canty and Rocky Bernard in free agency, the Giants are once again loaded. It doesn't hurt that the lone Pro Bowler from the Super Bowl team, defensive end Osi Umenyiora, is back from a knee injury that knocked him out for '08. I asked Reese what he learned from the '08 season.
"Well, I learned a lot of things," he said. "We got hit right out of the gate last year with a Hall of Famer retiring [Michael Strahan] and a Pro Bowler [Umenyiora] going down. We made it through three quarters of the season, but then we got worn down. I'll try not to let that happen again. We have to sustain the madness up front."
Key Questions
1. How will the Giants replace Burress at wide receiver?
It's not like Burress was putting up big numbers last season, but his presence alone opened things up for the rest of the offense. Without him, the offense became easier to defend -- as the Eagles showed twice in December and January. I don't think the Giants have a true No. 1 receiver, although third-year player Steve Smith will take on a larger role. Quarterback Eli Manning is gaining faith in Mario Manningham by the day and Sinorice Moss is quietly putting together a pretty nice camp.
The Giants will have to make some tough decisions because there are at least seven players in the mix for a roster spot, and that seems excessive. Barden could immediately be a threat in the red zone and remember that veteran David Tyree's still on the roster. He's known for the catch in the Super Bowl, but he's also a former Pro Bowl special-teams player. I think there's a chance first-round pick Hakeem Nicks will have a hard time seeing the field early in the season. He's been slowed by a hamstring injury, and those things annoy Coughlin to no end. I think Domenik Hixon and Smith will be the starters, but they will face some major competition throughout the season.
2. Who will replace Derrick Ward as No. 2 running back?
Unfortunately, the player who most reminded Reese and Coughlin of Ward, rookie Andre Brown, ruptured his Achilles' tendon in Friday's practice and will miss the season. That leaves Danny Ware and Ahmad Bradshaw in competition for the backup role. Ware has looked solid in camp, but Reese tells me that it's Bradshaw's job to lose. A lot of it has to do with who's willing to pick up the blitz. When Jacobs first came into the league, he just wanted the ball. He didn't have any interest in picking up the blitz. Now he's become an excellent blocker and the Giants are hoping Bradshaw and Ware follow that path.
Bradshaw has some power to go along with his speed, but there are people who still wonder how he'd do if Jacobs misses a game or two. There's a good chance that will happen at some point, so Bradshaw must be ready. I think he'll be up to the task.
3. With Michael Boley suspended for the first game, who's stepping up at linebacker?
The Giants have created an intense competition at linebacker while Boley recovers from a hip injury. Former BYU standout Bryan Kehl has always had the physical tools to make an impact as weakside linebacker, but he needed to become a more physical player. He seems to be taking that next step in this camp. Gerris Wilkinson is also in the mix to start in that first game. He's a talented player who's never been able to stay healthy.
Boley was brought in so that he could cover running backs such as Brian Westbrook and Felix Jones. He's an excellent coverage linebacker, but he needs to get back on the field soon and start playing his way into game shape. I like what Chase Blackburn's been doing in practice. He's one of those players who's always around the ball. I saw him leap to pick off a David Carr pass in last Wednesday's evening practice.
Market watch
As I've written before, I think second-year safety Kenny Phillips is about to become a star in this league. He's a graceful player with a knack for arriving at the right moment. He's made some outstanding plays on the ball in camp and I wouldn't be surprised if he ends up in the Pro Bowl. At cornerback, second-year player Terrell Thomas out of USC is making a move in this camp. I don't know how much longer Kevin Dockery can hold him off at the nickel spot.
Newcomer to watch
I've already mentioned him once, but keep your eye on Barden in the preseason. He's been unstoppable in training camp. The one-handed, twisting grab he made Aug. 8 has already become part of Giants training camp lore -- if there is such a thing. Even when he's tightly defended, Barden will climb the ladder and use his 6-foot-6 frame to block out the defensive back. The starting corners were out with injuries when I was in Albany, but he was tearing up the other defenders. If you asked Manning what's been the most pleasant surprise at camp, I think Barden's the direction he goes. And I'm ready to see more of Stoney Woodson at cornerback. He's a seventh-round pick who already looks like he belongs.
Observation Deck
| | |
| --- | --- |
| | |
| | AP Photo/Mike Groll |
| | Mathias Kiwanuka has turned in a solid camp for the Giants. |
The fact that Mathias Kiwanuka hates being referred to as a backup is a good thing for the Giants. When he lines up with the second team, he's destroying offensive tackles -- both first- and second-teamers. He almost flattened the 315-pound Kevin Boothe on an inside running play. ... I guess no one's told wide receiver Derek Hagan he's not supposed to make this roster. He has had an excellent camp and taken advantage of Smith and Nicks missing time with injuries. ... Safeties coach Dave Merritt is asking players to treat incomplete passes as live balls. He wants his young players to learn how to properly recover a fumble. And that's why rookies such as Woodson will go racing to the ball after it hits the ground. By the way, I think the Giants are stacked at cornerback right now. Everyone wants to talk about the reinforcements on the defensive line, but this team is even deeper in the secondary. ... Second-round pick Clint Sintim is a total Reese guy. Big, fast and ridiculously long arms. I saw him tip a ball at the line of scrimmage and then almost make the interception. He's a little hesitant right now, but I don't think it will take him a long time to make an impact. ... If the season started today, your starting linebackers are Kehl (in place of Boley), Antonio Pierce and Danny Clark. ... Blackburn is a fiery guy who takes practices to another level. He's certainly not the best athlete on the field, but he'll sort of blend in and then make an interception out of nowhere. Carr never saw him on a pass across the middle last Wednesday. ... I thought Andre Woodson's days were numbered as a third-string quarterback, but he's held up well against fifth-round pick Rhett Bomar. Woodson's been a lot more accurate and he's getting the ball out faster than Bomar. I'm eager to see how he plays in Monday's preseason game. ... Backup center Adam Koets must get it together before Coughlin completely loses his patience. He botched a snap in the practice I watched and I'm told that's a common occurrence. ... DeAndre Wright, a rookie cornerback out of New Mexico, made some nice plays in last Wednesday's practice. Wright and Woodson are doing a great job of soaking up what Corey Webster and Aaron Ross are telling them. Other than R.W. McQuarters, Ross and Webster didn't get a lot of help from the veterans when they were breaking into the league. And that's why they're spending a lot of time with the young guys. By the way, kudos to Dockery. He refuses to give in to the more talented Thomas.
August, 31, 2008
8/31/08
10:21
AM ET
Posted by ESPN.com's Matt Mosley
Biggest surprise: Can't say that I noticed any huge surprises. I know that GM Jerry Reese had high hopes for rookie quarterback Andre' Woodson when he took him in the sixth-round, but maybe they'll try to put him on the practice squad. Cutting that extra quarterback gives the Giants a little more flexibility. Honestly, I think Wallace Gilberry is the one who surprises me the most. When I stopped by training camp a couple of weeks ago in Albany, Gilberry's teammates were raving about him. Justin Tuck thought the kid had a chance to help the team immediately. I'm sure the Giants will try to add him to the their practice squad.
Wide receiver Brandon London had a spirited competition with Sinorice Moss for that last receiver spot. But remember that Moss is a former second-round draft pick. They say that stuff doesn't matter, but it sure seems like it does. In Moss' defense, he did have a nice camp, and unlike several teammates, remained healthy. Hated to see Digger Bujnoch get hurt late in the preseason. From what I've heard, he had a great chance of making the practice squad. Maybe the biggest news is that the Giants found a way to keep veteran cornerbacks Sam Madison and R.W. McQuarters on the roster.
No-brainers: The Giants have plenty of competition at safety, so there was no reason to keep Stuart Schweigert around. Schweigert has now been released by half the teams in the NFC East this preseason. He started out at Washington, but coaches said he wanted to do everything like he did with the Raiders. Some of you might recall that Geoffrey Pope played in a couple of playoff games last season, but now he'll probably end up on the practice squad. The Giants decided to go with age over a guy who could've helped them more on special teams.
What's next: The Giants will be scouring the waiver wire for help at defensive end, and they'll take a look at some linebackers. If the Eagles cut defensive end Jerome McDougle, who's had a nice preseason, the Giants might try to strike quickly. This team is stacked at running back right now. A team (like the Packers last year) should be looking at all these running backs. Somehow the Giants manage to keep four or five tailbacks every season. And again, that's where cutting that third quarterback can create some room.

NFL SCOREBOARD
Thursday, 9/11
Sunday, 9/14
Monday, 9/15
WEEKLY LEADERS