May, 10, 2011
5/10/11
1:00
PM ET
What key event significantly changed the fortunes of the Panthers -- for better or worse? Give us your take and we'll give you our definitive moment on May 25.
The
Carolina Panthers
are the newest team in the NFC South, coming into the league as an expansion team in 1995. But this team already has seen just about as many highs and lows as any team in the division.
You could even make a case that no team has gone lower. The Panthers were 2-14 last season, 1-15 under George Seifert in 2001 and they went through some tragic circumstances early on with first-round draft picks
Rae Carruth
and
Kerry Collins
.
But the high points have been there too. Just two seasons removed from the 1-15 disaster, coach John Fox had the Panthers in the Super Bowl. Quick turnarounds were nothing new to Carolina. The expansion Panthers struggled a bit early in their first season, started showing improvement and were in the NFC Championship Game in only their second year in the league.
Success never has lasted long for the Panthers, though. But there's room for that to change with new coach Ron Rivera and quarterback Cam Newton coming to town.
If you vote Other, give us your suggestion in the comments area below.
March, 31, 2011
3/31/11
1:30
PM ET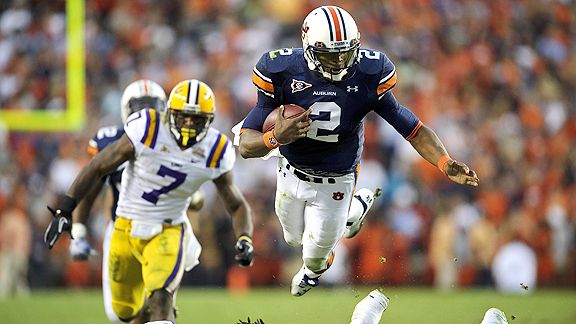 Paul Abell/US PresswireAt Auburn, Cam Newton proved to be a dangerous athlete who could throw and run.
There was a time when you could read the
Carolina Panthers
like a book. The title was "Third and Long: A Draw Play to
Nick Goings
.''
Take any situation -- on or off the field -- and you could ask yourself, "What would Jerry Richardson, John Fox and Marty Hurney do?'' The answer was obvious -- the most conservative thing possible. That's why what I'm about to say still shocks me.
The Panthers need to use the No. 1 overall pick in this year's draft on Auburn quarterback
Cam Newton
.
There, I said it, even though I was thinking
just the opposite
only a few weeks ago. What's changed?
Well, Fox is gone as coach and Ron Rivera is in his place. That's significant. But it's about more than that. The world has changed and I think the Panthers finally have realized it.
I'm not saying the Panthers absolutely will take Newton -- they haven't made any final decision. I'm just saying they should take Newton. I'm also sensing that's a very real possibility because the Panthers have been doing heavy homework on Newton, pretty much since the moment
Andrew Luck
said he wasn't entering the draft, and all indications are they'll continue to do their homework on Newton right up until draft time.
That's exactly what they should be doing. For too long (at least Fox's nine seasons), the thinking in Carolina was you don't draft a quarterback early because they take too long to develop and you go out and win with defense, a ball-control offense and a game manager at quarterback. It worked at times, but it also ended up being the reason Fox is gone.
At the same time Fox was refusing to embrace last year's youth movement or adjust in any way, I believe Hurney and Richardson took off the blinders. When they looked around, they realized they're in a league driven by quarterbacks.
We're talking quarterbacks who can throw and quarterbacks who can run. Green Bay won a Super Bowl with a mobile quarterback,
Aaron Rodgers
. Tampa Bay won 10 games last season with
Josh Freeman
, who can throw and run. Rules have changed and they've changed in favor of quarterbacks and offenses in general. It's way past time for the Panthers to change and that's why they're playing catch-up now.
New Orleans has
Drew Brees
and Atlanta has
Matt Ryan
. You do the math, but my quick calculations say three out of four NFC South teams have a franchise quarterback who will be around for the foreseeable future.
That's why the Panthers need to take Newton. He is the only guy in this year's draft with a chance to be a true franchise quarterback. The No. 1 pick is a gift designed to help the league's worst team get better and, at least in theory, you have to take your shot when it's there because you shouldn't be sitting at No. 1 repeatedly.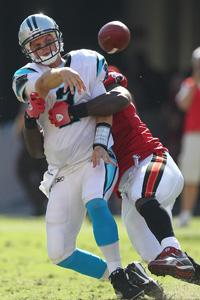 AP Photo/Margaret BowlesThe Panthers took Jimmy Clausen in the second round last year and he struggled: throwing just three touchdowns to nine interceptions while getting sacked 33 times.
Newton's sitting right in front of the Panthers and they need to just go ahead and grab him. Yeah, I know there are questions about Newton's background and character and there are even questions about his ability to adjust to an NFL offense because he had such a short college career.
But do you really think the Panthers still would be in the Newton mix if they viewed Newton's background as a bright red flag? Yes, a big part of this column is about how the Panthers are changing right in front of us, but one thing hasn't changed. That's Richardson's position on character.
He has been a stickler on that subject ever since the
Rae Carruth
saga. Richardson has his hands full with the league's labor negotiations, but trust me, the man has seen and heard everything Hurney and his staff have gathered on Newton. To date, Richardson hasn't come out and told his general manager to scratch Newton off the list.
We're less than a month away from the draft and the Panthers are still going down the Newton road. It's one of several scenarios -- Missouri quarterback
Blaine Gabbert
, several defensive linemen, LSU cornerback
Patrick Peterson
and Georgia receiver
A.J. Green
-- still in the mix.
The old Panthers automatically would have gone with a defensive lineman because the general rule of thumb is you don't take a cornerback or receiver at No. 1 and the quarterbacks would not even have been a consideration.
But Newton and Gabbert are still very much in consideration and that says a lot. Even if you take the next step and narrow it down to the two quarterbacks, the old Carolina rule of thumb would have dictated that the Panthers go with Gabbert. He doesn't have the background questions.
He also doesn't have the upside Newton does. At best, Gabbert's going to turn out to be something like
Mark Sanchez
, a solid quarterback, but not a guy who is going to carry you to the Super Bowl on his own. Believe it or not, the powers that are still with the Panthers think
Jimmy Clausen
, a second-round pick last year, could turn out to be something comparable to Sanchez.
Newton can be more than that. At best, Newton's going to be Freeman or
Ben Roethlisberger
or maybe even something better than we've ever seen.
And don't give me that old line about how missing on a quarterback will set back your franchise for five years. And I sure don't want to hear that you're three years away from winning when you draft a quarterback at the top of the draft.
The Bucs started winning in Freeman's first full season as a starter and the rest of the roster wasn't all that talented. The Falcons, who were about as low as a team can be in 2007, drafted Ryan, played him right away and immediately started winning in 2008.
Speaking of Ryan, he is the prototype quarterback in Hurney's eyes. When Ryan was coming out in that draft, Hurney was saying he hadn't seen a more sure-fire prospect in years, maybe even ever. He had studied Ryan and he had some strong inside knowledge because Hurney's nephew was the equipment manager at Boston College and a close friend of the quarterback. Hurney had a pretty similar view of Luck right up until the moment he said he was staying at Stanford.
When you're out of Luck, there's only one thing left to do in this brave new world in which the Panthers are living.
You take a chance. You aim straight for the sky, instead of worrying about the floor collapsing.
You take Newton.
October, 5, 2010
10/05/10
5:16
PM ET
Jerry Richardson, who has been conspicuously silent as fans wonder what direction the
Carolina Panthers
are headed in, just made a very strong statement.
It was done silently and didn't get into the whole youth movement or the future of coach John Fox. But Richardson sent a loud-and-clear message that he still is very much in control of the Panthers.
The team just announced it has waived receiver
Dwayne Jarrett
, who reportedly was arrested Tuesday morning for driving while impaired. Jarrett also was arrested on a similar charge in 2008.
In these situations, a lot of teams around the NFL wait for the legal system to play out. But Richardson has been known for not putting up with much when it comes to off-field troubles. The Panthers have released multiple players as soon as they've gotten into trouble and they also generally stay away from players with trouble in their past.
Jarrett, a second-round pick in 2007, had been a huge bust. He never came close to his potential and was playing behind rookies
Brandon LaFell
and
David Gettis
on Sunday.
"I talked to Dwayne and told him the situation here is just not working out for either side," says general manager Marty Hurney. "We had a chance to pick up off waivers a receiver we considered claiming when he became available four weeks ago. We wish Dwayne the best."
The Panthers claimed receiver
David Clowney
off waivers from the
New York Jets
to fill Jarrett's roster spot.
July, 24, 2009
7/24/09
11:30
AM ET
| | |
| --- | --- |
| | |
| | Al Messerschmidt/Getty Images |
| | Former Falcons quarterback Michael Vick may get conditionally reinstated, but even if he does, will any team want him? |
Posted by ESPN.com's Pat Yasinskas
Anybody want Michael Vick?
That's not a question. It's a plea. Seriously, I'd be thrilled to trade you the former Atlanta quarterback for anything. Heck, for nothing. Take him and the mountain of baggage he carries, please.
Still no takers?
Don't feel isolated. It appears nobody is lining up to take Vick. Selfishly, I'm not real happy about that because I've had more than my share of the ugly Vick saga, which has dragged on seemingly forever.
As the NFC South blogger, my territory includes Vick until he signs with a team in another division. My readers write me every day to ask me to stop writing about Vick because they're so tired of hearing about him. That's probably not going to change any time soon.
Yes, Vick is out of prison and done with home confinement. Yes, ESPN's Sal Paolantonio is reporting Commissioner Roger Goodell has decided to grant Vick a conditional reinstatement for training camp, although there remains a chance the quarterback could face a four-game suspension.
Even with the conditional reinstatement, there's no guarantee an NFL team will step forward to take an immensely talented athlete, who may or may not be suited to play quarterback or some other position and is certain to bring a swarm of media and protesters if he shows up anywhere near a stadium. And the cloud of a possible four-game suspension doesn't make Vick any more appealing.
Still, I thought there was a chance some owner (Jerry Jones? Al Davis?) might take a shot. Now, I'm thinking there's a very real chance 32 owners will pass on Vick.
May, 20, 2009
5/20/09
12:30
PM ET
Posted by ESPN.com's Pat Yasinskas
ESPN analyst Herm Edwards sees three possible landing spots for Michael Vick -- and two of them are in the NFC South.
| | |
| --- | --- |
| | |
| | NFL.com Video |
| | A chronology of events around Vick's troubles, ending with a guilty plea for dog fighting. |
Edwards mentions Carolina and New Orleans as possibilities along with Jacksonville. And let's remember, Edwards isn't reporting any of these teams are showing interest in Vick -- he's just offering his opinion on three teams he thinks could make sense. I don't disagree with Edwards on New Orleans (more on that in a moment) and Jacksonville, but I respectfully disagree with him on Carolina.
That's entirely because of Panthers owner Jerry Richardson. I just don't see any way Richardson would take a chance on Vick. Richardson has been burned badly twice in the past by Kerry Collins and Rae Carruth.
Those situations bothered Richardson to his very core and he was totally embarrassed that the off-field problems of Collins and Carruth reflected so poorly on a franchise the owner takes enormous pride in. Since Carruth, Richardson has gone out of his way to avoid any player with a checkered past and he's gotten rid of a bunch of other players (Todd Sauerbrun, Chris Terry and Lamar Smith) as soon as they've run into trouble. This one's not going to happen.
As for New Orleans, like I said, I don't disagree with Edwards. His logic is that coach Sean Payton is an offensive guru. Payton has a great quarterback in Drew Brees. But Payton could figure out all sorts of ways to use Vick in a hybrid role or at quarterback in a Wildcat scheme. I say this one's at least possible.
We all know we can rule out a Vick return to Atlanta and Tampa Bay has just made Josh Freeman the franchise quarterback. Although, if Jon Gruden were still coaching the Bucs, they'd almost certainly be in the conversation about Vick.
NFL SCOREBOARD
Thursday, 10/16
Sunday, 10/19
Monday, 10/20
WEEKLY LEADERS