NFL Nation:

Ralph Cindrich
September, 3, 2011
9/03/11
1:51
PM ET
Minnesota Vikings
coach Leslie Frazier spent four seasons with the team as a defensive coordinator and has holdover assistants sprinkled throughout his coaching staff. It is now clear, however, that Frazier's promotion in no way ensured continuity within the Vikings roster.

Frazier released left tackle
Bryant McKinnie
at
the start of training camp
, and news is beginning to trickle out about the departures of some other stalwarts of the Brad Childress era. Linebacker/special teams ace
Heath Farwell
confirmed to multiple media outlets,
including 1500ESPN.com
, that he has been released. Meanwhile, agent Ralph Cindrich
tweeted
that tight end/fullback
Jeff Dugan
will be a free agent as of this evening, implying he will be released.
Dugan confirmed the move to
Mark Craig of the Star Tribune
.
Reserves throughout their careers, Dugan and Farwell were nevertheless among the Vikings' most tenured players. Dugan was a 7th-round draft choice in 2004 and Farwell joined the team as an undrafted rookie in 2005. Only two players, tight end Jim Kleinsasser and linebacker
E.J. Henderson
, have been with the Vikings longer than Dugan, and both he and Farwell were the kind of easy-going glue players that Childress and former coach Mike Tice wanted in the locker room.
That's not a knock on Frazier and his staff for moving on. It's difficult to develop young talent if you keep veterans as backups. Schemes change, players age and circumstances transform. Dugan and Farwell are dependable and of high character, but they were replaceable. But if there was any question, it's now clear that Frazier will be blazing his own trail despite his relatively deep roots within the organization.
June, 17, 2011
6/17/11
10:45
AM ET
Usually, the routine works like clockwork.
Well-known Player X either becomes available or is rumored to be available. Within minutes, the question presents itself: Does NFC North team Y want to sign him?
[+] Enlarge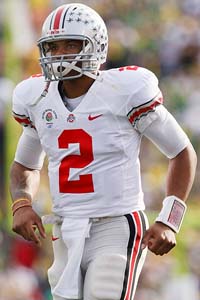 Stephen Dunn/Getty ImagesThe NFC North appears to be an unlikely destination for Terrelle Pryor.
So it's notable that I haven't received a single note
to the mailbag
, not
one tweet
and no
Facebook references
I can find to an NFC North blog reader asking if the
Chicago Bears
,
Detroit Lions
,
Green Bay Packers
or
Minnesota Vikings
might draft ex-Ohio State quarterback Terrelle Pryor in this summer's presumed NFL supplemental draft.
It's possible you're boycotting your favorite blogger's in-box, but here's a more logical reason: All four of our teams have franchise quarterbacks on their roster now that the Vikings have drafted Florida State's
Christian Ponder
. The Bears'
Jay Cutler
, the Lions'
Matthew Stafford
, the Packers'
Aaron Rodgers
and Ponder are all on the good side of 30 and very much a part of their team's long-range plans.
I also don't sense much buzz about Pryor as a potential long-term starting quarterback, either among fans or NFL people. Friday morning, for example, veteran agent Ralph Cindrich advised Pryor to
pursue the UFL to help develop his game
.
Agent Drew Rosenhaus said this week he expected Pryor to be selected in the first round of the supplemental draft, something that hasn't happened in 19 years and without question won't take place with an NFC North team. Remember, the supplemental draft is like withdrawing equity from a house: You lose your corresponding pick in the spring if you use one the previous summer.
It's also worth noting the history of teams taking chances on quarterbacks in the supplemental draft. It worked for a few teams, but no one has tried it since the
New York Giants
whiffed on Duke quarterback
Dave Brown
in 1992.
Around here, the real question will apply if NFL teams defy Rosenhaus' expectations and pass over Pryor in the early rounds of the supplemental draft. Would an NFC North team take a flier on Pryor as a long-term project and potential multi-position weapon?
We have some outside-of-the-box thinkers in this division, and I wouldn't rule out someone taking the proverbial "drafting an athlete" approach. But we're not there yet.
May, 21, 2010
5/21/10
2:11
PM ET
Andre Johnson
returned to the
Houston Texans
' organized team activities and clearly felt badly about causing any sort of stir. I expect his contract issues will be resolved well before the Texans open camp.

Johnson
What are the chances he gets a new deal? Veteran agent Ralph Cindrich and cap analyst J.I. Halsell of Football Outsiders chime in:
Cindrich:
"It sounds like he's in the best situation. Houston is flexible. He's the No. 1 receiver out there with a team and in a city that wants to see things happen. The owner is more malleable as [is] the GM."
Halsell:
"Andre Johnson finds himself in the same situation as players like
Sheldon Brown
and
Lito Sheppard
found themselves in in Philly. The Andre Johnson case highlights the importance of one of my favorite contract metrics, guaranteed money/year. In the case of Johnson, he did an extension for six new years with a guarantee of $15M; resulting in a guarantee per year of $2.5M. To put that into context, Buffalo's
Lee Evans
' guarantee per year on his four-year extension with a guarantee of $18.25M was $4.56M.
"So Johnson's deal at 15M guaranteed should've been a three- or four-year extension and not a six-year extension. Does this inequity get rectified? I think the Texans will redo him and pay him a market deal. He's clearly one of the top WRs in the league and a consummate pro. He's what you want as a team, so let's not turn him into a malcontent."
May, 20, 2010
5/20/10
3:16
PM ET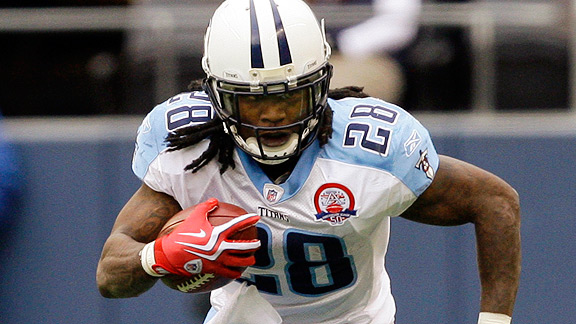 AP Photo/Elaine ThompsonChris Johnson has three years remaining on the rookie contract he signed in 2008.
Organized team activities are in full swing, and so is contract posturing in the AFC South, where three prominent players looked to make statements with non-participation.
Andre Johnson
re-joined the
Houston Texans
, but the
Tennessee Titans
'
Chris Johnson
and the
Jacksonville Jaguars
'
Rashean Mathis
remain out. All three are hoping for new deals.
Players generally support other players in such instances. I once covered an event that involved a phone conversation between two players and rather than a goodbye, the final salutation to a guy who was looking for a bigger payday was something along the lines of "Get yours." Over the years, I've heard that many times.
"We all understand that there is a business side to it, we all understand that there are going to be contract situations that make guys feel like they want to hold out," veteran Titans backup quarterback
Kerry Collins
said.
"… Here's the thing: The NFL is going to get what it wants out of you. So I don't blame guys for trying to get what they can out of it financially. That's just the way it is."
While I will hit Andre Johnson and Mathis in separate posts, let's turn to Chris Johnson …
He's due a $550,000 base salary this season, though it's more sensible to look at his 2010 number by including prorated pieces of his bonuses. That's more like $1.6 million.
Does his play through two years make him worth more than that? Absolutely. Do the Titans deserve to continue to reap the benefits of being smart enough to select him in the draft where they did and for the cost of that pick? For sure.
[+] Enlarge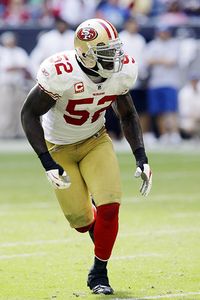 Brett Davis/US PresswireThe 49ers recently negotiated a new $50 million deal with Patrick Willis, who was drafted a year before Johnson.
We just saw a new deal for San Francisco linebacker
Patrick Willis
who is heading into his fourth season. The current precedent for tearing up an original contract and doing something new set there is still at least one year away for Johnson.
I do not expect the Titans to redo Johnson's deal before he plays a third season, and to hear his friends
Mike Sims-Walker
(
here
) and
Ahmard Hall
(
here
) talk, I am not as sure as some that he will hold out when training camp commences.
That said, we should look more carefully at the finances at play.
Many of us have been wrong when discussing Johnson's current salary specifics and in interpreting the 30-percent rule that is in play here in the final year covered by the collective bargaining agreement. I apologize for the volume I added to that, and while this may now provide too much detail for some of you, it will also result in a far more accurate picture.
We've been saying Johnson got $7 million guaranteed when he signed his rookie deal as the 24th overall pick in 2008. But that's oversimplifying and not breaking it down sufficiently, which is where one-time
Washington Redskins
cap guru J.I. Halsell comes in.
February, 23, 2009
2/23/09
3:51
PM ET
Posted by ESPN.com's Paul Kuharsky
Ever wonder how an agent tries to package and sell his client?
You hear sometimes about a big packet put together that attempts to spell out a guy's value. Veteran agent Ralph Cindrich has done a 13-page packet for center Jeff Saturday, and cleared the AFC South blog to share it (PDF).
It's not Earth-shattering, but it is interesting.
While keeping in mind we don't know details of the offer the Colts say they've made or a similarly detailed look at Saturday from the team's perspective, here are some points the stood out to me from the packet:
After Saturday missed four games in 2008, many start to say "Oh, he's old and breaking down." Cindrich points out the center has missed just four weeks of practice in his 10-year career.
Peyton Manning's passer rating with (98.1) Saturday playing in 2008 and without (86.3).
A look at the four teams the Colts played without Saturday. Sure, Indy was 3-1 in those game, but they were against teams that went 27-36-1 (.430) in 2008.
The Colts were a bad running team with and without Saturday, but they averaged a full yard more with him -- 3.7 to 2.7.
By Cindrich's count, Saturday has allowed 0.7 sacks a season in his career.
Our friends at Football Outsiders should be proud to have been included in the packet, where Cindrich uses their numbers on offensive line pass protection and running between the guards.
There are a lot of centers out there, and it's hard to predict the market for Saturday. I'm sure the Colts are hoping it's less than what Saturday expects, and that such a scenrio increases their chances to keep him. If Saturday leaves, the Colts offense operating without a key cog and a Manning favorite will be a big storyline as the team heads into 2009.
February, 22, 2009
2/22/09
4:33
PM ET
Posted by ESPN.com's Paul Kuharsky

INDIANAPOLIS -- Bill Polian's podium talk on the final day of official media availability at the combine qualifies as a must-listen and always draws a crowd that fires a wide range of questions at him.
As usual, he offered a lot of great answers, but few of them did much to help us sort out his team's current issues: the status of free-agent-to-be center Jeff Saturday and veteran receiver Marvin Harrison, whose cost is salary-cap prohibitive.
Saturday's agent, Ralph Cindrich, announced this weekend that his client would test free agency. Polian said he understood where the representative was coming from, didn't want to comment on that announcement and said the team had made an offer that Saturday was still mulling over.
Cutting Harrison could save the team $7 million against the cap while leaving behind a $6.4 million hit in dead money.
"We're having discussions," Polian said, but the possibility this is the last capped year creates issues with Harrison and others, issues they are trying to work through.
Vague on both counts.
Another entry or two coming with more from Polian shortly. We thank you for your patience.
NFL SCOREBOARD
Thursday, 12/5
Sunday, 12/8
Monday, 12/9
WEEKLY LEADERS