July, 27, 2014
Jul 27
6:18
PM ET
WHITE SULPHUR SPRINGS, W.Va. -- A daily review of the hot topics coming out of
New Orleans Saints
training camp:
The Saints held their first padded practice -- which always has a bit of that Christmas-morning feel for the linemen. Not surprisingly, no one was more exuberant than linebacker Junior Galette, who made several big plays. The first came just two plays into the first 9-on-7 contact drill, when Galette blew up a run play then trash-talked fullback Erik Lorig by yelling, "Block me!" Right tackle Zach Strief then gave Galette a shove as they walked back to the line. But that was the only time any real feistiness broke out.
Sunday also marked the debut of my favorite individual drill in camp -- 1-on-1 pass-rush. The drill is designed to favor pass-rushers, so it's often a "win" for the blockers just to hold their man at bay. The guys who stood out most to me were Strief (for holding strong against Cameron Jordan), end Akiem Hicks (for his raw power), linebacker Keyunta Dawson (who beat tackle Bryce Harris twice) and end Glenn Foster. But obviously that's a small sample size. … The battles between Strief-Jordan, Jahri Evans-Hicks and Terron Armstead-Galette were all pretty even.
The "old" guys stood out Sunday in a number of the most competitive roster battles: I wrote earlier about how cornerback Champ Bailey made the play of the day. … Quarterback Luke McCown outshined Ryan Griffin. That battle is still wide open, but it was worth pointing out since Griffin has gotten more attention so far. … Kickers Shayne Graham and Derek Dimke both made all their field-goal attempts, but coach Sean Payton gave Graham a vote of confidence by saying he'll be "tough to beat out." … Payton also singled out an intecerption made by backup linebacker Ramon Humber in 7-on-7 drills as "exceptional." … And center Jonathan Goodwin got his first snaps with the first team ahead of Tim Lelito this camp. Then Lelito and McCown fumbled an exchange during team drills.
Payton was right. The Saints don't get bad weather. They had beautiful conditions for most of Sunday's practice, squeezing it in before a downpour started. Everyone got drenched, however, during post-practice interviews.
Receiver Robert Meachem missed practice after his back locked up Sunday morning, but he shouldn't be out long. Meachem tweeted that he went to the hospital to get checked out but hopes to be back on the field soon. Jairus Byrd, John Jenkins, Kenny Stills and Tavon Rooks remained sidelined. And guard Ben Grubbs sat out for part of practice, but he's been getting a lot of scheduled rest throughout the summer.
March, 20, 2014
Mar 20
4:35
PM ET
The
New Orleans Saints
restructured cornerback
Keenan Lewis
' contract to save some salary-cap space. And they are $3.09 million under the salary cap after all of their latest moves, according to the NFL Players Association.
Lewis did not take a pay cut. He simply converted some of his base salary in 2014 and 2015 into bonus money -- a common procedure in the NFL that allows teams to push the salary-cap costs back into future years.
Lewis
Lewis' base salaries dropped from $3.3 million to $1.1 million in 2014, and from $4.1 million to $1.8 million in 2015.
UPDATED: He received a $4.4 million signing bonus as part of the restructured deal, which essentially replaced the salary. He also added slightly to future roster bonuses. Here's the new year-by-year breakdown, according to ESPN Stats and Information:
Signing bonus: $4.4 million
2014: Base salary $1 million, workout bonus $50,000. Salary-cap cost $3.35 million.
2015: Base salary $1.8 million, roster bonuses $700,000, workout bonus $50,000. Salary-cap cost $4.85 million.
2016: Base salary $4.25 million, roster bonuses $700,000, workout bonus $50,000. Salary-cap cost $7.3 million.
2017: Base salary $4.75 million, roster bonuses $700,000, workout bonus $50,000. Salary-cap cost $7.8 million.
So far, Lewis is the only Saints veteran who has done one of these simple restructures this year. In recent years, the Saints have done them with a number of players to carve out cap space.
It's unclear whether the Saints plan more of them. They could easily push some salary-cap costs back in some of their bigger contracts with players like
Drew Brees
,
Jahri Evans
,
Ben Grubbs
or
Marques Colston
. But perhaps the Saints figure they have already pushed back enough of the cap costs on those deals and wanted to spread it around the roster a little more.
The Saints also have not touched the contract of defensive tackle
Brodrick Bunkley
, who is to make $4.5 million in salary and bonuses this season. That seems awfully high, considering Bunkley was used as a part-time player the past two seasons. It's possible the Saints are still considering asking for a pay cut later in the offseason (like they did with safety
Roman Harper
last year). Or perhaps they envision a bigger role for Bunkley this year after he finished strong last season.
Thomas
Thomas' pay cut:
Running back
Pierre Thomas
, meanwhile, did take a pay cut in 2014 when he signed his new three-year deal with the Saints this month. The details are now available after that three-year, $6.9 million contract was officially processed.
Thomas will now make $2.4 million in salary and bonuses this season instead of $2.9 million. But that $2.4 million is all guaranteed. The Saints saved $1.33 million off this year's salary cap with Thomas' new deal.
Here's the breakdown of Thomas' contract:
Signing bonus: $1.245 million
2014: Base salary $855,000, roster bonus $300,000. Salary-cap cost $1.57 million.
2015: Base salary $2.1 million, workout bonus $50,000. Salary-cap cost $2.565 million.
2016: Base salary $2.2 million, roster bonus $100,000, workout bonus $50,000. Salary-cap cost $2.765 million.
Humber, Morgan deals:
Also, the contract numbers are in on the Saints' new one-year deals with receiver
Joe Morgan
and linebacker
Ramon Humber
. Morgan's deal is for the minimum $495,000 with no bonuses. Humber's deal is worth $795,000, including a $65,000 signing bonus. However, he will only count $635,000 against the Saints' cap as part of the NFL rules regarding veteran salaries on minimum-level deals.
August, 16, 2013
8/16/13
11:18
PM ET
The early part of Friday night's
28-20 victory
by the
New Orleans Saints
over the
Oakland Raiders
made me flash back four years.

Back in a 2009 preseason game the Saints went out to Oakland and humiliated the Raiders. I ended up writing
a post
in which I said New Orleans looked like it was heading for the Super Bowl. When the Saints got to the Super Bowl some five months later, some New Orleans fans pointed back to that post and said I was clairvoyant.
The truth was I wrote that tongue in cheek. I was complimenting the Saints, but I also was pointing out that the Raiders looked terrible.
I'm doing the same things now (based mostly on the way the Saints dominated the first half, which is all that matters in a preseason game). But, hey, if the Saints do end up going to the Super Bowl again, you can say you heard it here first.
Some other observations on the Saints:
For those worried about the pass rush, relax a bit. The Saints produced five sacks in the first half. You can put some of the blame on the makeshift Oakland offensive line. But the Saints deserve some credit, too. The first-team defense looked very good.
Inside linebacker Curtis Lofton sat out with an unspecified injury. Ramon Humber took his place and came up with a tackle for a loss on a running play and a sack. With inside linebacker Jonathan Vilma also missing some time after knee surgery, Humber might have a chance at some playing time in the regular season.
One of the more intriguing competitions is for the Saints' third-receiver spot. Rookie Kenny Stills and second-year pro Nick Toon both played well. Toon, who isn't a prototypical deep threat, caught a 56-yard pass from Drew Brees early in the game. Stills, who does have the tools to be a deep threat, caught a 16-yard touchdown pass in the first quarter.
Running back Travaris Cadet didn't help his chances of landing a roster spot as he lost a fumble in the third quarter. Cadet had another third-quarter fumble, but the Saints were able to recover that one.
Quarterback Seneca Wallace, who is competing with Luke McCown for the backup job behind Brees, didn't have a good outing. The Saints turned the ball over three times while Wallace was in the game. McCown appears to have the inside track for the backup job.
March, 25, 2013
3/25/13
1:53
PM ET
The
New Orleans Saints
apparently view tight end
Benjamin Watson
as something more than just a backup.
The proof is in his pay.
Graham
Watson
In a twist of fate, Watson will make more than $700,000 more than what starter
Jimmy Graham
does in total cash this year. According to numbers obtained by ESPN.com, Watson will earn $2.15 million this season, while Graham will make $1.323 million in 2013.
Anyone else out there thinking about a possible holdout by Graham if he doesn't get an extension (and a big raise) of a rookie contract he clearly has outplayed?
For the record, Watson's three-year deal is worth $4.95 million. He got a $1.2 million signing bonus and a $950,000 first-year base salary. Watson's 2014 salary jumps to $1 million and he has a $250,000 roster bonus and a $50,000 workout bonus.
In 2015, Watson's salary will be $1.2 million and he also will have a $250,000 roster bonus and a $50,000 workout bonus.
I've also obtained the numbers on some other contracts recently signed by New Orleans players. Receiver/special teams player
Courtney Roby
got a one-year deal worth $905,000. But the Saints designated Roby as a veteran minimum benefit player, meaning his cap figure for this year is just $555,000.
The Saints did a similar maneuver with linebacker
Ramon Humber
. His one-year deal is worth $740,000. But the veteran minimum benefit puts his cap number at $550,000.
According to my calculations, the Saints are roughly $3.3 million under the cap.
February, 11, 2013
2/11/13
1:17
PM ET
Time to continue our look at the NFC South's potential free agents with the
New Orleans Saints
.

Their list includes left tackle
Jermon Bushrod
, linebacker
Jonathan Casillas
, backup quarterback
Chase Daniel
, defensive tackle
Sedrick Ellis
, receiver
Devery Henderson
, linebacker
Ramon Humber
, cornerback
Elbert Mack
, defensive end
Turk McBride
, tackle
Will Robinson
, receiver
Courtney Roby
and linebacker
Scott Shanle
. Center
Brian De La Puente
, center
Justin Drescher
, defensive end
Junior Galette
and running back
Chris Ivory
can be restricted free agents. Safety
Rafael Bush
, guard
Eric Olsen
and tight end
Michael Higgins
can be exclusive-rights free agents.
The big names are Bushrod, who has made himself into a Pro Bowler, and Ellis, a former first-round pick. Although the Saints have major salary-cap issues, they are likely to at least make an attempt to keep Bushrod. But it's important to remember the Saints aren't like most other teams when it comes to their philosophy on paying offensive linemen. They have a history of paying more to guards (see
Jahri Evans
and
Ben Grubbs
) than they do to tackles and Bushrod could get big money on the open market.
Ellis never has lived up to his draft status and, with the Saints switching to a 3-4 defense, I'm not sure he's a good fit for the scheme.
Henderson and Shanle used to be key players. But age started to catch up to them last season and I don't see the Saints making a big push to keep them.
March, 13, 2012
3/13/12
10:36
PM ET
We've touched on the major news already that the
Tampa Bay Buccaneers
have agreed to terms with wide receiver
Vincent Jackson
and have New Orleans guard
Carl Nicks
coming in for a visit.
But let's catch up on some smaller news from around the division.
January, 13, 2012
1/13/12
5:28
PM ET
The final injury report for the Saints for Saturday's playoff game with San Francisco is out, and the news is mixed.

Receiver
Lance Moore
(hamstring) will miss his second straight playoff game. The Saints can get by with
Marques Colston
,
Devery Henderson
and
Robert Meachem
as their first three receivers. But Moore's absence means the Saints likely will keep
Adrian Arrington
active. Arrington played some last week, but he doesn't have nearly as much experience as Moore.
Backup tight end
John Gilmore
(toe) also has been declared out for Saturday. Linebacker
Jonathan Casillas
(knee) is listed as questionable and practiced on a limited basis Friday. If Casillas can't play, we likely will see more of
Martez Wilson
and
Ramon Humber
.
On the positive side, middle linebacker
Jonathan Vilma
(knee), strong safety
Roman Harper
(ankle) and Meachem all are listed as probable.
January, 6, 2012
1/06/12
5:13
PM ET
The
New Orleans Saints
have declared wide receiver
Lance Moore
(hamstring) out for Saturday's playoff game with Detroit.

New Orleans still has plenty of healthy receivers with
Marques Colston
,
Robert Meachem
and
Devery Henderson
. But the Saints use all sorts of different personnel groupings and
Adrian Arrington
could pick up some of Moore's playing time. Arrington has very limited playing experience.
The Saints also declared linebacker
Jonathan Casillas
(knee) and tight end
John Gilmore
(toe) out for Saturday.
Martez Wilson
and
Ramon Humber
could get more playing time with Casillas out.
The Saints are listing Meachem (knee), linebacker
Jonathan Vilma
(knee), safety
Malcolm Jenkins
(neck) and safety
Jonathon Amaya
(shoulder) as probable.
The only Detroit player who is listed as anything other than probable is safety
Chris Harris
, who is doubtful with a back injury.
January, 5, 2012
1/05/12
4:12
PM ET
It looks like there's a growing chance the
New Orleans Saints
might have to play their wild-card playoff game against Detroit without wide receiver
Lance Moore
.
He missed his second straight day of practice with a hamstring injury. Moore missed the regular-season finale. The Saints have good depth at wide receiver as
Marques Colston
,
Robert Meachem
and
Devery Henderson
are all capable of handling lots of playing time. But the Saints like to work with different personnel groupings and that could mean an increased role for
Adrian Arrington
, who does not have a lot of experience.
Linebacker
Jonathan Casillas
also missed another practice with a knee injury, making it likely he will not be able to play against Detroit. That could mean more playing time for
Ramon Humber
and
Martez Wilson
.
Reserve tight end
John Gilmore
(toe) also missed Thursday's practice. Middle linebacker
Jonathan Vilma
participated on a limited basis for the second straight day.
December, 24, 2011
12/24/11
2:36
PM ET
The
Atlanta Falcons
and
New Orleans Saints
just filed their final injury reports for their "Monday Night Football'' game.
New Orleans running back
Mark Ingram
(toe) is doubtful. Don't expect to see him Monday. The Saints also have
Pierre Thomas
,
Darren Sproles
and
Chris Ivory
at running back. They're better off resting Ingram and making sure he's fully healthy for the playoffs. Linebackers
Jonathan Casillas
(knee) and
Ramon Humber
(knee) also are listed as doubtful. Receiver
Lance Moore
is questionable with a hamstring injury and was held out of Saturday's practice.
The Falcons are listing cornerback
Kelvin Hayden
(toe), receiver
Kerry Meier
(groin) and linebacker
Stephen Nicholas
(toe) as doubtful. Cornerback
Brent Grimes
is questionable as he attempts to come back from knee surgery. But the Falcons seem optimistic Grimes will play. If Grimes plays and Hayden doesn't, look for
Dominique Franks
to be used as the third cornerback. If Nicholas doesn't play, veteran
Mike Peterson
likely will start in his place.
December, 12, 2010
12/12/10
3:12
PM ET
NEW ORLEANS -- Couple of interesting names on the list of inactives for the Saints. Before we get to that, though, running back
Pierre Thomas
is active for the first time since suffering an ankle injury in September.
The biggest surprise among the inactives is rookie cornerback
Patrick Robinson
. The Saints' first-round draft pick, Robinson has spent most of the season as a backup, but did get some starts when
Jabari Greer
and
Tracy Porter
were hurt early in the year. Robinson hasn't been much of a factor recently. Safety
Usama Young
also is a bit of a surprise on the inactive list. Young usually plays on special teams and he wasn't on the injury report this week.
The other inactives for the Saints are: running back
Julius Jones
, linebacker
Ramon Humber
, offensive tackle
Charles Brown
, tight end
Tory Humphrey
, defensive end
Junior Galette
and linebacker
Kawika Mitchell
.
August, 20, 2010
8/20/10
8:04
AM ET
Sometimes geography and TV schedules make seeing a preseason game impossible. In New Orleans, I was unable to see the Indianapolis-Buffalo game. But from highlights, write-ups and statistical review, here are some bullet-point thoughts on the Colts'
34-21 loss
to Buffalo on Thursday night in Toronto.


Impressive:
Disappointing:
Dwight Freeney and Antoine Bethea were among the players who slipped off of C.J. Spiller during the rookie's 31-yard touchdown run.
The Colts stutter-started with early penalties against Ramon Humber and Tony Ugoh and a Manning tipped-ball interception that was returned for a touchdown.
Just one sack, from Eric Foster.
Three lost fumbles, including one from Ray Fisher who's trying to win a return job.
Not that they care, but ... this was Indy's 21st loss in its last 25 preseason games.
AFC East wizard Tim Graham was there to look at things from a Buffalo perspective. Here are
his notes
and
his column
on Spiller.
February, 10, 2010
2/10/10
10:23
AM ET
After re-watching most of Super Bowl XLIV, I was left wondering whether the goats and gaffes beyond
Peyton Manning
's late interception got off a bit easy. So let's revisit a couple:
[+] Enlarge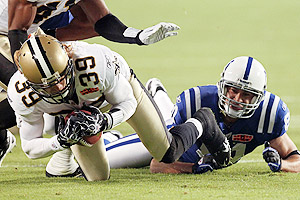 Ronald Martinez/Getty ImagesHank Baskett, right, was unable to come up with the onside kick that started the second half.
Hank Baskett mangled the onside kick.
He was wide to the side that
Thomas Morstead
sent the surprise second half kickoff to and took a giant step and a half back before realizing what was going on.
Cody Glenn
, who was beside him, and
Ramon Humber
, who was central, also reacted poorly. But Baskett's the hands guy of that trio. He recovered and got a clean look at the kick before any Saints player arrived, sprawling forward and letting the ball bounce off his face mask. A horrific effort.
Another special-teams error came from Chad Simpson.
The guy is not an explosive returner. If he's not positive he's getting to the 20 or beyond, he better take a touchback. So what is he doing at the end of the third quarter bringing out a kickoff from 4 yards deep when the best he could manage was the 11-yard line?
Reggie Wayne's effort on two big passes seemed questionable.
He and Manning can praise
Tracy Porter
endlessly, but Wayne seemed to give up on the route. He allowed Porter to gain position on a pattern analysts say he's got to be sure continues and crosses the corner who's in coverage. The move he made before he made his break didn't look like much and the cut wasn't very sharp. TV only showed it for a quick second, but Manning went to Wayne before walking off the field, head down, and said something to Wayne who kind of shook his head no and shrugged.
The Colts would have had to retrieve an onside kick and scored another touchdown, but Wayne also botched a TD catch near the end of the game. I asked him what happened there and he said he wasn't in the end zone and was trying to ensure he had proper depth as he made the catch to make sure it was a score.
Maybe he was slow playing it, but Wayne seemed almost disinterested in his crossing route from wide to the left to between the hashes, and as the ball went through his hands, I didn't think he was worrying about his depth, I thought he was worrying about
Scott Shanle
preparing to pop him.
Two other things of interest at this point in the game: On the first timeout, Manning signaled for it, then tried to change his mind. I was surprised by his indecision. And the third-down run call at 1:10 is just silly. The Colts couldn't afford the 21 seconds they lost when
Joseph Addai
was stuffed.

NFL SCOREBOARD
Thursday, 9/18
Sunday, 9/21
Monday, 9/22