NFL Nation:

Randy Bullock
December, 12, 2013
12/12/13
12:00
PM ET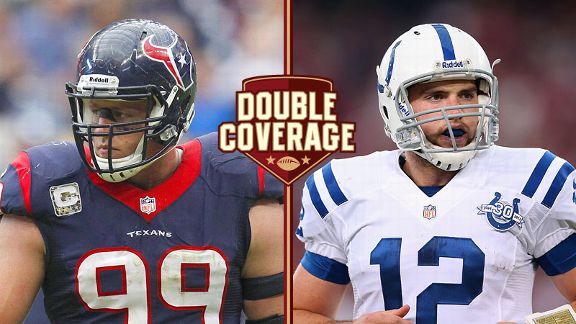 Getty ImagesJ.J. Watt's Texans aren't playoff-bound like Andrew Luck's Colts, but Sunday's hosts haven't had it easy.
INDIANAPOLIS -- This was supposed to be a game that had AFC South division title implications between a Super Bowl contender and a playoff team, one that could have even been flexed on the schedule.
At least that's the way it was envisioned when the season started.
Instead, it'll be a battle of two teams dealing with a number of issues when the
Indianapolis Colts
take on the
Houston Texans
at Lucas Oil Stadium.
The Colts haven't beaten a team with a winning record since Oct. 20 and haven't had consistency on offense, defense or special teams in weeks. The Texans ... well, they've been a disaster this season. They are on an 11-game losing streak, benched their starting quarterback and fired their head coach.
ESPN.com's Colts reporter Mike Wells and Texans reporter Tania Ganguli weigh in on the two struggling teams.
Wells:
Tania, obviously the big news -- really the only news -- to come out of Houston in the past week was the firing of coach Gary Kubiak. Wade Phillips takes over as the interim coach. Teams tend to rally around interim coaches or just shut them out. What do you think the Texans will do with Phillips?
Ganguli
: I don't think they'll shut him out, but wanting to succeed for the coach was never a problem in Houston. They wanted to win the last Colts game for their head coach, who left at halftime in an ambulance. They wanted to win the following week in Arizona for their coach, who watched from home as he recovered from his transient ischemic attack. It's not a matter of wanting the win -- the process has gotten lost. Two weeks ago, the Texans made so much progress in fixing their issues and then last week they went to Jacksonville and completely lost their discipline, committing a franchise-record 14 penalties for 177 yards.
The Colts are now back on top of the AFC South. What was the mood like for the team upon clinching the division and a playoff spot?
Wells:
It was a bittersweet feeling for them because they needed help from their good buddy
Peyton Manning
in Denver to win their first division title in three years. The Colts wanted to go into Cincinnati and win it by themselves so that they would be able to avoid getting it in the side or backdoor. That obviously didn't happen. But a division title is a division title no matter how you get it. That's how the Colts should look at it, especially since they were 2-14 just two years ago and many people thought the Texans wouldn't have a problem winning the division for the third straight season.
I'll be the first to say I picked the Texans to win the division this season. I'm sure there are probably a lot of reasons why they've been a major bust. But does one reason stand out more than others?
Ganguli:
If I had to choose one, I would say the quarterback situation has been the biggest reason. It was completely out of the blue. A lot of people disagree with me on this, but I don't think
Matt Schaub
played poorly most of the time, it's just that pick-6's are such dramatic momentum swingers. Really, though, it's been a combination of a lot of things. If you look at their stats, you'd expect the team to have a much better record. After Schaub, they went through
Case Keenum
's learning process, which is ongoing. Kicker
Randy Bullock
had a rough start, which impacted the team's record. He has improved lately, but by then the Texans developed other problems, like the loss of four important players to injury: inside linebacker
Brian Cushing
, safety
Danieal Manning
, running back
Arian Foster
and tight end
Owen Daniels
. Daniels has a chance of returning this week. And of course, I mentioned the meltdown of discipline that led to what happened last Thursday in Jacksonville. That was a problem early in the season, but unusual for the Texans lately. They had four penalties in the previous two games combined.
I expected the Colts to be better than they are, too. Do you think this team has taken a step forward or backward from last season?
Wells:
I thought the Colts had more talent this season but they wouldn't be able to duplicate their 11-5 record from last year. I was right about their record but wrong about their talent. Season-ending injuries forced the Colts to take a step back in the talent department. They're known for using the phrase "Next Man Up" when dealing with injuries. There really isn't a Next Man Up when it comes to replacing future Hall of Fame receiver
Reggie Wayne
, guard
Donald Thomas
and tight end
Dwayne Allen
. The Colts thought acquiring running back
Trent Richardson
would soften the blow of losing
Ahmad Bradshaw
and
Vick Ballard
. That hasn't been the case. Richardson's struggles since coming to Indianapolis have been well documented. So injuries and players not living up to expectations are the main reasons why the Colts have taken a step back
We talked about the benching of Schaub prior to the first meeting between the two teams in early November. Receiver
Andre Johnson
made Keenum look pretty good in the first half of that game. Has Keenum shown enough to prove he's worthy of being the team's quarterback for years to come?
Ganguli:
He's had good moments and bad ones. I think the bad moments are fixable, but whether he'll be able to fix them remains to be seen. The end of this season is an audition for him just as much as it is for Phillips. He has to show he's learning how to read defenses and make better decisions. There are times when Keenum hangs on to the ball too long because his internal clock isn't quite where it needs to be yet. He is learning that sometimes it's better to take the checkdown. He's learning that turning his back on the field when a rush comes at him reduces his options. If he stops growing where he is now, he'll have a career as a serviceable backup. If he continues to improve, he has the chance to be a starter.
To wrap up, let's talk about the quarterback up there, which I know we have before. How would you assess the season
Andrew Luck
has had?
Wells:
Two words: A struggle. But it's not Luck's fault. The offensive line has been inconsistent all season. The running game has been more poor than good. The biggest reason behind it, though, is because of the loss of Wayne. Wayne was Luck's security blanket and nobody has stepped up to help him out. Luck is good, but you can't forget that he's only in his second season and is still learning. Rookie
Da'Rick Rogers
had a breakout game against Cincinnati (107 yards) last weekend and believes he can be Luck's third-down go-to guy.
December, 5, 2013
12/05/13
11:54
PM ET
JACKSONVILLE, Fla. -- A few thoughts on the
Jacksonville Jaguars
'
27-20 victory
over the
Houston Texans
.

What it means:
The Jaguars have their first three-game winning streak since the 2010 season and their first victory at home in more than a year (Nov. 25, 2012). The Jaguars had lost six consecutive games at EverBank Field. They're also 4-1 since their bye and somehow still alive in the playoff race.
Stock watch:
The Jaguars had no answer for quarterback
Matt Schaub
, who came in for
Case Keenum
in Thursday's third quarter and led the Texans to 10 points. The Jaguars couldn't mount much of a pass rush -- they sacked him only once until the game's final play, and he had plenty of time to pick out receivers -- and Schaub was able to exploit what has been the Jaguars' weakness all season: the middle of the field. He feasted, too, completing 17 of 29 passes for 198 yards and one touchdown. He made one mistake, a pass that linebacker
Geno Hayes
intercepted to set up the game-clinching field goal. The secondary has been an issue all season but particularly in the four games before Thursday night, giving up an average of 291 yards per game passing in those contests.
Offensive coordinator Jedd Fisch continues to show his creativity. One week after having
Maurice Jones-Drew
throw a pass to
Marcedes Lewis
for a touchdown, he called a play in which receiver
Ace Sanders
threw a touchdown pass to running back
Jordan Todman
. The creativity makes up for a lack of experienced receivers and an offensive line that struggles with consistency. Of course, it helps that the plays are working.
RB injuries:
The Jaguars lost Jones-Drew late in the third quarter to a hamstring injury, and Todman suffered a minor injury late in the fourth quarter, which really hurt their chance to run the clock. Jones-Drew had surpassed 100 yards for the first time this season and it was the closest he has looked to the player who led the league in rushing in 2011. The Jaguars had to go to third-stringer
Denard Robinson
, who carried twice for minus-1 yard, to try to kill clock on their next-to-last drive. Todman did return on the final drive, which began after Hayes' interception.
Costly penalty:
The Jaguars played a pretty clean game, but they did commit one costly penalty that directly led to three points in the fourth quarter. Texans kicker
Randy Bullock
missed a 51-yard field-goal attempt, but the Jaguars were penalized for having 12 men on the field. The Texans decided to go for it on fourth-and-5, converted the first down, and Bullock went on to kick a 31-yard field goal that cut the Jaguars' lead to 24-20 with 11 minutes, 31 seconds to play.
What's next:
The Jaguars host Buffalo on Dec. 15 in their next-to-last home game of the season.
November, 22, 2013
11/22/13
10:00
AM ET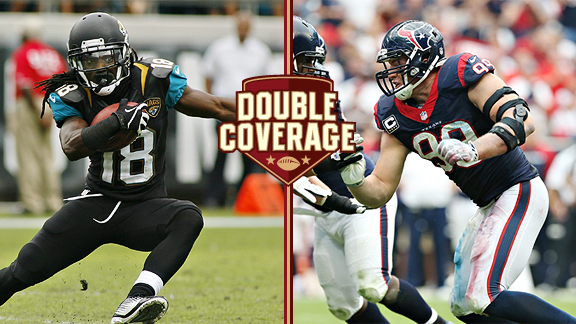 USA TODAY SportsAce Sanders and the Jaguars' receivers must pick up their play against J.J. Watt and the Texans.
HOUSTON -- Oddly enough, it's the team with the worse record that enters this game with the better vibes.
The
Jacksonville Jaguars
finally won a game two weeks ago, whereas the
Houston Texans
are trudging through what's now an eight-game losing streak, the longest in franchise history.
For Houston, it's been a matter of finishing. The Texans have led at halftime in each of their past three games. They regularly gain more yards than their opponents. They just can't finish with wins, having lost by one, three, three and five points in their past four games.
ESPN.com Jaguars reporter Michael DiRocco and Texans reporter Tania Ganguli discuss.
Ganguli:
So, Mike, do you think the Jaguars have shown signs of improvement lately?
DiRocco:
In certain areas, yes. They've been much better against the run since the bye week, holding the
Titans
to 83 yards and the
Cardinals
to just 14. Their special teams have improved, too, especially the kickoff-return unit. Since bobbling several kicks against the
San Francisco 49ers
,
Jordan Todman
is averaging 34.7 yards on his past seven returns. Outside of those two areas, though, improvement is hard to find. The running game is still struggling. Since rushing for 90 yards against San Francisco, the Jaguars have totaled 86 in the past two games. The passing game really misses
Justin Blackmon
, too, because teams are concentrating on stopping receiver
Cecil Shorts
, and the rest of the receivers just aren't good enough right now to carry the offense. The pass rush managed three sacks against Arizona but overall has been ineffective. Couple that with a secondary that includes three rookies and you can see why they're struggling against the pass, too.
Speaking of struggling, what has been the biggest reason for the Texans' surprising stumble this season? Is it quarterback play? Injuries?
Ganguli:
Special teams, turnover margin, quarterback play, injuries and red zone efficiency on both sides of the ball are all to blame. The Texans' kicker,
Randy Bullock
has really struggled. He made a 51-yarder on Sunday -- his first field goal from 50 yards or longer this season. Overall, he's made only 65.4 percent of his field goal attempts. The Texans currently have their starting tight end, running back, strong safety and middle linebacker on injured reserve. They might get tight end
Owen Daniels
back in a couple of weeks, but not having him has been bad. The Texans' offense and special teams have turned the ball over at a high rate -- and that's not just on former starting quarterback
Matt Schaub
, though Schaub has been a big factor. Pick-sixes aside, Schaub wasn't actually playing too poorly before he got benched for
Case Keenum
. He had one game that was top-to-bottom bad: the Texans' loss in San Francisco. But a pick-six is such a big play that his really hurt the Texans. That's not something anyone predicted heading into the season. Well, maybe someone did. Certainly not me.
Speaking of quarterbacks, what did it take for the Jaguars to finally give up on
Blaine Gabbert
?
DiRocco:
Gus Bradley says the team hasn't given up on Gabbert, but it's pretty obvious it has by the fact that
Chad Henne
is starting even though Gabbert has recovered from a hamstring injury and has been healthy for weeks. It was typical Gabbert when he did play earlier in the season: some really good throws, some terrible throws and a few "what the heck was he thinking?" throws. He just hasn't been consistent enough, and he's had three seasons. The other issue is that he can't seem to stay healthy. This season alone he had a sprained ankle early in training camp, fractured his thumb in the preseason, missed two games because of a cut on his hand and left the Week 5 game with a hamstring injury and hasn't played since. He also missed the final six games of the 2012 season with a forearm injury.
Tania, what is Schaub's future in Houston? If he's out, are Keenum or
T.J. Yates
viable long-term solutions or will the Texans go after a quarterback in the draft?
Ganguli:
Schaub's future in Houston is murky at best. He knows that. His teammates know that. As I said earlier, people did not see this coming. The Texans' handling of Yates indicates they don't think he's the future. I don't think it'd be smart to go into next season with only Keenum as a starting option given the unknowns that remain about him. So far, he hasn't been able to react well to defensive adjustments against him. It's entirely possible he gets better at that, but I just don't think you know for sure yet. I could absolutely see the Texans drafting a quarterback. It'll be a pretty deep class, though there doesn't seem to be a knockout like
Andrew Luck
.
Let's finish up with defense. The lack of a pass rush has been a problem in Jacksonville for so long. Why has it been ineffective?
DiRocco:
The bottom line is the players aren't anything but average. It dates back to 2008, when the team drafted
Derrick Harvey
in the first round and
Quentin Groves
in the second to improve the pass rush. They were both busts, and the Jaguars have been chasing those picks ever since. They signed
Aaron Kampman
to a free-agent contract in 2010, but he arrived coming off a torn ACL, and he went on to suffer another tear, among more injuries. The Jaguars claimed
Jason Babin
off waivers from Philadelphia in 2012, and he has 4.5 sacks in 15 games with them.
Andre Branch
, last season's second-round pick, has just three sacks in 23 career games. Upgrading the pass rush will be one of the team's biggest tasks in free agency and the draft this offseason.
This obviously isn't the kind of season the Texans expected. How has the locker room been? Do you get the sense of any problems, and is it a case which another few losses (especially one to the Jaguars) could make things get nasty?
Ganguli:
The locker room is frustrated, but right now, the Texans are closing ranks and taking an us-against-the-world mentality. We saw a bit of frustration within the team when Schaub yelled at
Andre Johnson
on the sideline for stopping his route near the end of the Texans' loss to the
Raiders
. Johnson yelled back and then walked off the field before the official end of the game. The team didn't need him anymore at that point because Oakland was simply kneeling to the finish, but it was a surprising move from a guy who doesn't normally show his frustration like that. Still, Johnson and Schaub both downplayed the argument, saying they were fine with each other. I thought Johnson's comments on Wednesday supported that. He talked about how "you hate to see" what Schaub has gone through this season, especially given their long history together. This is a pretty good locker room. I think if they were going to turn on each other, they would have had plenty of reasons to do so already.
November, 3, 2013
11/03/13
11:45
PM ET
HOUSTON -- A few thoughts on the Houston Texan's
27-24 loss
to the
Indianapolis Colts
.

What it means:
The Colts maintain their commanding lead in the AFC South. Kicker
Randy Bullock
missed three field goals, including the potential game-tying field goal, a 55-yarder.
Stock watch:
Andre Johnson
remembers well that so many people thought he was washed up last season before he had one of his best statistical years. He talked this week about how he didn't know why he wasn't a guy who caught more touchdown passes. Johnson became Keenum's favorite target early against the Colts. He caught 190 yards and three touchdowns in the first half. It was Johnson's first three-touchdown game of his long and illustrious NFL career. Keenum's ascent could be a major boon for the vet.
Phillips in for Kubiak:
Halftime took a somber tone when Texans coach Gary Kubiak collapsed to his knees on the field. His face showed signs of being in pain. He left the stadium in an ambulance having never lost consciousness and was at the hospital with his family. Defensive coordinator Wade Phillips took over Kubiak's role for the rest of the game.
Foster hurt again:
It was heralded as great news (by me) that
Arian Foster
was active against the Indianapolis Colts. And it was. Great news for the Texans offense. Well, it would have been if Foster stayed on the field. The running back suffered another back injury and only played in the Texans' first series. That series included zero runs. Foster left the game for good and left the Texans with one undrafted rookie and one backup running back who was toughing through broken ribs for a second straight game.
What's next:
The Texans travel to Arizona to play the
Arizona Cardinals
.
September, 15, 2013
9/15/13
5:03
PM ET
HOUSTON --
A few thoughts on the Houston Texans' 30-24 overtime win over the Tennessee Titans:

What it means:
On the day the Texans unveiled their 2012 division-championship banner, they took a step in their quest for a three-peat. It's a title they absolutely should keep this season, but the Titans will be pesky foes. A lot could change between now and the next meeting between these teams, in the regular-season finale.
Stock watch:
Texans kicker
Randy Bullock
is having a rough start to his NFL career. He went 0-for-3 in regulation Sunday, and after missing what could have been the game-winning field goal in regulation he fell to 1-for-5 this season. (His one make was the game winner in San Diego.) This was an area the Texans hoped to upgrade this season, but so far that hasn't been the case.
Facing deficits:
Down one, Texans quarterback
Matt Schaub
threw an easy pick-six to Titans cornerback
Alterraun Verner
with about five minutes left in the game. I'd argue that an eight-point deficit that late in the game is more daunting than a 21-point deficit early in the third quarter. Schaub got them out of one situation last week and into the other one this week, in part because he was constantly under duress.
Hopkins breaks out:
A huge fourth-quarter drive saw Schaub go to his new toy,
DeAndre Hopkins
, regularly. The rookie delivered. But it was veteran
Andre Johnson
's catch that set up the Texans' game-tying touchdown. Johnson grabbed the pass, kept his feet inbounds, even as
Bernard Pollard
doled out a helmet-to-helmet hit, and hung onto the ball all the way to the ground. The catch took its toll, though. Johnson lingered on his back for a while and went to the locker room after jogging off the field. Later, the Texans got another big gain from second-year receiver
Keshawn Martin
, who broke a tackle and ran for a 32-yard gain that set up what could have been Bullock's game-winning field goal. Hopkins eventually played the hero, making an incredible 25-yard catch in overtime and following it a few plays later with another incredible catch -- this one for the winning touchdown.
What's next:
The Texans head on the road to face Super Bowl champion Baltimore. The Ravens look a bit different than the last time the teams met. Houston won that matchup in a blowout. Safety
Ed Reed
won't start that game as Texans coach Gary Kubiak has said he won't start the first time he plays for the Texans. But will he play?
September, 10, 2013
9/10/13
3:40
AM ET
Observed in the locker room after the Texans beat the Chargers 31-28:
Lechler
New feeling for a vet
: Off in an auxiliary locker room for visitors that included specialists and some undrafted rookies, punter
Shane Lechler
mused about what a cool feeling this was for him. "I was thinking after we won, how long it's been since I've been 1-0," the former Raider said. "It's been a while. That was fun. Just to see the fight and the grit and grind of this team and witness it firsthand. To witness it firsthand was quite an experience."
Succinct description by Tate:
"We played like crap," backup running back
Ben Tate
said. "It's the NFL. You can't play like crap." Tate refused to offer an explanation for their play. "That's all excuses, we just played bad." What changed? "We played good the second half. That's what good teams do."
What to do with the game ball
: Texans coach Gary Kubiak said he gave the game ball to kicker
Randy Bullock
, who made the game-winning field goal. Bullock said he wasn't quite sure how to pack it, or if it would fit in his bag.
Patient rookie
: Rookie receiver
DeAndre Hopkins
waited for a crowd of reporters who blocked his locker. Hopkins used his phone to take a picture of
Andre Johnson
, beside him, who was the focus of the media crowd.
September, 10, 2013
9/10/13
1:53
AM ET
SAN DIEGO -- Some thoughts from the
Houston Texans
'
31-28 comeback victory
Monday night over the
San Diego Chargers
:

What it means:
The Texans showed a Monday night audience (at least those who stayed awake that late) their flaws and strengths all on one night. A disastrous first half during which Houston struggled to get pressure preceded a transcendent second half (with the exception of the Chargers' opening drive of the third quarter), which featured late-arriving but crucial contributions from defensive end
J.J. Watt
and inside linebacker
Brian Cushing
.
Stock Watch:
The Texans' turnaround was largely thanks to quarterback
Matt Schaub
. He completed 11 of 12 passes for 129 yards in the third quarter and was exceptional on rollouts. Houston's first three touchdowns were passes to its tight ends.
Big-time backup:
This shouldn't have been a surprise given the way he played in the preseason, but backup running back
Ben Tate
featured prominently throughout Monday's game. He looked crisper than starter
Arian Foster
, who missed all of the preseason and saw his carries limited as a result. Tate averaged 6.1 yards on nine carries, while Foster averaged 3.2 on 18.
Here's the kicker:
Randy Bullock
played in his first regular-season NFL game with mixed results. But at the end, the second-year kicker got to be a hero. His 41-yarder to win the game sent a large, red-clad contingent into a frenzy and sealed the Texans' first victory of the season as time expired. Bullock missed a 51-yarder early in the game, but that isn't what he'll remember.
What's next:
The
Tennessee Titans
aren't scared, and they're waiting. They'll be in Houston on Sunday after a short week for the Texans.
August, 25, 2013
8/25/13
9:20
PM ET
HOUSTON -- Sunday afternoon was the first view most people had of the
Houston Texans
' shiny new punter
Shane Lechler
.
Until Sunday, Lechler was sidelined as he recovered from a hamstring injury in his plant leg. He knew there would be a lot of eyes on him, wondering how he'd fare in his first game in Houston, the first of his career not as an Oakland Raider. And so, something happened to the 14-year veteran that hasn't happened to him in a while:

He got nervous for a preseason game.
"I got out there and went through the basics mentally," Lechler said. "You're like, make sure you catch the snap. There's a lot of people looking at you (to) see how you handle your first ball. That ball actually carried a little farther than I wanted it to. Luckily it checked up perfectly. I was nervous and anxious and excited at the same time."
Lechler punted twice, netting 52 yards per punt. One of those was downed at the 2-yard line, giving the Texans field position that led to their first touchdown. The
New Orleans Saints
never got past their own 6-yard line and went three-and-out on their next drive.
What started to become very clear in the Texans' third preseason game was that their specialists have really improved.
Second-year kicker
Randy Bullock
, who spent last season on injured reserve, notched touchbacks on all three of his first-half kickoffs. He also made field goals of 21 and 55 yards. It impressed Lechler, who spent most of his career with one of the best kickers of all time in
Sebastian Janikowski
.
"I think when you talk about Janikowski, that's probably one of the best that's ever done it, in my opinion," Lechler said. "I think at Randy's stage of his career he's probably a little bit more accurate than Janikowski was as a rookie."
Other observations from the Texans' third preseason game:
August, 6, 2012
8/06/12
1:43
PM ET
The Texans' first unofficial depth chart, released in advance of their preseason opener at Carolina on Saturday, contains no huge surprises.

Teams generally defer, at this stage, to the veteran over the rookie -- if not in the rotation or play time, at least on paper.
Here are a few items of note:

NFL SCOREBOARD
Thursday, 9/4
Sunday, 9/7
Monday, 9/8