October, 14, 2012
10/14/12
10:00
AM ET
The Browns are looking to avoid setting a new team low in futility Sunday.

After dropping 11 consecutive games, the Browns need one more defeat for the longest losing streak in team history. This is a franchise that began playing in 1946. Cleveland, which hasn't won since Nov. 20, 2011, could set the mark in the final game with Randy Lerner as owner. On Tuesday, the NFL has scheduled a vote to approve the sale of the Browns from Lerner to Jimmy Haslam III.
In this instance, the Browns are hoping that history repeats itself. The only other time that the Browns lost 11 games in a row was 1974-75. That streak ended with a victory over the
Cincinnati Bengals
at home. Who do the Browns play Sunday? It just so happens to be the Bengals at Cleveland Browns Stadium.
Cleveland is now 68-145 (.319) since re-joining the NFL as a franchise in 1999. The Browns (0-5) are the NFL's only winless team this season.
July, 27, 2012
7/27/12
6:50
PM ET
Team president Mike Holmgren confirmed owner Randy Lerner is selling controlling interest of the
Cleveland Browns
to businessman Jimmy Haslam. He confirmed that the Browns aren't moving.
What he couldn't confirm was his future with the team. "That will be answered probably down the road," Holmgren said, "and you control the things you can control and do the best you can. I think we've done a lot of great things here in getting to this point, but we will see."
By the sounds of this comment, Holmgren either knows now that he's out or has been given no guarantee that he's staying from the new owner (which could be a sign that he's out, too). Holmgren told Cleveland reporters that he has yet to speak to Haslam.
Holmgren's two-plus years with the Browns have been disappointing, but cleaning house again would be even more disappointing. It's understandable that a new regime would want its own people in place. The huge amount of money being spent on this transaction certainly gives Haslam the right to do so. Still, one of the reasons for the Browns' perpetual losing has been a lack of continuity. There has never been a long-term vision for the franchise.
If Holmgren is removed as president, this could be his last job in the NFL. He's 64 years old, and teams often want a five-year commitment when hiring.
Asked if he plans on fulfilling his five-year contract with the Browns, Holmgren said, "To me, a contract is a contract. I have said that before and I try to be honest with you about that. We'll deal with those things as we go down the road. Right now I am the president of the team and that's how I am operating."
Note
: The blog has been down for an extended period, so I was unable to post for a few hours. Sorry for the inconvenience.
July, 27, 2012
7/27/12
12:45
PM ET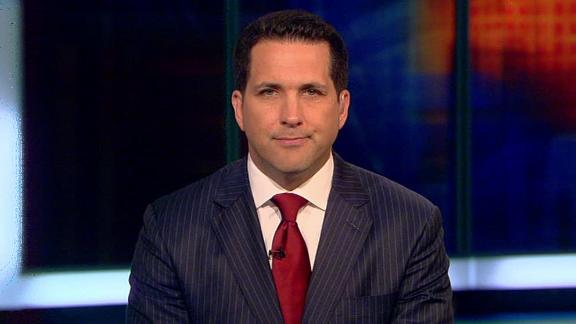 It's no surprise that
Cleveland Browns
owner Randy Lerner is in talks
to sell all or a portion
of the team.
There has always been chatter that his heart wasn't into owning the team. It was his father, Al Lerner, who bought the team. Randy Lerner inherited it when his father died, along with the responsibility of trying to get the Browns out of the AFC North cellar.
The unexpected part of Friday's news is the potential buyer/investor. Lerner confirmed in a statement that he is negotiations with Tennessee businessman Jimmy Haslam, a minority owner of the
Pittsburgh Steelers
since 2008. Yes, the Browns' despised division rival. If that upsets Browns fans, then they shouldn't read Haslam's investor profile on the
Steelers' website
where he proclaims: "I am 1,000 percent a Steelers fan!"
I totally understand the backlash this has caused from fans in Cleveland. It was only 16 years ago when your team was ripped away and moved to Baltimore. Now, it looks like a man waving the Terrible Towel is coming to take over the team.
This is probably futile, but let me try to calm your fears on this matter. First, Lerner didn't specify whether he'd be willing to sell the team outright or just a portion of it. So, the notion that Haslam is taking the entire team from Lerner is just speculation at this point (although you would have to think he is looking for a majority share).
And second, Haslam isn't a lifelong Steelers fan who grew up drinking Iron City beer. He is a billionaire who was a fan of the Cowboys and Colts before investing in the Steelers. He reportedly tried to buy the Titans a few years ago, which tells you how strong his ties are with the Steelers. If Haslam would gain a stake in the Browns, I'm sure he would change his allegiance to the Dawg Pound.
Let's see how this plays out. There is a lot of optimism about the future of the Browns with the likes of
Trent Richardson
and
Brandon Weeden
. Now, those hopes comes with questions about who will be owing the team down the road.
April, 27, 2012
4/27/12
12:47
AM ET
BEREA, Ohio -- The
Colt McCoy
era is over. A new one -- make that
older
one -- began Thursday night when the
Cleveland Browns
selected Oklahoma State quarterback
Brandon Weeden
with the 22nd overall pick.
The Browns have gone from a weak-armed quarterback to a geriatric one by NFL standards. At 28 years, 195 days, Weeden is the oldest player ever to be taken in the first round of the Common Draft era, according to Elias Sports Bureau. Weeden is only two years younger than
Ben Roethlisberger
. He's one year older than
Brady Quinn
, the last quarterback taken by the Browns in the first round.
Drafting running back
Trent Richardson
in the first round was a no-brainer. And, even though I think Weeden can be a quality starter in this league, taking him in the first round makes little sense for a team that is not a quarterback away from contending for a Super Bowl.
The Browns have too many other needs on offense to reach for a failed minor-league pitcher. The Cleveland front office believes it found a franchise quarterback in Weeden, but you have to wonder who is going to block for him at right tackle and who is going to catch the long passes from Weeden's big arm. The Browns are right that Weeden will be an upgrade over McCoy. But, like McCoy, he might have trouble reaching that potential with the holes surrounding him.
In a span of a few hours, the Dawg Pound went from high-fiving over the selection of Richardson to scratching their heads over Weeden.
Why didn't the Browns take a wide receiver like Georgia Tech's
Stephen Hill
? Why didn't Cleveland pick up an offensive tackle like Stanford's
Jonathan Martin
or Mississippi's
Bobby Massie
? Why did a rebuilding franchise select an older quarterback?
"We went through the process of evaluating him, we became very fond of him," Browns coach Pat Shurmur said. "We all did, from Randy [Lerner, owner] to Mike [Holmgren, team president] to Tom [Heckert, general manager] to myself. I came away saying this is a guy we'd like to have on our team. That's where we're at right now."
It was interesting that Shurmur pointed out that the owner had input on this decision. The pressure is on, and the clock is ticking.
At his age, Weeden has to start immediately. There's no time to let him sit and learn. And, because of his age, the expectation is to win immediately.
Browns officials shrugged off Weeden's age as being an issue. The number they concentrated on is 22, which is Weeden's wins in 25 starts in college.
"We feel like the kid's a winner," Shurmur said. "I wasn't concerned about his age."
The arrival of Weeden could mean the end of McCoy's days in Cleveland. The Browns gave McCoy a major vote of no confidence when they aggressively tried to trade up for
Robert Griffin III
last month.
The question now isn't whether McCoy will compete for the job. It's whether McCoy will even be on this team. Heckert didn't deny the possibility that the Browns could trade McCoy this weekend.
"To be honest, we haven't thought about that. We really haven't," Heckert said. "That's something we'll talk about tonight and tomorrow."
If it wasn't for Weeden's age, he would have been a top-10 pick. He has a strong arm. He's got a quick release. He is a hard worker. He is a respected leader.
There's a good chance that Weeden will be a productive quarterback and might end the string of other "franchise" quarterbacks like Tim Couch,
Derek Anderson
and Quinn. The problem is, teams draft quarterbacks in the first round to be the starter for the next decade. The odds are against that with Weeden, who will turn 30 in October next year.
The Browns have done such a great job in rebuilding the defense in the past two drafts that you want to give them the benefit of the doubt that they'll do the same on offense. When it came time for the Browns to pick at No. 22, Heckert said there was no decision to make especially after Baylor wide receiver
Kendall Wright
was drafted by Tennessee at No. 20.
"Brandon was by far the best player for us," Heckert said. "There wasn't really even an afterthought. As soon as a couple of guys went, we knew we were going to take him."
Weeden might have been the best player available at that point. He was just not the right player for the Browns.
October, 29, 2011
10/29/11
2:02
AM ET
Head coach Pat Shurmur and owner Randy Lerner are working together to turn around a struggling Browns franchise.
But for a few hours Thursday, Shurmur and Lerner went head-to-head on the football field. Well, at least their 14-year-old children did.
The sons of Shurmur and Lerner are the starting quarterbacks for storied high school rivals in west side of Cleveland. Kyle Shurmur threw three touchdown passes to guide his St. Edward freshman football team past Max Lerner and St. Ignatius 37-0, according to the
Cleveland Plain Dealer
.
Neither father was in attendance, the Plain Dealer reported. Kyle Shurmur and Max Lerner became good friends this year after hanging out at Browns practices.
"I'm close with Max," Kyle Shurmur told the newspaper. "I hope he does really well in everything. I hope he does really well every night -- except this one night."
December, 21, 2009
12/21/09
8:09
PM ET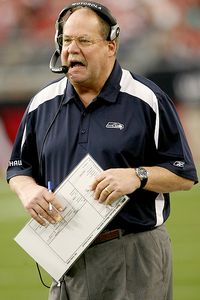 Stephen Dunn/Getty ImagesHolmgren will be the Cleveland Browns' third front-office leader in the past year.
It took a lot of money and complete control of the organization, but the
Cleveland Browns
pulled off
a major coup
in landing Mike Holmgren. The former
Green Bay Packers
and
Seattle Seahawks
coach agreed to terms with the Browns to become the team's president on Monday.
Holmgren brings instant credibility and leadership to an organization that has lacked those qualities since returning to the NFL a decade ago. Holmgren will be the Browns' third front-office leader in the past year, following George Kokinis and Phil Savage.
Now that all the speculation is over, it's time for Holmgren to get to work. His first order of business is to figure out what to do with Cleveland's coaching staff.
Head coach Eric Mangini is in his first year with the Browns, who are 3-11 but have won their past two games. When a new leader takes over, he usually hires his own people, and most league observers expect Holmgren to do the same. But Mangini will have two more games to prove that he deserves another season in Cleveland.
From there, Holmgren and his front office will begin evaluating the draft and free agency. The Browns will be major players next April with 11 draft picks, and owner Randy Lerner has never been afraid to spend money on free agents. Therefore, Cleveland has an opportunity to significantly improve its thin roster in the offseason.
It's fair to point out that Holmgren had mixed results evaluating talent in Seattle, and at one point the Seahawks stripped him of that role. This will be Holmgren's second attempt to lead a front office.
With the
Baltimore Ravens
(8-6) and
Pittsburgh Steelers
(7-7) consistently competitive, and the
Cincinnati Bengals
(9-5) currently on the upswing, getting the Browns out of the basement in the AFC North will not be easy. But Holmgren has a pedigree of success that should instill hope in a disgruntled fan base.
Lerner deserves a lot of credit for convincing Holmgren to join the Browns. Now it's up to the "Big Show" to make the organization respectable again.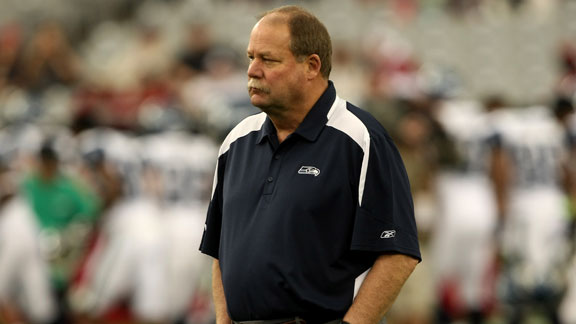 December, 21, 2009
12/21/09
6:45
PM ET
The
Cleveland Browns
have officially announced Mike Holmgren will
become team president.
Here is a statement from Browns owner Randy Lerner:
"We are pleased to announce that Mike Holmgren has agreed to join the Cleveland Browns. We will spend the rest of the week finalizing the details of the agreement and will make a formal announcement next week, at which time we will make him available to the media."
I will be back with more soon.
December, 15, 2009
12/15/09
12:33
PM ET
The initial reaction to Mike Holmgren meeting with the Cleveland Browns to discuss their
vacant front-office position
is simple.
[+] Enlarge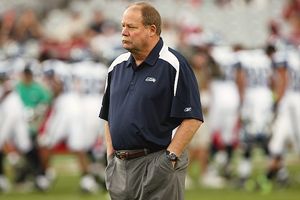 Stephen Dunn/Getty ImagesMike Holmgren was in Cleveland Monday and will continue meeting with Browns officials on Tuesday.
It's about time.
Why this meeting didn't take place weeks earlier is somewhat baffling. Holmgren flat out said he was interested in Cleveland, and the former Seattle Seahawks and Green Bay Packers coach fits the criteria of a "credible" leader Browns owner Randy Lerner discussed in November.
If Cleveland plans to make a hire before the end of the regular season, Holmgren is probably the team's only choice. A majority of other qualified candidates are working hard for their teams during this stretch run, and many will be involved in the playoffs, which doesn't help Cleveland (2-11).
As the Browns continue to talk with Holmgren, here are some key questions that probably are being discussed:
Does Holmgren want complete power to run the organization? That includes final say over the roster and the ability to fire and hire coaches.

What are Holmgren's thoughts on Browns coach Eric Mangini? Can the two coexist, or would Holmgren want someone else to coach Cleveland next season?

Where does Seattle fit in this equation? The Seahawks have a similar position open that Holmgren is interested in. Is he using the Browns to create leverage, or does Holmgren legitimately want to work in Cleveland?
It should be an interesting few weeks for the Browns. Holmgren would be a solid hire for Cleveland if the team can close the deal.
November, 11, 2009
11/11/09
12:26
PM ET
Posted by ESPN.com's James Walker
Power Rankings:
Preseason: 28. This week: 32.
2009 Schedule/Results
| | |
| --- | --- |
| | |
| | Kevin Hoffman/US Presswire |
| | Cleveland Browns head coach Eric Mangini has been navigating a quarterback carousel. |
Where they stand:
The
Cleveland Browns
(1-7) are even worse than originally projected. Although I predicted this team would finish last in the AFC North by a sizable margin, I felt the Browns were capable of winning four or five games by simply playing smart football. But halfway through the season even that low total seems tough. This team lacks talent on both sides of the ball and doesn't have enough great players to overcome mistakes. Of Cleveland's seven losses, four have been by three touchdowns or more.
Disappointments:
The quarterback carousel in Cleveland between
Derek Anderson
and
Brady Quinn
has been a major disappointment. Coach Eric Mangini spent the entire offseason evaluating the two and said he planned to stick to his decision. But after Quinn won the job in the preseason, Mangini reneged and benched him after only 10 quarters. Anderson's performance was even less inspiring as he had the lowest passer rating of any starting quarterback in the league. Cleveland is going back to Quinn for Monday's game against the
Baltimore Ravens
. The Browns have to see what the former first-round pick can do this season.
Surprises:
When you fire your general manager eight games into a new regime, that is a huge surprise. George Kokinis was let go by the Browns during the bye after a short and mostly uneventful stint in Cleveland. Kokinis had the official title of GM. But it was pretty clear early that Kokinis was not getting final say on the roster decisions when the team kept bringing in former
New York Jets
players during free agency. Naturally there was some butting of heads behind the scenes and in the end Kokinis lost his job. Now the Browns are in search of a new personnel leader.
Outlook:
The Browns are going to be hard-pressed to win games in the AFC North. So their best chance to turn things around probably is winning outside of the division. The Browns have games on their schedule against the
Detroit Lions
,
Kansas City Chiefs
and
Oakland Raiders
that on the surface seem winnable. But the Browns have to play a lot harder and a lot smarter during the second half. Don't think for one second that these games aren't important. Browns owner Randy Lerner will be watching his team very closely to determine if this group is headed in the right direction.
January, 7, 2009
1/07/09
9:14
PM ET
Posted by ESPN.com's Tim Graham
For the past week, folks back home in Cleveland have been inundating me with questions about Eric Mangini and whether they should be excited or concerned about him becoming the Browns' next head coach.
| | |
| --- | --- |
| | |
| | AP Photo/Tom Mihalek |
| | After interviewing Eric Mangini, the Browns essentially called off their coaching search. |
As a former member of the Fair Hooker fan club and somebody who has closely followed Mangini's time with the New York Jets, I can say I'm at least mildly enthused.
Browns fans might jump to the conclusion they're taking on some other team's rubbish.
That shouldn't be the reaction. Many Miami Dolphins fans felt similarly when they picked up Jets discard Chad Pennington, too, but that seemed to work out.
Here are three reasons, based on Mangini's performance with the Jets, that he is the right choice for Cleveland:
1. The Jets' 9-7 record and late-season collapse aren't all on him.
Although the Jets flatlined down the homestretch under Mangini's watch, many of the reasons were out of the coach's control.
Some of his last images on the Jets sideline were of pained exasperation, wondering what in the heck Brett Favre was doing. As Mangini's close friend Teddy Atlas, a boxing trainer and ESPN analyst, noted to the New York Post, Mangini went into 2008 intending to base the offense around running back Thomas Jones, but "the whole plan, the whole blueprint got thrown out the window when Favre came."
Mangini also had the respect of his players.
"I still feel bad," Jets tackle Damien Woody said. "I just feel like there's no reason this team shouldn't be in the postseason right now.
"He shouldn't have gotten fired. As players, we let him down. We didn't play our best ball down the stretch. We had everything in our control, and we let it slip away from us."
2. Mangini showed flashes of what he can do.
Mangini's record in his three seasons with the Jets was 23-25. But he often was better than mediocre.
In his rookie season as head coach, he took over a team that had gone 4-12 the previous season and guided it to 10-6 and a trip to the playoffs.
The Jets returned to 4-12 last season, and the "Mangenius" label was replaced with "Mangidiot" -- among other names.
The Jets' front office made a concerted effort to turn the franchise around and compete with the New York Giants and New York Yankees for the Big Apple's attention by spending $140 million on such free agents as guard Alan Faneca, Woody, fullback Tony Richardson and outside linebacker Calvin Pace and trading for Favre and nose tackle Kris Jenkins.
That was a lot of patches to quilt together, and Mangini handled the task for much of the season. The Jets became Super Bowl darlings after defeating the New England Patriots and previously unbeaten Tennessee Titans on the road.
They were 8-3 and playing with remarkable balance. Jones was running like an All-Pro. The Jets threw when they wanted. They throttled opponents with an impenetrable run defense.
Although it all unraveled with four losses in New York's last five games, Mangini managed to assemble a heap of new parts for a significant portion of the season.
3. Mangini's obviously indefatigable.
While the Jets still are hunting for his replacement, it says something about Mangini that he already has found a head-coaching job.
When he was fired, it seemed a safe assumption Mangini would need to undergo career rehabilitation as a defensive coordinator or position coach somewhere. Most coaches don't get fired from their first job and make a lateral move, and Mangini still had the Spygate stigma to deal with.
Yet one day after he was fired, Mangini was able to shake off the biggest setback of his career and dazzle Browns owner Randy Lerner in an interview that went so well the team essentially ended its search.
"He has a vision of what it takes to win a championship, and he's got a lot of football ahead of him," Woody said.
"I couldn't be happier. Eric's a great guy, an excellent young coach. He's always on top of the details, from the smallest things to the big picture. I think it's a great fit for Cleveland. Eric's the type of coach to get them back on track."
December, 28, 2008
12/28/08
4:25
PM ET
Posted by ESPN.com's James Walker


The Pittsburgh Steelers crushed the Cleveland Browns, 31-0, to finish 12-4. But the win didn't do anything to ease concerns of Steelers fans who are wondering who their quarterback will be for the playoffs.
Starting quarterback Ben Roethlisberger was carted off the field moments before halftime after taking a hit from Browns linebackers Willie McGinest and D'Qwell Jackson. Roethlisberger suffered a concussion and is being tested for neck injuries.
The win was the 11th in a row for Pittsburgh over the Browns. Steelers head coach Mike Tomlin improved to 4-0 against Cleveland. But without a doubt, his risky decision to play his starters in a meaningless season finale will be a huge topic of discussion.
Pittsburgh has two weeks off before hosting a playoff game and hopes Roethlisberger and other key players will be healthy at that time.
The Browns (4-12), meanwhile, completed their third double-digit losing season in four years and will begin looking into changes for next season. Cleveland owner Randy Lerner is expected to meet with the coaching staff and the front office as early as Monday to discuss the future direction of the organization.
| | |
| --- | --- |
| | |
| | AP Photo/Tony Dejak |
| | Romeo Crennel and Phil Savage remain on the hot seat in Cleveland. |
Posted by ESPN.com's James Walker
There is a large cloud of uncertainty hanging over the
Cleveland Browns
' organization.
That cloud involves the futures of Browns head coach Romeo Crennel, general manager Phil Savage and many of the team's top players. Last year at this time Cleveland (4-9) was considered a team on the rise. Now it is merely a sinking ship. Such is life in the NFL, where yesterday's darlings can quickly become today's disappointments.
As major changes loom, a national audience will get to see one of the final chapters of the 2008 Cleveland Browns on "Monday Night Football" (ESPN, 8:30 ET) when they travel to face the Philadelphia Eagles. Cleveland has lost three straight and mercifully ends its run of five prime-time games this season.
Following a 10-6 record in 2007, expectations were very high. As a result, Browns owner Randy Lerner recently said the entire organization is under review.
Here are some of the decisions facing Lerner and the Browns:
Keep or fire Crennel?
It's assumed that Crennel will not be back with the Browns next year, despite Lerner's assertion that he will wait until the end of the year to make a decision.
There have been reports of preliminary interest in former Pittsburgh Steelers coach Bill Cowher and longtime head coach Marty Schottenheimer. Cleveland likely wants to go the route of searching for an experienced coach who is a proven winner, and Cowher and Schottenheimer are the biggest names available.
"Randy has said that he's going to wait until the end of the season to make any kind of determination," Crennel said of his situation last week. "I think that we're going to go through the season and then we're going to sit down and talk and see where that leads."
Although many of Cleveland's players are pulling for Crennel, his resume will not look good by the end of the season. He is 24-37 entering Monday's game against Philadelphia (7-5-1). Crennel also has struggled in areas such as game and clock management, and his defense, which is his specialty, has never been ranked higher than No. 16 in four seasons.
Keep or fire Savage?
Savage's circumstance is less predictable. Browns ownership has three choices: Keep Savage, fire him or ask him to take a lesser role with the organization.
The Browns were building from the ground up when Savage took over as GM in 2005. It took two years to gut the roster and bring in his own players, and last year's 10-win season was expected to be the beginning of a good run.
Savage has deemed 2008 an aberration. But in reality, Cleveland has only had one 10-win season since returning to the NFL in 1999. Savage shares the same record as his coach at 24-37, and a loss Monday would cement three double-digit losing seasons in four years. The draft record for Savage is decent.
Savage found a franchise left tackle (Joe Thomas) and potentially a franchise quarterback (Brady Quinn). But former first-round picks in receiver Braylon Edwards and linebacker Kamerion Wimbley have been inconsistent. Some high-priced free-agents, such as tackle Kevin Shaffer and receiver Donte Stallworth, haven't panned out, while the trade for defensive tackle Shaun Rogers did.
This is what makes Savage's situation a more thought-provoking decision for Lerner. Savage has added talent, but he's also proven he's still a young GM learning on the job. In addition to his misses, high-profile mistakes such as the handling of Kellen Winslow Jr.'s staph infection and his e-mail that included profanity to a fan doesn't help his case.
"I said on the radio ... that I am an open book," said Savage, who has four years left on his deal. "I can walk with my head held high. I think we have done a lot of positive things here."
What about player changes?
Whether it's Savage or someone else making the decisions, that person will have to hit the ground running this offseason.
Players such as Winslow and former starting quarterback Derek Anderson could be on the trading block. The Browns also have starters who are pending free agents in safety Sean Jones and linebackers Willie McGinest and Andra Davis. Edwards and kick returner Joshua Cribbs, both under contract, could seek new deals in the near future.
The past 365 days have provided a hard lesson for this franchise. Next time the nation sees the Browns, it could be a totally different team based on its shoddy performance this year.
"I think the lesson learned for a lot of our players is that every season is a new season," Savage said. "It doesn't matter what you did last year. It doesn't matter what you are planning on doing next year. It matters what you are doing today."

NFL SCOREBOARD
Sunday, 2/2
WEEKLY LEADERS