NFL Nation:

Randy Mueller
January, 3, 2012
1/03/12
4:16
PM ET
We know Jeff Fisher is in play for Miami and St. Louis. Indianapolis Star columnist Bob Kravitz
told PFT
he believes Fisher is in the mix in Indianapolis too.
[+] Enlarge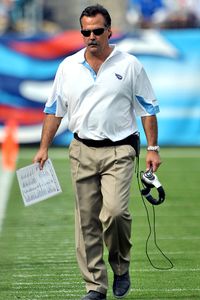 Jim Brown/US PresswireJeff Fisher is a candidate for the head coaching job in Miami and St. Louis, but could also be in play in Indianapolis.
Indications are Fisher will listen to everyone. But coaching code says you don't talk about a job that's not vacant, so I don't think he'd go beyond backchannel communication while Jim Caldwell remains in place.
At any rate, Fisher is the hot veteran coaching candidate and until he's coach somewhere, he still qualifies foremost as the Titans former head coach and falls under our purview. He said last week in an interview on Nashville's 104.5 The Zone that a GM and a quarterback were the two biggest factors for him as he explores job opportunities.
So some thoughts on his eventual re-emergence in the coaching ranks.
Power:
There can be a misperception he'd want general manager powers. He won't. He wants to work with a GM he gets along with and can build consensus with. Fisher will want control of his 53-man roster. And he won't want a situation where a GM is forcing free agents or draft picks on him that he and his staff don't want. But wanting a voice is a lot different from wanting to be a de facto GM. He believes in the value of a traditional coach-GM split and has no desire to work the scouting end of things as a fulltime GM.
General manager friends
: Fisher's got strong relationships with Rich McKay of the Falcons and Bill Polian, just let go by the Colts, as he served with both on the NFL's competition committee. McKay's in an administrative capacity now, but could he want back into football? He wouldn't come cheaply. Polian is probably too strong a personality. I have no feel for the relationship between Fisher and Chris Polian, who was also let go.
When the Titans replaced Floyd Reese in 2007 it was largely because Fisher and Reese's relationship had frayed. Among the replacement candidates Fisher helped interview before the Titans hired Mike Reinfeldt were: Ruston Webster (now with Reinfeldt in Tennessee), Reggie McKenzie (Green Bay's director of football administration), Ron Hill (NFL VP of football operations), Mike Ackerley (now a Texans scout) and Charles Bailey (former Jaguars pesonnel executive). The Titans wanted to talk to Randy Mueller, then with Miami, but didn't get permission. He's now with San Diego as "senior executive."
Maybe Fisher hit it off with one of those guys and would like to work with them. At years of league meetings and functions, he's likely formed friendships we don't know about with other, future-GM types.
If Fisher lands in a situation where he comes in hand in hand with a GM or in advance of a GM, he'll have a guy or two to put forward and be open to forming a new relationship if he hits it off with an existing GM or an owner's candidate.
Assistants:
His primary assistant coaches may be hard to predict.
His top defensive lieutenants from Tennessee are booked up. Gregg Williams is the coordinator in New Orleans and may be a head coaching candidate himself. If he was free, Fisher could pounce. Jim Schwartz is head coach in Detroit. (Brandon Fisher works on Schwartz's staff.) Chuck Cecil may be radioactive as he was a central figure in things coming apart for Fisher with the Titans. He could return to the league as a defensive backs coach, but Fisher would have to answer for a lot if he wanted to make Cecil coordinator. He'd certainly take recommendations from Williams and Schwartz about up-and-comers from the defensive staffs with their teams. Detroit linebacker coach Matt Burke was a young assistant on Fisher's staff who went with Schwartz for a promotion.
Fisher's top offensive friend and long-time coordinator, Mike Heimerdinger, died recently after a battle with cancer. Fisher could look to his former running backs coach Sherman Smith, who's now in the post with Seattle. But Smith's lone stint as an offensive coordinator didn't include play-calling duties under Jim Zorn in Washington. Titans quarterback coach Dowell Loggains is a bright young mind, but like Burke he may not be ready yet.
While Fisher spent time away from the game in a year off, he certainly has lists of coaches he would pursue and could get. But he'd be going with people he's not worked with before at a lot of spots -- like on the offensive line, where his former position coach, Mike Munchak, and his best line player, Bruce Matthews, are not available.
Markets:
He can be a star behind those shades. But don't think he'll take the bright lights of Miami over more low-key St. Louis or Indianapolis if he's choosing.
Fisher enjoyed the ability to be anonymous at times in Nashville and the willingness of the population to allow him a large degree of privacy. He's a Southern California guy who loves spending time at his Montana cabin.
He's not desperate for a beach, or television lights.
March, 30, 2011
3/30/11
6:59
PM ET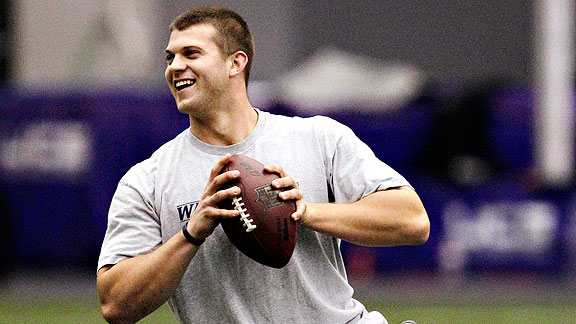 AP Photo/Elaine ThompsonWashington quarterback Jake Locker didn't appear to do anything to hurt his draft status at his pro day on Wednesday.
SEATTLE -- The guest list for
Jake Locker
's pro day at the University of Washington offered up a few surprises.
Former
Seattle Seahawks
running back
Shaun Alexander
, in town on business, dropped by the Dempsey Indoor facility. Former NFL officiating czar Mike Pereira, in town for a meeting related to his role as interim head of Pac-10 officials, also attended.
Former Washington quarterbacks Warren Moon, Damon Huard, Brock Huard (working for ESPN), Hugh Millen, Cary Conklin and Sonny Sixkiller were there.
The quarterback-needy
Tennessee Titans
sent a large contingent featuring vice president of player personnel Ruston Webster, offensive coordinator Chris Palmer and pro scouting director Lake Dawson. Keith Gilbertson (
Cleveland Browns
), Randy Mueller (
San Diego Chargers
), Bob Ferguson (
Indianapolis Colts
) and Mike Sheppard (
Jacksonville Jaguars
) were among the former Seahawks staffers in attendance.
The Seahawks' current decision-makers and most of their coaches drove over from team headquarters, no surprise given the proximity and coach Pete Carroll's ties to Huskies coach Steve Sarkisian, his former USC assistant.
But if the Seahawks' division rivals have any interest in Locker, they hid that interest quite well. The
Arizona Cardinals
and
San Francisco 49ers
did not send representatives, to my knowledge. They certainly did not have any high-profile staffers in attendance. That comes as a bit of a surprise given their obvious needs at quarterback and Locker's potential availability early in the second round, if he slips outside the first.
"I never read anything into which teams attend pro days," Locker's agent, David Dunn, said on the field following the workout. "I've had too many players selected by teams that weren't at pro days or didn't even visit with players."
Fair enough, but teams generally pay closer attention to quarterbacks. The 49ers sent Jim Harbaugh to
Blaine Gabbert
's pro day at Missouri. Cardinals coach Ken Whisenhunt ran Auburn's
Cam Newton
through various throws at a recent workout.
"With quarterbacks, you want to be able to touch and feel and see how they are as people as well as athletes and players," Dunn said.
Locker was not the only Washington prospect performing for scouts, but he was the main draw. He did nothing obvious to damage his draft stock during the workout. He completed all but a couple of passes while showing fluidity in his drops and a short delivery, according to scouts who agreed to speak in general terms and not for attribution.
"I've never nitpicked a guy like I've nitpicked Locker," one of them said. "The guy is a winner, and at the end of the day that has to count for something."
Locker has been working with former NFL quarterback Ken O'Brien to bring his hand over the top more quickly when delivering the ball.
The controlled environment was set up to make him look good. No NFL coaches or personnel people asked Locker to perform unscripted throws. They watched Locker zip the ball with ample velocity and accuracy most of the time, save for a couple high throws that his overworked wide receiver, D'Andre Goodwin, snatched away from his body.
"I'm focusing on the fluidity of the drop, getting my feet in the right spot and just bringing the hand over the top as quickly as I could, rather than dragging my hand," Locker said afterward. "I have a tendency to do that sometimes. I want to bring my hand over the top and really point that finger at my target. I have been spinning the ball a lot better and it's been coming off my hand a lot better."
Locker's relatively low completion percentage at Washington and his inexperience running a pro-style offense have raised questions about his readiness for the NFL. Can he read defenses? Can he throw accurately and on time from the pocket? To what degree did a weak offensive line and receiving corps hamstring him in college?
I've heard differing opinions from scouts as to how well Locker would fit with the NFC West teams that need quarterbacks (Seattle, Arizona and San Francisco).
"A lot of people seem to have him pinpointed to Seattle at No. 25, but I don't think that makes any sense at all," Matt Williamson of Scouts Inc. said. "It works for people who do not know the X's and O's of it all. At 25, he has some value. He went to school in that area. It is easy to say that is a good fit, but I think Seattle is going more and more to a pure West Coast offense, and Locker doesn't fit the West Coast offense at all."
The Cardinals pick fifth and the 49ers pick seventh, earlier than Locker is expected to come off the board. Seattle is one of the few quarterback-needy teams picking later in the first round, when Locker figures to become a more likely selection.
"Jake seems to be an acquired taste," Dunn said. "The more you watch him on film, the more that you are around him, the more you like him."
How well Locker would fit with the Seahawks could hinge on the degree to which Williamson is right in his assessment of how Seattle's offense will evolve.
New coordinator Darrell Bevell comes from the Andy Reid/Mike Holmgren branch of the West Coast offense, a branch that relies more heavily on short, precise passes. Before Bevell replaced Jeremy Bates, the Seahawks had been running Mike Shanahan's version of the West Coast system featuring more quarterback movement, hard play-action fakes and deeper throws requiring greater arm strength.
Carroll, who attended the workout Wednesday, has said the Seahawks do not plan to significantly diverge from the system they ran last season. But it's plausible to think that Bevell's background could steer them away to some degree.
"You do have to be a precise passer in a Bill Walsh, traditional West Coast offense," Rob Rang, senior analyst for NFL Draft Scout, said from the Dempsey Indoor facility. "But I like any offense that is going to use Jake Locker's mobility as an asset rather than just keeping him pinned in that pocket. If you can use his legs as a weapon, that is where he has been his most accurate. He made significant improvements in his accuracy from the so-called pocket in this workout, but at the same time, his strength remains throwing on the move."
Rang said he would draft Locker in the first round as long as the team in question has a veteran starter in place.
I stood next to Moon, the retired Hall of Famer, throughout the workout. Moon said he sees the NFL game evolving to favor quarterbacks with mobility. Life for traditional pocket passers is getting tougher, in his view. Locker's athleticism and scrambling ability separate him from most prospects. He has run the 40-yard dash in 4.52 seconds, a time that holds up against those posted by some wide receivers. But quarterbacks must also succeed as pocket passers to make it in the NFL.
"Locker is pretty accurate outside the pocket," Williamson said, "but as far as going 1-2-3 and getting it out, having good footwork, hitting a guy in stride, he is terrible. I don't see that fit at all. I do not think he is going to be the precise passer Harbaugh is looking for, either. I can see someone like Arizona being really interested in him in Round 2. They might like a more 'toolsy' guy, like a
Ben Roethlisberger
."
Williamson sees Locker appealing to a coach such as Shanahan, who might see Locker as a cross between
Jay Cutler
and
Jake Plummer
, two quarterbacks Shanahan coached in Denver. That's the type of quarterback Seattle was seeking when Jeremy Bates was coordinating their offense. It's the type of quarterback the Seahawks might still value if Bevell installs the type of system Carroll has favored previously.
"I don't know in the NFL right now if people run different offenses," Sarkisian said. "It's so much of a copycat league and everybody runs so many things that are similar that it's hard to say that New England is different than Pittsburgh that is different than Seattle that is different from the Chargers. They all have their focal points, but at the end of the day, there are a lot of similarities. Things will be tailored for him [Locker], like they are for every quarterback, but I just think he fits in as an NFL quarterback."
March, 17, 2011
3/17/11
12:00
PM ET
»
NFC Draft Watch
:
East
|
West
|
North
|
South
»
AFC
:
East
|
West
|
North
|
South
Each Thursday leading up to the NFL draft (April 28-30), the ESPN.com NFL blog network will take a division-by-division look at key aspects of the draft. Today's topic: draft rewind -- examining the past five drafts.
Buffalo Bills

Best choice:
Defensive lineman
Kyle Williams
. Only three players in the Bills' past five draft classes have gone to a Pro Bowl. Two of them, Williams and safety
Jairus Byrd
, still are on the team. Williams was a 2006 fifth-round pick who has emerged as one of the NFL's top interior pass-rushers.
Worst choice:
Defensive end
John McCargo
. The Bills traded up to select McCargo 26th overall in 2006. He has started one game since then. He was a healthy scratch for 15 games last year. The Bills tried to deal him to the
Indianapolis Colts
in 2009, but he failed his physical and was sent back.
Bubble player:
Left tackle
Demetrius Bell
. On the surface, a starting left tackle from the seventh round sounds like a steal. But when you consider the Bills have banked on Bell and avoided drafting other tackles early enough to compete with him for three years, then you'd expect Bell to be an obvious franchise player. He has been OK, but far from a clear-cut solution.
Miami Dolphins

Best choice:
Left tackle
Jake Long
. There's not much to discuss here aside from wondering how the Dolphins would be different had they drafted
Matt Ryan
No. 1 in 2008 instead. But Long undoubtedly has been their best draft choice of the past five years. He's an elite blocker and protector. He has been chosen for three Pro Bowls in three seasons.
Worst choice:
Quarterback
Pat White
. The most regrettable pick of the Bill Parcells-Jeff Ireland regime was White at 44th overall in 2009. Not even former general manager Randy Mueller's fateful 2007 draft -- two of 10 picks still on the roster -- had a dud like White, who was cut after one season and retired from baseball seven months later.
Bubble player:
Defensive end
Jared Odrick
. Last year's first-round draft choice is in a tough spot. Odrick played one game because of a hairline leg fracture. While the rookie was out, the Dolphins' three-man defensive front was cemented. Right end
Randy Starks
went to the Pro Bowl, while some thought left end
Kendall Langford
had the better season. And don't expect Starks to return to nose tackle to make way for Odrick. The Dolphins placed their franchise tag on nose tackle
Paul Soliai
.
New England Patriots

Best choice:
Inside linebacker
Jerod Mayo
. Since the Patriots drafted Mayo 10th in 2008, he has led them in tackles all three years, won The Associated Press Defensive Rookie of the Year Award, has been defensive captain the past two seasons, was named first-team All-Pro last year and went to the Pro Bowl.
Worst choice:
Wide receiver
Chad Jackson
. The Patriots traded with the
Green Bay Packers
to move up 16 spots and select Jackson 36th overall in 2006. Who did the Packers get with the 52nd pick?
Greg Jennings
. Injuries and lack of commitment forced Jackson out of New England after two seasons and 13 catches.
Bubble player:
Safety
Brandon Meriweather
. For the most part, Meriweather has been successful. The 24th pick in 2007 has been to a pair of Pro Bowls. But how they voted him a starter last year is a mystery. Bill Belichick removed him from the starting lineup for three games because of disappointing play. That plus Meriweather's presence at a recent multiple shooting in his hometown raises questions about which way his career is going.
New York Jets

Best choice:
Cornerback
Darrelle Revis
. The Jets not only drafted him 14th in 2007, but also spent second- and fifth-round picks to move up 11 spots for the chance. He quickly established himself as an elite lockdown cornerback. As long as he stays healthy, he should remain in the conversation for defensive player of the year for a while.
Worst choice:
Defensive end
Vernon Gholston
. He's one of the biggest busts in franchise history. The Jets used the sixth pick of the 2008 draft on a player they thought would terrorize quarterbacks. The Jets cut him after three seasons and zero sacks.
Bubble player:
Running back
Shonn Greene
. The Jets traded up to make Greene, the reigning Doak Walker Award winner at the time, the first pick on the second day of the 2009 draft. Greene has been solid, but he has played a supporting role to
Thomas Jones
and then
LaDainian Tomlinson
. Will 2011 be the season he takes over the lead?
October, 15, 2010
10/15/10
11:15
AM ET
After they dumped quarterback
Trent Edwards
and traded running back
Marshawn Lynch
in consecutive weeks, a lone member of the
Buffalo Bills
' 2007 draft class remained on the roster.
Just three years later, one keeper is a lousy return.
But consider how the rest of AFC East drafted in 2007.
Only six of 30 AFC East draftees from 2007 still are with the team that drafted them: two
New York Jets
, two
Miami Dolphins
, one New England Patriot and one Bill. (See chart below.)
[+] Enlarge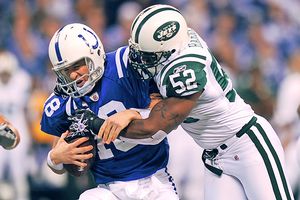 Anthony J. Causi/Icon SMIThe Jets traded second-, third- and sixth-round choices to move up and select David Harris.
The Jets were most effective. They drafted just four players. Their first two have been stars, and the last pick helped them acquire a standout receiver. They traded up to select star cornerback
Darrelle Revis
14th overall and top inside linebacker
David Harris
47th. Seventh-round pick
Chansi Stuckey
was sent to the
Cleveland Browns
in the trade that landed receiver
Braylon Edwards
.
The Patriots were the least efficient on nine picks, but they had only two selections inside the first four rounds. Their lone keeper was Pro Bowl safety
Brandon Meriweather
in the first round.
The Dolphins made 10 selections in what was the final draft class for general manager Randy Mueller and the only one for rookie head coach Cam Cameron. They famously misfired on ninth overall pick Ted Ginn, who was traded for a fifth-round pick this offseason, and second-round quarterback
John Beck
. Still around are defensive tackle
Paul Soliai
and punter
Brandon Fields
.
The last man standing from Buffalo's seven-man 2007 draft class is second-round linebacker
Paul Posluszny
.
So that's a 20 percent retention rate for the AFC East on all draftees and a 40 percent rate for those selected in the top three rounds.
With help from ESPN researcher Keith Hawkins and the Elias Sports Bureau, I wanted to find out how those percentages compared leaguewide.
Poorly, it turns out.
Of the 225 players chosen in other divisions that year, 100 have remained with the teams that drafted them. That's 44.4 percent overall, more than twice the AFC East rate.
When narrowing the field to players taken within the first three rounds, 89 prospects were absorbed into other divisions, and 54 have stuck, a success rate of 60.7 percent.
A few notes turned up by the research:
The Dolphins are the only team that has gotten rid of their top four picks.

Twenty-six teams have parted ways with at least one of their picks from the first three rounds.

Of the 19 teams that had at least one pick in each of the first three rounds, only the Pittsburgh Steelers retained all of them (Lawrence Timmons, LaMarr Woodley, Matt Spaeth).
April, 13, 2010
4/13/10
3:35
PM ET
The
Miami Dolphins
reportedly are trying to unload disappointing receiver
Ted Ginn
, the ninth pick of the 2007 draft.
This will be viewed among Dolfans as the most encouraging offseason news since the club signed inside linebacker
Karlos Dansby
five weeks ago.
[+] Enlarge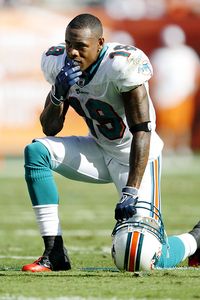 AP Photo/Wilfredo LeeIn three seasons, Ted Ginn has 128 receptions for 1,664 yards and five touchdowns.
Ginn arrived with whatever the opposite of fanfare is.
Rookie head coach Cam Cameron was booed and heckled by Dolfans when he stepped to the microphone at a draft party in the team's practice bubble. Many fans wanted the Dolphins to select Notre Dame quarterback
Brady Quinn
.
As fans chanted "Bra-dy! Bra-dy!" Cameron was extolling Ginn's virtues as a punt returner. Not exactly what you want to hear about a ninth overall pick.
Quinn didn't work out for the
Cleveland Browns
, who traded him to the
Denver Broncos
for running back
Peyton Hillis
, a sixth-round draft choice in 2011 and a conditional pick in 2012.
That sounds like a bonanza for Ginn, especially when you consider the
New York Jets
acquired Super Bowl MVP receiver
Santonio Holmes
for a fifth-round choice.
NFL.com's Jason La Canfora
reported the Dolphins are shopping Ginn
around the league. That could be the harbinger to the Dolphins selecting a receiver with the 12th pick because Ginn is the Dolphins' lone downfield threat, however inadequate the rest of his game might be.
Ginn has electrifying speed, as demonstrated when he returned two kickoffs for touchdowns in a Week 8 victory over the Jets.
But he has been a bust as a receiver. Over three seasons, he has 128 receptions for 1,664 yards and five touchdowns.
Ginn's known more for his
dropped passes and penchant for running out of bounds
to avoid contact.
Stat site ProFootballFocus.com tallied 10 drops last year for Ginn. That tied for most in the NFL. Factor in his 38 receptions, and Ginn's drop percentage was 20.8 percent, third-worst in the league among all wide receivers and tight ends.
What good does Ginn's blazing speed provide when he can't make a play?
ESPN Stats & Information calculated Ginn had the worst catch percentage among all NFL receivers on passes that travel more than 20 yards downfield.
The Dolphins tried him deep 15 times, but only three were completed.
Arizona Cardinals
star
Larry Fitzgerald
and
Detroit Lions
receiver
Bryant Johnson
had identical numbers. Fitzgerald, of course, makes other types of great catches Ginn does not.
If the Dolphins dump Ginn, they will have only two players -- nose tackle
Paul Soliai
and punter
Brandon Fields
-- remaining from their 2007 draft class, the final group selected by general manager Randy Mueller and Cameron before Bill Parcells fired them.
March, 10, 2010
3/10/10
12:00
PM ET
»
NFC Recent History
:
East
|
West
|
North
|
South
»
AFC
:
East
|
West
|
North
|
South
»
Draft Watch
:
Biggest needs
(2/17) |
Busts/gems
(2/24) |
Schemes, themes
(3/3) |
Recent history
(3/10) |
Needs revisited
(3/17) |
Under-the-radar needs
(3/26) |
History in that spot
(3/31) |
Draft approach
(4/7) |
Decision-makers
(4/14) |
Dream scenario/Plan B
(4/21)
Each Wednesday leading up to the NFL draft (April 22-24), the ESPN.com blog network will take a division-by-division look at key aspects of the draft. Today's topic: Recent history.

Buffalo Bills:
It's a safe bet their objective won't be to draft defensive backs. The Bills have many shortcomings, but their secondary isn't among them. Thanks to former head coach Dick Jauron's obsession with defensive backs, the Bills have a glut there. Of the 18 players they selected the past two drafts, a third of them played cornerback or safety. The Bills are bleak at offensive tackle because they've chosen one, seventh-round project
Demetrius Bell
, in the past three years. In fact, you'd have to search back to 2002 to find a tackle they selected before the fifth round. The Bills are switching to a 3-4 defense this year, so it might be enlightening to know they haven't selected any defensive tackles -- let alone one who would be an effective NFL nose tackle -- three draft classes in a row.

Miami Dolphins:
The Dolphins still are trying to recover from their disastrous 2007 draft class. Only three players remain on their roster, a disappointing receiver (ninth overall pick
Ted Ginn
), a pedestrian defensive tackle (fourth-rounder
Paul Soliai
) and a punter (seventh-rounder
Brandon Fields
). That was the last draft conducted by former GM Randy Mueller. The Dolphins were in such disrepair, new football ops boss Bill Parcells focused on the staples. Of the 18 picks under Parcells, seven were linemen. Eleven offensive players were chosen, but only two running backs, two receivers and one tight end. That would suggest they'll target defense in this year's draft, but they've been aggressive in addressing their needs through free agency so far. Safety, outside linebacker and nose tackle are positions to watch -- for now.

New England Patriots:
The loose pattern the past three springs has been to draft defensive backs early and offensive linemen late. In that span, the Patriots selected a cornerback or a safety in the first or second round of each class and have taken five O-linemen (six if you count long-snapper
Jake Ingram
) in the fourth round and later. Only 11 of the 28 players they've drafted were offensive players, which is a significant reason why the
Patriots have the NFL's oldest group of players
on that side of the ball. The trend would indicate it's time to get younger there, especially in the backfield. The Patriots have selected one running back since 2007, calling Central Connecticut State's
Justise Hairston
that year in the sixth round.

New York Jets:
A look at the Jets' three-year track record suggests they're famished for draft choices. Jets general manager Mike Tannenbaum has a fondness for bartering picks to move up in the draft order. As a result, they selected just three players last spring and four in 2007. So few incoming prospects hurts organizational development, and with so many positions seemingly set, the Jets need to focus on drafting as many rookies as possible next month. When they traded for cornerback
Antonio Cromartie
, they were sure to send a 2011 draft choice. They sent
Kerry Rhodes
to the
Arizona Cardinals
for a fourth-round pick this year and a seventh-rounder next year.
February, 24, 2010
2/24/10
2:00
PM ET
»
NFC Busts/Gems
:
East
|
West
|
North
|
South
»
AFC
:
East
|
West
|
North
|
South
»
Draft Watch
:
Biggest needs
(2/17) |
Busts/gems
(2/24) |
Schemes, themes
(3/3) |
Recent history
(3/10) |
Needs revisited
(3/17) |
Under-the-radar needs
(3/26) |
History in that spot
(3/31) |
Draft approach
(4/7) |
Decision-makers
(4/14) |
Dream scenario/Plan B
(4/21)
Each Wednesday leading up to the NFL draft (April 22-24), the ESPN.com blog network will take a division-by-division look at key aspects of the draft. Today's topic: Busts and late-round gems.
Buffalo Bills

The Bills' drafts have been pockmarked, at best. They haven't reached the playoffs in a decade, which means they should have benefited from desirable draft position throughout the 2000s. Even so, the Bills haven't obtained much star power in that span. A perusal of their draft history should come with a warning to Bills fans that it shouldn't be done without antacids. Only four Bills draft picks in the 2000s went to the Pro Bowl. The lone first-round choice to wear a Bills helmet in the Pro Bowl has been running back
Marshawn Lynch
, who did so as an alternate and lost his job to
Fred Jackson
last year. Their biggest bust was tackle
Mike Williams
, the fourth overall selection in 2002. Williams simply didn't have the heart for football and lasted three full seasons, none of which could be deemed remarkable. Buffalo's best draft choices in the 2000s have been top cornerback
Terrence McGee
and solid defensive tackle
Kyle Williams
. McGee was a fourth-rounder in 2003 and went to the Pro Bowl as a return man. Williams was a fifth-round pick in 2006 and for the most part has started since his rookie year, but there might not be a fit for him when the Bills transform into a 3-4 defense.
Miami Dolphins

The first player who comes to mind when considering Miami's recent busts is receiver and return man Ted Ginn. The ninth overall pick has come to symbolize the lost 2007 season under former general manager Randy Mueller and one-and-done coach Cam Cameron. The Dolphins had 10 draft choices in 2007, including four in the top 71, but only Ginn, defensive tackle
Paul Soliai
and punter
Brandon Fields
remain on the team. That class was a collective bust. Is it possible, however, that 2006 was worse? The Dolphins drafted five players (albeit three of them in the seventh round) and only one is on the roster. Defensive back
Jason Allen
, the 16th overall choice, has started 12 games in four seasons. The Dolphins have been overhauled so much under football operations czar Bill Parcells, most players on their roster haven't been around long enough to label draft gems or duds. Discoveries from previous regimes aren't with the club any longer. The Dolphins drafted guard
Rex Hadnot
in the sixth round in 2004. Tight end
Randy McMichael
, selected in 2002, might be the best fourth-round pick in franchise history. The greatest find on Miami's roster -- by far -- has been safety
Yeremiah Bell
, a sixth-round long shot from Division I-AA Eastern Kentucky. Bell didn't make the team as a rookie, fought his way up from the practice squad, overcame early injury problems and played in the Pro Bowl a few weeks ago.
New England Patriots

Tom Brady
not only is the greatest Patriots' draft discovery, but also the best of his generation. The 199th pick of the 2000 draft -- 16 slots after
Spergon Wynn
-- went on to win four AFC championships, three Super Bowls and two Super Bowl MVP awards. He's a five-time Pro Bowler and owns a few records. More recently, center
Dan Koppen
has proven to be a nice acquisition in the fifth round of the 2003 draft. Koppen has been New England's starter since Week 2 of his rookie season. He was named to the Pro Bowl for 2007. The Patriots also were able to spin quarterback
Matt Cassel
, a 2005 seventh-round pick, into the 34th overall choice in last year's draft. As for busts, the Patriots haven't been immune. They have an impressive first-round track record, but tight ends
Daniel Graham
and
Benjamin Watson
were hiccups. New England took Graham 21st overall, but he was erratic and produced one good season before leaving via free agency. Watson's tenure will be remembered similarly, but with more injuries. Wide receiver
Chad Jackson
was another prominent pick who flamed out. The Patriots wanted him badly enough to trade up 16 slots to snag him 36th overall four years ago. He missed his entire rookie season with a hamstring injury and left New England after three seasons with a grand total of five receptions for 83 yards.
New York Jets

The Jets don't have a lot of recent picks to scan. Since Mike Tannenbaum took over as general manager in February 2006, the Jets have made only 23 selections. They've drafted 13 players over the past three years. Maybe it's too soon to be slapping the bust sticker on pass-rusher
Vernon Gholston
, but through two NFL seasons, the sixth overall pick from 2008 has started three games and has been a healthy scratch for three games. Gholston has yet to record a sack and has made only 10 solo tackles.
Kellen Clemens
also falls into the failure category. The Jets used the 49th pick on him. Second-round quarterbacks are supposed to play and get paid accordingly. The Jets were so down on Clemens, they made major gambles to keep him off the field, trading for
Brett Favre
and moving up to select
Mark Sanchez
fifth last April. The Jets have had success unearthing talent in the fourth round. The list includes running back
Leon Washington
(2006), safety
Kerry Rhodes
(2005) and receiver
Jerricho Cotchery
(2004). The Jets made a fine selection when they used a seventh-rounder on running back
Derrick Ward
in 2004. But Ward didn't make the roster. The
New York Giants
signed him off the Jets' practice squad. He won a Super Bowl with the Giants and rushed for 1,025 yards a year later.
September, 28, 2009
9/28/09
11:22
AM ET

Posted by ESPN.com's Tim Graham
By the sounds of it, Dolfans have given up on 2009 already.
| | |
| --- | --- |
| | |
| | Christopher Hanewinckel/US PRESSWIRE |
| | Losing Chad Pennington indefinitely certainly puts a damper on the team's prospects for this season. |
Can't say I blame them. They're 0-3, and only three times in NFL history has a team started out so poorly yet rebounded to make the playoffs. Their quarterback and leader,
Chad Pennington
, will be out indefinitely with an injury to his throwing shoulder suffered in Sunday's 23-13 loss to the San Diego Chargers. Their defense isn't getting it done.
Joey Porter
's hurt.
True, Miami opened last season 0-2 and eventually won the AFC East, but this situation is much direr and potentially calamitous.
Pennington's condition is particularly disheartening. There's a reason -- several, actually -- he was runner-up for league MVP last year. He was the player most responsible for guiding Miami to the playoffs.
On my regular segment with Jorge Sedano on Miami sports radio station 790 The Ticket, I could almost hear Dolfans whimpering in the background. The more Sedano and I spoke, the more my mind drifted back to 2007.
These are the blahs felt on Monday mornings when the Dolphins were going 1-15 with Cam Cameron as head coach, Randy Mueller as general manager and
Trent Green
/
Cleo Lemon
/
John Beck
as quarterback.
But it's not 2007 anymore. It's not going to be another 2008, either. In fact, it's probably time to forget about 2009 already and start working on 2010.
Let me stress, this year's Dolphins aren't nearly as pathetic as they were two years ago. But the taste of morning-after disappointment given last year's achievements is familiar.
Still, this season could get worse. Some fans would be satisfied if the Dolphins didn't make the playoffs but learned what they had on the roster, especially when it comes to the team's supposed quarterback of the future,
Chad Henne
.
Last year's second-round draft pick out of Michigan will get his shot now that Pennington is hurt, a development that had to be at least half-expected when considering Pennington's voluminous medical chart. He has won two Comeback Player of the Year Awards because he's constantly returning from some injury.
But what if Henne doesn't perform? Merely two years ago, Dolfans were so excited to see Beck. He was their quarterback of the future, too, a second-round draft choice out of Brigham Young. He was comically bad when given the chance to start. He was cut during the offseason.
Of the 10 players taken in 2007 -- Mueller's final draft class before Bill Parcells came in and fired him -- two remain on the team, and neither has endeared himself.
The headliner, ninth overall pick Ted Ginn, continues to be a disappointment. He bumbles passes, doesn't get open, runs out of bounds rather than fight for extra yards. He had more drops Sunday.
The Dolphins have players up and down the roster they can concentrate on learning more about in game situations.
The Dolphins kept 14 rookie or first-year players on their opening-day roster, more than any other NFL team. The league average was 9.6 rookie or first-year players.
One year after pulling off the greatest single-season turnaround in NFL history, rebuilding time has arrived again.
Time to clear the bench and see what they can do.
June, 5, 2009
6/05/09
8:05
PM ET
Posted by ESPN.com's Tim Graham
MIAMI BEACH, Fla. -- Joey Porter had to extract his wife from the angry mob.
That's how bad things got for the Miami Dolphins in 2007.
Porter was their big-ticket offseason acquisition and certainly wasn't performing up to his contract, which included $20 million in guarantees.
As the Dolphins slogged through a 1-15 season, Porter failed to record a sack in 11 games. He had zero sacks through the first six.
Amid the discontent in Dolphin Stadium each week were his wife, Christy, and their four children.
"My wife didn't take to people yelling at her," Porter said. " 'Who's this Joey Porter guy? We gave him all this money and he got one tackle today. Get him outta there!'
"Next year I had to put her in a box because she said she wasn't coming back to the games. My kids were there with my jersey on, [fans were] talking about their dad."
The Porters had a much better experience in 2008. Dad led the AFC with 17.5 sacks, and the Dolphins went to the playoffs as division champs.
Porter and quarterback Chad Pennington were honored Friday morning as co-winners of the team's Dan Marino MVP Award at a ceremony at Joe's Stone Crab Restaurant on South Beach.
When he pulled his truck into Dolphin Stadium last year, he was greeted with honks and waves from tailgating fans.
"I feel like I'm at home again, playing football and being accepted by South Florida," Porter said. "I'm just happy to be here."
Porter felt as miserable as the fans in 2007. He was miscast in defensive coordinator Dom Capers' scheme and finished with a measly 5.5 sacks.
As a 3-4 outside linebacker with the Pittsburgh Steelers before joining the Dolphins, Porter thrived on the matchups. He could beat a left tackle, but also was put in position to overpower and outmaneuver helpless tight ends and fullbacks.
That didn't happen when he got to Miami.
"I was almost used as a defensive end because we played nickel so much," Porter said. "I had my hand on the ground before the snap.
"I never would make no excuses about it. I [got] beat up in the media because that year I was the big defensive acquisition to the team. They expected a lot out of me, and then you don't come out there and perform, 1-15, five sacks. They're like 'What happened to this guy. He fell off.' I got beat up by the media, but I was mad about it and came back and was put in a position to go out there and show South Florida how I can really play football.
"I just wanted to show you guys I do know how to play football. I didn't come all the way to Florida and forget how to play football. I was just happy to do that."
Bill Parcells came aboard late in 2007 and eventually cleaned house. He fired general manager Randy Mueller and hired Jeff Ireland. He axed head coach Cam Cameron and replaced him with Tony Sparano.
Capers was out. New defensive coordinator Paul Pasqualoni made it a priority to maximize Porter's abilities.
"It was refreshing to play football again," Porter said. "That 1-15 was one of those years that makes you doubt yourself. I know I doubted myself, had one of the worst years I ever had, coming back the next year, wondering what's going to happen.
"Coach put me in position to make plays. I tried to seize the moment and make the plays when I had the chance."
December, 31, 2008
12/31/08
3:15
PM ET
| | |
| --- | --- |
| | |
| | Doug Murray/Icon SMI |
| | Under the Parcells regime, the Dolphins became the first team ever to go from winning a single game one year to being playoff-bound the next. |
Posted by ESPN.com's Tim Graham
DAVIE, Fla. -- The process began two days after Christmas 2007. A cataclysmic event took place at the Miami Dolphins facility. An observer arrived. He might as well have worn a black cloak and had a sickle in his grip.
He stood there, arms folded mostly, and watched from the sideline, taking mental notes that would decide the fate of dozens and alter the course of a franchise hurtling into NFL oblivion.
"I think the air in the practice field got a little thin," defensive end Vonnie Holliday said.
Bill Parcells had arrived to straighten out a team headed toward 1-15. He didn't say much on the field that day. He exchanged quick pleasantries with head coach Cam Cameron, spoke to a couple of trainers.
But the process had begun -- quietly, icily.
"Guys were nervous out there," Dolphins linebacker Joey Porter said.
Several Dolphins confessed they barked out their calls louder, ran faster and tackled harder under Parcells' surveillance.
A few veterans scoffed at the difference, claiming that if their teammates were playing harder just because Parcells was there, then they must not have been giving their all before.
Yet that, in fact, was the case, whether they wanted to admit it or not. Parcells' mere presence, forged by Super Bowls and high-profile turnarounds, whacked the Dolphins in their earholes.
He has remained virtually silent while overseeing the greatest single-season upgrade in NFL history.

On Sunday, one year and one day after Parcells first emerged onto the Dolphins practice field, they defeated the New York Jets at the Meadowlands to claim the AFC East championship.

As unfathomable as it seemed when Parcells agreed to renovate the dilapidated franchise, the Dolphins will host a playoff game next Sunday when they meet the Baltimore Ravens.
October, 22, 2008
10/22/08
5:45
PM ET
Posted by ESPN.com's Tim Graham
Trent Edwards is making a lot of teams regret not drafting him.
The Miami Dolphins surely are among them. Yes, the front office infrastructure has dramatically changed since Bill Parcells was brought in 10 months ago. The scouting department and coaching staff have been overhauled.
But John Beck remains. Former Dolphins general manager Randy Mueller, with input from former head coach Cam Cameron, made Brigham Young quarterback John Beck the 40th selection of last year's draft.
When the Buffalo Bills visit Dolphin Stadium on Sunday, Beck will be on the sideline. All season he has been the third-string quarterback behind Chad Pennington and rookie Chad Henne.
Edwards, meanwhile, is on his way to becoming a star with the 5-1 Bills, who snagged him out of Stanford with last year's 92nd selection.
All 31 other teams passed on Edwards, but only a few needed a quarterback. The Dolphins were among the most needy.
"We thought he was pretty good, obviously, because we drafted him in the third round," Bills coach Dick Jauron said Wednesday on a conference call. "We had a better grade on him. So it was a value pick for us. We couldn't go by at the point where he was still available.
"When he came in and we started out [organized team activities], he was everything we thought he would be and probably more. So we did give him more reps and we did spend more time with him. He picked it up. He picks it up very fast."
Like Edwards, Beck became the Dolphins starter last year because of injuries. Unlike Edwards, Beck didn't show much in his rookie opportunity.
| | |
| --- | --- |
| | |
| | Stew Milne/US Presswire |
| | John Beck failed to drive the Dolphins to a touchdown in any of his four starts last season. |
Beck played in five games, starting four straight in November and December. Beck failed to drive the Dolphins to a touchdown in any of his starts, the lowlight coming on a bitter Buffalo afternoon. Beck was pulled after eight snap
s -- two three-and-outs and a comical fumble that went for a Bills touchdown.
Afterward, Beck's Mormon values wouldn't allow him to say what most players would've about that performance.
"Crap's going to happen," Beck told me, "and today crap happened."
In that same game, Edwards completed 11 of 23 passes for 165 yards and four touchdowns with no interceptions.
That game was the last time Beck has started. He did make a relief appearance in the season finale and threw his first career touchdown pass.
Edwards has established himself as one of the NFL's best young quarterbacks.
His 98.8 passer rating ranks fourth in the NFL. He has completed 69.7 percent of his passes for 1,209 yards, five touchdowns and two interceptions. He came back from a wicked, concussive hit in Week 5 to complete 25 of 30 passes for 261 yards and a touchdown.
"He is the kind of guy you want as a quarterback," said Dolphins receiver Greg Camarillo, who played with Edwards at Stanford. "He's not going to show his frustrations. He's well-poised, a good leader and a strong leader. He's a student of the game, and he's going to put everything he has on the field. That's the kind of guy you want in the huddle."
NFL SCOREBOARD
Thursday, 9/4
Sunday, 9/7
Monday, 9/8