March, 4, 2010
3/04/10
9:15
PM ET
By
Matt Mosley
| ESPN.com
So much for Redskins general manager Bruce Allen and coach Mike Shanahan easing their way into free agency. The Skins began a major overhaul of their roster Thursday evening, re-signing
Casey Rabach
to a three-year contract
but releasing 10 other players
.

Rabach
The other three teams in the NFC East have extended tenders to players but none of them rivaled the Redskins in terms of purging their rosters. Veteran guard
Randy Thomas
and wide receiver
Antwaan Randle El
were the most notable releases. It's not surprising the Redskins would release them, but the timing is certainly interesting. Shanahan has talked about improving from within, but now he'll also have to look elsewhere for help.
Rabach agreed to a three-year contract worth $12.3 million, according to ESPN's John Clayton. It's obvious the veteran center placed more emphasis on security than money by not testing the free-agency waters. The Redskins also released former starting cornerback
Fred Smoot
as well as veteran backup running backs
Ladell Betts
and
Rock Cartwright
, who was a valuable specials teams player. Cartwright was also a vocal leader on the team but apparently that wasn't enough to convince Shanahan.
Basically
Clinton Portis
is the last running back left standing, although that will change via free agency or the draft. Keep in mind that Shanahan is a great admirer of
LaDainian Tomlinson
after playing against him for so many years in the AFC West. No matter what you think of the Skins' moves, no one can say they weren't decisive Thursday.
"Obviously, it's a day of change for the Redskins," Allen told reporters at Redskins Park earlier this evening.
Last year at this time, the Redskins were paying huge money to defensive tackle
Albert Haynesworth
in free agency. This time around, the Redskins appear to be more interested in creating vacancies.
December, 19, 2009
12/19/09
8:19
PM ET
By
Matt Mosley
| ESPN.com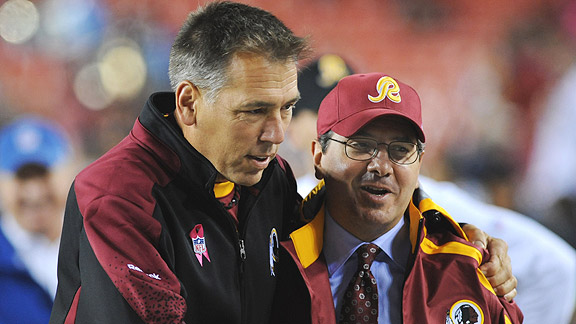 Al Messerschmidt/Getty ImagesRedskins coach Jim Zorn, left, has remained gracious despite the changes Daniel Snyder has made.
Surely Redskins owner Dan Snyder wouldn't make a stunning move on the Thursday before the Giants come to FedEx to provide "Monday Night Football" with a compelling storyline. Oh wait, you think he would?
It's pretty obvious that Snyder didn't simply wake up Thursday morning and decide to can his longtime pal Vinny Cerrato. But the timing of Cerrato's "resignation" followed closely by
the hiring of Bruce Allen as general manager
certainly gives Monday's game a little more pop.
Hard as it is to believe, the Giants (7-6) still have a decent shot at a wild-card playoff spot and several Redskins players now have a three-week audition to try to grab Allen's attention before he overhauls this roster. Make no mistake, that's what it will take to make the Redskins competitive again. Cerrato made the humorous statement a few weeks ago that he handed coach Jim Zorn the keys to a playoff team this season, but we all know that's not true.
Even before season-ending injuries to starting offensive linemen
Randy Thomas
and
Chris Samuels
, this wasn't a roster that was built to compete for an NFC East title. It was dotted with big names, some of whom (
Santana Moss
,
Clinton Portis
) appear to be on the downside of their careers. Some Redskins fans had given up on
the Snyder-Cerrato partnership
ever ending. But behind closed doors, the seemingly happy relationship had cooled. Yes, they still made the rounds on the field before games, but Cerrato finally started to lose Snyder's ear.
Now, a new era begins in Washington with a general manager tied to the Redskins' past. Allen's father, George, coached the Redskins from 1971-77 and was one of the most beloved figures in the history of the franchise. But Bruce has forged his own reputation during stops in Oakland and Tampa Bay. His love of the franchise is a quaint sidebar but it doesn't shed any light on whether or not he'll succeed with the Redskins. The only way this works is if Snyder actually sticks to the business side and allows Allen and whichever head coach (
possibly Mike Shanahan
) to take care of the football operation. Like his mentor and friend, Jerry Jones, Snyder is enamored with the splashy move. He doesn't sweat the small stuff, such as drafting and developing players along the offensive and defensive lines.
Why make a commitment via the draft when you can set the market in free agency? If this latest plan is to work, the organization needs to move past the embarrassing pre-draft trips during which Snyder lands in a college town for one last look at the hottest prospect. For all his business acumen, you still get the feeling that Snyder is playing dress-up when it comes to football decisions. Maybe Snyder is doing what Jones did in 2003 when he hired Bill Parcells to coach his team and make most of the personnel decisions. That move didn't pay off with a playoff win but Parcells rebuilt the team and put it in position to win 13 games in 2007.
I don't know how closely Allen has watched the Redskins this season but my guess is that he has had an eye on them for the past few weeks. He's publicly said that he plans to evaluate Zorn over the final three games, but we all know the score. Zorn was effectively fired the day his play-calling duties were stripped by Cerrato, but the Skins weren't able to coax him into quitting, which would have saved them some cash. In what has been an embarrassing situation all the way around, Zorn has somehow managed to remain gracious -- and his team keeps showing up and competing against superior opponents. He was asked Friday about reports that the Redskins are already in talks with Shanahan to replace him as head coach.
"I'm not aware of that, and I wouldn't even try to go there," said Zorn. "Because I'm not looking towards what is going to happen this offseason or next season yet. We're right in the middle of it. For us, I'm kind of excited about where we're heading."
The Redskins are likely headed for an offseason of upheaval, but first, they get a crack at the Giants, a team that has owned them lately. I think this will be the most competitive game between the two teams since the 2007 season, in part, because the Redskins excel in an area where the Giants have been awful. The Giants actually have a decent overall defense but they're one of the worst units in the league in the red zone.
And with the rise of second-year tight end
Fred Davis
, the Redskins are actually solid in that area. Since
Chris Cooley
suffered
a season-ending injury
against the Eagles on Oct. 26, Davis has five touchdowns in seven games. He's a big target for Campbell and he's elusive enough to catch the ball inside the 10 and then find the end zone.
The Giants will try to cover Davis with middle linebacker
Jonathan Goff
at times and safeties
Aaron Rouse
and
Michael Johnson
will also get their turns. Those are matchups the Redskins invite.
On offense, the Giants have immense respect for Redskins defensive tackle
Albert Haynesworth
. Left guard
Rich Seubert
actually had a nice game against Haynesworth in the season-opener but Giants offensive coordinator Kevin Gilbride is not taking any chances.
"The guy is a freak of nature," Gilbride told reporters Thursday. "He is a huge man who has some explosiveness to him. We tried to slide and help. We tried to keep a guy inside or a guy outside and help. More often than not, he was on his own and Richie just hung in there. The guy is incredible. He plays with such heart and determination. It really is inspiring to watch him. I don't know how he does it with some of the injuries he is battling through, but he does."
The Giants obviously have something on the line in this game. And with recent developments in Washington, there's also a renewed sense of urgency from the Redskins. On Thursday, this became a much more attractive matchup.
Posted by ESPN.com's Matt Mosley
Cowboys
Eagles
Giants
Redskins
March, 12, 2009
3/12/09
3:34
PM ET
Posted by ESPN.com's Matt Mosley
The NFL's free-agency period hasn't officially ended, but for the purposes of this column, let's pretend it has. We're still waiting for the Philadelphia Eagles and their millions in cap space to join the party -- unless you're hanging your hat on the Andrews brothers.
Anyway, we're handing out grades this afternoon based on the first two weeks of free agency in the NFC East. The Washington Redskins have spent the most money (shocker), but you can't buy this blog's love. Now brace yourself for this year's NFC East premature free-agency report card.
New York Giants: A-

The Giants have been the most efficient team in the division during free agency. General manager Jerry Reese calmed down a lot of folks about the wide receiver position by continuing to hold out hope for Plaxico Burress. If you read between the lines, it sounds like the Giants are feeling pretty good about Burress' chances of avoiding jail time -- and I don't think an NFL suspension will be more than four games.
With that in mind, Reese set out to address some key areas in the Giants' defense. Former Falcons linebacker Michael Boley will immediately become a starter, and his coverage skills will put the Giants in a much better position against running backs such as Brian Westbrook and Felix Jones. When the Eagles isolated Westbrook on Antonio Pierce during a December win, the results were devastating.
The Giants also stepped back and watched film of how the defensive line wore down in the second half of the season. Pro Bowl defensive end Justin Tuck had an outstanding season, but he was carrying too heavy a load in December and January. By signing former Seahawks defensive tackle Rocky Bernard and former Cowboys defensive end Chris Canty, the Giants bolstered their defensive line to the point where Fred Robbins could be used as trade bait. Paying Canty $7 million a year seems like a steep price, but Coughlin -- and his buddy Bill Parcells -- are convinced that he will become a force inside. In the Cowboys' 3-4 scheme, Canty was often an afterthought as a pass-rusher. After playing against Canty for several seasons, the Giants thought his height (6 feet 7) and power would allow him to collapse the pocket.
Former Texans safety C.C. Brown (the Giants love ex-Texans) should provide depth behind Michael Johnson and Kenny Phillips. Coughlin and Reese love creating competitive situations in training camp -- and they've done that at linebacker, safety and on the defensive line. Don't you think most teams would like to have Mathias Kiwanuka coming off the bench? Same goes for Jay Alford and Robbins. Heading into the draft, the Giants are the best team on paper. Of course, some people thought the same thing about the Cowboys last season.
---
Washington Redskins: B

A lot of teams use free agency as a jumping-off spot for the draft. Under Dan Snyder's reign, the Redskins have used the draft as more of an offseason diversion.
First of all, let me say that Albert Haynesworth is one of the most dominant defensive tackles we've seen in years. When he was in the lineup, the Titans were an elite defense. When he was out because of injury, the defense was pedestrian.
My fear with Haynesworth is that he had the best two years of his career when the Titans (and the rest of the league) were dangling that lucrative carrot in front of him. How will Haynesworth perform with a full bank account?
Well, we're about to find out. But honestly, signing DeAngelo Hall to a long-term contract is the bigger risk. He was a divisive force in the Falcons' locker room and he obviously didn't make it with the Raiders. He performed well on a $500,000 deal in half a season -- and the Redskins guaranteed him $22.5 million. The Redskins have been down this road before -- and it never works.
Haynesworth has a reputation for making life easy on his fellow defensive ends, but the Redskins aren't offering him much in Andre Carter and the aging Phillip Daniels.
Demetric Evans was actually a decent pass-rusher, but the Redskins let him get away. You better hit on a pass-rusher with that No. 13 pick, in part, because it will be Sunday afternoon before you make another selection.
Bringing in guard Derrick Dockery is a good move, but you still have holes to fill on the line. Jon Jansen, Randy Thomas and Pete Kendall aren't going to cut it. The injuries (and age) led to last season's downfall in the second half of the season. If the Redskins don't do more to address the line, the signings of Hall and Haynesworth won't mean that much.
---
Dallas Cowboys: B -

No matter how you got him (and the trade was weird), Jon Kitna's a smart addition. This team was held hostage by the backup spot last season. Now, the Cowboys' playoff chances aren't shot if Tony Romo suffers another injury. And don't underestimate the chemistry that Kitna had with Roy Williams in Detroit. I heard T.J. Houshmandzadeh say recently that Kitna was a tremendous leader in the Bengals' locker room, even when he was backing up Carson Palmer. Romo needs to become a better leader, so maybe Kitna can help him out.
For the money, bringing in Igor Olshansky to replace Canty at defensive end is a solid move. Canty's the more talented player, but the Cowboys got a nice deal on Olshansky. The guaranteed portion of the salary has been reported as $6 million, but a league source has told me it's closer to $8 million.
Bringing in Keith Brooking will be an upgrade over Zach Thomas at inside linebacker. Brooking played for Phillips in this exact same inside-weakside spot in Atlanta. At age 33, he's a declining player. But there's a chance the Cowboys could get two more productive seasons out of him. Now, the Cowboys have to either find a wide receiver or an offensive lineman in the second round of the draft.
Of course, the biggest move was releasing Terrell Owens. In my mind, that's addition by subtraction in terms of the locker room. In terms of what happens on the field, you could see a drop in production early in the season. But if Jason Garrett can build this offense around the three-headed monster at running back, the Cowboys will have a shot at the playoffs.
---
Philadelphia Eagles: C-

This may seem harsh to some of you, but is there anything that excites you about what the Eagles have accomplished so far? Stacy Andrews can replace Jon Runyan at right tackle, but this still leaves a gaping hole on the left side. The Eagles could package their two first-round picks and move up to draft someone like Jason Smith of Baylor, but that's not Andy Reid's style. It's more likely they trade down and acquire some additional picks.
Sean Jones is a serviceable replacement for Brian Dawkins, but the one-year deal tells you that the organization doesn't have a ton of faith in the guy. Former Raiders safety Rashad Baker is more of a special-teams guy.
But if the Eagles are biding their time to make a run at Cardinals wide receiver Anquan Boldin, all can be forgiven. They probably would have to part with one of their first-round picks and possibly a third-rounder. Does that seem like the type of thing Reid and Joe Banner would do? Right now, Donovan McNabb's scratching his head like the rest of us.
March, 1, 2009
3/01/09
7:19
PM ET
Posted by ESPN.com's Matt Mosley
The Washington Redskins brought back a familiar face to shore up their offensive line, signing Derrick Dockery to a five-year, $26.5 million contract. As most of you probably know, the Buffalo Bills bungled some paperwork the other day that ruined a trade opportunity with the Lions. Dockery will probably look back at this as his "get out of jail free card" moment.
He has a lot of friends on the Redskins' roster and he'll immediately start at one of the guard spots. With Pete Kendall and Randy Thomas having health issues, the Redskins desperately needed reinforcements. Now, we'll see if they can land an offensive tackle with the No. 13 overall pick in the draft. This team has been handcuffed for years by both its offensive and defensive lines. So far in free agency they've done a good job of addressing those concerns.
February, 27, 2009
2/27/09
12:11
AM ET
Posted by ESPN.com's Matt Mosley
It's here, folks. Free agency is officially underway. We've been working the phones all evening. Here's the latest on what the Redskins are doing.
It looks like midnight has arrived on the East Coast without a deal for cornerback DeAngelo Hall. It also looks like the Redskins will attempt to sign free-agent guard Derrick Dockery, who was unexpectedly released by the Bills on Thursday.
Dockery is a former third-round pick by the Redskins and he still has a lot of fans within the organization. He could immediately help solidify an offensive line that showed cracks in the second half of the 2008 season.
With veteran guards Pete Kendall and Randy Thomas fighting through injuries, Dockery could be a huge help. He's remained close to former first-round pick Chris Samuels and the two would be the team's top linemen.
Much, much more to come.
February, 20, 2009
2/20/09
12:09
PM ET
Posted by ESPN.com's Matt Mosley
As far as NFL executives go, the Redskins' Vinny Cerrato is normally about the closest thing to an open book as you'll find. When his position as owner Daniel Snyder's right-hand man was eliminated by coach Marty Schottenheimer in 2001, Cerrato took his gift of the gab to ESPN, where he served as a college football analyst.
But before Snyder could even deliver the news that Schottenheimer was fired after one season, Cerrato was back on the payroll. The two have been inseparable ever since, which is something that annoys a lot of Redskins fans. Coaches come and go, but Cerrato is the one constant.
| | |
| --- | --- |
| | |
| | Andy Lyons/Getty Images |
| | Second-round picks Fred Davis and Devin Thomas have yet to contribute much on the field. |
He's now the executive vice president of football operations and he's led a delegation of coaches and scouts to the NFL combine this week in Indianapolis. I visited with him for about 20 minutes Thursday, although I did most of the visiting. Unlike our conversations in the past, Cerrato seemed determined not to shed any light on which direction the Redskins might go in free agency and the draft.
Cerrato asked whether Giants general manager Jerry Reese had pulled back the curtain on his plans for Plaxico Burress. I quickly informed him that Reese had e-mailed the plan over that very morning.
Cerrato's sick of hearing the same questions, but they're not going away anytime soon. When you draft two wide receivers and a tight end in the second round of the 2008 draft and they combine to do virtually nothing, the questions come from every direction. Devin Thomas has game-breaking speed, but his work ethic came into question last year. Malcolm Kelly had a knee injury and tight end Fred Davis out of USC seems like somewhat of a flake. Cerrato defended the draft picks, but he's also challenged each of them.
"You can't panic," he said. "The two receivers missed all of training camp. Malcolm had the knee injury. Devin and Fred will improve a lot. But I've told them them that our improvement as a team depends a lot on how they do this offseason. I'm putting the pressure on those guys."
Most people were relieved to see the Redskins bypass all the wild-spending in free agency to build through the draft last April. But out of nine picks, seventh-rounder Chris Horton was the only player to make a significant impact. On the surface, it looks like the Redskins grossly overestimated the core group of players that helped them make an emotional playoff run following Sean Taylor's tragic death in 2007.
Over the last eight years, the Redskins haven't made drafting offensive and defensive linemen a major priority. It's hard to believe they have drafted only four interior linemen in the first four rounds of the draft since 2000. And that's a large reason they now have the oldest offensive line in the NFL.
You can talk about the quarterback and the lack of a pass rush all you want, but this team's collapse in the second half of last season coincided with the breakdown of the offensive line. Pro Bowl left tackle Chris Samuels, a former first-round pick, suffered a season-ending injury and veteran players such as Jon Jansen, Randy Thomas and Pete Kendall appeared to wear down. Kendall is an unrestricted free agent and coach Jim Zorn revealed Thursday that Thomas recently underwent surgery for a neck injury.

Jason Campbell
#17 QB
Washington Redskins


2008 STATS
YDS
CMP%
TD
INT
RAT
3,245
62.3
13
6
84.3
But since this league's all about the quarterback, it's important to note that Jason Campbell is entering the final year of his contract. He would like the security of an extension this offseason, but the Redskins aren't showing any interest in making that happen. I reminded Cerrato (not that he needed it) how Jerry Jones ended up paying Tony Romo an extra $10 million or so because the quarterback played so well early in a contract year. And the Cardinals are now dealing with a similar issue with Kurt Warner. Still, Cerrato told me the Redskins don't feel any pressure to extend Campbell at this point.
"He made some strides last year," Cerrato said of Campbell. "He cut down his turnovers. I thought he made great strides with that."
But I've spent enough time with Campbell to know that he functions best when he believes the organization is completely behind him. The fact the Redskins aren't even considering an extension will be weighing on his mind as he enters t
he 2009 season. I know it was something that bothered Romo in 2007, but he used it as motivation and ended up sticking it to Jones, who didn't mind that much since the Cowboys were winning games.
Cerrato said he's talked to the agents for all of the team's unrestricted free agents. He didn't come out and say it, but it's pretty obvious that re-signing free-agent cornerback DeAngelo Hall is a major priority. Cerrato confirmed that he will meet with Hall's agent at the combine to discuss a long-term deal. But with corners such as the Colts' Kelvin Hayden receiving lucrative deals already, there's really no hope of Hall giving the Redskins a hometown discount.
"We're going to meet with his people," Cerrato said. "He played really well for us last year."
On the surface, it doesn't look like the Redskins have the salary cap space to do anything dramatic in free agency, but Cerrato said the team is in position to be relatively aggressive.
"We'll have room to do things," he said. "We've moved some things around to put us in position."
| | |
| --- | --- |
| | |
| | AP Photo/Tony Gutierrez |
| | Many mock drafts have the Redskins selecting Texas DE Brian Orakpo with the No. 13 pick. |
Of all the things that go into the combine, Cerrato said he values the interview sessions the most. The Redskins normally have six or seven people sitting in the room, and they used to bring in a psychologist. Cerrato said that quarterbacks Peyton Manning and Brady Quinn were two of the best interviews he's observed.
"I like the interviews because it's sort of an unknown," Cerrato said. "But the most important thing in the whole process is the film. That's where you gather a lot of the information."
Cerrato said the best combine workout he's ever seen involved former Notre Dame safety Tom Carter, who had 18 interceptions for the Redskins from 1993-96. He said Carter had a 42-inch vertical and ran a 4.3 in the 40-yard dash.
Cerrato's hoping he can find someone with similar ability in the No. 13 spot. The Redskins could end up taking an offensive lineman or a pass-rusher. He said this draft has a lot of "tweeners" at defensive end and outside linebacker. Texas defensive end Brian Orakpo keeps showing up on mock drafts at 13, but Cerrato wasn't about to tip his hand.
With only four picks in April's draft, though, the Redskins don't have much margin for error.
February, 19, 2009
2/19/09
4:29
PM ET
Posted by ESPN.com's Matt Mosley
In case you've never covered an NFL combine, reporters sit around for hours munching on free food and waiting for coaches, executives and players to stop by and visit with them. Earlier today, Redskins head coach Jim Zorn made an appearance.
He didn't pull back the curtain too far, but he did say that guard Randy Thomas recently underwent surgery for a neck injury. It's even more reason why the Redskins need to be focused on re-tooling the offensive and defensive lines. I couldn't get Redskins personnel chief Vinny Cerrato to admit that earlier. In fact, I couldn't get him to admit much of anything. But don't let that keep you away from my Redskins column Friday.
Zorn said the Redskins intended to be aggressive in free agency, which is odd since they don't have a lot of cap room. He said it was unlikely they'll be able to sign unrestricted free agents DeAngelo Hall or Pete Kendall.
Zorn also said the club remains interested in bringing defensive end Jason Taylor back for a second season. I don't see any way that happens, though, unless Taylor's willing to restructure his deal.
I'll have some quotes from Zorn a little later. Cerrato did tell me that he's taken steps to give the club a chance at doing some things in free agency. But much more of that in tomorrow's column.

NFL SCOREBOARD
Thursday, 12/18
Saturday, 12/20
Sunday, 12/21
Monday, 12/22
WEEKLY LEADERS