NFL Nation:

Rashad Carmichael
May, 12, 2011
5/12/11
3:07
PM ET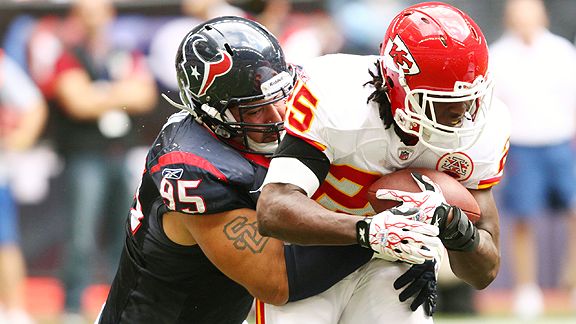 Thomas Campbell/US PresswireShaun Cody is confident he can play nose tackle in Houston's 3-4 defense.
Shaun Cody
's got a stable full of doubters, but the faith of one key person.
He understands the former and intends to prove himself worthy of the latter.
How is the seventh-year defensive tackle who's "just" 304 pounds going to man the nose in Wade Phillips' 3-4 front?
Fans and analysts are skeptical, but Phillips has repeatedly pronounced that Cody and second-year man
Earl Mitchell
will be fine in the nose tackle spot, a key to most 3-4s.
"When you hear 3-4 defense, the thing that pops in your mind is you want a big, huge, mountain of a guy who's 350, 350-plus in the center of it," Cody said. "That's what I thought until I heard how Wade Phillips wants to do it, how he's had undersized guys before. That's what gave me the confidence about the kind of role I'll be in.
"There are always going to be naysayers and guys who want a change. But I think Earl and I will be good for the job and we'll hold it down for them."
Phillips is charged with revamping a defense that ranked dead last (268 ypg) against the pass in 2010 and gave up 74 points more than the league average.
He got a defense-heavy draft class that didn't include a nose tackle and initially cast
Mario Williams
as Bruce Smith (who Phillips coached in Buffalo) at defensive end, but now has Williams as a weak outside linebacker with the hope he will become
DeMarcus Ware
(who played for Phillips in Dallas).
Recently, in clarifying how the outside linebackers will be deployed, Phillips said it will function more like a 5-2. That's a scheme that will put a strain on the corners, a topic for another column.
There is, at this point, an element of mystery about what Phillips' defense will look like with his Texans personnel. One coach told me he expects it will amount to an "under" defense with a four-man line, with Williams always standing up on the open end of the line. If that's the case then identifying the fourth rusher, the big challenge in facing a 3-4 scheme like Pittsburgh's, won't be a mystery with Houston and Williams.
Both Cody (who was listed at 6-foot-4, 304 pounds last season) and Mitchell (6-3, 291) will be looking to show the system can work with a less-than-giant nose guard. It will be more of an adjustment for Mitchell, who started his college career at Arizona as a fullback before moving to defense. Cody won't see a great change from the way he lined up in last season's 4-3, and he and Mitchell will not be responsible for two gaps the way monster defensive tackles in many 3-4s are.
"I've had huge nose guards," Phillips said after the Texans' recent golf tournament. "They've all played different techniques because of what their body type was and what they could do well.
Greg Kragen
, who was in the Pro Bowl in Denver, was smaller than the guys we have now. I know the league is bigger now. But he was one of the smaller guys and he played it really, really well.
"Cody actually played the technique that we play with our nose quite a bit last year in some of the under defense they ran and played it well."
During a break in his day in Southern California earlier this week, Cody said he understands his role and his niche. He was part of the Detroit team that didn't win a game in 2008. As a free agent following that season he visited New Orleans and Houston before signing with the Texans.
"I think and I hope I'm known for stopping the run," he said. "I've played predominantly on first and second down and I think I've done a good job of it and I think that's one of the reasons they wanted me back …
"Every guy wants to rush the passer and I'd love to help more with that. But we have a great bunch of pass rushers on this team. I'm a team guy first. I know that D-linemen love rushing the quarterback and I love rushing the quarterback, too. But to be on a team where you can have a role on it, I love filling out that role."
In discussing Cody and Mitchell, Phillips has also talked of
Jay Ratliff
, his undersized nose tackle in Dallas.
Mitchell actually has common friends with Ratliff and plans to talk with him soon, picking his brain. But Ratliff won't be able to pass along to Mitchell his super-violent hands, a key to Ratliff's effectiveness.
"I'll ask him what goes into being productive in this defense and about what I can expect," Mitchell said. "He knows Wade Phillips and he understands what he wants to get done in this defense. It's my first time playing 3-4 and I want to understand the best way to be a productive part of the team. I've watched a lot of his film, I think I can do a lot of things that he does. It gives me a good sense of the defense coming this year."
Both Cody and Mitchell met Phillips briefly before the lockout, and the new coordinator was able to convey his confidence in them. While Phillips' vision for Williams has evolved, his approach to the middle of the defensive line has not.
Cody, who was heading for his second tour of unrestricted free agency, was one of the handful of players around the league who got a new contract before the labor impasse reached a boiling point.
Phillips has not been on the field for work with either player. He saw enough on tape, though, to tell coach Gary Kubiak and general manager Rick Smith they could spend draft picks on other spots, and the team got defensive end
J.J. Watt
, linebacker
Brooks Reed
, cornerbacks
Brandon Harris
and
Rashad Carmichael
, safety
Shiloh Keo
and linebacker
Cheta Ozougwu
.
Both Cody and Mitchell said they appreciate Phillips' faith, and are determined to show he was right to have it.
"It's a big deal for me," Mitchell said. "I feel honored. I have a great deal of respect for the man and just being able to be mentioned, going into just my fourth year ever playing defensive tackle, it gives me a good feeling. I have to go out there and prove him right …
"A lot of people are skeptical. But I know the player that I am. I don't buy into what people are saying. I don't really listen to critics. All the stuff people are saying, that's the stuff that motivated me to get into the NFL in the first place. I know what I can do as a player. I'm going to show my motor, keep playing."
Said Cody: "My whole career I've been in a 4-3 and I've always wondered what I could do in a 3-4, what kind of player I'd be in that system. It's exciting. Hopefully I can prove I can play in any system and be a good football player."
May, 1, 2011
5/01/11
10:12
AM ET
Grading at the end of the draft is an odd exercise. Draftees haven't suited up for so much as a photo. So the measure is against need and expectation, and need and expectation don't tell us if a guy will play well.
Nevertheless, people will absolutely eat up
Mel Kiper's grades
and he does break them into pieces for us.
Here's what he has to say about the AFC South:

Indianapolis Colts
Top needs: OT, OG, DT, WR
Summary
: The Colts started springing leaks on the offensive line in 2010, as
Peyton Manning
faced more pressure and the running game all but stalled. Bill Polian clearly had his priorities in order, adding immediate help on the offensive line with his first two picks.
[Anthony] Castonzo
isn't seen as a really high-ceiling tackle, but he's a very good one, always healthy and with good feet, making him a potential long-term solution on the blindside.
[Ben] Ijalana
can convert to guard and be effective. Indy also needed help on the defensive interior and got a pretty good value fit with
[Drake] Nevis
in the third round.
[Chris] Rucker
can be a pretty good player when he's focused on football. He has a chance to outplay that spot on the board.
Needs: A-
Value: B
Overall: B+
My thoughts:
The first three look to be very nice fits and can have immediate impact. Running back
Delone Carter
and Rucker were a bit more curious and we'll have to see.

Houston Texans
Top needs: S, OLB, WR, DL
Summary:
It's the prospects who get the red carpet treatment here in New York, but it's Wade Phillips who got the carpet laid out for him in this draft. The new defensive coordinator for the Texans got a lot of new toys to work with, and I think Houston did a solid job in terms of value in addressing what was simply a bad defense in 2010.
[J.J.] Watt
is a versatile defensive end who will fit that 3-4 scheme and
[Brooks] Reed
is the outside rusher they needed. The Texans then went to the secondary, a disaster in 2010, adding
[Brandon] Harris
with a particularly good value pick, then
[Rashad] Carmichael
and
[Shiloh] Keo
. I would have liked to have seen another wide receiver in the mix, but I love the pick of
[T.J.] Yates
, who could be a good one if given time to develop. With
Matt Schaub
there, he should get plenty of clipboard time.
Needs: A-
Value: B-
Overall: B
My thoughts:
This seems about right. I really like that they got Harris and I am anxious to see Keo. Phillips clearly had a big influence. I hope they still plan to do some free-agent shopping.

Tennessee Titans
Top needs: QB, OLB, DT, WR
Summary:
Tennessee provided the first true shock of the draft. The Atlanta-Cleveland trade wasn't really a shock -- it was more about the compensation. But the Titans took the first major value shot that didn't involve the No. 1 pick. The story of this draft will be how they use
[Jake] Locker
. Will they have the patience not to rush him? Will he become more accurate in the NFL than he was in college? The guy has a remarkable skill-set, but productivity is the question. As a pick, you can say the value perhaps wasn't too poor because he wouldn't have lasted past No. 12, but even then he's still a bit of a project. All these quarterbacks taken early were reaches in terms of value, but those are the risks teams feel they need to take to find an answer. After Locker, I do like the
[Akeem] Ayers
pick. He has Round 1 tape and was taken at No. 39.
[Jurrell] Casey
is also a talented kid who needs to mature. Another wide receiver would have been nice, but so would an idea of who will be throwing the ball in 2011.
Needs: C+
Value: C-
Overall: C
My thoughts:
Will Locker pan out? We don't know, but he certainly fills a huge need. They couldn't have drafted a veteran quarterback. Need-wise, I think they did pretty well.

Jacksonville Jaguars
Top needs: DE, QB, S, WR
Summary:
Jacksonville got a quarterback at No. 10 I had rated as the No. 1 quarterback on my Big Board. Of course, I had
[Blaine] Gabbert
at No. 14 overall. Bottom line: this draft will be viewed through the prism of Gabbert and whether he succeeds. I think he has a shot but he needs time to develop, and after this draft I see a team that didn't really improve much in the near term, but believes it has its franchise quarterback of the future. [Will] Rackley is a nice player to plug in at guard when he's needed, and
[Cecil] Shorts
could be another find from Mount Union. But a clear need at defensive end wasn't addressed, and I thought that was a key. Last year the Jaguars addressed it in free agency, and hopefully that bandage will hold. A corner also could have been used.
Needs: C
Value: C-
Overall: C-
My thoughts:
Our expectation was defensive end would be addressed and we know linebacker is a need. They say they will still add two to four players in free agency. If they fill needs that way, then this could be just fine and the need grade won't mean a lot.
NFL SCOREBOARD
Thursday, 10/16
Sunday, 10/19
Monday, 10/20
WEEKLY LEADERS